'Land of the Giants' Microsite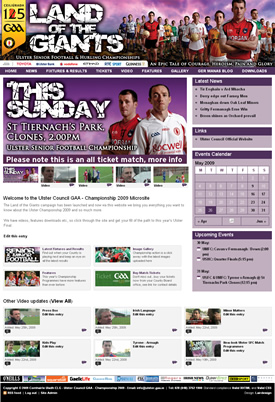 The creative geniuses behind Ulster GAA's Championship website are being saluted by Gaels across Ulster for designing such an informative and interesting website.
The 'Land of the Giants' website was officially launched earlier in May as part of Ulster GAA's 'Land of the Giants' marketing campaign and is receiving a massive number of hits every day.
The website contains all the Ulster GAA fan needs to know when it comes to the Ulster Football and Hurling Championships including video interviews, picture gallery's, downloads, ticketing information, statistical records and much more. There is even the opportunity to purchase highly sought after match tickets online.
All the material on the 'Land of the Giants' micro-site is exclusive and the website will undoubtedly find its way into the 'favourite's folder' of many GAA fans across Ulster.
Throughout recent weeks, Ulster GAA has been promoting the 'Land of the Giants' campaign via fixtures posters, flyers, newspaper advertising, Championship programmes and now through a dedicated website.
In the first week, almost 3,000 people visited the site, with the video interviews and the programme features proving most popular among the users.
As part of the production, Ulster GAA has also gone to great length to cumulate the records of the Ulster Football and Hurling Championships from down the years, from Final results to Top Scorers, and these can be viewed on the website.
The site is updated on a daily basis, and by tomorrow morning you will be able to view today's match reports and pictures as well as exclusive video interviews with the players and managers which you'll not see anywhere else.
This latest initiative by Ulster GAA will undoubtedly be popular among GAA fans across every county in Ulster. It's not to be missed so log on now at www.ulster.gaa.ie/landofthegiants/
back to top

Sport NI Funding Programme Now Open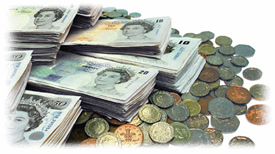 The Sport NI places for sport funding programme is now open. The deadline for grants is 12th June. The Ulster Council has already held an initial briefing session for clubs on Bank Holiday Monday 25th May in the Glenavon Hotel Cookstown.
Ulster GAA will also be hosting an open application workshops to assist clubs seeking to apply for funding as part of the programme. The workshop will be held on Monday 1st June in Donaghmore GFC from 9:30am to 10pm. Any club wishing to avail of assistance from Ulster Council must contact Maura Kelly Community Development Officer maura.kelly.ulster@gaa.ie as soon as possible.
IMPORTANT NOTE: The Ulster Council will provide clubs with support in completing the application form, we will also offer advice on project management and facilities development free of charge. Clubs are strongly discouraged from employing consultants to undertake this work.
Clubs are asked to note the important information below taken from the Sport NI web-site: (For more information follow this link: http://www.sportni.net/placesforsport200910.htm)
The programme specifically focuses on five areas:

1. Pitches and other outdoor sports surfaces e.g. athletic tracks/tennis courts etc
2. Indoor specialised sports surfaces
3. (a) Floodlighting of training pitches (b) Floodlighting for main pitches - only available for strategically important venues
4. Buildings - Construction of a new two or four changing room pavilion/Extensions to existing changing pavilions where there is a demonstrated need for additional provision
5. Purchase of equipment - Equipment must be based permanently in one location and must be new and not replacement or maintenance equipment.
Places for Sport:09/10 funding will be available for projects which can achieve significant spend before 31 March 2010. Applicants can apply for an award from £10,000 up to a maximum of £245,000.
It is hoped that future rounds of this programme will open in the near future which will cater for those applications who do not have a project in such an advanced 'State of Readiness', and it is likely that these future programmes will have an increased funding threshold (in excess of £245,000 and similar to those made under the Building Sport Programme).
Details about the 09/10 programme can be downloaded below. There are templates for use with this programme which are located within the 'Places for Sport General Guidance and Templates' section below.
back to top

Thousands Celebrate Lá na gClub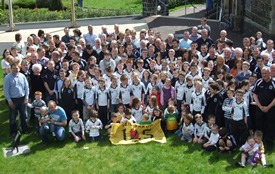 Over 140,000 GAA members across Ulster celebrated Lá na gClub at their local GAA clubs on Sunday 10th May as part of the GAA 125th Anniversary Celebrations.
The Ulster Council's 125 celebrations have been firmly focused on the Clubs and Volunteers and the Council provided each of Ulster's 580 clubs with a special 125 pack which included guidance on Lá na gClub and special GAA 125 Flag which was flown at all clubs on Sunday.
President of Ulster GAA Tom Daly was delighted with the response of the Ulster Clubs, he said, "I spent the day at my own club Aodh Ruadh CLG Ballyshannon and was honoured to raise the 125 flag at our new clubs grounds which will be officially opened on the 29th May as part of the Club Centenary Celebrations. My club had over 400 people proudly celebrating their membership of the GAA and I am delighted and overwhelmed that this was replicated across Ulster where our clubs where well informed and well equipped to celebrate Lá na gClub. I am very thankful to the club volunteers who continue to do sterling work in their Clubs which are the most important unit of the GAA. I would also recognise the members of Ulster GAA 125 Committee who have done outstanding work since August 2008 in organising the Ulster 125 Calendar of events."
The Ulster Council launched a programme of 125 events in February including the very successful GAA 125 History Conference organised in Partnership with the O'Fiach Library in Armagh, which included keynote speeches from President Mary McAleese, Cardinal Seán Brady, former GAA President Peter Quinn, Tyrone Manager Mickey Harte and former Down County Secretary Dr. Maurce Hayes. As well as promoting a special 125 Ulster Championship the Council have organised series of events for the rest of 2009 which can been viewed on the Ulster Council web-site www.ulster.gaa.ie
GAA members are encouraged to log on to the GAA 125 Ulster "micro-site" www.ulster.gaa.ie/community/125/ . Clubs officials are also encouraged to submit reports, photos and video clips of their Lá na gClub which will included in the Ulster GAA 125 site and the Ulster GAA 125 publication due for release in December.
back to top

The Championship goes Smoke-Free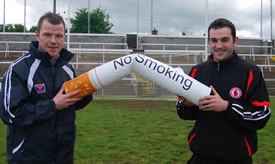 The Ulster GAA is embarking on an exciting new initiative this weekend to mark World No Tobacco Day. With up to 35, 000 people expected to attend the Ulster Championship match between All Ireland Champions Tyrone and Ulster Champions Armagh, the Provincial Council, in partnership with the Ulster Cancer Foundation and The Office of Tobacco Control, will be launching their Smoke-Free campaign in Clones.
Patrons entering the turnstiles will be greeted by volunteers encouraging them to refrain from smoking whilst inside the ground. No Smoking memorabilia will be distributed to those wishing to support the campaign, while a visit to the ground by 'Stubbie the Mascot' from the Ulster Cancer Foundation is sure to bring further fun to the occasion.
By promoting a Smoke-Free initiative spectators, officials, volunteers and players will be protected from the harm and irritation caused by passive smoking, while at the same time it may discourage young people from starting to smoke, and encourage adults to quit.
Supporters who have attended Championship matches in Clones in recent times will be familiar with the No Smoking regulations in the Gerry Arthurs stand, and now with the support of all patrons, the entire ground will enjoy a Smoke-Free atmosphere!
Recent research by the Office of Tobacco control has found that 9 out of 10 people would support a smoke-free policy in sports stadiums or grounds so it is anticipated that the campaign will be widely supported this Sunday.
Danny Murphy, Ulster GAA secretary stated "As the largest sporting organisation in Ireland we have a responsibly to promote the health benefits of being involved in sport. Through this initiative and the wider Ulster GAA Health and Wellbeing Programme, we are highlighting the benefits of giving up smoking and we are happy to encourage a smoke- free Stadium in Clones for the Armagh and Tyrone Championship Game"
Gerry McElwee from the Ulster Cancer Foundation said "Smoke free sports grounds are popular, healthier and more pleasant for all spectators. In recent years the Ulster Cancer Foundation has worked closely with the Ulster Council on a number of health programmes including Healthy Clubs and the distribution of free sunscreens at championship games. We are delighted to be a partner in this important initiative to ensure a healthier, more comfortable environment for young and old as they enjoy the thrills of the Ulster Championship."

back to top

Ulster GAA Cross-Community Tournament 'A Major Success'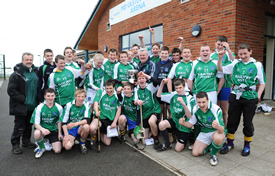 Ulster GAA has hosted a very special hurling tournament at the Mid Ulster Arena in Cookstown where Year 11 students from schools across Armagh, Belfast, Fermanagh and Limavady competed for the new Cúchulainn Cup.
The cross community tournament was organised as part of Ulster GAA's Community Outreach initiative and brought together boys from 16 schools to compete as four teams. All players had no previous experience of playing hurling but were given eight weeks of essential training by Ulster GAA Coaches to prepare them for today's tournament.
Fermanagh Cúchulainns were victors of the hard fought competition.
Speaking from the Mid Ulster Sports Arena, Ulster GAA Vice President Aogan Farrell said, "I commend all 16 schools and all students who have participated in this new and exciting tournament.
"All players gave 100% effort and showed tremendous hunger for the competition. All teams played exceptionally well, showing a good understanding and deployment of hurling skills.
"The importance of teamwork and respect was also very much apparent throughout the tournament and I hope that the boys who participated will continue to be involved in Gaelic Games and will continue to develop the friendships they have made through this competition.
"I congratulate Fermanagh Cúchulainns, hailing from St. Michael's Enniskillen, Portora Royal, St. Joseph's College and Erne Integrated College - they will now go down in GAA history as the first team to win the Cúchulainn Cup and will hopefully inspire many more cross community teams to get involved in the competition."
Armagh All Ireland Champion Diarmaid Marsden coordinated the event as Ulster GAA Regional Development Officer, speaking after the competition he said, "I have been out on the field with some of the players since February and have seen the commitment that these boys have given to this competition and their desire to work with other students from schools in their area. This tournament is a great credit to all the boys, their families and their schools. All those who participated in this competition had no prior experience of playing hurling, for many they had no prior involvement in Gaelic Games, so this tournament was really something special. I hope that all the players will now be encouraged to develop their skills and interest in the GAA.
"This is the first year of the Cúchulainn Cup and I hope it will be the first of many more to come."
Danny Murphy Provincial Director of Ulster GAA looks forward to the competition expanding in 2010. He said, "We had 16 schools participating in this the first ever Cúchulainn Cup and I am confident that we can now expand the programme to include teams from other areas.
"I would also like to express my sincere thanks to the School Principals, Players and Teachers who made this blitz such as success"
16 schools participated and each team is made up of players from four schools from the one area. The teams were:
Armagh Cúchulainns: St Patricks Grammar, City of Armagh High, St. Brigid's High, Armagh Royal
Belfast Cúchulainns: Corpus Christi, Belfast Boys Model, St. Patrick's Bearnageeha, Ashfield Boys High
Fermanagh Cúchulainns: St. Michael's Enniskillen, Portora Royal, St. Joseph's College, Erne Integrated
Roe Valley Cúchulainns: St. Patrick's College, Limavady Grammar, St. Mary's Limavady, Limavady High
back to top

All Eyes on Ulster Camogie Final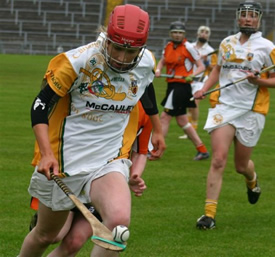 After an exciting Championship competition, Derry and Antrim will now go head to head in the Ulster Camogie Final on Saturday 4th July.
In the Semis Derry overcame Down in treacherous weather conditions at Ballerin. The opening exchanges were scrappy with both sides trying to get to grips with each other and the weather. Down seemed to settle quicker with Captain Catherine McGourty sending over two astounding frees, one from deep in the midfield area and the other tight on the sideline about 45yards from goal.
Down suffered a blow however when their influential joint Captain and midfielder Lisa McCrickard had to retire injured but substitute Orla Maginn entered the fray and quickly added two points which put Down one behind.
The second-half saw Derry come out determined to take the game to Down. Some excellent play from Katie McAuley found Sinead Cassidy who coolly slotted over. It was McAuley who leveled things up after she was played in by Meave Boyle and Katrina O'Kane sealed the victory for Derry slotting home from close range after Down failed to clear their lines.
Derry manager Danny McGrellis was pleased with his side's performance although he admits they need to work on some aspects of their game: "I'm happy enough with the performance, there's still work to be done we know that but we'll take the result. These girls have sold themselves short on a number of occasions and we're working on the self-belief so it's nice that they showed character today."
In the other semi-final Antrim beat Armagh at Casement Park, the girls from the Orchard battled extremely hard but Antrim's experience shone through and they were able to overcome any obstacles Armagh threw at them.
"At the end of the day we were comprehensively beaten but I'm extremely proud of my players; they battled hard against a far superior team," said Armagh manager Patsy Magee.
Indeed Antrim captain Kelly Maybin was impressed with how the Orchard girls equipped themselves on Saturday saying: "They were an extremely physical side with some good under 16s coming through. We're extremely pleased with our performance and the score line suggests we played well. We're really looking forward to the final against Derry, they always give us a good tight game but we'll be hoping that we perform".
Semi-Final Results:
Derry 2-8 vs 1-5 Down
Antrim 5-13 vs 2-4 Armagh
The Ulster Camogie Final takes place at Pairc Esler in Newry Co Down on 4th July 2009.
As part of Ulster Camogie's 2009 Championship Finals there will be an Over 40's game between an Ulster Select and a Dublin Invitational team.
Any players past or present who would like to take part please contact Bernie Daly (Antrim) at b.daly@dairyfarmtraining.com or call 07767393123 / Sally Rafferty (Armagh) at sallymccone@btconnect.com or call 07718920455.
back to top

GAA Programme Fair not to be Missed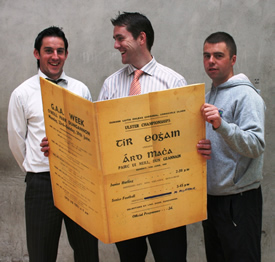 On Saturday 30 May the Cardinal Tomás Ó Fiaich Memorial Library and Archive, Armagh, will host 'Clár 2009′, its second annual national Gaelic games programme and collectibles fair.
The previous fair last August, the first of its kind anywhere for GAA memorabilia, proved a great success, with a large number of collectors in attendance. Collectors came from all four provinces to Armagh to exchange and deal over items. The event also provided many collectors with an opportunity to meet each other for the first time.
An even bigger crowd is expected to attend this year's fair. Surplus items from the library collection as far back as the 1940s will be available for exchange or sale at reasonable prices. There will be no auction element. A range of GAA memorabilia from the early years of the last century will also be on show, as part of the library's current Ulster GAA history exhibition.
Collectors are encouraged to forward lists of their 'Wants' and 'Spares' in advance of the fair, and to bring a selection of their spare programmes for exchange on the day.
The event will start at 10.30 a.m. Further information is available for Roddy or Dónal at the library on (048)-37522981.
back to top

Ulster GAA in Schools - County Down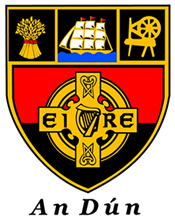 Ulster GAA Coaches bring Gaelic Games into schools across Ulster. This month we take a look at what's going on in County Down Schools.
FUN has been the buzz word for coaches working throughout County Down schools as they have just held a round of FUNamental School Days throughout the county. The events were attended by the large majority of schools participating in the Department of Education's 'Sports Programme'.
The events consisted of a variety of Fundamental movement based games and exercises for the children, in a completely non-competitive environment. With the emphasis solely on Fun and high levels of activity, the children appeared to enjoy themselves thoroughly at each and every venue.
With so many schools in attendance, it was a great opportunity for the children to interact socially and make new friends from a variety of backgrounds, right across the religious and ethnic spectrums. It was fantastic to see so many young, smiling and exhausted faces.
A huge word of thanks must go to the teachers and principals of the participating schools for permitting their children to attend the events, and for the support they have given the Minister's programme throughout the year and also to Coiste Chontae An Duin (Down GAA).
As this was the second year of the Co. Down FUNdamentals Days, and with total numbers of participants exceeding 1000 children, the events appeared to be a undoubted success.
back to top

Ulster Ladies Prepare for Championship Battle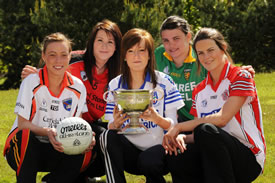 This year's Ladies Ulster Senior Championship kicks off on Saturday 6th June with the semi final meeting of neighbours Tyrone and Armagh as a curtain raiser to the Cavan v Fermanagh game. Games between these two are always close, always exciting and always go down to the wire, so expect nothing different this time around. When they met in the league Armagh came from seven points down at half time to win 2-10 to 1-12. Their second half recovery was led by the excellent Mags Mc Alinden who has been their top scorer all season and finished with six points against Tyrone. Armagh will play this campaign without the experienced O Donnell twins and classy forward Aileen Matthews however new manager Gregory Mc Gonigle has introduced some new blood and also welcomes back Mairead Tennyson who missed last year's championship due to college commitments in England. Tyrone also has a new management team and whilst they were only finding their feet during the league they will at this stage now know their squad and are likely to select a more balanced team than when the sides last met. Since last season a number of players have retired including the excellent Eilish Gormley however there are still a good enough squad to challenge in the All Ireland series regardless of how they do in Ulster. Once again their attack will be led by the very effective Gemma Begley.
The following day, Sunday 7th June Ulster champions Monaghan and Donegal meet in the quarter final. It was at the same stage last year that Donegal beat Armagh however all is not well in the Tir Chonnail County. They were relegated from Division 1 of the league and then manager Dominic Mc Glinchey resigned. Following on from Mc Glinchey's resignation three Dublin based players also resigned. New management has been appointed however one would have to ask if they will have had enough time to work with the squad. With that said Donegal always produce good footballers and the county is the reigning Ulster minor champions. They will hold no fear of Monaghan and will be easily motivated because when they met in last year's semi final Monaghan had just a point to spare and then went on to reach the All Ireland final. Monaghan have a very similar squad to the one that reached last year's Brendan Martin Cup final. John Mc Aleer's side had a relatively good league campaign which included an away win against All Ireland champions Cork. Their four All Stars from last season Sharon Courtney, Niamh Kindlon, Amanda Casey and Edel Byrne are all playing well at the moment however Therese Mc Nally is on crutches with a knee injury. If there is one downside to the Monaghan set up it's the depth of their bench. They don't really have an impact sub and if any other players where to pick up injuries this could come back to haunt the Farney county.
The winner of the Donegal v Monaghan game will meet Down. 2009 has been like a fairy tale story for the Mourne girls. They set themselves a target of promotion to Division 1. Not only did they achieve that target but they also captured the Division 2 league title with an emphatic win over last year's All Ireland intermediate champions Tipperary. With the likes of Eliza Downey, Kyla Trainor, Lisa Morgan, Michaela Downey and Aileen Pyers all playing out of their skins at the moment it would be no surprise if the Mourne girls were to reach this year's senior decider.
In the intermediate final Cavan and Fermanagh will meet once again. Last season the Erne County needed a replay to claim their first ever intermediate crown. Their league campaign was pretty poor however a number of players who opted out of that campaign are back. Cavan on the other hand had a good league campaign and will be keen to reclaim the title.
The junior final is also a repeat of the 2008 decider between Derry and Antrim. Last season Derry won and then advanced to the All Ireland final only to lose to London. There has always been very little between these sides and this year's final should be no different.
back to top

Deadline Extended for One-Wall Nationals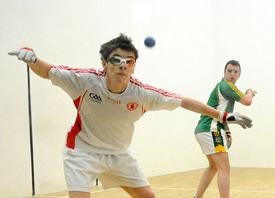 Please note that the entry deadline for the One-Wall Nationals has been extended to June 4th.
This year's Nationals take place between June 26th - 28th at the Breaffy International Sports Hotel, Castlebar, Co Mayo.
Click below for the entry form and note that there is also a Ruby Masters Grade that is not on the form:
*Please note the inclusion of two Challenger grades for beginners. We would invite all of those with instruments to take them along to Breaffy as there will be a traditional session in the hotel on the Saturday night.
For further information log on to: http://handball.ie/news/view/574_deadline_extended_for_one_wall_nationals_
back to top

Academy Girls First in Ulster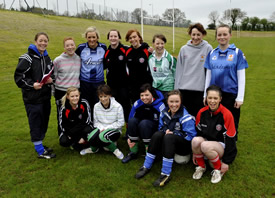 A new initiative by the Ladies Gaelic Football Association was piloted recently in St Patrick's Academy Dungannon, where 18 girls successful achieved both a coaching and refereeing award, making them the first in Ulster to do so under this programme.
The course, which was aimed at Year 13 and Year 14 students in the school gave the girls the opportunity to become fully accredited coaches and referees for Ladies Gaelic. Sheena Tally, Ulster Games Development Officer for Ladies Gaelic Football delivered the programme to the girls over 3 days and said "it was a great opportunity for the girls to gain experience in coaching and refereeing while at the same time building their CV's for the future. Those who participated in the programme not only represented their school but they will also prove to be a great asset to their clubs and counties. It is hoped that they will now use their newly acquired skills to help develop the game across the county."
Photo courtesy of Michael Cullen.
back to top

New Website for Ulster Camogie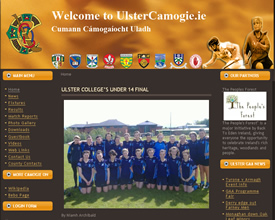 The Ulster Camogie Council have developed and launched a new improved and user friendly website at www.ulstercamogie.ie
The website contains all the Ulster Camogie fans needs including fixtures & results, match reports, photo gallery's, downloads and a guestbook, as well as much more.
To submit any information or articles please email catherineo@btinternet.com
back to top

Féile Uladh 2009 - Dungannon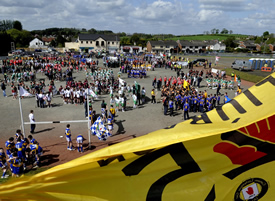 On the week leading up to the Bank holiday weekend, it didn't look good with the weather playing havoc with the Pitches in County Tyrone. But Saturday 2nd May was a Sun drenched day and the 8th Annual Féile Uladh was a great day.
This year's Féile was that little bit special as it was also celebrating 125 years of the GAA and for the second year was held in Tír Eoghain. It was a great occasion and the market town of Dungannon was a fabulous host as to where the host club Eoghan Ruadh CLG.
Feile is a small stepping stone on the development of the provinces young Hurlers and Camogs, but one which goes a long way in the memory of those who participate in it. This year there was a record number of team (86) and 2,107 Players plying their trade with the Cáman and Sliothar.
A special thank you must go to the Parents and Coaches for your work, which was a credit to you with the way the young players played our beautiful game.
To all the Referees thanks, for their time and effort, as without them the 112 games played on the day would not of been possible.
To the Host clubs for use of their superb facilities and pitches and due to the fact that the weather was playing havoc on the playing surfaces on the week leading up to Féile.
Special thanks to the teams in Division 6 who had to travel to Ballyshannon to play in their group games.
Féile gives the opportunity to teams to play against clubs they don't usually get a chance to and is about participation more so than winning, although there were winners on the day and certainly no losers; the main winner was Gaelic Games and in particular Hurling and Camogie.
The Dunloy Camogie Team were judged the best turned out team during the parade through Dungannon with Slaughtneil the Best Banner.
The final results are as follows.
Div 1 Final: Loughgiel 1-1 V 3-1 Slaughtneil
Div 2 Final: St Brendans 1-1 V 3-2 St Endas
Div 3 Final: Lavey 3-2 V 4-3 Cúchulainns
Div 4 Final: Glenariffe 2-0 V 2-11 Na Magha
Div 5 Final: Liatroim 1-1 V 0-0 Bredagh
Div 6 Final: Sean Stinsons 1-1 V 2-5 Rasharkin
Div 7 Final: Creggan 0-8 V 0-0 Mullahoran
Div 8 Final: Naomh Eoin Dromore 0-1 V 3-5 Larne
Div 9 Final: Woodford Gaels 2-4 V 0-0 Lisnaskea
Div 1 Camogie Final: Loughgiel 4-2 V 1-3 Ballinascreen
Div 2 Camogie Final: Ballygalget 1-0 V 1-2 Portglenone
Div 3 Camogie Final: St Johns 7-3 V 0-0 Rossa
Div 4 Camogie Final: Dungannon 1-0 V 3-2 Carnlough
back to top

Ulster GAA reveals 'Belfast Rising' Plan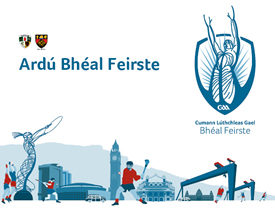 Ulster GAA has published a confident proposal for promoting Gaelic Games across Belfast, as Ireland's Second City.
The launch held in the Balmoral Hotel in West Belfast on 1st May '09, attracted a large audience of key people from GAA clubs, Universities, the media and local government along with a number of high profiled Assembly Members and Belfast City Councillors.
The Strategy was officially launched by the new GAA President Christy Cooney. Entitled 'Ardú Bhéal Feirste: A Plan for the GAA across Ireland's Second City' the proposal focuses on four themes: Coaching, Games and Participation; Physical Development; Club Governance; and Culture and Heritage. Its aim is 'to see Gaelic Games and Culture making a visible and tangible contribution to community; sporting; social; and economic life in Ireland's second City'.
Speaking at the launch Ulster GAA President Tom Daly said, "As Ireland's second city and Ulster's largest urban area Belfast is of key strategic importance to the GAA. It has strong and proud GAA history, one of success and above all of commitment, often against odds and in circumstances not experienced by GAA communities anywhere else in Ireland.
"I am confident that with the implementation of this strategy the GAA in Belfast will be strong again and will act as a flagship for the GAA in our Province. 'Belfast Rising' is our aim as well as the title for our strategy."
GAA President Christy Cooney said, "This is a carefully considered and well thought out plan and one with potential to make a real difference to the presence and strength of our games in Belfast.
"The whole issue of urbanisation is high up on my list of priorities and I sincerely hope that this project proves to be a massive success and one that we can learn from as we turn our attention to our other urban bases in the months and years ahead."
Key targets of the Strategy include:
Coaching, Games and Participation
At least 10 GAA Community Coaches for the Belfast Urban Area
An increase in games participation of at least 20% by 2014
A specific Belfast Continuing Professional Development programme for volunteer club coaches
Cross Club summer and Easter coaching camps
City Based Development Squads
Enhanced Club-School links through new coaching initiatives and programmes
Programmes to attract new participations who traditionally would have no involvement in the GAA.
Physical Development
Belfast GAA Urban Centre of Participation and Excellence that includes at least three new full-size pitches for club use in North and West Belfast
At least two new full-size GAA pitches for use in the South and East Belfast
Enhancement of Casement Park to an appropriate standard for the main GAA stadium in Ireland's second city.
Club Governance

New group comprising of Belfast GAA club officials, Antrim, Down and Ulster GAA officials to drive the development of the GAA in Belfast
At least two Development Officers to support Club officials in administration governance and ongoing club development
A new Brand and Identity for the GAA in Belfast
A "joined-up" club led approach to the overall development of the GAA in the City
A strong GAA presence and linkage with all local government and relevant public bodies in the city.
Specific Belfast GAA Club Development Seminars and Volunteer training events.
Culture and Heritage

Revival of Scór in the City
Introduction of new Specific Belfast GAA Irish language Courses
Development of a Belfast GAA History.
The event was addressed by GAA President Christy Cooney, Ulster President Tom Daly, Junior Minister Gerry Kelly MLA, Chairman of Antrim County Board Dr John McSparran, Chairman of Down County Board Kevin Bell and Chairman of the GAA Strategic Planning Workgroup Jim Murray.
In attendance were MP for South Belfast Alasdair McDonnell MP MLA and Chairman of the Assembly's Culture, Arts and Leisure Committee Barry McElduff MLA.
You can download the Belfast Strategy here.

back to top