Antrim Hurlers – Giants of Ulster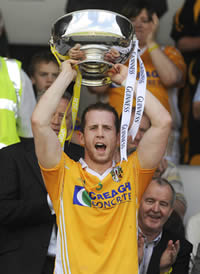 ANTRIM SENIOR HURLERS LIFT 8TH TITLE IN A ROW
Ulster Senior Hurling Championship Final:
Antrim 3-20 Down 4-15
In the best Ulster Senior Hurling Final for years Antrim survived a stunning second half comeback by outsiders Down to clinch a thrilling game by two points on a scoreline of 3-20 to 4-15, at sunny Casement Park.
During the first half the game appeared to be following the expected pattern as goals from Shane McNaughton and Joey Scullion helped the Saffrons to a 2-10 to 0-9 half-time lead.
However the favourites were rocked back on their heels early in the second half as Down hit back in style with goals from Paul Braniff (2), Stephen Clarke and Andy Savage to take the lead for the first time.
Shane McNaughton scored a brilliant second goal to restore the Saffrons lead but Down were undaunted and regained the lead once again.
The Ards men led by a point and looked like they could end the Saffrons run as Ulster champions, but three late Antrim points from the Cushendall trio of Karl McKeegan, Neill McManus and Shane McNaughton saw them clinch their eight title on the trot.
---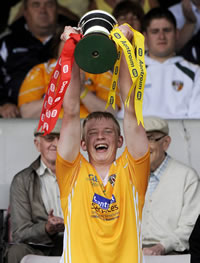 ANTRIM MINOR HURLERS REIGN SUPREME IN FINAL
Ulster Minor Hurling Championship Final:
Antrim 4-16 Derry 0-09
Antrim coasted to their seventh consecutive Ulster Minor Hurling title at Casement Park with a convincing victory over a disappointing Derry side.
A goal from right-half forward Stephen Beattie, after Derry 'keeper Killian McDermott was stranded out of his goal, followed by a superb effort from from full-forward Conor McCann on 18 minutes left the young Saffrons 2-7 to 0-5 ahead at the half-time.
Antrim continued to dominate after the break and a goal from substitute Ciaran Clarke and a second from Conor McCann sealed the deal for the Saffron lads who had nineteen points to spare in the end.
Don't forget to check out the Ulster GAA's Championship Microsite "Land of the Giants" for video reports, photo gallery's and more ... www.ulster.gaa.ie/landofthegiants/
back to top

Antrim and Tyrone Gaels look forward to historic Ulster Final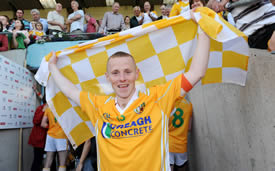 It has been almost 40 years in the making, but the long awaited re-appearance of Antrim in an Ulster Football Championship Final has Gaels from all counties excited and hopeful of a tantalising Ulster Final clash with All Ireland Champions Tyrone.
In their semi-final match, Antrim caused a sensation at Clones when they beat Cavan by 0-13 to 1-7 to reach their first Ulster final since 1970.
Liam Bradley's side played an energetic and attractive brand of football that left Cavan floundering in their wake at times to move into the provincial decider against the All-Ireland champions, Tyrone.
Antrim had heroes all over the pitch, but man of the match Terry O'Neill, giant half-forward Niall McKeever and the always-accurate Paddy Cunningham [pictured] played pivotal roles in a day of great celebration for the county.
McKeever's dominance around the middle third ensured that Antrim led 0-7 to 0-3 shortly before the break. Seanie Johnston scored all of Cavan's points to that point before the Breffni men, thanks to scores from Ray Cullivan and Martin Reilly, put in a late surge and trailed by the minimum at half-time.
However, Antrim powered out of the blocks after the break, and when Justin Crozier scored a fine individual point after 52 minutes, they led 0-12 to 0-6.
Cavan pulled a goal back in the 58th minute when Mountnugent clubman David Gibney got on the end of a Martin Reilly '45 to bundle the ball home. Martin Reilly then added Cavan's first point of the half two minutes later and Tommy Carr's side looked to be on the verge of a superb comeback.
However, Antrim had the final say and Paddy Cunningham's late free gave them the breathing space they needed at the death.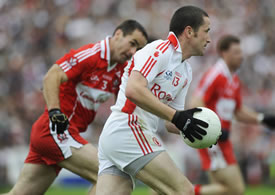 Meanwhile three times All Ireland Champions Tyrone easily overcome Derry in Casement Park during their semi-final clash.
Although Tyrone performed reasonably well on the day, their overall quality was well below their best but Derry simply didn't perform and they never seriously threatened the All-Ireland champions.
Tyrone led from the early stages and never relinquished it, going in three points ahead at half-time after a patchy opening period.
It took a long time for a score to be registered in the second half but when Brian Dooher finally kicked one over, Tyrone kicked into a higher gear and powered to victory.
Derry's Kevin McGuckin was given a straight red at the arc of Tyrone's second half blooming and it was a blow that essentially signalled the end of the game as things turned pedestrian thereafter.
The first half was far from a dynamic affair but Tyrone's fast-paced attacks just did enough to shade the opening period.
Derry got onto the scoreboard first, Barry McGoldrick kicking over an early free.
However, Tommy McGuigan hit three points without reply for Tyrone as they began to establish themselves. One of the three came from play, a fine technical effort from distance.
Derry were struggling to create chances from play and Tyrone were beginning to blossom, an astute Martin Penrose brace making it six points to two in favour of Mickey Harte's men.
Derry were hanging in there though and an Eoin Bradley free, followed by a blockbuster effort from substitute Seamus Bradley from play, put two between them.
Seamus' score was a masterful effort, a high effort from way out brushing the clouds and flying straight between the posts.
However, Tyrone finished the half the stronger as they hit two fine late points.
Stephen O'Neill hit the first, a classy effort which he won in the corner before turning Sean Marty Lockhart and racing in and fisting over the bar.
Eoin Bradley hit a sweet response from 30 yards but then Tyrone midfielder Kevin Hughes thumped over an accomplished score to leave the Red Hands a goal ahead at the break.
If the quality of the first half had not been of the superior variety, the opening fifteen minutes was a few notches further below.
It took until the 50th minute for the half's first score to be registered, a typically abrasive effort from captain Dooher, who came on as a substitute at half-time.
From there, things improved significantly and Tyrone's increasing fluidity of movement in attack reaped rewards on the scoreboard.
Eoin Bradley and Davy Harte traded scores but then two quick points from Tyrone, first a free from Penrose and then a magical individual effort from Sean Cavanagh had them at double scores, 0-12 to 0-6.
As Cavanagh ran out after scoring, there was a skirmish amongst the players and Derry's Kevin McGuckin was given a straight red.
Tyrone were unflustered by the melee and Hughes went straight up the field and extended the lead was a point, with substitute Sean O'Neill quickly adding another.
Eoin Bradley kicked one for Derry before the end but substitute Brian McGuigan had the last part to play, clipping over a neat effort to cap a seal on an easy victory.
Don't forget to check out the Ulster GAA's Championship Microsite "Land of the Giants" for video reports, photo gallery's and more ... www.ulster.gaa.ie/landofthegiants/

back to top

Hype building for the 'Festival of Camogie'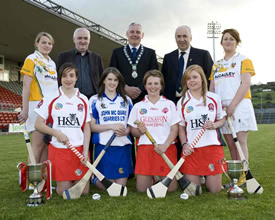 A Festival of Camogie is to take place on Saturday 4th July, with the key highlight being the Ulster Senior Camogie Final between Derry and Antrim and the Ulster Junior Final where Tyrone take on Monaghan.
To mark this special occasion Ulster Camogie held a launch to promote this important GAA event.
Mayor of Newry and Mourne District Colman Burns was present to help launch the Ulster Finals, he said: "The Ulster Council should be commended for their dedication to making the Ulster Final a festival of camogie which could be enjoyed by all the family.
"The hard-work that has gone in by all those involved should be commended, this will be the best final Ulster Camogie has witnessed. The teams, players and officials are lucky to be taking part in such a momentous occasion."
Catherine O'Hara Chairperson of Ulster Camogie said: "The GAA has to be congratulated for giving us the opportunity to create what we hope will be the finest Ulster Final. They have worked tirelessly to ensure that we have a pitch and date which we can build around. Danny Murphy and Tom Daly have to be thanked for giving us this unique opportunity, we hope with their continued support and help to make the Ulster Final an annual event which will be placed in every GAA calendar.
"It's now up to us, as an association, in a Province with a unique history to get behind our own sport and be visibly seen supporting the game we are so proud to be part of. It's about respecting ourselves first.
"On behalf of the Council I would like to wish all the finalists and officials the best of luck. Pairc Esler on 4th July is where we should all be.
Two fabulous finals and the buzz that goes hand in hand with finals day is one not to be missed."
Also present at the Launch was Ulster Secretary Danny Murphy. The Provincial GAA Director spoke of the need to support Camogie. Danny Murphy stated that the time has come for Camogie to receive the respect and recognition it deserved saying: "For some time now the Camogie Association has been saying that it should get more respect. I'm a big believer that respect is not given but earned and you only have to look at what Ulster Camogie is trying to achieve with this Final to know that they are worthy of our respect."
back to top

Ulster Ladies Football Championship Final Preview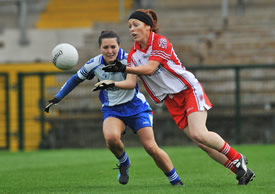 Monaghan and Tyrone will renew their rivalry on Sunday 5th July when they meet in the 2009 Ulster senior final. This will be a repeat of last year's decider which the Farney side won 2-11 to 1-6.
Since their last meeting the Red Hand girls have changed their management team. The new mentors used the league to get to know their squad and in the Ulster semi final they had five points to spare over Armagh, winning 2-9 to 2-4. The squad is littered with experienced quality players. Neamh Woods is a current All Star whilst Gemma Begley has consistently been one of the top forwards in the country and was herself an All Star in 2007. Alongside this experienced duo you have the likes of Maura Kelly, Cathy Donnelly, Sinead Mc Veigh and Linda Donnelly, all of whom have big match experience with their county and colleges.
Monaghan have the advantage of going into the final having had an extra game. They hammered Donegal in the preliminary round game 5-15 to 0-3 and then beat Down in the semi final 2-13 to 1-7. Four of the team Amanda Casey, Niamh Kindlon, Sharon Courtney and Edel Byrne were All Stars in 2008 while Ciara Mc Anespie was named Vodafone player of the year. Byrne was exceptional in the semi final win over Down scoring 2-6 of the Monaghan tally. The Farney side also hope to have Therese Mc Nally, Isobel kierans and Fiona Courtney back for the final. This trio played in last years All Ireland final and will add a wealth of experience if selected.
On paper Monaghan are probably the stronger of the two teams and have the advantage of winning the last time the sides met. However it is the Ulster final, what's gone before goes out the window so its down to who wants it most!
back to top

Ulster GAA Hail Sport in Schools Programme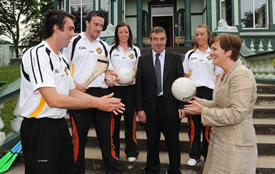 As the school year comes to an end, Ulster GAA has been reviewing another successful year of Minister Caitríona Ruane's Sport in Schools Programme.
Through the Programme, the Department of Education funds 32 GAA Coaches to work in schools across the north of Ireland, coaching children in their Foundation Year and Key Stage 1. The programme aims to encourage young schoolchildren to develop their basic movement skills i.e., agility, balance and co-ordination.
Over the past two years, Ulster GAA Coaches have worked in 600 schools, dealing with 800 teachers and have trained up to 20,000 children.
This week Ulster GAA hosted an 'end of academic year review' with all 32 coaches and Education Minister Caitríona Ruane, in Kilrea. This gave Ulster GAA an opportunity to report directly to the Minister and for the Minister to witness at firsthand the successful results her Programme is achieving.
Ulster GAA Director of Coaching and Games Development Dr Eugene Young said, "We are delighted that Minister Ruane has taken time out of her busy schedule to join us in Kilrea to review our participation in the 'Sport in Schools Programme'. The Programme continues to focus on the delivery of physical literacy within the Curriculum and links into the community and Clubs through our Gaelic Start Programme. The feedback from schools, children and parents is resoundingly positive and Ulster GAA hopes to continue in the partnership with the Department of Education to deliver sport in schools."
Minister Caitríona Ruane said, "This curriculum sports programme is growing stronger in our schools. Since this programme began, the 32 enthusiastic and dedicated GAA coaches have trained nearly 20,000 children and young people in physical literacy as well as team work, ball control and co-ordination.
"This is one of the most progressive and dynamic sports programmes on the island of Ireland. The coaches, both men and women, English and Irish speakers, work closely with pupils of all abilities and their teachers giving them a passion for sport and fitness. The focus on team work, participation and physical exercise at a young age will benefit our young people for the rest of their lives as they develop a love of the games and go on to represent their school, their club or their county.
"It is symbolic that this is the year when GAA is celebrating its ceiliúradh 125. The young people here will help ensure that the organisation reaches its ceiliúradh 250. Society and the Department owes a debt of gratitude to the GAA for the sports coaches."
back to top

Armagh Man to lead Irish Men's Team to World Handball Championships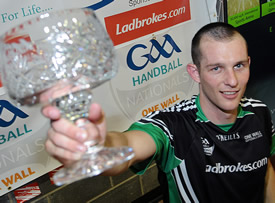 Armagh's Charly Shanks will lead the Irish Men's One-Wall Team to the World Handball Championships in Portland, Oregon next October following an emphatic win over Mayo's Dessie Keegan in Castlebar. Shanks was in devastating form as be breezed to a 15-2 victory in the first game, courtesy of an unbelievable spin-serve which left the massive audience looking on in awe.
The Lurgan clubman won the Men's Open title in 2007 and there was great excitement when the 2008 victor, Keegan came through his semi-final to set up a dream final against Shanks. However, on this occasion, Keegan was no match for the talented Orchard County man and Shanks took a 15-0 win in the second to claim his second national senior crown.
With the largest ever entry, this year's GAA One-Wall Nationals at the Breaffy House Resort proved a massive success. Over 250 handballers converged at the Mayo venue for the 13th One-Wall Nationals, sponsored by Ladbrokes, with competitors from U-12 to over 65s.
back to top

GAA Chiefs meet First Minister and Deputy First Minister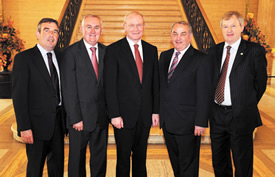 GAA Chiefs from Ulster and Croke Park held a private meeting with First Minister and Deputy First Minister - Peter Robinson and Martin McGuinness at Parliament Buildings earlier this month, at which the Ulster Council's plans to upgrade Casement Park were discussed.
The high-level GAA delegation was led by Ulster GAA President Tom Daly and Provincial Secretary Danny Murphy – they were joined by GAA President, Christy Cooney; outgoing President, Nickey Brennan; and Director-General, Pauric Duffy.
Speaking after the meeting Ulster President Tom Daly said: "It was a very good opportunity for Nickey's term to be recognised in this way and for the Deputy First Minister and First Minister to meet with our new GAA President Christy Cooney.
"At this stage our developmental objectives are well known at that level of government, including our plans for Casement Park."
President Cooney said the GAA delegation "appreciated" the opportunity to meet with the Mr Robinson and Mr McGuinness and for the respective parties to "reflect on some of the key issues" the GAA and Ulster Council are pursuing, including the redevelopment of the west Belfast venue.
"I was in Belfast for a number of reasons including a pre-arranged meeting in Parliament Buildings with the Deputy First Minister Mr Martin McGuinness, and we appreciated the opportunity to meet jointly with him and First Minister, Peter Robinson".
back to top

Armagh Cúchulainns meet President McAleese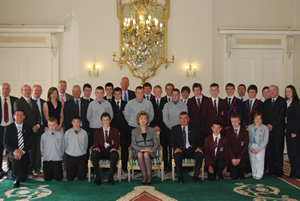 Ulster GAA has just announced that Armagh Cúchulainns are to represent Ulster at the Continental Youth Games in San Francisco in August.
The team which took part in Ulster GAA's cross community schools hurling tournament 'The Cúchulainn Cup' is made up of players from four schools across Armagh City – The Royal, St Patrick's College, Armagh High School and St Brigid's. All players had no previous experience of playing hurling.
Ulster GAA Coach and Armagh All Ireland Champion Diarmaid Marsden is team manager and he is currently training the U15 boys the skills of Gaelic Football to prepare them for their American trip. This means the boys, some of which are not from traditional GAA backgrounds, will now have the experience of playing both hurling and Gaelic football at competition level.
Armagh City Hotel has shown its support for the Armagh boys and it will be the team's main sponsor.
To honour all the boys participating in this cross community initiative Ulster GAA bosses arranged a special meeting for the team with Irish President Mary McAleese at Áras an Uachtaráin, it is hoped that a similar event will be held at Parliament Buildings, Stormont.
This cross community initiative is the first of its kind and Ulster Council are already bringing forward plans to extend the Cúchulainn Tournament to other towns and cities for next year.
back to top

Keeping 'Gaelic' in the GAA - Antrim Fundamentals

A very special FUNdamentals day was held in County Antrim recently to celebrate the 125th anniversary of the GAA and one of the key aims of the day was to keep the "G" in GAA, as the day was completely in Irish.
Over 90 children from County Antrim attended the FUNdamentals day which was hosted in Bunscoil Sleibhe Duibhe. This FUNday was offered to Primary 3 Pupils from 4 Bunscoils in the locality.
It enabled children to come together to display the skills they had learnt and developed throughout the year. The main aims of the day were for the children to have Fun while mixing and cooperating with children from other schools and to make the children aware of the significance of the GAA and help them appreciate Gaelic games.
The children completed a circuit of station activities which were specific to running, jumping, throwing, agility, balance, co-ordination, handling, kicking and striking. These stations showed progression throughout the circuit and were created with a Fun element and to ensure full participation by the children with guidance from teachers and coaches.
All children who participated on the day were presented with a poster and the teachers were presented with a GAA pack to bring back to their school.
back to top

Young Hurlers shine in Owenbeg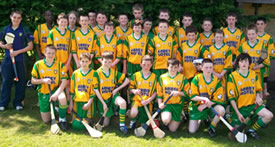 A sundrenched Owenbeg (Derry GAA, Centre of Excellence), Dungiven was the venue to showcase Ulster U14 Hurlers, from the county development squads.
For some of these players it was the first time (and hopefully the first of many) they got to pull on their county jersey to represent their county.
There were 10 county teams in action with two groups of 5 teams.
Section 1: North Antrim; South Antrim; Down; Armagh, St Patrick's; Derry A
Section 2: Donegal; Derry B; Tyrone; Monaghan; Armagh, St Malachy's
All matches were only complemented by the weather and all teams played 80mins of county standard hurling.
From all the matches it was very obvious of the work that is going into at underage hurling level across Ulster and some of the scores, tackling and stick work of the young players was matching that of their senior counterparts in the Ulster Senior Hurling Championship quarter-finals.
Special mention must go to a young lad from St Endas GAA in Antrim. Comac Ross who played in many positions for the North Antrim side but whose hurling skills are second to none.
back to top

Ulster GAA provide Grant Assistance for GAA Clubs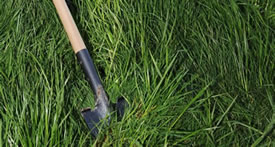 It was a very long but successful day in the new premises in Donaghmore as GAA Clubs queued for advice and assistance from Ulster GAA on Sport NI's Funding Programme: Places for Sport.
Ulster GAA had organised a day-long clinic to help GAA Clubs take forward their proposals and to assist with their applications. There were four advice stations available and clubs were allocated time slots to keep everything running smoothly.
Many of the clubs who attended have since put in applications for funding and are awaiting the outcome from that. Other clubs realised that they still had issues to get in order, such as planning permission. These clubs are now moving forward to progress any outstanding issues so that they will be ready for a new round of Sports Funding in the near future.
Sport NI's Funding Programme: Places for Sport, however it is important that GAA Clubs are prepared for further funding opportunities and Ulster GAA is committed to assisting clubs with their funding applications. We will be emailing details of new funding opportunities as soon they as they arrive to clubs – so watch this space!
A big thank-you goes out to all those who helped man the advice stations on the day in Donaghmore, in particular Mark Conway, John O'Neill, Christopher McCarney, Liam Nelis and the Ulster GAA Staff.
back to top

Interest Growing for GAA at Victoria College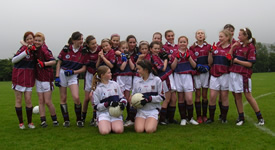 In February this year, Ulster GAA introduced Gaelic Football to the girls at Victoria College in Belfast for the very first time and it's notable that there has been an overwhelming positive response from the school for Gaelic Games.
Coaching for Ladies Gaelic football has been provided to Year 8 girls at the school, average class numbers have been 35-40. Such has been the success the teachers have taken on an additional class with an average of 20 girls attending. The girls have participated in a number of blitz tournaments acquitting themselves admirably.
On Friday 29th May 20 Year 8 pupils took part in a Gaelic Football Blitz at Cherryvale Playing Fields. Two teams were entered into the competition, and were accompanied by 4 members of staff. The girls had been training in preparation for this competition for approximately 10 weeks. This was the first occasion that girls from Victoria College participated in a competitive Gaelic Football tournament.
Team 2 were drawn against Lismore Comprehensive, Craigavon, and Rathmore College, the two eventual finalists, who provided too tough a test for our beginners. They were narrowly defeated by St Joseph's before achieving their first ever victory in the match against Drumcree College. Ruth Aicken and Ella Davis provided the winning scores.
Team 1 recorded impressive victories over St Dominic's 3rd Team (13-0), St Colmcille's (7-2), St Patrick's, Lisburn (10-0), and Our Lady & St Patrick's 2nd Team (5-1). Despite losing 4-2 to St Patrick's, Banbridge, they qualified for the semi-final where they were defeated by a more experienced Lismore Comprehensive team.
This was a very impressive debut by all of the girls involved, and they exceeded all expectations by reaching the semi-finals of a very competitive tournament. The Antrim county organisers and officials were unanimous in their praise of the girls, particularly as many of them had never played Gaelic Football until very recently. Congratulations girls!
It is hoped over the coming months and years that the girls from Victoria College will be competing at all levels of Ladies Gaelic. We commend the school and their students for participating in this programme.
back to top

Milwaukee Hurling Club Visit Casement Park
Milwaukee hurling club got a taste of the hospitality and enthusiasm of fellow Gaels and hurlers in Antrim with a visit to Casement Park and West Belfast. The 51 strong group, which included 25 children, were in Ireland as part of a programme of hurling and cultural activities as part of their 125th year celebrations of the GAA.
Following a sightseeing tour of West Belfast which took in the now famous mural tour the group took part in an hour long coaching session followed by a hurling game with local club St Teresa's.
The American visitors were guests of the Ulster Council and the Antrim County board.
Following the game a number of presentations were made on behalf of Ulster Council and the St Teresa's club.
Michael Hasson PRO of the Council welcomed the party and expressed his sincere appreciation to everyone involved in this venture.
Tony Taylor chairman of St Teresa's paid tribute to the young hurlers for playing Gaelic games and thanked Ulster Council for the opportunity to be involved is such a memorable occasion.
back to top

Ulster Ladies Post Primary Schools Round-up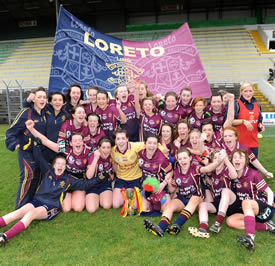 In September 2008 the Post primary schools competitions in Ulster began with 371 games scheduled to be played. There were a total of 88 schools with 203 teams participating in competition.
Unfortunately there were a number of factors that contributed to the delay in the completion of the competitions in the past year. Industrial action meant that teachers were very often unable to leave their schools to attend games. The horrific weather conditions earlier this year cost the organisers another 2 weeks and the complexity of working with schools from 2 jurisdictions meant that different holidays and examination arrangements impacted on the schools fixtures.
Nevertheless all competitions were completed and Ulster Ladies would like to thank all those teachers who managed to overcome the obstacles and fulfil their fixtures on time. Congratulations to all the Winners and Runners up listed below. We have a number of new schools emerging on the winners rostrum and this will encourage other schools that have not yet tasted victory at Ulster level. Ulster Ladies would especially like to thank all those Ulster champions that went on to represent our Province in the All Ireland series and to congratulate Loreto College Omagh on retaining their U16 All Ireland title- a truly remarkable achievement.
| | | | | |
| --- | --- | --- | --- | --- |
| U20A | St Mary's Newry | 2-8 | St Joseph's Donaghmore | 1-3 |
| U20B | St Catherine's Armagh | 3-3 | St Patrick's Academy Dungannon | 1-7 |
| U20C | Holy Cross Strabane | 3-11 | St Paul's Bessbrook | 2-7 |
| U16A | Loreto College Omagh | 3-10 | St Joseph's Donaghmore | 1-2 |
| U16B | St Catherine's Armagh | 4-11 | St Aidan's Derrylin | 3-7 |
| U16C | St Genevieve's Belfast | 8-10 | St Colm's Draperstown | 2-8 |
| U16D | Rathmore Gmr Belfast | 0-07 | St Louis Carrickmacross | 8-19 |
| U14A | St Patrick's Academy | 4-11 | St Mary's Lurgan | 4-9 |
| U14B | St Joseph's Crossmaglen | 5-7 | St Paul's Bessbrook | 2-5 |
| U14C | Our Lady's Newry | 2-08 | Assumption Ballynahinch | 0-09 |
| U14D | St Catherine's Killybegs | 6-12 | Lismore Craigavon | 2-6 |
back to top

Gaelic Football is Major Sport at London Academy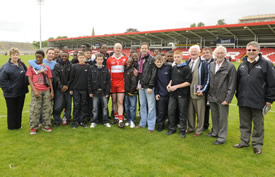 The impact of the GAA across the globe was evident when Dulwich Harps GAC in partnership with St Paul's Academy, London took their under-14 boys team on a seven-day tour of Ulster. During their tour, the team played four games, winning three of them. It has been remarkable the way that students from many different cultural backgrounds including Portuguese, German, African and afro-Caribbean have picked up the basic skills of Gaelic Football to become thoroughly outstanding competitors.
The opening fixture of the tour was against Holy Trinity College, Cookstown. This team is managed by Gaelic Football legend Peter Canavan. They are the current reigning Tyrone Vocational School champions at under-14 level. At the end of a fine game which yielded 34 scores, Dulwich Harps were victorious by four points. After the game, both teams were treated to a meal in the school and sixth form students made a presentation based on 125 years of the GAA.
The following day the tour party travelled to Ardara, Co. Donegal and registered a comprehensive victory over their hosts. The third game of the tour had a similar outcome when the party travelled to Ballyholland, Newry and won comfortably. In their final game of the tour the team came-up against a strong Irvinestown side who fielded a number of Under 16 players. Despite giving their best performance of the tour, the touring side were narrowly beaten by their Fermanagh hosts. A reception was held in the Bawnacre Centre after the game with George Beacom MBE acting as host and guest speaker. Fermanagh County Board Chairman Peter Cartin also attended and was very impressed by the level of skill on display, particularly by the touring team.
One of the highlights of the tour was attending the Ulster Championship clash between Derry and Monaghan in Celtic Park. The students were very impressed by the facilities, the large crowd and the special atmosphere that sets the Ulster Championship apart. After the match the students met a number of representatives from the Derry team including team manager Damien Cassidy, man of the match Kevin Mc Cloy and leading scorer Paddy Bradley.
For the staff accompanying the tour, it was evident there was a genuine commitment to the quality of the students' experience. Tyrone-native Michael Donnelly (Director of Gaelic Football) and Fermanagh-native Niall McCann (Director of Sport) as well as others work tirelessly to promote the GAA in areas not traditionally renowned for being GAA-strongholds. Michael explained, "the majority of our students come from a soccer background. However, once the Gaelic Football season comes around, the boys quickly forget about the soccer and are totally focused on the Gaelic". He thanked the welcome that was given to the group across all the areas they visited, in particular to the hosting families of Irvinestown. "Our students were blown away by the friendly attitude in Ireland and the kind hospitality that was shown throughout. We are indebted to these people and thank them for their support."
Since their return to London, the Dulwich Harps team have been very busy and extremely successful. They won the London Under-14 Championship and followed this up with the Under-14 All Britain Championship. "The tour to Ireland was great preparation for the London and All-Britain Championships. The tour gave the boys the opportunity to see the game played at a higher level than normal and as a result, they learned so much and were a better team for it," said a proud team-mentor. When asked if the Irish mentors gained much from the tour Michael gladly responded, "It was a humbling experience. It is something that we are very proud of being associated with. The students most certainly returned as better people as well as better Gaelic Footballers".
back to top

Youthcom "Crossing the Bridges" project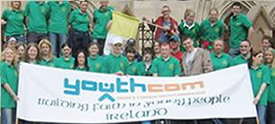 On Sunday 21st June a party of Belfast youths attended the Ulster Senior Football Championship semi-final between Tyrone and Derry. The youths aged 11-15, are involved in a project organised by Youthcom, a youth diocesan forum based in Belfast. As part of their "Crossing the Bridges" project, young people from Nationalist and Unionist backgrounds come together in a cultural diversity exchange programme.
The youths, representing Saints Youth Club from West Belfast, and Ards and Kilcooley Youth Groups in East Belfast have been involved in the project for almost a year. Not only are the kids given the opportunity to interact with each other, they have also been given the opportunity to visit places seen as belonging to "the other side". As part of this the young people visited Pairc Esler and Casement Park earlier in the year where they got a brief history of the GAA, tour of the grounds, and were coached in the basic skills of football, hurling and camogie.
Such was the success of the visits that the groups expressed an interest to attend a live game. Ulster GAA extended an invitation to them to attend the Tyrone V Derry Game in Casement Park. Visiting students from Duke University, North Carolina also attended the game as part of their Global Service Volunteering Project. Given that the GAA is a volunteer-lead organisation this had particular relevance to the American students.
It was a magnificent experience for all members of the group especially since the Belfast kids had "kicked-about and pucked-around" on Casement Park on a wet winters evening several months before. Feedback from the youths and leaders was extremely positive and they thoroughly enjoyed the Ulster Championship atmosphere so-much-so that there are requests for GAA coaching to be delivered to the East Belfast groups.
Ulster GAA's involvement in the project demonstrates the community outreach work on-going across Ulster and the in-roads being made into areas not traditionally associated with the GAA. Ulster GAA's involvement in the 'Crossing the Bridges' Project has helped give individuals from all backgrounds the opportunity to play our games and to benefit from all the GAA has to offer.
back to top

Beragh Red Knights GFC Need Your Vote!

Beragh Red Knights GAA Club are looking your vote in order to proceed to the National Lottery Award finals.
The Club have invested a lot of time and money in developing their new state of the art Sports Pavilion which incorporates a Community Room. In the Community Room we host a range of activity classes for a 10 month period of the year on a cross community basis and these have turned out to be an outstanding success and another example of the important role a GAA Club plays in their community.
This work has been recognised by the National Lottery Awards panel and our project entitled Community Sports Pavilion is the only project in the North to get through to this stage in the Best Sports Category.
Ulster GAA is asking Gael everywhere to support this worthy initiative. To vote for this Project simply log on to www.lotterygoodcauses.org.uk/awards and follow the links to the Best Sports Project and vote for Community Sports Pavilion. Alternatively use the traditional route and lift the phone and vote on our dedicated phone number 0844 686 1680 (calls cost just 5p from a BT landline).
Remember you can vote as many times as you wish and voting closes at midday on the 10 July.
Every vote counts – so log online today and show your support Beragh Red Knights GAA Club.
back to top