Tyrone collect Anglo Celt Cup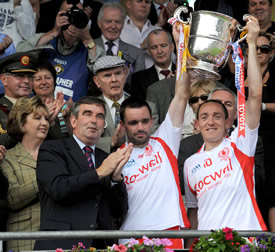 Ulster Senior Football Championship Final:
Tyrone 1-18 Antrim 0-15
Antrim's fairytale run in the Ulster Championship came to an abrupt end in the provincial decider at Clones, which the Red Hand won by 1-18 to 0-15.
In truth, the game was over inside 12 minutes, by which time the All-Ireland champions had already established a 1-8 to 0-1 lead.
Man of the match Séan Cavanagh, who started at midfield in the absence of Enda McGinley, scored a goal in the 11th minute which had Liam Bradley's young side facing an uphill battle.
Cavanagh finished with 1-4, while Paddy Cunningham cobbled together a remarkable personal tally of 0-11for the underdogs.
While Antrim were outplayed, they did have their chances, and Cunningham could have sneaked a vital goal just before the break to reduce the deficit to something more manageable, but he opted to fist over after Tony Scullion had made the opening.
Tyrone led by 1-8 to 0-5 at the break - Joe McMahon and Tommy McGuian scoring a brace of points each in th opening 35 minutes - and they made the better start to the second half. Antrim, who were brilliantly led by Cunningham, did come with a late charge, but Tyrone were always able to keep them them arm's length.
The All-Ireland champions claimed their 11th Ulster title, while Antrim's wait for a provincial title will go on for another year at least.
Tyrone - J Devine, PJ Quinn, Justin McMahon, R McMenamin (0-1), D Harte (0-1), C Gormley, P Jordan (0-1), K Hughes (0-2), S Cavanagh (1-4); B Dooher, T McGuigan (0-3, 1f), Joe McMahon (0-2); M Penrose, S O'Neill, O Mulligan (0-3)
Subs: C Cavanagh for Dooher (54), E McGinley for McGuigan (64), C Gourley for McMenamin (67), C McCullagh for O'Neill (70), B McGuigan (0-1) for Penrose (70).
Antrim - P Graham, C Brady, A McClean, K O'Boyle, T Scullion, J Crozier, J Loughrey, M McCann (0-2), A Gallagher (0-1), T O'Neill, K Brady, N McKeever, P Cunningham (0-11, 7f), S Burke, T McCann
Subs: K Niblock for Brady (24), C Murray for Burke (44), C Close (0-1) for McKeever (58), D O'Hagan for O'Neill (63), S McGreevy for Graham (69).
Ref: P Hughes (Armagh)
back to top

Armagh Minors Topple Down in Final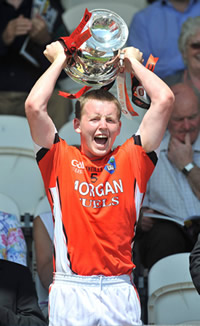 Ulster Minor Football Championship Final:
Armagh 1-08 Down 1-05
Armagh struck for two late points to seal victory in a low-key and, at times, quite scrappy Ulster Minor Championship final in Clones.
The Orchard county just about deserved the result against a Down team who only established a foothold in the game for a couple of periods in either half.
The winners were never headed, while the best that Down achieved was drawing level twice in the first half. Thereafter they were playing catch-up, although there was never more than three points between the sides at any stage.
Both sides came into the game with very good credentials following their semi-final victories. But on the day they simply failed to sparkle, although the difficult playing conditions with heavy rain before the match and during the half-time break did not help.
The game was five minutes old when Armagh opened the scoring with a point from midfielder Peter Carragher.
Armagh then picked up the pace and looked like they were getting into their stride as they went four points in front a minute later when Rory Grugan crashed to the Down net following good work by Conor King.
However, they were unable to consolidate and Down responded with a good period that saw them level by the 13th minute, David McKibben, with a point from a free, got them off the mark in the 10th minute and then Caolan Mooney goaled in the 13th minute when he was on hand to capitalise after an effort by McKibbin had been blocked.
Both sides squandered chances in the following nine minutes before Robbie Tasker restored Armagh's lead in the 22nd minute.
A minute later Down were back to parity through Mark Haughey and both sides again wasted chances. With one minute of normal time remaining Robbie Tasker capitalised when a Down defender spilled a cross to restore Armagh to the lead, although Down had a great chance to equalise when Ross McGarry was awarded a close-in free, but his effort came back off the bar to leave the half-time score Armagh 1-3 Down 1-2.
Armagh got down to the task right from the start of the second-half and within three minutes they had extended their lead to three points, Eugene McVerry from a free and corner back Kealan Downey breaking through with McVerry the provider.
The bright start though was ultimately to be a false dawn as the second half wore on. Points by Kevin McClory in the sixth minute and Robbie White from a free in the eighth minute brought Down to within a point with the standard of play now scrappy.
Gavin McParland restored Armagh to a two-point lead in the 11th minute with the game then scoreless until the 24th minute when Down pulled back a point through adventurous corner-back Darragh O'Hanlan.
Entering the final minutes Armagh rallied for two excellent points from Rory Grugan to clinch victory.
Armagh: S O'Reilly; K Downey (0-1), R Finnegan, K Nugent; D McKenna, N Rowland, J Morgan; P Carragher (0-1), J Donnelly; R Grugan (1-2), A Murnin, C King; R Tasker (0-2), E McVerry (0-1), G McParland (0-1).
Subs: R Rafferty for A Murnin, D Nugent for C King.
Down: J Deeney; R Doran, S McNamee, D O'Hanlon (0-1); K McClorey (0-1), C McClean, F McEvoy; C Mooney (1-0), N McParland; M Haughey (0-1), R White (0-1f), K Quinn; M Bagnall, R McGarry, D McKibben (0-1f).
Subs: D O'Hare for D McKibben, N Cunningham for K McClorey, P Quinn for R White.
Referee: S McNamee (Tyrone).
Don't forget to check out the Ulster GAA's Championship Microsite "Land of the Giants" for video reports, photo gallery's and more ... www.ulster.gaa.ie/landofthegiants/

back to top

Tyrone Ladies Celebrate Ulster Victory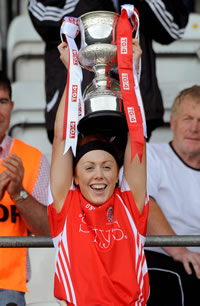 Ulster Ladies Senior Football Championship Final:
Tyrone 3-8 Monaghan 0-13
Tyrone's ability to take their scores and steady the ship as Monaghan rallied saw the O'Neill county side seal a 5th Ulster senior ladies title with a rather convincing 3-8 to 13 point turnover of the reigning champions at Kingspan Breffni Park.
Tyrone looked sharp all over the park against John McAleer's side who took the 2008 crown at Tyrone's expense. That experience said Tyrone skipper Sinead McLaughlin was certainly a factor as Tyrone turned in a good display to annex that 5th title," last year hut us and it was on our minds in the build up to this game, I feel that we owed them one and I am delighted with our response, I am one happy and proud woman to be lifting this cup"
The Drumragh defender played her part in the victory too, her display of holding ace forward Ciara McAnespie scoreless told its own tale as Monaghan relied on the free taking of Niamh Kindlon to keep on the heels of Tyrone who could have won by more.
A goal and point in the opening seven minutes set the scene for this Ulster final, Sarah Connolly back in the Tyrone squad after over a year, pointed and then perhaps was lucky to see her goal stand. Begley threw off the shackles of Elana Hackett before laying the ball over Sharon Courtney's head for Errigals Connolly to score, the umpires consulted, Monaghan appealed for square ball but referee Terrance McShea signalled the three pointer and Tyrone were up and running.
Kindlon 0-2 and Edel Byrne points closed the gap, Joline Donnelly drilled over a long range point before Catherine McConnell and Niamh Lynch points levelled matters on 15 minutes.
Monaghan came and went in this tie, Casey and Fahy toyed with the Tyrone midfield duo of Shannon Quinn and Sarah Donnelly but it was the Tyrone par who shade the half. A Quinn pass putting Cathy Donnelly through for the first of two quick fire points added to by a well executed Gemma Begley point.
Kindlon and McConnell looked to have kept Monaghan in touch, trailing by two as the half time whistle approached but Tyrone had the final word of the half.
Sarah Connolly showed her maturity as a player now as she laid the ball off for a well, perhaps better placed Cathy Donnelly who drilled the ball past Linda Martin to leave Tyrone leading 2-6 to 0-7. Maura Kelly, McLaughlin, Lynda Donnelly and Woods had enjoyed a good half, Monaghan having to live of scraps
Within twelve minutes though of a stop start second half Monaghan had closed in on Tyrone again, two close range frees from Kindlon, now with her head heavily bandaged left it 2-7 to 9 points. This was Monaghans best spell, Jolene Donnelly managing a Tyrone point as Sarah Donnelly's great shot after a lung busting run was turned away by Martin. John McAleer's side had their tails up McConnell pointed and Edel Byrne got away from Woods to score one of the days best points, that left just a point between the sides going into the last ten minutes. A raft of wides though proved to be Monaghans downfall, McConnell, Bryne, McAnespie and Kindlon all conspired to hit 7 wides , at least four very score able.
Tyrone stepped up the pace and started to put the screws on the Oriel girls, obviously driven by those missed chances. Neamh Woods, Shannon Quinn and Sarah Donnelly took charge round the middle with the unstoppable Lynda Donnelly and Tyrone were very much the team in control once again.
Woods setting up Cathy Donnelly for a great point to open the gap again and as if deflated by that score Monaghan looked to be a beaten docket. Jolene Donnelly's goal capping a steady performance with a well taken goal and Tyrone had further chances Begley powered her shot goal ward only for Martin to turn it away in the closing minutes.
Tyrone crowned champions for a 5th time and deservedly so, they worked hard throughout and finished strong, Monaghan left counting the cost of those missed chances. Lynda Donnelly impressed throughout, Cathy Donnelly's work rate earned her the player of the match award while Sinead McLaughlin's performance was a major facet in Tyrone's win.
Don't forget to check out the Ulster GAA's Championship Microsite "Land of the Giants" for video reports, photo gallery's and more ... www.ulster.gaa.ie/landofthegiants/
back to top

Derry are Ulster Camogie Champions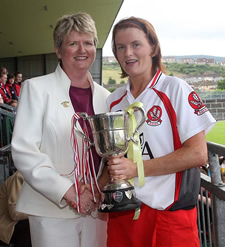 Ulster Camogie Senior Championship Final:
Derry 2-17 Antrim 2-08
Katie McAuley was the star player hitting 1-8 as Derry quashed Antrim's hopes of back to back Ulster titles.
Both sides started brightly with Derry's Katie McAuley and Antrim's Emma McMullan trading points.
Antrim began to dominate proceedings aided by the wind and Michela Convery capped an excellent piece of individual skill with a long range point.
Antrim looked threating every time they attacked making use of fast ground hurling, the Derry defence struggling to contain Emma McMullan and she added to her first- half tally with two more points.
Shannon Graham and Aisling Jackson, in her first game back after a cruciate injury which kept her out for 18 months, pulled the strings for Antrim, as they pulled ahead with Convery and Graham slotting over a point a piece.
It was Antrim who struck first, Emma McMullan slotting home from close range after Grace McMullan struck a low ball across the square.
Derry responded in style as five minutes later McAuley finished a fine run by firing past Antrim 'keeper Chrisie Doherty. Sinead Cassidy pointed after a fine pass from Grainne McGoldrick found her in space.
It was Antrim who narrowly held the lead at half-time with one point separating the sides.
Derry came out rejuvenated in the second-half taking the game to Antrim. Katrina O'Kane leveled things up with a fine point, after catching the ball on the bounce she turned her marker before firing over the bar.
Derry then enjoyed a purple patch with McAuley causing the Antrim defence problems. The Derry management then changed things up replacing the entire half-forward line. The tactic paid off as Mary O'Kane, Attracta McPeake and Breige Convery all got on the scoresheet.
It was perhaps Convery who made the most telling contribution as her high ball into the square found it's way into the back of the Antrim net.
Emma McMullan once again got Antrim back into the game as she slotted home from close range and
Antrim subsitute Charlene Hamill could have reduced the deficit to four but a cooly struck chip crept agonisingly over the bar.
Spurred on by the threat that Antrim could get back into the game Derry pressed forward feeding McAuley at every opportunity and she responded every time.
Derry manager Danny McGrellis was thrilled with his side's performance saying: "I thought the girls showed great character to come back, we knew it was going to be tough against the wind and it was always likely that Antrim would be ahead at half-time. It was just a matter of keeping ourselves in the game. Antrim pushed us all the way we knew that we wouldn't have it easy as they wouldn't want to give up their title without a fight, I'm just glad that my girls showed the determination to push on for the win."
Antrim captain Kelly Maybin was disappointed with the result but was proud of her team's performance believing that they more than matched Derry at times.
"We were bitterly disappointed to lose the game. In the first half we played some of the most outstanding camogie I've seen us play all season and were all over Derry. Unfortunately we didn't sustain it into the second- half and let them back into it again. Fair play to them they turned it round to win the match. We won't be dwelling too much on our defeat, we have the Laois match to focus on now and we're determined to win that," she said.
Don't forget to check out the Ulster GAA's Championship Microsite "Land of the Giants" for video reports, photo gallery's and more ... www.ulster.gaa.ie/landofthegiants/

back to top

All-Ireland Winning Captains Honoured at Ulster Finals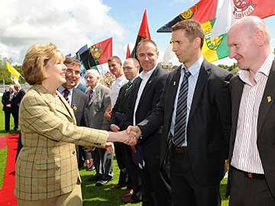 The Ulster Final on Sunday 19th July provided the perfect backdrop to honour Ulster's greatest footballers in this the 125th year of Gaelic Games.
As part of the celebrations all of Ulster's All Ireland winning Captains were honoured by Ulster GAA for their contribution to Gaelic Games as they were presented with a keep-sake by Ulster GAA President Tom Daly and GAA President Christy Cooney.
President Mary McAleese also took time to commend each captain on the red carpet in St Tiernach's Park just prior to the Ulster Senior Football Final.
Below is the full list of those who were honoured on the day:
ULADH – Jim McKeever, Sean O'Neill & Brian McEniff
TÍR EOGHAIN 2005 & 2008 All Ireland Senior Football Championship Winners – Anne Daly, sister of Brian Dooher
ARD MHACHA 2002 All Ireland Senior Football Championship Winners – Paul McGrane, representing Kieran McGeeney
AN DÚN 1994 All Ireland Senior Football Championship Winners – Brian Burns, represnting DJ Kane
DOÍRE 1993 All Ireland Senior Football Championship Winners – Henry Downey
DÚN NA NGALL 1992 All Ireland Senior Football Championship Winners – Martin McHugh, representing Anthony Molloy
AN DÚN 1991 All Ireland Senior Football Championship Winners – Paddy O'Rourke
AONTROIM 1969 All Ireland U21 Football Championship Winners – Tommy Hall, Manager of the Team
AN DÚN 1968 All Ireland Senior Football Championship Winners – Joe Lennon
AN DÚN 1961 All Ireland Senior Football Championship Winners – Paddy Doherty
AN DÚN 1960 All Ireland Senior Football Championship Winners – Kevin Mussen
FEAR MANACH 1959 All Ireland Junior Football Championship Winners – Joe Pat Prunty, representing Fr Ignatius McQuillan
MUINEACHÁN 1956 All Ireland Junior Football Championship Winners – Dermot Clarke, son of Pat Clarke
AN CABHÁN 1952 All Ireland Senior Football Championship Winners – Mick Higgins
AN CABHÁN 1947-48 All Ireland Senior Football Championship Winners – Killian O'Reilly, grandson of John Joe O'Reilly
AN CABHÁN 1935 All Ireland Senior Football Championship Winners – Paddy O'Reilly, nephew of Hughie O'Reilly
AN CABHÁN 1933 All Ireland Senior Football Championship Winners – Gearoid Mac Gabhann, son of Jim Smith
ARD MHACHA 1926 All Ireland Junior Football Championship Winners – Eugene Hanratty, son of Gene Hanratty
AONTROIM 1911 - First Ulster Team to Reach and All-Ireland Final – Joe Sheehan, son of Harry Sheehan

back to top

Tyrone 1984 Jubilee Team Remembered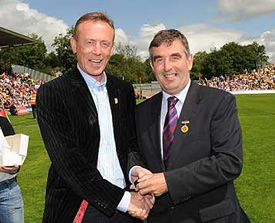 The Ulster Final was certainly a day for Tyrone to celebrate and a key moment within the festivities of the day was when Ulster GAA paid tribute to the great 1984 Tyrone team.
It was a marvellous occasion to have so many of the 1984 players, management and backroom team present to receive an official recognition by Ulster GAA President Tom Daly.
The team honoured were as follows:
EUGENE MC KENNA (Augher St McCartans)
AIDAN SKELTON (Drumquin Wolfe Tones)
FRANK RAFFERTY (Carrickmore St Colmcilles & Ballyboden St Endas)
CIARAN MCGARVEY (Aghyaran St Davogs)
SEAN DONNELLY (Trillick St Macartans)
KEVIN MC CABE (Clonoe O'Rahillys)
NOEL MC GINN (Killyclogher St Marys)
HUGH O' HAGAN (Derrylaughan Kevin Barry's)
PLUNKETT DONAGHY (Moy Tir na nOg)
PATSY KERLIN (Aughabrack O'Connells)
DAMIAN O' HAGAN (Coalisland Fianna)
COLM DONAGHY (Moy Tir na nOg)
SEAMUS DALY (Augher St Macartans )
PADDY O'NEILL (Moortown St Malachys)
LIAM DONNELLY (Trillick St Macartans)
JOHN LYNCH (Castlederg St Eugenes)
AUDIE HAMILTON (Dungannon Clarkes)
NED COYNE (Moy Tir na nOg)
JOHN JOE O'NEILL (Moortown St Malachys)
STEPHEN CONEY (Ardboe O Donovan Rossa)
EUGENE BRADLEY (Killyclogher St Marys)
EUGENE MULLAN (Rock St Patricks)
AIDAN O'HAGAN (Derrylaughan Kevin Barry's)
PAUL BYRNE (Aghyaran St Davogs)
GERRY TAGGART (Derrylaughan Kevin Barrys)
DONAL DONNELLY (Omagh St Endas)
PAT MC CARTAN Team Selector
TOM MCKEAGNEY Team Selector
B0B GRANVILLE Team Physiotherapist
ART MC RORY Team manager
Other panelists not in attendance:
FRANK MCGUIGAN (Ardboe O Donovan Rossa)
DECLAN MULDOON (Dungannon Thomas Clarke)
back to top

Armagh Cúchulainns off to USA
Armagh Cúchulainns Cross Community Gaelic Team are preparing for a trip of a lifetime to San Francisco where they will represent Ulster at the Continental Youth Games.
The team participated in Ulster GAA's first ever Schools Cross Community Hurling Tournament earlier this year and are now learning the skills of Gaelic Football to compete on the International Stage.
The players have been selected from Armagh Royal, St Patrick's Grammar, City of Armagh High School and St Brigid's School, many of whom have no prior experience of playing Gaelic Games. However they have been very fortunate to have been coached by one of Armagh's Greatest – Diarmaid Marsden.
This Schools Cross Community initiative by Ulster GAA has been hugely successfully in promoting Gaelic Games to those from non-GAA backgrounds and also has helped build community relationships between schools and students. The team has been honoured by President Mary McAleese and Mayor of Armagh City and District Thomas O'Hanlon, who have commended Ulster GAA for this worthy initiative.
There are high hopes for this Armagh side as they prepare to compete in the Continental Games and we wish them and the entire travelling party every success.
back to top

GAA President Hosts Cúchulainn Cup Schools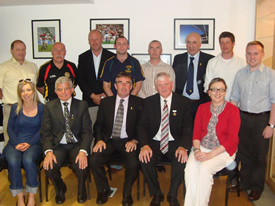 GAA President Christy Cooney and Ulster GAA President Tom Daly hosted all the schools who participated in Ulster GAA's Cross Community Schools Hurling Tournament for a big day out at Croke Park.
For many, it was their first time at the home of Gaelic Games, but hopefully it will not be their last as it was a day not to be forgotten, being the Leinster Hurling Final.
All the participating schools from Armagh, Enniskillen, Limavady and Belfast were invited to a special day out compliments of Ulster GAA. The day started early with breakfast at Armagh City Hotel before the party travelled to Croke Park by Luxury Coach. There they were greeted by President Cooney are were hosted in Ulster GAA's Corporate Box in the Hogan Stand where they had panoramic views of the amazing Croke Park pitch.
Everyone thoroughly enjoyed their special day.
The Cúchulainn Cup initiative is a very important cross community tournament developed by Ulster GAA to help promote Gaelic Games to those from non-GAA backgrounds and also to assist in developing good relationship between schools and students from various different backgrounds. The schools who participated in this year's tournament have played an important role in helping to get this initiative off the ground and have helped ensure that the Cúchulainn Cup will become a regular event in the GAA calendar.
This is one of many new outreach initiatives by Ulster GAA and we appreciate the co-operation of all schools and hope that this tournament will grow in years to come.
back to top

GAA in a Game of Three Halves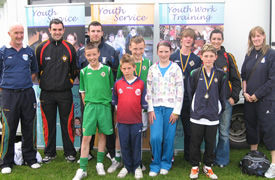 Ulster GAA recently participated in a Game of Three Halves organised by the South Eastern Education and Library Board.
As part of the initiative 160 children were given a full insight into the GAA as Ulster Council organised a number of activities to raise awareness and interest in Gaelic Games.
The children who participated in the initiative came from Colin, Ballynahinch, Cregagh and Ards Youth Groups. Many of whom have never seen Gaelic Games played before and had little knowledge of Gaelic Games and the GAA.
The four groups of 40 young people received exclusive coaching sessions by Ulster GAA Coaches Shane McCann and Ryan Mellon. During these sessions the players, aged between 11 to 14 years old, were taught basic skills of Gaelic Football. This set the four teams up well to compete in a game of three halves, which included Gaelic Football, Rugby and Soccer.
Ulster GAA also hosted the young people and their youth leaders at Casement Park in Belfast, where they were given a presentation about what the GAA was all about, a viewing of two short DVDs - GAA Today and the 125 Years, followed by a tour of Casement Park by Gerry McClory. The visit to Antrim's GAA ground concluded with some on-pitch activity where the young people, both boys and girls, got the opportunity to kick goals and points on the famous Casement Park pitch.
back to top

Young Players Value from Elite Camp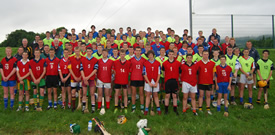 The Annual Ulster GAA 3 day Elite camp took place from the 29th June to the 1st July in the Sports Science facilities of the University of Ulster, Jordanstown.
The camp brought together 90 (Under 16) players in total, forty five from each code of Football and Hurling, which were made up of the most promising players from each of the 9 counties in Ulster.
Throughout the duration of the camp, the players benefited from the knowledge and expertise of the SINI staff in Jordanstown as well as some of the top coaches in today's game, while simultaneously gaining access to the world class facilities that are in the University.
The players are afforded the opportunity to improve their own knowledge in different areas which will ultimately enable them to improve their own game, such as:

Movement Competencies & Running Techniques


Nutrition/Hydration


Fitness Testing


Core Stability/Speed & Flexibility/Injury Prevention


Ice Baths


Lifestyle issues


Dynamic Warm-Ups


Skills Test
In addition, the players were videoed performing a range of different skills based tasks, such as blocking, kicking, striking, lifting and catching. They immediately got video feedback and then went and performed the skill again to improve in the areas required.
On top of that, there were field based sessions were players were accessed on different skills and then developed. Areas such as Support play on and off the Ball, Attacking/Defensive Play, Striking, Catching/Breaking Ball, Tackling/Blocking, Hooking, Lifting and Goalkeeping Skills were covered (3 goalkeepers)
Also there were Small/Full Sided games were some players had Heart Rate Monitors and GPS Tracking Systems attached and later they got feedback on how hard they worked as well as the areas of the pitch they covered.
Each year, we also invite a leading figure within the world of Gaelic Games to come and give a talk to the players. Past camps have seen Kieran Mc Geeney, Terence Mc Naughton, Sean Cavanagh and Peter Canavan and this year we had the honour of having Neill McManus who indeed was on the camp himself a few years ago and like our past speakers he gave the players some food for thought by describing what he feels it takes to get you to the top.
Indicative of the effect that these camps have on our youth of today is provided when alot of the past 'pupils of the camp have gone on to represent their county at minor, U21 and even at Senior levels. Indeed, one of them, Niall Mc Parland who is a currant Down minor football player was reflecting recently on his own experiences in the camp last year.
back to top

Ladies Elite Camp a Huge Success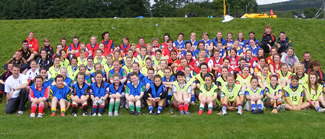 The annual Under 15 Ulster Elite Camp for girls took place in the University of Ulster Jordanstown earlier this month.
45 footballers and 45 camogs came together for an action packed two days where they were coached by some of the top coaches in the country including the some of the staff from the Sports Institute of Northern Ireland (SINI) which is based at the campus. Their timetable gave little time for rest over the two days and included fitness testing, nutrition, hydration and lifestyle workshops, flexibility, injury prevention and strength sessions as well as skill development and game time. By the end of the two days the girls were going home exhausted with a wealth of new knowledge to put into practice.
Gerry Doherty, Ulster Ladies Gaelic President visited the camp and was very impressed with the programme laid on for the girls. "It's a pity that only 90 girls get to experience this, I wish we could offer it for 900, 9000 even! It is fantastic for them and I'm sure they're thoroughly enjoying the experience."
Sheena Tally, Ulster Games Development Officer who was co-ordinating the camp said that the she hoped that the girls would take away everything they've been taught. "It's so important that the girls who were given this opportunity take away all that they have learnt and put it to good use. I'd love to see them bringing this information back to their clubs and counties so that we can filter the information down to them. It'll be interesting to see how many of the names who are here today will play on their minor and senior county teams; I'll be looking out for them!"
Many thanks to all those who helped in any way with the camp. To the coaches, SINI staff and UUJ staff a big thank you.
back to top

Exciting Plan announced by GAA Handball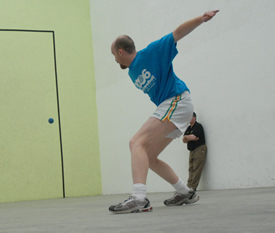 Comhairle Liathróid Laímhe na hÉireann have announced 'Phase 1' of the new 'National Development Plan' entitled 'Raising the Game'. A sequence of exciting initiatives are included in this initial phase, approved and now made public by GAA Handball Ard Comhairle, and there will be more to follow in the months ahead as part of a major endeavour to raise the game of handball nationally.
Included in this initial phase is a restructuring of the Mens and Ladies Open Handball Championships in the 40x20 and 60x30 handball courts which will come into play in January 2010. These will initially be carried out on a trial basis prior to going to Congress for voting in 2011.
The Irish Nationals will also see a revamp with the Junior Players to now get their own stand-alone competition. The Irish Junior Nationals will be staged in November each year and the winners of the 3 main events in boys and girls will then go on to represent Ireland at the US Junior Nationals in December. The Irish Nationals will be staged then in April with the winners of the Mens and Ladies Open Singles events also getting the chance to represent Ireland at the US Nationals in June.
Another exciting endeavour by Comhairle Liathróid Laímhe na hÉireann will see a new National Handball All-Star Awards Banquet staged in December to highlight and honour the stars in all aspects of our sport. This initiative will also include Provincial Award winners in every category, who will then go forward as the nominees to the National Awards ceremony.
back to top

Cavan's World Record Attempt for 125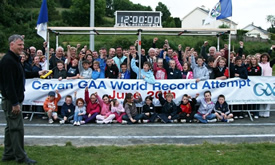 June 20th 2009 saw members of Cavan GAA turn out in force to partake in a world record breaking attempt. Coaching & Games within the county wanted to celebrate the 125 anniversary of the GAA in a unique fashion while also in need of raising much needed funds to continue to develop their coaching structures.
Cavan's Games Development Manager Nicholas Walsh had asked the Coaching & Games committee to come up with ideas for these celebrations and the plan for breaking a Guinness World record was drawn up by Enda Mulvany.
Not content with just breaking a world record, Nicholas & Enda then decided to use the event to raise funds for other charities and not just Coaching & Games plus to piggyback a Health Awareness Day with the event.
The charity beneficiaries from the event were the Marie Keating Foundation and the local Cavan General Hospital Diabetes Support Group.
Having made contact with Guinness World records the two guys learned that their plan to run a continuous 100 meter relay over a 12 hour period was good to go. Many weeks of planning went into the event to meet all the legal requirements of breaking a record plus the task of getting 50 members from every GAA club in Cavan on board and from all codes within the GAA.
The pressure really built up with 48 hours to go when GWR informed the organisers of the Cavan GAA run that a charity group in England had just set a new target for them of 1675 runners.
In the days leading up the event they transformed the training field at Kingspan Breffni Park into a health village and got the running track measured up and lanes marked on it for the record run.
The morning of June 20th dawned and two nervous guys arrived at Kingspan Breffni Park at 7am wondering how many would turn up. They had no reason to fear as all their fellow GAA brethren in Cavan turned out in force to help them. Starting at 9.30 am the run commenced with County Board Coaching Officer, Tony Brady sprinting off up the track.
On the day everyone from 5 year olds to the oldest referee in Ireland, from a bride and groom to the Kingspan Lion took part. By the time the countdown commenced live on air via Northern Sound radio, 1986 runners had successfully passed the baton safely without dropping it.
One amazing aspect from the day was the success of the health wellness village. Information was available from many different sources including Aileen Tohill of the Health Wellness unit of the Ulster Council, Irish Blood Transfusion Service, HSE Health Promotion Unit and Roche Diagnostics with Cara Pharmacies. Roche Diagnostics and Cara Pharamacies very generously screened over 100 people on the day for their blood sugar levels and provided lots of free information on Type 1 and Type 2 diabetes.
Commenting on the day Enda Mulvany stated "From a very small idea we managed to create a spectacle at Kingspan Breffni Park. To bring nearly 2000 people from all over County Cavan to this venue shows the generosity and also the level of support within Cavan GAA clubs. The initial concept of a relay was to symbolise the GAA National Strategic Plan of increasing inclusion and participation and today Cavan showed we have very strong foundations to build upon. 1986 runners passed the baton securely and safely to each other and participants were from all ages and multicultural. Being able to increase people's awareness to diabetes, blood donations and general healthy living was a huge bonus."
Games manager and event coordinator Nicholas Walsh was full of enthusiasm at the end of the run where he praised all the Clubs efforts and especially all the volunteers for making the event happen. "The GAA is all about our community and the people involved within our communities. If we didn't have our local communities, we would never have the GAA and I want to thank the 40 Clubs in Cavan, as well as the Ladies board, Hurling Board, Camoige Board, Handball, Rounders and all the local passerby's who contributed to the fantastic day".
As Cavan GAA still await official confirmation from Guiness World Records, Coaching & Games still keep the ball rolling with a variety of U10, U12 and U14 Go Games Blitz's beginning this weekend. All Clubs are keen and eager to keep participation levels high through our small sided Skill Blitz Games.
For more information on Coaching & Games Development in Cavan, please visit our website coaching.cavan.gaa.ie
back to top

Armagh Schools benefit from GAA Coaching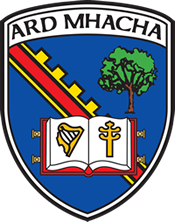 Over the last year over fifty primary schools in Armagh have been receiving the schools coaching from the department coaches, both maintained and controlled schools as well as nursery and special needs schools.
The Ulster GAA Schools Coaches have ran a very successful Fundamentals day in the Armagh City Hotel with twenty-four key stage one teachers which complimented the work that the coaches had been doing in the schools themselves.
The Coaches targeted all hurling clubs in Armagh to run out the Gaelic start programme over a twelve week block which gave parents and coaches an insight into what essentially is needed at this age level in terms of coaching. Five Gaelic clubs were directly targeted with Gaelic start.
The Coaches also organised Fun days bringing cluster of schools together from various backgrounds to participate in fun activities; venues in Armagh, Newry, Silverbridge, Craigavon, and Loughgall.
In terms of the future the Coaches have set up a link with Lisinally Special needs school and will be coaching in their school next year.
back to top

Minister Ruane visits Summer Camps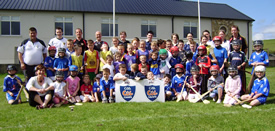 The Minister for Education Caitríona Ruane has visited GAA Summer Camps to see at firsthand how hundreds of children across the north benefit from participating in GAA Summer Camps.
The summer camps are run across Ulster to encourage young people to keep active during their summer holidays through Gaelic Games. Most of the camps run for a one-week period, although in some counties they run for longer.
Through the camps co-ordinated by Ulster GAA Coaches, children have the opportunity to develop their skills of Gaelic Games in a fun and safe environment.
The aim of the camps is to continue the important work undertaken by Ulster GAA Coaches through the Minister's Sport in Schools programme.
Minister Ruane visited the Loughinisland Summer Camp where she participated in some of the fun activities and brushed up on her Gaelic Football and Camogie skills. She also took time to talk to the young people and the coaches.
back to top

ReFspect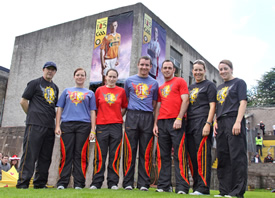 A new "ReFspect" campaign in the autumn will encourage coaches, parents, teachers and players to develop further, a healthy respect for the opposition, the referee and the games that we play. As we encourage more people to play or games from non traditional GAA backgrounds, this is even more important as we strive to show that we are a sport for all.
Within all of the new GAA Coaching programmes is an inbuilt ethos and belief that the coach is central to establishing the right attitude, the right skills and good decision making ability within players.
As coaches we are developing the adults of the future and we must act and behave like good role models with positive language and behaviour at all times. The recent TV programme the "dog whisper" illustrated clearly how a young pup responded to the tone and nature of a handler's voice. When used correctly it can elicit positive behaviour.
In all areas of coaching and games we need to have a more joined up approach. At times it is evident that the different stakeholders are competing. It has been identified that at the county level better communication between CCC's, Youth Committees, Youth fixtures Committees, Cumman na mBunscol, Second level and Colleges Committees is essential to ensure that we manage and protect the young people placed in our care. "A challenge and one that requires us all to engage in order that we can progress".
Thanks for your continued support and we hope to see new faces on the new coach education programmes.
Volunteer and help your club, your children and your Association.
back to top

Ulster GAA Irish News Club and Volunteer Conference 2009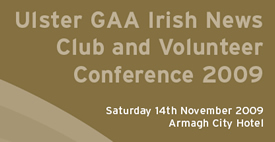 Developing Volunteers, Stronger Clubs and Better Communities
Leaving a legacy for the GAA 125th Anniversary Year
Armagh City Hotel - Saturday 14th November
Keynotes and Seminars on:

Funding Opportunities


Officer Training and Support


Club Facility Development


Promotion of the Language, Culture and Heritage


Working with Public Agencies


Diversity and Community Outreach


Club Maith


Marketing and GAA Branding


ICT (New GAA E-mail System and Membership System)


Communications and Public Relations


Club Planning


Club Finance and Fundraising


Health, Wellbeing, Alcohol and Substance Abuse
This Conference is focused on club level officials and each club is entitled to five places each. Over the last two years demand far exceed capacity so club officers are advised to book early
Costs £20/€22 per person
(When a club books four places in the conference they receive the fifth delegate place for free)
To register for the conference e-mail conference.ulster@gaa.ie or Contact Maura Kelly on 02837517180
This year the conference will have an exhibition room for range of organisations and companies interested in linking with the GAA if your organisation is interested in talking an exhibition stall please contact Ryan Feeney e-mail ryan.feeney.ulster@gaa.ie Telephone: 02837517183
For more information and regular updates on the 2009 conference, view www.ulster.gaa.ie
back to top