Armagh claim All Ireland Minor title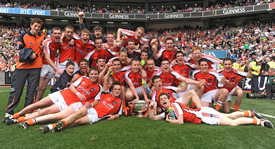 ESB GAA Football All-Ireland Minor Final:
Armagh 0-10 Mayo 0-7
Armagh were crowned ESB GAA Football All-Ireland Minor champions for the first time since 1949 after they produced a turbo-charged final six minutes to finally kill off Mayo in Croke Park.
Mayo were a point ahead with nine minutes left on the clock after Armagh had kicked seven second half wides, many of which came at a crucial juncture midway through the second half.
But Paul McShane's charges finally clicked into gear in the closing minutes to kick four unanswered points to leave Mayo facing heartache at the final hurdle for the second year in a row.
Robbie Tasker was Armagh's stand-out player on the day, his two points from play in the dying minutes making amends for the profligacy of his team-mates earlier in the half.
The first half was an abrasive, close affair, with neither side giving anything away.
The biggest lead either side managed was when Armagh went two points up after seven minutes. Rory Grugan opened the scoring from a free, while Eugene McVerry kicked a fine second score after catching the ball and turning his man stylishly.
However, Mayo should have gone a goal up inside the first four minutes when Alex Corduff put Shane McDermott through on goal, but the Westerners' centre-back put his shot straight at Stephen O'Reilly, the Orchard goalkeeper.
Mayo did manage to level the game with two quick fire points, Brian Rutledge and Danny Kirby the men on the mark.
Andrew Murnin put Armagh ahead minutes later, but Cillian O'Connor levelled the game for Mayo with a point from a tight angle after 15 minutes.
McVerry then put Armagh back in the led from a free before Mayo's Fergal Durkan had the last say of the half, when he landed a brilliant equaliser just before the break to leave the sides level on 0-4 apiece at the interval.
The second half started on a far brighter note, with Rutledge grabbing Mayo's opener within a minute of the restart. But Robbie Tasker responded immediately for Armagh, his brilliant angled shot setting the standard for his team-mates in the Orchard County attack.
McVerry responded to the challenge and landed his third point of the day, this time producing a carbon copy of his opener with another fine catch and kick on the turn.
Again, Mayo refused to lie down and within a minute they were level when Ciaran Charlton bombed up from wing-back and drove over a fine point with his right foot.
However, at that point Armagh should been out of sight, but they managed to hit five unforgivable wides in a row to leave Mayo clinging on for dear life.
Indeed, Mayo tookthe lead with just nine minutes left on the clock when Aida Walsh landed a free and they should have been further ahead a minute later but Jack McDonnell spurned a great goal chance.
Durkan played McDonnell in on goal but his shot was brilliantly stopped by O'Reilly, the Armagh goalkeeper.
It was to be Mayo's final chance and they were punished in the final six minutes as the Armagh attack finally went into overdrive, kicking four vital points without reply.
Robbie Tasker started the charge with a fine score from play before Armagh nudged ahead with three minutes left when substitute Thomas McAlinden. They could have gone even further ahead but McAlinden was denied by a brilliant save by Mayo goalkeeper Michael Schlingermann.
Peter Carragher then added another crucial score a minute later before Tasker put the game beyond any doubt with his third of the day in the second minute of additional time.
Armagh: S O'Reilly; K Downey, R Finegan, K Nugent; D McKenna, N Rowland, J Morgan; P Carragher (0-1), J Donnelly; R Grugan, (0-1, 0-1f) A Murnin (0-1), C King; R Tasker (0-3), E McVerry (0-3, 0-1f), G McParland.
Subs: C McCafferty for R Finnegan '53, T McAlinden (0-1) for E McVerry '54.
Mayo: M Schlingermann; M Walsh, K Rogers, D Gavin; C Charlton (0-1), S McDermott, C Crowe; D Kirby (0-1), A Farrell; B Rutledge (0-2, 0-1f), D Coen, F Durkan (0-1); A Corduff, A Walsh (0-1, 0-1f), C O'Connor (0-1).
Subs: J Carney for A Farrell '31 (blood sub), J Carney for A Farrell '40, J McDonnell for D Coen '44.
Referee: E Kinsella (Laois)
back to top

Antrim Ladies secure All Ireland Junior Title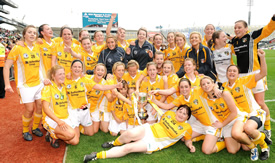 TG4 All Ireland Junior Final:
Antrim 3-10 Limerick 2-8
Two goals by wing-forward Mairead Cooper proved decisive as Antrim were crowned TG4 All-Ireland ladies junior football champions.
Impressive full-forward Claire Timoney was Antrim's star turn in the first half, collecting 1-3 as the winners established a 2-6 to 1-4 interval lead.
It was a game littered with goal chances and while Limerick raised the first green flag after ten minutes, Antrim were more clinical with the possession that came their way in attack.
Limerick's top scorer Dymphna O'Brien took advantage of a mistake by Antrim goalkeeper Ciara McCoy to tap home but Cooper replied in kind seven minutes later.
Eight minutes before the break, Creggan Kickhams player Eimear Kelly placed Timoney for Antrim's second goal and they went on to lead by five points at the break.
Limerick opened the second half in blistering fashion and after Yvette Moynihan pointed, Louise Higgins bagged a superb solo goal in the 35th minute to haul the Shannonsiders back into contention.
Higgins escaped the attentions of a number of defenders, dummied McCoy and stroked the ball into the far corner as Limerick moved to within a point of their opponents, 2-6 to 2-5.
Antrim, appearing in their very first All-Ireland final, spurned another goal chance in the 43rd minute when sub Aimee McAtamney shot straight at Ella O'Shaughnessy but the Ulster outfit remained comfortable nonetheless.
With six minutes remaining, sub Leanne Higgins brought Limerick to within two points, 2-10 to 2-8, but Cooper raised clear three minutes later to net her second goal and put real daylight between the teams.
Cooper was denied a hat-trick in the final minute when her rasping drive struck the crossbar and rebounded to safety but by then, victory was already assured.
Speaking after the game captain Geradine Mc Cann said, "This is what we have always dreamed of and it's just amazing. I can't believe it".
Following a packed weekend of Gaelic Games at Club and County level Ulster GAA President Tom Daly would like to congratulate the Antrim County Ladies Gaelic Football Team on their All-Ireland Junior Success at the weekend:
"To have two Ulster County teams participating at both Intermediate and Junior levels is testament to the continued hard work of our partners in the Ulster Ladies Gaelic Football Council, I am delighted that Antrim have followed Armagh minors in bringing another piece of silverware back to Ulster. I also commiserate with Fermanagh who had a hard fought battle against Clare".
Antrim - C McCoy; Eimear Kelly (St Ergnats, Moneyglass), B Scullion, G Campbell; N Kelly, C Mullan, D McAteer; G McCann, M McCann; Eimear Kelly (Creggan Kickhams), S Daykin, M Cooper (2-1); C Kelly (0-2), C Timoney (1-5, 1f), B McClenaghan. Subs - E Gallagher (0-2), C Carey , A McElroy
Limerick - E O'Shaughnessy; M O'Brien, S Healy, T Power; E McGuire, H Fogarty, S Larkin; P Donnelly, Y Moynihan (0-1), T Mulcaire (0-1); K Campbell (0-1), Louise Higgins (1-0), D O'Brien (1-4, 1f). Subs - E Enright , N Richardson, Leanne Higgins (0-1), M.I. Casey
Ref - T Lennon (Dublin).
back to top

Heartbreak for Fermanagh Ladies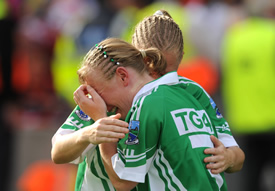 TG4 All Ireland Intermediate Final:
Clare 3-10 Fermanagh 1-11
Clare made up for last year's final heartbreak by capturing the TG4 All-Ireland ladies intermediate football championship crown at the expense of Fermanagh.
The Banner County received a fierce test from first-time finalists Fermanagh but eventually emerged five-point winners to erase the heartbreak of the 2008 defeat against Tipperary.
Clare looked on course for a comfortable victory with 20 minutes remaining as they led by seven points, 2-7 to 0-6, but a remarkable Fermanagh rally brought the Ernesiders level with eight minutes left on the clock.
A run of 1-4 without reply tied the game at 1-10 to 2-7 but just when it appeared that Clare's hold on the game had slipped, they recovered with a strong finish to secure the title.
Clare, who drew with Fermanagh in the group stages, racked up 1-3 in the final seven minutes of playing time as two-goal heroine Majella Griffin's 53rd minute strike proved crucial.
The experienced Griffin finished a move which covered almost the entire length of the pitch, with Aine Kelly and Sinead Kelly instrumental in the build-up.
Clare assumed complete control again to close the game out and secure senior championship football in 2010.
An exciting second period was in direct contrast to the opening half, which was littered with bad wides and poor passages of play.
Clare got off to the best possible start in the second minute when Griffin's speculative shot slipped through the fingers of Fermanagh goalkeeper Donna Gilroy and into the net.
In the first half, Fermanagh were restricted to just three points, all from placed balls, as Clare went on to lead by 1-3 to 0-4 at the break, despite enduring a 17-minute barren spell.
Eimear Considine bagged a fine solo goal three minutes after the restart to put Clare 2-4 to 0-4 in front and it took Fermanagh until midway through the second half to register their first score from play.
However, Aisling Moane's 45th-minute point sparked a dramatic revival which caught fire just a minute later when top scorer Caroline Little cracked home a fine goal.
Further points from Moane and Little hauled Fermanagh level but after working so hard to restore parity, the Ulster representatives were undone as Clare roared away again to claim a memorable win.
Clare - D Walsh; S Eustace, L Kelly, S Hoey; M Delaney, S Kelly, L Woods; L Henchy (0-1), F Lafferty (0-1); M Considine, E Morrissey (0-1), E Considine (1-1); A Kelly, N Keane (0-1), M Griffin (2-4, 4f). Subs - R Lenihan (0-1), G Lynch, B Kelly, C Considine , A.M. Callinan
Fermanagh - D Gilroy; T Hughes-Little, E McGovern, C Woods; A Newell, P Melanaphy, A Gallagher; C Murphy, K McManus; A McBrien, S Hamilton (0-1), A Moane (0-2); D Maguire, S Little (0-3, 3f), C Little (1-5, 4f). Subs - S McGovern, A McCaughey, N Curran
Ref - J Murray (Dublin).
back to top

Book early for Club & Volunteer Conference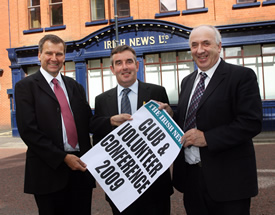 The third Irish News Ulster GAA Club and Volunteer conference will take place on Saturday 14th November in the Armagh City Hotel. The Irish News will once again act as Conference Partner in Ulster GAA's flagship non-games event which is focused at supporting club, volunteer and community development right across Ulster's nine Counties. The Ulster Council now supports over 250,000 volunteers working in 580 constituent GAA clubs and approximately 600 constituent educational units across the Province. The theme of this year's conference is
"Stronger Clubs, Better Communities; the legacy of the GAA's 125th Anniversary Year"

The event is the third of its kind following the outstanding success of the 2007 and 2008 Conferences. The conference will include a range of workshops, keynotes and discussion forums facilitated by leading GAA officials. Keynote speakers attending will be GAA President, Christy Cooney, Ulster GAA President Tom Daly and former GAA President and Community Leader Peter Quinn. This year the master of ceremonies is BBC Championship presenter Austin O'Callaghan.

There will be seven conference workshops this year, they include:
Physical Development in the GAA Club
Structured Giving - Self Fundraising in the Club
Child Protection in the GAA
Enhancing Scor and Club Cultural Activities
ICT in the GAA Club
The GAA Development Plan
Communicating the GAA message at Club level
Lobbying Local Government for GAA Provision
The Conference will also see the launch of a new Confederation of Ulster Council's which will formally link the Ulster GAA with Ulster Councils for Ladies Gaelic Football, Camogie, Handball and Rounders in order to promote a holistic approach the development of Gaelic Games Community.
Ulster GAA President Tom Daly highlighted the significance of the conference:
"The success of our last two conferences highlighted the need for this event on annual basis as the Ulster Council is committed to supporting clubs in all areas of their development, the Community Development Staff support both the Clubs, Counties and Ulster Council in doing that. I am looking forward to seeing many of our club officials present at the conference and I confident that all present will benefit from the day. I would also highlight the important role of our conference partner the Irish News, I am grateful for their ongoing support in a range of matters and I am grateful for their continued outstanding coverage of Gaelic Games."
Irish News editor Noel Doran said:
"This is a significant initiative at a number of levels, and the agenda strongly reflects the progressive nature of the GAA in Ulster. The level of support which the last two conferences received was truly impressive, as was the commitment and enthusiasm of all the participants. The Irish News is delighted to endorse the event, and we look forward to another successful day on November 14."
Should you have any queries regarding this event, please contact Maura Kelly on 028 (048) 3751 7180 or maura.kelly.ulster@gaa.ie
You can also download the Conference Brochure and Booking Form.
back to top

'Drink, Drugs and Sausage Rolls' Off the Menu for University Students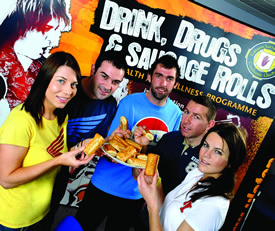 Drink, Drugs and Sausage Rolls will be off the menu for students this year - at least that's if the Ulster GAA have their way! The Association has re-launched its student Health and Wellness programme in conjunction with Squareball.com, with the aim of helping young people make the transition from home life to student life.
The campaign presents a range of health messages in a quirky and fun way to attract the attention of students. Those attending Fresher Fayres across Campuses can pay a visit to the eye-catching Ulster GAA/Squareball stall and avail of materials which will help them live a healthy life while still having fun!
Ulster GAA's Lifestyle & Wellbeing Manager Aileen Tohill said, "Leaflets including Drink; Drugs; Eat; Move and Stress carry factual health information on issues that most affect students, and are written in a language that students will enjoy. There are also free wallplanners on offer which are useful to note exam dates and parties alike!
"We're really excited about this year's stall at all the University Freshers Fayres as not only will Ulster GAA be advising students to get clued in on good health, but students will also have the opportunity to stand out from their classmates, by winning some trendy Squareball merchandise.
"Ulster GAA's 'Drink, Drugs and Sausage Rolls' Campaign is now in its third year and has proved hugely popular with students to date. This year the content and materials have been revamped and it's certain that this year's 'Freshers' will enjoy a healthier student life as a result."
Niall Laird from Squareball.com said, "Squareball is delighted to be the main sponsor of this worthy student campaign. Very often first year students are just looking forward to starting their university life and living an independent life. Unfortunately for far too many that independent life can include things that aren't good for students' health and wellbeing. I hope students across the Universities listen to their GAA peers and County role models and choose a healthy lifestyle. Squareball is proud to be associated with this quirky but important campaign."
back to top

First batch of Facilitators put through their 'Club Maith' Paces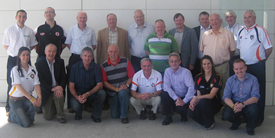 Saturday 12th September saw the induction of the first Club Maith Facilitators. The Market Place Theatre in Armagh was the venue for what proved to be a very successful training event. With the Club Maith launch just around the corner the need for Facilitators to service the scheme are at the heart of the process. Facilitators will be expected to assess clubs' completed Club Maith portfolios, and carry-out club visits.
Ulster GAA staff, Ryan Feeney, Sharon Haughey, and Maura Kelly, were joined by GAA strategic advisor Mark Conway, and Simon Toole from Sport NI, in delivering the training. Simon spoke to congratulate Ulster GAA on the success of their scheme to date and expressed his excitement at being involved with the GAA in their club accreditation scheme.
Fourteen volunteers from strong GAA backgrounds received the training and are now awaiting to be allocated Clubs going through the process. Ulster PRO Michael Hassan was one of our Ulster Council Officials to receive the training, and was on-hand to present the Facilitators with their Club Maith Facilitator certificates.
PHOTO CAPTION:
Back Row (L to R): Simon Toole (Sport NI); Eunan Lindsay; Malachy McGeeney; Dany McLernon; Brian Armitage; Paul Swift; Liam O'Kane; Mark Conway (Club Maith Tutor); Naul McCole; Pat Connaghan; Martin Kelly.
Front Row L to R): Sharon Haughey (Ulster GAA); Michael Hassan (Ulster GAA); Seamus Woods; Gerry McClory (Ulster GAA); Brendan Kirk; Seamus O'Donnell; Maura Kelly (Ulster GAA); Ryan Feeney (Ulster GAA).
If you club would like to become a Club Maith merited club, you can find information on our website at www.ulster.gaa.ie/club-maith. You can also contact Club Maith Co-ordinator Maura Kelly on maura.kelly.ulster@gaa.ie
A second session of Club Maith Facilitator Training has been organised for Wednesday 30th September at 7pm in Loughry College, Cookstown. If you would like to become a Club Maith Facilitator please contact Maura Kelly on maura.kelly.ulster@gaa.ie.
back to top

Governing Bodies 'Unite Against Hate'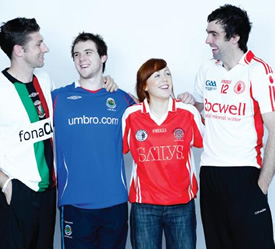 Ulster GAA and the Irish Football Association (IFA) have joined forces to support the Unite Against Hate Campaign.
The campaign message is simple: Hate crime is violent, wrong and will not be tolerated. There is no room in our society for this. The overwhelming majority of people, who utterly condemn acts of hate crime, have a substantial stake and a powerful role in eliminating the behaviour of the tiny minority who carry them out.
The campaign will promote leadership, optimism and hope and offer a practical channel to encourage, empower and support people to express their opposition to hate crime. We all want: "A society which is at ease with itself and where everyone shares in and enjoys the benefits of the unprecedented opportunities that this new era offers."
Tom Daly President Ulster GAA said: "Ulster GAA are pleased to be working with the IFA as part of the Unite Against Hate Campaign. The GAA is an anti-sectarian and anti-racist organisation which believes in promoting respect while celebrating diversity, as such the Association fully endorses the Unite Against Hate Campaign."
Ryan Feeney Community Development Manager Ulster GAA said: "Partnership is key to building better community relations at all levels in society and Ulster GAA are committed to playing our part in the Unite Against Hate Campaign. Ulster GAA will continue to work alongside the IFA the other partner groups to promote the message of tolerance and respect across the community."
Michael Boyd IFA Head of Community Relations added: "We all have a responsibility to challenge hate. It is great to be standing alongside our friends in the GAA showing that sport is united against hate".
back to top

Inaugural Armagh U16 11-A-Side Tournament Is A Huge Success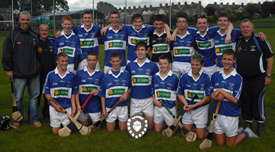 On Saturday 15th August Armagh Hurling Board hosted a new hurling competition when twelve teams from five different counties took part in an U16 11-a-side club tournament. In division 1 there were eight teams taking part in two groups of four, which were played off on a round-robin basis with the top two teams qualifying for the final later in the day.
Céide Lámh Dhearg hosted group 1 with near neighbours Doire Núis, St John's Belfast and Setanta (an amalgamation of St Paul's and Gort na Mona) making up the group of four. Cúchulainns hosted group 2 at the Sherry's Complex with three visiting clubs – Eoghan Ruadh, Dungannon, Erin's Own, Lavey and St Teresa's Belfast.
In Keady Section 1 got off to a great start with a very competitive fixture between neighbours Keady and Derrynoose with the host club edging home to a narrow 2 point win. The next match placed Belfast rivals St John's and Setanta head to head. On the day St John's proved much too strong winning comfortably. This proved to be the pattern for the rest of the group matches as although Keady and Derrynoose put St John's under pressure St John's ability to score at least thirteen times each match proved to be decisive. The local club's did gain good wins against Setanta.
In Armagh, Section 2 pitted the hosts Cuchulainns against Dungannon. Dungannon had just won the Tyrone Championship the previous Monday and proved too strong for the local side.
A very competitive match between St Teresa's and Lavey ended with a 3 point win for the County Derry side. Dungannon and Lavey won their next matches which left the match between them determining who would meet St John's in the final. In a very competitive match the ability of the Dungannon players to take long range points proved decisive. In the final match of the group the host team Cuchulainns overcame St Teresa's in an enjoyable encounter.
St John's travelled in from Keady to play Dungannon in the final and got off to a lightening start with a goal in the first minute. Dungannon responded well and 3 well taken points got them right back into the match. St John's replied with a couple of excellent moves resulting in points before a Dungannon goal and point placed the Tyrone side in a 2 point lead. St John's didn't panic and responded with 2 quick points and 30 seconds before halftime got in for their second goal to have a 3 point advantage at the break.
St John's opened the second half as the first had ended with another goal and although Dungannon clawed back two points the St John's team as a unit were beginning to dominate all over the pitch rattling over 6 unanswered points. Dungannon fought hard to the end of the game going for goals to get themselves back into the encounter. However, their goal at the end came too late and St John's ended victors. Both teams need praised for a great final were all the skills of hurling were shown with some great catches and scores under pressure.
Unfortunately, there were a couple of late withdrawn entries in Division 2, but Na Fianna, Middletown hosted an excellent morning's hurling with visiting teams from Castleblayney, Craobh Rua and Sean Treacy's. In the opening round of games, Craobh Rua got off to a very fast start against Castleblayney with goals from Eoghan Robb, Liam Hollywood and Eamon McAteer in the first half. Castleblayney Faughs came back into it in the second half through scores from Cormac McNally and Niall Flanagan but Craobh Rua ran out comfortable winners due to the large lead they'd accumulated in the first half. Sean Treacy's were equally as impressive in their opening victory against the host club with the Magee brothers (Reece and Daniel) impressing while Chris McCann and Odhran Curry showing well for Middletown.
The second round of games saw Na Fianna take on Faughs and the Monaghan men really got into their stride with Liam McCooey, Niall Garland and Barry Duffy outstanding. Unfortunately, the hosts were minus their two main men who were on county minor duty, but youngsters Tiarnan McArdle and Pauric Curry really stood up to lads a couple of years their senior. Meanwhile, Sean Treacy's continued their good form and outgunned Craobh Rua in a very high scoring game with JJ Magee, Niall Lavery and Daniel Magee amongst the scorers. Sean Casey and Ryan Lundy (in goals) were both fantastic for the South Armagh men.
The final and deciding round of games saw the hosts play by far their best hurling of the day against Camlough. Again it was Curry and McCann who provided most of their scores but they went down narrowly mainly due to the goals of Eoghan Robb. The match between Lurgan and Castleblayney would decide who won Divison 2. Surprisingly, it was the Monaghan men who took the early lead through scores from Duffy and Flanagan but Sean Treacy's did pick up their game to go in a point ahead at half-time. Their dominance continues as Reece Magee got a goal and a point early in the second half while Dylan McGlinchey was commanding in defence. A Cormac McNally goal did give 'Blayney some hope but Daniel Magee quickly cancelled this score out and Sean Treacy's held on to become the first ever Armagh U16 11-a-side Division 2 winners.
This tournament has proved a great success for Armagh Hurling and the visiting teams leaving all wished to be considered for entry next year! Special thanks is due to the three host clubs - Na Fianna, Middletown, Céide Lámh Dhearg and Cúchulainns - and also to the referees - Damien Kirk, Jim Slevin, Patsy O'Hanlon, Francie McMullen, Ciaran McGuinness and Niall Clifford - and the many volunteers at each venue that looked after umpiring, linesman and catering duties.
back to top

9 Ulster Clubs compete in Og Sport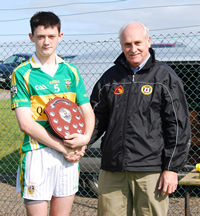 The annual Ulster Og Sport took place in the Naomh Mhuire club, Co.Tyrone on Saturday 5th September. This is a Under 15 seven a side competition that includes the county winners throughout the province.
The Ulster Council would like to thank both the Edendork and Killyman Clubs for the use of their facilities and also for their excellent organisation of the event.
We would also like to thank all the referees who officiated during the competition and also Liam Nelis for co-ordinating the referees on the day.
Finally we would like to thank all 9 clubs across the province for taking part in this prestigious competition.
Below is the list of results from the competition:
Ulster Og Sports Results 2009:
Group 1:
Cloughaneely 3-04 Pearse Ogs 0-05
Ardoyne Kickhams 1-01 Cloughaneely 0-06
Pearse Ogs 1-08 Ardoyne Kickhams 2-03
Group 2:
St Patricks Donagh 1-03 Monaghan Harps 2-05
Rostrevor 5-06 St Patricks Donagh 0-01
Monaghan Harp 0-02 Rostrevor 3-05
Group 3:
Cavan Gaels 1-04 Watty Grahams Glen 1-07
Naomh Mhuire 0-04 Cavan Gaels 1-02
Watty Grahams Glen 0-07 Naomh Mhuire 0-05
PLATE COMPETITION: (Teams who did not qualify from group stages for Shield)
Prelim Round
Pearse Ogs 4-07 Ardoyne Kickhams 0-04
Semi Finals
Monaghan Harps 2-04 St Patricks Donagh 1-03
Naomh Mhuire 3-01 Pearse Ogs 1-03
Final
Naomh Mhuire 1-09 Monaghan Harps 0-03
SHIELD COMPETITION: (Main Competition)
Semi Finals
Cloughaneely 2-03 Rostrevor 1-04
Watty Grahams Glen 1-04 Cavan Gaels 0-01
Final
Watty Grahams Glen 1-07 Cloughaneely 0-03
back to top

Gaelic4Mothers grows across Ulster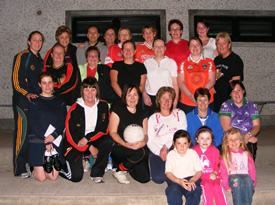 Hundreds of mums across Ulster have decided that they no longer want to stand on the sideline cheering on their children, they want a piece of the action themselves! And to help them do this the Ladies Gaelic Football Association are promoting their Gaelic4Mothers programme and the response in Ulster has been great!
The programme is aimed at those women who are not interested in playing competitve football with their club, but who would like to get fit while at the same time having fun and meeting up with other mums from the area. It is suitable for all those who want to take part whether or not they've ever kicked a ball before or if they still have their boots hanging up under the stairs!
The programme runs for a six week period and introduces participants to the basics of ladies football through fun games and activities that will help them get their recommended weekly exercise.
September has proven to be an ideal time to start the programme in many areas as the schools are back and mums are trying to get back into a routine. Using Gaelic4Mothers to fit in this exercise seems to be working:
"There has been great interest in the programme in the past month with 18 different clubs in Ulster requesting packs to get started. In fact 8 of those clubs have now got the programme up and running already" says Ulster Games Development Officer Sheena Tally who is driving the programme in the province. "Im always amazed at the willingness of the mums to get involved in the programme when I go to take the first session. All inhibitions are thrown out the window in the name of having a good laugh, and I think thats what makes the programme so successful."
Shane ONeills in Armagh are the latest club in Ulster to get the programme started with 20 mums from the area donning their boots to get involved. No children allowed was the order of the day when the mums from Camlough took to the pitch for their first training session. "We dont want the children coming with us for training, this is our hour to ourselves" the mums said and they certainly enjoyed their hour of freedom while at the same time getting in some exercise.
Many sites around Ireland have gained new volunteers to help with their youth teams from those who have taken part in the programme. If parents get involved in something for themselves, they seem to get bitten by the bug and want to get involved in a different capacity within the club. When we are always crying out for more volunteers in our clubs maybe it's worth a try??
The plan is to hold an Ulster Gaelic4Mothers Blitz before Christmas so that all the sites can come together to share the experiences of the programme and put their newly aquired skills to the test. A great day out for the family is definately guaranteed!
Any club or community in the province can get involved in the programme. If you are interested in learning more contact Sheena Tally on 077951 60979 or email sheenatally@ladiesgaelic.ie
back to top

Round-up from CASC nights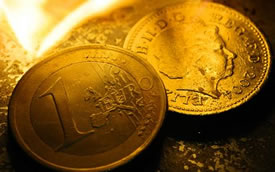 Throughout September and October Ulster GAA staff members visited the six northern counties to highlight CASC opportunities to club treasurers.
These were very useful nights where club treasurers gained important information on good financial compliance, structured-giving at club level and registering as CASC.
Key resources are available for club treasurers on all topics that were covered, at www.ulster.gaa.ie/club-maith
Thanks to Ulster GAA Volunteer Brendan Kirk, from Armagh City for acting as a Financial Adviser at these evenings. His experience and knowledge was invaluable.
back to top

Cash4Clubs - Small Grants Available

Ulster GAA is committed to keeping Clubs updated on available funding streams and we are pleased to promote a small grants scheme for clubs within the six counties - Cash 4 Clubs.
What is Cash 4 Clubs?
Cash 4 Clubs is a sports funding scheme which gives clubs a chance to apply for grants to improve facilities, purchase new equipment, gain coaching qualifications, and generally invest in the sustainability of their club. The Cash 4 Clubs scheme is funded by Betfair and is supported by SportsAid.
How do clubs apply?
Clubs can apply for a Cash 4 Clubs Sports Grant by filling out an application form at: www.cash-4-clubs.com
What grants are available?
There are three tiers of grants at £250, £500 and £1,000 which are awarded on a discretionary basis
Who can apply?
Any sports club can apply as long as they are registered with their sport's National Governing Body or local authority.
How are the grants chosen?
Grants are awarded on a quarterly basis after selection by Cash4Clubs committee
For more information
Log on to: www.cash-4-clubs.com
back to top

Major success at Ladies Sevens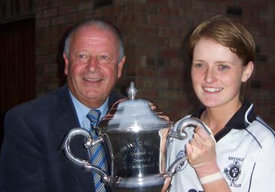 Emyvale (Monaghan), Ardtrea (Derry) and Galbally (Tyrone) claimed silverware at the All Ireland sevens which were held at Portmarnock on Saturday 26th September.
After cruising through the group stages Emyvale met Armagh outfit Clann Eireann in the semi final. The north Monaghan side easily accounted for their orchard neighbours winning 5-11 to 2-7. In the final they met fellow Farney side Donaghmoyne who also went unbeaten in the group stages and who beat Waterford's Ballymacarbry in the last four. After a close first half Donaghmoyne led 1-2 to 0-3 the goal coming from Fiona Courtney in the very first minute. The second half was also a close affair however goals from Ciara Mc Anespie and Therese Mc Nally seen Emyvale edge it 2-7 to 1-6.
In the junior championship Ardtrea claimed the title. The Derry side racked up big scores all day including an 8-4 to 1-4 semi final defeat of Kildare side Carbury. In the final they met Moyle Rover of Tipperary and thanks to a couple of goals from Ailisha Wilkson they claimed the title 2-4 to 0-7.
In the junior shield final Tyrone duo Galbally and Aghyaran served up a seven goals thriller which Galbally won 4-7 to 3-4. In the first half Michelle Carbury, Shana Kane and Coleen Quinn all netted to give Galbally a 3-4 to 1-1 interval lead. The Aghyaran goal was scored by Lucy Meehan. Another three goals followed in the second half. Anona Mc Kay and Carol Ann Dolan for Aghyaran and Catriona Mc Gahan for Galbally however when the final whistle went Gallbally had done enough and secured the title with seven points to spare.
back to top

Ulster GAA coaches back at school
The Ulster Council on behalf of the DENI has begun their third year of fundamentals coaching within the schools. In Co. Antrim the coaches have been speaking with principals, teachers and children to find out how they benefitted from the programme last year and what their expectations are for this year ahead.
Overall coaches received a very positive welcome back to the schools and the programme has been held in high regard by principals, teachers and children alike. New participating schools have high expectations for the year ahead as Mrs. G. Carville Principal, Mount St Michael's Primary School Randalstown highlights below:
"We are delighted to be included in the GAA coaching initiative this year as it will provide many learning opportunities for our pupils and staff. The coaching throughout the year will help the boys and girls in foundation and Key Stage One develop their fundamental skills in both movement and Gaelic football. They should have opportunities to work as individuals and in groups and teams rehearsing the skills required to work cooperatively.
They will hopefully develop their interest in and enthusiasm for Gaelic games and become more active in their home life; perhaps joining a local club or playing at home.
Our staff will observe good practice in the coaching/delivery of Gaelic games and will incorporate what they find useful into their teaching of games in the context of PE lessons."
To date coaches have been introducing themselves in the schools and have begun testing the Physical Literacy competencies of the children. Samples of the children from each class are tested and will be retested during and at the end of the year. This is used to gauge the development of the children and monitor the effectiveness of the programme.
Ulster GAA takes this opportunity to welcome the new coaches onto our team.
back to top

GAA Cúl Camp 'Helps to reduce tension in interface area'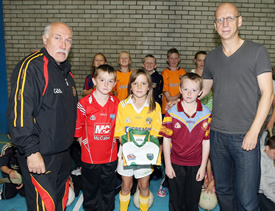 As part of the activities to reduce tensions within the Upper Springfield / Springmartin areas of West Belfast particularly the interface on the Ballygomartin Road, an exciting programme of events was put into place by the local community youth workers and the Ulster Council's GAA Upper Springfield Project, over the summer months.
This programme, was part of the Intervention Project, included street parties, water sport activities, BBQ's and other events including single identity work programmes, and this year also included an exciting new element specific to the Gaelic Athletic Association's: "Cul Camp".
The Cul Camp took place from Monday 10th August to Friday 14th August in Corrigan Park Belfast. 35 children from Upper Springfield took part in the Cul Camp which provided the opportunity for young people to participate in a range activities and skills associated with Gaelic football and hurling.
Gerry Mc Clory Development Officer for the Ulster Council said "The Ulster Council are delighted to be associated with this scheme and welcomed the opportunity to work in partnership with local communities".
Stuart Kennedy Upper Springfield Intervention project co-ordinator commented, "This partnership will help to reduce tensions along the interface, demonstrating clearly what can be achieved whenever different disciplines take a willing approach to working with the local communities."
back to top

Ulster Handballers travel to USA for World Championships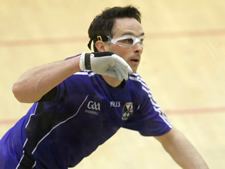 Irish handballers will compete in the famed Golden Gloves Tournament in Belfast this weekend to conclude preparations ahead of next week's departure for the in Portland, Oregon.
Over 260 Irish handballers are travelling to the City of Roses (Portland, Oregon) for the World Handball Championships, starting on 4th October.
Cavan's Paul Brady is team captain and will be bidding for a third consecutive Men's Open World title in Portland. He became the first man to claim back to back titles in Edmonton, Canada in 2006 and will be keen to make it number three. Brady picked up an injury to his hip last week, but despite this, the Breffni man lined out for his club, Mullahoran in the Cavan SFC recently.
Antrim's Ricky McCann, Armagh's Charly Shanks and being tipped as ones to watch in the event.
In the Ladies section, reigning World Champion, Fiona Shannon (Antrim) continued her winning tradition at the Golden Gloves in Belfast recently but fellow St Paul's handballers, Aisling Reilly and Sibeal Gallagher proved strong competition. All three ladies are members of the official Irish squad, which was presented to the crowd at Croke Park on All Ireland Final Day.
We wish the Irish team every success, especially all handballers from Ulster.
OFFICIAL IRISH TEAM - ULSTER REPRESENTATION
Ladies Open Singles: Aisling Reilly (Antrim)
Men's Open Doubles: Paul Brady (Cavan) and Michael Finnegan (Cavan)
Ladies Open Doubles: Fiona Shannon (Antrim) and Sibeal Gallagher (Antrim)
15 and Under: Padraig McKenna (Monaghan)
One-Wall Team: Charly Shanks (Armagh)
back to top