Outstanding Ulster Success at World Handball Championships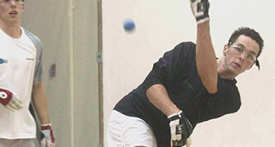 Ulster has achieved notable success at the World Handball Championships in Portland, Oregon.
Cavan's Paul Brady pulled out a dramatic tiebreker victory against Texan, Allan Garner in the Men's Open Final at the World Handball Championships in Portland, Oregon today. In doing so, he becomes the first player in handball history to win three consecutive titles. Brady and Garner exchanged points early in the opening game, but Brady pulled away to take a 21-16 victory. In the second game, Garner hit top form and with awesome killshots, won 21-14 to force a decider. In the tiebreaker, Brady was forced to take an injury time out at 3-0 up, after he collided with the sidewall.
Following the 15 minute break, Garner pulled back into the game and levelled at 4-4, but Brady, playing on sheer adrenaline and through a huge pain barrier, pushed on. Despite Brady serving for game at 10-4, Garner pulled back three points before the Irish man hit 11 to retain his world crown. An emotional Brady said, "I just can't express what I'm feeling - there are a lot of emotions, but I'm hugely relieved to have come through that and it will take a while for it to sink in."
Antrim's Fiona Shannon defeated fellow Belfast handballer, Aisling Reilly, in the Ladies Open Final at the World Handball Championships in Portland, Oregon. Shannon collected her third title in succession with a 21-19, 21-15 victory over Reilly.
Below is a full list of the Ulster winners at the World Handball Championships in Portland, Oregon:
Men's Singles Open: Paul Brady (Cavan)
Women's Singles Open: Fiona Shannon (Antrim)
Men's Doubles Open: Michael Finnegan (Cavan) & partner Eoin Kennedy (Dublin)
Women's Doubles Open: Fiona Shannon & Sibeal Gallagher (Antrim)
Men's Singles A: Ruairi Kelly (Tyrone)
Men's Doubles A: Darragh Daly (Tyrone) & partner Ger Coonan (Tipperary)
Men's Singles B: Shane O'Neill (Tyrone)
One Wall Men's Singles B: James Doyle (Armagh)
Girls 17U Singles: Lorraine Havern (Down)
Boy's 15U Singles: Padraig McKenna (Monaghan)
Boy's U13 Singles: Darren Doherty (Monaghan)
One Wall Boy's U13 Singles: Darren Doherty (Monaghan)
back to top

2 All-Star Awards for Ulster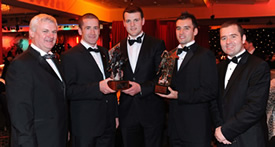 Ulster picked up 2 awards at the 2009 Vodafone Football All-Stars on Friday night.
Donegal defender Karl Lacey and Tyrone forward Stephen O'Neill were rewarded for their performances along with 7 players from All-Ireland Champions Kerry, 5 from Cork and Dermot Earley of Kildare.
This was Stephen O'Neill's third All-Star award, having previously won awards in 2001 and 2005, when he was also named footballer of the year.
Karl Lacey was picking up his second award having previously collected one in 2006.
Lacey's Donegal team-mate Michael Murphy was also rewarded with the prestigious award of young footballer of the year, following a tremendous season where he scored 0-36 in the championship.
Pictured is Ulster GAA Vice President Aogan O Fearghail and Ulster GAA Operations Manager Stephen McGeehan with Stephen O'Neill, Michael Murphy and Karl Lacey.
---
2009 Football All Stars:
D Murphy (Kerry)
K Lacey (Donegal)
M Shields (Cork)
T O'Sullivan (Kerry)
T O Se (Kerry)
G Canty (Cork)
J Miskella (Cork)
D Earley (Kildare)
S Scanlon (Kerry)
P Galvin (Kerry)
P O'Neill (Cork)
T Kennelly (Kerry)
D Goulding (Cork)
D O'Sullivan (Kerry)
S O'Neill (Tyrone)
back to top

Ulster 2010 Championship Draws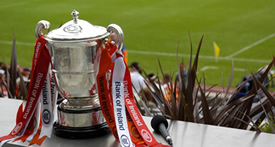 Once again the Ulster Senior Football Championship draw has served up some mouth-watering encounters.
In the preliminary round, Derry will play Armagh with the winners facing Monaghan in the quarter finals. Derry were beaten in the Ulster semi-final by Tyrone last year, while new Armagh manager Paddy O'Rourke will be keen to get off to a winning start with his new squad. Monaghan manager Seamus McEnaney will have to wait in the wings to see if his team will face neighbours Armagh or the team that put Monaghan out of the Ulster Championship in 2009, Derry.
In the first quarter-final, its a repeat of the Ulster Final of 2009 as Antrim face Tyrone. Antrim manager Liam Bradley will hope to continue his progress with the Saffrons and take out the reigning Ulster champions, while no doubt Mickey Harte will once again be meticulously plotting his way through the field already.
In the second quarter-final, Donegal will face Down. This is also an intriguing encounter as both sides will be anxious to get a victory having both been beaten in the opening rounds of last year's Ulster Championship at the hands of Antrim and Cavan respectively.
Finally, Cavan will face off against Fermanagh in what is a repeat of last year's Ulster quarter-final. On that occasion, after having beaten Down in the preliminary round, Fermanagh succumed to the Breffni blues. No doubt the Erne men will be keen to exact revenge this time round.
The dates and venues for the opening rounds of the Ulster Senior Football Championship will be confirmed by the Ulster Competitions Control Committee at a later date.
Ulster Senior Football Championship 2010:
Preliminary Round:
Derry v Armagh
Quarter Finals:
Antrim v Tyrone
Donegal v Down
Cavan v Fermanagh
Monaghan v Derry / Armagh
Semi Finals:
Antrim / Tyrone v Donegal / Down
Cavan / Fermanagh v Monaghan / Derry / Armagh
The draw for the 2010 Leinster Senior Hurling Championship also took place, and following Antrim's defeat in the opening round to Dublin in 2009, the Saffrons will face an equally difficult tie next year against Offaly.
Leinster Senior Hurling Championship 2010:
Preliminary Round:
Carlow v Laois
Quarter Finals:
Dublin v Prelim Winners
Wexford v Galway
Antrim v Offaly
Semi Finals:
Dublin / Prelim Winners v Kilkenny
Wexford / Galway v Antrim / Offaly
back to top

Irish News Ulster GAA Club and Volunteer Conference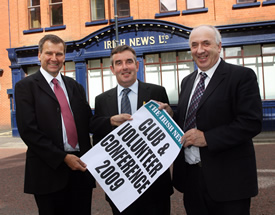 The third Irish News Ulster GAA Club and Volunteer conference will take place on Saturday 14th November in the Armagh City Hotel. The Irish News will once again act as Conference Partner in Ulster GAA's flagship non-games event which is focused at supporting club, volunteer and community development right across Ulster's nine Counties. The Ulster Council now supports over 250,000 volunteers working in 580 constituent GAA clubs and approximately 600 constituent educational units across the Province. The theme of this year's conference is
"Stronger Clubs, Better Communities; the legacy of the GAA's 125th Anniversary Year"

The event is the third of its kind following the outstanding success of the 2007 and 2008 Conferences. The conference will include a range of workshops, keynotes and discussion forums facilitated by leading GAA officials. Keynote speakers attending will be GAA President, Christy Cooney, Ulster GAA President Tom Daly and former GAA President and Community Leader Peter Quinn. This year the master of ceremonies is BBC Championship presenter Austin O'Callaghan.

There will be seven conference workshops this year, they include:
Physical Development in the GAA Club
Structured Giving - Self Fundraising in the Club
Child Protection in the GAA
Insurance in the Club
Enhancing Scor and Club Cultural Activities
ICT in the GAA Club
The GAA Development Plan
Communicating the GAA message at Club level
Lobbying Local Government for GAA Provision
The Conference will also see the launch of a new Confederation of Ulster Council's which will formally link the Ulster GAA with Ulster Councils for Ladies Gaelic Football, Camogie, Handball and Rounders in order to promote a holistic approach the development of Gaelic Games Community.
Ulster GAA President Tom Daly highlighted the significance of the conference:
"The success of our last two conferences highlighted the need for this event on annual basis as the Ulster Council is committed to supporting clubs in all areas of their development, the Community Development Staff support both the Clubs, Counties and Ulster Council in doing that. I am looking forward to seeing many of our club officials present at the conference and I confident that all present will benefit from the day. I would also highlight the important role of our conference partner the Irish News, I am grateful for their ongoing support in a range of matters and I am grateful for their continued outstanding coverage of Gaelic Games."
Irish News editor Noel Doran said:
"This is a significant initiative at a number of levels, and the agenda strongly reflects the progressive nature of the GAA in Ulster. The level of support which the last two conferences received was truly impressive, as was the commitment and enthusiasm of all the participants. The Irish News is delighted to endorse the event, and we look forward to another successful day on November 14."
There are still places available to register, please contact Maura Kelly on 028 (048) 3751 7180 or e-mail: maura.kelly.ulster@gaa.ie
You can also download the Conference Brochure and Booking Form.
back to top

A 'must read' for Ulster Gaels: The Evolution of the GAA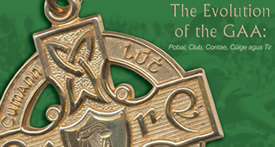 The Evolution of the GAA brings together leading writers and academics to examine the history of the GAA over 125 years and the antiquity of Gaelic games over previous centuries. This collection outlines the progress made by the organisation and its games in Ireland and abroad, with particular emphasis on Ulster.
The first section comprises a number of personal reflections by prominent members of the GAA from the last seven decades: President Mary McAleese, Cardinal Seán Brady, Paddy McFlynn, Maurice Hayes, Jim McKeever, Peter Quinn and Mickey Harte.
In the second and third sections, a series of academic essays explore various themes of GAA history, such as the antiquity of hurling and related games in Ulster; the founding of the GAA; the role of the press in its propagation; its relationship with the Catholic Church and republican politics; the development of the playing rules of football and hurling; the reduction of violence in the games; camogie up to 1950; and the international dimensions of the GAA.
The final section includes an appraisal of Cardinal Ó Fiaich's involvement with the GAA, and fresh information about the Ulsterman who attended the first meeting of the association in 1884, John McKay. Also contained are new records of Ulster senior hurling and football championship results and final teams back to 1888. Dozens of previously unpublished photographs and other images feature throughout the volume.
Foilsítear an leabhar seo mar thoradh ar chomhpháirtíocht idir Leabharlann an Chairdináil Tomás Ó Fiaich, Ard Mhacha, agus Comhairle Uladh CLG.
The Evolution of the GAA will be available from Monday 7th December 2009 at a cost of £20 / €25 + P&P (£5 / €7).
To pre-order your copy of the book, contact Sharon Haughey on sharon.haughey.ulster@gaa.ie / 028 (048) 3751 7180.
back to top

Launch of Ulster GAA Writers Banquet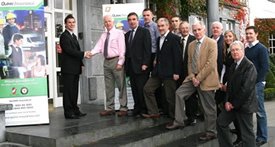 The 22nd Ulster GAA Writers' annual banquet was launched yesterday at the Slieve Russell Hotel, Ballyconnell, where the function will be staged on Friday, November 20.
There to give the occasion a send off were Ulster President Tom Daly, Tyrone manager Mickey Harte, Antrim ladies' football captain Geardine McCann and county footballers Shane McCabe, Marty McGrath and Barry Owens. Hosting the occasion was UGAAWA chairman Jerry Quinn, along with other members of the writers' association.
As usual, the highlight of the evening will be the naming of the Annual Award winners in men and women's football, hurling, camogie, handball, refereeing, communications, Young Achiever, Personality of the Year and Services to the GAA. The winners will be presented with their Belleek China trophies plus other awards.
Fear a Tí will be Austin O'Callaghan from BBC and brief video highlights of the season will be shown.
Rounding off the celebrations there will be dancing to Ronnie Griffiths & American Pie and during the evening a charity ballot will be organised in aid of Autism and the Alzheimer's Society.
This is a black tie function and the contact for the purchase of tickets is Tony McGee (028) 90600833 or 07960 531170. Price £50 or €60.
Photo Caption: Quinn Insurance Internal Sales Manager Shane McCabe welcomes UGAAWA chairman Jerry Quinn along with other members plus Ulster President Tom Daly, Tyrone manager Mickey Harte, Antrim ladies' football captain Geraldine McCann and county footballers Enda McGinley, Marty McGrath and Barry Owens to the launch of the UGAAWA annual banquet to be held at Slieve Russell on November 20.
back to top

Ulster Club Hurling Finals Round-up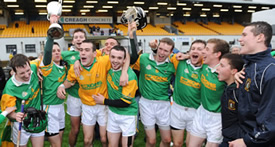 Ulster Club Senior Hurling Championship Final:
Dunloy (Antrim) 2-16 Ballycran (Down) 2-11
Antrim's Dunloy won the AIB Ulster Club Hurling Championship for the tenth time as they saw off Down's Ballycran by 2-16 to 2-11 at Casement Park.
Simon Wilson scored an early point against the breeze for Ballycran but it proved not to be a sign of things to come as they were quickly five points behind.
Dunloy led 0-8 to 0-4 coming up to the break as their dominance continued, two more Wilson points and one from Conor Arthurs all the Down men had to show for their efforts. However, Aidan Clarke salvaged a goal just before the break for Ballycran as he fired past Gareth McGhee at the Dunloy goalkeeper's near post.
Points from Arthurs, Wilson and Conor Woods then put Ballycran ahead, only for the Antrim men to restore their lead with a Paddy Richmond goal, the Saffron County attacker collecting a long ball from McGhee before raising the green flag.
Poor goalkeeping allowed Wilson to score a second goal for Ballycran from distance, but Sean Dowds quickly got Dunloy's second as his sideline ball caught out goalkeeper Declan Ennis and went in off the underside of the bar. From there his side held on to seal the Ulster throne.
---
Ulster Club Intermediate Hurling Championship Final:
St Galls (Antrim) 5-11 Middletown (Armagh) 0-12
Antrim champions St Galls strolled to a 14 point victory over Armagh's Middletown in Pairc Esler on Sunday,
Sean McAreavey was the hero for the Belfast men, scoring 4-04 of his sides total, with the 4 goals coming in a 10 minute spell to effectively end the challenge of the Armagh men.
This was St Galls first Ulster Hurling Championship title, and is even more significant given the fact that a lot of the players are also involved in the St Galls football panel, who are also playing in the Ulster Senior Football Championship.
---
Ulster Club Junior Hurling Championship Final:
Rasharkin (Antrim) 2-14 Naomh Colum Cille (Tyrone) 4-10
In the curtain raiser to the Senior Hurling final at Casement Park, Naomh Colum Cille clinched their first Ulster Junior Hurling Championship title thanks to a Paul O'Neill goal 2 minutes from full time.
Rasharkin had held a 1-07 to 1-06 lead at half time thanks to a Darren O'Boyle goal, with Seamy Hagan raising the green flag for Naomh Colum Cille.
The second half continued to be a nip-and-tuck affair, with Rasharkin claiming another goal through Diarmaid Quinn, and Paul O'Neill and Niall O'Neill (penalty) hitting the net for the Tyrone champions.
Rasharkin looked to have sealed the victory as they edged a point in front with time running out, however Naomh Colum Cille full forward Paul O'Neill scored the decisive goal in the dying minutes to spark glorious celebrations for the Tyrone men.
back to top

Ulster Ladies Club Championships Round-up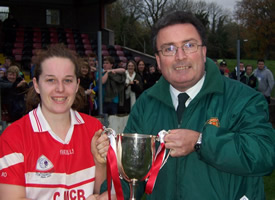 The Ulster club finals were held on the weekend of the 24th/25th October and resulted in wins for Donaghmoyne, St. Pauls and Corduff.
Senior Club Final @ Truagh (25/10/09)
Donaghmoyne (Monaghan) 3-10 St Macartans (Tyrone) 0-7
A personal tally of 3-7 from player of the match Catriona McConnell helped Donaghmoyne to retain their Ulster title at the expense of St. Macartans. Mc Connell was on fire and hit 1-4 in the first half to help her side to a 1-7 to 0-4 interval lead. In the second half she added another 2-3 while St. Macartans only managed an additional three points.
---
Intermediate Club Final @ Truagh (25/10/09)
St. Paul's (Antrim) 3-10 Magheracloone (Monaghan) 1-9
Antrim kingpins St. Paul's secured the Ulster intermediate club title with seven points to spare over Magheracloone. The Belfast side had a dream start hitting 1-4 before Magheracloone opened their account, Dervla Murphy scoring the goal. Magheracloone did wake up in the second quarter but still trailed at the break 1-7 to 0-3. A second half tally of 1-4 from Edel Byrne did bring Magheracloone level with ten minutes to go however two late goals from Mairead Cooper and Sonia Toner helped.
---
Junior Club Final @ Crossmaglen (24/10/09)
Corduff (Monaghan) 3-7 Cappagh (Tyrone) 1-6
The main talking point about this final was the dreadful weather conditions but despite this Corduff secured their first ever provincial title.Playing with the aid of a strong breeze in the first half Corduff registered three goals,a couple from Emma Byrne and another from Laura Mc Eneaney. Cappagh were having trouble getting the ball forward but did manage a goal through Michelle Sweeney. The Tyrone side trailed at the break 3-7 to 1-1.Early in the second half Corduff had Kate Brennan sent off. For the next twenty five minutes it was backs to the wall defending. Corduff played Laura Mc Eneaney as a sweeper and for the majority of the game everyone bar the Cappagh goalkeeper were camped in the Corduff half. The Monaghan outfit failed to score however they also only allowed Cappagh to score five points through Stephanie Mc Ginn, Stephanie Patterson (2) and Teri Mc Cusker (2) and went on to win by seven points
back to top

Showcase of Ulster Scór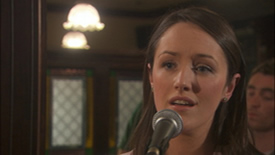 The importance of Scór was emphasised once again when BBC's Blas Ceoil highlighted some of the best of Scór 2009 by featuring Ulster Solo Champion Catherine Grimley from Madden, Co Armagh, and the Dromintee Instrumental Group, Co Armagh in a recent episode.
Killyclogher Ballad Group, Co Tyrone will feature in a forthcoming episode on 5th November 2009 on BBC Two and Radio Ulster.
All episodes can be viewed online at: http://www.bbc.co.uk/programmes/b00njkz9
40th Year Concert:
As part of the 125 GAA anniversary events and in celebration of the 40th Anniversary of Scór, Comhairle Uladh CLG will be hosting a Scór Concert, on Saturday 14th November 2009 at 7:30pm sharp, in Saval GAA complex.
It is expected to be an enjoyable evening full of music, song, dance and entertainment which you are invited to attend.
Anyone interested in attending is asked to contact their County Scór Co-ordinator
Scór Showcase at Conference:
Ulster GAA will be promoting Scór at its forthcoming Club and Volunteer Conference on Saturday 14th November in Armagh City Hotel.
Delegates will be greeted by Dromintee Instrumental Group, who will play their traditional Irish music for which they are now famed, during registration. Then Ulster Solo Singing Champion Catherine Grimley will open conference with her rendition of Sarah Makem's 'The Banks of the Callen'. In the early afternoon delegates will then be treated to a very unique recitation by Niamh Devine from Carrickcruppin GFC, which will undoubtedly bring a bit of cheer to the conference.
back to top

Victoria College all set for Camogie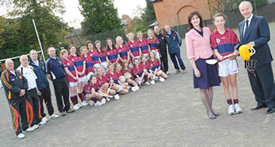 Ulster GAA has presented Victoria College, Belfast with a full set of Camogie sticks, sliothars and helmets in advance of their first training session.
Speaking on a visit to the school, Ulster GAA's PRO Michael Hasson said, "It is a great pleasure to visit Victoria College and to bring with me a set of Camogie sticks, sliothars and helmets to help the school set up their very first Camogie team.
"Ulster GAA coaches have been in coaching Gaelic Football to the girls at Victoria College for some time and it is a great achievement for the school now to offer Camogie Coaching to their students as well.
"Ulster GAA is delighted to work in partnership with the school to help bring Gaelic Games to those from non-GAA backgrounds. I commend Ms Slevin and her staff, the students participating and their families - without their support this could simply not happen.
"The initiative has been hugely successful with many girls showing a good interest in Gaelic Games. I hope that enthusiasm will continue to grow within the College and that this initiative will be rolled out across other schools in Ulster."
Victoria College Principal Ms Slevin said, "The College is delighted to receive this very generous gift from the Ulster GAA. The girls are really enthusiastic about the forthcoming Camogie coaching and it is a tremendous boost to have this equipment provided for us."
back to top

Spooky sports in Armagh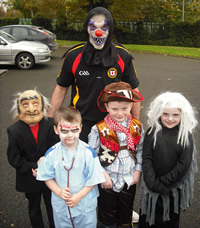 Ulster GAA Coaches ran 3 days of Fundamentals games for the schools in the Armagh area called "Spooky Sports".
The suitably named Halloween event reached out to around 150 children who attended each day, from Monday 26th to Wednesday 28th October.
Held between St. Patrick's Grammar School and St Catherine's College in Armagh, the coaches were surrounded by ghosts, witches and ghouls - a first for Gaelic Games!
The 3-day event helped to give children who were on their mid-term break a positive and enjoyable way to spend their time off. Not only were the children given the opportunity to develop the skills of Gaelic Games, but the fun twist included some ghostly games and a fancy dress competition.
back to top

'O2: It's your Community' Awards

O2 are giving awards of up to £1,000 for community-based projects which have a special focus on Young People (this award programme is only relevant to Counties: Armagh, Antrim, Derry, Down, Fermanagh and Tyrone). Applications should be submitted before the end of December 2009. Some GAA clubs have already successfully applied for this award.
Successful applications will show evidence of:
Reconnecting young people with their community
Longevity - will have long lasting effects after the money has been spent
Real tangible results that can be seen
Fresh, bold-thinking which is innovative and will inspire others
If your club has a project which meets the above criteria then log onto http://www.itsyourcommunity.co.uk/ApplyForAnAward.aspx for more guidance information and an application form. We would also like to hear from clubs who have applied for this award. To seek, or share information please contact maura.kelly.ulster@gaa.ie

back to top

How good is your club? Club Maith rolled out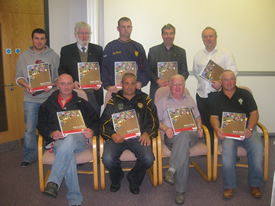 Club Maith is an accreditation scheme for clubs, encouraging best practice, and recognising the priceless work being carried-out by GAA volunteers across the country. Currently the following clubs are in the process of applying for their Club Maith award:
Maghera Mac Finns, Cavan
Ballymachugh GAA, Cavan
Owen Roe O'Neills, Tyrone
Russell Gaelic Union, Down
Beragh Red Knights, Tyrone
St Patricks Dromintee, Armagh
O'Donovan Rossa, Antrim
Derrygonnelly Harps, Fermanagh
St Josephs Craigbane, Derry
St Malachys Edendork, Tyrone
St Michaels Killen, Down
Cardinal O'Donnells, Antrim
Naomh Eoin, Antrim
Naomh Pól, Antrim
Any club can apply to become Club Maith accredited. Simply log onto the website www.ulster.gaa.ie/club-maith, download and complete the "Club Maith Application Form" and send it onto us. Once registered, clubs will be guided through the process with help from Ulster GAA staff, and the Club Maith website and Toolkit. Successful clubs will be awarded bronze, silver, or gold awards, depending on the strength of their application. For further information please contact maura.kelly.ulster@gaa.ie
Further GAA volunteers and Ulster GAA staff were trained-up as Club Maith Facilitators during October. These facilitators will be out and about the Clubs shortly, assisting with our Club Maith accreditation scheme.
Photo includes some newly trained Club Maith Assessors:
Back Row (L to R): Shane Mc Cann (Ulster GAA), Sean Reavey, Mark McCashin, Dermot McCaughey, Cathal Daly. Front Row (L to R): Leo Robinson, Paddy Quinn, Joe Donnelly, Chris Trainor
back to top

Ulster Ladies HEC Committee Established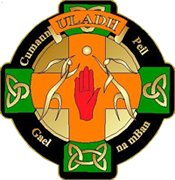 The first steps have been taken in preparation for the Ulster Colleges football for the 2009/2010 playing season with the re-establishment of the Ulster Ladies HEC (Higher Education Council) Committee.
At a meeting of all Ulster universities and colleges held in the Glenavon House Hotel in Cookstown the new committee was voted in and looks like this:
Chairperson - Cathy Carey (UUJ)
Secretary - Sonya McGaw (Ulster Council Placement)
Vice Secretary - Emma Muldine (QUB)
Treasurer - Laura McCreesh (St Marys)
PRO - Stacey McCann (UUMagee)
Committee - Mairead Boyle (SWC Fermanagh), Helen Ward (St Marys), Jamie Willigan (QUB), Ciara McCann (UUMagee), Anna Carey (UUJ)
The committee will have the responsibility of organising and co-ordinating all the Ulster competitions for colleges and universities namely the Oliver Gavan League Cup, the McNally Plate and the Dowd Cup.
This year new formats have been proposed for the Oliver Gavan League Cup and the Dowd Cup and will be put to the Ulster Council on 20th Oct for ratification before proceeding.
back to top

Gaelic View from Imperial College, London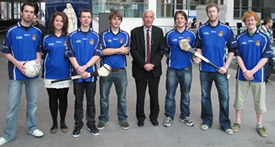 By Edward O Hare, Cathaoirleach, I.C.U.G.A.C.
When I started playing Gaelic football my father told me, "One man doesn't make a team, it takes fifteen." He continues to tell me this every time I play. When I went to university I found out that it doesn't take fifteen, it only takes three.
On January 10th, 2008 three students at Imperial College London came out of the students union with a new perspective on life and (more importantly) a football. A meeting had occurred that had established the first Gaelic Athletic Club at Imperial College London with the aim of promoting Gaelic pastimes and culture.
Our first venture as a club was to organise a men's Gaelic football team. This team would compete in the British Universities Gaelic league and championship, playing against other distinguished universities such as Cambridge and Oxford. The Imperial team consisted of mainly Irish players, but soon English, South African and many others joined taking to the game. We also took the opportunity to play against Fulham Irish, a local Gaelic team in London.
In October 2008 we started our league campaign against Bedford on our kindly donated pitch from the university. Our pitch is exactly like a Gaelic pitch in Ireland; a set of posts in a field; a pub a stone's throw away; and a church steeple that can be seen in the distance. It felt as though you were at home. The result of our Bedford game did not go our way that time but we had many more games ahead to improve (or, for some, to understand the game!). Training continued regularly and in the matches ahead we recorded our great wins and narrow defeats. The hospitality shown by many teams was admirable, especially when you get a bowl of Irish stew in the winter months. The University league campaign ended in December, just in time for going home at Christmas with the championship to look forward to after the holiday.
The British Championships took place in Birmingham on the 14th and 15th February 2009 - Valentines weekend. Like many times in your Gaelic career you have to make tough choices; luckily Valentines weekend isn't one of them. On Saturday 14th at 6am we headed to Birmingham with a squad ready to play. We had the privilege of playing against our league rivals again and other teams from England, Scotland, New York, USA, and Rennes, France. To our delight we came top of our group to compete in the Semi-finals on the Sunday. However our campaign ended there with a defeat against Sheffield who went on to win the competition. Despite the loss, we had a great weekend playing football and an enjoyable journey back to the 'big smoke'.
In the weeks after our club continued to progress with the creation of a Hurling team to compete in the British Universities 7's competition. Some of the players weren't sure what the stick was for, others how to hold it, some just feared for their lives but we worked together, learned and competed in the competition. From this tournament two of our players, Finian McCann and Stephen Gallagher, received British University Hurling All Star Awards and played on the British Universities Shinty Team. The Imperial Club were also represented on the British Universities Gaelic Football All Star 7's team by Edward O Hare who competed for the team in Ireland.
Our season finished with our 125th Celebrations of the Gaelic Athletic Association. We flew the Gaelic Athletic Association flag above Imperial College during the 10th May weekend. We were privileged that the Rector of Imperial College, Sir Roy Anderson, celebrated with us and to mark the occasion we presented him with the Cúchulainn Statue. Cúchulainn, translates to, 'The Hound of Ulster,' and is seen as one of the most important Celtic Irish hero's (Celtictwilight, 2000). An appropriate gift, we believed, to remember Irish culture, heritage and the Gaelic Athletic Association. The Rector spoke of how glad he was to see the inspiration this sport and the organisation had brought to us, hoping that we would succeed in all that we endeavour.
As a club we took this year to be a great success; however it is only the beginning. We look forward to our next year where our present teams are awaiting the new season and our future Ladies Gaelic football team and Camogie team will compete in British university competitions. We hope that our club will have better games, more wins and provide more pastimes that everyone can enjoy.
Our club consists of Imperial College students with students from other central London Universities participating in our games in undergraduate and postgraduate education. Imperial College London is ranked 6th in the world by the Times Higher Education Supplement 2008. Imperial offers an unrivalled level of education to its students in both undergraduate and postgraduate course. To find out more about Imperial and the courses offered please see www.imperial.ac.uk
For more information about the Imperial College Gaelic Athletic Club please see www.imperialcollegeunion.org . If you or your business would like to be associated with the Imperial College Union Gaelic Athletic Club please feel free to contact us at gaelic.sports@imperial.ac.uk
back to top

Higher Education (CAU) Fresher 7's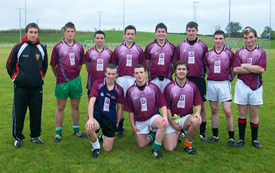 A very successful and enjoyable day was had at Mid Ulster Sports Arena yesterday Wednesday as fifteen teams battled it out for the CAU 7-a-side F.E trophy. Representing five of the six main F.E Colleges in the North were Belfast Metropolitan, North West Regional College Derry, North Regional College Magherafelt, South West College Omagh and Dungannon and South Regional College Armagh, Newry and Lurgan plus Letterkenny IT from Donegal and Cavan Institute were represented.
Played in near perfect conditions the football was off a very good standard, fast, good tackling and some great scores. There were four groups and each team played each other with the top two teams in each group progressing to the quarter finals. The quarter finals lined up as follows; SRC Armagh v NWRC Derry, SRC Lurgan V Letterkenny IT, SWC Omagh V SWC Dungannon and SRC Newry V NRC Magherafelt. Victorious at this stage were Armagh, Letterkenny, Omagh and Newry. In the semi finals Armagh beat Newry and Letterkenny with Ashley Carr scoring two second half goals overcame Omagh. The final did not let anyone down played at a very competitive pace Armagh came out on top with a very solid performance and a score line of 3-3 to 1-5 to lift the trophy for the second consecutive year.
Brendan Mc Geary treasurer of CAU was on hand to present the trophy and medals to the victorious Armagh team and congratulate all the teams on their tremendous skills and effort displayed over the day.
A special word of thanks to the staff of the Mid Ulster Sports Arena for their support and help on the day, once again the pitches were a credit to Aaron their grounds keeper.
Thanks also to the Glenavon Hotel cookstown who catered for the teams and officials afterwards.
The next competition for CAU is The Men's Fresher's 7asides and is on Wednesday 21st October again at the sports arena Cookstown.
back to top

Ulster GAA O'Neills U12 U-Can Awards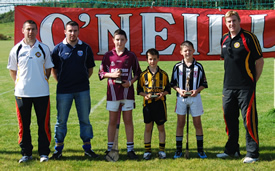 The annual Ulster GAA O'Neills U12 U-Can Awards took place on Saturday 12th September 2009 in MUSA, Cookstown.
O'Neills sponsored the event with the overall hurling and football winners getting a full set of jerseys for their club.
The skills used are designed to assist in the overall technical development of the children ensuring that they can become proficient in kicking and striking using both left and right sides. The children first had to be chosen by their club and then take part in the county final where the top five players in each county came forward to the Provincial final to challenge the best in Ulster. The standard was extremely high on the day and the winners were not decided until the very last skill. This is the fourth year of this annual competition which is becoming one of the highlights of the underage calendar.
Photo left to right: Diarmaid Marsden, Ulster RDO, Shane Mc Cann, Ulster RDO, 3rd Christy Mc Naughton Cushendall, Antrim, 1st Peter Mc Garry Ballycastle, Antrim, 2nd Dean Gaffney Middletown, Armagh, Paul Callaghan, Ulster RDO.
back to top

Ulster Universities invite counties into Dowd Cup Competition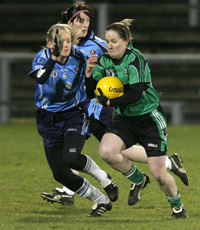 Traditionally the Dowd Cup was competed for by just the universities in Ulster, but in 2010 the format of the competition will be changed so that some of the Ulster Counties will be invited to take part.
After discussion at a recent Ulster Council meeting, the council approved the proposal from Ulster Ladies Higher Education Council to pilot the new format for the 2010 season so that the competition will now involve UUJ & QUB firsts along with 6 invited county teams. It is hoped that by doing so it will make the compeititon more competitive and help develop both college and county squads. In previous years county teams have played challenge games against college teams - this way the games will be more meaninglful.
The competition will take place over 3 Sunday's in January with the top two teams from each group qualifying for the Dowd Cup semi finals on the weekend of 30th Jan. The final will take place on Sunday 31st January and will be preceded by the McNally Plate Final. One of the rules of the competition is that if a player plays for both county and college she must play for her college team. This will allow county teams to try out other players prior to the start of the National league and see what other talent lies within their counties.
Sheena Tally, Ulster Games Development Officer is delighted that the proposal was passed by Ulster Council saying "It's great that Ulster Council saw the merit in changing the format for this competition and I'm delighted that they gave the go ahead for it. I hope that by making this change that we can make the Dowd Competition a lot more meaningful for all those who take part in it. It's going to be a busy January, but it's a great way to start of the year!"
back to top

Annual Shinty/Camogie Compromise Rules Competition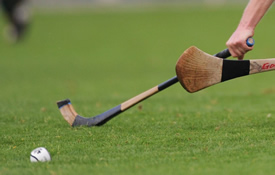 The annual Shinty/Camogie Compromise Rules game between Ireland and Scotland takes place this Saturday (October 31st) in Bught Park, Inverness, with Ireland hoping to prevent Scotland from winning their fourth consecutive title.
The Irish team is made up largely of players from junior counties such as Armagh, Wicklow, Westmeath and Carlow. Nancy Murray Cup winners Roscommon and Cavan who were victorious in the Máire Ní Chinnéide Cup have three representatives each.
Roscommon manager Ger Moran and Cavan boss Eddie Brady will take charge of the Irish squad this weekend. They will be joined in the backroom team by Louth's Mary Connor who is eagerly looking forward to the game. She believes the Irish players will step up to the challenge.
"We had a two hour training session in Mullingar on Saturday in very difficult conditions, and the girls feel they are prepared for whatever they are faced with. Their enthusiasm is wonderful. Three of the panel have experience of playing shinty which hopefully will help the team.
"The girls that we have picked are fantastic players in their own right. The standard of camogie in the country has increased overall and I think we'll see that next weekend. Shinty is a tough game, but the girls are really looking forward to the test."
The Scottish selection is full of experience with many of the names who featured in 2008, again in their line up. Hilda Dooley, originally from the Kinnitty camogie club in Offaly, is related to former All Star brothers Johnny and Billy Dooley.
Women's shinty has improved considerably since the International series began in the Camogie Association's Centenary Year in 2004, with increasing numbers playing. The raising of skill levels has been reflected in the largest turnout for the squad trials to date this year.
Ireland last won in 2005.
Throw-in for the Shinty/Camogie Compromise Rules game is at 12.15pm on Saturday in Bught Park, with the men's equivalent getting under way at 2.10pm.
Eddie Brady (Cavan) is joint manager, while Ulster Players on the Ireland squad include:
Rosie Crowe (Cavan)
Lorraine Day (Cavan)
Maggie McBride (Cavan)
Bernie Murray (Armagh)
Colette McSorley (Armagh)
Roisin McKenna (Monaghan)
Sharon McQuillan(Monaghan)
Aisling Corr (Tyrone)
Frances Begley (Tyrone)
back to top

National Strategy for Ladies Gaelic Forum held in Ulster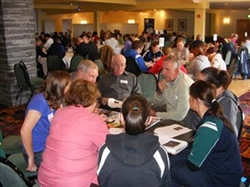 The Ladies Gaelic Football Association is developing a 7 year strategic plan and the first of the provincial club forums took place in Kellys Inn, Tyrone at the weekend.
The aim of the forum was to bring together members of the association from all over Ulster so that they could share their personal stories of the organisation and what it means to them, their families and their communities.
The day, which was delivered by O'Kelly Sutton Consultants certainly made the 90plus in attendance think about all that is good and not so good in the association and focused on how we can continue to develop and grow in the future. In attendance was the Ulster President Gerry Doherty and the Ulster Secretary Mary Keegan, along with representatives from county boards, clubs and schools, along with players, referees and officials.
back to top