Donaghmoyne Ladies lift All Ireland Title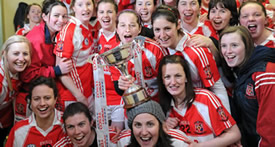 Tesco Ladies Senior Club Championship Final:
Donaghmoyne (Monaghan) 2-07 Donoughmore (Cork) 1-08
Ulster and Monaghan champions Donaghmoyne produced a stunning performance to land their second All Ireland senior club title in four years on Sunday at St Rynagh's Banagher. This was a game that produced just about everything with defending of the highest quality along with scores from the top drawer. In the end Donaghmoyne deservedly lifted the title but they were made fight to the final whistle.
A strong wind made conditions difficult but two teams hungry for success produced a cracker. The Cork girls had the aid of the wind in the opening half but it was Donaghmoyne going in the happier at the break with a two point lead. Entering the contest Catriona McConnell had a whopping score of 9-40 to her name, so it was little surprise she was to the fore for the eventual winners. Along with McConnell, the Courtney sisters of Sharon and Fiona worked hard throughout along with team captain Niamh Lynch. Also catching the eye was Amanda Casey who won the battle of the midfield but this was an all round team performance and in the end they got their just reward.
Catriona McConnell struck over the game's opening point with just over a minute elapsed with a free following a foul on Amanda Casey. However, when McConnell again found the target on nine minutes, the girls from the Rebel County had 1-2 to their name. Juliet Murphy levelled matters with a free before the All Star midfielder edged them in front with a fine effort from play. On six minutes Donoughmore struck for the games opening goal. It was to be the only goal of the championship that the eventual winners conceded and in truth the only moment in the game that the Donaghmoyne defence were caught out and Patrice Kearney punished them with a delightful finish low into the net. Following McConnell's second converted free, Murphy re-established the Cork sides four point lead with a free at the start of the second quarter. That was to be their final score of the half as Donaghmoyne turned the game around. On 20 minutes Cora Courtney was sent to ground as she burst though on goal and referee Des McEnery had no hesitation in awarding a penalty. Linda Barrett was sent to the sin bin and Catriona McConnell stepped up to beat 'keeper Caitriona O'Connell. Donoughmore wasted two scorable chances before McConnell struck for her second major on 29 minutes. The excellent Sharon Courtney went on a blistering run that cut open the Cork defence before laying off to McConnell who fired home and leave it at the halfway stage Donaghmoyne 2-2 Donoughmore 1-3.
While the first half was played an electrifying pace so too was the second thirty and Sharon Courtney took just 15 second to extend the lead. Hazel Kingham almost strengthened it further but her speculative effort from distance had the 'keeper beaten but the post denied the Donaghmoyne star. Murphy (free) and Aisling O'Connor narrowed the deficit before Hazel Kingham struck over a beauty. Kingham then saw yellow before Majella Woods pointed and there was three between them again as the clock ticked into the final quarter. Gina McGowan made it four with eight remaining but Donoughmore came roaring back with points from Regina Curtin and Murphy (2) to leave it a one point game into added time. The Cork side pushed the equaliser but Donaghmoyne defended gallantly despite now down to fourteen following the sin binning of Joanne Geoghegan and McConnell had the final say at the other end with a free to leave two between them at the finish of a titanic and thrilling decider.
Donaghmoyne: L Martin, J Geoghegan, M Grimes, N Lynch, H Kingham (0-1), F Courtney J Courtney (0-1), S Courtney (0-1), A Casey, E McElroy, M Woods (0-1), L Kingham, G McGowan (0-1), C McConnell (2-2, 1-0p, 0-3f), C Courtney. Subs: A Lennon for L Kingham, L Daly for A. Lennon
Donoughmore: C. McConnell, E. Walsh, L. Barrett, R. OMahony, A. Barrett, V. Sheehan, A.M. OShea, R. Buckley, J. Murphy (0-6, 5f), O. Healy, R. Curtin (0-1), P. Kearney (1-0), Y. Twomey L. Murphy, A. OConnor (0-1).Subs: R. Barrett for O. Healy
back to top

St Gall's crowned Ulster Club Champions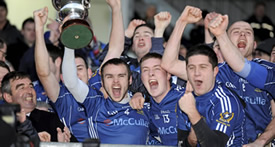 AIB Ulster GAA Football Club Senior Final:
St Gall's (Antrim) 0-16 Loup (Derry) 0-05
St Gall's of Antrim have been crowned as 'Ulster Club Champions' after beating Derry's St Patrick's Loup by 0-16 to 0-5. The most scores ever in an Ulster Club Senior Football Championship final.
Speaking after the match St Gall's Captain Colin Brady said, "We'll take a wee break and enjoy ourselves, but when we look back we'll think we can improve. I think there are still areas we can improve on, which is a good thing."
Defensively, St Gall's were outstanding, not allowing the Derry champions a single score from play, with only five frees converted by Loup.
St Gall's were four points up at the break, 0-8 to 0-4, but they'd had the breeze at their backs.
To win the second half by eight points to one was an outstanding achievement, one built on a storming start to the second period, said Brady: "Loup are an excellent team but we got a couple of scores early in the second half which really took the wind out of their sails."
Still the dogged Derry champions didn't give up, which was no surprise at all to Brady, and two goal chances came and went for Loup around the three-quarter mark.
The next challenge is against the back-to-back Connacht champions, Corofin of Galway, in the All-Ireland semi-final in February.
back to top

Club & Volunteer Conference highlights the importance of community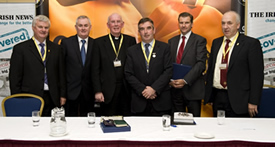 On Saturday 14th November, Ulster GAA held its third annual 'Club and Volunteer Conference', in partnership with The Irish News. Over 450 people packed into Armagh City Hotel for Ulster GAA's Flagship non-games event, which has now become extremely popular with Gaels across the Province of Ulster.
The theme of the conference was 'Stronger Clubs, Better Communities; the legacy of the GAA's 125th Anniversary Year' and 'community' was very much the key word of the day.
Cardinal Sean Brady delivered the first of three key note addresses. His message to the strong GAA audience was the importance of the GAA to community life across Ulster. He fondly recalled being involved in organising one of the first ever Scór events in Ulster and acknowledge how far Scór had come in its forty year. Cardinal Brady also focused on women in the GAA, he said, "For many years, when I was involved with the GAA, I went to meetings and there were only men there. Now this Association has grown and developed into an organisation that respects and promotes the role of women, both on and off the pitch."
Former President of the GAA and proud Ulsterman Peter Quinn was cheered as he took to the stage. In his usual articulate manner Peter gave a rousing speech about what the next 125 years will bring for the GAA. He said, "I don't know what the next 125 years will bring but one thing I am confident about is that in 125 years from now the GAA still be at the heart of communities across Ireland and hopeful across the globe. I have no doubt that the GAA will grow stronger, even from what it is today."
A warm welcome was extended to Earl Storey from the Church of Ireland when he took to the stage to present the final keynote address of the day. During his address Earl Storey spoke about his admiration for the GAA and its people. He said, "One thing that sets the GAA apart from any other organisation, and this is from an outsider's view, is the spirit of volunteerism. GAA people are extremely passionate and extremely committed to the values of the Association. It is with great admiration that I look on at people in the GAA, because I can see their passion for the sport and for the promotion of culture."
The conference also included presentations from Ulster GAA President Tom Daly, Irish News Editor Noel Doran, GAA President Christy Cooney, Ryan Feeney, Ulster GAA, Sharon Haughey, Ulster GAA, Maura Kelly, Ulster GAA, Danny Murphy, Ulster GAA and Aogan O Fearghail, Ulster GAA .
As part of Ulster GAA's promotion of Scór, the packed audience were treated to performances by Ulster Solo Singing Champion Catherine Grimley, Ulster Recitation Champion Niamh Devine and Dromintee Instrumental Group.
There were a number of workshops ran throughout the day for club members to explore some of the key issues and challenging facing GAA Clubs, including: Fundraising, Promotion of Scór, Communications, Club Development Planning, Valuing Volunteers, Physical Infrastructure and ICT.
Conference Delegates also received useful information about products and services for GAA Clubs from 22 exhibition stalls. The Ulster Cancer Foundation were also on hand to give advice and to operate a skin screening service for delegates. Unite against Hate was also a prominent campaign on the way with many delegates signing the petition.
Ulster Council President Tom Daly who is due to step down from office in February received a standing ovation from the 450 delegates at the end of the conference marking his successful three years in office.
Presentations from the Conference can be found on the Ulster GAA Club Maith website - www.ulster.gaa.ie/club-maith/
back to top

Businesses exhibit their products and services at Conference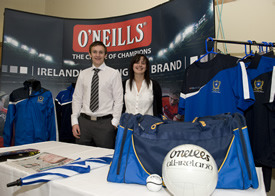 Ulster GAA's Club and Volunteer Conference attracted high interest from businesses who took exhibition stalls to highlight their products and services.
Ulster GAA appreciates the support of all the businesses and organisations who contributed to conference.
The exhibition area was popular among conference delegates who were able to receive information and advice on useful products and services for GAA clubs.
The following businesses/organisations contributed to conference:
back to top

Barrett Sports Lighting Dr McKenna Cup 2010 Launched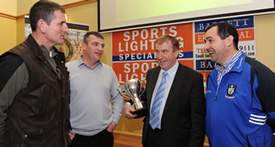 The launch of the 2010 Dr McKenna Cup took place today in the Armagh City Hotel where the new sponsors of the competition were revealed.
The 2010 competition will be sponsored by Barrett Sports Lighting and Managing Director, Martin Barrett stated:
"Barrett Sports Lighting are delighted to sponsor the Dr McKenna Cup. This is a competition where the future county stars can challenge themselves against current county stars in competitive action. It also provides counties with meaningful preparation for the National Football League, and we are already looking forward to the Barrett Sports Lighting Dr McKenna Cup".
Ulster GAA President Tom Daly paid tribute to the previous sponsor Gaelic Life, while he welcomed the new partnership with Barrett Sports Lighting as he commented:
"Ulster GAA is extremely grateful for the support from our new sponsors Barrett Sports Lighting. We look forward to working together to raise the profile of the competition to an all-time high. We look forward to the beginning of our Inter County programme for 2010 and an exciting and entertaining month of Barrett Sports Lighting Dr McKenna Cup action in January. I wish all teams well".
The Groups and Fixtures for the 2010 Barrett Sports Lighting are as follows:
Group A
UUJ
Monaghan
Armagh
Fermanagh
Group B
St Mary's
Cavan
Donegal
Tyrone
Group C
QUB
Down
Antrim
Derry
Barrett Sports Lighting Dr. McKenna Cup 2010
All Sunday games at 2.00 p.m. All midweek games at 7.30 p.m.
(Extra time to be played in Semi finals & Final)
Sun 10th January: (Round 1)
Group A
Monaghan v UUJ at Clones
Armagh v Fermanagh at Crossmaglen
Group B
Tyrone v Cavan at Healy Park
Donegal v St. Mary's at Ballybofey
Group C
Derry v Down at Celtic Park
Antrim v Queens at Casement Park
Sunday 17th January: (Round 2)
Group A
Armagh v UUJ at Crossmaglen
Fermanagh v Monaghan at Brewster Park
Group B
Cavan v Donegal at Kingspan Breffni Park
Tyrone v St. Mary's at Healy Park
Group C
Down v Queens at Pairc Esler
Antrim v Derry at Casement Park
Wednesday 20th January: (Round 3)
Group A
Monaghan v Armagh at Inniskeen
Fermanagh v UUJ at Brewster Park
Group B
Cavan v St Mary's at Kingspan Breffni Park
Donegal v Tyrone at Ballybofey
Group C
Down v Antrim at Pairc Esler
Derry v Queens at Celtic Park
Sat 23rd / Sun 24th January:
Semi Finals:
(1) Best Runners Up v Winner of Section C
(2) Winner of Section A v Winner of Section B
Saturday 30th January:
Final: 1 v 2
back to top

Funding available for Sports Equipment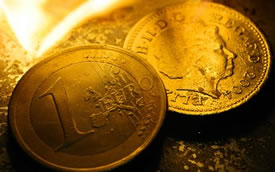 Ulster GAA is pleased to announce details of a new grant for sports equipment, available to GAA clubs within the six counties.
Sport Northern Ireland has launched a new funding Programme - Awards for Sport. The Programme opened on Wednesday 11th November and will close at 4pm on Wednesday 6th January 2010.
Awards for Sport is a small grants programme administered by Sport Northern Ireland that aims to increase participation in sport and physical recreation, especially amongst under-represented groups and increase the number of athletes with improved sporting performance.
Open to governing bodies, sports clubs and community/voluntary organisations, the potential awards range from £1,000 to £10,000. This is also the first funding programme from Sport Northern Ireland which is available online, to increase efficiency and reduce environmental impact.
Full information, including guidance notes and an online application form is available by logging onto: www.sportni.net/awardsforsport
Anyone wishing to receive support or advice from Ulster GAA can contact Maura or Sharon on 028 37517 180 or email maura.kelly.ulster@gaa.ie or sharon.haughey.ulster@gaa.ie
back to top

Record Win for Ulster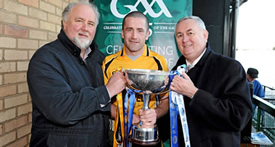 M Donnelly GAA Football Inter-Provincial Final:
Ulster 0-15 Munster 1-08
Ulster regained the M Donnelly Interprovincial senior football title on Sunday with a 0-15 to 1-8 win over 2008 winners Munster in London.
The Ruislip encounter was the first such final to be played in the British capital and Joe Kernan's men emerged from it with a record 29th crown at this level, leading to delighted captain Stephen O'Neill lifting the trophy.
Kernan's side were the better for much of the game though did find themselves trailing after a third-quarter Munster comeback. However, Ulster did not let Waterford man Gary Hurney's goal derail them and scored the game's last five scores for a four-point win.
Derry scoring ace Paddy Bradley started the day's scoring in front of over 1,000 spectators but Cork's Daniel Goulding then hit a double, with Michael Murphy pointing for Ulster, the sides level after ten minutes.
Points from Donegal's Murphy and O'Neill restored the Ulster advantage and further efforts from Bradley, Paul Finlay and Kevin Hughes had them looking very good before they lost Armagh defender Ciaran McKeever to a suspected fractured leg.
Goulding grabbed a couple of quick scores but Hughes' second for Ulster saw them lead by double scores at the break, 0-8 to 0-4.
Three minutes into the second half, however, it became anybody's game. Cork man Nicholas Murphy was growing in stature in the important midfield area for Munster and when Hurney turned his man to power an effort into John Devine's net there was just one point in it.
Murphy, James Ryan, Goulding and Donncha O'Connor also scored as Munster had a lead with 12 minutes to play.
But Ulster steadied themselves and sub Daniel Hughes of Down brought an extra spark onto the field with him. He hit two scores and Derry's Gerard O'Kane his second as Ger O'Sullivan's men were sent into arrears again.
Dan Gordon and another sub, Conor Gormley, added late points to seal the victory and the latest crown for Ulster, who last won this competition in 2007.
back to top

Training for Armagh and Antrim Club Officers announced

Ulster GAA is pleased to announce the start of our Club Maith: Officer Training Programme which begins in Armagh on Saturday 9th January 2010 at 9am in Armagh City Hotel.
Antrim Club Officers will receive their training the following week on Saturday 16th January 2010 in Edmund Rice College, again starting at 9am. Both days will finish with a light lunch at 1:30pm.
The Club Maith: Officer Training Programme will ensure that all officials at club level have the capacity and the knowledge to best promote the Association at grass-roots (Community) level.
The programme is the next phase of the successful Comhairle Programme and is adopted in order to support club volunteers with the various GAA issues and statutory requirements which have come into play over the last couple of years.
This programme serves two important purposes - it is about protecting the Volunteers in their roles and ensuring that best practice becomes standard at Club level.
The Course which will be delivered in every county as part of daylong seminar will afford club officers accredited training for the following roles:
Chairperson
Secretary
Treasurer
PRO
Coaching Co-ordinator
Development Officer
Cultural and Community Officer
Children's Officer
back to top

Scór celebrates 40 years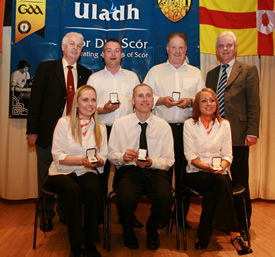 Ulster GAA has celebrated 40 years of Scór by holding a commemorative concert in Saval County Down. The concert was a sell-out with performances from every county in Ulster. The special evening emphasised the great talent in Ulster and also highlighted the strong tradition of Scór which is kept alive in so many clubs. The message from the inspiring event was very much about looking forward to another 40 years of Scór and to encourage all GAA clubs to make Scór an integral part of their activities.
Ulster GAA's Club and Volunteer Conference also showcased the best of Scór 2009 with performances from Dromintee Instrumental Group who played during welcome and registration of conference. Ulster Solo Singing Champion Catherine Grimley opened conference with her beautiful rendition of 'the banks of the Callen'. In the afternoon of conference, delegates were treated to a recitation from Ulster Champion Niamh Devine.
Very positive feedback has come back about the inclusion of Scór within the Club and Volunteer Conference and Ulster GAA are working to make Scór a permanent fixture within the Community Conference.
back to top

Quinn Insurance Ulster GAA Writers' Awards 2009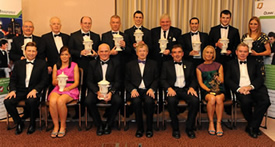 Flooded roads, many of them closed, throughout Ulster didn't deter almost 500 people from attending the Quinn Insurance Ulster GAA Writers' annual banquet, at the Slieve Russell Hotel where the yearly honours were distributed.
Among the attendance were various personalities from sponsors Quinn Insurance, including the boss man himself, Sean Quinn, GAA Ard Stiúrthóir Paraic Duffy, Ulster President Tom Daly plus secretary Danny Murphy, Treasurer Martin McAviney and PRO Michael Hasson.
In attendance, too, was John Maguire, MD of Belleek Pottery, suppliers of the annual and monthly trophies. Other special guests were World handball champions from Ulster and members of the Ulster Football team and their mentors, the recent winners of a record 29th MD Donnelly Interprovincial Championship title.
The Personality of the Year award went to Derryman, Liam Bradley, the manager of the Antrim football team that created a surprise in Ulster football this year while creating a record was Pat McEneaney. The Monaghan whistler received the Referee of the Year Award for a fifth time. World Open champion Paul Brady collected the Handball Award and Fiona Shannon, who like Brady won a record third World Open title, was presented with Chairman Jerry Quinn's Award.
Awards were presented in 11 categories covering all aspects of the GAA while Ulster President Tom Daly handed over the interprovincial medals to the Ulster players and management.
Tom Daly also received a present from Chairman Jerry Quinn on behalf of the UGAAWA members - a painting of Rossnowlagh Beach by Fermanagh artist Jo Tinney - to mark the end of his term in office. Tom will hand over the reins to a new Ulster President in February.
Quinn Insurance Ulster GAA Writers Awards 2009:
Personality of the Year: Liam Bradley (Antrim)
Male Footballer of the Year: Kevin Hughes (Tyrore)
Hurler of the Year: Neil McManus (Antrim)
Lady Footballer of the Year: Caroline Little (Fermanagh)
Handball Award: Paul Brady (Cavan)
Camogie Award: Grainne McGoldrick (Derry)
Service to the GAA: Bernie Mullan (Derry)
Referee of the Year: Pat McEneaney (Monaghan)
Communications: Fergal McCormack (Warrenpoint)
Young Achiever of the Year (Cormac McAnallen Award): Michael Murphy (Donegal)
Chairman's Award: Fiona Shannon (Antrim)
(Article By Tony McGee)
back to top

Ulster GAA develops online presence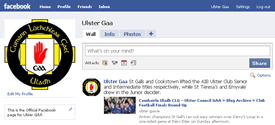 Finding out about the GAA in Ulster has never been easier. Now just one click of a button can keep you updated on all that's going on in Ulster through our new online developments.
Ulster GAA has just announced a new Facebook site dedicated to Ulster GAA. Within days of the site going live, over 800 people subscribed as 'friends' on the social networking site. Meaning that Ulster GAA is now getting its message out to more people than ever before.
In addition to this exciting development, Ulster GAA have also published its own YouTube Channel, where GAA video is free and easy to access for a world-wide audience. The development of these two sites compliments the current Ulster GAA website and helps to make Ulster GAA as accessible as possible.
Check out Ulster GAA online today by logging onto:
Website: www.ulster.gaa.ie
Facebook: www.facebook.com/ulster.gaa
You Tube: www.youtube.com/UlsterGAA
back to top

125 plaques unveiled to mark outstanding contributions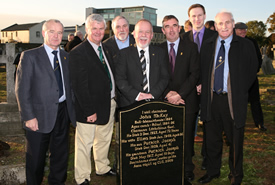 In this the 125th year of the GAA, Ulster Council has marked the role of a number of key people who have given an outstanding contribution to the GAA in Ulster, by providing a specially commissioned 125 Plaque for GAA clubs/associated properties.
Those honoured with plaques include:
George Martin
MV Nolan
Patrick Whelan
Seamus Dobbyn
BC Fay
Patrick McFadden
Patrick Fearon
Padraig Mac Con Mí
Fr Michael Collins
Sean O Cinnide
Alf O Muiri
Seamus McFearon
Fr Joseph Pettit
Seamus Gilheaney
Frank O'Neill
Harry Casey
Fr Patrick McNally
Andrew O Brien
Con Short
Fr Dan Gallogly
John Vesey
Louis O Kane
William P Gilmore
PJ Magill
Eoin Duffy
Gerry Arthurs
Ballyconnell Club
Louis Smith
George Sigerson
John Heuston Stewart
Hugh Alexander Auginlee
John McKay
back to top

Historic day at Stormont as GAA plants Ash Tree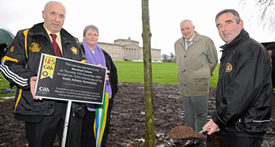 Tom Daly President Ulster GAA, Catherine O'Hara Chairperson of Ulster Camogie and Gerry Doherty President Ulster Ladies Gaelic Council jointly planted a tree at the Stormont Estate to mark the 125th Anniversary of the GAA on Thursday 12th November. The location for the event was close to the peace statue near the Massey Avenue entrance.
A cross section of politicians was present including the President of Sinn Fein Gerry Adams MP MLA, SDLP Leader Mark Durkan MP MLA and Alliance Party Culture, Arts and Leisure Spokesman Kieran McCarthy MLA. Also attending was Minister for Social Development Margaret Ritchie MLA, Gerry Kelly MLA Junior Minister OFMDFM, Conor Murphy MP MLA, Michelle Gildernew MP MLA and Trevor Lunn MLA.
Earlier this year the Ulster Camogie Council and Ulster Ladies Gaelic Football Council with the support of Ulster GAA launched a conservation initiative which, with the help of a local Company (Back to Eden Ireland) aims to create a Peoples Forest by planting 10,000 ash saplings in various Ulster sites.
The significance of this project is that the Irish Ash tree has traditionally been used in the manufacture of hurling/camogie sticks. The planting of 10,000 saplings equates to one year's supply of the ash needed to sustain our games and meet the demand for 250,000 hurls per year. As part of this initiative, Ulster GAA has invited the 580 GAA clubs in the Province to participate in this programme. There will also be the opportunity to plant a further 1,000 ash saplings in a woodland area of the Stormont estate and these will also be clearly signed to acknowledge the contribution of the GAA and the celebration of its 125 years. Each tree produces enough ash to manufacture 25 hurls meaning that when your trees reach maturity in 25 years they will represent 125 hurling/camogie sticks.
Tom Daly President Ulster GAA said "We are delighted to support both Ulster Camogie and the Ulster Ladies Gaelic Council in this initiative and I would encourage all GAA clubs in Ulster to get involved in the scheme. I also welcome this opportunity to mark the 125th Anniversary of the GAA by the planting of a 125 tree in the seat of the Assembly and I am thankful to the both the Estate authorities and public leaders who facilitated this event"
back to top

Sports Unite in World Record Bid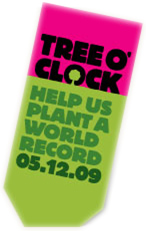 Ulster Camogie and Ulster Hockey, in conjunction with Sport NI and the People's Forest are uniting as part of BBC's Tree O'Clock project, which is a world record attempt across England, Scotland, Wales and N Ireland to plant the most trees in one hour.
The event will take place between 11am and 12noon on Saturday 5th December 2009 on the grounds of Parliament Buildings, Stormont, Belfast.
For further information see
www.bbc.co.uk/breathingplaces/treeoclock/
www.peoplesforest.org
or contact Ulster Camogie Chairperson Catherine O'Hara at catherineo@btinternet.com
back to top

Ulster GAA releases 125 balloons to mark Foundation Day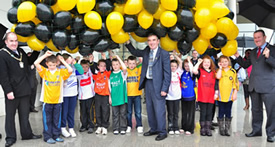 Ulster GAA has marked the GAA's Foundation Day with a day of celebration in Market Square, Armagh City. The pinnacle of the day's commemorations was when Ulster GAA President Tom Daly and 10 children from St Malachy's Primary School in Armagh released 125 black and amber balloons.
Ulster GAA President Tom Daly said, "125 years ago on the 1st November the GAA was founded by a group of visionary men in Thurles. Today we celebrate that day and celebrate the many successes of the Association since that date. The GAA has grown and developed into one of the greatest sporting organisations in the world and we are all proud to be part of that.
"Today 10 children from St Malachy's Primary School symbolise the nine counties of Ulster, they also symbolise the younger generation who will carry the GAA into the next 125 years."
Continuing Tom Daly said, "To Mark the 125th Anniversary of the GAA the Ulster Council have organised a series of events which will commence on GAA Foundation Day on Sunday November 1st and continue right up the Ulster GAA Irish News Club and Volunteer Conference on Saturday November 14th.
"This is a special time to celebrate the successes of our Association as well as remembering all of those volunteer members who worked tirelessly to build Ireland's largest sporting, cultural and community movement.
"GAA Clubs across Ulster are asked to fly their 125 flag from 1st November-14th November to mark the GAA's 125th Anniversary, and we are also encouraging clubs to hold a special meeting on Sunday 1st November to mark Foundation day which may be followed by a religious service or social event.
"Congratulations to all GAA members across Ulster; it is you that make the GAA both strong and successful, we appreciate your continued efforts and we are proud to be alongside you and all the members of Cumann Lúthchleas Gael throughout the world as we celebrate this part of the GAA's journey."
A large crowd of Gaels gathered for the celebrations including Minister Margaret Ritchie, Minister Conor Murphy, Mayor of Armagh City and District Thomas O'Hanlon, and Dean Patrick Rooke.
The 10 children from St Malachy's Primary School were joined by their parents and teacher Paul Duggan, Secretary of National Cumann Bun Scoil. Each child wore one of the nine county jerseys and one child wore the Ulster jersey, which they got to keep as a 'keep-sake' of the important anniversary.
back to top

Ó Fiaich Library remembers the GAA's Foundation Day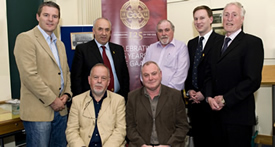 Gaels from across Ulster descended on the Cardinal Ó Fiaich Library and Archive, in Armagh to celebrate the 125th anniversary of the GAA's foundation.
Exactly 125 years on from the inaugural meeting of the GAA in Thurles, the event in Armagh, in conjunction with the Ulster Council, explored the Ulster connection to two GAA founders: Michael Cusack and John McKay.
The first of the two lectures kept the audience intrigued as Michael Anderson outlined Michael Cusack's early career in Co. Down and the subsequent family tree of the Cusack and Woods families of Dromore to the present day.
Kieran McConville followed with his lecture, 'The Search for John McKay', an account of several recent important findings about a largely forgotten GAA founder and secretary. Kieran revealed how McKay's unmarked grave was located in London in 2009 after many years of mystery, and how it emerged that he was actually a Co. Down native who worked as a journalist in four cities.
The special evening was attended by Chairperson of the GAA's National 125 Committee Jarlath Burns and also featured a special reading of GAA patron Dr. Croke's famous letter to Michael Cusack in 1884, which is often regarded as the founding charter of the association.
The evening, was part of the ongoing Heritage Lottery Funded Outreach programme at the Ó Fiaich Library, and Gaels of all ages enjoyed exploring the interesting GAA archives that were on display. The lectures certainly helped to bring the history of the last 125 years to life for the intrigued audience.
back to top

Grainne collects Camogie All-Star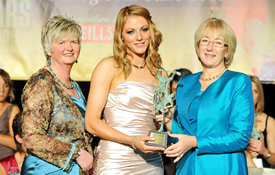 Derry's Grainne McGoldrick picked up Ulster's only All-Star at the recent 2009 Camogie All-Star Awards.
All-Ireland Champions Cork dominate Camogie All-Stars with Gemma O'Connor getting honoured for an unprecedented sixth successive time. While five players receive All Star awards for the first time.
Six members of the 2009 All-Ireland winning Cork team have been named tonight in the Camogie All Star team which was announced at Citywest Hotel.
It was a special evening for Gemma O'Connor - currently on army duty in Chad - who was rewarded with an unprecedented sixth consecutive All Star. O'Connor's versatility is highlighted by the fact she has won awards in three different areas of the pitch. The St Finbarr's player was represented by her mother Geraldine.
Gemma is joined by goalkeeper Aoife Murray, full back Cathriona Foley, centre back Mary O'Connor, midfielder Briege Corkery as well as top scorer in the championship Rachel Moloney who are all taking home their third awards.
Championship runners-up, Kilkenny, received five awards with Jacqui Frisby, Elaine Aylward, Anne Dalton and Katie Power earning their first All-Star, in recognition of the Black and Amber reaching the All Ireland decider after a wait of eight years. Aoife Neary collected her second award in two years.

Beaten semi-finalists Galway received three awards. Therese Maher picks up her third while Regina Glynn and Anne Marie Hayes are winners for the second time.
The O'Neills Young Player of the Year award went to Kilkenny's Denise Gaule. This has been an incredible year for the Kilkenny forward who featured prominently in the Cats fourth consecutive All Ireland minor win. The Windgap player amassed an amazing 5-11 between the All Ireland minor semi-final and final. She also had a prolific season in front of the posts with the senior team.

Denise Cronin was named the O'Neills Manager of the Year following back-to-back victories with Cork. The former Glen Rovers and County star led the Rebels to their eighth successive final appearance in 10 years, and to their 24th title overall - just two behind titleholders Dublin. After a very successful playing career, Denise took over the management of the Cork team in 2008.
Speaking at the awards ceremony Joan O'Flynn, President of the Camogie Association said, "The All Stars awards recognise the individual excellence and leadership of the leading camogie players this season. The Awards are a treasured keepsake as they signify the achievement of playing camogie to the highest standards.
"This recognition is now also extended to players from the Junior All Ireland series through the inaugural Soaring Star Awards. In a season when 13 different counties won National League and All Ireland Championship titles, the 2009 All Star and Soaring Star Award winners claim their rightful place as wonderful exponents of all that's best in Camogie".
CAMOGIE ALL STARS 2009 IN ASSOCIATION WITH O'NEILLS

Goalkeeper
Aoife Murray (Cork)
Backs
Regina Glynn (Galway)
Cathriona Foley (Cork)
Jacqui Frisby (Kilkenny)
Anne Marie Hayes (Galway)
Mary O'Connor (Cork)
Elaine Aylward (Kilkenny)

Midfield
Briege Corkery (Cork)
Anne Dalton (Kilkenny)
Forwards
Katie Power (Kilkenny)
Gemma O'Connor (Cork)
Therese Maher (Galway)
Aoife Neary (Kilkenny)
Grainne McGoldrick (Derry)
Rachel Moloney (Cork)

O'NEILLS MANAGER OF THE YEAR
Denise Cronin (Cork)

O'NEILLS YOUNG PLAYER OF THE YEAR
Denise Gaule (Kilkenny)
CAMOGIE SOARING STARS 2009:
Goalkeeper
Audrey Kennedy (Offaly)
Backs
Fiona Stephens (Offaly)
Eimear Moynan (Laois)
Karen Brady (Offaly)
Karen Tinnelly (Down)
Michaela Morkan (Offaly)
Louise Donoghue (Meath)
Midfield
Louise Mahony (Laois)
Niamh Coyle (Roscommon)
Forwards
Arlene Watkins (Offaly)
Catherine McGourty (Down)
Áine Lyng (Waterford)
Susie O'Carroll (Kildare)
Karen Kelly (Waterford)
Elaine Dermody (Offaly)
back to top

World Handball Champion honoured by Camogs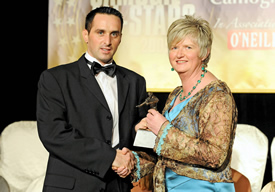 World handball champion, Cavan's Paul Brady, was the guest of honour at the Camogie All Stars Banquet in the Citywest Hotel earlier this month.
Guest of honour, Brady, set the handball stage alight this year, winning his third consecutive world handball title. The Breffni dual star also plays county football for Cavan.
For the special event he was blessed among women, some of the finest athletes in Gaelic Games.
Paul said, "It's a great honour for me to be asked to attend such a prestigious event with the top female sport stars in the country. It's been a fantastic year for me personally, and attending events like this are wonderful gestures of recognition from my sporting peers."
back to top

Skills award session announces end of Ulster's Rounders Season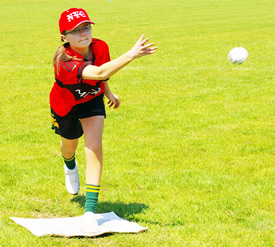 The 2009 junior Rounders Summer scheme was revisited on earlier this month with some of Ulster's top under age players converging on Moneymore Leisure Centre for a ninety minute display of the skills of Batting, Pitching and Sprinting. The participating players included Ulster's most successful Fúile Cluiche Corr players from the past three years and two local players who had been selected for the Croke Park Rounders Exhibition last August. These two were also accompanied by another local minor who played on the Ulster representative Rounders team in the Inter Provincial Final in Carlow last month.
The top awards were presented to Clare Monaghan, Laura Monaghan, Edel McNally. Rachel McKenna, Claire McDonald, Aoife Donaghy, Dannielle Lynch and Roisin McGlone, Amy McKee and Cathy Connolly.
The event was supervised by local parents and friends of the players, Coordinated by Ulster's longest serving Rounders Coach, and the individual Skills tests were scored and reported by the most accomplished of the young people participating.
back to top

Promotion of GAA for ALL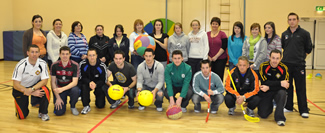 GAA for ALL is an important part of the Ulster Council GAA's coach and volunteer development programme for 2009/2010. This interactive workshop is aimed at club coaches and parents who have an interest in delivering adapted Gaelic games and activities to children and young adults with disabilities and special needs.
GAA coaches have recently been trained up and are now delivering coaching and games in a lot of the special schools across the province. The benefits of physical activity and playing games are vitally important to the development of these children by improving their skills and their confidence as well as feeling included. There are also the obvious health benefits obtained by being involved in sport and exercise.
In most GAA clubs there will be families who have children with a special need or disability and would love to avail of the opportunity to include their children in Gaelic games activities. There is absolutely no reason why our training sessions, winter programmes, summer camps and games cannot be totally inclusive regardless of ability.
To try and address this Ulster GAA has planned a number of workshops for coaches and parents in each county over the next few months.
The first workshop took place in Armagh City on Tue 17.11.09 in St Patrick's Primary school and Diarmaid Marsden (Regional Development Officer) delivered the course to 24 club coaches/parents/teachers.
The workshop involves a short theory session where the audience are asked to consider how we can introduce Gaelic games into our clubs and the various barriers that may have to be overcome. This is then followed by the main part of the workshop where the audience take part in various practical games and activities using a wide range of specially adapted equipment. In this practical part of the course the participants are challenged to adapt various games to include people with various learning difficulties and disabilities (wheelchair users, visually impaired etc...).
If you think you or someone in your club would like to avail of this workshop in your county please contact the following Regional Development Officers for further details
Diarmaid Marsden (Armagh, Cavan and Monaghan) 0 (+44) 7920 528 792
Shane McCann (Down and Antrim) 0 (+44) 7920 528 793
Paul Callaghan (Fermanagh, Donegal, Tyrone, Derry) 00353 (0) 868 066166

back to top

NSPCC Helpline available for GAA Clubs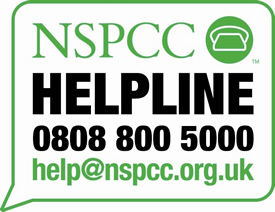 The NSPCC is urging adults working with young people to call their free Helpline if they are ever worried about the safety of a child.
Working regularly with children and young people, it is important to have a clear child protection procedure to follow if a child discloses abuse but, it may not always feel that simple. A child may come to you about a friend without saying who they are talking about, or you may have vague concerns that a child is being neglected, without being certain. A young person may approach you who at 16 or 17 wants to talk to someone without the abuse being reported.
If you are uncertain about what to do, the NSPCC Helpline can provide you with help and support. The Helpline is for any adult who needs advice about a child's welfare, including staff and volunteers who work regularly with children and young people. As John Cameron, head of the Helpline, explains: "We know how difficult it can be to spot the danger to a child and how complex the issues can be. We also understand that professionals have dilemmas about reporting safeguarding issues they feel uncertain about. When a child or someone discloses abuse, the first thing you must always do is take what they may say seriously, record things well and follow your procedures but, if you're unsure what to do next, then we'd encourage you to speak to us."
The Helpline is a free service staffed by trained child protection advisors, 24 hours a day, 365 days a year in the six counties. When you speak to an advisor you can remain anonymous. The Helpline will help you assess the situation, advise you about your responsibilities to the child and explain what to do next. Where the Helpline advisor is made aware of the identity of a child at risk of abuse they will make a referral to children's services or the police even though professionals will have clearly defined reporting protocols locally. The Helpline will always encourage professionals to follow these procedures.
The Helpline can be particularly useful in more difficult situations, for example where you don't have enough information to make a referral, or if you feel uncertain about whether or not the child is at risk. John Cameron says: "We would always prefer people to talk to us, than to struggle with a situation on their own. That's why we set up the Helpline and are now expanding it through the Child's Voice Appeal - so people don't have to. Together we can stop children from suffering and make sure they are protected. So if you are uncertain, don't talk yourself out of it, talk to us."
You can contact the NSPCC Helpline by phoning 0808 800 5000 or emailing help@nspcc.org.uk
Over the next three years the charity plans to grow the Helpline and its ChildLine service through the Child's Voice Appeal, so that it can protect more children.
back to top

Gort na Mona launches Strategic Plan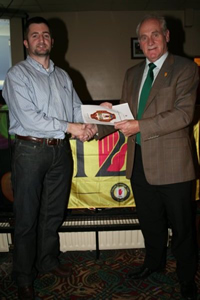 Gort Na Mona CLG have launched their 2009 - 2011 Strategic Plan, followed by a hugely successful health awareness evening for players, members, children and parents.
Speaking at the event Gort Na Mona chair Terry Reilly pointed to the clubs historic roots within the upper Springfield area, connections that the club are extremely proud of, and the strengthening of which lies at the heart of their strategy for future development.
Indeed the conception of this plan has lay in these strong community foundations, he went on to thank the Ulster Council, the Upper Springfield Development Trust and Falls Community Council for their endeavours in creating this vision for the future.
Outlining the main tenets of the plan Gerry McClory from the Ulster Council's Upper Springfield Project stated "this innovative plan correctly focuses on a broad range of priorities including;
The enhancement of the quality of the coaching within the club at all levels.
Increasing levels of Participation and engagement from children, young people and parents.
The strengthening of links with the local Community.
Strengthening of Club Governance and Volunteering.
The promotion of the Irish language and the cultural revival within the local area."
Keynote speaker Oliver Galligan from the Ulster Council also commented that the plan provided a shining example and a great template for other GAA clubs operating within an urban setting, "this plan is tailor made for those clubs attempting to build and strengthen within cites and large towns throughout Ireland and is a great example of best practice in this regard".
He went on to congratulate Gort Na Mona on the sterling role they play within the local community.
The Launch ended with an invite from club chairperson Terry Reilly to those in attendance to avail of the various services and advice provided at the clubs inaugural annual health promotion evening. Here around 50 members of the club and the local community both children and parents alike received a full range of complimentary therapies and advice on a plethora of physical and mental health issues; including healthy eating; drugs and alcohol; stress management; cholesterol and mental health.
back to top

North Derry Handling Fun Day is a 'Great Success'
220 children from 17 schools throughout North Derry participated in a Key Stage 1 Handling Fun Day at Roe Valley Leisure Centre, Limavady. The schools brought equal numbers of boys and girls with varied abilities.
It was a fantastic day were all children got to play lots of different games. Three halls were used on the day for:
20 Fundamental Stations
Court / Target Games: Hand Pass Volleyball; skittle knock down and Roller ball
Part Invasion / Full Invasion: Captains Ball
All children rotated through all three halls during the day.
The feedback was really positive from both teachers, coaches' and children. The teachers preferred the fun day to the blitzes of previous years. They felt all children were having fun and all children could feel fully involved and included. The children were excited travelling from hall to hall not knowing what fun activities lay ahead.
back to top

Gaelic Start across Derry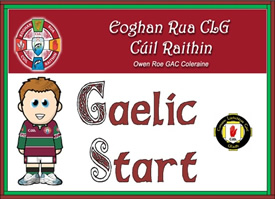 The Gaelic Start Programme has successfully started across County Derry.
In Banagher GAC, 45 Boys and 18 Girls from nursery to P4 took part on the first evening. It is running for 6 weeks on Tuesday night between 7pm - 8pm. 18 men and 13 women helped out, the majority were the children's parents and some club coaches.
In Eoghan Rua Coleraine, 20 Boys and 15 Girls from nursery to P2 took part. 12 men and 2 women helped out.
Thanks to the parents and club coaches for making it an enjoyable and successful night. All the children found it brilliant fun and they all seemed to be buzzing about it after.
These are exciting times for GAA within Derry City. All clubs are reporting an increase in the numbers of players at Key Stage 1 level. The Sean Dolans club are the latest to benefit from the Gaelic Start initiative with several new coaches and children now taking in FUNdamental Gaelic Skills for the first time. On Friday 27th November 100 children from Derry City attended a cross community multi skills sports in Bready Cricket club in Magheramason which was a joint venture between the IFA and the GAA DENI coaches within the city. On Monday 30th November 75 children from three schools will attend the city handling blitz in the Creggan Sports Hall.
Gaelic Start Programme has been rolled out for the past three weeks in McCracken's Moneymore. Each week has seen an increase in not only the number of kids, but the number of coaches/parents!
On Wed 25 November a KS1 Ground Hurling Day was held in Meadowbank Sports Arena, with over 100 kids turning up out and had a really enjoyable day.
back to top

Derrylin School awarded for 'Scrapbook'
Ulster GAA has awarded St Ninnidhs Primary School in Derrylin with a certificate for their hard work in preparing such a fantastic scrapbook.
The scrapbook depicted images, drawings, and stories of the Children's experience of Gaelic Games through the Schools Programme.
Pictured is Ulster GAA Primary Schools Coach Owen Mooney presenting the pupils of St Ninnidhs with their certificate.
back to top

Belfast GAA Urban Committee Announced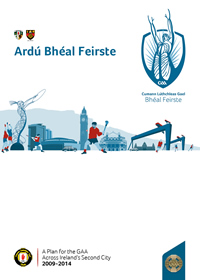 The Belfast GAA Urban Committee has held its first two meetings and is currently in the process of putting together an operational plan for the roll out of Ardú Bhéal Feirste (Belfast Rising) Urban GAA Strategy.
The members of the of the Committee are:
Cathy Gallagher (Chair)
Jim Murray (Vice Chair, Ulster GAA)
Oliver Galligan (Chair Ulster GAA Coaching and Games Committee)
John Devaney (Down County Committee)
Raymond Compston (Antrim County Committee)
Joe O'Boyle (National Urban Strategic Planning Committee)
Dermot Dowling
Paul Blaney
Jim Herron
Dan McGivern
Aidan Hamill
Professor Peter Finn
Operational Members:
Sean Og McAteer
Ryan Feeney
Frankie Quinn
Dr. Eugene Young
Jimmy Darragh
Please contact Gerry McClory Urban Community Development Officer (Belfast) gerry.mcclory.ulster@gaa.ie or Shane McCann Regional Games Development Officer (Antrim/Down) shane.mccann.ulster@gaa.ie for further information.
back to top

Ulster Club Football League 2010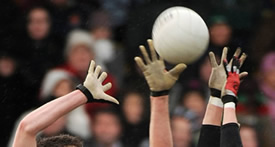 The 2010 Ulster Club Football League will for the first time ever consist of two divisions this year, Senior and Intermediate. Teams who are competing in their Senior or Intermediate grade in their counuty league are eligible to enter this competition.

The application form is attached below and the closing date for applications is Friday 8th January 2010. Applications must be signed by the County Secretary and the appropriate fee must accompany the application.

The league commences on Sunday 7th February and the group games will run for five consecutive weekends.
Please note all matches are fixed for the Sunday at 2.00pm.
Depending on the number of applications received, the winner from each section along with the two best runners up will qualify for the Quarter Finals, which are fixed for Sunday 21st March.
The semi finals are fixed for Sunday 28th March while the final will be fixed at a later date, although it has traditionally been played on Easter Monday.
Related:
- 2010 Ulster Club Football League Application Form
back to top

'The Evolution of the GAA' - 125 Book Launch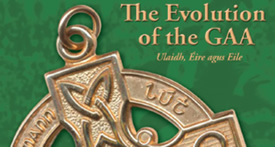 The Evolution of the GAA: Ulaidh, Éire agus Eile brings together leading writers and academics to examine the history of the GAA over 125 years, in Ulster, Ireland, and abroad, and the antiquity of Gaelic games over previous centuries.
The book opens with a series of personal reflections by prominent members of the GAA from Ulster in the last seven decades: President Mary McAleese, Cardinal Seán Brady, Paddy McFlynn, Maurice Hayes, Jim McKeever, Peter Quinn and Mickey Harte. This is followed by a range of academic essays on themes of GAA history, with many new findings relating to such matters as:
Protestant influence on the playing of hurling and variant games pre-1884;
how the GAA's rules may have wiped out traditional styles of play in Ulster;
how John McKay, a founding secretary, came from Co. Down and died in London, and how his son became a world-famous theatrical producer;
why Gaelic games have become less violent over time;
how the football rules for years failed to define the solo-run accurately;
why Ulster was the GAA's weakest province up to the 1940s, and why this began to change;
why camogie flourished after 1930, despite two national splits;
why the Sam Maguire Cup was not presented after the 1947 football final;
how native Bretons have embraced Gaelic games as part of a Celtic identity;
and why, from a global perspective, capitalism, secularism and urbanisation present the biggest challenges to the GAA in future.
There are 23 chapters in all in the book, on the following subjects: the antiquity of hurling and related games in Ulster; the founding of the GAA and the social aspects of early clubs; the GAA's relationship with the press, religion and politics; its initial struggles in Ulster; the development of the playing rules and the 'civilising' of the games; camogie up to 1950; and the international dimensions of the GAA.
Other special features include newly completed records of all Ulster SFC and SHC results and final teams, 1888-2009; the most extensive bibliography of GAA-related material published to date; and dozens of previously unpublished images.
The Evolution of the GAA is edited by Dónal McAnallen, David Hassan and Roddy Hegarty, produced in partnership between the Ulster Council of the GAA and the Cardinal Ó Fiaich Library, and published by the Ulster Historical Foundation. The book retails at £20 sterling.
This book will be launched and available to purchase on the following dates:
Cardinal Ó Fiaich Library, Armagh, on Monday 7 December, at 7.30 pm
The Royal College of Surgeons, Dublin, on Tuesday 8 December, at 6.30 pm
St Mary's University College, Belfast on Wednesday 9 December, at 7.30 pm
Kelly's Inn, Ballygawley, on Thursday 10 December, at 6.45 pm
Cavan County Museum, Ballyjamesduff, on Friday 11 December, at 7.30 pm
Downpatrick RGU club, on Saturday 12 December, at 8.00 pm.
back to top