Donegal retain Dr McKenna Cup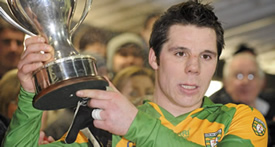 Donegal retained the Barrett Sports Lighting McKenna Cup after edging out Tyrone in the Brewster Park decider.
It was a tight first-half but Tyrone took the last two points to go in 0-9 to 0-7 ahead at the break.
The gap increased to four before Red Hands forward Stephen O'Neill suffered a dislocated elbow, which will keep him out for at least three months.
Donegal fought back to level and David Walsh netted deep into added time to ensure a narrow victory.
Tommy McGuigan and Kyle Coney scored the final points of the first half to give Tyrone a two-point lead at half-time.
O'Neill, who fired over three first-half points, sustained his injury after colliding with team-mate Kevin Hughes early in the second half.
After 10 minutes of treatment he was taken off the field by an ambulance.
Donegal clawed the four points back but Tyrone went ahead again thanks to a superb point from Niall Gormley.
Walsh pounced on a loose ball and shot low into the net in the ninth minute of injury-time.
The Reds Hands managed to make it a one-point game but time ran out and it was a second straight success in the competition for Donegal.
There was some good news for Tyrone after the match as manager Mickey Harte revealed that captain Brian Dooher is expected to return for the National League campaign.
View video reports from the Barrett Sports Lighting at Ulster GAA's YouTube Channel:
www.YouTube.com/UlsterGAA
back to top

Sadness at death of Cavan GAA hero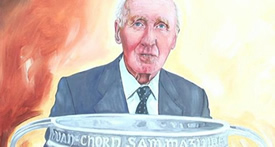 The Ulster Council is saddened to hear of the death of Mick Higgins. Mick was a member of the Cavan All Ireland winning teams of 1947, 48 and 1952 in which he was the team Captain. He was the last surviving Cavan player from the famous All Ireland final played at the Polo Ground in New York.
Mick was born in New York and became the only player to be born outside of Ireland to win an All Ireland Senior Championship medal outside of Ireland.
As part of the 125 Anniversary celebrations, Mick attended the seminar at the Cardinal Ó Fiaich Library on the 13th March and only 6 months ago, the 86-year-old took his place on the pitch on Ulster Final day alongside all of Ulster's All Ireland winning captains or a representative.
President of Ulster GAA, Tom Daly stated the following:
"It is with great sadness that the GAA in Ulster learns of the death of Mick Higgins R.I. P.. He was a true gentleman, a great sportsman, an outstanding player and a lifetime committed member of the GAA. He will be long remembered for his playing ability and his successes as player for Cavan and Ulster but abiding memory is of a quiet and forthright man that was committed to his wife Margaret, son John, daughters Terry, Jean and Brenda, his Clubs Mountnugent and Kilnaleck, Cavan, Ulster and the Gaelic Athletic Association. We were privileged to have known him and are the richer for it."
Mick, who lived in Virginia, was the oldest surviving captain from Ulster to have lifted the Sam Maguire cup. The Cavan great won three All Ireland medals, including one from the famous Polo Grounds final in 1947 when the Breffni Blues beat Kerry in New York.
In fact, Cavan played in nine All Ireland Finals between 1933-52, with Higgins sealing victory in the '52 decider after an exhibition of free-taking in a replay against Meath. He scored seven of Cavan's nine points in the 0-9 to 0-5 triumph.
"It was a wet day but I kicked a long point after four minutes and I knew it was my lucky day", recalls Mick in an interview specially prepared for the Ulster Council video website.
Mick Higgins also revealed that he had been suffering from flu in the lead-up to the game but recovered to lead Cavan to glory. Modest Mick maintained that being the All Ireland winning captain did not 'excite' him as Cavan had plenty of successful captains before him and he was the captain because the honour always fell to the oldest player on the team.
When asked what he would like to be remembered for, Higgins replied:
"That I never hit any one, I played the game clean and I never was put off".
You can view a special interview with Mick Higgins on the Ulster GAA website at:
http://ulster.gaa.ie/2010/01/28/mick-higgins-rip/
back to top

GAA Coaches descend on Cookstown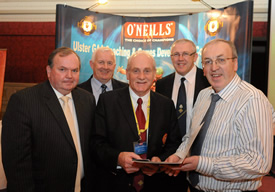 The 6th Annual Ulster GAA Coaching and Games Development Conference in association with O'Neills International Sportswear took place on Saturday 30th January 2010 in the Glenavon House Hotel, Cookstown.

The event was a huge success with over 400 coaches from across Ireland in attendance to listen to some very informative and inspirational speakers, who delivered sessions which were all aimed at equipping the coaches with the necessary skills to coach young people from the ages of 13 -18.

GAA National Hurling Director, Paudie Butler set the scene for the conference. He emphasised the need for coaches to treat young people as individuals and to support them through a difficult time in their lives.

Agnes Lunny, Chief Executive Officer for Positive Futures, emphasised how we can include people with learning disabilities in our club activities.

The support for youth was reinforced further by former All Ireland winner, Oisin Mc Conville along with Des Jennings, who touched on the difficulties young players will face with the pressures of success and how best to cope with new found fame.

Overall, the Conference emphasised the challenges for youth coaches, they are not only coaching but will also face lifestyle challenges. As Paudie Butler indicated, coaches need to bend over and allow ourselves to be the stepping stones for young people in our care.

The event concluded with all delegates receiving a conference pack courtesy of O'Neills International Sportswear.

Presentations from the conference are available to download at:
http://ulster.gaa.ie/coaching/articles/coaching-conference-2010/

Videos from the conference are available on Ulster GAA's YouTube channel at: www.YouTube.com/UlsterGAA
back to top

Club Officer Training Programme continues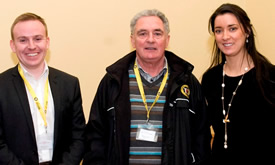 The Club Maith: Officer Training Programme has been hugely popular in counties Armagh, Antrim and Derry. Club Officers in County Tyrone are next in line to be trained up on Saturday 6th February in Loreto College in Omagh.
County Fermanagh Training Session will take place on Saturday 20th February in St Michael's College in Enniskillen and on Saturday 6th March it will be the turn of club officers in County Down when their training will take place in St Malachy's School in Castlewellan.
The training session is open to all GAA clubs within each county and the Ulster Council are urging all club officers to attend, including: Chairpersons, Secretaries, PROs, Treasurers, Children's Officers, Coaching Co-ordinators, Development Officers and Cultural/Community Officers. There will be individual workshops for all officers.
The training day will commence with registration from 9am, with official business starting at 9:20am sharp. The programme will conclude at 1:30pm with a light lunch.
Speaking ahead of the event Ulster GAA President Tom Daly said, "Club Maith: Officer Training Programme will provide club officers with all the information and advice needed to carry out their role as a GAA Club Official, while developing the skills and talents of those tasked with ensuring good governance within their clubs.
"The day will be facilitated by Ulster GAA staff, County Board Officials and volunteers and will cover a wide range of issues including: general club issues. The rules of the GAA, IT and the new GAA registration system, child protection, health and wellness, and our new agenda on diversity and inclusion. At the very core of the Programme will be the interactive workshops which will focus on the individual roles and responsibilities within the club set-up."

Clubs should register their attendance by emailing sharon.haughey.ulster@gaa.ie stating their club and number to attend.
back to top

Ulster GAA launches Road Safety Initiative 'Live to Play'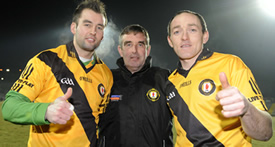 'A mistake on the pitch might cost you the game.
A mistake on the road can cost you your life.'
The Dr McKenna Cup final on Saturday night saw Ulster GAA promote their new Road Safety Campaign 'Live to Play'. Before the ball was thrown in, a minute's silence was observed for all those who have lost their lives on the roads and the players wore black arm bands as a mark of respect.
Ulster GAA also launched their specially commissioned jersey on the night, with Tyrone's Brian Dooher and Donegal's Karl Lacey (pictured) lending their support to the Campaign.
The jersey uses the traditional Ulster colours of black and amber, but the design has been amended to include a black stripe across the chest – promoting the concept of wearing a seatbelt. One of a number of road safety messages which will be endorsed throughout the Campaign.
Ulster GAA president Tom Daly said "This is a campaign which is very close to our hearts. Virtually every GAA Club in Ulster has suffered the loss of a member through a collision on the roads and if this initiative helps to prevent further deaths then we are more than happy to lead on this. The backing which has been given by our Counties, players and managers has allowed us to demonstrate to our members that this is something which we, in the GAA, believe in passionately and want to make a difference."
The events which took place at the match were the first in a series of promotional initiatives which will roll out across Ulster in the coming months. Profile player and managers from across Ulster are expected to back the initiative by lending their support at events and in the media. A poster campaign will be launched using the 'Live to Play' theme and there will be a section of Ulster GAA website devoted to educating members.
In early spring a series of workshops will take place at Club level to provide thorough education for members, particularly young drivers who are most at risk of being involved in an incident.
back to top

Ulster Senior Club Hurling League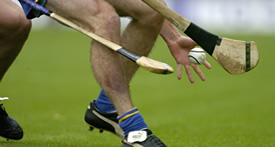 Comhairle Uladh is currently seeking applications to play in the 2010 Ulster Senior Club Hurling League. The closing date is Friday 5th February and all applications must be signed by the applicant's County Secretary.
The dates for the league are outlined below:
Saturday 6th March - Round 1
Saturday 13th March - Round 2
Saturday 20th March - Round 3
Saturday 27th March - Round 4
Saturday 10th April - Round 5
Saturday 17th April - Round 6
Saturday 31st July - Semi Finals
Friday 20th August Finals – Div 1 & 2
Friday 27th August Finals – Div 3, 4 & 5
This is a very successful league, which gives our clubs valuable games in advance of the commencement of their own county leagues and championships. While being extremely competitive the league is particularly popular with clubs from the weaker hurling counties, as they get the opportunity to play against teams that they would normally never play. A total of 63 clubs entered the league in 2009 and it is hoped that this number will be maintained or even increased for this year.
The league will be played off in five divisions with two sections in each division. The winners and runners up in each section then play off in semi finals and the finals are scheduled to be played at the end of August.
Last year's winners were:
Division One – O'Donovan Rossa, Co. Antrim
Division Two – Gort na Mona, Co. Antrim
Division Three – Lamh Dearg, Co. Antrim
Division Four – Ballela, Co. Down
Division Five – Castlewellan, Co. Down
All forms must be signed by the County Secretary and sent to:
Stephen Donnelly
Ulster GAA
8-10 Market Street
Armagh
BT61 7BX.
- Ulster Club Hurling League Application Form 2010
back to top

Dr McKenna Cup promotes Unite Against Hate campaign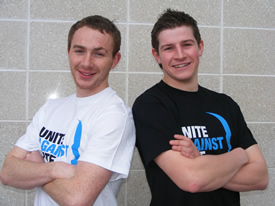 Tyrone's Sean O'Neill and UUJ's captain Darren Hughes joined together recently to support Ulster GAA's involvement in the Unite Against Hate campaign.
The campaign, which is a multi agency initiative highlights all six forms of hate crime including homophobia, racism, sectarianism and transphobia as well as prejudices based around a person's faith or disability and challenges everyone to unite to stop it. Tyrone's Joe McMahon and Sinead McLaughlin have been identified as Ulster GAA's ambassadors for the campaign.
Tom Daly President Ulster GAA said: "Ulster GAA are pleased to be working with the IFA as part of the Unite against Hate Campaign. The GAA is an anti-sectarian and anti-racist organisation who believes in promoting respect while celebrating diversity; as such the Association fully endorses the Unite against Hate Campaign."
IFA Chief Executive, Patrick Nelson added: "The IFA is delighted to be working in partnership with the GAA as part of the Unite against Hate Campaign. We believe sport can play a meaningful role in the promotion of Good Relations."
Ryan Feeney Community Development Manager Ulster GAA and Michael Boyd IFA Head of Community Relations issued a joint statement: "Partnership is crucial to building better community relations at all levels in society. It is great to be standing alongside each other in showing that sport is united against hate. Both the GAA and IFA are committed to work alongside in playing our part in this campaign."
Round Three games of the Dr McKenna Cup games were used as an opportunity to promote the campaign as part of the Unite Against Hate Sporting Weekend. Fixtures of the I.F.A, Ulster Rugby, and Belfast Giants were also involved in the campaign.
To support or find out further details about the campaign and planned events visit www.uniteagainsthate.org.uk or join the Unite against Hate Facebook group.
back to top

New sponsor and format for Dowd Cup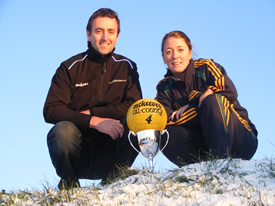 Competitive Ladies football for the 2010 season has began with the McKeever Sports Dowd Cup Competition and not only does the competition have a new sponsor in McKeever Sports, but the format for the competition has also been changed to include 5 Ulster counties as well as UUJ and QUB.
Speaking at the sponsorship launch, Sheena Tally Ladies Football Development Officer said that "We are delighted to have McKeever Sports as the new sponsor for our competition this year when we are also launching our new look format to include our county teams. An exciting season lies ahead and it is great to have the support of such a vibrant company."
Padraic McKeever from McKeever Sports said "McKeever Sports are proud to be the sponsor of this year's Dowd Cup and look forward to many great games of football with the counties and colleges. With McKeever footballs being used in the games we hope that they bring good luck to all those involved."
McKeever Sports GAA equipment can be purchased online at www.thegaastore.com
back to top

Success for Irish Junior Handballers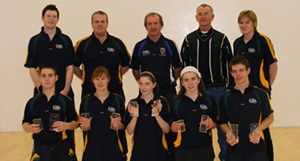 The 53rd USHA Nationals took place at the Lattof YMCA in Chicago from 27-30 December 2009, and proved to be a very successful experience for the Irish junior squad under the Irish Management team of Ryan Daly (Tyrone) and Frances Ní Churraoin (Gaillimh).
A total of 8 titles were won by Irish participants:
Boys 15 & Under Singles Winner: Denis O'Neill (Cork)
Boys 17 & Under Singles Winner: Killian Carroll (Cork)
Boys 13 & Under Doubles Winners: Johnny Woods & Ryan Mullan (Tyrone)
Boys 17 & Under Doubles Winners: Killian Carroll (Cork) & Conor McElduff (Tyrone)
Girls 15 & Under Singles Winner: Ciana Ní Churraoin (Galway)
Girls 17 & Under Singles Winner: Catriona Casey (Cork)
Girls 19 & Under Singles Winner: Shauna Hilley (Wicklow)
Girls 19 & Under Doubles Winners: Shauna Hilley (Wicklow) & Catriona Casey (Cork)
Whilst in Chicago, the team had the opportunity to travel to Gaelic Park thanks to members of the North American GAA Board. A tour of the grounds and facilities was provided, and it was a very enjoyable experience. They extended this support throughout the week of the championships.
The accomplishment in Chicago builds on previous success at the World Championships last October in Portland for Irish handball and leaves handball in this country in good stead for the 2012 World Championships.
The Irish team coach Ryan Daly works as a full time DENI Primary Schools coach for Ulster GAA.
If you have any queries regarding Handball in Ulster, you can contact Ryan on ryan.daly.ulster@gaa.ie or 07825 8556714
back to top

Camogie competition fixtures announced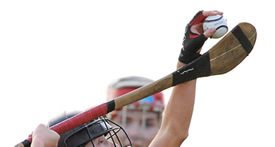 The draws for the forthcoming Ashbourne Cup and Purcell Cup/Shield which are taking place over the coming weeks have been announced as follows:

Ashbourne Cup Quarter-Finals (to be played on or before February 6th)
a. Cork IT (hosts) v Waterford IT
b. Athlone IT v UUJ
c. UCC v UL
d. UCD v NUIG

Ashbourne Cup Semi-Finals (Cork IT, February 20th)
Winners a v Winners b
Winners c v Winners d

Purcell Cup/Shield Prelims (to be played before January 30th)
a. NUI Maynoooth v Sligo IT
b. Dundalk IT v IT Tralee
c. Limerick IT V DCU
d. Trinity College v GMIT
e. IT Carlow v Dublin IT
f. St Patrick's Drumcondra v QUB

Purcell Cup/Shield Quarter-Finals (to be played before February 6th)
Winners a v Winners b
Winners c v Garda College
Winners d v Winners e
Winners f v Mary I
back to top

Handball Newsletter Launched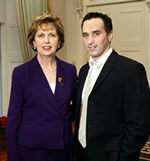 The new GAA Handball Newletter was launched earlier this month. Using this medium, and others, it is the intention of the association to keep all handball fans up-to-date on GAA Handball news throughout 2010 and beyond.
So make sure you do not miss out on receiving this new-look source of information. Register by keying in your details on the official website - www.gaahandball.ie
Also, if your club, county board or events committee would like to have something included in this GAA Handball Newsletter then please forward by email to nationalmanager.handball@gaa.ie
back to top

Ulster Ladies Football Convention held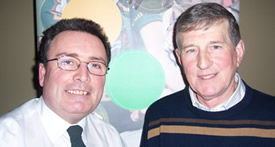 The Ulster Ladies Football Convention was held on Sunday 17th January at Kelly's Inn, Ballygawley.
Donegal's Hugh Devenney is the new Ulster Ladies President. The Laghey man beat Derry's John Groogan for the post and now takes over from Gerry Doherty who had served his three year term.
A packed meeting in Kelly's Inn also seen Eileen Jones (Tyrone), Lucy Groom (Armagh) and Mickey West (Monaghan) elected to the executive committee for 2010.
A number of fine reports were delivered. Registrar John Joe Brady revealed that membership numbers were up by 350 on the previous year with 13,147 members registered in 217 clubs. Once again it is Tyrone who led the way with 2591 registered. Six counties have over a thousand members. John Joe also pointed to the fact that seven counties had managed to increase the numbers playing however in Tyrone and Down membership was down 311 and 81 respectively. Eleven new clubs were also formed in 2009.
Fixtures Secretary Paddy Donnelly delivered his eleventh consecutive report. A total of seventy six games were played in the various Ulster championships. Paddy used a total of 27 different referees for the games.
Gerry Doherty then delivered his third and final presidential address and was touched when Ulster President Tom Daly appeared and made a presentation to him on behalf of Ulster Council GAA.
The election of officers ran very smoothly. There were just two contests on the day. Hugh Devenney beat John Groogan for the Presidential race while Development Officer Philip O Hare survived a tight vote against Martina Dillon (Tyrone).
The Ulster Ladies Executive 2010:
President – Hugh Devenney (Donegal)
Vice President – Joe Lagan (Derry)
Secretary – Mary Keegan (Armagh)
Assistant Secretaries – Lucy Groom (Armagh) and Eileen Jones (Tyrone)
Registrar – John Joe Brady (Cavan)
Treasurer – Seamus Fleming (Derry)
Assistant Treasurers – Johnny Kelly (Monaghan) and Annette Boyle (Armagh)
Development Officer – Philip O Hare (Down)
Culture and Language Officer – Mickey West (Monaghan)
Fixtures Secretary – Paddy Donnelly (Tyrone)
PRO – Paul Swift (Monaghan)
Delegate to Central Council – Pat Chapman (Fermanagh)
Central Council Committees:
Fixtures
John Joe Brady – Cavan
Jim Shannon – Monaghan
Appeals
Fr. Peter Clarke – Armagh
Geraldine Mc Govern – Fermanagh
Disciplinary
Paul Swift – Monaghan
Pat Chapman – Fermanagh
back to top

Stand Named after 'Mr Inniskeen'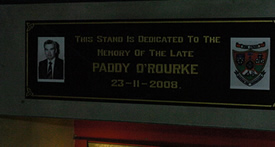 At half-time in the Monaghan v Armagh Barrett Sports Lighting Dr McKenna Cup tie, the Stand at Inniskeen was named after local gael Paddy O'Rourke who served club and county with distinction for more than half a century.
Paddy O'Rourke was the second born child into a large family home in the heart of Inniskeen village on the 25th July 1923; the house being the one time manse of the local Protestant Minster. His first educational establishment was Inniskeen National School around the corner.
Probably his first introduction to kicking a ball was a sponge one, kicked on the road during the mid-day break when invariably the ball landed (uninvited) in Barney Duffy's field or Quinn's meadow or even the river. It was almost customary that the youngest was bullied to retrieve it and it was at this juncture that Paddy showed his metal and refused to be pushed around, strong willed determination that was to be his hallmark throughout his life.
To further promote his education he was established as a boarder in St. Macartan's Seminary in Monaghan. Here he kicked a real ball with real players so his natural skill was tuned to a fine art. After a stint in Monaghan he transferred to the Christian Brothers School in Dundalk which promoted the Gaelic language and Gaelic football in particular.
Now that he was residing back in Inniskeen he was available to tog out in Parish Leagues and minor games. His ability came under notice and he was knocking on the door of Senior Football. At that point he was serving his time as a fitter in the Railway works in Dundalk, necessitating the long cycle to and from work which built up stamina. He was not alone for there were quite a few others similarly employed. It is not deemed appropriate to dwell on his record on the field of play wearing the Red and Green, suffice to say that he wore it with pride and distinction for twenty one years. In 1946 he was selected to play for the county, a place he held for eight years and if honours eluded him here, the blame could not be placed on the shoulders of the doughty man from Inniskeen.
Paddy and his peers at the time pioneered the transition from the boot'er up the middle tradition of the past to the more constructive team work of the present. He was also the precursor of the O'Rourke dynasty that power infused the football of that era. To his eternal credit it must be said that he never became big-headed or a prima donna but rather a modest man, proud to wear the Red and Green of his club. In January 1946 he was appointed secretary of the Inniskeen Grattans club, a position he held until shortly before his death, a staggering fifty six years, surely a record un-paralleled in any business or organisation.
When his father Packy relinquished his post of treasurer to the local club in 1958, Paddy was duly appointed. Later on he was given the post of Public Relations Officer. He was now the holder of a triple portfolio. When he took over the top posts, the club had literally nothing, no playing pitch and scarcely a decent set of jerseys. Indeed it was known that players fielded with odd boots.
With dances and carnivals and other fund-raising ventures, an amount of wherewithal was mustered to enable the acquisition of some land and eventually to develop a playing field to match any in the county. It is not claimed to be a one man job, but it goes without saying that Paddy was the main architect and a prime mover in the entire project. It now stands as a lasting monument to his honour.
At his last Club meeting on the 27th March 2003 Paddy expressed his view that the club should not move from its present home. Monaghan County Board recognised his administrative talent and appointed him Assistant Treasurer in 1961 and later in 1970 full treasurer position a role he held until a few weeks before his death. The County Board being cognisant of his efficiency awarded him numerous honours including the prestigious Co. Board Hall of Fame award. On many occasions he was made the subject of interviews from the media. The prestigous glossy magazine, Hogan Stand, did an elaborate feature on him.
Paddy took to the whistle around two years before he ceased playing football and he refereed an Ulster Semi Final between Tyrone and Down in 1960 and many National League games including a famous National League game in Dundalk between Galway, the All Ireland Champions and Louth plus a County Senior Final in 1960 between Scotstown and Castleblayney. Being an officer of the County Board he had to relinquish his post as a club official, so he returned to football or rather the root and branch activities of the club and concentrated on the youth of the parish.
Over the following years he promoted Gaelic Games at all levels from ten to minor. How does one attempt to do justice to any individual who undertakes to take charge of screaming youngsters, piling them into cars, mini buses or whatever, togging them out, controlling them, taking total responsibility and making certain sure they were left home safely.
That man was the redoubtable Paddy O'Rourke. At committee level it was mooted that hurling be introduced to the club at juvenile level. Initially Paddy did not embrace the idea, but later adopted it whole-heartedly and threw his weight behind it with the typical energy of a human dynamo.
He attended his beloved Grattan Park with the critical eye of dedicated green-keeper, cut the grass, fixed the mower when it occasionally broke down, marked the pitch before a match and then donned his P.R. hat and welcomed the visiting team.
Being the out and out GAA man by virtue of the number of hats he wore with the Association, he attended regular meetings, seminars, committee business and other functions. Yet throughout his life he remained a staunch teetotaller. This was proof, if proof was needed, of his resolute determination. This strength of character was particularly manifest during the onset of his illness when he stuck to his guns until he eventually had to succumb to a greater force.
His death sent shock waves reverberating through-out the County. The funeral, speeches and Guards of Honour bore testimony to the respect and admiration the man was held in. The excellent and well chosen words of Fr. McGuiness at the Funeral Mass lauding the Christian and God-fearing path that Paddy trod during his entire life-time, the oration of the graveside by Garry Carville gave a resume of the life of an outstanding man and his dedication to all things that came under the auspices of the GAA.
Information courtesy of: http://inniskeen.monaghan.gaa.ie/
back to top

Ulster Handballers Inducted into the Sports Institute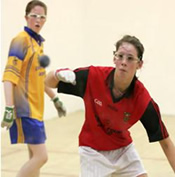 History was made last December when three of Ulster's top handballers were inducted into the Sports Institutes' athlete programme. Charley Shanks, Aisling Reilly, and Lorraine Havern have since been fitness tested, screened by the physio, and given a specific strength and conditioning programme. While in the Institute they will also be able to access expert nutritional advice, performance analysis feedback, and pre competition mental preparation.
Lorraine is the current Minor All-Ireland and Colleges 40 x20 Champion as well as the Abbeylara U-18 One Wall Champion for 2008. She hopes to do well in her A-Levels this year and to win the U-19 USHA title in Chicago this November.
Charley Shanks is ranked 5th in the Irish Handball Council (IHC) rankings and 13th in the United States Handball Association (USHA). He is the current Irish National One Wall Champion and will be competing in the World Championships (Portland) as well as the All-Ireland Championships in 2010. Charley's ambitions are to win the All-Ireland Senior Singles Crown as well as the Irish Nationals Open Title.
Aisling Reilly is currently ranked 2nd in the Irish Handball Council (IHC) rankings and has won World Titles at U-15, 17 and 19 levels as well as 5 Irish National Titles from 2004 – 2008. She was honoured in 2008 as the Ulster GAA Handballer of the Year and her ambitions are to achieve final positions in the All-Ireland, Irish Nationals, and US National competitions.
back to top

Mickey Harte Launches Marathon Effort for Marie Curie Cancer Care

Tyrone Manager Mickey Harte was joined by Marie Curie Cancer Care Nurse Ruth Keyes and Fundraising Staff Sheena Havlin and Gavin Mc Gucken to urge people across Northern Ireland to support the charity in the 2010 Deep RiverRock Belfast City Marathon.
Marie Curie Cancer Care is the nominated local charity of Belfast City Marathon and is seeking to recruit some 1,500 people to run the marathon and benefit the charity by raising over £150K.
The money will equate to 7,500 hours of high quality nursing care that Marie Curie Nurses can provide to local communities totally free of charge, giving terminally ill patients the choice of dying at home, supported by their families.
Inviting as many people as possible across the province to put their best foot forward and take up the exciting challenge for Marie Curie Cancer Care, Mickey Harte said: "The Belfast City Marathon is a great opportunity for people of all ages and abilities to come together, have some fun and raise money for our local Marie Curie Nurses.
"Even if you are not a practiced runner ,on seeing first hand the tireless work that the Marie Curie Nurses do, I feel that many of you will be compelled to dust off your trainers and run in the Belfast Marathon to help raise vital funds that can further their service.
You can opt to take part in the fun run, a leg of the relay, walk or run the full 26 miles – it doesn't really matter, what's important is taking part and raising some much needed cash for a charity like Marie Curie Cancer Care that helps local communities across Northern Ireland."
Commenting on the charity's delight to be chosen as one of the nominated charities for 2010, Sheena Havlin Community Fundraising Manager from Marie Curie Cancer Care, said: "We're honoured to be the official local charity for this year's Belfast City Marathon. It's one of the biggest fundraising events in Northern Ireland.
"But to achieve our target to raise in excess of £150K we need to recruit as many people as possible to register as a Marie Curie Cancer Care runner. Without these funds we cannot sustain the free service of our 200 nurses across Northern Ireland.
We hope that as many people as possible will join us and put on their running shoes for Marie Curie Cancer Care. And if you can't take part by running, I would encourage people to come together to sponsor and cheer on people running for the charity."
The Belfast City Marathon takes place on May Day Bank Holiday Monday (3rd May 2010).
For more information on the 2010 Deep RiverRock Belfast City Marathon log on to www.belfastcitymarathon.com and to find out about running for Marie Curie Cancer Care contact 08700 340040 or visit www.mariecurie.org.uk/running
back to top

Feile Uladh 2010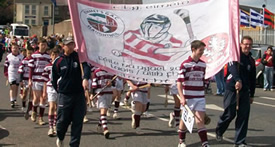 Following discussion at Coiste Iomána Uladh it has been decided to try to modernise the annual Feile Uladh Under 14 Hurling competition, which is traditionally played on the first Saturday in May each year. Feile Uladh is organised by Ulster GAA as a celebration of hurling within the Province.
The main objective of the tournament is to give young people from throughout Ulster the opportunity to play and enjoy the game of hurling against teams of similar ability levels.
Since its inception the tournament has been organised with groups of four teams playing off on a 'round robin' basis with the winner of the group proceeding to play in a final in the afternoon. After the group games, teams assemble at a central location for a parade before rushing off to play in a final at a different location. This practice has been reviewed and a number of changes are now recommended to help provide a better experience for the teams that compete in the event.
Those changes are outlined below:
The tournament will now be played over two days.
Day one will involve all entrants who will play off in a league format. Ideally a facility with a minimum of two pitches would meet the needs of the competition.
There will be two groups in each Division and a minimum of five teams in each group.
Each team will therefore play a minimum of four games of 15 minutes each way, which will be a total of 120 minutes of hurling, for each team, on the day.
Should a group contain less than five teams then the playing time of each game will be increased to ensure that 120 minutes of hurling will be played by each team - i.e. if there are four teams in the group, each team will play three games of 20 minutes each half.
Coiste Iomána Uladh Members will each be responsible for managing and organising a group venue. This will spread the work load and make it easier to keep track of teams that are not turning up for the event.
Each venue must have First Aid cover in attendance for the duration of the event.
The winners of each group will play in a final, which will be played on a separate date.
All finals will be played together in one venue with 20 minutes each half.
Feile Uladh Group Stage (Example) Division 1A (Five Teams)
1.00

1.50

2.40

3.30

4.20

A v B
C v D
E - Bye

A v C
B v E
D - Bye

A v E
B v D
C - Bye

A v D
C v E
B - Bye

B v C
D v E
A - Bye
Sixty Teams will be permitted to enter the tournament each year. Teams that competed in last year's tournament shall be given priority to participate each year. Teams that did not participate the previous year will be entered into a draw for places that may become available should any team withdraw.
Games will be played over two 15 minute halves
The team with the highest points at the end of the group stage will qualify for the final.
Should teams finish on equal points then score difference shall be used to determine the winner of the group.
Unlimited substitutions to be permitted
Where teams struggle to get full teams then 13 or 11 –a-side will be permitted
Mentors should ensure that all players get as much playing time as possible.
Possible venues:
Division 1A – Antrim
Division 1B – Derry
Division 2A – Armagh
Division 2B - Antrim
Division 3A - Down
Division 3B - Armagh
Division 4A - Derry
Division 4B - Tyrone
Division 5A - Cavan
Division 5B - Monaghan
Division 6A - Donegal
Division 6B – Fermanagh
Finals Day – All games 20 mins each half
Venue -Armagh
Saturday 15th May 2010.
12.00 - Division 6 Final
1.00 - Division 5 Final
2.00 - Division 4 Final
3.00 - Division 3 Final
4.00 - Division 2 Final
5.00 - Division 1 Final
Members are asked to approve the changes to Feile Uladh 2010.
back to top

Important Hurling Dates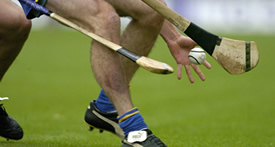 Senior Hurling Championship
Saturday 8th May - Round 1
Saturday 15th May- Round 2
Saturday/Sunday 29th & 30th May - Quarter Finals
Sunday 13th June - Semi Final
Sunday 27th June - Final
Minor Hurling Championship
Saturday 15 May - Round 1
Saturday 22nd May - Round 2
Saturday/Sunday 29th & 30th May - Quarter Finals
Sunday 13th June - Semi Final
Sunday 27th June - Final
Under 21 Hurling Championship
Wednesday 14th July - Quarter Finals
Wednesday 21st July - Semi Finals
Wednesday 28th July - Final
Under 21 Hurling Shield
Saturday 2nd June - Semi Finals
Saturday 23rd June - Final
Ulster Inter-County Minor Hurling League
Saturday 13th March
Saturday 20th March
Saturday 27th March
Saturday 3rd April
Saturday 10th April
Feile Uladh Under 14 Club
Saturday 1st May - Feile Uladh Regional Blitzes
Saturday 15th May - Feile Uladh Finals Day
Ulster Club Senior Hurling League
Saturday 6th March - Round 1
Saturday 13th March - Round 2
Saturday 20th March - Round 3
Saturday 27th March - Round 4
Saturday 10th April - Round 5
Saturday 17th April - Round 6
Saturday 31st July - Semi Finals
Friday 20th August - Finals Div 1 & 2
Friday 27th August - Finals Div 3, 4 & 5
Ulster Club Minor Hurling Blitz
Saturday 17th July - Regional Blitz
Saturday 31st July - Finals Blitz
Ulster Club Under 16 Hurling Blitz
Saturday 3rd July - Regional Blitz
Saturday 10th July - Finals Blitz
Ulster Blitz Days
Saturday 24th April - Under 17
Saturday 8th May - Under 16
Saturday 29th May - Under 15
Saturday 26th June - Under 16
Saturday 7th August - Under 14
Póc Fada
Saturday 5th June @ Slaughtneil, Co Derry
Under 16 Elite Camp
5th - 7th July @ University of Ulster at Jordanstown
back to top

Fermanagh Pupil receives 5 stars
Fermanagh's star forward Eamon Maguire kindly attended St Eugene's P.S. Knocks to present one of the pupils with his award. Patrick Tracey is the first pupil to receive his award in Fermanagh. The reward system that is in place by the Fermanagh Coaches pays special attention to the children's listening skills, eagerness to learn, helping other people, sharing with other people, following instructions, fair play, creative ideas, attitude and effort.
Miss Siobhan Maguire, principal of St Eugene's said of the system "The reward system that Owen has is great for the pupils and also us as teachers. It links in well to the Revised Curriculum in that the pupils are being rewarded not only for their skills, but also for their ideas and imagination."
back to top

North West Regional College lifts silverware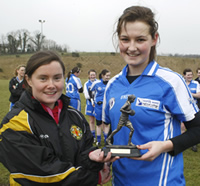 The first sliverware of the new season was collected last week by North West Regional College (NWRC) Derry when they overcame the challenge of South West College (SWC) Fermanagh in Youth Sport Omagh to win the Oliver Gavan Cup.
Most of the damage was done in the first half of the game when 5 goals hit the Fermanagh net, Nicole Doherty hitting two and Chloe Morris, Shauna Kelly and Aine McKeever taking one each. Fermanagh battled away, but couldnt get the scores on the board; the half time score reading NWRC 5-6 SWC 0-2.
The second half saw quite equal scoring opportunities, but NWRC made their opportunities count by netting another 3-1 to SWCs 1-2. Derrys goals this time came from the boots of Karen Canavan and Elaine Mulaugh. All bar one of Fermanghs scores for the entire came from Sharon Little with Grainne Moane contributing a goal in the second half. Final score NWRC 8-7 SWC 1-4.
Sonya McGaw, Secretary of the Ulster HEC Committee presented the player of the match award to Aine McKeever from NWRC who was instrumental in all moves by the Derry team.
back to top

Civic Reception for Antrim teams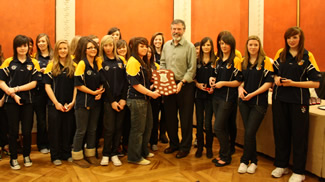 Parliament Buildings in Stormont has been the venue for intense political debate in recent weeks, but the mood was definitely lighter on Friday night last when a civic reception was held in honour of the lady footballers from County Antrim.
In the past year the girls from the Saffron County have won Ulster titles at Under 14, Under 16, and Minor and this success was followed by a first ever All Ireland Junior title for Antrim Senior ladies.
The evening was hosted by Barry McElduff MLA and Chairman of the Committee for Culture, Arts & Leisure who opened proceedings with a very entertaining address. The first speaker was Gerry Adams MP.MLA. who congratulated the girls on their numerous successes in the past year. He thanked all the players for providing such entertaining football and especially the Senior girls who he witnessed winning an All Ireland Final in Croke Park.
Antrim Chairperson Noirín McGoldrick congratulated the girls and thanked all those who had contributed to the successes of the various teams. She also made a heartfelt plea to all those present to consider helping out with the County Board as Antrim are struggling to fill all the County posts this year.
Last to speak was Ulster Secretary Mary Keegan who thanked the organisers of the event. She congratulated the successful teams and wished the County continued success in the coming year.
Gerry Adams then presented medals and trophies to the u14, U16 and minor teams.
Following the reception, Barry McElduff arranged for the girls to have a tour of the historic building including the Offices of First and deputy First Minister and the assembly chambers.
This was a most enjoyable evening and was thoroughly enjoyed by all present.
back to top

Keady Lamh Dhearg 'Midnight Hurling League'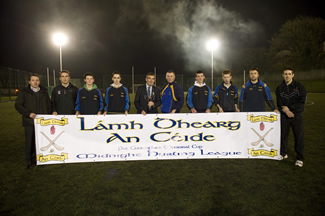 Pictured at the official launch of an innovative new hurling initiative by Keady Lamh Dhearg Hurling Club are Tom Daly Uachtaran Comhairle Uladh and Chairman Jim McCormack, along with senior players Phillip Kirk, Paul McCormack and Francis McMullan who on this occasion was representing Armagh County Board who have given fantastic backing to this innovative. Also included are some of the participating players and Adam Cooper Keady Recreation centre manager.
The Pat Cunningham Memorial Cup is up for grabs in a 'midnight hurling league' organised by Keady Lamh Dhearg and will run for 5 consecutive Friday nights on the floodlit astro-turf at St Patrick's High School. The idea of Lamh Dhearg's Development Committee, it aims to provide competitive hurling in a fun environment for hurlers aged 15-19 as well as providing them with a safe social outlet on a Friday night. These same young men also had a very positive input to the rule making and organisation of this tournament, which is the first of it's kind in the GAA.
The teams are made up of 8 players – one of which is a Keady Senior player who must remain in goals – and games are 5 a side, lasting 4minutes per half. 2 Running subs are allowed and encouraged in what is a fast paced high intensive spectacle. Playing rules have been conditioned to one catch of the sliothar only and puck outs/sidelines can be taken using a hand pass or a strike in order to keep games flowing as much as possible. Goals are the only way to score and there is a bonus point if any teams hit 4 or more.
As part of Keady's contribution to the ongoing Armagh Hurling Development programme, each of the 8 teams taking part are allowed 2 'guest' players from neighbouring clubs and the teams have also recruited new or past players back to the local hurling scene.
The Keady club is inviting all hurling enthusiasts to its opening night Friday 29th January at 8pm and indeed the 4 following Friday nights up to 'Finals Night' on the 26th February where the first winners of the Pat Cunningham Memorial Cup will be crowned.
back to top