Meet New Ulster Council Officers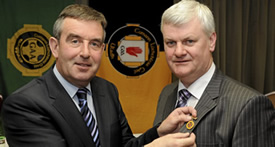 The 107th Ulster Council GAA Convention was held in Cootehill County Cavan on Saturday 27th February. There were major changes to the membership of the Ulster Council with many county and educational body delegates stepping down due to the GAA five year term limit on County officers.
The following officers were elected for 2010-2013 term:
President: Aogán Ó Fearghail (Cavan)
Vice President: Martin McAviney (Monaghan)
Treasurer: Michael Hasson (Antrim)
PRO: Oliver Galligan (Cavan)
Past-President: Tom Daly will remain an officer of the Council until 2011 while Provincial Director Danny Murphy acts as full-time Secretary of the Council.
In a wide ranging speech new President Aogán Ó Fearghail outlined the priorities for this Presidency; he stressed the need for the GAA to remain relevant and outlined the following key areas of development:
Focusing on improving and supporting the role of the GAA Volunteer
Improving Gaelic Games, encouraging more success but also focusing on enhancing the enjoyment of the Games by encouraging the Family and Community aspects of the Association
Enhancing the Gaelic in the Gaelic Athletic Association by further enhancing the cultural and language activities of the Association in Ulster
Dealing with the important issue of fixture congestion
Continuing to develop the Integration and Diversity agenda
Supporting the ongoing development of Clubs at grassroots level by the continued roll out of the Club Maith programme.
Aogán Ó Fearghail has had an extensive record of service to the GAA. He is a member of Drumgoon Eire Og where he played football. He played handball at local club level and was introduced to GAA administration through Handball. At St Patricks College, Drumcondra, Aogán played hurling and football with the Erins Hope club and handball with the college team. He also toured Scotland with a colleges shinty team. Aogán was secretary of the college Handball club and assistant secretary of the Hopes GAA club when they won the Dublin Senior championship in 1979.
Aogán has served his club at all administrative levels and he established juvenile football in the club. He has also coached juvenile teams at under age level for 25 years and continues to coach at schools and club level. Aogán served as club delegate to Cavan county board, was Cavan Irish language officer and for 12 years was Cavan's delegate to Ulster Council. He has chaired several GAA Committees including the National IT and Communications Committee which two years ago launched the GAA's first IT Strategy. He currently serves as member of the National Strategic Development Committee. At Ulster level he recently completed a three year term as Chairman of the Provincial Hurling Committee and was responsible for the development of the second Ulster Hurling Strategy; he also was Chair of the Provincial Integration Committee and overseen the development of the Ulster Confederation of Councils "Aontacht Uladh".
Following his election as President, Aogán has become the first person to serve as PRO, Treasurer, Vice President and President of the Ulster Council.
It was an important convention with the election of new officers, as outlined below:
Name : Aogan Ó Fearghail
Position : Uachtarán Chomhairle Uladh
Playing Background : Aogán is a member of Drumgoon Eire Og where he played football. He played handball at local club level and was introduced to GAA administration through handball. At St Patricks College , Drumcondra, Aogán played hurling and football with Erins Hope club and handball with the college team. He also toured Scotland with a colleges shinty team. Aogán was secretary of the college Handball club and assistant secretary of the Hopes GAA club when they won the Dublin Senior championship in 1979. Aogán has served his club at all admistrative levels and he established juvenile football in the club. He has also coached juvenile teams at under age level for 25 years and continues to coach at schools and club level.
Administration/Ulster Council : Aogán served as club delegate to Cavan county board, was Cavan Irish language officer and for 12 years as Cavan's delegate to Ulster Council. He has served as Ulster Council PRO, Ulster Council Treasurer and is currently President of Ulster GAA.
Name : Tom Daly
Position : Iar-Uachtarán Comhairle Uladh
Playing Background : Tom is an active member of the Aodh Ruadh club in Ballyshannon, Co Donegal, where he has played club hurling and football at all grades.
Administration/Ulster Council : Tom has been actively involved in leadership roles at club level since 1979 and has served at County Committee / Executive Level in Donegal for 16 years in the role of Youth Officer, Vice-Chairman and Ulster Delegate. He has served on various National Committees over the years. Before taking on the role as Uachtarán Comhairle Uladh in 2007, Tom served as a member of the Council from 1988, including 3 years as Treasurer and 3 years as Vice-President.
Name : Martin McAviney
Position : Leas-Uachtarán Comhairle Uladh
Playing Background : Martin is a member of the Ballybay Pearse Brothers club in Monaghan. He is a current member of the Club Committee and is a Club Trustee. He has previously served as Club Secretary and Club Chairman and received the Coiste Chontae Mhuineachain Senior Official of the year 1984.
Administration/Ulster Council : Martin joined the Monaghan County Board as Ulster Representative in 1987 and held this position until being elected as P.R.O. of Comhairle Uladh in 2004. During his term as P.R.O., Martin was awarded the Ulster GAA Writers Communications Award in 2005. Martin took up his position of Cisteoir of the Ulster Council in 2007, and currently sits as Chairman of the Ulster Insurance Work Group. He was also the first Chairman of the Ulster Code of Ethics and Good Practice Committee. At National Level, Martin is a member of the National Central Appeals Committee and the National PR and Publications committee.
Name : Danny Murphy
Position : Rúnaí Comhairle Uladh
Playing Background : Danny played football for St. Mary's, Burren from 1967 until 1985. He also played hurling for Rostrevor from 1978 until 1987 and Warrenpoint 1988 & 1989.
Administration/Ulster Council : As Provincial Secretary, Danny's main responsibilities are to service the Ulster Council, attend meetings, implement decisions and represent the Council at meetings as part of a delegation or as Secretary and to represent the Ulster Council on Sub Committees at National level as required.
Name : Michael Hasson
Position : Cisteoir Comhairle Uladh
Playing Background : Michael has been a member of St. Rasharkin since 1963. During that period he played football at U15, Minor, U21, Reserve & Senior. As a referee, Michael officiated in Antrim from 1969 to 1997.
Administration/Ulster Council : Michael has served as a committee member of St Mary's Rasharkin since 1965, as well as being a member of the South West Antrim Committee from 1967 until 1997 and the Antrim County Committee from 1987 until 2007. Michael also served on the County Executive / Management from 1997 to 2007. Following his membership to the Ulster Council in 1997, Michael has served on the Code of Ethics Committee's at Provincial & National Level from 2001-2004. He commenced his current role of Treasurer in February 2010.
Name : Oliver Galligan
Position : Ofigeach Caipreamh Poiblí Comhairle Uladh
Playing Background : Oliver is a member of the Cavan Gaels Club where he played football at all levels, playing at senior level for 17 years. He played in 5 senior county finals, winning 3 titles and 2 senior leagues. Oliver captained the club minor double winning team to their first county title in 1967. Oliver played county football for Cavan at all levels and captained the county minors in the 1967 Ulster championship and was a member of the senior panel from 1969 to 1973. Oliver played in 2 Ulster finals, the U21 Championship final in 1970 and the Senior Club final in 1977.
Administration/Ulster Council : A former chairman of his club, Oliver has been a member of the Cavan County Board for the past 15 years, holding positions as development officer and Ulster Council representative. He has chaired the Ulster coaching and games development committee and has served on the national coaching committee representing Ulster. Oliver is also a member of the Belfast urban committee and chairman of the Upper Springfield project. At National level, Oliver was chairman of the national Code of Ethics work group for 9 years and is presently a member of the Central Hearings Committee.
back to top

A Presidential honour for outgoing Uachtarán
Her Excellency Mary McAleese, President of Ireland and her husband Dr. Martin McAleese were hosts to a delegation of 50 from the Ulster Council GAA on Monday 8th February in Áras an Uachtaráin. The event was held to recognise the work of Tom Daly, the outgoing President of Ulster GAA and the Ulster GAA 125 Committee.
The delegation included Ulster GAA Officers Danny Murphy, Aogán Ó Fearghail, Martin McAviney and Michael Hasson. Also in attendance was Catherine O'Hara, Chairperson of Ulster Camogie. Gerry Doherty, former President of the Ulster Ladies Football Council was unable to attend. Members of the Daly family were also in attendance along with members and staff of Ulster GAA.
The President and Dr. McAleese paid tribute to the work of the Ulster Council and to Tom Daly who stood down as President of Ulster GAA at the end of February after three successful years at the helm of Ulster's largest governing body of sport.
Dr. David Hasson, Roddy Hegarty and Donal McAnallen, the joint editors of the best selling GAA history book "Ulaidh, Eire agus Eile, The Evolution of the GAA" were also recognised at the event and presented President McAleese with a copy of the book which she contributed to - providing a chapter outlining her own personal experience as a member of the GAA.
back to top

Final four counties to receive Club Officer Training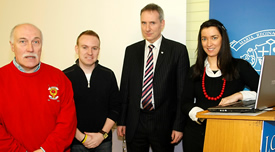 Ulster GAA's Club Maith: Officer Training Programme has been a resounding success so far with many club officers hailing it as extremely 'worthwhile'. During March, four Ulster counties will receive this important training session, as outlined below:
Down - St Malachy's School, Castlewellan (Saturday 6th March)
Cavan - St Patrick's College, Cavan (Saturday 13th March)
Donegal - Deele College, Raphoe (Saturday 20th March)
Monaghan - St Macartan's School, Monaghan (Saturday 27th March)
The training session is open to all GAA clubs and the Ulster Council are urging all club officers to attend, including: Chairpersons, Secretaries, PROs, Treasurers, Children's Officers, Coaching Co-ordinators, Development Officers and Cultural/Community Officers. There will be individual workshops for all these positions. The training day will commence with registration from 9am, with official business starting at 9:20am sharp. The programme will conclude at 1:30pm with a light lunch.
All Clubs are asked to make a special effort to attend this training. Clubs should email Sharon Haughey at Ulster GAA at sharon.haughey.ulster@gaa.ie to confirm how many people will be attending from their club.
back to top

Congratulations to Ulster Scór na nÓg Champions
Ulster was well represented at the All Ireland Scór na nÓg Final which was held in Athlone. However those who travelled to the centre of Ireland, came away disappointed as no All Ireland medals came to Ulster. This is no reflection of the talent, preparation and dedication of the Ulster competitors and their respective clubs.
All Ireland titles are always hard to come by, and competition at Scór na nÓg was once again extremely high, and Ulster was hard done by not to come away with any titles.
A big congratulations goes out to all those who represented Ulster with great enthusiasm and pride. The main thing is that they all performed very well and did themselves, their families, their clubs, counties and Ulster proud.
Ulster Scór na nÓg Champions:
Tráth na gCeisteanna/Question Time: Silverbridge Co Armagh - Lorcan Burns, Eimear Reel, Peter Reel
Rince Fóirne/Ceili Dancing: Silverbridge Co Armagh - Eimear Reel, Aishling Muckian, Eileen Muckian, Caoimhine Grant, Shea Bradley, Ryan Mc Keown, Peter Reel, Sean Garvey
Amhránaíocht Aonair/Solo Singing: Silverbridge Co Armagh - Aisling Muchian
Ceol Uirlise/ Instrumental Music: Scotstown Co Monaghan - Orla Mc Cague, Emer Mc Cague, James Sherry, Brian Harraghy, Louise Sherry
Aithriseoireacht/Recitation: Silverbridge, Armagh - Michael Muckian
Bailéad Ghrúpa/Ballad Group: Carrickcruppen Co Armagh - Cliodhna Mc Ateer, Phoebe Thompson, Caoimhe Hughes, Aishling Finnegan, Meave Morgan
Nuachleas/Novelty Act: Killeevan Co Monaghan - John Mc Guirk, Siobhan Ní Chorra, Caoimhe Ní Laoire, Michelle Hurson, Gerard Graham, Sinead Mc Guirk
Rince Seit/Set Dancing: Crosserlough Co Cavan - Christiane Callery, Cáit Smith, Annie Smith, Clare Boylan, Pierse Smith, Stephen Smith, Darren Callery, Kevin Smith
back to top

All Ireland Glory for Fr Rocks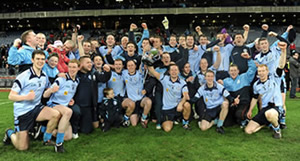 All-Ireland Club Intermediate Football Championship Final:
Cookstown (Tyrone) 1-07 Spa (Kerry) 0-08
Barry Hughes' 52nd-minute goal proved to be the defining moment as Tyrone's Cookstown hit the glory trail at Croke Park recently.
Centre-back Hughes showed brilliant composure to blast a penalty past Spa goalkeeper James Devane after Raymond Mulgrew had been fouled near goal.
That strike put Cookstown into a 1-6 to 0-7 lead and, despite Niall O'Mahony kicking a point for Spa, the Tyrone club clinched victory with an injury-time free by Owen Mulligan.
The Kerry champions had enjoyed an excellent start, with full-forward Michael O'Donoghue in free-scoring form and they lead 0-3 to 0-0 by the ninth minute.
Cookstown's shooting cost them dearly in the first-half as they struck eight wides, but Conor Mullan finally got them off the mark with a point in the 13th minute.
Further points by Christopher Eastwood, Mullan and Brian Mulligan saw Cookstown move into a 0-4 to 0-3 lead after 25 minutes.
However, Spa rallied before the break, with Fergus Clifford and O'Donoghue ensuring they went in at the break with a slender 0-5 to 0-4 advantage.
Cookstown continued to control proceedings after half-time, but couldn't translate that into scores and by the close of the third quarter, Spa were still in front, 0-6 to 0-5.
A great Niall O'Mahony point in the 48th minute put Spa in a commanding position, but a Martin Murray free and Hughes' goal changed the game.
Inspired by man-of-the-match Mulgrew and county star Mulligan, Cookstown held on for a famous win.
Scorers — Cookstown: B Hughes 1-0 (1-0 pen), O Mulligan (0-1f), C Mullan 0-2 each, C Eastwood (f), M Murray (f), Brian Mulligan 0-1 each. Spa: M O'Donoghue 0-4 (0-3f), N O'Mahony 0-2, C Tobin, F Clifford 0-1 each.
COOKSTOWN — M Rea; P Kelly, S Monaghan, P McGurk; S McGarrity, B Hughes, C O'Hare; G Fitzpatrick, C Mullan; R Mulgrew, Barry Mulligan, Brian Mulligan; C Eastwood, O Mulligan, M Murray. Subs: J Gilmore for Eastwood (42), R Pickering for McGarrity (47), B O'Neill for Fitzpatrick (59), J Quinn for Brian Mulligan (59).
SPA — J Devane; B Gleeson, A Cahill, F Clifford; D O'Sullivan, H O'Donoghue, E Cronin; K Healy, A Garnett; C Tobin, N O'Mahony, P Murphy; T Lynch, M O'Donoghue, C Gleeson. Subs: C Cronin for Murphy (55).
back to top

Ulster GAA launch pack to improve youth coaching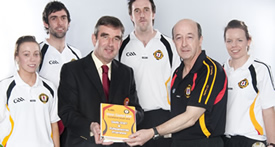 Ulster GAA have just launched their new 'Gaelic Start and FUNdamental's Pack', which is aimed to improve coaching programmes for children up to nine years old. It can be used by club coaches, teachers and even parents. Speaking at the launch of the 'Gaelic Start and FUNdamental's Pack' former Ulster GAA President Tom Daly said, "The new Gaelic Start & FUNdamental's Pack is now ready for clubs, schools and parents. The pack contains over 300 coaching cards for children from infants to 9 years old. The aim of this resource is to help coaches, teachers and parents plan and implement an effective and efficient coaching programme for children of all abilities including those with special needs."
The cards have been designed so they:
Can be used by ANYONE - children, teachers, parents and non coaching personnel
Support the developmental stages of all children regardless of ability
Offer a variety of progressive, challenging and fun activities - Warm ups, Games & Skills
Include activities that can be set up quickly & easily
Anyone wishing to get their hands on these popular packs should contact their County Games Manager or through Ulster GAA by contacting Bernie Fox on 028 3752 1900 or email bernie.mcglinchey.ulster@gaa.ie The 'Gaelic Start and FUNdamental's Pack' costs €60/£55 for first pack and €50/£45 for each one thereafter.
back to top

Ulster Ladies Partying Against Poverty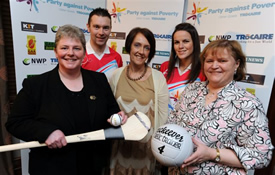 Over 100 Gaels from across Ulster attended the launch of a new initiative called 'Party Against Poverty' in the Balmoral Hotel, Belfast. The initiative sees the coming together of ladies football and camogie to help raise money for a Trocaire project in Northern Uganda.
Basically every ladies football club and every camogie club in the province are being asked to hold a 'Party Against Poverty' between Easter Sunday and the end of April in order to raise much needed funds for those less fortunate than us.
The night was co-hosted by Mary Keegan and Catherine O'Hara and the Balmoral Hotel was littered with not only stars of the ladies football and camogie game but a host of other GAELS such as Ronan Clarke, Oisin McConville, Ryan McMenamin, Paddy Cunningham, Graham Clarke, Kevin Campbell and Karl McKeegan to name but a few. Trocaire's Eithne McNulty and Gemma McCourt gave the large attendance a fascinating insight into Uganda and to where the money raised will be spent.
It has been agreed that the monies raised will be used to fund three projects in the Gulu and Lira regions of North Uganda. Firstly it is hoped to sink three water bore holes which will then service the water needs of approximately 5,000 people. Secondly the project will continue to support women in their struggle to get land rights after the civil war which has ravaged the country for over twenty years. Finally it is hoped to deliver a women's empowerment project to approximately 25 groups in the region.
The evening finished with words of encouragement and support from Oisin Mc Conville, Sr. Mairead, Jane Adams and Gerry Doherty. The last word of the night was left to Catherine O'Hara who reminded us all - "That we may not be able to change the world but we can make a difference".
If anyone is planning to organise an event for the Party Against Poverty initiative they can contact Paul Swift at pswift5@eircom.net or paul.swift@armagh.gov.uk to have it advertised on the Ulster ladies website.
back to top

Ulster success at GAA Handball Men's 40x20 Championship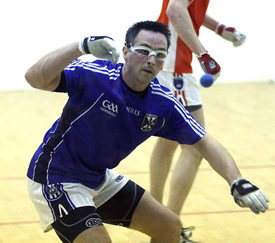 The GAA Handball Mens Open 40x20 Championships took place on Saturday 27th February.
In Ulster Paul Brady maintained his phenomenal unbeaten run in the small court in Ireland as he stormed to an emphatic win over Armagh's Charly Shanks in Kingscourt. The Cavan maestro signalled his intent in his record equalling All Ireland bid as he claimed the Ulster senior honours with a 21-6, 21-8 victory.
The four provincial champions, namely Westmeath (Robbie McCarthy), Kerry (Dominick Lynch), Cavan (Paul Brady) and Mayo (Dessie Keegan) will now go into the GAA Handball All Ireland 40x20 Championship quarter-finals. The runners-up from Saturday's finals - namely Dublin (Eoin Kennedy), Cork (Colm Jordan), Armagh (Charly Shanks) and Mayo (Joe McCann) will now await the winners of this weekend's qualifier games in the final round of that series as they bid to get their All Ireland title ambitions back on track. The quarter-final draws will be based on the current seedings.
In the qualifiers Antrim's Ricky McCann had a comprehensive victory and will now go into the final qualifying round.
Full details of the remainder of the GAA Handball All Ireland 40x20 Mens Open Singles Championship will be confirmed on Tuesday 2nd March. Details of the doubles series will also be confirmed with the provincial Mens Open Doubles finals scheduled for next weekend.
At minor level the provincial champions were also decided on Saturday with Monaghan's Padraig McKenna securing his place in the All Ireland semi-finals.
back to top

Ulster GAA invests thousands in student bursaries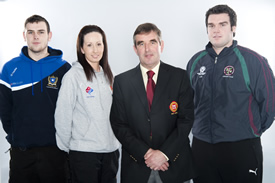 Ulster GAA has allocated bursaries to 55 students, worth €700 each. The awards are part of a National initiative, which is administered by the Provincial Councils. Ulster GAA awarded a total of €38,500 in bursaries for the 2009/10 academic year.
The scheme, which is now in its third year, was open to members of the Association who attend a full-time Higher Education course and who are active participants in their Higher Education club. Students who hold another GAA-related or college scholarship/bursary were ineligible to apply for a GAA Bursary.
Presenting the awards, Tom Daly stated, "I warmly congratulate all the successful students who have demonstrated an unwavering commitment to Gaelic Games and also to their academic studies. I wish the students every success for the future, both on and off the field of play, and I hope that the Bursaries will go a long way to assisting the students to meet the soaring costs associated with pursuing their academic studies."
back to top

Ulster GAA lobby government for increased funding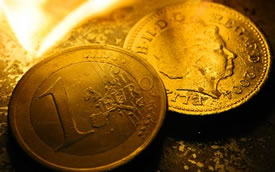 Ulster GAA is deeply concerned by the proposed reduction in funding, in the six counties, for sport in 2010/11 following recent Assembly statements.
Sport plays a critical role in many aspects of life in our community giving us heroes to celebrate; opportunities to participate and improve our health and wellbeing; creating jobs and developing communities; engaging volunteers - the lifeblood of community sport - who give freely of their time.
The GAA at Provincial, County and Club level will be lobbying MLA's and Ministers to try and address this serious issue that will have a detrimental effect on all sport.
Gaels are asked to join this lobby campaign by downloading the following letters, signing them and posting them to the Minister.
Letters to Download:
- Letter to Minister Nelson McCausland
- Letter to Minister Sammy Wilson
back to top

Outgoing Ulster President honoured at Stormont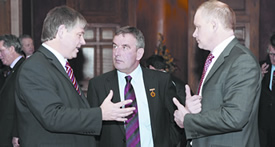 The outgoing President of Ulster GAA Tom Daly was honoured on Wednesday 24th February at a special cross party reception in the Long Gallery Parliament Buildings Stormont. PJ Bradley MLA, Kieran McCarthey MLA, Basil McCrea MLA and Barry McElduff MLA hosted the event to pay tribute to Daly's work as President of Ulster GAA over the past three years.
Speaking along with the host MLA's at the reception was President Elect of Ulster GAA Aogán Ó Fearghail, Ulster GAA Provincial Director Danny Murphy, Minister for Social Development Margaret Ritche MLA and deputy First Minister Martin McGuinness MLA MP. The Vice President Elect of Ulster GAA Martin McAviney and Treasurer Elect of Ulster GAA Michael Hasson were also in attendance.
Leading officers from all of Ulster Nine Counties were present along with Ulster Ladies Football President Hugh Devenney.
Other Special guests included; Former GAA President Paddy McFlynn, former Ulster GAA President's Miceal Greenan and John O'Relly, Chairman of the Leinster Council GAA Seamus Howlin, GAA Trustee Gene Duffy, Minister for Agriculture and Rural Development Michelle Gildernew MLA, Professor Eamon McCartan (Chief Executive of Sport NI) Edgar Jardine (Deputy Secretary-DCAL), Brian Rea (Acting Chairman of the Policing Board), Patrick Nelson (Chief Executive of Irish Football Association), David Humphreys (Operations Director-Ulster Rugby), Dame Mary Peters (Olympic Gold Medallist), Trevor Ringland (Chairman of the One Small Step Campaign), Dr. Duncan Morrow (Chief Executive of the Community Relations Council), Dr Maurice Hayes (former Senator), Superintendent Gerry Murray (PSNI GAA), Martina Anderson,MLA, John John McCallister MLA, Alban Maginees MLA, Trevor Lunn MLA, Tommy Gallagher MLA, Patsy McGlone MLA and Dolores Kelly MLA.
The GAA Director of Communications Lisa Clancy was present representing the Director General of the GAA Paraic Duffy who was unable to attend while GAA President Christy Cooney also sent his apologies.
Minister for Social Development of Development Margaret Ritche MLA praised Daly's leadership and commitment to the Association highlighting the important and vital role the GAA plays in Community Development she also expressed her good wishes to President Elect Aogán Ó Fearghail. The deputy First Minister Martin McGuinness also paid tribute to Daly for his outstanding Community Outreach work on behalf of the GAA, highlighting the importance of the Associations work in this area, he also praised the GAA's role in promoting Community cohesion. Both Ministers also expressed thanks and paid tribute Tom Daly's wife Frances.
Tom Daly stood down as President of the Ulster Council on Saturday after serving 22 consecutive years on the Council having served in the roles of delegate from Donegal County GAA, Treasurer, Vice President and President, he also served as Vice Chairman and Youth Officer of the Donegal County Committee GAA. He is also currently one of the National Vice Presidents of the GAA and will step down from his role at Associations National Congress which takes place in Newcastle County Down in April.
back to top

Special needs coaching in Armagh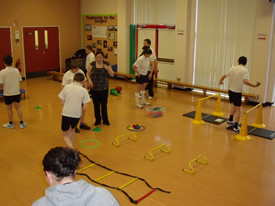 Lisanally Special School in Armagh is the latest school to benefit from Ulster GAA Coaching.
The Special School is for children with Special Educational Needs ranging from 3 - 19 years, who experience a range of learning difficulties with some having additional physical difficulties.
Ulster GAA Coaching Department have designed a special needs coaching programme which is being delivered at Lisanally and Armstrong Primart School's Special needs unit for 3 x 6 week blocks by coaches Aoife Lennon and Karol McQuade.
back to top

Irish News links with GAA's Founder celebrated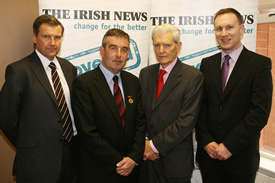 The Irish News, the GAA and Ulster History Circle came together to celebrate the life and times of John McKay, a former Irish News reporter and one of the seven founders of the GAA.
A blue Ulster History Circle commemorative plaque, which recognises people who have made a significant contribution to life in the north was unveiled outside the offices of the Irish News by Philomena McConvey great grand niece of Mr McKay who described it as a 'very proud day'.
Irish News Chairman Jim Fitzpatrick also said it was an 'historic day' for the newspaper while Irish News editor Noel Doran said that, "There is no doubt the GAA has played a huge part in the lives of so many generations of Irish people since its foundation and it is only proper that John McKay's part in that achievement is finally being celebrated."
President of the Ulster Historical Society Doreen Corcoran said that in the 25-year history of the organisation, they had never had honoured a person that "so little had been known about".
She said that Mr McKay's life read like a "detective story" and that it was wonderful that "a proper beginning and end was now known" for Mr McKay.
Former Ulster GAA President Tom Daly said it was a "great pleasure and privilege" to attend the event to "commemorate the life and times of John McKay and his very special connection with the Irish News".
"I think when people reflect on the 125th anniversary of the GAA, the greatest story to come out of the discussions is John McKay."
He said that the Ulster council was proud that there was an Ulsterman present at the beginning of the GAA.
Researcher Donal McAnallen said it was with a "great sense of satisfaction that we achieved so much in such a short space of time", while Kieran McConville said the "final bits of the puzzle" had now been solved.
back to top

What's Happening this Month - March 2010
We are adding a new section to our online newsletter to highlight key events and activities taking place across Ulster from month to month.
This edition we look forward to March 2010, when there is a full schedule of activity planned.
Download:
- What's Happening in March 2010 (Excel Document)
back to top