2010 Ulster Scór winners decided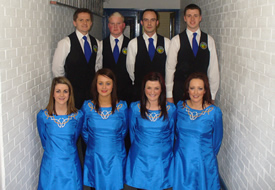 A magnificent evening of entertainment took place on Saturday 27th March in Threemilehouse in Monaghan for Ulster Scór Final 2010.
The packed audience were treated so some of Ulster finest singers, dancers, story tellers and musicans.
Competition was extremely high and all competitors must be commended for the effort they all put into their performances.
Congratulations is extended to Ulster GAA Scór Committee for their dedication and precision in putting on such a terrific show.
Congratulations also to the newly crowned Ulster Scór Sinsear Champions of 2010, let's hope some will add All Ireland medals to that accolade.
2010 Scór Winners:
Novelty Act: Tír Eoghain (An Eaglais - Eglish) - Ciarán Donnelly, Angela McGrath, Eileen Daly, Jim Daly, Seamus Donnelly, Paul Muldoon, Paul Muldoon, Ciarán Murtagh
Céilí Dancing: (Ard Mhacha (Droim an Tí - Dromintee) - Edel Garvey, Danielle Lynch, Paula Toner, Ciara cCoy, Micheal Fearon, Seamus Fearon, Tony Fearon, Turlough O'Neill, Fergus MCGee
Ballad Group: (Antrim Aghagallon) Anne Crawford, Bronagh Carolan, Joe McDonald, Una McStravick, Catriona McAtarsney
Solo Singing: An Dún (Bredach - Bradagh)- Áine Brolly
Recitation: An Cabhán (Cor na Féinne - Cornafean)- Michael McGibney
Instrumental Music: Manach (Doire gConaile - Derrygonnelly) - Maggie Maguire Aisling McPhillips Loren Maguire, Ciaran Leonard, Christopher Maguire
Set Dancing: Miineachán (Scaribh na gCaorach - Emyvale) - Riona Kavanagh, Vanessa Trainor, Mary Kirke, Lorna Balmer, Peadar Sherry, Donal Kavanagh, Stephen Maguire, Gerard McGonnell
back to top

Donegal Claim U21 Title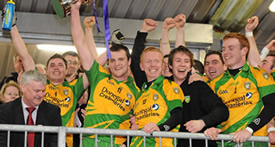 Cadbury GAA Football Ulster U21 Championship Final:
Donegal 2-08 Cavan 0-07
Donegal claimed their first Cadbury GAA Football Ulster U21 Championship title since 1995 after a 2-8 to 0-7 defeat of Cavan before a crowd of 6,000 at Brewster Park on Wednesday night.
Senior star Michael Murphy scored 1-5 of his side's total and was named Cadbury Hero of the Match.
Donegal led by 1-4 to 0-2 at half-time after Murphy hit the back of the net just before the break.
Brendan Fitzpatrick, Barry Reilly and Diarmuid Molloy were all on target for the Breffni men in the second half as they reduced the deficit to three points, 1-6 to 0-6, with ten minutes left to play.
However, Donegal grabbed the decisive goal when Dermot Molloy knocked the ball to the back of the net in the 52nd minute.
Antoin McFadden and Murphy added late scores as Jim McGuinness's men eased to a seven-point win to claim their first title at this level in 15 years.
Donegal: P Boyle; E Doherty, C Boyle, P McGrath; D Walsh, T McKinley, C Classon; K Mulhern, D Curran; M McHugh, L McLoone, D Molloy (1-2, 0-1f); J Caroll, M Murphy (1-5, 0-2f), D McLaughlin. Subs: A McFadden (0-1) for Caroll (43'), P McNeillis for McLaughlin, S O'Kennedy for McKinley (both 48'), D Murphy for Curran (58').
Cavan: M Smith; P Carroll (0-1), R Dunne, D Tighe; D Graham, J McEnroe, T Reilly; G McKiernan, D Gibney; N Smith, N McDermott, B Reilly (0-4, 0-2f); B Fitzpatrick (0-2), D McKiernan, C McClarey. Subs: O Minagh for Reilly, R Maloney Derham for McClarey (both 40'), B Murray for Carroll (46').
back to top

St Gall's Kings of Ireland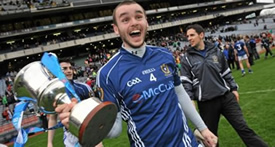 AIB GAA Football All-Ireland Senior Championship Final:
St Galls (Antrim) 0-13 Kilmurry-Ibrickane (Clare) 1-05
St Gall's crowned their centenary year by claiming the AIB GAA Football All-Ireland Senior Club title following a 0-13 to 1-5 victory over Kilmurry-Ibrickane at Croke Park on St Patrick's Day.
The Antrim champions recovered after conceding an early goal to dominate a one-sided encounter. They led 0-8 to 1-1 at the break and were never stretched in the second half as Kilmurry failed to deliver on the big stage.
The Clare side were utterly reliant on the excellent Stephen Moloney, whereas every one of Gall's forwards, including their two midfielders, managed to get their names on the scoresheet.
Following the heartache of losing the 2006 football decider and their defeat at the final stage in the Intermediate hurling competition at the same venue last month, it was probably no more than the Belfast Club deserved.
Their stand-out performers on the day included the effective Kevin Niblock, and the McGourty brothers, who tormented the Kilmurry defence with their pace and movement throughout.
Kilmurry Scorers: S Moloney 1-3 (0-1f), M O'Dwyer 0-1, J Daly 0-1 (0-1f).
St Gall's Scorers: A Healy 0-1, S Burke 0-1, A Gallagher 0-1, T O'Neill 0-1, R Gallagher 0-1, K McGourty 0-2, CJ McGourty 0-3 (0-1 '45, 0-1f), K Niblock 0-2, K McGourty 0-1.
St Gall's: R Gallagher; P Veronica, A McClean, C Brady; M Kelly, A Healy, S Kelly; S Burke, A Gallagher; T O'Neill, R Gallagher, Kevin McGourty; CJ McGourty, K Niblock, Kieran McGourty.
Subs: K Stewart for T O'Neill '46, S Burns for S Burke '55, S Kennedy for P Veronica '61.
Referee: Derek Fahy (Longford)
Attendance: 34,357
back to top

St Colman's College lift MacRory Cup for 18th time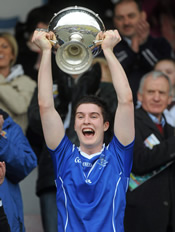 BT MacRory Cup Final:
St Colman's 1-14 Omagh CBS 1-08
St Colman's went into the game as underdogs. Omagh had won the earlier group stage encounter and had been hotly tipped to win the St Patrick's Day tie.
The script was written, Omagh CBS were returning to Casement 12 months after losing to Tyrone rivals St Patrick's Dungannon and they weren't going to leave without the silverware. St. Colman's were without star forward Ross Mc Garry and were tiny in the forward line. Omagh were moving through the competition like senior footballers.
Nobody told Colman's that this was the script they had to live up to. The game was played the way Gaelic Football should be. Fast paced, sporting and without a bad tackle. There were some amazing scores, including Caolan Mooney's wonder score from the sideline, late in the second half.
The blue army travelled in their hundreds, 6 buses of fanatical supporters made the journey and made plenty of noise in Casement Park. Indeed past pupils attended in their droves, back to watch Violet Hill compete in the St Patrick's Day showpiece.
1-01 to 0-06 at half time to the blues but the result was far from assured up until the last ten minutes when St. Colman's finally began to take total control. Brothers Johnston notched up 7 points and Chris Clarke began to star at centre half forward.
The win was capped off by man of the match being awarded to Conor Gough who fielded at crucial times in the game.
The boys will now take their place on the College wall beside other esteemed Mac Rory Cup winners such as Greg Blaney, John Mc Cartan, Diarmuid Marsden, Liam Doyle and two time winner and St Colman's Vice Principal Michael Doyle.
A Hogan Cup campaign beckons. Good luck to the boys.
Omagh CBS: R Clarke; S Mullan, Ryan O'Neill, D Bradley; N Sludden, T Canavan (0-1) , D Connolly; C Grugan, S Warnock (Capt); C Clarke (0-1), Ronan O'Neill (1-2), A O'Donnell; J McCullagh (0-1), C McCullagh, C McCrory. Substitutes: S Tierney (0-1) for C McCullagh (23 mins), R Lynch (0-2) for Bradley (36).
St Colman's College Newry: M McNeice; S McGreevey, N Donnelly, R Lively; R Johnston, (0-2) P Hillen, P Lively; N McParland (Capt 0-2), C Gough; D O'Hare, C Clarke (0-2), C Mooney (1-2); C Stevenson (0-1), J Johnston (0-5), T McGreevy. Substitutes: R McGarry for O'Hare (37 mins), S McCartan for T McGreevy (47 mins). Referee: Pat McEnaney (Monaghan).
Story from www.stcolmans.org.uk
back to top

St Colman's Prepare For Hogan Cup Final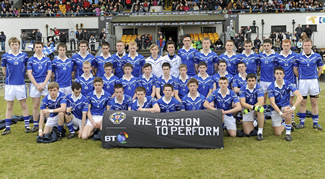 St Colman's College Newry is preparing for an All Ireland Hogan Cup Final for the first time since 1998, which for the Violet Hill fraternity, was much too long a stay in Hogan Cup wilderness.
One thing no one in the College is taking for granted is the mammoth challenge that awaits them at GAA headquarters on April 10th. St Brendan's Killarney will be an entirely different prospect to the St Gerald's side who seemed somewhat unprepared for the lightning quick pace of Hogan Cup football.
Kerry teams are never pushed over easily at Páirc an Chrocaigh and the 'Sem' as they are known are able to call on the likes of Chris O'Leary who registered an impressive 2-2 in the Semi Final against St Patrick's Navan or indeed corner forward Jeff O' Donoghue who registered 1-1 in the same fixture.
St Patrick's Navan under the guidance of Colm O'Rourke, only managed to score 0-2 from open play, a clear indication of the strength of Brendan's defence. Cathal Murray and his team have been fortunate that the watchful eye of GAA fanatic Fr Terry Rafferty has ensured that St Brendan's advance to the Hogan Cup Final has not been missed in County Down.
The hope is however, that in the 50th Anniversary of Down's historic All Ireland final victory, a success which meant that Sam Maguire would go further north than ever before, the St Colman's lads can repeat history by defeating a Kerry team in an All Ireland Final in Croke Park.
back to top

Minister Ruane praises Schools Coaching Programme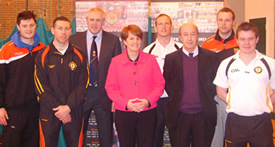 Education Minister Caitríona Ruane has praised Ulster GAA and the IFA for their ongoing coaching within schools across the north, as part of her 'Sport in Schools Programme'.
Earlier today Minister Ruane visited a cross-community event jointly organised by Ulster GAA and IFA coaches in Queens Physical Educational Centre. The multi skills day was designed for Primary 4 children drawn from schools in the south and east areas of Belfast.
Speaking after the event Ulster GAA Provincial Secretary Danny Murphy said, "This is a wonderful event which really emphasises the enjoyment children get out of participating in sport, and the benefits that participation has on their health, both body and mind.
"Ulster GAA is proud to be part of the Minister's Sport in Schools Programme and we hope that this programme will continue to be rolled out across all schools in the north, so that all children can get the opportunity to develop their skills and interest in the game."
Mr Murphy concluded, "It is commendable that 15 GCSE pupils from Ashfield Boys School and St Joseph's College have volunteered to help out at today's event and I believe this shows that sport inspires our young people to do good work, both for themselves and their communities."
Director of Coaching and Games Development Eugene Young said, "I commend Ulster GAA and IFA coaches who organised this worthwhile event. The Sport in Schools Programme is vital for the development of children in terms of their physical literacy skills. The feedback we are receiving from schools, parents and children, is extremely positive, with more and more children getting activity, both in and outside their school life."
"It is very important that children are encouraged from a young age to participate in sport, especially for their health and wellbeing, but sport also helps to breakdown boundaries and helps children to socialise. For instance, this event is cross community and through sport these children are learning from each other and about each other's backgrounds. The values of equality, fair play and respect are foremost within this programme and that is quite evident today."
Minister Ruane said: "Training exercises based on lifelong sports, like Gaelic games and soccer, are excellent ways in which to achieve improved physical literacy and develop fundamental skills. I would like to thank both the GAA and IFA for their support and hard work in helping deliver a range of fun and interesting activities to so many local young people.
"Schools have an important role to play in encouraging healthy lifestyles in our young people. By engaging in sports and other physical activity, children can combat and prevent obesity whilst improving their overall health and wellbeing."
back to top

Tyrone GAA Clubs attend launch of Live to Play Road Safety Campaign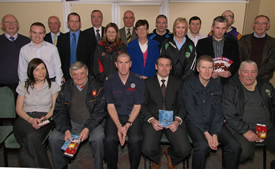 Tyrone GAA clubs gathered in Kelly's Inn Monday last to launch the Live to Play Road Safety campaign in the County. The campaign, designed and co-ordinated by Ulster GAA in conjunction with Tyrone County Committee aims to raise awareness of Road Safety and sets about educating members on how best to stay safe on the roads.
On the night attendees were presented with ways in which they can organise events locally to support their members, resulting in safer road users. Road Safety educators from the Fire & Rescue Services, the PSNI and Garda Siochana were in attendance to deliver their message to Club representatives. Clubs will now move to replicate this education for their wider membership.
Road Safety education is only one aspect of the Live to Play campaign, and further promotional events will take place through the GAA playing season.
A range of GAA profile personalities have lent their support to the campaign, and will act as role models in poster and web-based promotion. Further profiling will take place during the Championship later this summer and the newly commissioned 'seat-belt' Ulster jersey will be on show at all matches. Cathaiorleach Coiste Contae Tir Eoghain Ciaran McLaughlin commented "I want to thank the Road Safety educators from the Fire & Rescue Services, the PSNI and Garda Siochana for their attendance tonight to deliver their very graphic message of aspects of Raid Safety we can all follow. Many of our clubs have been directly impacted by fatalities caused by Road Traffic Accidents. Whilst the full impact of Live to Play will never be known, the implementation of the programme into Tyrone clubs is a positive step for us in GAA in doing what we can to reduce the carnage on our roads, particularly amongst our young members. I would encourage all clubs to build on the momentum of this event and to move to organise events as soon as is practical."
Please do not delay - get in touch with Aileen Tohill at Ulster GAA or Tyrone Chairman Ciaran McLaughlin to help facilitate any arrangements you want to make.
Aileen Tohill - (028) 37521900 / aileen.tohill.ulster@gaa.ie
Ciaran McLaughlin 07894642984 / chairperson.tyrone@gaa.ie
back to top

Ulster Disability Games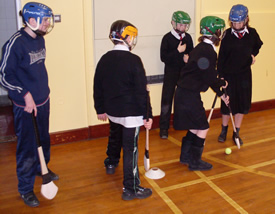 In most GAA clubs there will be families who have children with a special need or disability and would love to avail of the opportunity to include their children in Gaelic games activities. There is absolutely no reason why our training sessions, winter programmes, summer camps and games cannot be totally inclusive regardless of ability.
Over the last few months the Regional Development Officers have been delivering the 'GAA for ALL' project which is an important part of the Ulster Council GAA's coach and volunteer development programme. These interactive workshops are aimed at club coaches and parents who have an interest in delivering adapted Gaelic games and activities to children and young adults with disabilities and special needs
These workshops involved a short theory session where the audience are asked to consider how we can introduce Gaelic games into our clubs and the various barriers that may have to be overcome. This is then followed by the main part of the workshop where the audience take part in various practical games and activities using a wide range of specially adapted equipment. In this practical part of the course the participants are challenged to adapt various games to include people with various learning difficulties and disabilities (wheelchair users, visually impaired etc...).
Following on from these courses the RDO's and County Coaches are delivering coaching sessions in Special schools around the Province and during May & June they will be hosting Fun Activity days were they will invite Special schools to a regional venue to do some skills and conditioned Gaelic Games, It is also hoped that some Special schools or clubs will showcasing their skills at half-time at some of our championship games over the summer
Presently Ulster coaches are delivering coaching sessions to disabled children in the following schools Kilronan, Rossmar, Belmont, foyleview, Arvalee, Knockavoe, Sperrin view, Colmans and Glenveagh ,Lisanally, Holy Family-Cootehill, Errigal Truagh & Ceara Special school.
Regional Fun Activity Days for Special Schools
Derry - 6th May
Strabane - 11th May
Belfast - 19th May
Armagh - 20th May
Cavan - 2nd June
For further information on GAA Disability Programmes, contact
Paul Callaghan (Derry, Donegal, Fermanagh, Tyrone)
paul.callaghan.ulster@gaa.ie 00353868066166
Diarmaid Marsden (Armagh, Cavan, Monaghan)
diarmaid.marsden.ulster@gaa.ie 07920528792
Shane Mc Cann (Antrim, Down)
shane.mccann.ulster@gaa.ie 07920528793
back to top

Gaels set for post-Easter fundraisers 'Party Against Poverty'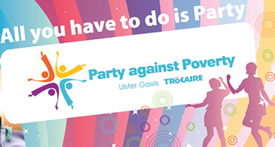 Ulster Ladies Gaelic & Ulster Camogie are working together in conjunction with Trócaire in a campaign called "Party Against Poverty". The initiative aims to raise funds for Women in Uganda while at the same time raising funds for our clubs.
All clubs in the GAA family are asked to get involved in the campaign so that our GAA family can help other families who are not as well off as ourselves. All clubs are asked to do is to throw a party under the banner of Party Against Poverty and out of the funds raised from the event up to 50% of them can be kept by your club.
The parties can be anything from a disco to a table quiz, a house party to a talent show, a guest tea to a fancy dress party - we don't care what you do, we just want you to do something and help us help those in greater need than ourselves!
All parties should be organised as end of Lent events so should take place between Easter Sunday and 30th April with the proceeds lodged with Trócaire as soon as possible after the event.
A party pack with further information to get your party started can be ordered by visiting www.partyagainstpoverty.ulstercamogie.ie or by visiting www.ulsterladiesgaelic.com and clicking on the "Party Against Poverty" logo on the home page. Alternatively free phone 0800 912 1200 and a pack will be sent out.
We can't change the world, but together, Ulster Gaels can make a difference.
back to top

Hundreds of young hurlers showcase their skills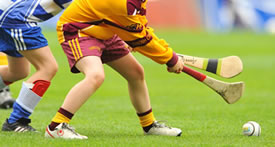 The 2nd Ulster Provincial U10 Indoor Hurling Blitz took place on Saturday 6th March, in the superb Meadowbank Sports Arena, Magherafelt.
This year an astounding 756 players took part in the FUN' Centred Blitz, playing on 90 teams from 43 Clubs from across Ulster.
Speaking after the event, Aogán Ó Fearghail, Uachtarán Chomhairle Uladh said, "This is the second year of Ulster GAA's U10 Indoor Hurling Blitz and it's really proving to be a big hit with children across every county in Ulster. As a result this important event for young hurlers is now established as a key date in Ulster GAA's calendar.
"A total of 220 games were played over the 3 hours with all teams showing great skill, enthusiasm and commitment. Above all, the children enjoyed themselves, with 'fun' being the key word.
"I thank all those clubs who travelled to Magherafelt to participate in the blitz, all of whom made this a worthwhile day. I also commend the efforts of Ulster GAA coaches for their preparation, co-ordination and delivery of this project and a special mention must go to everyone at Meadowbank Sports Arena for the use of their outstanding facilities."
back to top

Ulster GAA promote healthy living to school children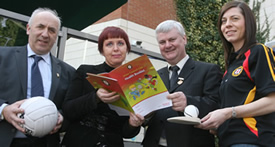 The Ulster GAA, in partnership with Tesco, has today launched an exciting new resource for primary school children - a Health Booklet which is an interactive learning tool, aimed at helping children understand the importance of eating a healthy balanced diet. This resource compliments the Ulster GAA's school coaching programme delivered to Key Stage 1 pupils as part of the 'Sport in School' Initiative, with Tesco the ideal the ideal partner in the community.
In addition to the puzzles and quizzes, children have the opportunity to track their own eating and are offered advice if changes are necessary. There's also a section for parents to get involved; ensuring healthy eating is truly a family affair!
Available in both English and as Gaeilge, Ulster GAA has ensured that all pupils involved in the Sport In Schools programme can fully avail of this learning resource.
Speaking at the Booklet launch in Belfast, Uachtarán Chomhairle Uladh Aogán Ó Fearghail said "We are delighted to make this resource available to the children involved in our Coaching programme. It is a wonderful publication, presenting a healthy eating message in a fun and informative way. The involvement of Tesco as sponsors is most welcome and with over 10,000 school children using this resource; that's good news for everyone."
Gerarda O'Connor, marketing executive for Tesco said "We are delighted to be involved again with this exciting initiative in conjunction with the Ulster GAA. The booklet helps underpin our corporate social responsibility at helping to get young people to lead an active and healthy lifestyle, and our wider commitment of encouraging our youth in participating in sport."
It is certain that as a result of this initiative the children, parents and teachers involved will be'fitter, healthier and happier' as a result!
Anyone wishing to receive further information on the health booklet should contact Aileen Tohill by emailing aileen.tohill.ulster@gaa.ie
back to top

The Irish News Club and Volunteer Awards 2010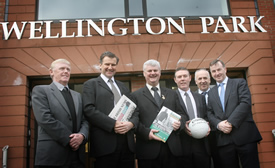 The Club is the GAA's lifeblood, volunteers are its soul. Giving their time, asking nothing in return. The passion, pride, commitment, generosity, hard work ... legends in every community.
To enter your Club, School or Volunteer in The Irish News Club & Volunteer Awards email clubawards@irishnews.com for an application pack or visit: www.irishnews.com/clubawards/
Ulster GAA's newly elected president, Aogán Ó Fearghail, said that Comhairle Uladh was delighted to launch the Irish News Club and Volunteer Awards at the Wellington Park Hotel on St Patrick's Day.
A scheme that has grown at pace and become a hugely popular initiative, he called for those interested in it to support the Awards in record numbers.
"As a volunteer club member myself, I believe our grassroot club volunteers are the most important people in our Association," Ó Fearghail said.
"The Awards have become a highlight in the Ulster GAA calendar. I would encourage as many clubs and schools as possible to enter the various categories."
The Club and Volunteer Awards are in its eighth year and the addition of a special urban category continues a theme within the scheme; that is, to endeavour year on year to modify and expand in order to reflect changing times in the GAA.
So, what can your club win?
For each category there is a prize of £1,000, plus £1,000 O'Neill's Sportswear vouchers. Your club will be profiled in The Irish News. Also, there's a Highly Commended winner per category. That prize is £500.
What does the Volunteer winner in each category receive?
An Irish News Reader Holiday voucher worth £100 and £100 of O'Neill's Sportswear vouchers.
What about schools?
The winning primary and second level school will each receive a £1,000 cheque. They will also receive £500 of O'Neills Sportswear vouchers.
"Our award scheme is structured to give everyone the chance to receive recognition and reward for their efforts, on and off the pitch," said Irish News sports editor, Thomas Hawkins.
"On the field of play, the honours usually go to the bigger clubs or those with better performers. However, this project acknowledges that there is much more to success than mere silverware."
Significant partners with The Irish News and Ulster Council of the GAA in the scheme are O'Neill's Sportswear, the Cardiac Risk in Young group and the Wellington Park Hotel.
Noel Doran, editor of The Irish News, said of the awards: "We always endeavour to report on the wide range of GAA activities throughout the nine counties of Ulster.
"We hope that the funding available for our award winners will assist in doing that at grassroots level, continuing to keep Gaelic Games healthy and successful. These awards are a celebration of the success and continued growth of the GAA in Ulster."
The process could not be easier. Submit entries via the Official Application Form. This can be downloaded from www.irishnews.com/clubawards
Closing date is 12pm on Friday, April 16.
For further information, email clubawards@irishnews.com or write to:
The Irish News Marketing Department
113-117 Donegall Street
Belfast
BT1 2GE
back to top

Club Maith Advice nights

The Club Maith Initiative has really kicked off, with lots of clubs across Ulster requesting application packs. Many clubs are well advanced with their application, in the hope of successfully achieving one of four levels of standard.
To help clubs progress their applications, whatever stage they are at, Ulster GAA staff have organised four regional advice nights. The first of these has already taken place in Mid Ulster on Tuesday 23rd March in Donaghmore. That evening was very well attended and feedback from clubs was that the advice nights were extremely useful as there was an opportunity for one-on-one advice.
Further advice nights have been arranged for:
Belfast Area: Monday 19th April, O'Donnells GAC, Belfast, 7pm - 9pm
Derry Area: Wednesday 21st April, Owenbeg, 7pm - 9pm
South-Ulster: Wednesday 28th April, Cootehill GAC, 7pm - 9pm
Anyone interested in attending these advice nights should contact Maura Kelly by emailing maura.kelly.ulster@gaa.ie
back to top

Club Officer Training Programme 'A Resounding Success'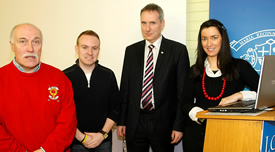 Ulster GAA Community Development Unit has just concluded its training roadshow for club officers, which has been hailed as 'a resounding success'.
The training programme was delivered across all nine counties in Ulster, with high turn-out at most of the events.
The training programme was designed to ensure that club officers were given the information required to carry out their roles in 2010. The Programme also aimed to improve the skills and knowledge of club officers, who are GAA leaders within their own communities.
The training programme was done in partnership with each of the nine county boards and we take this opportunity to thank all nine county secretaries for their contribution and efforts to ensure high turn-outs.
We also sincerely thank all those who facilitated plenary sessions and workshops. All facilitators brought their own skills, talents and experience to their workshops and in turn helped to ensure the programme was interesting, enjoyable and extremely worthwhile.
We were very lucky to have the use of schools across Ulster to hold these training sessions. The school set-up was ideal, using assembly halls for the plenary sessions and classrooms for the workshops. We really appreciate the efforts of all participating schools and principals, namely: Edmund Rice College, (Antrim), St Patrick's School Dungiven (Derry), Loreto College Omagh (Tyrone), St Michael's Enniskillen (Fermanagh), St Malachy's Castlewellan (Down), St Patrick's College (Cavan), Deele College Raphoe (Donegal), St Macartan's College (Monaghan).
Certificates will now be circulated from Ulster GAA to County Secretaries for all those who undertook the training programme.
Ulster GAA are now evaluating the programme so that it can be rolled out on an annual basis. Anyone with any suggestions about rolling the programme out should contact Sharon Haughey by emailing sharon.haughey.ulster@gaa.ie
back to top

All Ireland title for Southern Regional College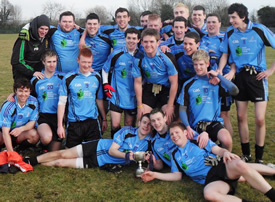 Southern Regional College completed a unique All-Ireland double after obliterating Dublin's Colaiste Ide in the Final at Dundalk IT on Friday. SRC showed too much class for their opponents and actually proved too strong for the entire competition. Having won the Magee Cup in the 2008/ 2009 season, SRC moved up to the higher tier competition last year, and won the league at their first attempt and have now added the All-Ireland Championship, which is an incredible feat. A delighted captain Sean McCreesh (pictured) said it was a proud moment for the Southern Regional College. "It is the last time some of us will play as a team together and there is no better way to finish than as All-Ireland Champions," said McCreesh. The Newry and Mourne side suffered a blow before throw-in when Kilcoo's Down Senior Championship winner and county U21 Paul Devlin had a groin complaint.
However, manager Mark Copeland knew his side possessed enough quality to grind out a result. But what nobody expected was how much SRC stamped their authority on the game.
The Dublin side took the lead when Vinnie Whelan converted a stunning free from 50-metres. The Newry side soon clicked into gear with Armagh's All-Ireland winning Minor, Conor King, levelling the score before captain Sean McCreesh edged SRC ahead. King converted another free and then SRC extended their lead when Cullyhanna's Tony Donnelly made an intelligent surging run forward before off-loading to McCreesh, who hammered high into the net for a stunning goal.
Stephen Clifford, who played for the Dublin Minor team, which Down defeated last year, narrowed the gap with two points but SRC boasted a strong defence.
St Johns' Gerard McAnulty had an outstanding game at centre-half back and while he may have missed out on a place with Down U21s, it is widely believed that Down senior boss James McCartan wants to have a look at the former St Malachy's, Castlewellan, Vocational Schools All-Ireland winner. Ballyholland's Niall McQuillian put in a sterling performance along the back-lines and Bosco's Kevin Cummins did an excellent job on keeping Kildare's Minor star John Curmeford relatively quiet. Carrickcruppen's Mark Flemming, Cavan's Michael O'Reilly and Sean McGarry of Clann na Banna gave the Colaiste forwards little space to manoeuvre. King, and Ballymartin's Conor O'Hare, a Down Intermediate Championship winner last year, tagged on points before Forkhill's John Henry Murphy took advantage of a comedy of errors between the Dublin keeper and his defence, by dispossessing the goalie, and kicking into an empty net. The Ulster side led 2-06 to 0-04 but Crawford rattled in a goal only seconds before half-time to give the Dublin side a ray of hope
Half-Time: Colaiste 1-04 SRC 2-06.
If there were any seeds of doubt in the SRC camp they simply evaporated from the first minute of the restart when Donnelly made a bee-line for goal and almost ripped the roof of the net with his stinging effort.
Whelan replied with a point for the Dublin side but Southern Regional College dominated the half, with Rathfriland's Mark Downey chipping in with important points and Dromintee's Cathal McKenna finding the target.
O'Hare and McCreesh were involved in almost all of SRC's attacking moves, with the Belleek man adding a further three points to his tally.
Killeavy's Conor King completed the route with a stunning long-range effort between the sticks, as both sides were happy to hear the final whistle.
back to top

Fermanagh Health Speak Day
On Thursday 3rd February DENI Ulster GAA coach Owen Mooney ran a "Health Speak" day in St Marys Mullymesker for the whole school.
The day incorporated three sessions. The first was with Primary 1,2 & 3 pupils, session two included Primary 4 & 5 and session three Primary 6 & 7 pupils took part. The day was organised by Mrs Finola Tracey who is Primary 1&2 teacher within the school.
In session 1 the main focus was to question the pupils on their health while they were moving. The pupils had to take part in several Fun health games as well as answering questions related to the picture of the body part they were using the most.
Sessions two and three were more related to the pupils' problem solving through tasks. Each pupil was placed into a small group and the group was given sheet. The session allowed the pupils to think "Outside the Box" when it comes to their learning. When the sessions were complete the school used the sheets as Health Posters in the Dining Room.
back to top

Glasgow Club receives help from Ulster GAA after arson attack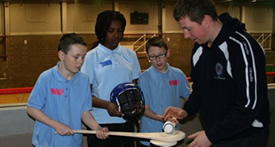 The Glasgow based Tir Conaill Harps GAC were able to go ahead with their support for a primary schools hurling tournament when the Ulster Council intervened following the destruction of thousands of pounds worth of hurling equipment in an arson attack on their club mini-bus outside a community transport base in the north of the city.
The tournament at the city's Kelvin hall was the culmination of a coaching block in the schools run by Langside College's sports department as part of an HND sports coaching course. All of the students had been supported by the Scotland GAA's fulltime Community Development Administrator, Ciaran Kearney, who also ran a Foundation level Coaching course for them.
"Within an hour of us discovering the bus was destroyed we had offers of help from both the Ulster Council and Croke Park. For this we will be forever grateful." commented club chairman, Maurice Friel
Meanwhile, the Harps club are now focused on raising the substantial shortfall in the insurers valuation and the cost of a new bus. On Sunday they got a great response from the Glasgow public at a bag packing at Tesco in the east end of Glasgow which raised £500. The club will be meeting soon to outline their plans to raise the shortfall. It already seems certain that the proceeds of their annual charity dinner in April which funds all of the club community development activities will now have to be set aside to finance the new bus.
"It is disappointing that we have to go down this road as the dinner usually covers all of our coaching, equipment and youth leadership activities for the next twelve months, but the priority for us is transport. We are not set up like a traditional GAA club at home. Our children are spread all over the city so transport is the key" explained the club chairman.
Due to lack of games locally the bus is also used regularly to take teams over to Ireland for games. In the coming weeks the under 12 hurlers and under 10s footballers had planned to go on trips. These have now been shelved until the bus is replaced.
The club have an online appeal set up on their website and anyone wishing to make a small donation can do so by linking to: http://www.everyclick.com/fundraising/donate?id=9874&cn=Tir-Conaill-Harps-Gaelic-Athletics-Club
back to top

Ulster GAA presents to Stormont Committee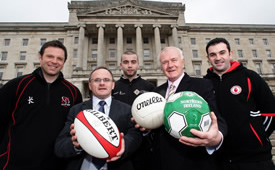 A delegation from Ulster GAA recently gave presentation to Stormont's Culture, Arts and Leisure Committee.
The aim of this briefing was to assist in the enquiry on adult participation in Sport.
Danny Murphy (Provincial Director), Ryan Feeney, Dr. Eugene Young, Aileen Tohill and Ryan Mellon represented Ulster GAA at Committee briefing session.
back to top

Ulster GAA develops Coaches abilities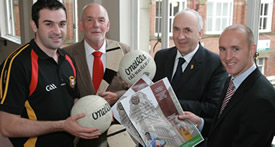 Ulster GAA Team Fit Course
This programme was run out by St Mary's University Belfast in conjunction with The Ulster Council. The rationale behind this course:
Preparation for performance in Gaelic Games has moved on considerable in recent year to incorporate many new technologies and approaches to preparing players and teams. This programme was designed to pull together the technologies, the science and the skills and competencies that will allow the coach to have a more complete approach to preparing for competition.
Over 70 applications were received by St Mary's for this course and around 50 were accepted. The course ran from October to March and covered all aspects of modern coaching techniques from Physiology, Strength & Conditioning, Performance Analysis, HR Monitoring, Sports Psychology, and Nutrition.
The Ulster Council offered a number of bursaries to those coaches with good assessments and attendance as well as a commitment to get involved with their county development squads. A further primer workshop programme was negotiated with the Sports Institute to prepare these coaches for delivering best practice to development squads and schools of excellence.
Pipeline to Performance Coaching Programme
This Ulster Council Workshop Programme supported by The Sports Institute was designed to generate the next generation of Level 3 County Coaches. The target group was Level 2 coaches who were motivated to improve their knowledge and experience. Along with The Sports Institute the Ulster Council put together a programme of workshops which deal with the keys aspects of the Yearly programme.
back to top

Gaelic Start going strong in Tyrone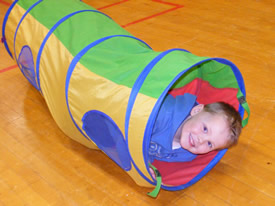 Gaelic Start is currently being run out in 7 clubs throughout Tyrone. The assistance provided by the Ulster Council through both the expertise in the latest coaching ideas from the DENI coaches and the Gaelic Start pack has helped to implement coaching programmes within the clubs youth structure.
Parents have become more involved in the Gaelic Start programme and are one of the main reasons why it has been a major success throughout the club scene in Tyrone. Gaelic start programme gives parents and coaches the opportunity to move away from the old fashioned way of linear drills and children standing about waiting for their turn. The children are constantly active and most of all, having fun. The numbers within the clubs have been soaring as the word spreads from within the local communities.
Tony Mc Ginn, a parent from Omagh St Endas club commented that, "It's great. It accommodates children from a young age that were never worked along with before. It's great fun for the children and the parents. There was nothing like this in my day!"
The DENI coaches are working round the clock to try and accommodate the high demand for this very popular programme. The wide range of clubs currently availing of this programme are; Carrickmore, Omagh, Moortown, Eskra, Greencastle, Clonoe and Aghyaran.
back to top

Shanks rolls into All Ireland Final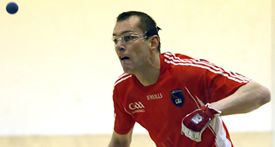 Thanks to the new back-door system which has been introduced to the GAA Handball Championship this year, Clann Eireann's Charly Shanks will contest the 2010 GAA Handball All-Ireland 40x20 Senior Singles Final.
The Chairman of County Armagh GAA Handball secured an All-Ireland final spot following his win over Garden County man Michael Gregan in Saturday's semi-final. Played before a capacity crowd in Kingscourt, County Cavan, Shanks made no bones about his intentions to any onlookers - he wants to win the All-Ireland. There appeared to be a lot of nerves in the alley at the beginning of the proceedings, but Shanks used this to his advantage as Gregan took a while to get out of the blocks, commanding the first game. Although Gregan fought hard, it was a case of 'too little too late' and the orchard star took the first game 21-12 with some world class shots. In the second, Charly never let up and finding himself serving at 18-9, he served two fabulous aces to take him closer to that final. Charly served the ball at 20-9 which Gregan returned well, then Shanks hit a fantastic passing shot, to the rapturous applause of the large Armagh contingent from all of three handball clubs in the county - such a win takes Charly into the holy grail in 40x20 handball - a place where no Armagh man has ever competed - a Senior 40x20 All-Ireland final.
World Number One, Cavan's Paul Brady will provide Charly's opposition for the biggest crown in the 40x20 game on this island. Brady disposed of Dublin ace, Eoin Kennedy on a scoreline of 21-16 21-11 in the semi-final.
Shanks - who appears to be in the shape and form of his life has worn the underdog tag both in the Quarter-final and again in the semi-final. In the Quarter-final, he beat Westmeath ace, Robbie McCarthy on a scoreline of 21-14, 13-21, 21-11 - where Shanks' experience and enhanced fitness troubled McCarthy in the tie-breaker to seal his semi-final spot. After losing in the Ulster final to Brady(21-6, 21-8), Shanks overcame Wexford's former hurler, Gavin Buggy 21-11, 16-21, 21-13 in the Qualifiers to reach the Quarter final.
In the Ulster Championship, the Clann Eireann ace had a comfortable win over Pauric McGlinchey from Tyrone and a tie-break victory over Antrim's Ricky McCann before meeting Paul Brady in the Ulster Final.
Shanks is also still in contention for glory in the All-Ireland Open Doubles Championship. He is playing with long-time doubles partner, St. Killian's, Whitecross man - Onewall World Champion, James Doyle. Significantly, Shanks and Doyle moved into the senior ranks together when they lifted the All-Ireland intermediate doubles title in 2003, the same year in which Shanks also sealed a Singles victory. The Orchard duo face Meath in the All-Ireland quarter final.
Brady is hoping to match a record of six consecutive All-Ireland senior single victories, whilst Shanks is 'gunning' for number one!
When these two athletes take to the court, all past victories and defeats will no longer be relevant, the script has not yet been written - one thing for sure, Shanks will do his club and county proud on All-Ireland final day.efeats are no longer relevant, the script has not been written yet and Shanks will be sure to do his c
Other results/fixtures from Armagh Handballers:
All-Ireland Juvenile Semi-final results:
Girls U14S Aoife McConville (Clann Eireann, Armagh) dft Sophie Carroll (Cork) 15-7, 15-1
Girls 16S Martina McMahon (Limerick) dft Niamh Henderson (Clann Eireann, Armagh) 21-3, 21-2
Girls 17S Sionann McConville (Clann Eireann, Armagh) dft Alana O'Brien (Clare) 21-18, 21-5
Ladies Minor Catriona Casey(Cork) dft Armagh Fionnuala McKenna(Eugene Quinn, Armagh) 21-4, 21-5
All-Ireland semi-final adult result:
SMBS Clare [John Cawley] dft Armagh (Clann Eireann, Armagh) 21-6, 21-20
Men Open Doubles Qualifier final round:
Armagh (Charly Shanks, Clann Eireann/James Doyle, St. Killian's, Whitecross) dft Mayo (Vinnie Moran/Campbell Brennan) 21-4, 21-6
Important Fixtures:
2010 GAA Handball All Ireland Juvenile Championship Finals to take place in Munster venues on Sunday 11th April 2010
Girls U14S Aoife McConville (Clann Eireann, Armagh) v Cianna Ni Churraoin (Galway)
Girls 17S Sionann McConville (Clann Eireann, Armagh) v Melanie Byrne (Carlow)
Sunday 4th April, in Leixlip, Kildare, 2:30pm and 4.00 pm.
4pm: Ladies Minor Doubles All-Ireland semi-final:
Armagh (Fionnuala McKenna, /Erin Connolly both Eugene Quinn) v Cork [Catriona Casey/Aishling O Keeffe]
Kingscourt - Date and time TBC
Mens Open Doubles Quarter Final:
Armagh (Charly Shanks, Clann Eireann/James Doyle, St. Killian's, Whitecross) v Meath (Tom Sheridan/Brian Carroll)
back to top

Got a club story?
Is there something interesting going on in your club that you want to tell everyone about? If so, why not send us through your story and photo and we'll be happy to put it into this newsletter.
If you have a story please email it to sharon.haughey.ulster@gaa.ie
This month we have a number of stories from clubs across Ulster:
CILL CHLUANA PARISH CLUBS PROMOTE 'LIVE TO PLAY' CAMPAIGN
The three Gaelic clubs of Cill Chluana Parish in County Armagh came together for a special Easter Monday to promote road safety and to raise all important funds for the Royal Victoria Hospital's Intensive Care Unit in Belfast.
The initiative comes on the back of the recovery of All Ireland winning Minor player Paudie Hollywood after a serious car accident last year.
Paudie is a member of St Mary's GFC, Granemore and the entire parish of Cill Chluana pulled together to raise money for the unit that saved his life.
Neighbouring clubs Ballymacnab Round Towers and Sean South Clady joined St Mary's Granemore to create a Parish Select team, to go up against Armagh Minors, who won the All Ireland last year.
There was a large turn-out and although the Armagh Minor team trashed Cill Chluana, everyone really enjoyed the day and the performances by all players. All donations were very kindly received. Anyone who still wants to contribute to this good cause should contact John Merry by emailing johmer@aol.com
---
NEW WEBSITE FOR SEAN MCDERMOTTS
Following on from Ulster GAA recent Club Officer Training Programme, the PRO at Sean McDermotts, Antrim - Seán Ó Sirideán decided to get the club online by setting up a brand new website.
Taking on board many of the pointers from the training session, Sean McDermotts have managed to create a fresh, vibrant and exciting website for its members at home and abroad.
The new website can be viewed by logging onto: www.mcdermottsclg.com
A lot of hard work is currently taking place by the committee at Sean McDermotts. The club hasn't fielded an underage team in 15 years so club members have been flat out fundraising to get a few strips and training gear to get an underage team up and running. The first ever open day for children and young people will take place on the 15th April and a 'Talk Back-GAA Style' night will take place on 15th May, with Jarlath Burns as guest of honour.
The club is also very proud to have formed a Scór na nÓg group, the first in the club's history since 1932.
---
CLUB GLENN LAUNCHED
On Friday 12th Glenn GAC in County Down, successfully launched their new website and Club Glenn. Special guests Sean Og McAteer & Ryan Feeney spoke on the night and praised Glenn for their hard work and wished them all the best in the future with Club Glenn. The Sam Maguire Trophy was present on the night and folk young and old got their pictures taken with the famous cup.
Glenn would like to thank all the special guests, the members of the public who attended, our sponsors Around A Pound, Northern Candles, and Taxiline. We would also like to thank the Kitchen Table for their wonderful food.
To view the new website log onto: http://glenn.down.gaa.ie/
---
CORRINSHEGO LAUNCH NIGHT
Monday 22nd February will go down in the annals of Corrinshego history as a momentous occasion, one of nostalgia, forward planning and a vision for the future which will make this small Division 4 club not only the biggest in the Newry area but one of the largest community sports projects anywhere in the county .
Never before had so many important individuals congregated in the Thomas Davis GFC Clubhouse. From political life, we had Conor Murphy MP, MLA's Mickey Brady and Dominic Bradley and nine Newry and Mourne Councillors. Danny Kennedy unfortunately was unable to attend and sent his apologies. Also present were Tom McCall and Dermot Russell of Newry and Mourne District Council and the Sporting field was represented by John O'Reilly a former President of the Ulster Council, Ryan Feeney Ulster Council, Jarlath Burns Armagh Representative on Central Council, Seamus King Armagh County Board and former County Chairman Tommy Lynch. All local schools and community groups were represented. The past & present committees, Trustees, Players and Club members were also present.
Before proceedings began, guests were treated to refreshments as they examined the 3 D model of the new development. Display boards depicting the new plans of the area and sports facilities were also on view.
Chairman, Eamonn Fearon explained that the club was embarking on an ambitious 5 Year Sports and Community Development plan which is to incorporate a new sports facility in West Newry, on Doran's Hill, just south of the Newry By-pass.
back to top

What's Happening this Month - April 2010
We are adding a new section to our online newsletter to highlight key events and activities taking place across Ulster from month to month.
This edition we look forward to April 2010, when there is a full schedule of activity planned.
Download:
- What's Happening in April 2010 (Excel Document)
back to top