Armagh claim NFL Division 2 title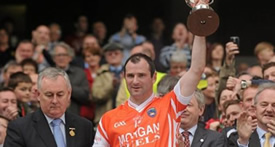 Allianz GAA Football National League Division 2 Final:
Armagh 0-17 Down 1-12
Armagh produced a brilliant final ten minutes to claim the Allianz GAA Football National League Division 2 title with a 0-17 to 1-12 defeat of rivals Down at Croke Park on Sunday.
After a tame first half, the game burst into life in the final quarter and it was Armagh, managed by Down native Paddy O'Rourke, who produced a stunning finish to claim their first Allianz National League title since 2005.
Steven McDonnell, the man who captained the Orchard County five years ago, gave another example of his enduring talents to kick six vital points for the winners.
Armagh led by 0-8 to 0-7 at the break, before Down roared back into the game when Benny Coulter fisted Martin Clarke's '45 to the back of the net in the 45th minute to give his side the lead.
However, Armagh outscored their opponents by 0-5 to 0-2 in the final ten minutes, with substitute Malachy Mackin kicking two vital points in that period.
In a breathless finale, Down had a late chance to snatch the victory at the death, but Kalum King, the big midfielder, sliced his shot over the bar after Martin Clarke had presented him with a wonderful goal-scoring chance.
Armagh made the perfect start when their captain from that 2005 success, McDonnell, put them ahead after 12 seconds. Down, who had the meanest defence after the group stages of the league, leaked three successive points in the first five minutes, with Aaron Kernan adding a free and McDonnell stroking over his second point of the afternoon from a '45.
Any thoughts that the Orchard County would have it all their own way were quickly dispelled when Down reacted by kicking the next two points. Coulter, the Mayobridge star, opened their account with a trademark strike after six minutes. Martin Clarke, who missed his first attempt on goal from a placed ball, made no mistake with his second effort to reduce the gap to the minimum.
Armagh were dealt a blow before kick off when Ronan Clarke was ruled out with the Achilles injury that has been troubling him in recent weeks. Ryan Henderson came in to start at full-forward and the late change did not appear to weaken Armagh in any way. Indeed, their attack most definitely had the upper hand in the opening quarter with Gareth Swift and wing-back Finnian Moriarty contributing further points.
Down were not without their own injury problems. Ambrose Rogers failed to start because of a foot problem and Aidan Brannigan started ahead of Damien Rafferty, who was ruled out with a hamstring injury.
Armagh were hobbled somewhat by kicking four wides in the opening 20 minutes while McDonnell missed a great goal chance on the 25 -minute mark. The 2002 All-Ireland winner won a high ball into the full-forward line and escaped his marker, but he dragged his shot just wide with Brendan McVeigh, the Down goalkeeper, beaten.
Armagh had the bulk of the possession but they failed to convert that surfeit of good ball into points on the board. The Mourne men, despite playing on the back foot, remained in touch thanks to Martin Clarke's accuracy from placed balls. The former Collingwood man kicked four first half frees, while a superb point from Daniel Hughes levelled the game at 0-6 apiece with two minutes left in the half. After a sedentary 33 minutes, the game burst into life and Down were ahead when Paul McComiskey ghosted in to slot over his first score of the game.
The scoreline failed to accurately reflect the story of the first half, but Armagh's stand-out player, McDonnell, was on hand to address the imbalance by kicking two brilliant points just before the break. McDonnell levelled the game with a shot from way out on the Cusack Stand side before nudging his side ahead with a second on the stroke of half-time - this time off his left foot - to leave Armagh 0-8 to 0-7 ahead at the break.
James McCartan, the Down manager, was clearly unhappy with his players' efforts in the first half as he made two changes during the break. Conor Maginn came in for Stephen Kearney, while Kevin Duffin replaced centre-back James Colgan, who was injured in the first half.
McComiskey missed an early chance to level the game from a free, but Peter Fitzpatrick was on hand to restore parity with a fine point from play. Fitzpatrick came into the Down midfield from the start after the Mourne captain, Rogers, was ruled out with a foot injury he picked up in a challenge game against Louth last Sunday.
Then, from nowhere, Down grabbed the lead. Martin Clarke sent in a '45 from near the sideline on the Hogan Stand side, and when Armagh goalkeeper Paul Hearty came to collect the ball - which appeared to be dropping under the crossbar - Coulter ghosted in to fist the ball to the back of the net. Coulter then added another fine point from play to leave Down 1-9 to 0-10 ahead.
McCartan's side were now starting to dominate, but Armagh responded with two successive points to level the game once again. James Lavery kicked the first before being taken off and McDonnell added his sixth and final point of the game.
After a tame first half, the intensity of the game upped in the final quarter, as Martin Clarke kicked yet another free to nudge the Mourne men ahead, 1-10 to 0-12.
However, Armagh finished the game superbly and kicked five of the next six points in the final ten minutes to take control of the game. Stefan Forker started Armagh's late scoring burst while fellow substitute Mackin was equally effective, slotting over two points from play. The first of his brace gave Armagh the lead back in the 66th minute, while Aaron Kernan also struck two frees to leave his side three points clear going into injury time.
In the end, King had a great chance to level the game, but his shot went high and over the bar, before Down's Daniel McCartan was shown a red card late in the game.
Armagh: P Hearty, A Mallon, B Donaghy, B Shannon, P Duffy (0-1), C McKeever, F Moriarity (0-1), J Lavery, K Toner, C Vernon, A Kernan (0-5, 0-5f), G Swift (0-2), B Mallon, S McDonnell (0-6, 0-1f, 0-1 '45), R Henderson.
Subs: J Clarke for B Mallon, M Mackin (0-2) for Lavery, S Forker (0-1) for Henderson
Down: B McVeigh, D McCartan, B McArdle, A Brannigan, K McKernan, J Colgan, C Garvey (0-1), P Fitzpatrick (0-1), K King (0-1), S Kearney, M Clarke (0-5, 0-5f) D Hughes (0-1), P McComiskey (0-1), J Clarke, B Coulter (1-2).
Subs: C Maginn for Kearney, C Laverty for J Clarke, D Gordon for Fitzpatrick, R Murtagh for McComiskey, K Duffin for McKernan
Referee: G Ó Conamha (Galway).
back to top

Sligo beat Antrim in Division 3 Final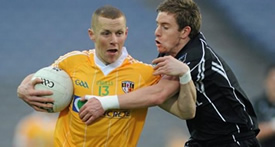 Allianz GAA Football National League Division 3 Final:
Sligo 0-19 Antrim 1-11
Sligo delivered a sublime attacking display to beat Antrim by 0-19 to 1-11 in an absorbing Allianz GAA Football National League Division 3 final at Croke Park on Saturday evening.
Kevin Walsh's side served warning of the threat they will pose later in the summer with a performance to delight football purists and aesthetes all over the country.
Sligo had heroes all over the pitch, but Colm McGee (0-5) and midfielder Stephen Gilmartin (0-3) gave the stand-out performances in a thrilling game at Headquarters.
Sligo led by 0-9 to 0-5 at half-time and moved further ahead in the third quarter, but a Michael McCann goal for Antrim in the 59th minute set up a grandstand finish.
However, Sligo finished with a flourish with substitute Stephen Cohen scoring three late points as the Connacht side celebrated their second successive promotion with the added bonus of an Allianz GAA Football National League Division 3 title.
Mark Breheny, the Sligo danger man, opened the scoring before the Yeats men doubled their advantage after dominating the early stages.
It took Antrim ten minutes to get off the mark, and inevitably it was Paddy Cunningham who found the target. In fact, the Lámh Dearg man kicked three successive scores as the Ulster side too a 0-3 to 0-2 lead in the 16th minute.
The second score of that trio was a real beauty and served as a warning, if Sligo really needed it, of Cunningham's immense talents.
Antrim's plans were upset when midfielder Brendan Herron was forced off with a foot injury after 11 minutes, although his replacement, Aodhán Gallagher, was a more than able man to have on standby having won an AIB Club All-Ireland medal five weeks previously at the same venue with St Gall's.
However, Antrim struggled in the midfield battle in the first half especially, with Tony Taylor and Gilmartin dominating the skies and winning plenty of possession from kick-outs.
Sligo looked sharp in attack and they had more than one man capable of doing damage up front. McGee twice beat Colin Brady to the ball and fired over a couple of impressive scores. Gilmartin chipped in with the first of his two points in the half as the Yeats men moved into a 0-5 to 0-3 lead.
Gallagher, the substitute midfielder, was only the second Antrim man to get his name on the scoresheet before Cunningham knocked over another free to level the game once again.
However, Sligo seemed to find another gear with ease and they kicked four points in a row to take control of the game going into the break. David Kelly created an opportunity for himself with a clever run and finished neatly, while Gilmartin added his second with the Antrim defence AWOL. McGee, a constant threat at corner forward, kicked his third point of the half.
Alan Costello's score on the stroke of half-time gave Sligo a 0-9 to 0-5 lead at the break. That score illustrated the problems Antrim needed to sort out at the break, after the Sligo wing-forward soloed unchecked from the halfway line to pop the ball over the bar.
Antrim needed a bright start, but Liam Bradley's side were further in arrears when McGee tapped over an early free.
But things looked decidedly less gloomy when Antrim's attack finally started to click in the third quarter. Cunningham sent over his fifth point of the evening before Tomás McCann and CJ McGourty finally got off the mark.
The gap was down to two points, 0-10 to 0-8, prompting Sligo boss Kevin Walsh to call the messianic Eamon O'Hara off the bench.
Gerard O'Boyle reduced the gap to the minimum with a fine point after his introduction as a substitute, before Sligo hit another purple patch to wrestle back control of the game. Costello settled the Yeats men with a free, while Kelly gave his marker, Brady, the run around once again before Gilmartin kicked his third point from play to leave four points between the sides.
Sligo moved five points clear and appeared to be coasting to victory when the Glensmen hit back with the only goal of the game in the 59th minute. It was a trademark move, the ball moving through three sets of hands before midfielder Michael McCann slammed a low shot under the Sligo goalkeeper. The Ulster side trailed by 0-14 to 1-9 with ten minutes left.
But Sligo's remarkable ability to find scores just when they needed them was in evidence again when substitute Cohen struck for the first of two delightful points and Breheny added another. In three minutes, Sligo had negated Antrim's goal.
In a breathless final ten minutes, Ciaran Close responded with a point, but the Antrim substitute might have reaped a greater reward had he looked outside him and passed to an unmarked team mate. Cunningham reduced the gap to three with yet another free with two minutes left on the clock.
Crucially, McGee kicked the next score - his fifth of the evening - to leave four points between the sides, while Cohen added his third after coming on as a sub to round off a fine win.
Antrim: J Finucane, C Brady, A McLean, K O'Boyle, T Scullion,. J Crozier, S Kelly, M McCann (1-0), B Herron, T O'Neill, CJ McGourty (0-1), J Loughry, P Cunningham (0-6, 0-3f), M McGill, T McCann (0-1).
Subs: A Gallagher (0-1) for Herron, G O'Boyle (0-1) for McGill, C Close (0-1) for O'Neill, P Doherty for Kelly, A Douglas for McLean
Sligo: P Greene, C Harrison, N McGuire, R Donavan, K Cawley, M Quinn, J Davey, T Taylor, S Gilmartin (0-3), A Costello (0-1), M Breheny (0-4, 0-1f), F Quinn, C McGee (0-5, 0-1f), K Sweeney (0-1), D Kelly (0-2).
Subs: E O'Hara for Quinn, S Coen (0-3) for Sweeney
back to top

GAA Congress 2010 A Resounding Success in Down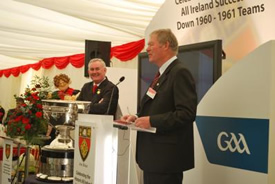 Over the weekend of 16th and 17th April Down GAA hosted GAA Annual Congress and the occasion will live for long in the memory who made the journey to the picturesque surroundings of Slieve Donard Hotel, Newcastle.
As those who attended have now returned to their day jobs and will reflect on a Congress which was perhaps not marked by controversy surrounding rule change but it was marked in style by ther Host Committee.
On Friday 16th April the Icons of 1960/61 were honoured in a reception attended by both Uachtarán CLG Christy Cooney and indeed Her Excellency Uachtarán na hÉireann Mary Mc Aleese. President Mc Aleese was radiant in red and black and spoke at length on how much it meant to the people of Down and further beyond when the groundbreaking team of 1960 lifted the Coveted Sam Maguire. The history making team in 1961 banished any idea that 1960 was merely a flash in the pan by returning to the winning enclosure of Páirc an Chrócaigh 12 months later.
On Friday evening the business end of the weekend was underway and delegates from across the country and beyond had to reflect on the proposed changes before making judgement on behalf of their County.
On Saturday evening after the 123 motions had been addressed delegates were invited to attend a Congress Mass which was celebrated by Bishops Mc Areavey and Bishop Farquhar. Fr Terry Rafferty delivered a GAA themed homily which was an inspiration to those present.
After Mass delegates got suited and booted and headed for the splendid surroundings of Slieve Donard's Banquet suite where they were treated to an outstanding meal and first class service courtesy of the staff of the Slieve Donard .
On Sunday proceedings came to a close as Christy Cooney, Paraic Duffy and many other delegates attended a Church of Ireland service in Newcastle which was enjoyed by all those who made the trip.
back to top

Ulster GAA Publish Brochure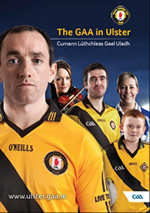 Ulster GAA have published a new public affairs brochure 'The GAA in Ulster'. The glossy brochure sets out what the GAA is all about. Its targeted at those who have little or no knowledge of the Association in Ulster.
Ulster GAA hopes the brochure will increase understanding and respect of the work of the Association. It has been sent to all 108 Assembly Members, MEPs, TDs and Senators, as well as to key people within statutory organisations.
The brochure will be circulated within the coming months widely across Ulster. A digitial copy is available by clicking on the following link:
back to top

Cross Community Hurling Tournament breaks down barriers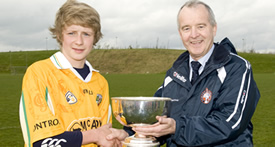 On Wednesday 28th April, Ulster GAA held its second annual Cúchulainn Cup Hurling Tournament in the Mid Ulster Sports Arena in Cookstown, with Glengormley Cúchulainns crowned 2010 champions after beating Omagh Cúchulainns in the epic final. The Glengormley team was made up of players from three schools: Edmund Rice College, Glengormely High, and St Malachy's College.

The event is part of Ulster GAA flagship cross community initiative which encourages young people from a variety of backgrounds to come together to participate in Gaelic Games. All of the young people who participated had little or no previous experience playing hurling.

The aim of the project is to give those who come from non-GAA backgrounds the opportunity to play Gaelic Games. The project also promotes good relations between schools, communities and the young people. Now in its second year the Cúchulainn Cup initiative is developing into a key project for Ulster GAA.

Speaking at the event in Cookstown, Ulster GAA Treasurer Michael Hasson stated, "I am very proud to be part of this worthwhile initiative which brings together young people from different backgrounds in a positive and enjoyable way. There is no doubt that all involved enjoyed their day, both participating on the field of play and also through the banter along the sideline. Not only is this about young people in sport, but it's also about building friendships and breaking down barriers.

"This is the second year of Ulster GAA's Cúchulainn Cup initiative. Last year we had four cross community schools teams participating, this year we had eight teams. Also this year, we are running a Cúchulainn Cup Football Tournament, which is founded on the same vision, and is backed by the Unite Against Hate campaign.

"I hope that in the years ahead of us, that this important cross community and cross border initiative continues to grow and develop. I commend all the schools who have participated in this project, the young players and their families. I do not under-estimate the sizeable step some families from non-GAA backgrounds have taken to encourage their children to participate in Gaelic Games, and I hope that their experience has been positive and will encourage them to develop their interest in Gaelic Games."
back to top

Armagh Minors promote Road Safety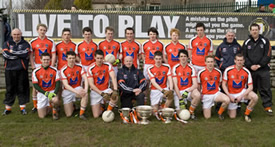 All Ireland Minor Champions Armagh are leading the way to encourage their peers to take care on the roads.
As part of Ulster GAA's Live to Play Campaign, three clubs in County Armagh recently came together to promote road safety and at the same time raised all important funds for the Royal Victoria Hospital's Intensive Care Unit in Belfast.
The initiative was led by St Mary's GAA Club in Granemore and was supported by their two neighbouring clubs within the Cill Chluana Parish - namely Ballymacnab Round Towers and Clady Sean South Club.
Last year, Granemore Clubman and All Ireland winning Minor player Paudie Hollywood survived a horrific car accident. Now well into his recovery, Paudie along with his club and family wanted to ensure that something positive came from his terrible ordeal. So he got together, his friends on the Armagh Minor squad who won the All Ireland last year, for a showcase match against Cill Chluana Parish Select team.
The event was supported by a huge number of people and all donations were kindly received for the Royal Victoria Hospital's Intensive Care Unit in Belfast.
Speaking after the event, Ulster GAA President Aogán Ó Fearghail stated, "This event highlights the positive power for good within the GAA. An entire community have come together to support this worthy cause. A young player who suffered a horrific road traffic accident has come through strongly and is determined to see something good emerge from his accident.
"I hope this message from the Armagh Minor Team will be heard loudly and clearly by young people across Ireland, to take care on the roads and make road safety a top priority.
"I commend the efforts of St Mary's Granemore and their neighbouring GAA clubs in Ballymacnab and Clady for planning and organising this event, which has also raised much needed funds for the Royal Victoria Hospital's Intensive Care Unit in Belfast.
"This event compliments Ulster GAA's Live to Play Campaign which is being rolled out across all counties in Ulster, with one strong message: for drivers to take more care on our roads."
back to top

Derrygonnelly pick up All Ireland Scór title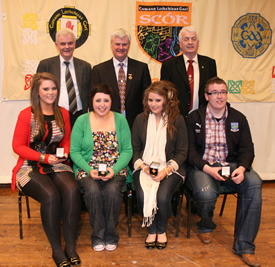 Fermanagh's Derrygonnelly was the only Ulster side to pick up an All Ireland Scór title in Killarney.
As always competition in the All Ireland Scór was extremely high and a wonderful show of talent, passion and entertainment was enjoyed by the massive number of Ulster supporters who travelled to Kerry for the special occasion.
Derrygonnelly made history, as the first ever Instrumental Group from Fermanagh to achieve this All Ireland accolade.
Congratulations to all involved, and in particular to the talented group: Maggie, Lorena, Christopher Maguire, Aisling McPhillips and Ciaran Leonard. Tribute must also be paid to Francis Rasdale who played an important role in the groups participation in Scór.
Ulster were unlucky not to come away with more All Ireland titles and all Ulster competitors performed extremely well. They are all a great credit to themselves, their families, their club, their counties and their province.
back to top

Brady and Finnegan take Handball honours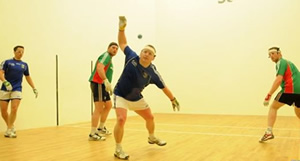 Cavan's Michael Finnegan and Paul Brady recorded a 21-11, 21-13 victory over 2009 champions, Dessie Keegan and Joe McCann (Mayo) in the GAA Handball Senior Doubles final at the St Coman's, Roscommon yesterday (Saturday).
Brady and Finnegan produced some top handball in the closing stages of the second game to take their sixth title since 2003 and deny last year's champions. Cavan controlled the opening game from start to finish, but it looked like the match might have gone to a third.
"We really had to dig deep for that win," said Brady, who collected the All-Ireland Senior Singles title two weeks ago.
"In the second game, we were 11-7 down, and I suppose we were just concentrating on getting back level and then finishing it off; thankfully, we did."
McCann and Keegan defeated the Breffni men in last year's final and with a sell-out crowd for the game; the atmosphere at the Connacht venue was palpable.
"It's a great venue and a fantastic club," said the world number one, Brady.
"The atmosphere was something special and now the challenge to stay hungry for next year."
In the Ladies Senior Singles final, Kerry's Maria Daly defeated Antrim's Aisling Reilly to take her third crown, while there was joy for Limerick's Padraig O'Carroll and Eamon Davern in the Minor Doubes final, following their win over Galway's Martin Mulkerrins and Seamus Ó Conghaile.
GAA HANDBALL RESULTS:
All-Ireland Finals, sponsored by O'Neills
Minor Doubles: Limerick (Padraig O Carroll/Eamon Davern) df Galway (Martin Mulkerrins/Seamus Ó Conghaile) 21-14, 21-18
Ladies Open Singles: Kerry (Maria Daly) df Antrim (Aisling Reilly) 21-17, 21-19
Men's Open Doubles: Cavan (Paul Brady/Michael Finnegan) df Mayo (Dessie Keegan/Joe McCann) 21-11, 21-13
back to top

Donegal claim Ulster U21 Title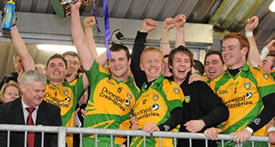 Cadbury GAA Football Ulster U21 Championship Final:
Donegal 2-08 Cavan 0-07
Donegal claimed their first Cadbury GAA Football Ulster U21 Championship title since 1995 after a 2-8 to 0-7 defeat of Cavan before a crowd of 6,000 at Brewster Park on Wednesday night.
Senior star Michael Murphy scored 1-5 of his side's total and was named Cadbury Hero of the Match.
Donegal led by 1-4 to 0-2 at half-time after Murphy hit the back of the net just before the break.
Brendan Fitzpatrick, Barry Reilly and Diarmuid Molloy were all on target for the Breffni men in the second half as they reduced the deficit to three points, 1-6 to 0-6, with ten minutes left to play.
However, Donegal grabbed the decisive goal when Dermot Molloy knocked the ball to the back of the net in the 52nd minute.
Antoin McFadden and Murphy added late scores as Jim McGuinness's men eased to a seven-point win to claim their first title at this level in 15 years.
Donegal: P Boyle; E Doherty, C Boyle, P McGrath; D Walsh, T McKinley, C Classon; K Mulhern, D Curran; M McHugh, L McLoone, D Molloy (1-2, 0-1f); J Caroll, M Murphy (1-5, 0-2f), D McLaughlin. Subs: A McFadden (0-1) for Caroll (43'), P McNeillis for McLaughlin, S O'Kennedy for McKinley (both 48'), D Murphy for Curran (58').
Cavan: M Smith; P Carroll (0-1), R Dunne, D Tighe; D Graham, J McEnroe, T Reilly; G McKiernan, D Gibney; N Smith, N McDermott, B Reilly (0-4, 0-2f); B Fitzpatrick (0-2), D McKiernan, C McClarey. Subs: O Minagh for Reilly, R Maloney Derham for McClarey (both 40'), B Murray for Carroll (46').
back to top

Armagh Minors Hurlers Win Ulster League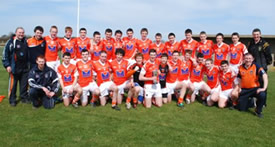 There were a lot of important sporting events held over the weekend of 10th / 11th April with Tony McCoy finally winning the Grand National; Antrim, Armagh and Down secured promotion in their respective National Football Leagues; and Paul Brady retained the All-Ireland Handball title. However, one result that has gone under the radar will be of far more significance to the small hurling community in Armagh and that is the County Minors fantastic success over Down in the Division 1 Final of the Ulster League.
Armagh had some promising results in the group stages of the League where they defeated Down in Middletown in their opening game before travelling to Loughgiel to beat Antrim (who were without their Cross and Passion, Ballycastle players) on a 2-15 to 1-15 score-line. Armagh travelled to Derry for their last game of the group stages and lost out by five points to the hosts, but they already had secured their place in the League Final. Down comprehensively beat Antrim in their final game and finished top of the table due to their superior scoring difference, thus ensuring home advantage for the League Final.
So on Saturday 10th April, Armagh travelled as underdogs to the Ards Peninsula to take on a full strength Down squad in Portaferry. Down were first of the mark with a point from play in the opening minute before the visitors replied with five points in a row. Shea Gaffney raised the first white flag before Eoghan Robb, Conor Corvan (free), Paddy Heaney (long range free) and a neat point from play by Stephen King put Armagh up 0-5 to 0-1 after the first quarter. Down pulled one back before Gaffney pointed from play and Heaney converted another long range free. However, the hosts hit a further 1-1 to close the gap to a minimum. Armagh picked up the pace again and scored three unanswered points before the break through Corvan, Gaffney and another Heaney free to leave Armagh in front 0-10 to 1-6 at half-time.
Similar to the first half, Down were quickest from the blocks and hit the opening point from play. The two sides traded points with Heaney converting another long range free and full-forward Corvan pointing twice from play. Again, Down began to test the Armagh resolve, but it was the Orchard men who got the next couple of scores - a free from Corvan and a massive score from Conor McKee into a stiff breeze from halfway. This left seven points between the teams and a second green flag on 55minutes, followed by another point from Down left only a goal in it with a few minutes to play. Armagh steadied the ship and a point in injury time from Eoghan Robb settled the game as the boys from the Orchard ran out winners on a 0-16 to 2-06 score-line.
This result is a massive boost for hurling in Armagh and will give this squad a great lift as they prepare for their Ulster Championship clash with Tyrone in May. James King gave an outstanding display at midfield while Conor Corvan caused Down all sorts of problems in the first half. Paddy Heaney and Conor McKee provided great leadership in the second half, while Fintan Corvan was the pick of the Armagh players with a fantastic performance at full-back throughout. Congratulations to the minor management of Eamonn McKee, Chris Heaney, Liam Corvan, Kevin McGreevy and Philip McArdle.
The Armagh team: 1. Simon Doherty (Sean Treacy's) 2. Cormac Rushe (Na Fianna) 3. Fintan Corvan (Doire Núis) 4. Joe McAnerney (Sean Treacy's) 5. Neil Duffy (Cúchulainns) 6. Austin Mackle (Na Fianna) 7. Tom Marley (Cúchulainns) 8. James King (Céide Lámh Dhearg) 9. Paddy Heaney (Cúchulainns) 10. Marc Toal (Céide Lámh Dhearg) 11. Shea Gaffney (Na Fianna) 12. Conor McKee (Céide Lámh Dhearg) 13. Eoghan Robb (Craobh Rua) 14. Conor Corvan (Céide Lámh Dhearg) 15. Stephen King (Céide Lámh Dhearg)
Subs Used: Ethan Carville (Na Fianna) for Toal (30mins); Conor McNally (Doire Núis) for S.King (40mins); Matthew Lennon (Doire Núis) for McAnerney (55 mins).
back to top

Ulster Croke Park Activity Days 2010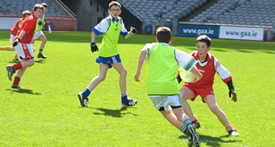 Ulster hosted two very successful activity days in Croke Park on Tuesday and Wednesday 6th & 7th April. In past years these activity days have been used to host Under 16 development squads from each county. However the National Coaching and Games Development Committee insisted on playing Under 12 Go Games blitzes this year, so the format for the day was changed.
All Ulster Counties were allocated 90 minutes playing time and the County Coaching Officers, Games Development Managers and coaching staff worked hard to select the squads and organise the logistics for their special day. In total, over 950 of our brightest young Gaels from all over the Province got to play on the hallowed turf.
The day was not only enjoyed by the players but also the many proud parents, who attended and who took lots of photos and video recordings for the family albums. A number of the parents were reliving their own glory days in Croke Park and hoping that this would be the first of many happy days during their child's career.
All counties played both football and hurling and all children were also treated to a tour of the Croke Park stadium and museum.
The event was also used to give some of the provinces fine young referees the opportunity to officiate at headquarters.
back to top

Antrim does 'Strictly come Dancing'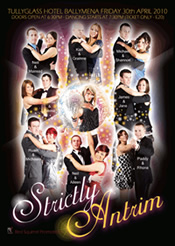 'Strictly Antrim,' peppered with county stars from Camogie, Hurling and Football along with guest Derry Camogie All-Star Grainne McGolderick and Oak leaf Hurler Ruairi Convery, will take to the floor on Friday 30th April 2010 in the Tullyglass Hotel Ballymena.
All are set to dazzle and certainly entertain, as points are awarded by the panel of judges and the voting audience.
Judges on the night include All-Star Tipperary hurler Eoin Kelly and Antrim Football manager Liam Bradley.
Compere and 'Brucie' for the evening is the Antrim Camogie manager Mickey McCullough. His 'Brucie bonus' is co hostess and acclaimed Belfast star of Ann Robinson's 'The Weakest Link' ... Titty Von Tramp.
This is one night not to miss.
back to top

Armagh Hurling Coaching Clinic is a huge success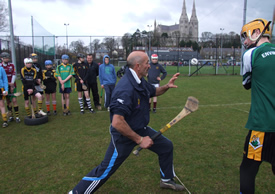 On Saturday 3rd April the Armagh Hurling Board hosted a Coaching Clinic for hurling and camogie coaches in the county. Such was the interest in the course and the excellent quality of tutors on the day that coaches from Antrim, Derry, Louth, Monaghan and Fermanagh made the journey to the Sherry's Complex for the event.
The first session was taken by Michael McCullough (Ulster Council Hurling Development Officer), who is currently manager of Antrim Senior Camogs and also managed O'Donovan Rossa, Belfast when they won the All-Ireland Senior Club Camogie title in 2008. The session focused on ideas for using tackle bags and power bags in hurling sessions and Michael worked with the current County Minor Squad while around fifty coaches observed.
The second session was based upon games to improve decision making and again the minors took part in this. This was taken by Pat Critchley - former Laois hurler and All-Star midfielder in 1985 - who currently works as Laois Hurling Development Officer. The session proved very popular among both the coaches and players as both parties were exposed to new ideas for conditioned games and also saw a very innovative approach to encouraging players to think for themselves.
The final guest for the day was former Wexford All-Star George O'Connor. George is the Wexford Director of Hurling and he won an All-Ireland medal in the final game of his illustrious seventeen year career for the 'Yellowbellies' in 1996. He proved to be a massive hit amongst all those in attendance and his endless enthusiasm and quick wit made for a very enjoyable final couple of hours to the day.
The Armagh Hurling Board would like to thank all the tutors for giving up their time to make this event a success. Thanks also to the Armagh Minors and players from Cúchulainns and Craobh Rua for taking part in the sessions. Special thanks must also go to all those who attended from various parts of Ulster and to Armagh City Council for the use of their excellent facilities at the Cathedral Road Complex.
back to top

Antrim host indoor Minor Hurling tournament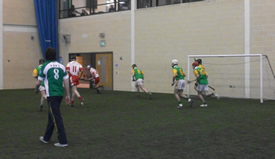 Antrim recently held an indoor minor hurling 6 a side tournament at the 3G indoor facility in UUJ Jordanstown. Games were played on four Wednesday nights over February and March 2010. The hall was booked for 1 hour, pitch divided into two so that two games could be on at the same time. Each match lasted 8 mins with no break for half time.
On the first night (approx 70 players arrived), there were two groups of four with each team playing 3 games within the hour.
Clubs that participated were Cuchullains, Naomh Gall, Lamh Dhearg, Oisins ,Tir na nÓg, Ardoyne Kickhams, Latharna Og, Sarsfields, St Teresas and St Johns.
Thanks to all players who participated, the referees, Dominic Mc Kinley and County Antrim GAA who had organised the indoor 3G for those dates. Players were asking that it be organised again in 2011.
back to top

2009 Scór Champion performs at major concert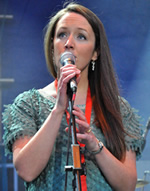 The 2009 Ulster Scór Champion Catherine Grimley, from Madden Raparees in County Armagh, was recognised recently by Armagh City and District Council.
A free open-air concert was organised by the council 'Music on the Square' with the local Scór champion performing as a supporting act to Cara Dillon and the High Kings.
This was a remarkable recognition of Scór by the council and Catherine didn't disappoint. The Madden Songbird wowed the audience with her beautiful version of 'In my Father's House', among other songs from her debut album.
In 2009, Catherine won the Ulster Solo Singing Scór with her rendition of 'The Banks of the Callen'. Her achievements in Scór have been recognised locally by the Council and also at the Tommy Makem International Festival of Song.
It's great to see that the unique talents uncovered by Scór are being recognised and promoted widely.
back to top

Armagh Primary School Hurlers visit Kilkenny and Tipperary

On Friday 16th April thirty nine young hurlers from nineteen different primary schools in Armagh and representing all eight hurling clubs in the county departed for a weekend full of hurling in Kilkenny and Tipperary.
The early start and long bus journey were only minor issues given the levels of anticipation and excitement amongst the boys and the large number of families who made the trip down to support them. The first stop was the 'Village', the famous James Stephens club for a series of games against four local primary schools - Gaelscoil, Project NS, St John's NS and Danesfort NS. The boys were split into four different teams and held their own against three of the schools with Danesfort proving to be a lot stronger than all the teams on show.
Next on the agenda was a visit to Nowlan Park to see the Kilkenny Senior Hurlers train. Unfortunately, with a NHL game on Sunday, the boys didn't get a chance to witness one of the famous Kilkenny blood and thunder 'in-house' matches, but Henry Shefflin, Richie Power, Martin Comerford and Brian Cody were very kind with their time afterwards for photos and autographs.
On Saturday morning the squad made the short trip to Mullinahone in Tipperary for a challenge game against the local U12 squad. While there, the boys received coaching from two of the clubs senior hurlers and Mullinahone's most famous son (the current Tipperary Captain), Eoin Kelly called in to chat to the boys and see them play. The local club fed the lads and arranged for the club from the next parish to come and play another challenge game. Armagh had a great tussle with Ballingarry as a huge number of family members looked on in the sun.
Presentations were made to both clubs and to Eoin Kelly before the boys departed for another series of games against Barrow Rangers of Paulstown, County Kilkenny. Again, the players were split into four different teams and the boys played their best hurling of the weekend by far. The large convoy of parents also made the trip to support the boys back in Kilkenny. The final engagement of the evening was a trip across to Freshford, home of St Lacthains, the current All-Ireland Intermediate Club Champions. The lads got the chance to have their photos taken with the Liam McCarthy Cup and Kilkenny Senior player Eoin Guinan took questions from them.
On Sunday morning the boys attended Mass at St Patrick's Chapel in Kilkenny before heading back to pack for their return journey home. Their last port of call for the weekend was to Nowlan Park for the Kilkenny versus Waterford National Hurling League encounter. While the game wasn't a classic, the boys enjoyed the chance to see some of the country's finest hurlers on display and they were delighted to see Eoin Guinan knock over four points for the Cats!
The squad would like to thank Michael and Liam Hennessy for putting them up for the weekend; Kilkenny County Board for looking after them; Mullinahone, James Stephens, Ballingarry, St Lachtains and Barrow Rangers for their kind hospitality and the eighty plus family members who made their way down to lend their support over the three days.
back to top

Calling coaches to complete Online Survey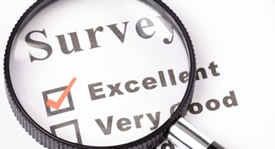 Dear coach,
Would you like the chance of winning either an iPod, £200 worth of sports equipment vouchers or a 2 night hotel break? If so please complete this online survey which can be accessed by clicking on the following link:
- SNI Coaching Survey
By completing this coaching survey, you will also be providing invaluable information to support the planning and delivery of your sport in Northern Ireland.
The GAA has agreed to support Sport Northern Ireland (SNI) with this research who are working in collaboration with National Governing Bodies, local authorities, clubs and other key stakeholders to find out more about sports coaches and sport coaching across the country. Gaelic Football are currently third overall in terms of overall responses by sport (1st. Rugby Union, 2nd. Hockey, 3rd. Gaelic football, 4th. Football). Please be assured that your responses will be kept confidential and anonymous.
The survey is being administered for SNI by the Sport Industry Research Centre at Sheffield Hallam University. If you have any queries or you wish to be sent a paper version of the survey then please telephone David Barrett (0114) 225-2298 or Richard Moore (0114) 225-5462; or email d.barrett@shu.ac.uk or r.moore@shu.ac.uk
back to top

GAA Fundays are a Major Success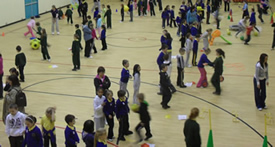 Ulster GAA recently held a week of 'Fundays' across County Armagh for Primary School children from across 17 different schools, to help develop children's interest in participating in sport and to develop their skills and ability in a fun environment.
The 'fundays' were held across Silverbridge, St Paul's Bessbrook and St Peter's in Lurgan, with 130 children taking part in the activities
This initiative is part of Ulster GAA's Schools Coaching Programme. Speaking after the event, Ulster GAA President Aogán Ó Fearghail stated,
"These fundays are vital for encouraging young children to get involved in sport by learning skills in a fun and safe environment. The efforts of Ulster GAA coaches across primary schools will help ensure that we have a new generation of young people who have a keen interest and love for the games.
"It is vitally important that young people are encouraged to participate in sport and to get active by taking part.
"There is no doubt, that the children from across County Armagh, who attended this fun-filled event, have found the experience enjoyable.
"It is also commendable that Ulster GAA coaches received support from Primary 7 pupils and GCSE PE pupils in the organising of this event and the on-day activities. This shows there is a willingness of young people to mentor their younger peers and highlights the positive voluntary contribution many young people make to their communities."
back to top

Castlewellan School lifts U16 Vocational Title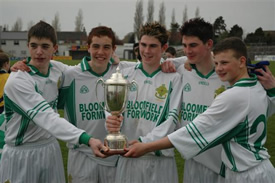 All Ireland U-16 vocational schools Final:
St. Malachys High School (Castlewellan) 2-14 P.S. Sliabh Lucra (Rathmore) 2-7
At Dr. Cullen park, Carlow the U-16 footballers of St. Malachys High School Castlewellan won the All Ireland U-16 vocational schools title for the second time in itheir history with a comprehensive victory over the Munster champions, Rathmore (Kerry). Right from the throw - in the Castlewellan team were in control of this game and it was obvious from the early stages that there was only going to be one winner. St. Malachys were superior in all departments and the final scoreline does not really do them justice as the Rathmore goals came in the dying minutes of the game. This was a complete team performance from a well prepared Castlewellan outfit who played with great flair throughout the hour, displaying all the attributes for which Down football is well renowned.
Captain Paul McPolin opened the scoring with a point in the opening minute and then Paul Devlin converted a close in free in the 4th minute. In the 6th minute Paul McPolin showed great vision to slice open the Rathmore defence with a brilliant pass to Paul Devlin who strode through to beat the Rathmore 'keeper from close range. St. Malachys continued their onslaught which yielded another point from Paul McPolin and then a Gerard Rice goal when
The corner forward unhinged the Kerry defence to beat the 'keeper with a terrific shot into the top right corner of the net .Rathmore eventually lifted the siege and had points from Donal Murphy and Eoin Lawlor in the 13th and 15th minutes. St. Malachys quickly cancelled out these scores however with points from Colm Flanagan (0-2) and Paul Devlin (0-1). A good individual effort from midfielder Jerry O'Connor was followed by another point for Rathmore from Mark Kelliher but just before the break Paul McPolin sent over to leave the half-time score St. Malachys 2-7 Rathmore 0-4.
In the early stages of the second half Rathmore threatened briefly with points from half-back George O'Keefe and corner forward Eoin Lawlor but St. Malachys refused to be ruffled and continued to play an intelligent brand of football. Paul Devlin hit two marvellous scores in the 37th and 40th minutes before Brian Kelliher replied with a point for the Kerry side. The Castlewellan lads then hit five unanswered points in a devastating eight minute spell of attacking football with the scores coming from Gerard Smyth, Paul McPolin, Conor Flanagan, Colm Flanagan, and Paul Devlin. This left the Down lads 13 points in front and the All Ireland title was heading North. With time virtually up Rathmore eventually breached the magnificent St. Malachys rearguard and snatched two late consolation goals from George O'Keefe and David Casey.
This was a superb team performance from a well coached and well prepared St. Malachys outfit. The football they played was of an outstanding quality and with a swagger normally associated with Down teams in All Ireland Finals. The defeated Rathmore team had some fine individual performers but overall they just couldn't match the teamwork and skill displayed by the winners.
A great victory for St. Malachys and for Down football in general. Congratulations to team manager PJ McGee who was also at the helm when St. Malachys won their first All Ireland U-16 title in 1982 and also to his fellow mentors Oliver Rooney, Jim Burns and Phil Hodge.
St. Malachys Team and Scorers: Rory Morgan, David Flanagan, David Milling, Fearghal McLaughlin, Miceal Devlin, Gerard McAnulty, Barry Kane, Paul McPolin-Capt (0-4), Conor Flanagan (0-1), Gerard Smyth (0-1), Ryan Flanagan, Donal McKibben, Gerard Rice (1-0), Colm Flanagan (0-3), Paul Devlin (1-5)
Subs Used: Noel McPolin, Conor Branniff
Rathmore Team and Scorers: Pat Noonan, Colm Kelly, Conor O'Sullivan, Philip Kelly, George O'Keefe (1-1), Dermot Hickey, Andrew O'Sullivan, David Casey (1-0), Jerry O'Connor (0-1), Mark Kelliher ()-1), Brian Kelliher (0-1), Donal Murphy (0-1), Eoin Lawlor (0-2), Paul Reen, Stephen O'Dononoghue
Subs Used: Diarmuid Goulding, Matthew Daly, William O'Connor, Padraig O'Leary
Report by: James Gallagher
back to top

Success for Dungannon Academy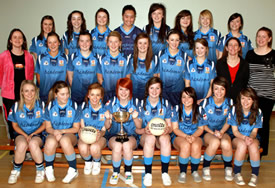 Tesco All Ireland U16 Ladies Final:
St. Patrick's Academy Dungannon 4-10 St. Leo's Carlow 1-2
A hatrick of goals from player of the match Louise Kelly helped St. Patrick's Academy, Dungannon to the Tesco All Ireland Ladies U16 title in Drogheda earlier this month
The first of Kelly's goals came as early as the second minute when she finished a good run with an unstoppable shot. Full forward Cora Nulty then added a point. St. Leo's hit the next two scores, points from Jane Moore and Amanda Kinsella and these were to be their total tally for the half. From here on the Academy looked a classy outfit and added another 2-7 before the break. Kelly added further goals in the 21st and 23rd minute while Anne Scullion, Cora Nulty (3), Emma Kelly, Genevieve Scullion and Brona Devlin all pointed to leave the midway score 3-8 to 0-2.
The second half was a very low scoring affair. St. Leo's got a dream start as last week's senior hero Lauren Dwyer found the net with their first attack. However the Academy responded with a Brona Devlin point and then the same player found the net to put the game beyond St. Leo's. In the final quarter the excellent Louise Kelly added another point and the Dungannon outfit went on to deservedly win 4-10 to 1-2.
Speaking afterwards a delighted Jackie Clarke said, "A number of these girls lost a senior final last week but we learned a lot from that defeat and I'm delighted for them that we got the right result today".
back to top

Antrim pupils get their hands on Andy Merrigan Cup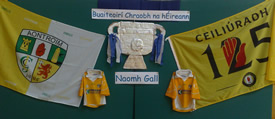 On Tuesday 20th April St. Galls and Co. Antrim stars visited Gaelscoil na bhFal to show off the Andy Merrigan cup!
The players received a warm welcome from the pupils and the teachers at the school. The children had prepared a celebratory display for the occasion.
The players showed the cup to the children and explained the importance of commitment and how much dedication it takes to reach the top level. The children had some interesting questions for the players to which the players had no problems answering. The players encouraged the children to come along to training sessions for Hurling, Football and Handball.
Children were delighted to meet their local stars and get their pictures taken with them.
back to top

Moneynick receive first ever Certificates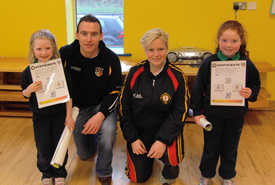 On Monday the 12th of April two pupils from Moneynick Primary School Meagan Darragh P2 and Lucy Johnston P4 became the first pupils from South West Antrim to receive their Certificates. They won their award for always having excellent behaviour, great listening and trying their best! School principal Mrs Eimear Hughes praised the girls who thoroughly deserved their recognition and hoped that everybody would endeavour to get their five squares coloured in as well!
Antrim Star Kieran Close was on hand to be the special guest to help mark the occasion and assisted DENI Coach Roisin Keenan for the afternoon session, much to the delight of all involved.
Congratulations to the two girls on their great achievement!
back to top

Club Focus
Kernans Tribe to Face The Orchard
Armagh club, Clonmore Robert Emmets have pulled off a major coup for the opening of their new building and pitch development on Sunday 23rd May.
Former Armagh boss Joe Kernan will bring the Galway senior team to face his native county for the occasion. "We're absolutely delighted to have secured Galway and Armagh for what will be one of the biggest days in the Clubs history," said Clonmore Chairman Dominic Molloy.
The big day for one of the smallest clubs in the country will bring a host of dignitaries for the occasion. GAA President Christy Cooney will attend and will perform the official opening duties, newly elected Uachtarán Chomairle Uladh, Aogán Ó Fearghail, Ladies GAA President Pat Quill and Armagh County Chairman Paul Duggan will also be in attendance.
Clonmore will have an additional reason to proudly welcome the Armagh side in that one of their own - Brendan Donaghy, who was hugely influential in Armaghs successful National League campaign recently will lead the team to face Galway.
The day itself will see the club open a new building incorporating changing rooms, showers and toilets with a meeting room and gym facilities upstairs.
We're calling on support from the GAA fraternity across the country, and it will be a great occasion, with some of the best football talent on the field, and sideline. Admission to the game is £5 with family concessions.
---
Eskra: 'Strictly Fun Dancing' Fundraiser
Eskra Emmetts in County Tyrone have announced that they are to hold a 'Strictly Fun Dancing' fundraiser on Saturday 22nd May .
This should be an event not to be missed. Tickets should be booked from either Seamus or Lucilla Marlow as soon as possible as they are being snapped up and are in danger of being sold out.
For further information log onto: www.eskraemmetts.com
---
Tyrone Ladies 'Boogie in the barn'
Tyrone Ladies Team are organising a entertaining fundraiser on Bank Holiday Weekend - Sunday 2nd May 2010 - in O'Hagan's Barn in Eskra.
The famous Poitin are the headline act in the 'Boogie in the barn'. There will also be performances from Tyrone's X Factor winners Celtic Folk/Traditional Group and the renowned Patsy O'Hagan, the Bard of Armagh.
Admission £10 and tickets are available from all local outlets. A BBQ will be available on the night.
---
If you have a club story, please email it to sharon.haughey.ulster@gaa.ie
back to top

What's Happening this Month - May 2010
We are adding a new section to our online newsletter to highlight key events and activities taking place across Ulster from month to month.
This edition we look forward to May 2010, when there is a full schedule of activity planned.
Download:
- What's Happening in May 2010 (Excel Document)
back to top