The Perfect Christmas Gift for GAA Fans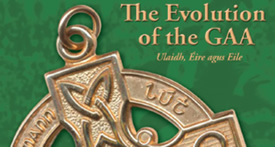 Just in time for Christmas, Ulster GAA has launched a commemorative book to mark 125 years of the GAA, entitled 'The Evolution of the GAA'. It's the perfect gift for GAA fans across Ireland, and is sure to keep GAA enthusiasts entertained over Christmas holidays with plenty of interesting reading and many inspiring photographs.
The Evolution of the GAA: Ulaidh, Éire agus Eile brings together leading writers and academics to examine the history of the GAA over 125 years, in Ulster, Ireland, and abroad, and the antiquity of Gaelic games over previous centuries.
The book opens with a series of personal reflections by prominent members of the GAA from Ulster in the last seven decades: President Mary McAleese, Cardinal Seán Brady, Paddy McFlynn, Maurice Hayes, Jim McKeever, Peter Quinn and Mickey Harte. This is followed by a range of academic essays on themes of GAA history, with many new findings relating to such matters as:
Protestant influence on the playing of hurling and variant games pre-1884;
how the GAA's rules may have wiped out traditional styles of play in Ulster;
how John McKay, a founding secretary, came from Co. Down and died in London, and how his son became a world-famous theatrical producer;
why Gaelic games have become less violent over time;
how the football rules for years failed to define the solo-run accurately;
why Ulster was the GAA's weakest province up to the 1940s, and why this began to change;
why camogie flourished after 1930, despite two national splits;
why the Sam Maguire Cup was not presented after the 1947 football final;
how native Bretons have embraced Gaelic games as part of a Celtic identity;
and why, from a global perspective, capitalism, secularism and urbanisation present the biggest challenges to the GAA in future.
There are 23 chapters in all in the book, on the following subjects: the antiquity of hurling and related games in Ulster; the founding of the GAA and the social aspects of early clubs; the GAA's relationship with the press, religion and politics; its initial struggles in Ulster; the development of the playing rules and the 'civilising' of the games; camogie up to 1950; and the international dimensions of the GAA.
Other special features include newly completed records of all Ulster SFC and SHC results and final teams, 1888-2009; the most extensive bibliography of GAA-related material published to date; and dozens of previously unpublished images.
The Evolution of the GAA is edited by Dónal McAnallen, David Hassan and Roddy Hegarty, produced in partnership between the Ulster Council of the GAA and the Cardinal Ó Fiaich Library, and published by the Ulster Historical Foundation.
Anyone wishing to purchase the book should contact Ulster GAA. The book cost £20 (plus £5 postage and packaging) and will make the perfect Christmas present for GAA loyal supporters. To avoid disappointment anyone wishing to purchase the book are advised to do so as soon as possible and they are already flying off the shelves.
The book is available to buy at Ulster GAA Headquarters in Market Street Armagh or by phoning Ulster GAA at 028 (048) 3751 7180.
back to top

Calling all Club Officers for County Training Sessions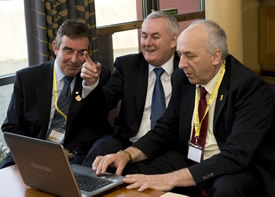 Armagh will be the first County in Ulster to receive the Ulster GAA's new Officer Training Programme on Saturday 9th January 2010 in Armagh City Hotel.
The training session is open to all GAA clubs within County Armagh and the Ulster Council are urging all club officers to attend, including: Chairpersons, Secretaries, PROs, Treasurers, Children's Officers, Coaching Co-ordinators, Development Officers and Cultural/Community Officers.
The training day will commence with registration from 9am, with official business starting at 9:20am sharp. The programme will conclude at 1:30pm with a light lunch.
Speaking ahead of the event Ulster GAA President Tom Daly said, "Club Maith: Officer Training Programme will provide club officers with all the information and advice needed to carry out their role as a GAA Club Official, while developing the skills and talents of those tasked with ensuring good governance within their clubs.
"The day will be facilitated by Ulster GAA staff, County Board Officials and volunteers and will cover a wide range of issues including: general club issues. The rules of the GAA, IT and the new GAA registration system, child protection, health and wellness, and our new agenda on diversity and inclusion. At the very core of the Programme will be the interactive workshops which will focus on the individual roles and responsibilities within the club set-up."
Secretary of Armagh County Board Paddy Og Nugent said, "We are delighted that Armagh will be the very first county in Ulster to receive this training and I urge all clubs to ensure that they are well represented on the day. This half-day event will provide clubs with essential information and useful advice about running a GAA club. This is an event not to be missed for clubs."
All Clubs are asked to make a special effort to attend the training in their own county. Anyone wishing to stay for lunch should let County Secretary know by RSVP to email addresses below:
| | | |
| --- | --- | --- |
| Date | County | Venue |
| 9th January | Armagh | |
| 16th January | Antrim | |
| 23rd January | Derry | |
| 6th February | Tyrone | |
| 20th February | February | |
| 6th March | Down | |
| 13th March | Cavan | |
| 20th March | Donegal | |
| 27th March | Monaghan | |
back to top

2010 Barrett Sport Lighting Dr McKenna Fixtures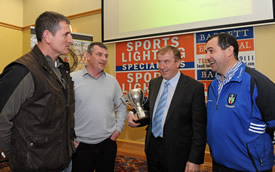 At a meeting of CCC Comhairle Uladh last night, the following fixtures were agreed for the 2010 Barrett Sports Lighting Dr McKenna Cup.
It was also decided that the experimental changes which had already been approved for the 2010 National League campaign will be used in the 2010 Barrett Sports Lighting Dr McKenna Cup.

2010 Barrett Sports Lighting Dr McKenna Cup:
All Sunday games at 2.00 p.m.: All midweek games at 7.30 p.m.
(Extra time to be played in Semi finals & Final)
Sat 9th Jan: Round 1:
Group A
Monaghan v UUJ at Scotstown (2.00pm)
Group B
Tyrone v Cavan at Healy Park (7.00pm)
Sun 10th Jan: Round 1:
Group A
Armagh v Fermanagh at Crossmaglen
Group B
Donegal v St. Mary's at Ballybofey
Group C
Derry v Down at Celtic Park
Antrim v Queens at Casement Park
Sat 16th Jan: Round 2:
Group A
Armagh v UUJ at Crossmaglen (2.00pm)
Group B
Cavan v Donegal at Kingspan Breffni Park (7.00pm)
Group C
Down v Queens at Pairc Esler (7.00pm)
Sun 17th Jan: Round 2:
Group A
Fermanagh v Monaghan at Brewster Park
Group B
Tyrone v St. Mary's at Healy Park
Group C
Antrim v Derry at Casement Park
Wed 20th Jan: Round 3:
Group A
Monaghan v Armagh at Inniskeen
Fermanagh v UUJ at Brewster Park
Group B
Cavan v St Mary's at Breffni Park
Donegal v Tyrone at Ballybofey
Group C
Down v Antrim at Pairc Esler
Derry v Queens at Celtic Park
Sat 23rd / Sun 24th Jan:
Semi Finals:
(1) Best Runners Up v Winner of Section C
(2) Winner of Section A v Winner of Section B
Sat 30th Jan:
Final: 1 v 2
back to top

Emyvale Take Ulster Club Junior Football Championship Title after Replay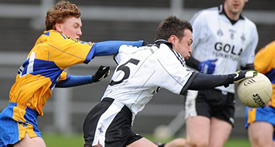 AIB Ulster GAA Club Football Junior Championship Final Replay:
Emyvale (Monaghan) 2-14 St Teresa's (Antrim) 1-11
Emyvale lifted the title when they overcame Antrim champions St Teresa's, Belfast in this final replay in Pairc Esler Newry.
The winners made a brilliant start with a point from John T Trainor and a goal from Robbie McHugh inside the opening two minutes and Emyvale eventually took total control, with Brendan and PJ McKenna dominating midfield. Emyvale weathered the St Teresa's second-half storm and struck for their second goal from Daniel McMahon
Scorers:
Emyvale: D McMahon 1-2, R McHugh 1-1, M McAree, JT Trainor 0-3 each, PJ McKenna, G McQuaid 0-2 each, B O'Brien 0-1
St Teresa's: R Gallagher 0-7, P Dugan 1-1, A Taylor, P McGoldrick, C Sands 0-1 each.
Emyvale: G McCaffrey; K McKenna, S McKenna, P McCarron; B Askin, J Flannery, B O'Brien; B McKenna, PJ McKenna; G McQuaid, M McAree, JT Trainor, D McMahon, G McKernan, R McHugh. Subs: S McMeel for JT Trainor; C Connolly for K McKenna; C McKenna for G McQuaid; S Downey for B Askin; J Morrough for S Downey.
St Teresa's: C Murtagh; B Curran, C Toal, P Johnston; Colm McGoldrick, Conor McGoldrick, S O'Hara; E Doherty, J Rainey; A Taylor, P Maguire, R Gallagher; P McGoldrick, P Dugan, S McIlvenny. Subs: C Sands for J Rainey; K McLaughlin for C Sands
Ref: C Reynolds (Down).
Report: independent.ie
back to top

2010 Dowd Cup Launched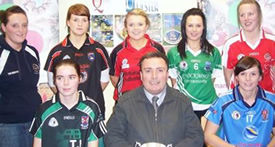 Ulster President Gerry Doherty was on hand at the Ulster Council offices, Armagh on Monday evening to launch the 2010 Dowd Cup competition. In a bid to make the competition more competitive and to help the development of inter-county and college football in Ulster the competition is now open to a number of Ulster counties as per the Mc Kenna Cup.
Representatives of the seven teams participating in the 2010 competition were present at the launch where the draw for the competition was made. Two groups were decided upon and each team will now play each other. The top two in each group will play in semi finals planned for the 30th January and the final will take place the following day Sunday 31st January. As is traditional for the Dowd Cup weekend, the McNally Plate will also be contested on 30th & 31st Jan by the other college teams including UU Magee, UU Coleraine, St Mary's and UUJ 2nds team. A great weekend's football is now guaranteed!
The draws have resulted in UUJ, Antrim, Fermanagh and Down in Group 1 and Queens, Armagh and Tyrone in Group 2. Fixtures will be compiled and sent out to the respective colleges and counties before Christmas with the first games taking place on Sunday 10th January.
Speaking at the launch and draw Ulster President Gerry Doherty said, "This is the first time counties have been involved in the Dowd Cup Competition and I hope it will be beneficial to both themselves and the universities. The new format should act as great preparation for both the O Connor Cup and the Bord Gais Energy National League and add a greater element of competition to their pre-season preparations."
Under the rules of the competition if a player is eligible to play for both her university and her county she must play for her college team. This will allow county managers to extend their panel for the competition and trial a wider range of players who could prove to be vital to their squads later in the year.
Present for the draw were Maebh Moriarty (Armagh), Cathy Donnelly (Tyrone), Sinead Mc Cleary (UUJ), Ciara O Higgins (QUB), Niamh Lennon (Down), Patricia Melanophy (Fermanagh) and Helen Ward (Antrim).
Further information is available from Ulster Ladies HEC Secretary Sonya Mc Gaw on 028 3751 0065 or email ulsterladieshec@hotmail.co.uk
back to top

Sport Against Racism Ireland DVD Launch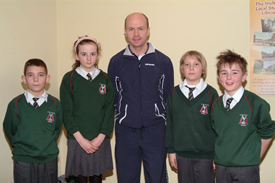 GAA stars and aspiring young gaels from Ulster were brought together back in March to take-part in filming for a United Through Sport DVD.
Sport Against Racism Ireland supports and promotes social inclusion and positive integration through sport. It does this by bringing together people from different cultures and backgrounds in sporting and cultural events. It helps to create opportunities for young people to participate in social integration projects both at home and abroad. This helps to promote intercultural dialogue and celebrate cultural diversity through projects, particularly in schools. Given the impact of its projects, the charity now holds considerable clout in encouraging government agencies and national sports bodies to adopt anti-racism measures in their policies and practices. It is from this perspective that Ulster GAA have supported the project.
High-profile players and managers, as well as aspiring young athletes represented Ulster GAA in the making of promotional DVD. Players included: Peter Canavan, Diarmaid Marsden, Ryan Mellon, Tony Scullion, Martin Mc Grath, Ronan Clarke, Fiona Shannon and Jane Adams. Mickey Harte and Terence McNaughton also weighed-in behind the project to take-part in the day of filming. Children from St Malachys Primary School in Armagh were asked questions about their favourite sport, their sporting idols and so on, and also had a chance to meet their sporting heroes Peter Canavan and Martin McGrath.
On Thursday 26th November an array of participants featured in the DVD were invited to the launch of the United Through Sport DVD in Belfast Castle. Many other sports were represented with the likes of former Republic of Ireland manager Brian Kerr, former Lions and Ireland player Trevor Ringland and boxing ace Martin Rogan in attendance. Our GAA representatives, Peter Canavan and Mickey Harte were there to show their support to the campaign.
Snippets of the DVD can be viewed by visiting the following link: http://www.vimeo.com/sariireland/videos
Ulster GAA would like to thank the many players, managers and young athletes who took time to take-part in the filming day in Armagh. Their contribution added greatly to the campaign.
back to top

Gaelic Jerseys raising Money for Charity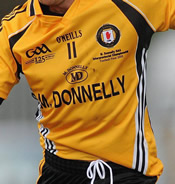 A Marie Curie Charity Gala held on behalf of the P.S.N.I saw many sports jerseys auctioned to raise vital funds for the good cause. An Ulster jersey was presented to the auction on behalf of Ulster GAA. It was a fitting gesture given Ulster's recent success in the Railway Cup Final. The jersey was well received on the night and the money raised will be put to good use. Many thanks are extended to Kieran Kennedy of O'Neills for providing the Ulster jersey at short-notice.
A signed-Tyrone jersey was also auctioned at a recent Charity event to raise funds for AIDS sufferers. Once again the GAA gesture was well-received at an event which would not traditionally have any GAA involvement. In total over £1000 was raised for charity, on one weekend, by these two gestures made by the GAA. Two fine examples of the positive impact sport can have in uniting people for good causes.
back to top

GAA on its way to plant a People's Forest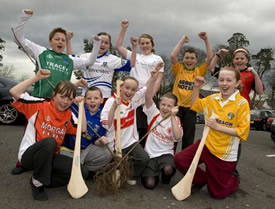 'The People's Forest' project, recently launched in Belfast, sees the Ulster Gaelic Family partnering 'Back to Eden Ireland' in planting 10,000 ash trees.
The project which is being lead by the Ulster Camogie Council and Ulster Ladies Gaelic Football Association and supported by the Ulster Council GAA is inviting every Gaelic club in the country to support this initiative. The trees are being planted at two locations, Mill Dam and Wolfhill on the foothills of Belfast's Black Mountain and Cavehill.
An alarming statistic to all those who have an interest in our games but particularly those of us who play camogie and hurling is that our game requires 250,000 hurls a year, that equates to 10,000 ash trees being felled ... annually!
Catherine O'Hara, Chair of Ulster Camogie said "Ash trees are native to Ireland, however today the ash tree has nearly disappeared from this isle and this campaign gives us an opportunity to 'give back.' We are encouraging clubs, community groups, schools, businesses and our friends home and abroad to buy a tree in the 'The People's Forest.'"
Trees can be bought by visiting the www.peoplesforest.ie website. The fee is £25 and donators will receive a special certificate to demonstrate their contribution to the forest and their tree will be looked after by the 'Back to Eden Ireland' project.
The Ulster Ladies Football Secretary Mary Keegan added "We are delighted to be associated with this initiative which will do so much to enhance the natural beauty of our environment. I hope that people from all around the world will seize the opportunity to 'own a little bit of Ireland!'"
Tom Daly, Chair of the Ulster GAA endorsed the initiative saying: "At an exceptionally historic time for the GAA in our 125th year, this is a wonderful example of the continuing innovation of our organisation through voluntary efforts. The Ash tree has been an invaluable resource for the ancient games of hurling and camogie and it is right and proper that we as an Association are conscious of our environment and give something back in appreciation on behalf of all of the gaels of Ulster. It is fitting that the People's Forest initiative has begun here in Antrim as the County who are leading the way in Ulster on our Hurling and Camogie pitches. I wish to pay tribute to the project team leading this work and in particular acknowledge the contributions of the Officers of the Ulster Camogie Association and Ulster Ladies Gaelic Football Association."
back to top

Exciting day at Handball Showdown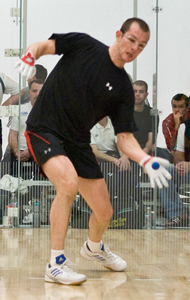 A major handball showdown took place earlier this month, with some of the biggest names in football, hurling, camogie, ladies football and rounders appeared from 20 counties to support the closing event of the GAA 125 celebrations, and with proceeds going to the Make-A-Wish Foundation.
Kerry's All-Ireland winning captain Darran O'Sullivan was joined by stars such as Justin McMahon (Tyrone), Donncha O'Connor (Cork), Joe Sheridan (Meath), Andy Moran (Mayo), hurler of the year, Tommy Walsh (Kilkenny) and Shane McGrath (Tipperary).
Mayo's ladies football legend, Cora Staunton, was joined by Cork camogie's Catriona Foley in supporting the event, while retired heroes of the calibre of Meath's Graham Geraghty and Armagh's Diarmaid Marsden also participated.
Even the various presidents took part, with the GAA's Christy Cooney joining forces with ladies football boss Pat Quill, in a game against the handball/camogie combination of Tony Hannon and Joan O'Flynn.
Some of the GAA players were more proficient at handball than others but the consensus was it could be hugely beneficial in their own disciplines.
Diarmaid Marsden is a full-time development officer with the Ulster Council, who are renowned for being the innovators when it comes to training and coaching. Although he hadn't played handball for around 16 years, he is convinced that handball would be very helpful.
And judging from his conversation, we needn't be surprised if Tyrone add it to their regime in 2010.
"I was just chatting to Justin McMahon about (how useful handball could be). Generally, with reaction speed it's great because you find yourself rooted to the spot and having to react with the ball coming off the wall, so it can only be good for that type of thing.
"The more they get to promote the game, and certainly the crowds are there, it just shows that there is an interest and it's just a case of getting that message out there, to show you can play the different codes and use different codes to help your own game."
This full story appeared in the printed version of the Irish Examiner Tuesday, December 08, 2009
back to top

Ulster U16s visit Ruislip, London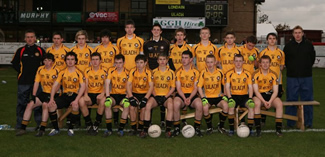 As the curtain raiser to this year's MD Donnelly Inter Provincial Football Final, Ulster Under 16's took on an Under 17 select from Londáin. The Ulster squad was selected from those who attended the Elite Camp at the start of July this year.
It may have been the prelude to the main event at Ruislip on Sunday but it was Ulster who dominated for the entire game in what proved a one-sided challenge match.
Ulster gave an exhibition of passing, movement and support play that was simply too good for the Exiles to contain. From the early stages Ulster's dominance was obvious and man of the match Patrick McBrearty stamped his mark on the game to storm through and goal in the 8th minute. Shortly after, he added his second and third goals to give Ulster an 18-point lead at the break. Within a minute of the resumption Martin O'Reilly claimed a fourth goal for the visitors. Tom Waters gave the home support something to cheer by firing over what would prove to be the home sides only score. At the other end, John Joe Strain finally got the goal his performance deserved while Matthew Jones added further goals.
This was a tremendous team display by Ulster who were managed by Paul Callaghan and Gary Mallon. They enjoyed a great trip and they were all a credit to their families, clubs, counties and indeed, their province.
Ulster: James Farrelly; Fionnbar O'Neill, Jonathan McGuigan, Ruari Lively; Sean Quinn (0-1), Rory Moore (0-3), Patrick Burns (0-1); Ryan Hyde, Luke Barrett; Darren McCurry (0-1), Philip Kelly, John Joe Strain (1-3, 0-2f); Patrick McBrearty (3-3, 0-1f), Martin O'Reilly (1-1), Matthew Jones (2-1).
Subs: Conor White, Jamie McElvaney, Shane Wharton, Louis Leonard (0-2), Cathair Friel (0-2).
back to top

Cavan U14 Club Wall Ball Competition

Throughout October four U14 hurling teams from Cavan participated in an inaugural Wall Ball Competition at Breffni Park.
35 Players from Cootehill Celts GAC, Woodford Gaels GAC, Killygarry GAC and Mullahoran GAC represented their clubs as a 10 player team and played other club players to accumulate points each week.
Week one saw Killygarry and Cootehill play with Cootehill winning 7 games to 3 and then Mullahoran played Woodford Gaels in the second session with Woodford Gaels winning 7 games to 3.
By the end of week one you could see individual players develop first touch and begin to develop strategies when playing the game.
Week two saw Killygarry play Mullahoran with Mullahoran winning 8 games to 2 and Cootehill play Woodford with Woodford winning 6 games to 4 games.
At this stage Woodford Gaels were establishing a lead of 2 points over Cootehill and Mullahoran so the inaugural trophy would be decided on Week 3 of the competition with Woodford Gaels facing Killygarry and needing to win all games. Mullahoran faced Cootehill in the second session. If Woodford dropped three or more games and Cootehill or Mullahoran won all their final games they would become the first Cavan club Wall Ball Champions.
However Woodford never faltered and won 7 of the 10 games in the final session to claim a victory and receive the Hurling Development Committee sponsored trophy from Vincie Dolan, Committee member.
This tournament will run again in next year and hopefully more clubs will participate in this annual initiative. Cavan Hurling Development Committee hopes to open this up as an Ulster tournament for all clubs in 2010.
back to top

Spirits not dampened at the Down CPD Day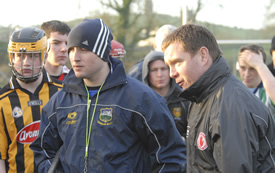 County Down recently held its CDP Day in the Ards Peninsula. It was a day of intensive coaching from some of the province's Hurling development officers along with two of the country's top players.
The day got started at 10 o clock with three sessions running simultaneously. These three sessions were to be run three times each meaning that the coaches would be able to see all the programmes over the course of the next two hours.
Inside two of Ulster councils fundamentals coaches, Brian Laverty & Gavin Phillips, put a group of portaferry under 8's through their paces. Attending coaches were treated to some innovative exercises using balloons, beanbags, tyres etc, finishing off with some fun games. The idea of this session was to develop hurling skills through the fun element.
Outside, Grahame Clarke (Down & Ulster Goalkeeper) put a few players through a training programme aimed at developing Goalkeepers. This extremely enjoyable session incorporated all aspects faced by the hurling goalkeeper from shot stopping right through to angles.
In Portaferry's ball alley Mickey Glover, one of the Ulster council coaches, showed how to turn a wall into your coach. With some very informative coaching and games that will not only test the player but also show how to develop the skills on their own. The wall ball has been in use for a long time in the southern counties and it has only really started to catch on up here in the recent years, so it was with great interest that the coaches watched Mickey's session in order to bring some of it back to their clubs, no doubt.
Then as the heavens opened it was the turn of Ronan McWilliams & Micky McCullough. Ronan was delivering a session on conditioned games, showing the benefits of small sided conditioned games over those full pitch 12 a side matches we see all over the province on any given Tuesday or Thursday night. This session showed how to incorporate all the skills, movement & principals required for a game while at the same time testing the participants to the limit in an intensive work out.
Micky's session on raising the tempo was a look at ideas on how to train at a high intensity. Looking to put match intensity into drills using extra balls, tackle bags, power bags, opponents etc. It was aimed at short bursts of maximum effort. Concepts and ideas were also brought to the session on how to break a tackle etc with total emphasis on working with the ball.
Next in this action packed day was a session on Strength & Conditioning. This session was run by Ulster council & Tyrone minors Roger Keenan. The session was a small look into the world of conditioning using various strength exercises that were field based. Roger delivered an action packed half hour that pushed the participants to their limit.
The only down side of the day was the weather, and the repercussions were that 4 time all Ireland winner & current all star corner back Jackie Tyrell was caught in floods on his way up to deliver his defensive play end of things.
However the day pressed on with what would surely be the highlight of any coaching programme. Tipperary's Eoin Kelly delivering a programme on attacking play. This 3 part session took in some wonderful ideas & concepts on ball winning, movement & finishing. Eoin masterfully moved between the players & the coaches getting the players working & then explaining to coaches what the purpose of the exercises were. It was very fitting too that as Eoin's session began up in Portaferry's top pitch that the sun began to rise behind the 160 or so coaches in attendance to finish what was a great day for all hurlers.
Eoin then fielded a bit of a Question & Answer session before hanging around for photos & autographs long after the day had ended.
back to top

Christmas themed Fundamentals Day goes down a treat in Newry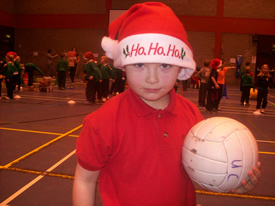 110 children from various primary schools in the Newry area attended the P2 Christmas Fun Day in Newry Sports Centre at the start of December which was organised and delivered by the Down DENI coaches.
Children participated in FUNdamental games with a Christmas theme, among the most popular were 'Pull the Cracker', 'Capture the Turkey' and 'Dodge the Snowmen'.
Special Thanks must go to the P7 pupils from St Ronan's in Newry who were responsible for each individual game ensuring the children knew what they had to do and what skills they were working on. Down's Martin Clarke was in attendance throughout the day and thoroughly enjoyed helping the kids at 'Jingle-Bell Basketball'.
However the star attractions on the day were the Ulster GAA Snowman and a surprise visit from Santa who encouraged the children to keep active and to develop their skills at home, school and at their local club before leading everyone in a Christmas Sing Song and giving each child a present for attending the event.
back to top

First Hurling Recreational Blitz held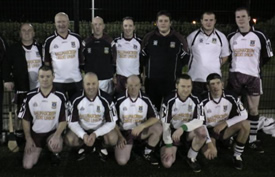 Ulster GAA has been running out various initiatives to promote recreational/social GAA. Organised by the Ulster Council's Regional Development Officers, recreational football events have been held throughout Ulster using various clubs outdoor and indoor facilities.
And now for the very first time, a hurling Recreational blitz has been played at Kickams Creggan GAC, Co. Antrim. Over 60 people participated from County Antrim and Derry from the following clubs: St John's, Cushendun, Cushendall, Loughgeil and Ballinascreen.
It is hoped that this will be the first of a new series of recreational hurling.
Ulster GAA's Regional Development Officers are currently compiling plans to roll out recreational/social GAA events in every county in Ulster throughout 2010. As soon as details are finalised they will be publicised in this newsletter.
back to top

Ulster GAA's Disability Awareness Workshops

This part theory/part practical course is aimed at coaches and parents who are interested in rolling out Gaelic games and adapted activities within the GAA club and at home to children and young adults with disabilities and special needs.
All future course details can be found in the Ulster Council Volunteer Development calendar and information can also be found on www.ulster.gaa.ie or contact your regional development officer:
Shane McCann - Antrim & Down - shane.mccann.ulster@gaa.ie
Diarmaid Marsden - Armagh, Cavan & Monaghan - diarmaid.marsden.ulster@gaa.ie
Paul Callaghan - Fermanagh, Derry, Donegal & Tyrone - paul.callaghan.ulster@gaa.ie
back to top