Tyrone retain Ulster SFC Title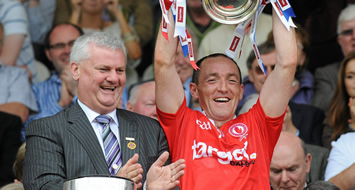 Ulster Senior Football Championship Final:
Tyrone 1-14  Monaghan 0-07
Tyrone retained their Ulster GAA Football Senior Championship crown in impressive fashion, beating Monaghan by 1-14 to 0-7 on Sunday afternoon.
Monaghan, who were seeking their first provincial crown since 1987, were competitive in the first quarter and led by 0-4 to 0-3 after a Rory Woods score in the 19th minute.
However, the Red Hands assumed total control of the game and kicked four unanswered points to lead by 0-7 to 0-4 at the break.
Remarkably, Seamus McEnaney's side were to go 41 minutes without a score as Tyrone moved six points clear with ten minutes to go.
Red Hands collect Minor Title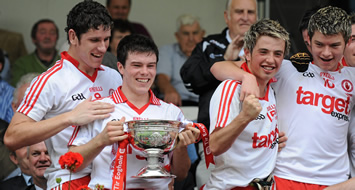 Ulster Minor Football Championship Final:
Tyrone 1-14  Armagh 0-05
Tyrone ran out convincing winners over neighbours Armagh in Sunday's Ulster Minor football final at Clones.
The Red Hands raced into a four-point lead thanks to two Ronan O'Neill frees, a 45 from Richard Donnelly and the first score from play by Conan Crugan.
Armagh, the defending champions, found themselves 0-9 to 0-2 behind at the interval, their scores coming from Ryan Rafferty and Paul McGeown.
Ryan Devlin kicked the only goal in the second half to confirm Tyrone's win.
Saffrons retain Under 21 Title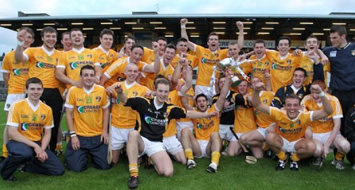 Bord Gáis Energy GAA Hurling Under-21 Ulster Final:
Antrim 0-21 Armagh 0-16
Antrim retained the Ulster Under-21 Hurling Championship trophy at Casement Park on Wednesday evening, but it was far from plain sailing against a highly motivated and determined Armagh side.
Five points separated the teams in the end but in truth the scoreline somewhat flattered Antrim as Armagh were unlucky on a few occasions, most notably in the first half when Conor Coulter's shot for goal rocketed back off the Antrim crossbar with the goalkeeper well beaten.
The Armagh boys were right in the game until the final minutes and it took a late scoring burst from man of the match Darren Hamill and team captain Cormac Donnelly to see the Saffrons home.
Ulster Championships Video Review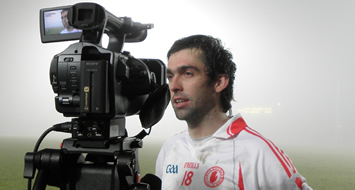 A total of 83 videos from the last few months of the Ulster Championships are now available to watch on the Ulster GAA YouTube channel.
They include a mixture of action, features and interviews with the likes of Sean O'Neill, Pat McEneaney, Paraic Duffy, Brian Dooher, Marty Clarke, Jamie Clarke and Peter McGrath.
The action videos from the SFC shows close-up angles of dramatic goals by the likes of Owen Mulligan and Benny Coulter, while an interview with Monaghan goalkeeper Darren Hughes right on the final whistle in Casement Park is the second most-viewed video in the Top Ten.
Tyrone's Ulster Football Finals success is reflected in the latest entries, though the single most popular video from the entire collection is a music promo showing dramatic scenes from previous Tyrone and Monaghan games.
Finals day itself can be enjoyed again as the National Anthem sung by Aine Brolly and Brian Dooher's speech are both available to view, in full. Furthermore, Ulster Council Secretary Danny Murphy's reviews the 2010 Championships after the Finals.
Campa Chormaic rolls into Ballinascreen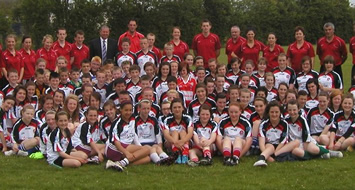 This summer in Ballinascreen, County Derry, the ideals of a Tyrone man were at the centre of a ground-breaking initiative. Inhale sharply, and then read on.
Campa Chormaic is a summer camp founded in the wake of the tragic death of Cormac McAnallen. In honour of Cormac, the camp was set up a year after his death in 2005 in his hometown of Eglish, County Tyrone. In 2009 the camp spread its wings and landed on the edge of the Mournes in Castlewellan, County Down on the grounds of St Malachy's High School. This year, history was once again made when the camp rolled into Ballinascreen and through the gates of St Colm's High School.
Antrim bow out at Quarter Final Stage to Cork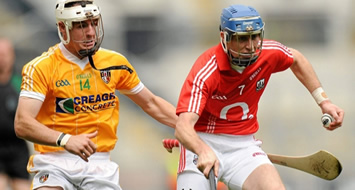 All-Ireland Senior Hurling Championship Quarter Final:
Cork 1-25 Antrim 0-19
Cork cruised into the semi-finals of the GAA Hurling All-Ireland Senior Championship with a 1-25 to 0-19 defeat of Antrim at Croke Park on Sunday afternoon.
Despite emerging nine-point winners, it was a far from convincing performance from the Rebels, who scored 1-2 in first half injury time to lead by eight points at the break.
Antrim will feel somewhat disappointed that they didn't run their more illustrious opponents closer, but they failed to take convert a surfeit of second half possession into scores. The Saffrons had three goal chances after the break, but they failed to breach an impressive Cork defence.
Antrim were completely reliant on Liam Watson (0-6) and Neil McManus (0-10) for scores, with just one point coming from the remainder of their attack.
Orchard Men claim Rackard Cup
Nicky Rackard Cup Final:
Armagh 3-15 London 3-14
London suffered Nicky Rackard Cup final heartache for the second year in a row as a Paul Breen free three minutes into injury time gave Armagh victory after a thrilling game at Headquarters.
Late scores from Martin Finn looked to have secured extra-time for the Exiles, but Breen, who hit 2-4 on the day, settled the game to give the Orchard County a famous victory.
In a thrill-a-minute game, the sides were level at 2-7 apiece at the break, with Breen bagging the first of his two goals in the 12th minute, ramming the ball home after Paul McCormack's penalty had been saved. Ryan Gaffney added the Ulster side's second three-pointer minutes later.
However, London responded with two goals of their own inside a four-minute spell. David Maher struck in the 27th minute and Cork native Finn added a second before Maher hit an equalising point.
Enniskillen Cúchulainns NY Bound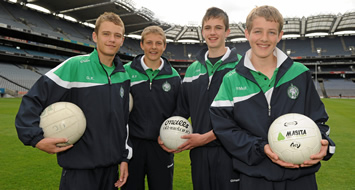 A cross-community Gaelic football team from Enniskillen who are preparing for a trip Long Island in New York to compete in the U16 Continental Youth Championships later this month, was today honoured at Croke Park by GAA Director General Páraic Duffy and Ulster GAA President Aogán Ó Fearghail.
The panel of 20 is made up of players from four schools in Enniskillen - Erne Integrated, St Joseph's, St Michael's and Royal Portora. The team was formed earlier this year as part of Ulster GAA's Outreach project, The Cúchulainn Cup - which brings together young men from different backgrounds to participate in Gaelic Games.
All the boys had little or no experience playing Gaelic Football before getting involved with the team. Since then they have made massive strides after receiving months of expert coaching from Ulster GAA's finest coaches.
Irish News Ulster GAA Club and Volunteer Conference 2010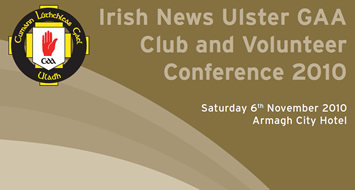 The fourth Irish News Ulster GAA Club & Volunteer Conference will be held on Saturday 6th November 2010 in the Armagh City Hotel. This is Ulster GAA's flagship non-games event which is focused at supporting club, volunteer and community development right across Ulster's nine Counties. The Ulster Council supports over 250,000 volunteers working in 580 constituent GAA clubs and approximately 600 constituent educational units across the Province. The theme of this year's conference is ""Developing the Self Sufficient GAA Club"
The conference will include a range of workshops, keynotes and discussion forums facilitated by leading GAA officials. The focus of which will be sustaining the recent marked development of Ulster clubs in recent years. GAA clubs boast facilities, governance structures, coaching practices, playing standards, and more, which are envied by sporting organisations across the world.
Secretary General visits Ceannáras Uladh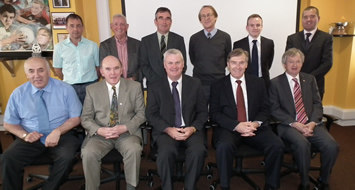 The Secretary General of the Department of Foreign Affairs David Cooney made his first visit to the Ulster GAA headquarters this week to discuss a range of issues with the leadership of Ulster GAA. He was welcomed by Uachtarán Chomairle Uladh Aogán Ó Fearghail, Ulster GAA Director Danny Murphy, Past Ulster GAA President Tom Daly and Ard Stiúrthóir Paraic Duffy. Also present at the meeting was former GAA President Peter Quinn, former Ulster GAA President John O'Reilly, Antrim County Secretary Frankie Quinn, and Ulster GAA Senior Staff Ryan Feeney and Stephen McGeehan.
Mr Cooney paid tribute to the community outreach and diversity work of Ulster GAA and also praised the standard of Ulster GAA strategic planning process as well as the work of the Belfast urban project. The visit was a follow up to a recent meeting that the leadership of the Ulster Council held with the Minister for Foreign Affairs Michael Martin T.D.
Irish Dominate US Handball Nationals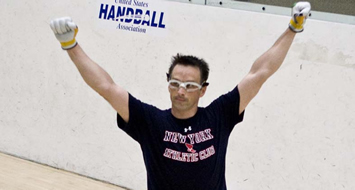 Defending champion and No. 1 seed, Cavan star Paul Brady (Kingscourt), claimed an incredible sixth consecutive Men's Open Singles title, when he easily defeated US. No. 1 seed, Missouri's David Chapman, in a gritty final, over two games, at this year's USHA Four-Wall National Championships, at the University Of Texas, Austin, Texas, USA, on Saturday.
The Cavan man, who is also the current World Men's Open Singles champion, had been in devastating form in the earlier rounds and continued this form into Saturday's final, once more underlining his complete dominance of the small or international (40X20) court scene and confirming his status as World No. 1 seed.
In the first game, Brady stormed into commanding leads of 9-2 and then 16-5, before Chapman pulled two points back. Brady began to display his full array of lethal kill shots and silken passing shots, allied to his trademark "rocket-like" serve and with the score at 17-7, he was in the driving-seat. The American could only muster one more point, as the Cavan man forged ahead, to close out, on an emphatic scoreline of 21-8.
2010 Ulster GAA Elite Camp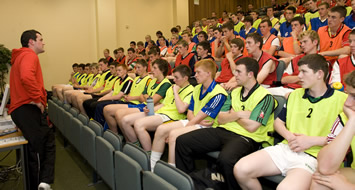 The annual Ulster Council 3 day Elite camp took place on the 5th - 7th July in the Sports Science facilities of the University of Ulster, Jordanstown.
The camp brought together 90 (Under 16) players in total, forty five from each code of Football and Hurling, which were made up of the most promising players from each of the 9 counties in Ulster.
Throughout the duration of the camp, the players benefited from the knowledge and expertise of the Ulster Council staff while simultaneously gaining access to the world class facilities that are in the University.
The players are afforded the opportunity to improve their own knowledge in different areas which will ultimately enable them to improve their own game.
Monaghan Senior Ladies Lift Fifth Ulster Title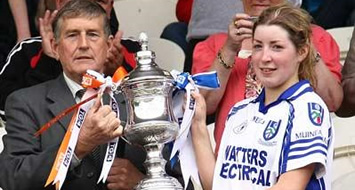 Monaghan lifted their fifth O'Harte Cup with a convincing victory over Armagh on Sunday, July 11 in St Tiernach's Park, Clones. The Oriel girls dominated from start to finish with a very good all round team performance.
Both finalists already met in this years round robin format championship, Monaghan coming out top in all of their games, and have gone through the 2010 provincial competition undefeated. Armagh could have beaten them when they played each other last month, but this time round, Monaghan always looked in control, and once they built up a lead right from the start, they never relinquished it.
All six Monaghan forwards scored, while their defence were on top throughout.
McDonalds Supports Gaelic4Mothers in Camloch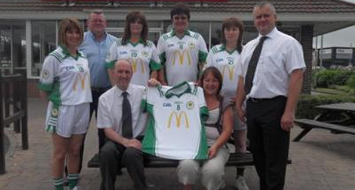 The mums of the Shane O'Neills Gaelic4Mothers team in Camloch, Co Armagh were delighted when McDonalds agreed to support them by giving them a full strip to play their games in. 
The mums have been playing together since last year have taken part in a few Gaelic4Mothers blitzes so far and this weekend will travel to Saval to take part.
Pictured is Stephen OHara from McDonalds presenting the strip to Irene O'Neill from the Shane O'Neills team along with some of the other mums and their trainer Peter Lynch.
Annual GAA Rounders event for Juveniles
Féile Cluiche Corr is an annual GAA Rounders event for our juvenile players. The event usually takes played over the August bank holiday weekend, with matches being placed for the entire weekend. Féile Cluiche Corr provides an opportunity our juvenile players to participate in competitive matches at u13 and u15 boys and girls and u14 and u16 mixed and show their excellent talent in playing GAA Rounders.
2009 Féile was held in Clara GAA Club, County Offaly and saw over 160 juveniles from counties, Laois, Westmeath, Dublin and Cavan participating. A very enjoyable weekend was help by all and National Council is very thankful to Clara GAA Club for the use of their facilities.
The 2010 Féile Cluiche Corr takes place the Bank Holiday August weekend in Clara GAA Pitches, Kinnegad Road, Clara, County Offaly and runs from Saturday to Monday.
New GAA Membership Cards Issued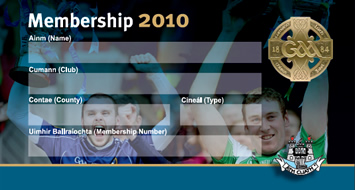 The issuing of personalised membership cards has now been completed. All County Boards have received their cards and have been asked to dispatch them to their Clubs.
The card contains the member's name, County, Club, membership type and the member's ID number. The card also contains the GAA crest, the County Crest as well as an image of the Ballyhale Shamrocks Captain (Hurling), Eamonn Walsh and the St. Galls captain (Football), Colin Brady lifting the 2010 AIB GAA All Ireland Club championship trophies.
The cards will be issued to Clubs much earlier in 2011 to facilitate the ease of distribution to Club members.
New text message prices announced for GAA Clubs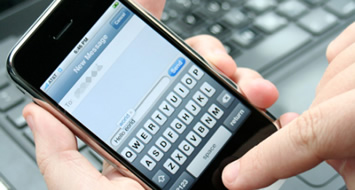 The GAA has negotiated a new text message price for Clubs through the online Registration and Club Membership Management system.
Messages will be available in bundles at a cost of 2 cent per message for clubs in the 26 counties and 3.5 cent for clubs in the six counties.
To purchase and to use, go to the communication section of the site and click on the 'buy SMS' label. The messages will be available for purchase from the end of July. The functionality of this section is being upgraded to include a facility to reply to messages and to send messages remotely from a mobile phone. These upgrades will be available in the coming months.
Camogs mourn the Late Biddy Phillips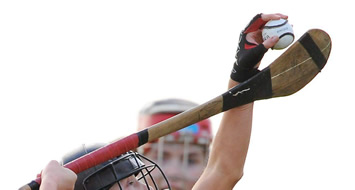 Biddy Phillips, national camogie referee and administrator, passed away on Wednesday July 6th.
Biddy was manager of the 1999 Tipperary Camogie Team that brought the O'Duffy Cup to Tipperary for the first time.  Biddy was the referee for the All Ireland Senior Camogie Final in 1997 as well as intermediate, junior and senior club all Irelands between 1993 and 1999. Biddy also gave long service to the Camogie Association's National Referees Committee which she chaired for a term and also acted as treasurer of the Tipperary County Camogie Board from 1988 to 2000.
Speaking about Biddy's contribution to Camogie, President of the Camogie Association Joan O'Flynn said: "Biddy's commitment to camogie on and off the field was exceptional.  A particular highlight was her involvement in managing Tipperary Camogie team to win their first senior All Ireland Camogie title in 1999."
Fermanagh GAA Schools Sports Days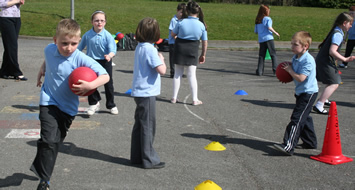 During the summer term, Fermanagh Coaches Teresa McNabb, Owen Mooney and Catrina Rodgers have been running Alternate Sports days throughout their schools. The focus of these special days are on fun and maximum participation for all pupils of the school.
One of the Sports Days took place in St Josephs Donagh on Wednesday 23rd June.  The older pupils were the Captains and they were the mini coaches/referees and teachers rolled into one. Before P1-P5 pupils came to the field Owen and Teresa had the P6 and P7 pupils out to explain and demonstrate each game and activity so that they could explain it to their group when they got to that particular game. There are 69 pupils in the school that the whole school took part in. After the 14 Alternate Sports day activities in the morning there were Fun races, Penalty Shoot Outs and Shooting for Points.
Antrim GAA Bursaries for Young Players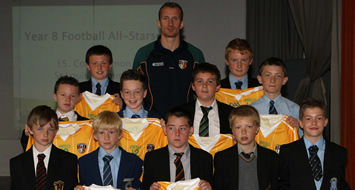 The Antrim Year 8 Hurling and Football presentations were held on Mon 28th June at St Louis GS Ballymena. The players who had been selected at the trials were presented with their jerseys by Paul Doherty (Antrim county footballer) and Gregory O Kane (Antrim Hurling assistant manager).
This year is the first year the bursary awards were introduced.
They were open to students from year 12 to year 14 and the criteria included sporting ability, commitment to their school and club.
The three recipients were Conor Laverty, CPC Ballycastle (St Brigid's, Cloughmills) Matthew Donnelly, CPC (Mc Quillan's GAC) and John Mc Goldrick, St Patrick's College Bearnageeha (St Endas GAC)
All Ulster County Strategies in Place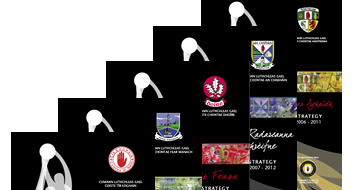 Ulster has become the first Province in the GAA to have all of its Counties complete a five year Strategic Plan. The Ulster Council's second strategic plan "Beir Bua Nua" launched in 2006 set a strategic target to have all nine counties complete and implement a five year strategic plan. The process took four years to complete and has been such a success that County Strategic planning has become a National policy for the entire GAA as part of the roll out of the National GAA Strategic Action Plan and vision which was launched in 2008.
Ulster GAA is now in the second year of its third strategy "Family and Community the Fabric of the GAA" and will shortly start the process of developing a second series of strategies with Derry, Cavan and Antrim which will be complete in 2011.
back to top