Mournemen aim for Final place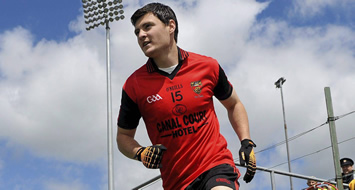 While the meeting of these two teams at All-Ireland semi-final stage could be considered novel, there is nothing particularly surprising about their progress to this point.
If it had been known that both Kerry and Tyrone would not make the final four, a lot of observers would have tipped Kildare and Down to be among the contenders to take their spots.
In Down's case they took Kerry's place directly. In overcoming the Kingdom, the Ulster side maintained an amazing unbeaten record in Championship games against the Munster giants.
And while Kerry are in a transitional stage and were missing suspended duo Tomás Ó Sé and Paul Galvin, Down's achievement should not be diminished.
Red Hands into Minor Decider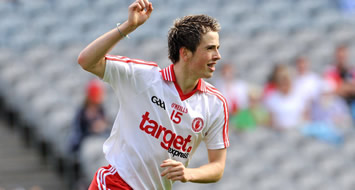 ESB All Ireland Minor Football Championship Semi Final
Tyrone 3-10 Mayo 0-16
Tyrone fought back from seven points down to beat Mayo in a thrilling All-Ireland Minor Football semi-final.
Mayo led 0-3 to 0-0 but Ronan O'Neill's goal helped Tyrone fight back to lead 1-3 to 0-3.
However, Mayo hit seven unanswered points to lead by four at half-time and the margin was then extended to seven.
But Richard Donnelly's goal got Tyrone back into the game and substitute Darragh Donnelly's 1-1 helped the Ulster champions snatch victory.
Tyrone Ladies Stun Cork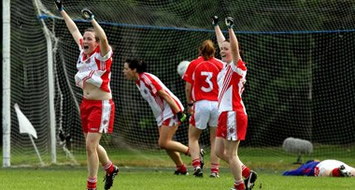 Tyrone blew the race for the TG4 All-Ireland Ladies senior football championship wide open at Banagher on Saturday as they claimed a famous quarter-final victory against All-Ireland champions Cork. The Red Hands ran out 3-11 to 0-13 winners against the Leesiders, who had claimed the last five TG4 All-Ireland Ladies SFC titles. Monaghan on the other hand couldnt get better of Laois and went down by three points.
Tyrones result at Bannagher was truly seismic result as Corks dreams of a sixth successive crown were dashed in sensational style at the finish.
The Rebelettes finished the match with just 13 players as defenders Bríd Stack and Aisling Barrett received yellow cards and were sin-binned in the closing minutes.
With that numerical advantage, Tyrone bagged two late goals to clinch a memorable success as full-forward Sarah Connolly (pictured) and inspirational midfielder Sarah Donnelly raised green flags in the 57th and 60th minute respectively.
Cúchulainns return from NY trip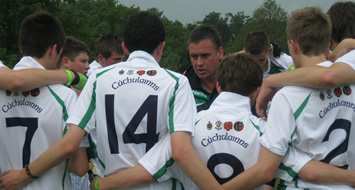 Twenty young men from County Fermanagh have just returned home from a trip of a lifetime to Long Island, New York, where they competed in the GAA's Continental Youth Championships.
The 15-year-old boys were selected from four schools in Enniskillen - Portora Royal, St Michael's, St Joseph's and Erne Integrated College - to participate in Ulster GAA's flagship cross community programme 'The Cúchulainn Initiative'.  The USA trip came after the team won Ulster GAA's Cúchulainn Cup in June this year.
The week-long trip focused on competitive games with some of America's best GAA teams including New York and North America Board.  The games were held at Einsenhower Park in Long Island.  The boys also had the opportunity to make lasting friendships with players from other teams and most importantly with their own team-mates who live within the Enniskillen area.
Ulster Club & Volunteer Conference 2010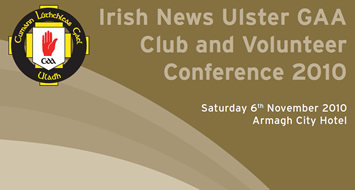 The fourth Irish News Ulster GAA Club & Volunteer Conference will be held on Saturday 6th November 2010 in the Armagh City Hotel. This is Ulster GAA's flagship non-games event which is focused at supporting club, volunteer and community development right across Ulster's nine Counties. The Ulster Council supports over 250,000 volunteers working in 580 constituent GAA clubs and approximately 600 constituent educational units across the Province. The theme of this year's conference is ""Developing the Self Sufficient GAA Club"
The conference will include a range of workshops, keynotes and discussion forums facilitated by leading GAA officials. The focus of which will be sustaining the recent marked development of Ulster clubs in recent years. GAA clubs boast facilities, governance structures, coaching practices, playing standards, and more, which are envied by sporting organisations across the world. Clubs should be congratulated on the standard of operations that they provide for their members and communities. It is important to consolidate the excellent progress that has been made so that the GAA can flourish for the next 126 years and beyond! This may also involve bringing things back to basics, a gentle reminder of what the GAA stands for, and how this fits with the current climate.
Jack Bratton RIP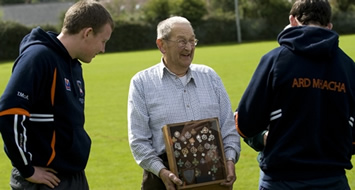 Ulster GAA are saddened to hear of the untimely passing of Jack Bratton, member of 1949 All-Ireland winning Minor team and 1953 Senior team that reached Armagh's first All-Ireland Final.
Jack Bratton never imagined when he took his first faltering steps in the Armagh jersey in 1950 that he would go on to become one of the most outstanding full-backs ever to emerge from Ulster. This most modest and unassuming of men cut an imposing figure, he was the original gentle giant.
His skill at high fielding set him apart and he was the winner of 3 Lagan Cup medals, 2 Ulster Championships and an All-Ireland Minor title.
He began his career by helping Armagh claim their first ever All-Ireland Minor tile in 1949.  He then moved on to become a pivotal figure in Armagh's progression to their first ever All-Ireland Final in 1953. His consistency earned him a call-up to the Ulster side for the Railway Cup and his 1956 medal was one of his most treasured possessions.
U16 Footballers defeat Connaught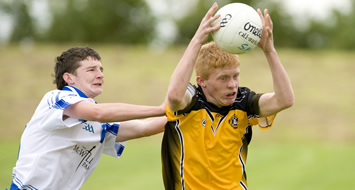 Following on from the Elite Camp in July for the best U-16 Football Players in the Province the Ulster Council organised challenge games against Connaught which took place in the magnificent Lissan Training Grounds Fermanagh on Friday 13th August.
38 Players were evenly divided to make up 2 balanced teams.
After a great afternoons football in which all the games were very competitive, Ulster came out on top in all their games.
All the lads put in a great effort and they were a credit to their families, Clubs and Counties.
Ulster on top in Inter-Pro Challenge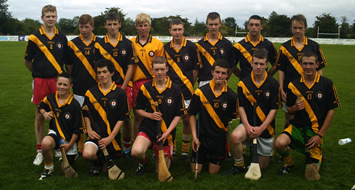 Following on from Ulster GAA's highly successful elite camp for Under 16 hurlers, at the beginning of July, two teams were selected to play Connaught in a number of challenge games to promote hurling for the province's talented young players.
Two 13-a-side Ulster teams, of similar standard, were selected and they travelled to Tobercurry in County Sligo where they met Connaught sides made up of players who had attended their provincial school of hurling during the summer.
The Ulster squads played some terrific hurling and finished the day with four wins out of four. All players were a credit to their clubs and Counties and are to be commended for their dedication and commitment to our national game.
St Colm's take Division 2 Title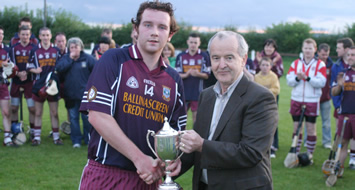 Ulster Hurling League Div 2 Final:
St. Colm's Ballinascreen 1-13  Shane O'Neills Glenarm 1 -11
This was a highly entertaining game played in excellent conditions at Rasharkin and in a good sporting manner.
The result was in doubt right up until the final whistle which added to the excitement of the game.
Shane O'Neills started best taking a two point lead after five minutes. Then followed a 15 minute dominance from Ballinascreen, recording seven points without reply.
The final ten minutes of the first half saw Shane O'Neills add five points to their tally with St. Colm's adding the final score of the half.
Team Fit 2010/2011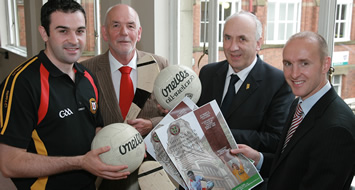 Following the success of the first 'Gaelic Games Team Fit' course last year, Ulster GAA and St Mary's University College Belfast are now accepting applications for the 2010/2011 course.
The course is part time and will take place on Wednesday evenings from 6-9pm starting on 13th October 2010. The course will run for 9 weeks.  Successful candidates will also be asked to deliver two presentations between Feb 2011 and May 2011.
The programme aims to develop:
•             an awareness of the essential components of preparation for Gaelic Football and Hurling teams
•             an understanding of the underlying science and theory of sport science
•             an understanding and knowledge of the application of sport science and technology to Gaelic Teams
Ladies Elite Development Roadshow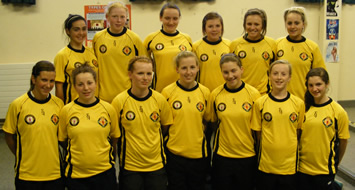 The last of the Ulster GAA's Elite Development Roadshow for girls took place last Thursday when girls from Donegal and Tyrone came together in St Ciarans College, Ballygawley for a full day of football related activities.
The girls, aged fifteen, who were selected from their respective counties as being some of the best players in their age-group took part in a range of activities from fitness testing, skill development and strength and conditioning sessions on the practical side of things, to nutrition and hydration and lifestyle workshops on the theory side.  By the end of the day they went away with a wealth of knowledge about themselves as players with plenty of information to help them develop.
In the evening session the county coaches were invited to join the roadshow where their session involved looking at heart rate analysis as well as information on talent ID and nurturing talent.
Need help with your Club Maith application?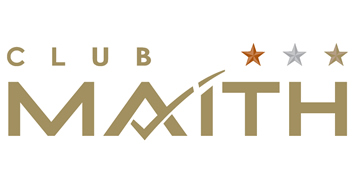 Comhairle Uladh will host an OPEN OFFICE NIGHT for all clubs in the process of completing their Club Maith Portfolio on Thursday 16th September. The purpose of this is to aid clubs in finalising their portfolio for submission to Ulster GAA. Clubs should bring their portfolio along on the night. Clubs can access the Portfolio at http://ulster.gaa.ie/club-maith/
Clubs will have the opportunity to speak to one of our Club Maith advisers. Lap-top, internet and printer facilities will be available.
Clubs will each be afforded a 45 minute slot, beginning at 4pm running until late.
Clubs must register with maura.kelly.ulster@gaa.ie in advance, to book their time slot.
Belfast Festival of Gaelic Games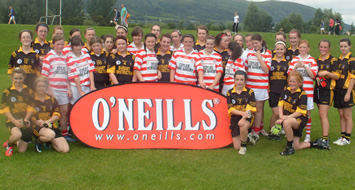 The Belfast Festival of Gaelic Games ended on Saturday 14th August with a blitz for U13 Boys Football & U15 Girls 7's at Woodlands playing fields.
Teams participating at the event included Sean McDermotts, Michael Davitts, O'Donovan Rossa, St Galls, Creggan Kickams, Carryduff, St Pauls and also the 2010 Galway U14 ladies championship winners Ballinasloe.
A scorching hot day provided conditions for some excellent games of football in both codes. The U13 boys event was ran under the basis that each team played each other team once and emphasis was placed on player development and having fun rather than winning. In the ladies section however things were a little more competitive as the girls showed off their skills and ability to play good 7's football. St Pauls and Ballinasloe competed in what was seen as the final game with St Pauls showing their class and running out winners by 5 points. As the games finished, the festival sponsors O'Neills Sportswear gave out various jerseys and merchandise which was greatly appreciated by all involved.
Clarke is King of the Mountain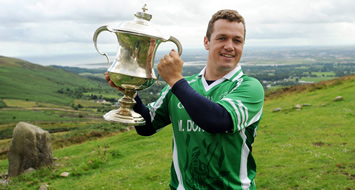 Down GAA had more reason to celebrate at the weekend as goalkeeper Graham Clarke was crowned 'King of the Mountain' after winning the M Donnelly All-Ireland Poc Fada competition, which took place in the Cooley Mountains in County Louth on Saturday.
Clarke beat Clare's Brendan McNamara into second place, finishing the 5km course in 51 pucks.
In the Senior Camogie Poc Fada, Fionnuala Carr, daughter of former Down footballer and manager Ross Carr, finished in second place with 29 pucks, narrowly losing out to Waterford's Patricia Jackman.
Ulster Championship Video Review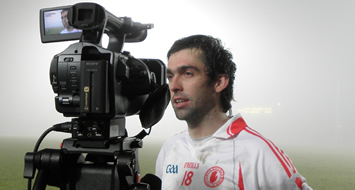 A total of 83 videos from the last few months of the Ulster Championships are now available to watch on the Ulster GAA YouTube channel.
They include a mixture of action, features and interviews with the likes of Sean O'Neill, Pat McEneaney, Paraic Duffy, Brian Dooher, Marty Clarke, Jamie Clarke and Peter McGrath.
The action videos from the SFC shows close-up angles of dramatic goals by the likes of Owen Mulligan and Benny Coulter, while an interview with Monaghan goalkeeper Darren Hughes right on the final whistle in Casement Park is the second most-viewed video in the Top Ten.
Tyrone's Ulster Football Finals success is reflected in the latest entries, though the single most popular video from the entire collection is a music promo showing dramatic scenes from previous Tyrone and Monaghan games.
Derry retain Buncrana Cup
On Saturday 21st August the Derry Under 16 football development squad retained the Buncrana Cup title.
In the semi final at Muff, Derry managed to beat Monaghan on a score line of 1-13 to 1-05 but it wasn't without its costs as captain Conor McAtamney suffered concussion which would rule him out for the final against hosts Donegal.
Derry travelled to Buncrana for the final against Donegal who beat Down impressively by 5 points in their semi final. Donegal were the team earmarked at the beginning of the year as the team to beat and now they stood between Derry and another Buncrana Cup title.
Ulster GAA supports Clubs applying for Sports Matters Funding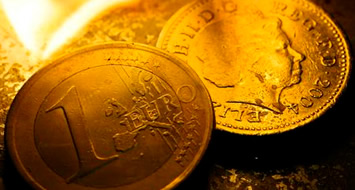 Ulster GAA held two days of advice clinics for clubs based within the six counties to explore Sport NI Sports Matter Funding.  These days were held in Donaghmore and Belfast.  There was a good turn-out of clubs.
Clubs are reminded that the deadline for applications to the Sports Matters Fund is 7th September.
The fund is for grants from £10,000 - £30,000 for sports equipment and small capital projects. More information can be accessed at: http://www.sportni.net/Funding/Sport+Matters/
Ulster Council GAA continues to provide capacity support to all our Clubs free of charge, we strongly encourage Clubs not to be engaging with Consultants or with outside bodies who are seeking to support your Club with an application in return for payment. All Ulster GAA staff are employed to support Clubs with funding applications and ongoing Club Development and we will always provide this service level without receiving any payment from our Clubs.
New Club Maith Facilitators Wanted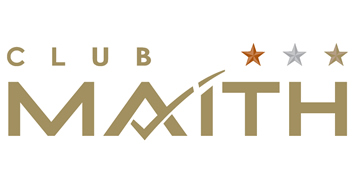 Club Maith is Ulster GAA's development tool for clubs.
Part of this is an accreditation of clubs in bronze, silver, gold or platinum Club Maith awards from Ulster GAA.
To assist with rolling-out our accreditation scheme we are seeking GAA volunteers to facilitate clubs going through the process.
Facilitators will be given full training which takes place on Monday 6th September in Market St, Armagh at 7pm.
If you are interested, or would like more details, please contact Maura Kelly on maura.kelly.ulster@gaa.ie
Campa Saffron enjoyed by all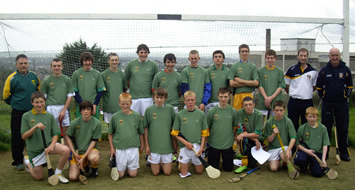 The Campa Saffron arrived in Belfast after a successful week in Loughgiel.  The Camp included teambuilding games, core stability practical, workshop on drugs & alcohol awareness as well as intensive hurling practical.
Kieran Megraw and Dominic McKinley delivered the camps with assistance from Ulster GAA Coaches Kevin Kelly, Gerry McClory and Ciara Ferry .
A big thank you goes out to Gort na Mona & Loughgiel for the use of their facilities.
The special event rounded up with Kieran McGourty presenting the players with their unique Campa Saffron training t-shirt and Chris O'Connell who presented in Loughgiel.
Swatragh helps raise funds for Protestant Church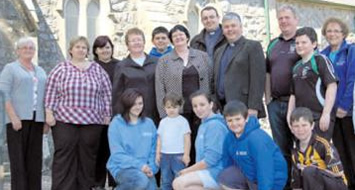 The GAA has thrown a lifeline to a Protestant church facing an uncertain future if it doesn't raise £60,000 for a new roof.
In a remarkable show of cross-community support, Michael Davitt's GAA club in Swatragh, Co Derry, has opened its doors to host a special concert to help raise cash to replace the roof on Killelagh Church of Ireland.
Organisers hope a concert by BBC presenter Hugo Duncan and his band will help raise some of the £60,000 needed to carry out the essential work.
Minister of Maghera and Killelagh parish the Rev Isaac Hanna hopes the fundraising event will bring people together.
He said: "It's a small church but they are very committed and open to working with all sections of the community. A new roof is needed and it needs to be replaced sooner rather than later."
What's Happening this Month - September 2010
We are adding a new section to our online newsletter to highlight key events and activities taking place across Ulster from month to month.
This edition we look forward to September 2010, when there is a full schedule of activity planned.
Download:
- What's Happening in September 2010 (Excel Document)
back to top