Down edged out in thriller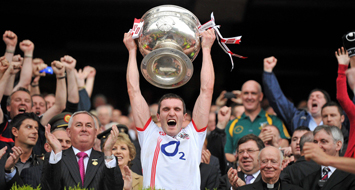 All Ireland Senior Football Championship Final:
Cork 0-16 Down 0-15
Cork reclaimed Sam Maguire for the first time since 1990 after a 0-16 to 0-15 GAA Football All-Ireland final defeat of Down at Croke Park on Sunday. Down led by 0-8 to 0-5 at half-time after an anemic first half performance, but they turned the game on its head after the break, with the experience of substitutes Graham Canty and Nicholas Murphy helping the Rebels over the line in a frantic finale. Having led early on, Cork were behind from the 14th until the 56th minute, when Paul Kerrigan's point put them back into a lead they would not let go.
Kerrigan's was the first of three successive scores and it proved to be the winning break for the line, leaving Cork in a winning position three points clear with three minutes left on the clock.
Tyrone Claim Title Number 8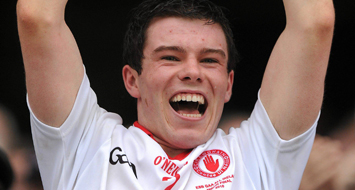 All Ireland Minor Football Championship Final:
Tyrone 1-13 Cork 1-12
Tyrone won their eighth ESB GAA Football All-Ireland Minor title thanks to a 1-13 to 1-12 defeat of Cork at Croke Park on Sunday. The Red Hands led by eight points with six minutes left, but as we well know, this Cork team doesn't know when it's beaten and they staged yet another dramatic late recovery to ensure a thrilling finale.
However, there was to be no repeat of the Rebels' semi-final comeback win over Galway, as Tyrone held on to win by a single point after Kevin Hallissey had hit the net for Cork after 55 minutes. Dan MacEoin, who finished with 0-5 from play, was brilliant for Cork in the closing minutes - as was influential sub Stephen O'Mahony - but Cork's hopes were dashed when Ronan O'Neill pointed in the last minute to save the day for Tyrone. MacEoin hit back with an injury time response for the Rebels but try as they might, they could not find an equaliser.
Antrim & Waterford to meet again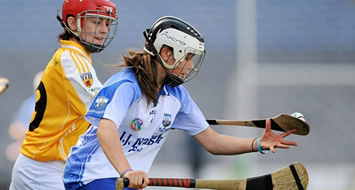 Gala All-Ireland Junior Camogie Final:
Antrim 1-9 Waterford 1-9
A 60th minute point from Karen Kelly set the seal on a fine second half rally by Waterford to snatch a draw in the Gala All-Ireland premier junior final at Croke Park.
Antrim held the upper hand for much of this encounter, leading at the end of a dour first half by 0-4 to 0-3.
Nerves clearly had a role to play in that opening period. Two-time All Star Jane Adams fired over two frees for Antrim but had a third inexplicably scrubbed out by referee Donal Leahy for a square ball.
Waterford hung in there with points from Karen Kelly and Áine Lyng.
The second half was a more open affair and the more imposing Saffrons looked set for victory as they opened up a five-point advantage, due largely to Raquel McCarry's goal from close range.
Videos from Ladies Football Finals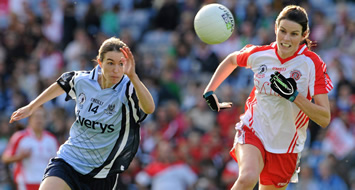 Tyrone and Donegal Ladies footballers were both in action yesterday as they competed for the TG4 Ladies Senior and Intermediate Football Championships respectively.
For Donegal, full forward Yvonne McMonagle was the star of the show as she bagged 2-5 from play to guide her side to a 2-12 to 0-16 victory over Waterford in the Intermediate decider.
Donegal manager Michael Naughton described how much this victory meant to Donegal people:
"This is huge for Donegal football. You saw from the big numbers in the crowd that travelled to support us and I know from the increase in clubs in the county that success breeds success, so this will be a great help".
Donegal Ladies claim Intermediate Title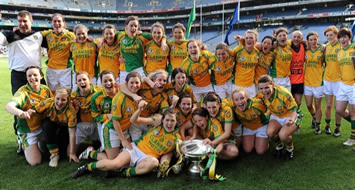 TG4 All-Ireland Ladies Intermediate Football Championship Final:
Donegal 2-12 Waterford 0-16
Lethal full-forward Yvonne McMonagle bagged 2-5 from play as Donegal claimed the TG4 All-Ireland Ladies intermediate football championship title at Croke Park on Sunday.
The north-westerners captured the Mary Quinn memorial cup with a hard-fought two-point victory against Munster champions Waterford, who were appearing in their very first All-Ireland since the senior decider in 2000.
Ulster champions Donegal will make the step up to the senior championship in 2011 and what a season it has been for Michael Naughton's team, who added the All-Ireland crown to the Bord Gáis Energy National League Division 2 title.
Tyrone Ladies Fall at Last Hurdle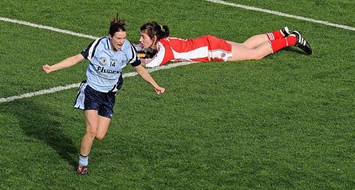 TG4 Ladies Senior Football Championship Final:
Dublin 3-16 Tyrone 0-09
Tyrone's wonderful run in this year's TG4 championship ended yesterday as they were heavily beaten by a hungry Dublin outfit. The Sky Blues ran out comprehensive 16-point winners against first-time finalists Tyrone in front of 21,750 spectators at GAA HQ.
The Jackies lost against Cork in last year's decider and also finished runners-up against Galway in 2004 and Mayo in 2003.
But it was clear from the moment that Ahern opened the scoring with 37 seconds on the watch that there would be no denying Dublin on this occasion.
Manager Gerry McGill and his players were left devastated last September when Cork won a final that Dublin had dominated until the closing stages.
Developing the self sufficient GAA Club - key conference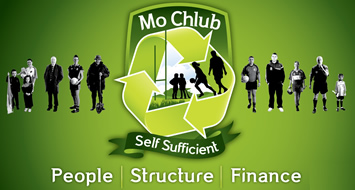 The fourth Irish News Ulster GAA Club & Volunteer Conference will be held on Saturday 6th November 2010 in the Armagh City Hotel. This is Ulster GAA's flagship non-games event which is focused at supporting club, volunteer and community development right across Ulster's nine Counties. The Ulster Council supports over 250,000 volunteers working in 580 constituent GAA clubs and approximately 600 constituent educational units across the Province. The theme of this year's conference is ""Developing the Self Sufficient GAA Club"
The conference will include a range of workshops, keynotes and discussion forums facilitated by leading GAA officials. The focus of which will be sustaining the recent marked development of Ulster clubs in recent years. GAA clubs boast facilities, governance structures, coaching practices, playing standards, and more, which are envied by sporting organisations across the world. Clubs should be congratulated on the standard of operations that they provide for their members and communities. It is important to consolidate the excellent progress that has been made so that the GAA can flourish for the next 126 years and beyond! This may also involve bringing things back to basics, a gentle reminder of what the GAA stands for, and how this fits with the current climate.
Free Courses for Volunteers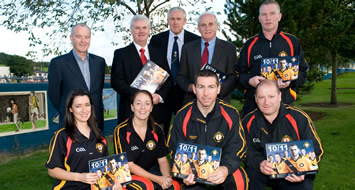 Ulster GAA has launched its 'Volunteer Development Calendar - September 2010-2011' in Pearse Ogs Social Club, Armagh.
Speaking at the event Uachtarán Chomhairle Uladh (Ulster GAA President) Aogán Ó Fearghail stated, "We call this a calendar but it's really much more than that.  This calendar demonstrates the huge workload of Ulster GAA staff in their efforts to support GAA volunteers across the nine counties of Ulster.
"There are about a quarter of a million volunteers across the nine counties of Ulster involved in the GAA. Without our volunteers we simply would not exist. That is why we pour so many resources into building capacity among our volunteers so that our GAA clubs continue to be the very heart of community life across Ulster."
Team Fit 2010/2011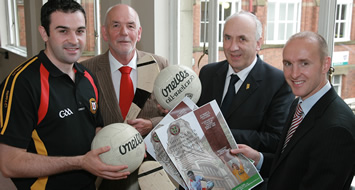 Following the success of the first 'Gaelic Games Team Fit' course last year, Ulster GAA and St Mary's University College Belfast are now accepting applications for the 2010/2011 course.
The course is part time and will take place on Wednesday evenings from 6-9pm starting on 13th October 2010. The course will run for 9 weeks.  Successful candidates will also be asked to deliver two presentations between Feb 2011 and May 2011.
The programme aims to develop:
•             an awareness of the essential components of preparation for Gaelic Football and Hurling teams
•             an understanding of the underlying science and theory of sport science
•             an understanding and knowledge of the application of sport science and technology to Gaelic Teams
Belfast Officer Training Night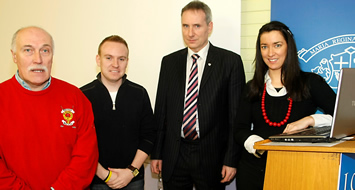 Corpus Christie College will be the venue for a unique training night for all Belfast GAA club Officers. This event will take place on Monday 18th October. This is the first year that such an event has been held in Belfast, allowing the club officers of each GAA club to meet, be trained and discuss with their fellow officers these core areas of club governance. The Ulster Council, Belfast Strategic Committee in conjunction with the South Antrim board are urging all club officers to attend, including chairpersons, secretaries, PROs, treasurers, children's officers, coaching co-ordinators, development officers and cultural/community officers. There will be individual workshops for all officers.
The training will commence with registration from 7pm, with official business starting at 7.30pm sharp.
Ulster GAA's Fundamentals Programme 'World Class'
Ulster GAA's Fundamentals and Learn To Train manuals were officially recognised at the recent Coaching Ireland Conference in Dublin by Dr.Istvan Balyi, a world expert in Long Term Athletic Development, as 'the best in the world'.
The delegates were then shown how our Gaelic Start club and DENI coaches school's programmes are implemented throughout Ulster, by Ulster GAA coach Terence McWilliams.
Delegates were shown that for any child, the journey towards athletic excellence starts with the establishment of fundamental movement competency as early as possible.
Many of the coaches from other sports were surprised how far advanced our LTAD programmes have been developed compared to their own.
McKeever Sports joins forces with Ulster Ladies GAA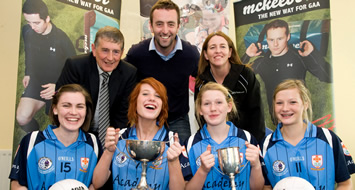 Ulster ladies GAA have announced that Mc Keever Sports are to sponsor their Post Primary schools competition for 2010/2011. This is a major boost for the competitions that involves 185 teams from 85 schools across the nine counties in the province. Games have already begun and will continue for another 6 months with all the winners then going forward to represent the province in the National competitions.
In addition to the official schools competitions three fist year blitzes are planned for May which will attract upwards on 650 players, while in November the Ulster Post Primary Schools All Stars will be announced.
Ulster Administrator Mary Keegan welcomed the news. "I'm delighted that we have secured a deal with a progressive Northern Irish company who are also steeped in GAA tradition. The deal will benefit all of our 85 schools and 185 teams and other activities relating to ladies football in our schools", said Mary.
U17 Development Squad Finals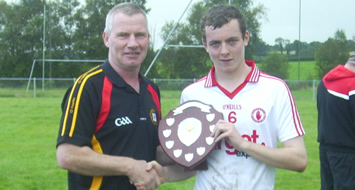 On Saturday past the finals of the Ulster U17 Development squads took place. There were 3 groups formed based on the results from the first blitz which took place earlier in the year.
The football on the day was of a very high standard, and we are certain that many of these players will go on to represent their Counties at senior level in the years to come.
See below the results of the 3 group finals.
Group 1 @ Ogra Colmcille, Derry
Derry 1.13 V Tyrone  2.11
Group 2 @ Madden, Armagh
Armagh  4.16 V Cavan 1.08
Group 3 @ Lissan, Fermanagh
Fermanagh 2.10 V Donegal 2.18
Ulster Og Sport 2010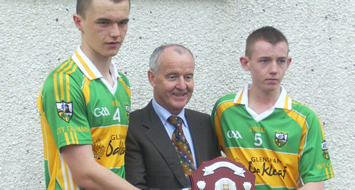 The annual Ulster Og Sport took place in Watty Grahams, Glen GAC, Co Derry on Saturday 4th September. This is a Under 15 Seven-a-Side competition that includes the county winners throughout the province. Unfortunately, Fermanagh Champions (Lisnaskea Emmetts) were not able to attend on the day so we had 8 Counties competing.
The Ulster Council would like to thank the Glen club for the use of their facilities and also for their excellent organisation of the event. We would also like to thank all the referees who officiated during the competition and also Dessie McDonald for co-ordinating the referees on the day.
Finally, we would like to thank all the clubs across the province for taking part in this prestigious competition.
Pictured is Ulster Council Treasurer, Michael Hasson presenting the Og Sport Shield to Glen Joint Captains.
SquareBall and Ulster GAA get health message out to students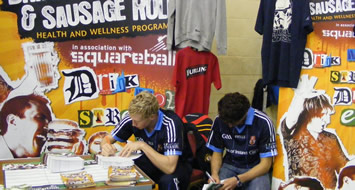 The beginning of the new University year has dawned again and for Ulster GAA and Squareball.com that can only mean one thing - Drink, Drugs and Sausage Rolls!!! For those of you who are not familiar with the concept, don't jump to conclusions, it's the Council's flagship Health and Wellbeing programme for students!
Taking place at all University Fresher Fayres, this year the materials been redesigned but the message remains the same - enjoy your time but do so safely. An information booklet covers the challenges that students will face and the hope is that by presenting a serious message in a light hearted fashion they will respond positively. Meanwhile a free wall planner is available for all those important dates throughout the year - academic and social alike!
Provincial Integration Forum to meet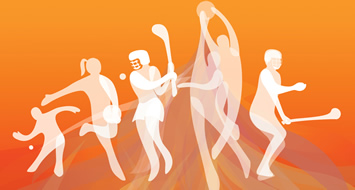 St. Patrick's Donaghmore will host all members of the GAA family of Games on the Tuesday 9th November when the Provincial Integration Forum takes place. This is the fourth year that such an event has been held in Ulster, allowing the officers of each County board to meet and review progress on this core area of development.
The key elements of integration - co-operation, communication and strengthening relationships will be at the forefront of the evening, where attendees will hear perspectives from the Provincial Chairs of all codes on progress to date. Further to this there will be a review of the process since it began in 2006, looking at how the initiative has evolved and allowed the Associations in Ulster to move towards the Confederation model.
Newry school children celebrate 'Red and Black Day'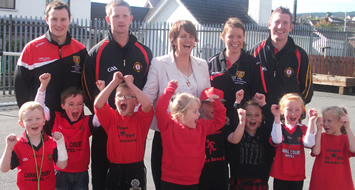 In the run up to the All Ireland Final Children across schools in County Down celebrated 'Red and Black Day' which allowed pupils to show off their proud colours in support of the Down County team ahead of All Ireland Final. Education Minister Caitríona Ruane got into the spirit of things herself when she visited St Patrick's Primary School in Newry Meadow, by sporting a red and black headband worn around her neck.
Ulster GAA and DENI School Coaches, along with the School's GAA Co-ordinator Damian Ruddy organised the special Down GAA day at the school so that all the children could enjoy the build-up to the All Ireland Final.
Speaking at the event Minister Caitríona Ruane stated, "The GAA, both in Down and right across Ulster, plays a major role in encouraging children to get involved in sport, not only through the many local clubs, but also through its involvement in my Department's primary schools' sports programme along with the Irish Football Association."
Rain doesn't Dampen Mums Enthusiasm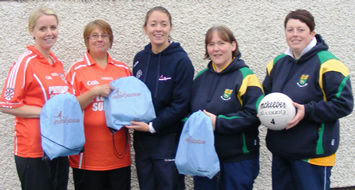 A rain drenched Pearse Park in Galbally, Co Tyrone played host to the Ulster Gaelic4Mothers Blitz on Saturday 18th September, but the rain certainly didnt dampen the enthusiasm of the 110 mums who turned up to take part.
11 teams hailing from Donegal, Armagh, Down and Tyrone took part in the Ulster Blitz which was organised by Ladies Football Development Officer Sheena Tally. "We probably got one of the wettest days possible for the blitz in Galbally on Saturday" said Sheena, "but fair play to the mammies, they didnt let it put them off! All of them got stuck in and had a great days craic!"
The blitz which is centred around participation rather than winning allowed all the mums to come together for a day out, while at the same time showing off the skills that they have learnt through their training sessions in their own clubs.
Ulster Coaches train teachers' key skills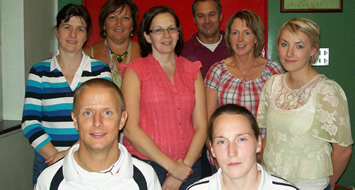 Ulster GAA Coaches Owen Mooney and Teresa McNabb recently put on a staff inservice day for the Moat Primary School.
The day consisted of practical aspects where the teachers had a task and they had to coach the rest of the group through a warm up, a game and a skill. They were also given lesson ideas using benches, cones, bean bags, scarves and on utilising equipment that is in the school already.
Finally the teachers were given ideas on classroom activities they could use in order to energise the children to improve their learning and concentration during the day. The day was enjoyed by all and the school are looking forward to putting into practice all the ideas that Owen and Teresa provided.
Antrim win Forrestal Div 2 Title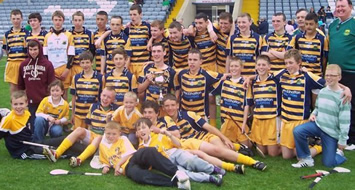 On Saturday 28th August, the Antrim U14 hurling development squad travelled to Portlaoise, Co. Laois, to participate in the Division 2, All-Ireland, Tony Forrestal hurling tournament.
After comfortably battling through the group stages on the Saturday morning, with convincing wins over Wicklow and Laois-O'Moores, Antrim were drawn against a determined Westmeath side in the semi-final at O'Moore Park. The Saffron's knew Westmeath would present a formidable challenge as they had narrowly won a thrilling encounter against them in early July at the DJ Carey tournament in Kilkenny.
Antrim began the half the brighter of the two counties and kept the score board ticking over with some great points from corner forward Dara Rocks, half-forward James Connolly, centre-half forward Seaghan Shannon, captain Conor Christie and a goal by full-forward Cormac McClafferty.
Antrim U14 Hurlers play in Croke Park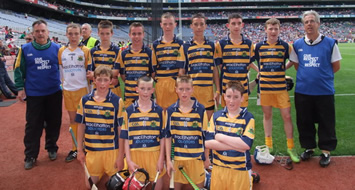 On Sunday 25th July, 11 players from the Antrim U14 Development squad went to Croke Park to play Cork at half time of the All Ireland Senior Hurling quarter final, as part of the Super Touch programme.
All the players were delighted with the opportunity of playing at half time and coming onto the pitch behind the Artane Band, a great experience for them.
7-a-side hurling blitzes
7-a-side hurling blitzes will be held on the dates listed, with the teams that qualify from each blitz playing in the semi finals under lights (28th Oct) and if they qualify on the night, the final, under lights at Casement Park on Thursday 28th October:
What's Happening this Month - October 2010
We are adding a new section to our online newsletter to highlight key events and activities taking place across Ulster from month to month.
This edition we look forward to October 2010, when there is a full schedule of activity planned.
Download:
- What's Happening in October 2010 (Excel Document)
back to top