Guest Speakers Confirmed for Irish News Ulster GAA Club & Volunteer Conference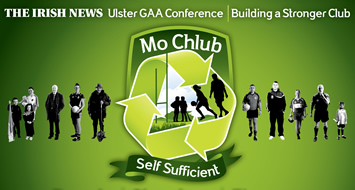 The Irish News and Ulster GAA are delighted to announce our impressive guest speaker line-up for the Irish News Ulster GAA Club and Volunteer Conference which takes place on Saturday 6th November 2010 from 9am to 3:30pm.
Guest speakers not to be missed include:
Christy Cooney, Uachtaráin CLG
Aogan Ó Fearghail, Uachtarán Chomhairle Uladh
Nickey Brennan, Past GAA President & Chairman National GAA ICT Committee
Mary Hanafin TD, Minister for Tourism, Culture and Sport
Trevor Ringland, One Small Step Campaign
Mickey Harte, Tyrone Senior Football Manager
Mícheál Ó Muircheartaigh, GAA Commentator
Jarlath Burns, Chairman National Presentations Committee
We are delighted that Mícheál Ó Muircheartaigh will join us for this special occasion and we hope you will join us in honouring his outstanding career and commitment as the GAA's most famous commentator.
5 All Stars for Ulster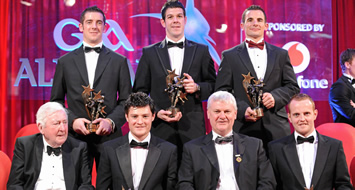 All-Ireland finalists Cork and Down top the list of GAA All Star, sponsored by Vodafone, winners for 2010 with four awards each.
Cork's haul of four equals the lowest ever total for the All-Ireland champions - Offaly (1971), Dublin (1983) and Down (1991) all won just four awards - and not one of the forward line that played in last month's final win over Down has been selected.
Uachtarán Chumann Lúthchleas Gael Criostóir Ó Cuana said the selections were arrived at after keen debate amongst the judging panel, which was made up of GAA journalists and chaired by the Uachtarán.
"This is my second time chairing and certainly there was a lot more discussion and debate and there were strong views on who should be on the team," he said.
"It would be fair to say that it took us the full two and a half hours to make the selection and it was very, very strongly debated."
Antrim Camogs claim All Ireland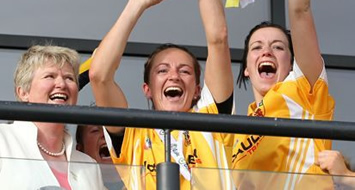 Gala All-Ireland Junior Camogie Championship Final:
Antrim 2-10 Waterford 0-12
Goals from right-half forward Michaela Convery and second-half substitute Laura Connolly saw Antrim clinch the Gala All-Ireland Junior Camogie title as they defeated Waterford 2-10 to 0-12 in Sunday's thrilling final replay at Ashbourne Co. Meath.
Trailing by six points at half-time (0-9 to 0-3) after facing a stiff breeze Antrim produced a brilliant second-half display to edge out their highly talented opponents in a tough and bruising encounter.
With wind advantage in the opening half Waterford had the better of the exchanges and with their brilliant right-half forward Aine Lyng in fine form they pulled six clear by the interval, the Antrim scores coming from Jane Adams (2) and Michaela Convery.
Ulster Club Championship Videos now Online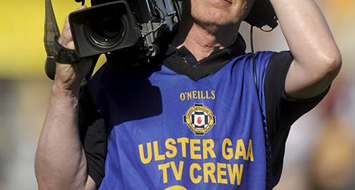 Throughout the AIB Ulster Club Football and Hurling Championships, we will be selecting a number of games each weekend and publishing exclusive video highlights online.
We have already uploaded a number of videos to the Ulster GAA YouTube channel and these have proved very popular. Some of the most popular videos include some champagne hurling from Loughgiel, highlights from Naomh Conall v Kingscourt Senior Football game, two cracking goals in the Intermediate Football Championship game between Bundoran and Doohamlet, and of course the Ulster Junior and Senior Hurling Finals.
This is exclusive video content that you will not find anywhere else, so to ensure you don't miss any of the excitement, passion and glory of the AIB Ulster Club Football and Hurling Championships, tune in to Ulster GAA online:
Excitement at Ladies Club Championship Finals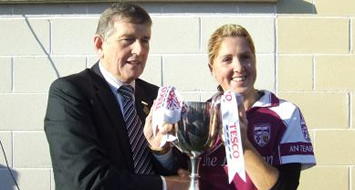 Ulster Senior Club Ladies Football Final:
Donaghmoyne 0-13 Termon 3-6
A 64th minute goal from Geraldine Mc Laughlin helped Donegal champions Termon to their first Ulster senior club title at the expense of reigning Ulster and All Ireland champions Donaghmoyne at Beragh today (Sunday). The goal by Mc Laughlin who finished with a personal tally of 2-3 helped her side to a two point win.
Donaghmoyne opened brightly with Cathriona Mc Connell firing over a trio of points and another from Niamh Lynch gave them a four point cushion after 10 minutes. Points from Maureen O Donnnell and Geraldine Mc laughlin halved the deficit but Donaghmoyne went further ahead thanks to scores from Majella Woods (3) and Mc Connell. Termon remained in touched with another O Donnell free and then in the 23rd minute the brilliant Mc laughlin netted the first of her two goals. Donaghmoyne did finish the half strongly and points from Cora Courtney and Amanda Casey gave them a 0-10 to 1-3 interval lead.
Loughgiel & Inniskeen claim Ulster Club Hurling Titles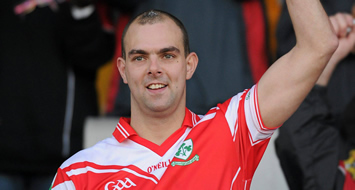 AIB Ulster Club Senior Hurling Championship Final:
Loughgiel (Antrim) 2-24 Keady (Armagh) 0-06
Loughgiel Shamrocks cruised to their first Ulster Senior Club Hurling title since 1989 when they proved too strong for Armagh champions Keady in Sunday's final at Casement Park.
The Shamrocks were always in control though Keady did hold on well during the opening half and only trailed by 0-10 to 0-5 at the half-time whistle.
However after the change of ends the Antrim champions were in cruise control and added the scores at will to secure the most convincing of victories.
Benny McCarry, who was guilty of a few uncharacteristic misses in the opening half, made amends when he fired in the opening goal after 53 minutes while second-half substitute Damien Laverty grabbed his team's second with a just a minute left on the clock.
Ulster SFC 2011 Draw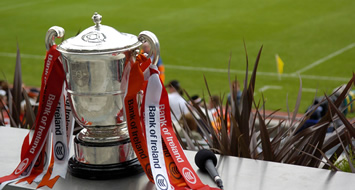 The draw for the 2011 Ulster Senior & Minor Football Championship has taken place, and once again it has dealt up some mouth-watering pairings.
The dates and venues for the opening rounds of the Ulster Senior & Minor Football Championships will be confirmed at the next meeting of the Ulster Competitions Control Committee.
The draw for the Ulster Minor & Senior Hurling Championships will be conducted at a later date.
---
Ulster Senior & Minor Football Championship 2011:
Preliminary Round:
Dún na nGall v Aontroim
Quarter Finals:
Doire v Fear Manach
Ard Mhacha v An Dún
Tír Eoghain v Muineachán
An Cabhán v Dún na nGall / Aontroim
Semi Finals:
Doire / Fear Manach v Ard Mhacha / An Dún
Tír Eoghain / Muineachán v An Cabhán / Dún na nGall / Aontroim
President honours Enniskillen Cúchulainns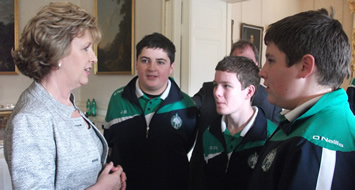 President Mary McAleese has hosted a cross community Gaelic Football team from Enniskillen to mark their participation earlier this year at the Continental Youth Championships in New York.
The 20-strong panel of players from four Enniskillen schools - Portora Royal, Erne Integrated, St Michael's College and St Joseph's College - were commended for taking part in Ulster GAA's flagship outreach programme 'The Cúchulainn Cup'.
The team travelled to Aras an Uachtarain with their teachers, Principals, Chairperson of Board of Governors and representatives of Ulster GAA.
Speaking after the special event Uachtarán Chomhairle Uladh (Ulster GAA President) Aogán Ó Fearghail stated, "It is a remarkable honour for the President of Ireland to honour a team of young men like this. The players and their schools are proud ambassadors of Enniskillen representing all sections of the community. They have looked pass prejudices and showed leadership by playing together as a team and bonding together as friends.
Chief Constable visits Ulster GAA HQ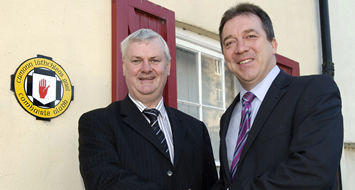 Ulster GAA President Aogan Ó Fearghail and Provincial Director Danny Murphy recently welcomed PSNI Chief Constable Matt Baggott to a meeting in Ceannarás Uladh, the Headquarters of Ulster GAA in Armagh.
The Chief Constable and Ulster GAA leadership discussed a range of issues and the Chief Constable received a presentation on the progress of the GAA's road safety programme "Live to Play".
Ulster GAA President Aogan Ó Fearghail also presented the Chief Constable with a framed Ulster GAA Live to Play jersey. Commenting on the visit, Aogan Ó'Fearghail said "We are pleased to welcome the Chief Constable to Ceannarás Uladh and use the opportunity to exchange a range of views as well as brief him on the activities of Ulster GAA. The meeting was friendly and productive and we look forward to progressing our relationship with the PSNI."
In Focus: 'Complacency is our biggest weakness'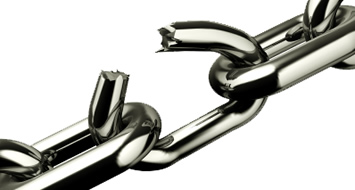 Article by Dr Eugene Young - Director of Coaching and Games Development, Ulster GAA
Games are at the core of what we do. The Ulster Senior Championship this year has been as competitive as ever and is a true reflection of the great work being done by coaches and volunteers. However, "complacency is our biggest weakness".
In a tough economic climate the GAA continues to play an important role at the core of our communities. Our target of encouraging more boys and girls and men and women from diverse backgrounds to play games remains a priority. Our core activities are Go Games (U12), Supertouch (U16), Summer Camps, Academy Programmes, U Can Skills Awards, Coaching in Primary and Second Level Schools. At present the opportunities for Coach and Referee education help develop knowledge and competencies, but the formal accreditation of programmes within a qualifications framework is high on our agenda for 2011. The promotion of greater RESPECT and the NFL (No Foul Language) Programme has been well received and games opportunities for hurling (Ulster Hurling Leagues), football (Championship, Leagues and McKenna Cup) and opportunities for our development squads are ongoing.
Ulster GAA inaugural Integrated Schools Blitz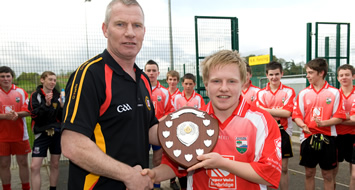 Seven Integrated Colleges took part in the first ever Ulster GAA Integrated Schools Under-16 blitz. Stephen Rice, P.E Teacher at Integrated College Dungannon thought the concept would be very positive in sustaining the tremendous work being done to promote gaelic games in Integrated Schools. Ulster GAA Football Development Officer, Tony Scullion worked tirelessly with Stephen in organising the event which took place in Mid Ulster Sports Arena on Tuesday 19th October.
The participating colleges were: Hazelwood Integrated College, Belfast; Crumlin Integrated College, Co. Antrim; Sperrin Integrated College, Magherafelt; Slemish Integrated College, Co. Antrim; Newbridge Integrated College, Newry; Strangford Integrated College, Co. Down; and Integrated College Dungannon.
Tohill launches Writers Banquet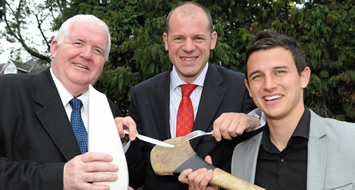 Ireland International Rules manager Anthony Tohill may have his mind on the International Rules series this month but the former All Star took time out to back the biggest night of the Ulster GAA calendar when he launched the 23rd Quinn Insurance Ulster GAA Writers' Banquet.
Tohill won the UGAAWA Footballer of the Year Award back in 2000 and was on hand to launch the annual awards celebration which this year will be held on Friday 19 November at the Slieve Russell Hotel, Co Cavan. Ticket details are available at www.ulstergaawriters.com
"The Ulster GAA Writers' Banquet has become an integral part of the Ulster GAA calendar. The writers' awards have always been highly-regarded by the players and it is the only awards function that honours players, referees and officials from all GAA codes," said Tohill.
UGAAWA Chairman JP Graham looked forward to another successful function which has remained popular since the inaugural banquet back in 1988.
"Over the years the GAA writers' banquet has worked its way into the heart of Ulster Gaels. It is the banquet of the grass-roots Gael," he said.
Successful Live To Play Event in Fermanagh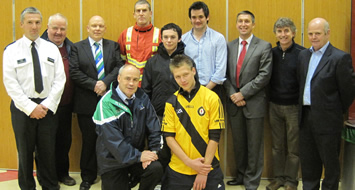 A very successful Live to Play event took place in the Bawnacre Leisure Centre, Irvinestown on Thursday 14th October. A large crowd was welcomed by Chairman of Fermanagh District Council and Peter Carty Fermanagh GAA Chairman. Attended the event were many local political representatives, Superintendent Muir Clark of the PSNI's Traffic Branch, An Garda Siochana's Chief Superintendent Terry McGinn and Inspector Michael Harrison  of Donegal Division, Ailish O'Neill of the HSC Public Health Agency and Aileen Tohill Health & Wellness Officer with Ulster GAA.
A hard hitting presentation was delivered by Constable John Wilson Education/Accident Prevention Officer for Road Policing. Local women and road safety campaigner Lizzie Keys told her story of how she was left disabled following a car crash on her 19th Birthday. Also speaking of his experience of a road collision was local rally driver Garry Jennings and the importance of road safety.
Tyrone Heroes of 47/48 Reel in the Years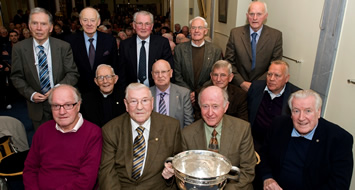 Pictured here are the players of the Tyrone minor football teams that won consecutive All-Ireland championships in 1947-48, and who attended the 'Tyrone GAA Reeling in the Years' event in the Cardinal Ó Fiaich Library and Archive, Armagh, on Tuesday night last.
At the event, before a packed attendance, the players saw films of themselves in a training camp at Pomeroy - the only known film of a GAA team in 'full-time' training in that era -before the 1948 All-Ireland final; the final itself; and the triumphant homecoming to Dungannon and Coalisland. The players had not seen any of these films in the 62 years since they had been recorded. At the end of the event, the audience gave them a standing ovation in recognition of their groundbreaking achievements for the GAA in Tyrone and Ulster.
Peter Harte RIP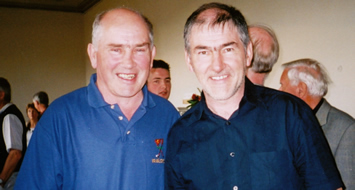 Ulster GAA are saddened to hear of the untimely passing of Peter Harte, former President of Chomhairle Uladh CLG.
Peter served as President of the Ulster Council from 1980-1983, during a very difficult period of history in the North of Ireland.
Secretary of the Ulster Council Danny Murphy described Peter as an "outright leader":
"He was President of the Ulster Council during the hunger strikes and he did a tremendous job keeping the GAA focused on the association whilst recognising what was going on around him.
Over all his career he gave tremendous service to the GAA."
St Paul's Belfast to host Golden Gloves Tournament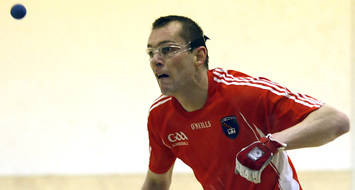 PLEASE NOTE THE DRAWS HAVE BEEN AMENDED for this weekend's Golden Gloves Handball Tournament in St. Paul's GAA Handball Club.
All players should note their relevant grade and changes made.
Charly Shanks will take up the number 1 seed slot in the Annual Golden Gloves Tournament which will go ahead as scheduled over next weekend - Friday 29th - Sunday 31st October 2010.
The Armagh player moved up to number 3 in the national mens rankings and, with Paul Brady and Eoin Kennedy not in action, he will take the favourites position as the last 16 commences next Saturday morning. Mayo's Dessie Keegan, who returns from the USA this week having lost in the Open Doubles final alongside Eoin Kennedy, is at number 2 with Westmeath's Robbie McCarthy at 3 and Wicklow's Michael Gregan at 4. Ricky McCann, a winner of the event on 3 occasions, is seeded at number 5 in the 2010 event.
Tyrone launch ASAP Signage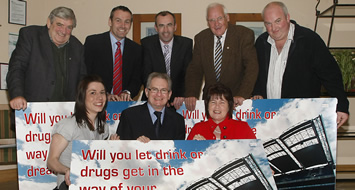 The 5th of October saw Tyrone GAA launch their ASAP programme signage scheme in Kelly's Inn, Ballygawley. With each Club in the County already with an ASAP officer and policy in place, the scheme will now ensure that all are in possession of a large sign consistent with the visuals of the ASAP programme.  The signs will be displayed pitch side or in a prominent location at the Clubhouse and will promote the work of the GAA in respect of preventative measures around abuse of alcohol and drugs.
The scheme was made possible thanks to the financial contribution of the Tyrone County board, along with the Southern and Northern Drugs and Alcohol Co-ordination teams.
Tyrone ASAP officer Cuthbert Donnelly launched the programme to a full complement of Tyrone Clubs and the hard work of the ASAP sub-committee in securing the signs was endorsed by all present. National ASAP officer Brendan Murphy and Ulster's officer Aileen Tohill were also present on the night to hear Leo Foy of the Southern Drugs and Alcohol Co-ordination team complement the efforts of the GAA in addressing the challenges presented by alcohol and drugs in society.
Hurlers roll back the years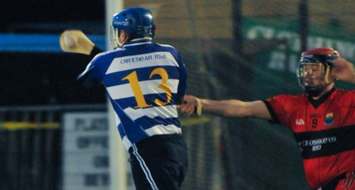 Kickhams Creggan GAC in County Antrim was the venue for this 9 a-side recreational hurling blitz.
These recreational blitzes are ran to provide those who no longer play competitively for their clubs an opportunity to play games in a fun based environment.
There were five Antrim clubs represented; Loughgiel, Cushendun, Glen Rovers, Clooney Gaels and St Galls, along with Ballinascreen representing Derry.
The games were played in a very sporting manner and everyone enjoyed themselves especially those who had not lifted a hurl in over 25 years..!
Score totals for the night:
Loughgeil: 7-13, Ballinascreen: 4-13, Cushendun: 5-9, Clooney Gaels: 5-4, Glen Rovers: 4-2 & St Galls: 2-5.
Gaelic4Mothers in Armagh A Great Success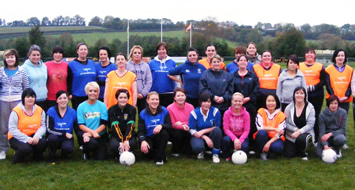 Mums from all over the city of Armagh who have been taking part in the Gaelic4Mothers programme concluded their six weeks activities last night. The programme which started at the beginning of September saw mums, young and not so young coming together each week to learn the skills of the game while at the same time having fun and meeting mums from other walks of life.
Supported by the Peace 3 Challenge of Change project and the Sport NI Active Communities coaching initiative the programme gave almost 40mums the chance to get out and get active in their local area. Such is the success of the programme that the mums want to continue to get together once a week. "We've had such a good laugh the past few weeks and dont really want it to stop" said one of the mums, "it's the only time in the week I get to myself! I'm not going to give that up!"
Ulster GAA and Unite Against Hate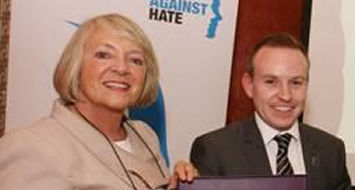 Ulster GAA were honoured for their involvement in the Unite Against Hate campaign at the launch of the UAH Sporting Weekend in the Long Gallery Stormont, recently.
The purpose of the campaign is to highlight, and make a stand against, hate crimes across the Province. The First Minister Peter Robinson and MLA Gerry Kelly were on hand to offer their support to the campaign. Last year Tyrone footballers Sinead McLaughlin and Joe McMahon were named as Ulster GAA ambassadors of the campaign. During the Launch the significant role of sporting organisations was emphasised. The three sports partners; Ulster GAA, I.F.A, and Belfast Giants, were commended for their endorsement of the campaign. Ryan Feeney Head of Community Development, Strategy and Public Affairs was awarded the "Unite Trophy" in recognition for his sterling work in the project.
Donegal Camogie Secondary School Blitz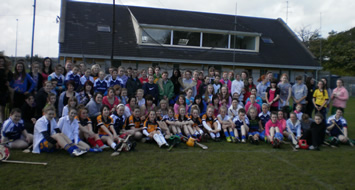 A Camogie 2nd level "Come And Try it Day" was held in Buncrana GAA pitches, Buncrana, Co Donegal on Thursday the 7th of October 2010. Over 100 girls took part with four schools being represented, Errigal College, Letterkenny, Moville Community College, Moville, Crana College, Buncrana and Colaiste Chineal Eoghain, Buncrana.
During the 2 hour session players received elite coaching from county star Deirdre Grant, Johnny Downey (Burt Club) and Gavin Craig ( Donegal  County Development Officer). Special thanks to the coaches for their time and effort.
After receiving excellent coaching and playing techniques the players tried out their newly acquired skills playing games against each other. The spirit that we associate with sport in Donegal was clearly evident on the Buncrana GAA pitches as the girls competed enthusiastically for every ball.
Men's CAU 7-a-side Football Competition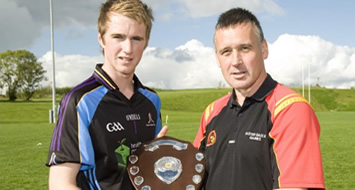 A very successful and enjoyable day was held at Mid Ulster Sports Arena on Wednesday September 29th as seventeen teams battled it out for the CAU 7-a-side football F.E trophy.
Representing the six main F.E Colleges in Ulster were: North West Regional College Derry, North Regional College Magherafelt, South West College Omagh, and Enniskillen, South Regional College Armagh, Newry and Lurgan plus Cavan Institute. A special mention goes to South East Regional College Lisburn as they entered the first ever Gaelic Football team to represent the Lisburn campus.
Played in near perfect conditions the football was off a very good standard, fast, good tackling and some great scores. There were four groups and each team played each other with the top two teams in each group progressing to the quarter finals.  The semi finals pitched Armagh against Newry and Lurgan against Magherafelt, with the Lurgan lads playing Newry in the final. The final did not let anyone down played at a very competitive pace Newry came out on top with a very solid performance and a score line of 4-4 to 2-5 to lift the trophy for the third consecutive year.
New GAA Website Solution for Clubs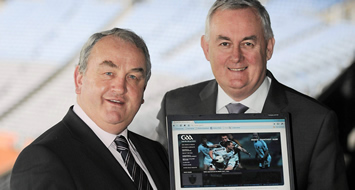 The GAA has a new official club web site solution which is available to all GAA clubs.
Club should note that the old CMS infrastructure will cease to operate after December 20th 2010, so it's important that clubs on the old service are up and running on the new solution before December the 20th.
The infrastructure is very easy to use with extensive functionality and it provides users with great flexibility. A selection of GAA themed templates are available for easy customization to suit your colours and requirements.
Clubs and counties can look after moving their sites from the old system to the new, either through members of the club or through local partners.
Health Speak - St Mary's Newtownbutler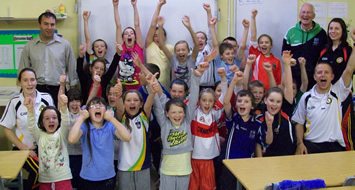 On Friday 1st October DENI Ulster GAA coaches Owen Mooney and Teresa McGirr ran a "Health Speak" day in St Marys Newtownbutler for the whole school.
Each class in the school received a Health lesson that incorporated interactive tasks and games for the children. The focus of the sessions were to give the children a fun and informative insight into all the different ways they can stay healthy. There was individual, group work, interactive quizzes, Health Dancing as well as pupil led sessions.
Aileen Tohill was also in attendance to provide Key Stage 2 children with more detailed information as to how their body reacts to exercise and food. Past pupil Paul Johnston was a special guest at the event. Paul answered questions in relation to preparation for matches, what foods are best for him to perform. Fermanagh GDM, Peter McGinnity was also a guest to oversee what the day involved and how it was undertaken as it is hoped that all schools in Fermanagh will avail of this opportunity.
Peace III brings together GAA and Hockey in Donegal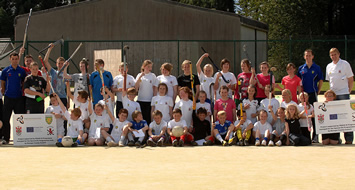 A unique partnership has been developed between Donegal GAA and Raphoe Hockey. The aim of the programme is to give opportunities for members of different communities to learn and train together and to build positive relationships. This project has been supported by the Peace III programme, managed for the Special EU Programmes Body by Donegal County Council.
The project has employed 3 full-time Games Promotion Officers who will deliver a variety of programmes in Donegal that will include Summer, Halloween & Easter camps as well as specialised training and coaching Gaelic Games and Hockey in the primary and secondary schools in the county.
Club Story: Camogie a big hit in Malawi thanks to Kilrea Camogie Club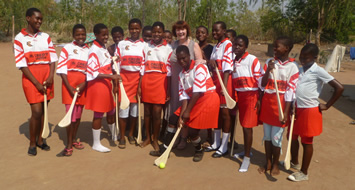 Camogie could be a big hit in one of the poorest parts of Africa thanks to Kilrea Camogie Club who gave their old kits to Anne Dallat a local women who is a regular visitor to Malawi where she works with orphans and HIV/AIDS sufferers.
Anne tells the story:
Kilrea Camogie Club kindly presented me with a large consignment of tops and skirts to take to my girls in Malawi and I was delighted. They also gave me a camogie stick so that replicas could be made when I arrived.  I got a full set of rules and a few balls and thanks to Ethiopian Airways I was not surcharged for carrying several times the permitted weight!
The girls were ecstatic when I arrived at Fatima School for Girls in a remote area near Zomba. They couldn't wait to get kitted out and from the beginning took to camogie like fish to water.
What's Happening this Month - November 2010
We are adding a new section to our online newsletter to highlight key events and activities taking place across Ulster from month to month.
This edition we look forward to November 2010, when there is a full schedule of activity planned.
Download:
- What's Happening in November 2010 (Excel Document)
back to top