Nollaig Shona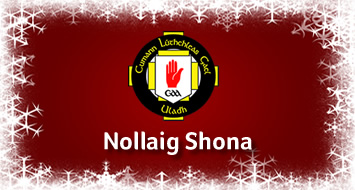 In 2010:
200,000 people were spectators at Ulster GAA events.
22,025 Gaelic Games fixtures were played in the Province of Ulster.
Over 25,000 GAA members attended Ulster GAA Coaching, Management, Officer, Community and Volunteer courses, conferences and events.
20,000 Children under the age of 8 received Coaching from an Ulster GAA Coach in 400 schools.
1,500 GAA members attended Ulster GAA Live to Play Road Safety events.
191 Clubs received Ulster GAA assistance with Club funding applications, governance support issues and Club Development Planning.
30 People completed the Ulster GAA Team Fit Course at St. Mary's University College.
20 New pitches were completed and opened with Ulster GAA support.
6 Clubs achieved a Gold Standard Club Maith Award.
So to the 250,000 GAA members in the 580 Clubs in the 9 Counties of Ulster, Comhairle Uladh would like to wish you a Happy Christmas and a Peaceful and Successful 2011.
Nollaig Shona
Please note that the Ulster GAA Offices will reopen on Tuesday 4th January 2011.
O'Neills Ulster GAA Coaching and Games Development Conference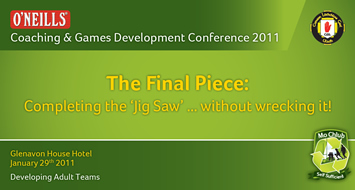 The 7th Ulster GAA Coaching and Games Development Conference will take place on Saturday 29th January in the Glenavon House Hotel, Cookstown.
Ulster GAA's flagship coaching event will once again be sponsored by O'Neills Sportswear, and this year's conference will target coaches who are working with adult players from 17+ years. It builds on 2008 and 2009 when we targeted children and youth coaches.
The conference consolidates the coach education work that is ongoing within the County and Provincial and National Coach Development programmes.
The challenge is to constantly refocus our coaching practice and the speakers will again reinforce good practice and present new challenges.
Further information on the keynote speakers and workshops can be found in the booking form below.
Places are open to all coaches at a cost of £20 / €25.
Places are limited and will be allocated on a first come first served basis.
For further information or to register, please contact:
028 (048) 3751 7180 or Email: conference.ulster@gaa.ie
Related:
- 2011 O'Neills Ulster GAA Coaching and Games Development Conference Booking Form
Cross Claim Title Number 8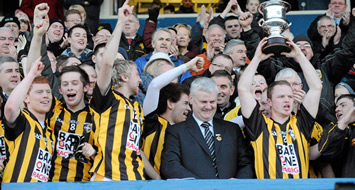 AIB Ulster Club Senior Football Championship Final:
Crossmaglen (Armagh) 2-9 Naomh Conaill (Donegal) 0-10
Crossmaglen claimed the AIB Ulster GAA Football Senior Club Championship title following a 2-9 to 0-10 defeat of Donegal's Naomh Conaill at Kingspan Breffni Park, Cavan on Sunday afternoon.
Cross', the 38-times Armagh champions, trailed by 0-7 to 1-3 to the Glenties outfit at the break, with Jamie Clarke netting the only goal of the half in the 15th minute.
Former inter-county star Oisín McConville then added a second goal on the resumption of play to secure an eighth provincial title for the Orchard County kingpins.
"It was no more than a half-an-hour display," said Crossmaglen joint manager Tony McEntee. "Half-time triggered us, it gave us a chance to get restructured."
Omagh Ladies Draw in All Ireland Final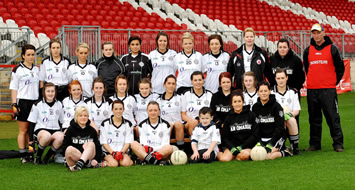 Tesco All Ireland Junior Club Football Final:
Caltra Cuans (Galway) 0-7 St. Enda's, Omagh (Tyrone) 0-7
St. Enda's Omagh and Caltra Cuan's will meet again next weekend after the sides drew 0-7 each in Mullahoran on Saturday. This game was played at the fourth time of asking and when the sides arrived at the Cavan venue there was severe fog however just before throw in the fog lifted and the teams served up an exciting if not tight encounter.
With the first attack of the game Caltra hit the crossbar through Niamh Kilkenny however as so often happens St. Enda's cleared their lines, charged up field and forced a free which Cara Mc Crossan fired over. St. Enda's should have extended their lead a few minutes later but Emma Collins sent a 13m free wide of the post. In the 9th minute Mc Crossan did doubled their lead when she sent over from a tight angle.
Ulster Club Championship Videos now Online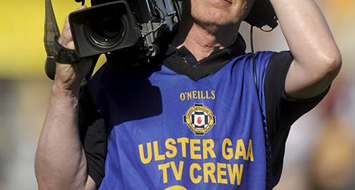 Throughout the AIB Ulster Club Football and Hurling Championships, we will be selecting a number of games each weekend and publishing exclusive video highlights online.
We have already uploaded a number of videos to the Ulster GAA YouTube channel and these have proved very popular. Some of the most popular videos include some champagne hurling from Loughgiel, a great goal with a twist by Crossmaglen's Michael McNamee, and of course the Ulster Junior, Intermediate and Senior Football and Hurling Finals.
The Ulster GAA YouTube channel has grown from strength to strength, with our video views now in excess of 100,000.
Ulster GAA Training Session for Club Officers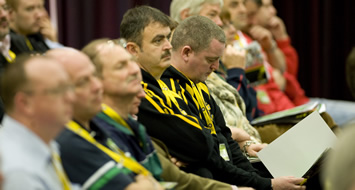 Ulster GAA have organised nine Training Days for all Club officers from across Ulster Counties.
First up is County Tyrone on Saturday 8th January 2011 in Loreto Convent in Omagh, followed by Monaghan Club Officer Training on Saturday 15th January in St Macartan's College.  Saturday 22nd January will be the turn of County Down when the training will be held in St Malachy's School, Castlewellan.
These half-day session will kick off with registration at 9am and will conclude with a complimentary lunch at 12 noon.  The training session is FREE and all clubs are asked to ensure that their club officers are in attendance - even those who attended last year's programme.
Speaking ahead of the event Ulster GAA President Aogán Ó Fearghail said, "The Club Officer Training Programme has become a key event for club officers across all counties.  A lot of resources have been invested in this programme both by Ulster GAA and individual County Boards and it is essential that all clubs take up this free training so that our clubs can be the best in Ireland."
Live to Play 2011 Promotional Campaign Launched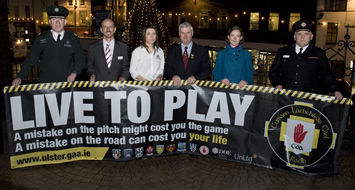 Ulster GAA has launched the 'Live to Play' 2011 Promotional Campaign which will result in a poster campaign for Schools and Clubs and pitch side signage for major GAA grounds.  The poster campaign has gained the support of the major GAA stars in the Province with players such as Brian Dooher, Ronan Clarke and Paddy Cunningham lending their faces to the campaign.  The initiative will also offer competitions for school children, providing the chance to win sports bags with reflective imagery, ensuring the carrier is visible in traffic.  It is anticipated that these promotional materials will reinforce the education work which is ongoing as part of the Live to Play programme in Ulster.
'Live to Play', Ulster GAA's Road Safety programme, aims to raise awareness and educate members on how best to stay safe on the roads.  The programme is delivered in partnership with the County boards, with a particular focus on young people as it is they who are most likely to be involved in a traffic collision.
GAA Social Initiative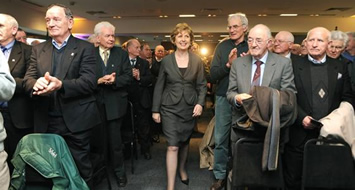 The GAA Social Initiative arose as a result of President Mary McAleese and her husband, Martin, noticing an absence of older men in attendance at official functions during their many visits to local communities over the years. She came to the conclusion that many men, because of the changing patterns of life, were falling through cracks in the system and either risking or already experiencing isolation and loneliness. For instance, there are approx 200,000 men over 65 in the country, of which as many as one third are living alone. The President referred to those "who have lost the threads of regular and meaningful social contact and who would welcome the chance to revive their social lives again in ways they would enjoy".
Arising from her concern, the President established a Forum in 2007 consisting of selected older men - leading academics, health and social care professionals, service providers and local and national representatives - to explore the problem.
University of Ulster Bank of Ireland Gaelic Academy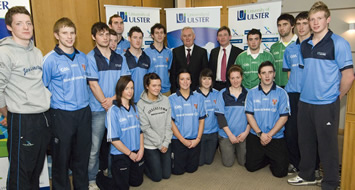 GAA President Christy Cooney has praised the University of Ulster Gaelic Games Academy, saying the initiative should act as a sporting model for universities across Ireland.
Mr Cooney was speaking today at the announcement of a new five-year sponsorship deal between the Gaelic Games Academy and the Bank of Ireland.
"This is a momentous day for the University of Ulster and our association as it sends a clear message that everyone interested in Gaelic Games has a place," he said.
"This Academy is crucial to the development of our players irrespective of the level they play at and this initiative is groundbreaking and a path I would like to see all universities going down for Gaelic games."
Ulster GAA hold High Performance Forum
Thursday 25th November witnessed Ulster GAA's High Performance Forum in the Glenavon House Hotel, Cookstown. The event was aimed at those working at the elite level of our games within Ulster. It aimed to provide an opportunity to discuss and debate best practice across a range of issues such as, drug testing guidelines, sports science provision and player management, among others.
Among the presenters were staff from Sports Institute Northern Ireland who offered a snapshot of their knowledge and experience within elite sports provision. There was also a presentation by Randox International highlighting their capacity to undertake detailed player blood profiling as well as providing a brief insight into results gained from a pilot study carried out in conjunction with the Down Senior football team and Ulster GAA in 2010. Ulster GAA then detailed the findings and conclusions from the study into manager heart rates during games.  Finally, Stephen Browne (Croke Park) summarised issues surrounding drug testing procedures and protocol that are encountered by senior inter-county teams.
Coach Education Programmes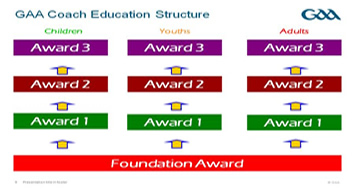 The Ulster Council Coach Education Programme continues to evolve as we move into autumn/spring 2010/11. In Ulster we have over one hundred tutors who are trained to run courses up to and including level 1. Additionally we have 10 Tutors Trainers who can deliver Tutor Training courses as well as Level 2 Award at Children, Youth and Adult level.
Coaching Ireland (CI)
CI is the accrediting body for the GAA Awards and Tutors.
It is also responsible for the training of tutor trainers
CI carries out the role of Quality Assurance of all courses. This includes all aspects from course registration, approval, certification and training of tutor trainers. All courses must be approved in advance and receive a course code from Coaching Ireland.
Recreational GAA in Silverbridge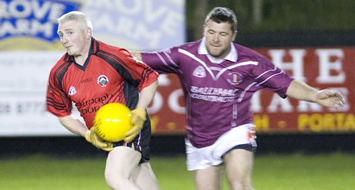 The GAA clubs of South Armagh recently received an introduction to Recreational Gaelic Football at the excellent floodlit facilities at Silverbridge GAC. This initiative has been promoted at various regions and areas over the last year or so, but this time it was the turn of the Gaels of south Armagh to try their luck. The event was organised by Diarmaid Marsden (Ulster GAA) and Denis Hollywood (Armagh Coaching and Games)
Representatives from 6 local clubs turned up in perfect conditions to play this adapted form of Gaelic Football and two official referees were on hand to look after the games.
The main focus of the evening was taking part and no one was really too bothered about the results of the games. The teams were 9 a side and in some instances were made up of a mixture of players from different clubs. This concept actually worked really well in that it removed a lot of the natural club rivalry and competitiveness and ensured that the games were played in the right spirit.
Derry Christmas Sports Fun Day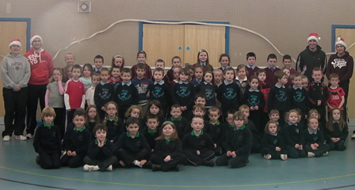 The Ulster GAA DENI Coaches from County Derry ran a Christmas Sports Fun Day in Kilrea Sports Complex.  They invited children from 4 Schools in the Kilrea area, two Maintained and two Controlled .  These included St Columba's PS Kilrea, Kilrea PS, Crossroads PS and Drumard PS.  The day was a huge success, with all the 60 Children and Teachers thoroughly enjoying themselves.  Many thanks to all the Schools that participated, to St Columba's who provided Primary 7′s to help with the games, as well as a music system to play festive songs, and to Brian in the Kilrea Sports Complex for helping us.  Please find attached Pictures from the Day.
The Ulster GAA DENI Coaches from County Derry (Ben McGuckin, Ruairi Convery, Clare Leahy, Colum Tracey and Grainne McGale), along with Derry GPO's Diarmuid Scullion and Emmett Stewart also ran a Christmas Sports Fun Day at Lavey GAC's Indoor Complex.
Festive Fun for Erne Special School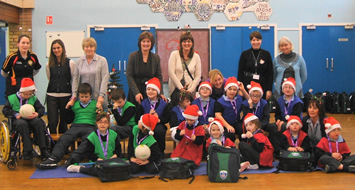 A Special Christmas themed coaching session was organised for the Year 2 - 6 classes in the Erne School.  Ulster Council Coach Teresa McGirr delivers the DENI Minister's 'Primary Schools Curriculum Sports' Programme, in the Erne School weekly.
The Christmas session was enjoyed by all children, teachers and classroom assistants; they played various games such as Snowman Knockdown, Find Rudolph Nose, and Santa's Little Helpers.  While playing and enjoying all the games immensely, the children were also refining their striking skills using Hurls and bats.
At the end of the session each child received a GAA School bag, GAA football kit and medal kindly donated by Fermanagh County Office, a special thanks to GDM Peter McGinnity and also Seamus McMahon.
What's Happening this Month - January 2011
We are adding a new section to our online newsletter to highlight key events and activities taking place across Ulster from month to month.
This edition we look forward to January 2011, when there is a full schedule of activity planned.
Download:
- What's Happening in January 2011 (Excel Document)
back to top