Michaela McAreavey RIP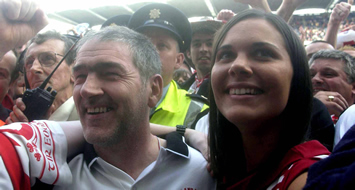 The Officers, Members and staff of Ulster Council GAA are deeply saddened at the death of Michaela McAreavey (nee Harte).
On behalf of the entire Ulster Council I would like to express my sincere and heartfelt sympathy to Harte Family: Mickey, Marion, Mark, Michael and Matthew; and Michaela's husband John McAreavey and his family at this time. The Harte Family have made a significant contribution to the GAA over many years and this news will shock and sadden the entire Association.
I would also express my condolences to the Tyrone County Committee, Tyrone Senior County Football Players and the Clubs of Tyrone, in particular Michaela's Club Errigal Ciaran GAA.
We will miss a beautiful, talented and gifted young woman.
Ulster GAA's Coaching Conference SOLD OUT!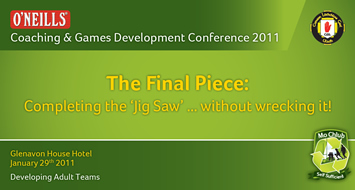 Coaches within Ulster look forward every year to the annual Ulster GAA Coaching Conference.  This year's event will take place in the Glenavon Hotel, Cookstown, on Saturday 29th January, which is now a SOLD OUT event.
The event follows a four year cycle, and this is year three in the current sequence, which has seen Conference themes of 2009 'Coaching Children', 2010 'Coaching the Youth', 2011 Coaching Adults and the final theme of Coaching within the Education Sector will be run out next year.
Key note speakers include former Down All Ireland winning manager Pete McGrath, who will advise the coaches on 'Creating Champions'; All Ireland Final referee Pat McEnaney will speak on the GAA's Respect Initiative and it means to both players and referees; former dual star for Kevin Lynchs and St Canice's Dungiven, and current EBU European Boxing Champion, Paul McCloskey will be the guest speaker; and All Ireland Minor football winning manager, Raymond Munroe will share his experiences of the 'Training to Win' phase of the long term player development model and how to nurture minor players into the senior team.
Barrett Sports Lighting Dr McKenna Cup Round-Up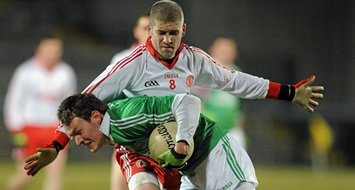 With Antrim and Derry having already claimed semi final spots in the Barrett Sports Lighting Dr McKenna Cup, the 2 remaining spots are still up for grabs, with Tyrone, Donegal and Cavan all having their eyes set on them.
In Wednesday night's games, Tyrone eased to victory over Fermanagh, while Cavan beat neighbours Monaghan by the narrowest of margins, and St Mary's claimed the shock of the tournament by beating Armagh at the Athletic Grounds.
Barrett Sports Lighting Dr McKenna Cup Section A
Fermanagh 0-11 Tyrone 2-11
Tyrone secured a second McKenna Cup win in four days when they beat Fermanagh by 2-11 to 0-11 at Brewster Park on Wednesday night.
However, Mickey Harte's men were made to battle all the way by the Erne men, who contrubuted handsomely to a fine game but ultimately ran out of steam after a brilliant start.
Top US successes for Irish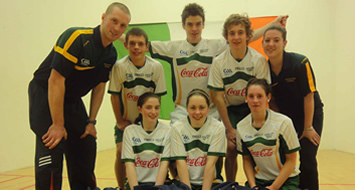 The victorious Irish squad returned from this year's USHA (40X20) Four-Wall National Junior Championships at the San Diego Tennis & Racquet Club, San Diego, California, USA, with an impressive haul of ten titles. The Official Irish Team of six players performed a "clean sweep" at the prestigious annual championships, with all six collecting silverware.
Topping the bill was Tyrone's Caolan Daly (Carrickmore), who claimed the Boys 19 & Under Singles title, following a thrilling all-Irish final, defeating Mayo's Stephen Cooney (Ballaghaderreen), over three games. Cooney edged the first game, on a slender scoreline of 19-21, but Daly replied immediately, taking the second game, on a narrow scoreline of 21-17. In the third tiebreaker game, Daly hit his stride and blitzed through, to close out, on an emphatic scoreline of 11-1, to seal victory.
Scór na nÓg Ulster Final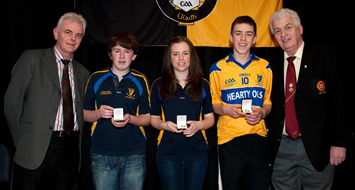 Silverbridge GFC hosted the Scór na nÓg Ulster Final on Saturday 22nd January 2011 and what a day it was for the young men and women of our Association, who represented their clubs with great respect and dignity.
It was a fun-filled day with outstanding talent on show from the young people of Ulster Clubs. Everyone who took part must commend for their hard work and efforts. But there could only be one winner in each category, which were:
2011 Scór na nÓg Ulster Final Winners:
Rince Foirne (Céilí Dancing) - Naomh Éanna, an Omaigh (Tír Eoghain)
Amhránaíocht Aonair (Solo Singing) - Sarah McVeigh, Naomh Pádraig Saul (An Dún)
Ceol Uirlise (Instrumental Music) - Eadan an dTorc (Tír Eoghain)
Aithriseoireacht (Recitation) - Caitlín Ní Chaothmhaoil, N. Éanna an Omaigh (Tír Eoghain)
Bailéad Ghrúpa (Ballad Group) - Naomh Pádraig, Saul (An Dún)
Nuachleas (Novelty Act) - Gleann t-Súilí (Dún na nGall)
Rince Seit (Set Dancing) - Crois ar Loch (An Cabhán)
Tráth na gCeist (Quiz) - Béal Atha an Airgid (Ard Mhacha)
Good luck to all the winners who will represent Ulster in the All Ireland Finals in Castlebar, Co. Mayo on Saturday 19th February 2011.  Ádh mór orthu uilig.
2011 Club Officer Training receiving record attendance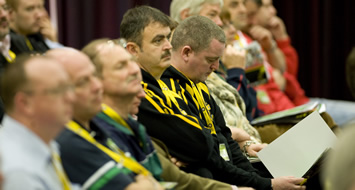 Ulster GAA are on the road again with the Club Maith: Club Officer Training Programme. The training is designed to compliment last year's sessions which focused on the roles and responsibilities of the various club officer roles. To keep the training fresh and interesting for club officers - new and experienced - the 2011 training program focuses on four key workshop areas including: Club Development Plans, Raising Funds in 2011, Child Protection and Applying for Club Maith.
Three counties have completed their training session in January - Tyrone, Monaghan and Down - with average attendances breaking the 100 people mark! These high attendances proves the worth of this training programme, which should be the one-stop-training programme for Club Officers for the entire year.
Certificates are handed out on the day of training and County Boards are making an important contribution to these events by providing the venue and lunch completely free of charge.
Additional Club Email Addresses now available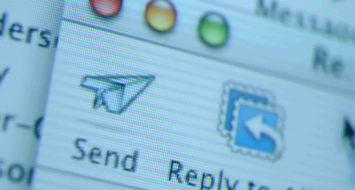 Due to the successful role out of the GAA Google email accounts in 2009 and 2010 and as part of the GAA's Strategic Vision and Action Plan 2009-2015, the Association has obtained additional Google email accounts which are free to all Clubs.
The additional emails are to provide clubs with a PRO and Chairperson account.
The structure of the emails are as follows (using the Austin Stacks GAA Club as an example):
pro.austinstacks.kerry@gaa.ie
chairperson.austinstacks.kerry@gaa.ie
In order to obtain a PRO or Chairperson email account for your Club all you need to do is contact the GAA Mail support team.
Contact details are as follows: GAA email support team at mail.support@gaamail.ie or by phone on 076-615 4932 (a lo-call number) or alternatively +353 1 6384822
Armagh Culture Day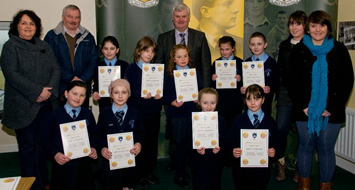 Reachtáil an Coiste Cultúir de CLG Ard Mhacha seimineár iontach úsáideach 22 Eanáir d'oifigigh chultúir agus teanga ó chlubanna ó gach cuid den chontae agus bhí na cainteanna ar fad iontach sultmhar agus tairbheach. Labhair Uachtarán Chomhairle Uladh, Aogán Ó Fearghail, fá ról na Gaeilge agus an chultúir i saol an CLG.
Shocraigh Réamonn Ó Ciaráin ó Choiste Cultúir CLG Ard Mhacha scéim nua idir Coláiste Chaitríona agus bunscoileanna béarla chathair Ard Mhacha i mbliana agus bronnadh teastais ar na páistí a ghlac páirt inti. D'éirigh go hiontach leis an scéim agus bhí na páistí ó Bhunscoil Chnoc Chaitríona sona sásta leo féin nuair a bhí siad ábalta freagra a thabhairt d'Aogán Ó Fearghail i nGaeilge.
Thug Fergal O' Brien as Cumann Chú Chullain ar an Mhullach Bhán caint bhríomhar ar na comórtais sa Scór agus scaip s&éacute; a chuid taithí ar a raibh i láthair. Rinne R&éacute;amonn Ó Ciaráin cur i láthair an-shultmhar ar thionchar na Gaeilge ar an Bhéarla a labhraímid in Éirinn agus bhí iontas ar chuid mhór den lucht freastail go raibh an oiread Gaeilge in úsáid acu nuair a labhraíonn siad Béarla féin. Labhair Kevin Murphy ar logainmneacha agus ar a thábhachtaí is atá sé ainmneacha na mbailte fearainn a chaomhnú.
McKeever Sports Continue Sponsorship Of Dowd Cup for 2011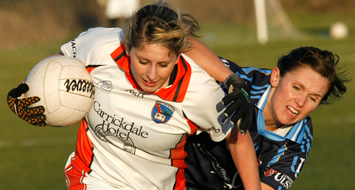 Ulster Ladies Gaelic are pleased to announce that McKeever Sports have confirmed that they will be continuing their sponsorship of the Dowd Cup for the 2011 competition.
Speaking at the annoncement Sheena Tally organiser of the competition said "We are delighted to have McKeever Sports on board again this year as the sponsor for our Dowd Cup. In a time when financial support is so hard to come by we are very grateful to Padraic and all at McKeevers and the GAA Store for their continued support. We hope that all our clubs, schools and counties will show their appreciation to them by giving them their business in the 2011 season."
"Ladies Gaelic Football continues to go from strength to strength in the province and we are very proud to be associated with such a prestigious competition as the Dowd Cup" said Padraic McKeever who heads up the company. "We first got involved in the sponsorship of the competition last year and were happy to continue our involvement for this year. We wish all counties and colleges participating the best of luck in it."
Award 2 Coaching Course available in Spring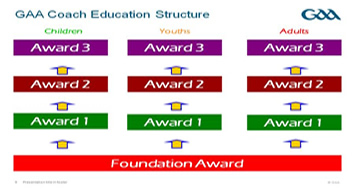 Ulster Council Coaching & Games will be running out a programme of Award 2 Youth/Adult Courses over the spring(see table below).
Please note that these are the first of the newly approved Award 2 Courses.
If you have the Award 1 Youth/Adult Coaching qualification and are keen to progress your coaching experience please contact Roger Keenan on 02837517184/079600618.
The dates and venues for upcoming courses can be found by following the link below.
Ulster Club Senior Hurling League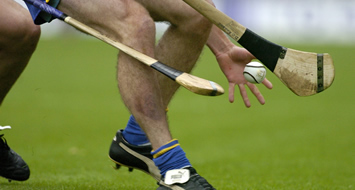 Any Club wishing to enter the 2011 Ulster Club Senior Hurling League should do so as soon as possible.
The competition is open to all hurling Clubs in Ulster and it is proposed to run the group stages off on:
- Saturday 19th February
- Saturday 26th February
- Saturday 5th March
- Saturday 19th March
- Saturday 2nd April
The Semi-Finals are scheduled for the weekend of 30th July, while the Finals will be played on the weekends of 20th August and 27th August.
Teams who wish to play in this competition must return their registration forms before 4.00pm on Friday 28th January 2011.
Ulster GAA Inter-Firms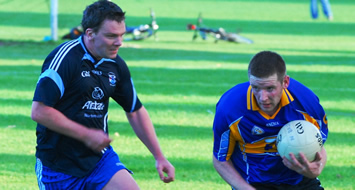 The Ulster GAA Inter-Firms competition, for both Football and Hurling, is now open for registration for teams ahead of the 2011 season.
Teams from across Ulster will be signing-up to ensure their places and avoid missing out on a season of action packed games.
The Inter-Firms competition is an excellent opportunity to represent your workplace in football or hurling. The competition caters for all levels of skills and fitness and the leagues will get underway at the end of July. The league formats will see the top 4 teams proceed to the semi-finals whist the other teams will battle it out in the shield competition.
Secretary of the Ulster Inter-Firms Gary Rocks commented:
"We are looking forward with enthusiasm to another exciting year for the Inter Firms in 2011. I would encourage any company or organisation that has employees who play or are interested in playing Football or Hurling to register for this year's competition. It's a great way to build camaraderie among work colleagues and it is an immense source of pride for many of those who represent their workplace in competitive sport. There is also an active social side of the competition with numerous events organised throughout the year."
2010/2011 Ulster Colleges All-Stars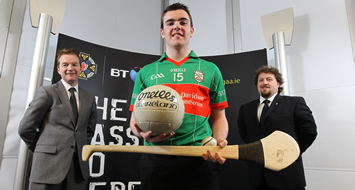 The presitigious BT Ulster Colleges Football and Hurling All-stars have been announced.
Pictured is Conor McNally (St Patrick's Armagh) who completed a personal double. He was selected at corner-forward in both the Hurling team announced on Tuesday and the Football team announced today. Conor was also at corner-forward in last year's elite Hurling team. Conor joins Peter Morris, Consumer Director, BT left and Paddy Linden, Vice-chairman Ulster Colleges Council.
2010/11 BT Colleges' Football All-stars
1. Matthew McNeice (St Colman's Newry)
2. Niall Donnelly (St Colman's Newry)
3. Ciaran Cannon (St Eunan's Letterkenny)
4. Peter Quinn (St Mary's Magherafelt)
Fermanagh Schools Coaches present at National Coaching Conference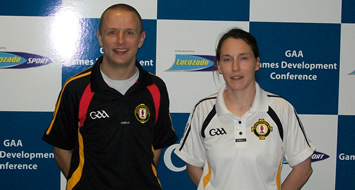 Ulster GAA coaches Owen Mooney and Teresa McGirr attended the GAA National Coaching and Games Conference to provide a practical demonstration on the Gaelic Start and FUNdamentals Programme that is currently being run all over Ulster. Owen and Teresa set up a range of stations and progressive games in order to give delegates an opportunity to see the activities that are provided within the programme. The session was hugely successful and very enjoyable for the delegates in attendance and also the children who participated in the activities.
Nicholas Walsh, National Games Development Officer for Primary Schools stated "The Gaelic Start Programme is a fantastic resource for clubs. Not only do the children learn new skills, games and activities; it also helps parents get involved in their children's play; they become the first coaches and this will not only benefit the relationships with children but also the clubs as they will gain new and enthusiastic players, volunteers and coaches".
Down underage hurling league gets underway
Ulster GAA coaches are currently running a very successful hurling league for U12 in venues across Counties Antrim and Down including the Eddie Irvine Centre in Bangor, St John's Belfast, De La Salle School Downpatrick, An Riocht hall, and Banbridge Leisure Centre.
Over 30 teams are taking part in the 6 week programme which will be followed by a similar event for U10s.
Ulster GAA Coach Mickey McCullough explains: "The first skills young children are often taught are how to pick and how to strike from their hand. We believe these basic skills should be embraced and encouraged
"In doing so the league is an extremely fast paced event with all the skills to the fore in every game. The idea came about to challenge the children as much as possible so that they are pushing themselves to learn as opposed to being happy with where they are at."
GAA coaches active in your community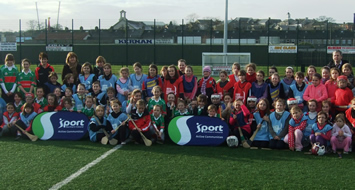 What Is The Active Communities Programme?
Active Communities is a programme that aims to increase participation in sport and physical recreation in communities. Active Communities seeks to increase participation among under represented groups including women and girls, older people and people with a disability. Active Communities is funded by Sport Northern Ireland.
How Is Ulster GAA Linked To The Project?
Some council consortia areas have GAA specific coaches who are working in their council areas to increase participation in Gaelic Games. As the Ulster GAA is committed to working diversely across all codes, ages and abilities they give direction and support to these coaches.
Seven Ulster Camogs honoured with Bursaries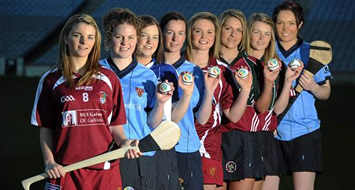 The Camogie Association and CCAO (Higher Education Camogie Council) awarded eleven camogie players with third level bursaries totalling €7000 at Croke Park this afternoon (Tuesday, Jan 18th).
The joint presentations were made by President of the Camogie Association Joan O'Flynn and Shane D'Arcy, President of CCAO.
The eleven recipients were Sinead Cassidy, a student at Queens University, Belfast; University of Ulster Jordanstown quartet Shauna Murphy, Karen Tinnelly, Sara Louise Carr and Gemma McCullagh; Emma Connolly and Dervlagh McGuigan, of St Mary's, Belfast also received bursaries; while Meath star Jane Dolan, a student of Dublin Institute of Technology, NUI Galway duo Anne- Marie McMahon and Chloe Morey and Marese Floyd, Froebel College, completed the list.
GAA Social Initiative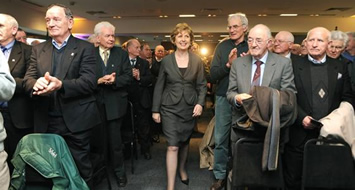 The GAA Social Initiative arose as a result of President Mary McAleese and her husband, Martin, noticing an absence of older men in attendance at official functions during their many visits to local communities over the years. She came to the conclusion that many men, because of the changing patterns of life, were falling through cracks in the system and either risking or already experiencing isolation and loneliness. For instance, there are approx 200,000 men over 65 in the country, of which as many as one third are living alone. The President referred to those "who have lost the threads of regular and meaningful social contact and who would welcome the chance to revive their social lives again in ways they would enjoy".
Arising from her concern, the President established a Forum in 2007 consisting of selected older men - leading academics, health and social care professionals, service providers and local and national representatives - to explore the problem. Subsequently, the President invited the GAA to implement some of these ideas arising from the Forum resulting in the 'GAA Social Initiative', launched in 2009.
Fermanagh coaches put new angle on PE lessons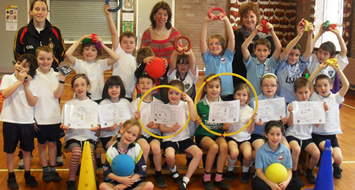 St. Columban's Primary School, Belcoo young scholars have been bringing their classroom skills into their PE lessons. The pupils of Primary 3/4 class headed by their teacher Mrs Anne Murray were given the opportunity to use their creative skills to develop their own game while working in groups. These fun games were specially designed by the children from start to finish. Demonstrating great team working skills, the children had access to a variety of equipment for example, skipping ropes, footballs, huala hoops, bean bags, cones etc.
Before starting to design the games the children were giving only a few instructions which would guide them in the development stages, these included; What are the rules?, Have a scoring system, How to make the game harder and easier.
2011 Rounders Affiliations now open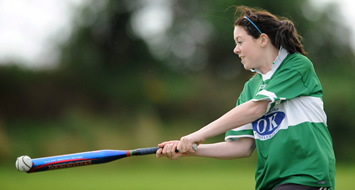 Affiliations are now being accepted for the 2011 rounders season. If you wish to affiliate, please email secretary.rounders@gaa.ie to request an affiliation form.
Please note: Closing date for all affiliations is February 1st 2011.
Comhdháil Bliantúil Comhairle Cluiche Corr na hÉireann, (Rounders Council of Ireland Congress) will be held at 2pm on Sunday 6th of February 2011, in the The TF Royal Hotel & Events Centre, Castlebar, County Mayo.
Delegates, guests and members of Council are requested to commence sign in at 13:30, so as to allow the proceedings to commence at 14:00 sharp.
What's Happening this Month - February 2011
We are adding a new section to our online newsletter to highlight key events and activities taking place across Ulster from month to month.
This edition we look forward to February 2011, when there is a full schedule of activity planned.
Download:
- What's Happening in February 2011 (Excel Document)
back to top