Ulster GAA Convention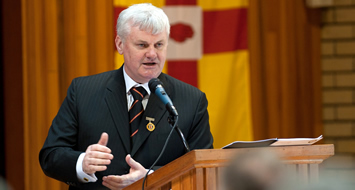 Armagh city was the venue for this year's Ulster GAA Council's Annual Convention, which took place on Saturday past.
GAA delegates from all nine counties of Ulster descended at St Patrick's Cathedral on Saturday morning last for the annual Ulster GAA Mass officiated by Cardinal Sean Brady.  Music and song came from a strong Scór Club Madden Raparees from County Armagh in the form of Catherine Grimley solo singing and the McCusker Family on instrumental.  Armagh County Chairman and Pearse Og's Clubman Paul Duggan also sang at the service.
The official business of the day got underway in the nearby St Patrick's College where all officers of Ulster GAA Council presented their reports looking back on the work of the council over the last year.
Barrett Sports Lighting Dr McKenna Cup Final Preview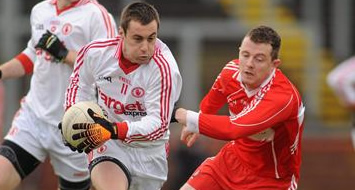 Saturday 5th March
Barrett Sports Lighting Dr Mc Kenna Cup Final (7.00pm, Extra Time if necessary)
Derry v Tyrone at Athletic Grounds, Armagh
The 2011 Barrett Sports Lighting Dr McKenna Cup like all other facets of life, suffered as a result of the extremely cold and frosty conditions that were endured over the past two months.  Fixtures were postponed and venues were changed but we now find ourselves at the final stage, albeit four weeks later than anticipated.  The nine counties and three university sides are ever more dependent on this competition, simply for the competitive environment that it provides ahead of the Allianz League and the Sigerson Cup respectively.   The three university sides were extremely competitive once again in their respective sections.
Ulster GAA Coaching Conference a Huge Success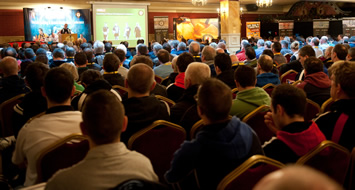 Towards the end of January, Ulster GAA held its annual Coaching and Games Development Conference in the Glenavon Hotel in Cookstown.  The event was a sell-out with delegates coming from clubs across Ulster and across Ireland, Scotland and England.
Ulster GAA's flagship coaching event was once again sponsored by O'Neills Sportswear, and this year's conference targeted coaches who are working with adult players from 17+ years. It built on 2008 and 2009 when we targeted children and youth coaches.
The one-day conference had a packed clár which effectively combined plenary sessions with interactive workshops.
For presentations, photos and videos from the conference please log onto: www.ulster.gaa.ie/coachingconference2011/
Ulster Club League Round-up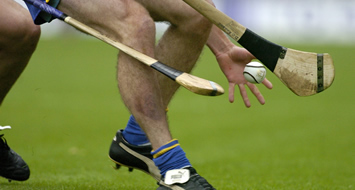 The Ulster Club football and hurling leagues are well underway across the nine counties of Ulster.
So far many matches have proved to be extremely competitive and enthralling to watch.
The competitions across senior and intermediate level give clubs an opportunity to compete at provincial level for a club title.
Results and fixtures are posted weekly on the Ulster GAA website, simply log onto: www.ulster.gaa.ie/fixtures-and-results/
Lisnaskea claim historic win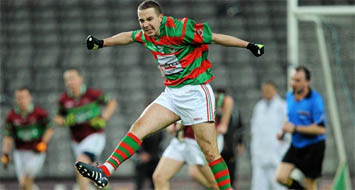 AIB GAA Football All-Ireland Intermediate Club Championship final
Linaskea Emmetts (Fermanagh) 1-16 St James' (Galway) 0-15
Lisnaskea Emmetts became the first Fermanagh club team to win an All-Ireland title when they beat St James' of Galway in the decider on Saturday night at Croke Park.
It was a fairly epic victory, too, as they came from three points down to force extra-time with a last-gasp free and then cut loose in the second period to send their large contingent of fans into rapture.
It was an engrossing match that swung this way and that from first whistle until last, and St James' deserve praise, too, for their contribution to 80 minutes of highly entertaining football.
Club Officer Training for Antrim, Derry and Armagh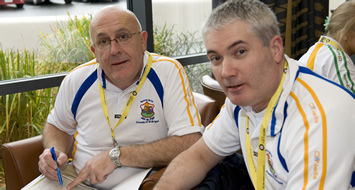 The 2011 Club Officer Training Programme has been delivered in six counties: Tyrone, Monaghan, Down, Donegal, Cavan and Fermanagh.  In March this programme will be rolled out to Antrim, Derry and Armagh meaning that all club officers across Ulster will be fully trained on the key issues which will affect them in the forthcoming year.
The training compliments last year's role specific officer training.  This year the training focuses on key issues rather than officer roles.  There are two plenary sessions as part of this training: Building a stronger club and Ulster GAA's Road Safety Campaign Live to Play.  There are also four interactive workshops for delegates including: Raising funds in 2011, Applying for Club Maith, Club Development Planning and Child Protection.
Clubs are urged to send at least four delegates to this training.  The session throws in at 9am and concludes with lunch at 12noon.
Provincial Training for New Club Officers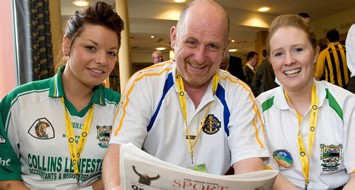 Any club across the nine counties of Ulster who have appointed new officers in 2011 should ensure that these officers attend the Provincial Training Course for New Club Officers which will take place on Saturday 9th April at 10am in Loreto Convent in Omagh.
This training session is in addition to the 2011 Club Officer Training which is being delivered in all counties.
This training session specifically for NEW club officers will focus on the role descriptions, responsibilities and key issues facing NEW club officers in 2011.  There will be eight workshops as part of this training course for: Chairperson, Secretary, PRO, Treasurer, Coaching Officer, Child Protection Officer, Culture and Community Officer, and Club Development Officer.
Disability GAA Fun Day for Schools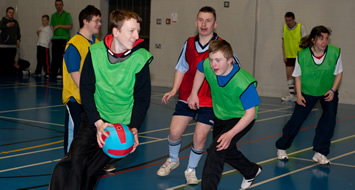 On Thursday 3rd Feb Ulster GAA hosted a GAA Fun Day for special schools in the South Ulster area. This cross community event, in Orchard Leisure Centre Armagh, hosted 42 boys and girls of varying ability levels, from 4 different schools including Lisanally School Armagh, Sperrinview Dungannon, Ceara Lurgan and Holy Family from Cootehill.
After a few warm up games and activities the children tried out some of the Gaelic skill stations that were set up in the hall, including kicking, catching, bouncing, hurling dribble, striking and fist-passing.
They were then split up into teams and introduced to 3 games (Gaelic football tennis, Gaelic volleyball and indoor hurling) before breaking for lunch.
To finish the day off the children got the opportunity to represent their school in adapted games of indoor Gaelic football. Considering that none of the children had never seen Gaelic football let alone played it, the level of skill was extremely high and the games were very enjoyable.
All Ireland Scór na nÓg Success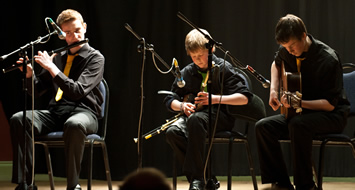 A massive congratulations goes out to all Ulster acts who took place in this year's All Ireland Scór na nÓg final.  All Ulster participants represented their Province, their County and their Club with great distinction.  It's a lovely honour for the young people who participated to know that they are ambassadors for Ulster GAA and we are very proud of them and their efforts.
Ulster picked up two All Ireland Titles at the Scór na nÓg Final, which was held on Saturday 19th February in the TF Royal Hotel & Theatre, Castlebar.
Comhghairdeas le Éadan na d'Torc as Tír Eoghain (pictured) who won the instrumental music with a three piece group.  This is a tremendous achievement as it is very difficult and unusual for a three piece group to win an All Ireland in Ceol Uirlise so this further demonstrates the extraordinary talent of the three young musicians as Tír Eoghain. Coinnigh suas an obair mhaith.
GAA Clubs Awarded at Clubmark NI Ceremony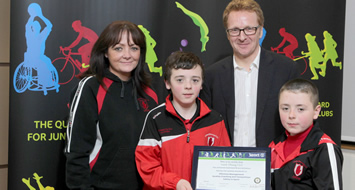 Club Maith accredited clubs Lamh Dhearg CLG, Co. Antrim, and Eglish St Patricks GAC, Co. Tyrone were honoured at a Clubmark NI presentation night hosted by Sport NI in University of Ulster Jordanstown.
The awards ceremony marked the beginning of the Clubmark NI club accreditation scheme in which Ulster GAA are licensed through Club Maith.
Club Maith is a GAA specific club accreditation scheme which aims to award good practice of Clubs in the five core areas of GAA club business: Governance; Duty of Care; Community Enhancement; Culture and Heritage; and Coaching and Games Development.
Eglish St Patricks and Lamh Dhearg are the first GAA clubs to have been awarded under the licensed Club Maith scheme, each receiving a Gold award. "Applying for Club Maith" workshops continue to be rolled-out across all nine counties through the Club Officer Training programme.
From Beginner to Winner: Down GAA Coaching Conference
On Saturday 26th March 2011, Down GAA will be hosting a Coaching and Games Development Conference in the Abbey Grammar School Newry.
The event will be open to all coaches, of all age groups, of all codes, and will consist of a mixture of practical and formal workshops and presentations. As the theme suggests, the day will prove a great learning opportunity for all coaches who work with children, youths and adults.
Some of the country's leading coaches will provide a series of indoor and outdoor practical demonstrations along with a number of theory based presentations covering critical areas in GAA players development.
Guest Speakers / Presenters will Include:
Peter McGrath: Current Down Minor Manager and Former All Ireland Winning Senior Manager
Dr Eugene Young: Ulster GAA Coaching and Games Development Director
Joey Carton: Munster GAA Coaching and Games Development Director
Paudi Butler: National GAA Hurling Director
Tony Scullion: Ulster GAA Football Development Officer, 4 Time GAA All Star
Denis Holywood: Armagh GAA Games Development Manager, Former Armagh Senior Football Team Coach
Jamesie O'Connor: Former All Ireland Winning Clare Hurler
plus many more……
McKeever Sports Dowd Cup Round-up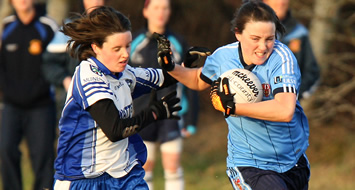 With frozen pitches playing havoc with fixtures throughout the month of January it looked like the annual Dowd Cup weekend may be in jeopardy, but thankfully due to the co-operation of the participating teams the preliminary fixtures took place and the weekend went off without a hitch on 29th & 30th January in UUJ.
Six counties and three colleges battled throughout January for semi-final spots with UUJ, QUB, Down and Monaghan qualifying for weekend action at the end of the month.  In the colleges section UUJ looked particularly strong throughout the group stages and it was Monaghan who shone through in the counties, so it was no surprise to see both reach the final having disposed of Down and QUB in their respective semi-final games.  UUJ eased through their semi-final, but it took a strong second half performance by the Farney girls to overcome the challenge of Queens to set up an exciting final.
Tyrone 1st Year Indoor Airbourne Hurling Blitz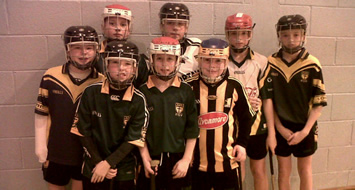 Six schools from all over Tyrone attended the above blitz on Friday 4th February at Omagh Leisure Centre.  Omagh CBS, St Joseph's College Donaghmore, St John's High School, Dromore, St Patrick's Academy, Dungannon, Dean Maguirc College, Carrickmore and Holy Cross College, Strabane all participated in what turned out to be a highly competitive event.
Apart from St Joseph's, all schools had two 5 aside teams present. They were broken into 2 sections and played quickfire 5 minute games.
The players had never participated in Airbourne Indoor hurling before. The game requires good reactions, fast hands and quick decision making and because of the enclosed space the ball has to be released quickly.  For many players it was a challenge lifting and striking as no soloing is allowed but as the games progressed you could sense players using the ball better and adapting to the fast pace of the ball and more and more began having a go at striking the back board of the basketball net which allowed them to score 3 points for their team.
Ulster U10 Indoor Hurling Blitz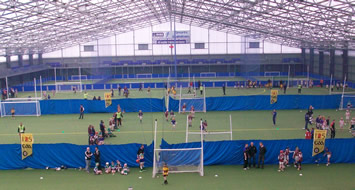 On Saturday 12th March, in Meadowbank Sports Arena, Magherafelt, Co. Derry, the 3rd Ulster Provincial U10 Indoor Hurling Blitz will take place.
Last Year we had an astounding 756 players playing on 90 teams from 43 Clubs from across the Province which participated in 'FUN' Centred Blitz. There was a total of 220 games played over the 3hrs.
Again this year we can accommodate 108 teams (54 in session 1 and 54 in Session 2)
All Hurling Clubs are invited to attend, BUT must be pre-registered.
Registration is £10 per Club (although clubs may enter as many teams as they wish).
Tyrone go Back to the Future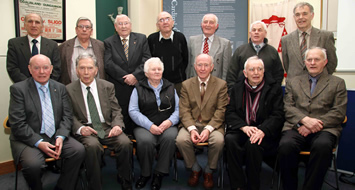 The GAA in Tyrone went 'back to the future' again in the Cardinal Ó Fiaich Library and Archive, Armagh, last Thursday, and once more a capacity crowd attended to hear talks, see old films and learn about the history of Gaelic games in the O'Neill County.
Joseph Martin, the author of The GAA in Tyrone, opened proceedings with an illuminating talk which examined the county's dismal failure to make an impact in inter-county Gaelic games in the period up to the 1950s, and outlined the factors which underlay this disappointment.
The second speaker on the night was Jody O'Neill, the captain of the first Tyrone football team to win the Anglo-Celt Cup, in 1956. Jody delivered a succinct and impressive analysis of the breakthrough era of the mid-1950s, in which Tyrone went from being unsuccessful to the winners of half a dozen senior competitions in two years.
Presbyterian Moderator visits Ceannarás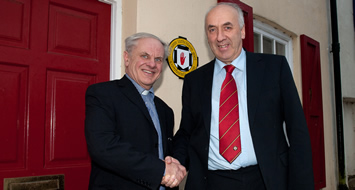 Ulster GAA Director Danny Murphy and Senior Ulster GAA Official Ryan Feeney met with Presbyterian Moderator Dr Norman Hamilton and Rev Dr Lesley Carroll, convener of the Presbyterian Church and Society Committee on Monday 10th January; this was the first meeting between the GAA and the Church.
Among the topics discussed during 2 hour meeting which began at 3.30pm were the history and organisation of the GAA and the Presbyterian Church and how both are making contributions towards building a shared future.  Commenting after the meeting Dr Hamilton said "Today's meeting was typical of many I have in order to engage with organisations which are part of the social and cultural fabric of our society.   I was pleased to accept the invitation from the Ulster Council of the GAA to learn more about their organisation and discuss the role of sport in a divided community. While for historic and cultural reasons the GAA has limited appeal to Presbyterians in Northern Ireland, many of our members in the Republic have a passionate commitment to their local GAA club. Achieving a shared and better future for everyone is an aspiration to which we all can subscribe and is a challenge that I am sure both the Presbyterian Church and the GAA are able to meet."
Antrim DENI Coaches hold Teachers In-service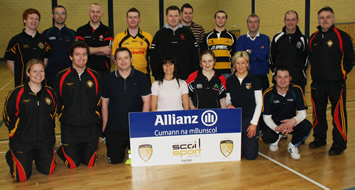 Teachers in South West Antrim and North Antrim took the opportunity to further their coaching knowledge and understanding through attending the Level 1 Child Coaching Course on the 19th and 20th January.
The course was organised by Mr Jim Brady (South West Cumann naBunscol Chairman and Principle of St Brigid's Primary School Ballymena) and delivered by Ulster Council DENI coaches Eoghan Gribbin and Roisin Keenan.
There were 14 Teachers in attendance and all showed their enthusiasm throughout the course and expressed their excitement at returning to their schools to promote the games and share their knowledge.
Under-12 North West Indoor Hurling Competition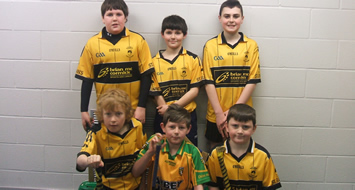 For the past 3 weeks, 17 clubs, from 3 counties have been taking part in the North West under-12 hurling competition. The game is played indoors, with full hurling rules. Teams play 5-a-side with teams scoring by striking the ball against the basketball backboard. The first 2 weeks of the competition were seeding rounds held in the Letterkenny Community Centre, The Old Library Trust Hall (Derry City) and Dungiven Sports Pavilion. The final round was held on Sunday past, 31st Jan.  The A section finals were held in Dungiven and the B finals in Letterkenny.
Overall the standard of hurling was very good and players were clearly developing as the competition went on. Congratulations to all the clubs, players and coaches for their efforts over the past few weeks. A special word of thanks must go to Donal McLaughlin (chairman of Donegal hurling Board), Emmet Stewart (Derry City GPO) and Shauna McCallion (Derry City GPO) for supervising at the various venues during the course of the competition.
Dungannon Clubs attracting New Volunteers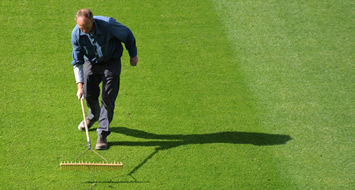 Ulster GAA and Clubs in Dungannon town are working together on a Pilot Project to attract new volunteers into clubs.
An introductory workshop, facilitated by Ulster GAA Volunteer Development Officer Sharon Haughey, took place on Thursday 17th February in Thomas Clarkes Club Rooms.  There was a good attendance with representation from three Dungannon clubs, namely: Thomas Clarkes, Eoghan Ruadh and Edendork.
The workshop provided an overview of the Pilot Project which is being spearheaded by Volunteer Now and Ulster GAA is one of four partner organisations working on the project, alongside IFA, Ulster Rugby and the Equality Commission.
Dungannon has been selected as a target area as its one of the areas that's been hardest hit in terms of unemployment during the economic downturn.
McKeever Sports Ulster Schools All Star Awards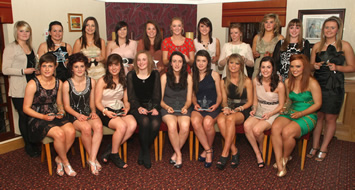 Friday past saw the announcement of the 2011 McKeever Sports Ulster Schools All Star Awards at a presentation banquet held in Quinn's Corner where twenty girls from sixteen schools, representing seven counties picked up their awards in front of family and friends.
The selection process began back in November when 115 girls were nominated by their schools to be considered for an award.  After a series of trials the field was reduced to 45 and after many attempts at organising the second round of trials, eventually pitches became unfrozen and the trials got underway allowing 20 to be selected for the final team.  Ulster GAA provided the selectors for the process in the form of Sheena Tally, Gary Mallon, Paul Rouse and Tony Scullion and all agreed that it was the toughest selection to date.  "Any girl who got an All Star award this year thoroughly deserved it", said Sheena Tally speaking at the awards night.  "With absolutely atrocious weather conditions on every day of the trials the girls really earned their spot on the team.  The standard was so high this year, they certainly didn't make our job easy!"
Handball Championships well underway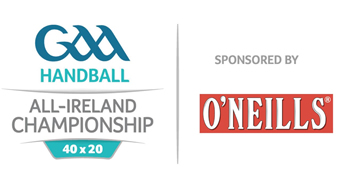 The 2011 GAA Handball All Ireland Open 40×20 Championships, sponsored by O'Neills Sports, got underway this weekend with a series of prelimenary round matches in Singles on Saturday 26th February and Doubles ties on Sunday 27th February.
The Provincial Open Singles Championships in Mens grades were decided last weekend with the open titles winners for 2011 confirmed as Mayo's Dessie Keegan, who had an 11-10 tie-break win over county colleague Joe McCann in Connacht, Dublin's Eoin Kennedy who defeated Westmeath's Robbie McCarthy in the final in Leinster, Diarmaid Nash (Clare) who defated Limerick's Seamus O'Carroll in the final in Munster and Armagh's Charly Shanks who had a walk-over Paul Brady (Cavan) in the Ulster final, the reigning All Ireland champion having withdrawn injured following his 21-20, 21-19 win over Michael Finnegan in the semi-final on Saturday.
For further information log onto: www.gaahandball.ie
Derry Camogie Club in All Ireland Final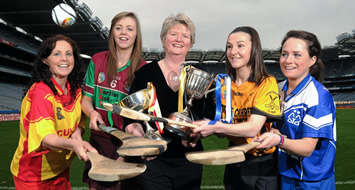 Good Luck to Eoghan Rua Camogie in Coleraine, County Derry who will compete at the All Ireland Club Intermediate Final on 6th March.
All-Ireland Club Intermediate Final
Eoghan Rua, Coleraine (Derry) v The Harps (Laois) @ 1pm
All-Ireland Club Senior Final
Killimor (Galway) v Inniscarra (Cork) @ 3pm
Ticket Information
Adult €15, Students/OAP's €10, Juveniles €5
Group Prices - 10 Juvenile Tickets - €50 and 2 Adults free
CAMÁN AND RUN
Solo to Success at Croke Park Camogie All-Ireland Club Finals Day 2011, March 6th
During the All-Ireland Club Camogie Final a solo relay and handpass race for Junior and Senior Second Level Schools camogie players will take place.
Canada GAA Convention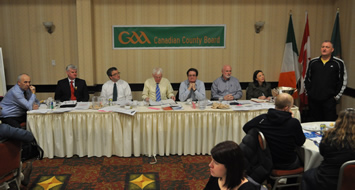 The Gaelic Athletic Association's Canadian County Board's Annual Convention was well attended with riveting debate on Sunday 20th February  in Ajax, Ontario.
In five provinces of Canada there are 11 cities with 16 affiliated GAA clubs.
Special guests were Uachtarán Chomhairle Uladh C.L.G. Aogán Ó Fearghail and Rúnaí Chomhairle Uladh C.L.G. Donall Ó Murchu who both gave encouraging and informative addresses to the attendees.
From clubs submitting motions to the County Convention, for the second year in a row, the debate about the number of sanctioned players drew the most attention.
Poet, Patriot, Scientist and Scholar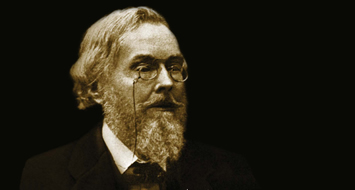 The extraordinary career of one of the greatest historical figures from Tyrone, Ulster and Ireland will be revived at a launch of a biography of Dr George Sigerson (1836-1925) at the Cardinal Ó Fiaich Library and Archive, Armagh, on next Tuesday, 1 March, at 7.30 p.m.
From a local perspective, Dr Sigerson - who was born at Holyhill, near Strabane, is generally remembered little more than as the man who wrote the words of the Tyrone 'anthem', The Mountains of Pomeroy, and the man who presented the Sigerson Cup for inter-varsity Gaelic football. In truth, however, these were rather minor details in a long life of achievement. Over several decades, Sigerson was one of the most eminent figures in Ireland in the fields of medicine and science, university life, literary, linguistic and political affairs.
What's Happening this Month - March 2011
We are adding a new section to our online newsletter to highlight key events and activities taking place across Ulster from month to month.
This edition we look forward to March 2011, when there is a full schedule of activity planned.
Download:
- What's Happening in March 2011 (Excel Document)
back to top