Excitement builds for Ulster GAA Championships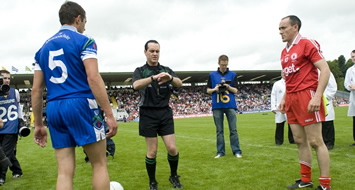 The biggest event of Ulster GAA's calendar - the Ulster GAA Championships - is about to throw in on the weekend of Saturday 14th and Sunday 15th May.  The hurling championship gets underway on Saturday 14th May with a bumper day of action with four first round championship games, while the football championship sees Antrim taking on Donegal in the Preliminary Round on Sunday 15th May.
This will be the start of the summer of Ulster Championship action in both football and hurling.  Excitement is already building for what's expected to be a competitive year with all teams eyeing up the Ulster GAA Cups.
The official launch of the Football Championship take place on Thursday 12th May in the Waterfront Hall in Belfast while the launch of the Hurling championship took place in Navan Fort in Armagh last night, Wednesday 4th May. 
Related:
- Photos from the launch of the Ulster Senior Hurling Championship at the Navan Centre, Armagh.
Donegal win Division 2 Title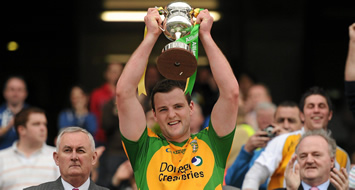 Allianz National Football League Division 2 Final:
Laois 0-16 Donegal 2-11
Donegal held off a superb second half comeback from Laois to claim the Allianz Football League Division 2 title at Croke Park.
Leading at one stage in the second half by eight points, 2-7 to 0-5, after Michael Murphy (penalty) and Colm McFadden had scored their goals, Donegal went 20 minutes without a score in the second half and allowed Laois back into the game.
Laois' comeback was sparked when Donegal were reduced to 14 men when Adrian Hanlon was sent off in the 42nd minute.
The O'Moore men then kicked seven points in a row to reduce the gap to a single point with ten minutes left, but Donegal, thanks to points from their experienced trio of McFadden, Rory Kavanagh and Kevin Cassidy had just about enough to hold off Laois at the death.
86% of GAA income is reinvested in Grassroots Development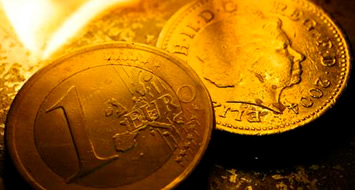 The 2010 Central GAA Accounts show a 2% increase in the investment of Association revenue to Clubs and Counties up to 86%. The figure is up from 84% in 2009 and currently 14% of income is being reserved for GAA administration Costs.
This makes the GAA unique and something we should be very proud of as no other sporting, cultural and community organisation returns this level of revenue or makes the significant social and economic contribution that the GAA does to Irish life.
When you attend a match during the 2011 Championship series the majority of your entrance fee goes back to the development of your Club and your County.   Spectators under 16 gain access for free to all non-ticket fixtures as does spectators with a disability who apply to their County Committee for a pass. Family tickets are also available for all ticketed games.
Ulster GAA welcomes election of Liam O'Neill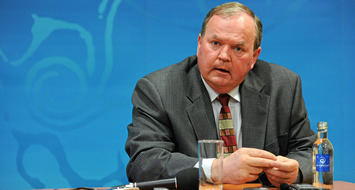 Ulster Council GAA welcomes the election of Liam O'Neill as Uachtaráin Tofa Liam O'Neill from Trumera GAA Club, County Laois will succeed Christy Cooney as president of the Gaelic Athletic Association in 2012. O'Neill who is currently a primary School Principal was elected unopposed.
Ulster GAA President Aogan Ó Fearghail has welcomed the election of Liam O'Neill as Uachtaráin Tofa CLG. "Liam has already given significant service of the Association in a range of roles over his lifetime of service and I am delighted for him, his family, his Club and his County on this significant honour and I look forward to working with him in the ongoing development of our Games and Culture".
Cúchulainn Cup unites communities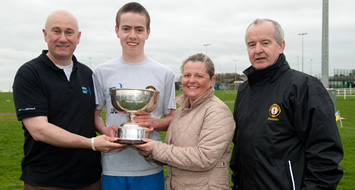 The Foyle Cuchulainns were today crowned Ulster GAA's Unite against Hate Cúchulainn Cup Champions at the Mid Ulster Sports Arena in Cookstown.
The Unite Against Hate Cúchulainn Cup is Ulster GAA's flagship annual cross-community and cross-border competition. It offers young people from non-GAA backgrounds the opportunity to learn the skills of Gaelic Games in both hurling and Gaelic Football, and then to compete with teams from across Ulster.
The aim of the Cúchulainn Cup is to use sport to bring together young people from all sections of the community while also promoting Gaelic Games.
In this, the fourth year of the competition, six Cúchulainn Teams took part today, including: Armagh; Belfast; Cavan; Foyle; Enniskillen and Roe Valley. Over 150 players were involved representing twenty schools, and of course their Cúchulainn Team.  Cúchulainn teams have been coached collectively for six to eight weeks by Ulster GAA and county board coaches.
Brady sets new record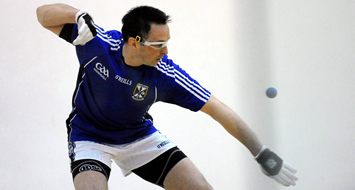 Cavan's Paul Brady confirmed his status at the best 40×20 player to ever grace the courts of Ireland when he saw off the challenge of Armagh's Charly Shanks to claim his eighth All-Ireland Senior Singles title in Abbeylara.
In claiming another crown, Brady has now set a new Irish record, having equalled that of Kilkenny legend, Michael 'Ducksy' Walsh in 2010.
"I've been training for this day for 12 or 13 years; it was a long-term goal and words really can't describe what it means to me," said an emotional Brady.
Brady, who had his broken finger heavily strapped during the game, looked off the pace early on as Shanks surged into an early 9-1. At 12-3 down, questions were really being asked of the defending champion, but he came up with the answers and battled back into contention to level matters at 16.
Huge Response to Live to Play Colouring Competition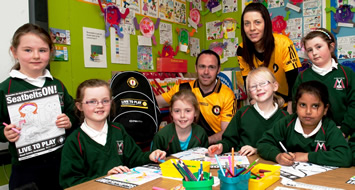 Tomorrow (Friday 6th May) will see the closing date for schools competing in Ulster GAA's Live to Play colouring competition. Over 25,000 children across over 600 Primary and National schools in Ulster are taking part with 18 classes set to emerge successful, 2 from each county in the Province.
For each winning class all pupils will receive a Live to Play backpack, featuring the Live to Play campaign branding, the County GAA Crest as well as reflective piping so the carrier is visible at night. The reflective piping is a hugely important safety element and will assist young people going to and from school, matches, training and other activities to do so safely.
The school colouring competition is a new dimension to the Road Safety campaign which thus far has included a successful poster and pitch side banner campaign featuring profile players from across Ulster; a car sticker and air freshener give-away at Championship matches, a fully-functioning microsite www.ulster.gaa.ie/livetoplay and over 30 education events at Club level.
Ulster's best year at All Ireland Scór Sinsir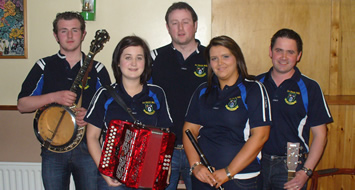 Ulster won three All Ireland titles in Killarney in Scór Sinsir.  Congratulations to an Droim Mór, Coill an Chlochair and Niamh Devine of Carraig Chrupáin who were crowned All Ireland champions in their respective competitions in Killarney. Well done to all the other Ulster acts who did us proud with their performances. Below is a brief rundown on how Ulster fared in all eight competitions.
Rince Foirne: On the day, many were saying at the half time break that Coill an Chlohair were in with a great chance of winning following their performance. In the end, Coill an Chlochair ended up in third place overall.
Amhránaíocht Aonair: Maria Connolly from Fear Manach gave her best performance to date in the All Ireland finals of Scór and was unfortunate not to win. In the end Maria ended up in a credible second place.
Ulster Championship Passing Analysis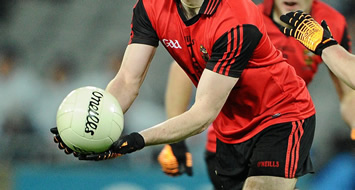 Ulster GAA Sport Scientist Kevin McGuigan has carried out a unique study into the ratio of hand passing and kick passing in inter-county football.
The report was based on analysis of all matches played in the Ulster Senior Football Championship in 2010. The passing carried out in each game was analysed using Dartfish Teampro Software. The report has identified ratios between hand passing and kick passing, the ratios of successful to unsuccessful passing and the average numbers of passes witnessed during all USFC matches in 2010.
The results of the report have provided fact based evidence of the passing statistics from top level games in Ulster. The results have also raised a number of questions that are very relevant to coaching practices in Gaelic football. Each coach may interpret and apply the findings differently with regard to tactical development and coaching practices. However, all coaches should pay attention to the evidence provided by this paper when considering the basis of coaching sessions going forward.
Related:
- An Analysis of Passing During the Ulster Senior Football Championship 2010
St Colman's retain Hogan Cup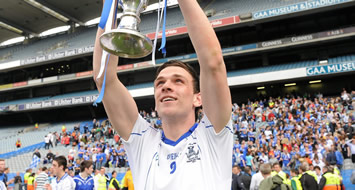 St Colman's Newry retained the Hogan Cup title with a 2-10 to 0-15 triumph over St Jarlath's Tuam at Croke Park.
The holders' goals came early on with Jack Haughey netting after an error by keeper James Healy and Jerome Johnston also goaling on 12 minutes.
However, three points apiece from Shane Walsh and Sean Silke cut Colman's lead to 2-4 to 0-8 at the break.
Jarlath's bossed the third quarter to move 0-14 to 2-6 ahead but Colman's hit four of the last five scores to win.
The victory gave Colman's their first ever back-to-back triumphs in the competition and brought their overall haul of Hogan Cup to eight - five behind Jarlath's leading tally of 13 titles.
TG4 G-Team offers clubs chance of winning €40,000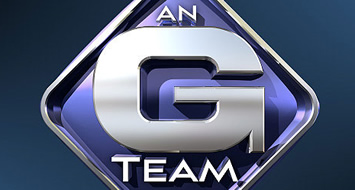 TG4 and Adare Productions are producing a brand new series where non-Gaeltacht community's can compete against each other for the opportunity to call themselves The G-Team winners 2011 and win a €40,000 Foras na Gaeilge prize to use in promoting their local area.
'The G-Team' is a new 10 part series on TG4 that will feature non-Irish speaking communities from all over Ireland and challenge them to begin using their native tongue in their daily routines.
The main focus of the series is to get 12 towns and villages from the 32 counties using their Irish while promoting their locality all for the chance to win a 40K prize.  The winning village/town/community will use the prize money to promote and market their local area.
The application process was launched this week and they are accepting applications for the next two weeks. The only way to apply is through the TG4 website www.tg4.ie
New Sports Institute Partnership with Ulster GAA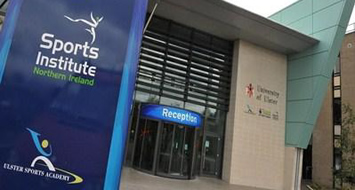 After a lapse of 2-3 years the Sports Institute and Ulster GAA have launched a joint initiative to examine new perspectives within the GAA. On Wednesday 13th April medical personnel involved with senior football and hurling county teams from across Ulster met in St Patrick's College, Armagh.
The theme for the evening was the "Gaelic Groin" condition. This was an intensive session examining current practice and novel management strategies for groin pan in Gaelic football. The session including presentations from SINI staff members Phil Glasgow and Chris McNicholl provided the opportunity for senior county medical teams to share thoughts and insights into the management of this difficult condition. As a direct follow up to this session it is intended to produce a concordat on the overall management of Gaelic Groin including predisposing factors, assessment and treatment options.
It is also hoped that the increasing incidence of cruciate ligament injuries will be addressed through a similar process.
Ladies Gaelic to offer student placement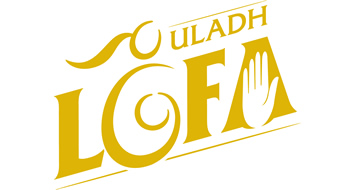 Ulster Ladies Gaelic are delighted to announce that for the 2011/2012 school year they will be offering a placement for a suitable third level student.
Under the guidance of the Ulster Secretary Mary Keegan and the Ulster GAA Ladies Football Development Officer Sheena Kelly the placement student will be given the opportunity to experience working in many different aspects of the Ladies Game in Ulster, from administration and schools football to coaching and games development.  The placement will run from mid August 2011 to mid June 2012 and a bursary will be offered for the placement term.  Both male and female students are encouraged to apply if this is an area of interest to them.
For further information on the Ulster Ladies Gaelic Student Placement Programme contact sheena.kelly.ulster@gaa.ie
Related:
- Ulster Ladies Student Placement Programme
Donegal Camogie Spórt agus Spraoí a huge success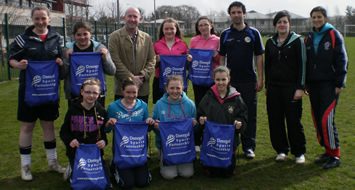 Over 110 girls took part in a Camogie Spórt agus Spraoí day in Letterkenny Institute of Technology on Wednesday the 30th of March 2011.
Players received elite coaching from Director of Camogie and Cork Camogie Star Mary O Connor along with some of Donegal's top Camogie coaches. Special thanks to the coaches for their time and effort.
After receiving excellent coaching and playing techniques the players tried out their newly acquired skills playing games against each other.
The spirit that we associate with sport in Donegal was clearly evident on the LYIT GAA pitches as the girls made huge improvements during the coaching and competed excellently in the games.
2011 GAA Rounders Season Commences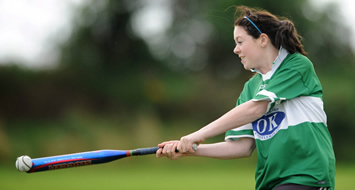 The GAA Rounders season commences this forthcoming weekend and continues throughout the summer months.
Game fixtures, results and Rounders related events will be added to the Events & Fixtures page of Rounders website throughout the season, which can be viewed by logging onto: www.gaarounders.ie
Game fixtures and results will be updated as information is received from clubs.
Learn the Rules
The GAA Rounders Official Rulebook is now available for download by logging onto: http://www.gaarounders.ie/download/Rulebook.pdf
Schools Coach to volunteer at Special Olympics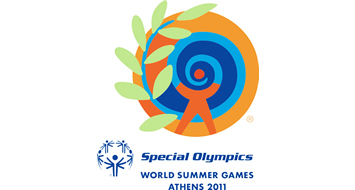 In June 2011, a team of 126 Special Olympics Ireland athletes and their 49 coaches will set off for Athens, Greece to participate in the2011 Special Olympics World Summer Games.
Ulster GAA Schools Coach Maria Donnelly has been very lucky to have been chosen as a volunteer for the Games.
Volunteer for Athens is a volunteer-led fundraising initiative, comprising of 200 individuals who will travel to Athens, to participate as volunteers at the 2011 World Games.  When in Athens Maria and other volunteers will be given specific jobs to help in the running of the Games.
Speaking ahead of the games Maria said, "This is an amazing opportunity for me and was delighted to have been chosen and to have been given such a wonderful opportunity."
St. Bride's get fit for Trocaire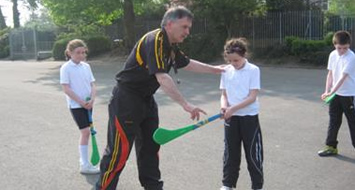 Every year during Lent the children of St. Bride's Primary School are very busy fund raising for Trocaire, there are endless amounts of raffles and bun sales going on around the school. In addition, each year group organises a sponsored activity. This year in Primary six decided to combine fitness and fun with our charity event. They organised a whole morning of Gaelic, Hurling, Basketball and the latest dance craze "Zumba".
The school was assisted in the event by Kieran Megraw, the Antrim Hurling Development Officer, parent, the talented basketball coach Cathy Mc Grath and her lovely assistant Robyn and finally the beautiful, energetic dance instructor, Alana Sloann! The morning was a fantastic success and best of all the primary six children raised a staggering £2313.06!
Stade Montois to Lámh Dhearg GAC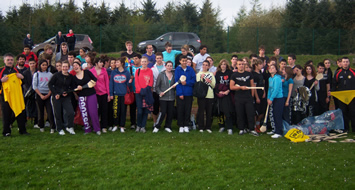 On the 5th April a large group of 55 French students departed the Stade Montois in the south of France on their search to explore some parts of Ireland and being sports enthusiasts wanted to have a closer look at some Gaelic Games. Their first stop was Dublin and a tour of Croke Park and the museum. The next day they headed north to Belfast where they met up with Ulster GAA development officers Shane McCann and Kieran Megraw at Lámh Dhearg GAC who provided the opportunity for them to watch some youth coaching before being coached themselves.
The language barrier provided the challenge for Shane & Kieran but as always they were well able and provided the entire group with coaching taking in football and hurling.
The group thoroughly enjoyed the experience and all the cameras were out to capture some of the action as Lámh Dhearg took on O'Donovan Rossa in the first round of the senior Hurling league.
Health Speak Day in Fermanagh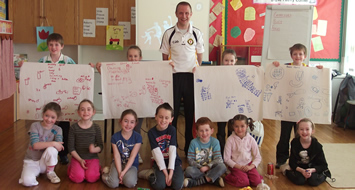 On Friday 15th April DENI Ulster GAA coaches Owen Mooney and Teresa McGirr ran a "Health Speak" Fun Day in St Ninnidh's Derrylin for the whole school.
Each class in the school received a Health lesson that incorporated interactive tasks and games for the children. The focus of the sessions were to give the children a fun and informative insight into all the different ways they can stay healthy. There was individual, group work, interactive quizzes, Health Dancing as well as pupil led sessions. Ulster GAA Health & Wellbeing Manager, Aileen Tohill was also in attendance to provide Key Stage 2 children with more detailed information as to the importance of eating a balanced and healthy diet.
The day was very successful as it linked in very well to the work being done by the teachers in relation to the importance of being active and having a healthy lifestyle.
Antrim Year 10 Hurling Blitz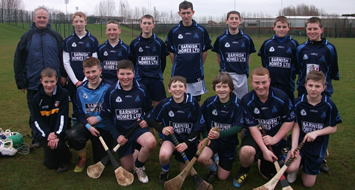 Ulster GAA recently organised the Antrim year 10 Hurling blitz on Wednesday 30th March at Woodlands.
Thanks to the following schools six schools who participated on the day: De la Salle, St Killians, Corpus Christie College,  Edmund Rice College, St Patrick's College Bearnageaha, St Benedicts.
This day would not be possible without the help and assistance of the schools staff including: Mr Mc Givern, Mc Caffrey, McAlister, White, Hamill, O'Brien and McGourty.
Take to the Hills for the Ulster Cancer Foundation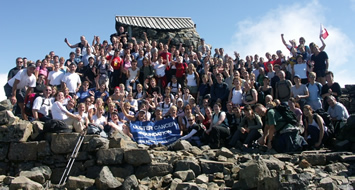 The Ulster Cancer Foundation (UCF) is calling local people to lace up their walking boots and take part in their Ben Nevis Challenge to raise funds for cancer patients in Northern Ireland.
Neill Grainger, Senior Development Officer, UCF said, "The Ben Nevis Challenge offers an exhilarating personal experience but one which also benefits the work of UCF.  It is shocking to think that 1 in 3 people here will be diagnosed with cancer.  It is a disease that touches the lives of so many people.
"As the leading local cancer charity we provide care services, information and support for all those affected by cancer and with the generous support of people like you we are able to continue our work.  All funds raised are spent locally to help and support people with cancer in Northern Ireland.
What's Happening this Month - May 2011
We are adding a new section to our online newsletter to highlight key events and activities taking place across Ulster from month to month.
This edition we look forward to May 2011, when there is a full schedule of activity planned.
Download:
- What's Happening in May 2011 (Excel Document)
back to top