Tír Eoghain v Muineachán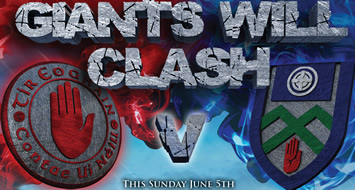 Sunday 5th June
Ulster Senior Football Championship Quarter Final
Tyrone v Monaghan, Throw In 3.30pm at Healy Park, Omagh
Ulster Ladies Senior Football Championship First Round
Monaghan v Armagh, Throw In 1.45pm at Healy Park, Omagh
Be there - Bigí ann!
Ticketing:
ALL U16s FREE INTO TERRACE
This is NOT an All Ticket Game, Patrons can pay in at the Gate.
Family Ticket (Covered Stand) U16 £5/€5. Adult £23/€27.
OAP Covered Stand £13/€15.
Terrace £13/€15. OAP Terrace £9/€10.
Student Terrace £9/€10. (On production of a valid student card)
Tickets are available through Clubs and County Boards.
Armagh send Mourne men packing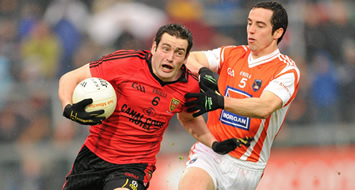 Ulster GAA Football Championship Quarter-final
Armagh 1-15 Down 1-10
Most had pegged Down as favourites for this game but an outstanding second half performance by Armagh saw they safely through to the Ulster GAA Football Championship semi-final.
What a way for these two teams to open their Ulster GAA Championship campaigns: there was open, fast football and some serious point kicking in the early minutes of this encounter, in front of a crowd of 13,107.
An action-packed first half was the best advert for Ulster football. Two goals, one for each team, as well as 14 points between the sides, showed the high standard of kicking forwards on show this evening.
Down opened the game through scores from Mark Poland and Martin Clarke, and showed their early intent in this match. But Armagh hit back with a fine strike.
Ulster GAA Freezes Ticket Prices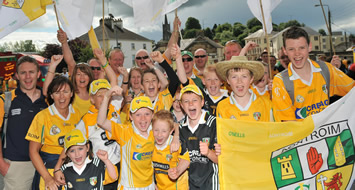 Ulster Council GAA have decided to freeze ticket prices for the second year in a row.
All Under 16's will gain free entry to non-ticket games when accompanied by an adult.
For Ticketed games there will be family areas available and the cost for children Under 16 will be £5/€5 when again when accompanied by an Adult.  Family tickets will be made available through County Committee Offices in advance of each game.
Disabled patrons will also gain free access to games and must apply to their County Committee Office in advance for entry to the match.
A Student concessionary rate has been introduced to the Ulster Championships for the first time.
Match information is constantly updated and is available from www.ulster.gaa.ie or the County GAA Web-sites.
Poc Fada Uladh 2011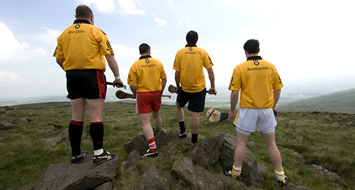 Derry's Ruairi Convery will return to Divis Mountain this Saturday (Saturday 4th June 2011) to attempt to win his third Ulster Poc Fada title in a row.
The Derry hurler has been a regular competitor in this event over the last six years and, having been runner up to current All Ireland Poc Fada Champion, Graham Clarke, on two occasions, he finally won his first title in 2009.
In last year's event he was pushed all the way by Down's Karol Keating before eventually winning out on a measure when both competitors had struck the same number of pucks over the Divis Mountain course.
Other competitors include Antrim and Cushendall ace Neil McManus, who is new to the event and in Camogie former All Star and All Ireland Club winning captain, Jane Adams.
Competition will be held in Senior Hurling, Senior Camogie, Under 16 Hurling  and a fun Over 40's hurling event, where Down's Gary Savage will return to defend his win in 2010.
Ladies Ulster Championship Launched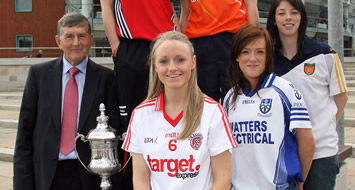 The Waterfront Hall in Belfast provided the venue for the 2011 Championship Launch in conjunction with the Ulster GAA earlier this month.
Speaking at the launch Ulster Ladies President Hugh Devenney thanked the GAA for their continued support in helping Ladies Gaelic raise the profile of their games through the joint launch and also through the curtain raisers. 
He also spoke of his anticipation of a feast of fantastic football in this year's championship and wished all competing counties the best of luck in their quest for silverware.
Ulster GAA Building Good Relations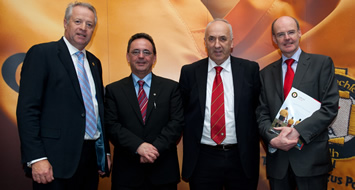 Ulster GAA recently held its first ever Good Relation Forum in the Navan Centre in Armagh to celebrate Good Relations Week.
The event targeted local government representative including council officers, elected councillors, local District Policing Partnerships, MLAs and other interested statutory organisations.
The event provided a platform to raise awareness of the work of Ulster GAA across a range of programme areas including community capacity building, community relations, improving local partnerships and health, wellbeing and social initiatives.
Keynote speakers at the forum included Ryan Feeney who provided an overview of the work of Ulster GAA, Dr Eugene Young gave a presentation on Games Participation and John Devaney dealt with culture and heritage.
Dungannon Clubs offer new Roles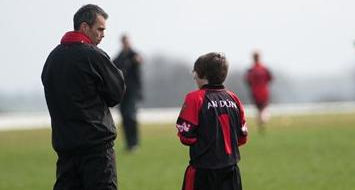 GAA Clubs in Dungannon are offering local unemployed young people the opportunity to gain valuable knowledge and experience by offering a range of new volunteer roles, all of which are accredited by the Department of Education.
The Initiative, known as GoldMark Dungannon, is in partnership with Rugby and Soccer Clubs in Dungannon and is being led by Volunteer Now.
Thomas Clarke's GFC, Eoghan Ruadh Hurling Club, St Malachy's Edendork and St Mary's Killyman are all on board with this project providing an array of unique volunteering opportunities including: medical officer role, school liaison role, general labourer, assistant grounds person and media development roles.
It is hoped that through this programme young people between 16-24 years old will have the opportunity to develop their skills, increase their experience and knowledge which should help increases their chances of future employment or university entrance.
Ladies Cúchulainn Programme a great success in Armagh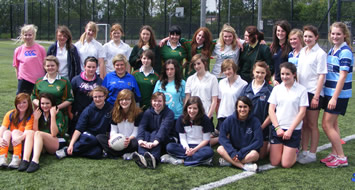 After 6 weeks of coaching the Ladies Cúchulainn Programme came to a conclusion yesterday with a fun blitz being played in Sherrys Field in Armagh.
The programme which is aimed at children who have had little exposure to the GAA allowed children from St Catherines College and the Royal School in Armagh to come together once a week to learn the skills of the game through fun games and activities.  Under the guidance of Active Communities coach Roisin OHagan 15 girls from each school certainly picked up many skills which they showed off at the blitz and the enjoyment they experienced as a result was plain to see.
Speaking at the blitz Sheena Tally, Ulster GAA's Ladies Football Development Officer said "The girls have come on fantastically well over the past 6weeks.  I was with them on the first week of the programme when many of them had never even witnessed a game of Gaelic never mind played.  Today they were able to perform most of the skills of the game and seemed to really enjoy learning about it."
Féile Uladh Iománaíocht agus Camógaíocht 2011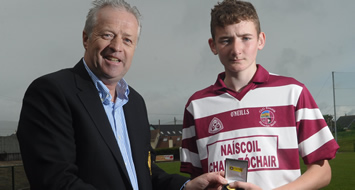 After undergoing a successful re-vamp in 2010, Féile Uladh 2011 took place on Saturday 30th April in venues throughout Ulster.
Feile Uladh has been a regular feature on the Ulster Hurling Calendar since the late 90's when the competition was organised as a prelude to Ulster hosting the National Féile competition.  However after much debate the competition was modernised last year and is now held over two weekends, with group stages being played to decide the finalists.  The finals are then played off two weeks later, on a single afternoon, with the Division Six Final commencing at 12.00noon and successive finals being played right up to the Division One Final, which is scheduled to commence at 5.00pm.
After a number of late withdrawals there was a total of 53 hurling teams participating in group stages that were played at 11 different venues.
Huge Response to Live to Play Colouring Competition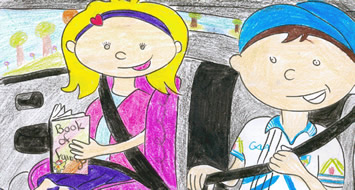 Ulster GAA saw a huge response from across the Province to the Live to Play colouring competition. Over 20,000 children took part in the initiative with entries returned from almost 200 schools. The standard of entry was very high with many posters completed in glorious colour and showing plenty of imagination!
The Ulster GAA judges took some time to agree on the winners, but agree they did and 18 classes from schools in Ulster's 9 Counties have emerged victorious. Pupils in the winning classes will each receive a Live to Play backpack, sure to come in handy for both school and sport. The bags feature the recognizable Live to Play branding, along with the County GAA crest but most importantly have a safety feature of reflective piping to ensure the carrier can be seen in the dark.
Ulster GAA wishes to thank all schools for their involvement in the competition and sends a hearty congratulations to our 18 winning schools who now have the receipt of their prizes to look forward to in June.
Armagh win Irish Language Award
Ar an séú lá déag de mhí an Mhárta, bhronn Coiste Náisiúnta na Gaeilge Gradam Náisiúnta na Gaeilge ar Choiste Cultúir agus Teanga Ard Mhacha ag dinnéar in Óstán Regency Bhaile Átha Cliath. Ghlac Anne Quinn, rúnaí an choiste, agus Peter Murphy, an cathaoirleach, leis an duais seo ar son Bhord Chondae Ard Mhacha ó chathaoirleach Choiste Náisiúnta na Gaeilge, Willy Ring. Tar éis an bhronnta bhí siad ina n-aoíonna speisialta ag ceiliúradh do Sheachtain na Gaeilge i gclub Parnell, agus d'fhreastail siad ar chraobh Thráth na gCeist Boird i bPáirc an Chrócaigh ar Lá Fhéile Pádraig.
On March 16th Coiste Náisiúnta na Gaelige CLG presented the prestigious Gradam Náisiúnta na Gaelige to Coiste Cultúir agus Teanga Ard Mhacha at a dinner in the Regencey Hotel in Dublin. Anne Quinn, rúnaí, and Peter Murphy, cathaoirleach, received this award on behalf of Coiste Cultúir agus Teanga Ard Mhacha from Willie Ring, chairman of Coiste Naisiúnta na Gaeilge. After the presentation they were invited guests at a Seachtain na Gaeilge celebration organized by the Parnell club, and the club finals of Tráth na gCeist Boird in Croke Park on St Patrick's day.
Young Armagh Hurlers Impress In Galway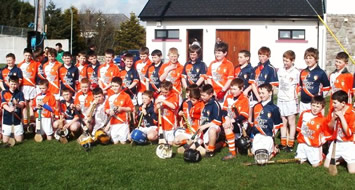 At end of April thirty seven young hurlers from nineteen different primary schools, representing all eight hurling clubs in the county travelled to Galway for a full weekend of hurling.  The squad - all in their last year of primary school - was made up of representatives from all schools that took part in the first Cumann na mBunscol hurling blitz of the school year in October 2010.
After checking into their accommodation for the weekend, the squad made their way out to the home of All-Ireland club hurling champions, Clarenbridge.  They were split into three teams and played off in a blitz format against three teams from the host club.  Galway City Games Promotion Officer, Gerry Spellman, was hugely impressed by the standard of hurling shown by the Armagh boys and there was a great atmosphere about Clarenbridge as a large number of parents from both the host club and Armagh came out to watch the games.
Ulster Hurling Development Squads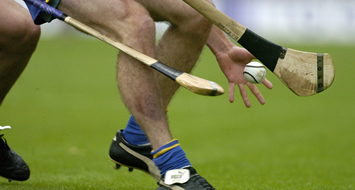 The 2nd Ulster Hurling Development Squad Blitz took place in Owenbeg centre of Excellence, Dungiven on Saturday 7th May from 11am - 2pm.
7 Counties took part with the Down Development Squad entering 2 balanced teams.
Each team played 4 Games on the Day, 3 Group Games and then a final game against 1 team from the other group.
Thanks to County Derry for the use of their pitches and also thanks to Referees Alan Richardson & Michael McGlinchey (Tyrone) and James McQuillan (Derry) for officiating on the day.
Active Communities Gaelic Activity Day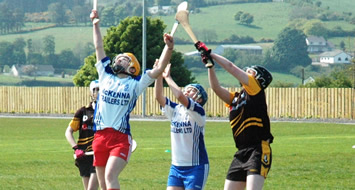 Girls from around the South Tyrone & Mid Ulster area had the opportunity to try new things recently through 9 aside games in Ladies Football, Camogie, Rounders and Handball at a Gaelic Activity Day held in Galbally.
The event which was organised by Geraldine Christie, Active Communities Coach in Gaelic Games, brought together leading representatives from the four Gaelic disciplines to allow the girls to have a go at all codes of the GAA.  Aisling Doyle and Orla O'Neill from Tyrone Ladies Football, Fionnula McGrath from Tyrone Camogie, Michael Donnelly from Tyrone Handball and Peadar O'Tuatain from Tyrone Rounders facilitated in refereeing and skill development through non-competitive games. Teams from Galbally, Donaghmore, Eglish, Pomeroy, Edendork, Dungannon and Lissan all took part in what was a very enjoyable day for all.
Upcoming Hurling Events in Ulster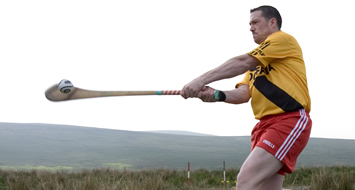 Ulster Póc Fada
Ulster Póc Fada is scheduled to take place on 4th June.  Before this date Each County will be holding an internal Póc Fada to select their Senior and Under 16 Champions.  Please contact your local RHDO for further information
U16 & Minor 9-a-side Blitz's
The Provincial Under 16 Club 9-A-Side Finals are scheduled to take place on 18th June.
Before this date Each County will be holding an internal event to select their Champions who will represent their County on 18th June.  Please contact your local RHDO for further information
The Provincial Minor Club 9-A-Side Finals are scheduled to take place on 2nd July.
4 Ball in Larne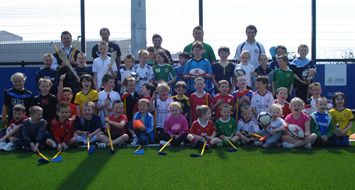 Ulster GAA give its support to the recent cross community initiative in Larne which give children the unique opportunity to experience 4 different sports in a friendly, welcoming atmosphere.
A total of 50 young children aged 4 - 9 years took part in the 2 day event over the Easter period.
This event gave the opportunity for children to engage in soccer, golf, rugby and hurling.
All children thoroughly enjoined what was their first experience of Hurling.
Planning for Campa Chormaic well underway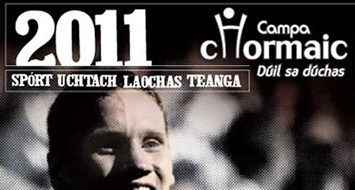 It is seven years now since the passing of Cormac McAnallen, a giant of a man who always give of his best. Campa Chormaic has been established in his honour, so that his name will live on and to promote the ideals with which he lived his life so diligently; love for his country, love for the language and Gaelic Heritage and especially for Gaelic Games.
Planning is now well underway for the seventh year of Campa Chormaic, which is a summer camp for young people aged between 9 and 16 years old which comprises of Irish Language classes in the morning and Gaelic Games training sessions in the afternoon.
"We started in 2005," said the Chairman of Campa Chormaic, Conall Ó Máirtín, "and to tell you the truth we didn't know what was in front of us or what direction the camp would take. All we knew is that we wanted to create a permanent memorial or living memorial in honour of Cormac."
Inaugural Ulster Girls U12 Development Blitz 'a Great Day out'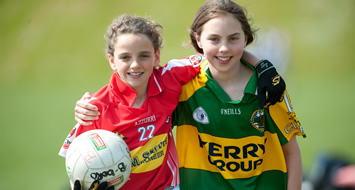 The Inaugural Ulster Girls Under 12 Development Blitz took place in the Mid Ulster Sports Arena at the end of April where over 400 girls from around the province took part in what proved to be a very enjoyable day out.
The aim of the blitz was to allow under 12 teams to come together and play against teams from other parts of the province who they wouldn't normally come into contact with.  Based on the Go Games principle all the games were played on a non-competitive basis where the emphasis was on development rather than participation.  Organiser of the event Sheena Tally said "I'm delighted with the turn-out here today and am so pleased that everyone is playing the games in the manner in which it was intended, that being development.  Everyone seems to be enjoying themselves and that's what days like today are all about!"
Coláiste Uladh Gaeltacht Course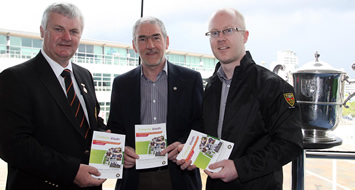 The Ulster GAA Council and Coláiste Uladh are pleased to present an Irish Language Gaeltacht course designed to improve the student's spoken Irish and increase appreciation of Irish Culture. The course is both exciting and enjoyable. Students will have fun and appreciate GAA and culture through Gaeilge, and a highlight will be a trip/turas to the Ulster Senior and Minor Football Finals.
The course will encourage spoken Irish, provide confidence building in the use of the language along with raising awareness of Gaelic culture including music, song, dance, drama, history, heritage and games.
Formal morning classes are taught by fully trained teachers. There will be a varied programme of GAA coaching, history/heritage trips and presentations, art, beach trips, hikes, music evenings; céilithe, fancy dress etc. etc. and of course trip to Ulster Final in Clones!
Murphy wins Merit Award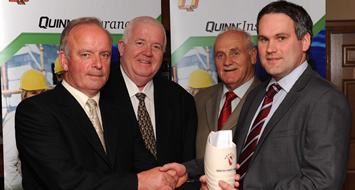 Ireland's youngest county football captain, Michael Murphy, is used to receiving individual awards and this week he is in the spotlight again after leading Donegal to the NFL Div.2 title with victory over Laois.
The Glenswilly man is named as the April winner of the Quinn Insurance/UGAAWA Merit Award after his storming display at Croke Park when he blasted home a penalty goal and hit a number of telling points, as well as, laying on another goal for a colleague.
"I'm delighted with this Monthly Merit Award but, of course, it's really a team award as I couldn't have won it on my own - the same as my Man-of-the-Match award. Winning the league title was really special and all these honours gives us a great boost going into Sunday's USFC game with Antrim, at Ballybofey.
Certificates awarded for Hurling Foundation Courses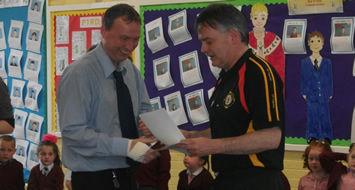 On 13th May 2011 teachers from Holy Trinity Ps Belfast were presented with their Hurling Foundation and Child Protection certificates.
The principal, Mrs Armstrong and vice-principal, Mrs Boyd had previously arranged cover for the relevant classes, enabling the teachers to do the course in Holy Trinity PS over 2 days. The course covered practical and theory. I.e. hurling skills, fundamentals, games and how to coach skills.
It was great for all the parents (some of whom are members of Gort na Mona) assembled there to see the teachers get their certificates and take on board the commitment of the school to Gaelic games.
Tyrone 1st Year Hurling Blitz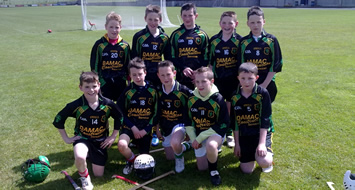 5 brave Year 8 teams from Tyrone battled the elements and each other in the final outdoor hurling blitz of the year at Killyclogher GAC outside Omagh.
This was a 9 aside tournament with 12 minute quickfire games.
Holy Cross College, Strabane, St Patricks Academy, Dungannon, Dean Maguirc College, Carrickmore (with 2 teams) and St John's High School, Dromore all descended to Killyclogher to finish the year off piting their skill against each other in this inaugural 9 aside tournament.
Apart from a slight breeze the weather stayed dry and saw Dean A and Holy Cross battle it out in the first game with a Dean Maguirc win.
Derry DENI Coaches Assist School's with Alternative Sports Days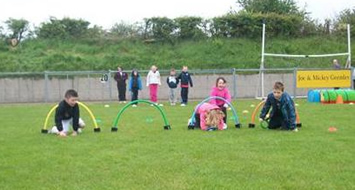 Once again it's the Summer Term and Sports Days have become priority in Schools.
The Derry DENI coaches have offered assistance to their School's for the delivery Sports Days.
On Friday 27th May, Ben and Fionntan ran the first of the Sports Days for the Term at Glenullin GAC pitch for Carhill Integrated Primary School with a massive help from Eoin McNicholl (Glenullin Gaelic Games Development Officer) and all the Teachers and Classroom Assistants of Carhill IPS.
Many more Sports Days are scheduled in Magherafelt, Claudy, Portrush, Desertmartin and Altinure.
Donegal Camogie Easter Academy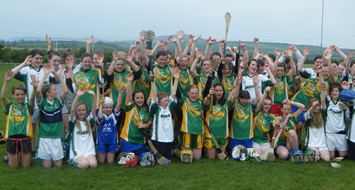 Over 60 participants took part in Donegal's Easter Academy. The Camogie Academy took place from the 26th to the 28th of April 2011 in Burt GAA grounds.
The Bray Emmets Camogie club who were visiting Donegal joined the Academy on day one and day two of the action packed three day Academy.
Day one consisted of skills, drills, mini games and a hydration and nutrition workshop.
Day two consisted of specialised skills, drills and at the end of the day a Donegal selection played the Bray Emmets Camogie Club in a closely contested challenge match.
What's Happening this Month - June 2011
We are adding a new section to our online newsletter to highlight key events and activities taking place across Ulster from month to month.
This edition we look forward to June 2011, when there is a full schedule of activity planned.
Download:
- What's Happening in June 2011 (Excel Document)
back to top