Ulster Hurling Championship Finals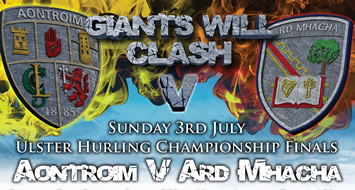 Sunday 3rd July
Ulster Senior Hurling Championship Final
Antrim v Armagh, Throw In 3.30pm at Casement Park, Belfast
Ulster Minor Hurling Championship Final
Antrim v Derry, Throw In 1.30pm at Casement Park, Belfast
Be there - Bigí ann!
Ticketing:
FREE ENTRY to all U16s.
General Admission (Seats & Terrace) £13/€15.
Concession (OAP & students) £9/€10.
This is NOT an all-ticket game, Patrons can pay in at the gate.
Ulster Final Ticket Price Reductions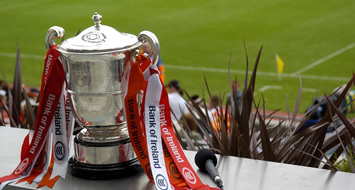 Once again Ulster GAA is focusing on a family friendly ticket pricing structure for the 2011 Ulster Senior and Minor Football Finals. With significant reductions from the 2010 prices, the new pricing structures includes a group rate focused at GAA Clubs taking juveniles for the '50 4 50' offer. This allows a group of 50 people (Up to 45 children U16 and 5 Adults) to attend the Ulster Final for €50.
For families travelling to the games, tickets are available in all open seating sections of the stadium at a price of €25/£21 for adults and £5/€5 for Under 16's.
There has been a further reduction in Senior Citizen concessions which are down from €18/£15 to €15/£13 which is 16% reduction for all seated areas in the stadium. The Ulster Council for the first time have included a terrace rate for Senior Citizens and Students at a price of €10/£9. (On production of valid student ID/Senior Citizen ID)
A reduction of 16% (€) / 14% (£) has been put in place for the Hill Terrace with prices now at €15/£13. This significant reduction will assist our patrons attending the finals.
Tickets for the Gerry Arthurs Covered Stand can be purchased at a price of €27/£23, a 10% reduction in euro and 8% reduction in sterling from 2010 Final prices.
Monaghan and Tyrone Ladies in Ulster Final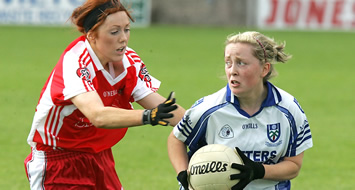 This year's TG4 Ulster senior final will see holders Monaghan meet last year's All Ireland runners up Tyrone in Clones on Sunday 10th July. Games between these two are always close and a mouth-watering encounter can be expected.
Reigning champions Monaghan changed their management earlier this year and so far new man Gregory Mc Gonigle and his team have had a pretty good year. They went through the round robin stages of the league undefeated. They went out of the competition at the semi final stages losing to Laois. Despite this the league campaign was a good one. Some new players were brought into the squad and the players adapted to a new style of play pretty quickly. En route to the Ulster final Monaghan have had the benefit of two games however through no fault of their own these were pretty easy wins. In the preliminary round game they met Armagh in a repeat of last years final. The Orchard girls had no answer to a rampant Farney forward line and Monaghan advanced 4-16 to 0-4.
Sun Shines in Armagh for Camogie Finals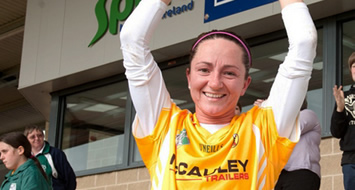 The sun shone all day long in The Morgan Athletic Grounds in Armagh for a bumper packed day of Camogie action for the Ulster Senior, Intermediate and Junior Finals.
Ulster Senior Camogie Final: Antrim 3-9 Derry 2-7
A nail biting Ulster Senior Hurling Final saw Antrim hold on for a deserved victory over a tenacious and battling Derry side at the Morgan Athletic Grounds, Saturday.
Though five points separated the teams at the final whistle there really was never a puck of the ball between these two sides who by their spirit and skill on the field more than showed that Camogie is truly alive and well in Ulster.
In the end it was that bit more guile and experience that helped Antrim over the line - guile in that their defence was rock solid all afternoon - and experience in that when it mattered most they put their chances away efficiently.
Convery collects third title in a row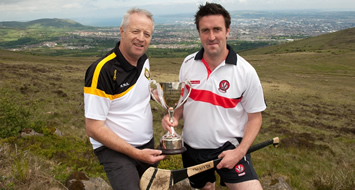 Derry's Ruairi Convery had to fight off stiff competition as he claimed his third Ulster Poc Fada title in a row.  Played in perfect conditions over Divis Mountain, just outside Belfast, Convery held his nerve despite challenges from Karol Keating (Down) and Antrim men Brian McFall and Neil McManus.
As the competitors reached the summit of Divis, at 478 metres (1,562ft), McFall had a slight edge over the reigning champion.  However as the competition intensified, and the striking got longer, it was Convery who showed his experience over this course to run out the well deserved winner.
In the Camogie event it was another Derry victory as Kathleen Taggart from the Lavey Club won from Laura McGuinness (Armagh) and Patricia McCarry (Antrim).
Down had a winner in Sean Savage, who collected the Under 16 title after defeating Derry's Gareth Shaw and Donegal's Jamie McLaughlin.
In the Over 40's section Gary Savage (Down) yielded his crown to Antrim's Collie Murphy.  Poc Fada enthusiasts Ray Durack (Donegal), Mark Sidebottom and Ali McAllister (Antrim) returned to compete in this event and each returned excellent scores.
Save the Date - Ulster Club & Volunteer Conference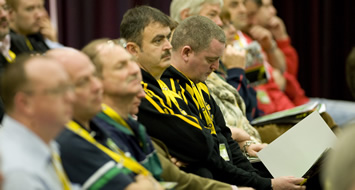 Ulster GAA Council has announced details of their annual Club and Volunteer Conference which will take place on Saturday 29th October 2011 in Armagh City Hotel.
The theme for this year's conference is 'Enhancing the GAA Community in Challenging Times' and will focus on helping clubs deal with key issues facing them in recessionary times.
Recognising the financial struggle of GAA communities Ulster GAA is pleased to announce that they are dropping delegate price for this year's conference at rate of £15 per delegate.  And clubs are urged to register early with the first 100 paid up registrations eligible for 5 delegates for the price of 4 - that's a carload of club delegates for £60.
The Delegate Admission Fee includes access to full conference, light refreshments on arrival, lunch and conference pack.
GAA to bring Belfast alive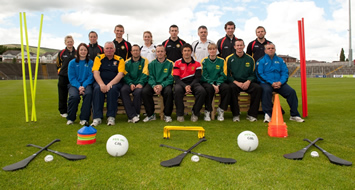 Children across Belfast are to receive expert GAA coaching over the summer months as part of the GAA's new National Urban Programme.
In Belfast, children aged 11/12 years old will have the opportunity through their local GAA club to receive expert training in Gaelic Football and Hurling which will include the skills competition having all participants' scores taken. The top 5 performers from each club will then go forward to an All City final on Wednesday the 31st August.
The programme also aims to promote Péil Abú and Camán Abú which are tag football and hurling games targeting the 16+ age group and also including Gaelic4Mums and Recreational GAA participants in clubs. Due it the non-contact element of the games, teams can be mixed gender, abilities and age groups.
Sport NI Funding Programme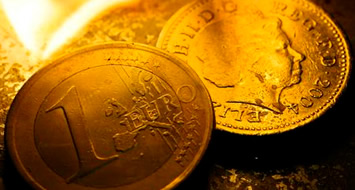 Ulster GAA wishes to alert clubs across the six counties of a new funding pot due to open within the coming month.
It is our understanding that a fund pot of £350,000 (£1000 - £10,000 awards) will be available under the 'Small Grants Awards for Sport' programme.
The programme is expected to run from Wednesday 3rd August 2011, with the closing date Friday 23th September.
Ulster GAA will revert with more information when it becomes available.
Team Fit Awards Presentation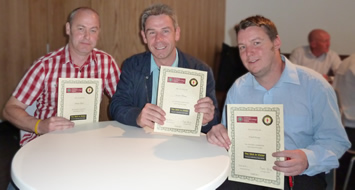 St Mary's University College and the Ulster Council GAA jointly organised the second annual presentation of Awards for coaches who completed the 'Team Fit' course in 2011.
"Team Fit" is a relatively new programme for Gaelic games with eleven modules of study including consideration of strength and conditioning, psychology, nutrition, hydration and flexibility.  It is held at St Mary's University College over a period of 8 months.
Certificates were presented by the Principal of St Mary's, Professor Peter Finn and the Ulster Council's Director of coaching Dr Eugene Young.
Dr Young spoke of the importance he attached to translating learning on the course into the preparation of Gaelic games teams.  Professor Finn focussed on the importance of inculcating positive attitudes and values in the Gaelic games including building community.
Ulster GAA aiming for Investing in Volunteers Standard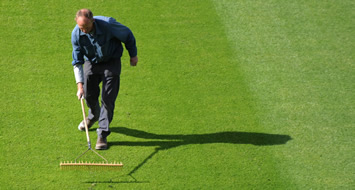 Ulster GAA Council has been working hard to achieve the Investing in Volunteers Standard to ensure best practice is implemented across all volunteering practices within the Provincial Council.
This process started over a year-and-half ago when a volunteer steering committee was set up to process the application and design associated documentation and practices.  The steering committee have compiled a new Volunteer Policy, handbook inserts, and information pack which includes new policies and procedures for health and safety of volunteers, equal opportunities, feedback and monitoring etc…
The final piece of this work was undertaken in June when 40 Ulster GAA Council volunteers took part in group and individual interviews, which were conducted by the assessment body 'Volunteer Now'.  All codes were represented as part of these interviews.
Live to Play Winners Stand Out From The Crowd!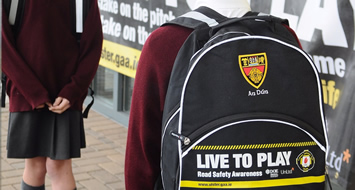 Over 500 school children across Ulster will stand out from the crowd after they are awarded with their reflective Live to Play backpacks this week!
Ulster GAA saw a huge response from across the Province to the Live to Play colouring competition with over 20,000 children from almost 200 schools taking part.
Pupils in the winning classes will each receive a Live to Play backpack featuring the recognizable Live to Play branding, along with the County GAA crest but most importantly have a safety feature of reflective piping to ensure the carrier can be seen in the dark.
Ulster GAA wishes to thank all schools for their involvement in the competition and send hearty congratulations to the winning classes.
Ulster GAA Level 3 Diploma Courses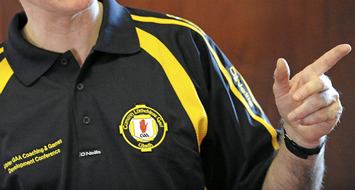 The Ulster GAA in partnership with OCNNI will be running two fully accredited courses in autumn 2011. These Diploma Courses in GAA Performance Sports Coaching and GAA Sports Management will be pitched at the same difficulty and complexity as A-Level or Leaving Cert. The objective is to reward the hard work undertaken by many volunteers in clubs and schools and provide them with the opportunity to bring this into a formal qualification. In times of economic hardship and unemployment, the GAA Club environment can help people develop new skills and competencies that they can use when seeking employment.
Our long term vision is to have a number of mandatory units / modules that we Ulster GAA offer our volunteers. These will build into certificates in respective areas. If the volunteer over time takes a number of these they can begin to build a qualification at level 3 / 4 by taking these mandatory modules and then by accessing further optional modules that exist within the Qualifications Credit Framework. This we envisage would potentially build into a "Degree in GAA Related Studies".
Camogie/Hockey Community Relations Project goes into Extra Time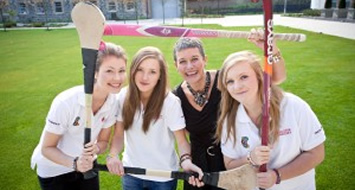 A successful community relations project delivered by Ulster Camogie and Ulster Hockey in partnership with local sports clubs in Newtownabbey and Greater Belfast has gone into extra time this week.
A number of the young sportswomen who participated in the "Yes We Can" programme are staging a special exhibition match at this year's Dalriada Festival. The PEACE III funded "Yes We Can" programme which ended in March brought together young women who played hockey for Mossley Ladies Hockey Club and those who played camogie for St Enda's GAC and Bredagh GAC.
Over a period of six months participants learned skills from each other's sports and took part in a range of personal development and community relations based activities. Because of the programme a number of those who participated are now playing both codes throughout the year. Their participation in the Dalriada Festival is a legacy of the friendships and relationships that have developed between the young women, their leaders and their Clubs.
Slemish Integrated College takes on GAA
Slemish Integrated College in Belfast is receiving assistance from Ulster GAA coaches to promote Gaelic Games within the college to all students, and particularly those from non GAA backgrounds.
On Wednesday 1st June and Thursday 2nd June, the PE teachers from Slemish Integrated College completed their Foundation Hurling, Foundation Football and Child Protection courses.  This course was delivered by Ulster GAA Coaches Kieran Megraw and Shane McCann.
This is an outstanding achievement as it will mean the students at Slemish College will now have their very own trained GAA coaches within their school structures.
Dominic Mc Kinley is also now coaching hurling during the last term at Slemish College, while the school's first football training practice has taken place as well as an internal blitz.
New Media TV campaign for GAA Handball
'The GAA Handball Show' certainly attracted a huge audience on the national TV station - TG4 - and unquestionably provided one of the best promotional boosts to the game in this country for some time.
GAA Handball fans, and indeed spectators from all areas of the Irish community, in the GAA and all areas of sporting life have taken great interest in the review of the 'perfect game'.
The very best action from All Ireland 40×20 championships, the hardball championships, one wall nationals, the International one-wall focus at the Italian Federation Cup and 60×30 action created a huge buzz in all corners of the country and beyond while the special behind the scenes clubs, schools and players featured have received an immensely positive response!
Ulster Rounders Update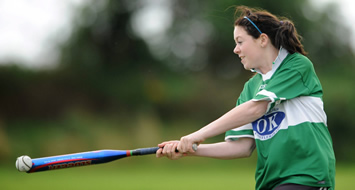 Several coaching and game sessions have been formally conducted by Ulster Rounders Council in Donegal, Tyrone, Derry and Antrim, with great enthusiasm evident from the children and the adults involved.  Coaching sessions by Rounders personnel now allow that the marked playing lines for the game will be left with each school or club visited, so that children can continue playing rounders long after the coaches have left their playground.
Have a go days in Aghagallon (Antrim) and Galbally (Tyrone) were very successful.  Similar days for primary schools have proven very popular in Derry.
Upcoming events include the Big Rounders Tournament in Lissan, Derry which is due to take place on 3rd July for Ladies teams and men's team.  A similar event will take place in Kildress for mixed teams on 10th July.  The Rounders Summer School and skills test programme will re-run this summer in a handful of Ulster Club areas.  For more information log onto: www.gaarounders.ie
Annual McKeever Sports Post Primary Schools Blitzes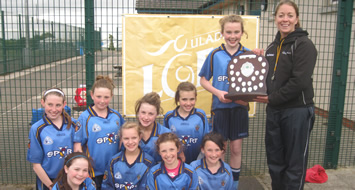 The annual McKeever Sports First Year Blitzes took place throughout May and June with 440 children from around the province taking part.  As with previous years the emphasis of the blitzes was on development, and with conditioned rules in place to ensure full participation every child in attendance had their part to play.
In the Mid Ulster Sports Arena in Cookstown Loreto Convent, Omagh overcame the valiant challenge of St Ciaran's, Ballygawley to retain the Gaelic Shield while in the Peil Shield Group St Pius X, Magherafelt ran out winners.
Cherryvale Playing Fields in Belfast was the venue for the other blitz where St Paul's, Bessbrook retained the Gaelic Shield by beating St Patrick's Keady.  In the Peil Shield competition Our Lady's & St Patrick's, Knock saw off the challenge of St Joseph's, Crossmaglen to take the title.
Ulster U16 9s Hurling Tournament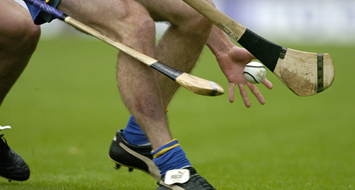 Patrick Sarsfields and O'Donovan Rossa hosted the inaugural Ulster U16 9's Hurling Tournament on Saturday 18th June.  The competition was made up of teams from eight different counties in the province along with guests, Cuala, from county Dublin. 
Division 1 was hosted by Sarsfields with two groups of four playing off on a round robin basis giving each team three matches before the winners of each group played off in the final with the second, third and fourth teams in each group playing off for a final fourth game each. 
Up on the Shaws Road, O'Donovan Rossa hosted Division 2 which was played off on a round robin basis also giving Woodford Gaels (Cavan), Ballygalget (Down), Rossa B (Antrim), Lisbellaw (Fermanagh) and Lámh Dhearg (Antrim) four matches each.
Busy times for Antrim Hurling Coaching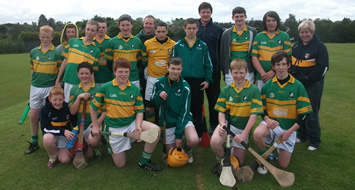 Ulster GAA coaches have been busy developing hurling in the county known for a strong hurling and camogie tradition - Antrim.  With both the Senior and Minor County Hurling teams in the Ulster Finals, and Antrim Camogs being crowned Ulster Senior Camogie Champions the county has high hopes for continued development of hurling and camogie to ensure that legacy is passed to a new generation.
As part of coaching development work over the past month Ulster GAA Hurling Coaches have organised two successful events - a U16 nine-a-side blitz and a P6 Hurling Blitz for local schools.
U16 Blitz
Antrim held their U16 nine-a-side blitz on Saturday 10th June. The A Group was held at Rossa Park with Rossa wining this group after a close final with Ruairi Ogs. St Johns was the other team in this section. Rossa will represent Antrim in the Ulster U16 nine-a-side which on Saturday 18th June.
Derry Primary Schools take part in GAA events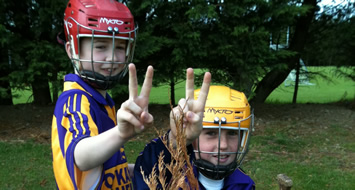 Derry Primary Schools Championship
On Thursday 16th June the Derry Primary Schools championships were held in Owenbeg. 9 schools in all took part: St Canices Dungiven, St Canices Feeny, St Peters and St Pauls Foreglen, St Johns Coleraine, St Johns Swatragh, St Patricks Glen, St Brigids Tirkane, St Brigids Mayogall, St Marys Draperstown
The day was a great success with a good standard of hurling on show. There were 2 separate competitions taking place on the day, a 5-a-side comp (B section) and a 7-a-side comp (A section). St Canices Dungiven and St Johns Swatragh reached the final of both sections. In the A section final Swatragh were 2 point winners over Dungiven whilst Dungiven ensured both schools had something to cheer about by winning the B section. Congratulations to the winning teams and to all the schools who took part in the tournament. Special thanks must go to the pupils from St Patricks College Dungiven who refereed during the group sections of the competition. Well done to all the coaching and games staff that helped to make the day a success.
Inishowen Primary School Hurling & Camogie Blitz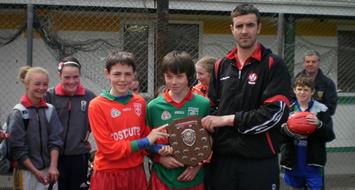 On Wednesday 8th June we held the first Inishowen Primary Shools hurling and camogie Blitz in Buncrana GAA grounds. The day was a great success with 6 schools in all taking part.
Scoil Naomh Aenghus, Bridgend won the camogie section whilst Scoil Iosagain defeated a very strong Craigtown Primary School from Carndonagh in the boys final. St.Patricks Carndonagh won the 'B' section in the hurling.
Congratulations to all the schools, coaches and parents for making the day such a success. It is hoped this will become an annual event on the Inishowen hurling calendar and that more schools will take part in the future, for now though, it was an excellent way to start.
What's Happening this Month - July 2011
We are adding a new section to our online newsletter to highlight key events and activities taking place across Ulster from month to month.
This edition we look forward to July 2011, when there is a full schedule of activity planned.
Download:
- What's Happening in July 2011 (Excel Document)
back to top