Donegal end 19 year wait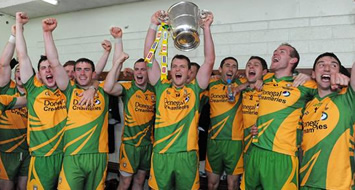 Ulster GAA Senior Football Championship Final
Donegal 1-11 Derry 0-8
A second half penalty from Michael Murphy helped Donegal to their first provincial title since 1992 as they proved too strong for Derry in the Ulster GAA Football Championship final in Clones.
The teams went in at the break level with the scores at 0-5 to 0-5, but after the restart a long ball into the Derry danger area caused Danny Devlin to foul Murphy and the Glenswilly man stepped up to finish off the spot kick.
Colm McFadden, who scored 0-4, gave a fine performance and along with Murphy the pair proved a handful for the Derry full-back line.
Derry brought Donegal's lead down to three points but they only managed to score a total of three points in the second half and Donegal were never in danger of losing this game.
Cavan clinch Minor Title
Cavan overturned a four-point half-time deficit to beat Armagh 0-12 to 1-6 and win their first Ulster Minor Championship title for 37 years.
Underdogs Cavan scored the first five points inside the opening 11 minutes at Clones but Armagh hit back with six points and a Paul McGeown goal.
Cavan did not score for 32 minutes but levelled with three quickfire points.
Andrew Graham edged them ahead and points from Nevin O'Donnell and Conor Finnegan saw them win by three.
"It was a brilliant second half. Our lads showed real guts," said Cavan joint manager Gary Donohoe.
"We had a good first 10 minutes and focused on that at half-time.
"We stuck at it and near the end we took our chances."
The game had an amazing sequence of scores with Cavan reeling off five, Armagh going four up and the winners then chalking up seven without reply.
Antrim make it 10 in a row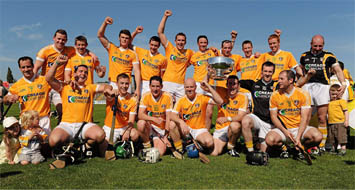 Ulster GAA Senior Hurling Championship Final
Antrim 2-20 Armagh 2-12
Antrim secured their 10th successive Ulster GAA Hurling Championship title with an eight-point win over Armagh at Casement Park on Sunday.
With most of their senior players held in reserve ahead of next weekend's Phase III Qualifier against Limerick, the Saffrons met a stern test and needed an injury-time goal to finally shake off Armagh's challenge.
The Saffrons were in control early on, as a ninth minute goal from Conor McCall and some accurate shooting from Joey Scullion helped them to a 1-9 to 0-5 lead by the 22nd minute.
Ryan Gaffney and Conor Corvan threatened for Armagh in attack and on the half hour mark the Orchard County had a goal, Paul McCormack finding Gorvan, who fired home to the net to cut the gap to 1-12 to 1-6 at the break.
Cross Community Team Boston Bound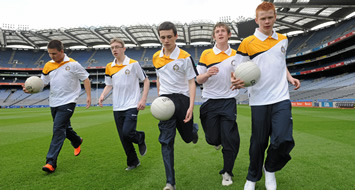 A cross community GAA team from Roe Valley have been selected to represent Ulster GAA at this year's Continental Youth Championships in Boston, USA.
This is part of Ulster GAA's hugely successful cross community project the Cúchulainn Cup. In its fourth year, the Cúchulainn Cup is growing from strength to strength. This is Ulster GAA's flagship cross community project which brings together young people from non-GAA backgrounds through the medium of Gaelic Games. The project aims to promote good community relations while also promoting Gaelic Games to those who normally wouldn't get the opportunity to participate in the sport.
The Roe Valley Cúchulainn team is made-up of pupils from St Patrick's College, Dungiven; Limavady High School, Limavady Grammar School, St Mary's College, Limavady and Rossmar Special School.
Aras an Uachtaran hosts Social Initiative Clubs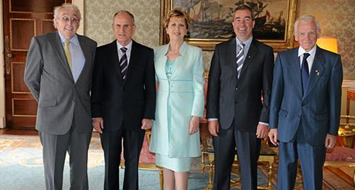 The start of July saw GAA Clubs from across the Country welcomed to a Garden Party at Aras an Uachtaran as special guests of an Uachtaran and Senator McAleese.  22 Ulster Clubs were among those present, invited to celebrate the success of the Social Initiative in the past 12 months.  Among them were hundreds of those who have benefited most from the initiative, the participants themselves!
The GAA Social Initiative arose as a result of Uachtaran Mary McAleese and her husband, Martin, noticing an absence of men in attendance at official functions during their many visits to local communities over the years.    The GAA were invited to implement an Initiative on their behalf to encourage those men to engage more fully in their communities.  This Initiative has since evolved to include older women as well as men, and over 90 Clubs are now involved, hosting activities and events for older people in their community.
Save the Date - Irish News Ulster Club & Volunteer Conference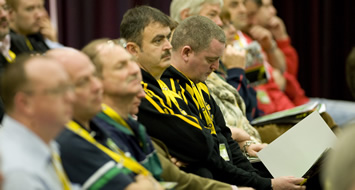 Ulster GAA has announced details of their annual Irish News Ulster Club and Volunteer Conference which will take place on Saturday 29th October 2011 in Armagh City Hotel.
The theme for this year's conference is 'Enhancing the GAA Community in Challenging Times' and will focus on helping clubs deal with key issues facing them in recessionary times.
Recognising the financial struggle of GAA communities Ulster GAA is pleased to announce that they are dropping delegate price for this year's conference at rate of £15 per delegate.  And clubs are urged to register early with the first 100 paid up registrations eligible for 5 delegates for the price of 4 - that's a carload of club delegates for £60.
The Delegate Admission Fee includes access to full conference, light refreshments on arrival, lunch and conference pack.
Croke Park Activity Days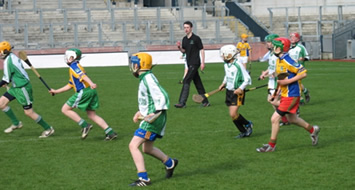 Monday and Tuesday 18th & 19th July were very special days to a select few Under 12 footballers and hurlers from all Ulster counties.  These were the days set aside for Ulster children to play and tour Croke Park.
All Counties participated with a total of 1,036 Ulster children enjoying the experience.  From use of the changing rooms and the warm up rooms to experiencing the roar of the crowd from a recorded audio of a big match to actually playing on the new pitch at Croke Park, the children had a memorable day out.
During the games parents were permitted to take photographs of the 'big day' from the stand, and at the end of each session the teams were gathered together for group photographs under the Cusack Stand.
All children were also treated to a museum and stadium tour of the headquarters of the GAA.  All in all a great time was had by all participants as many parents relived their own playing careers or for those who never played at Croke Park it was a case of dreaming of playing on the famous ground themselves.
Ireland's Number 1 GAA Supporter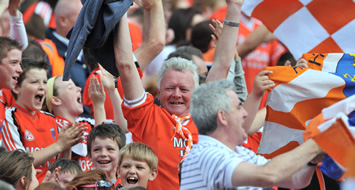 Win €10,000 for your local GAA club and a VIP package to the Football All Ireland Final
Do you live and breathe GAA? Know the score of every GAA match your county has ever played in? Wait to book your holidays until you see how your county perform in the championship? If that describes you or someone you know then get in touch because SuperValu is looking for 'Ireland's Number 1 Real GAA Supporter' and YOU could be crowned the winner.
SuperValu, proud sponsors of the GAA Football All Ireland Senior Championship, want to celebrate GAA fans who have real pride and passion in their county and local club. The winner of 'Ireland's Number 1 Real GAA Supporter' will receive an amazing prize of €10,000 to spend on GAA activities in their community as well as a VIP package for two people , including tickets, accommodation and €500 spending money, to the All Ireland Final in September. The three competition runners up will also each receive a prize of €1,000 for their local GAA club as well as tickets to the Football All Ireland Final.
Ulster Bank GAA Force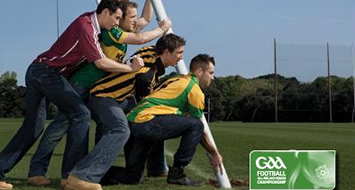 Ulster Bank GAA Force is a new initiative aimed at bringing local communities together over the October bank holiday weekend 29th and 30th October to carry out improvements to their GAA club facilities.
Simply sign-up your club on the registration form on www.ulsterbank.com/gaa by Friday 19th August 2011. Talk to your committee about your submission and tell us your club's story about your plans to make improvements, the role of your club in the locality and the benefits the makeover would make to your club and the wider community. Don't forget to upload at least 2 photos of your club.
Register by Friday 19th August to be in with a chance to win some great support packages to make the most of your Ulster Bank GAA Force Weekend.
Support packages include one overall support package on the island of Ireland to the value of €25,000 or sterling equivalent.
Four runners up will be awarded regional support packages (one per province) to the value of €5,000 or sterling equivalent.
Awards for Sports Update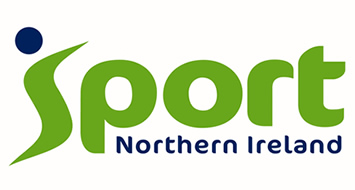 Awards for Sport is a small grants programme developed, funded and administered by Sport Northern Ireland.
Awards for Sport aims to increase participation in sport and physical recreation especially among underrepresented groups such as women / girls, older people and people with a disability.
Sport Northern Ireland hope to launch Awards for Sport in August 2011.
Under Awards for Sport the potential awards range from £1,000 to £10,000.
Sport Northern Ireland will host various information sessions across the north for clubs. 
GAA to bring Belfast alive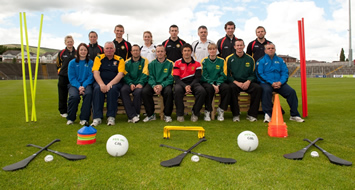 Children across Belfast are to receive expert GAA coaching over the summer months as part of the GAA's new National Urban Programme.
In Belfast, children aged 11/12 years old will have the opportunity through their local GAA club to receive expert training in Gaelic Football and Hurling which will include the skills competition having all participants' scores taken. The top 5 performers from each club will then go forward to an All City final on Wednesday the 31st August.
The programme also aims to promote Péil Abú and Camán Abú which are tag football and hurling games targeting the 16+ age group and also including Gaelic4Mums and Recreational GAA participants in clubs. Due it the non-contact element of the games, teams can be mixed gender, abilities and age groups.
Half time Games a Spectacular Showpiece at Ladies Finals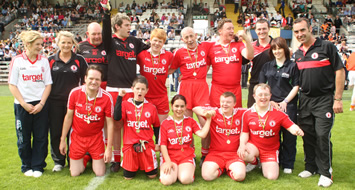 St Tiernach's Park in Clones on 10th July provided the venue for this year's Ladies Ulster Finals, and although some cracking football was served up during the Intermediate and Senior Finals it was the half time games that grabbed the attention of all those present.
Traditionally at half time of the Ulster Finals children from participating counties are given the opportunity to showcase their skills on the big stage.  But this year to promote the diverse range of activities we are now involved in, Ladies Ulster Council also invited two Gaelic4Mothers teams and two special needs teams to take part as well as the children.  During the Intermediate Final children from clubs in Fermanagh and Cavan entertained the crowd while at half time of the Senior game mums from Newry Mitchells and Lurgan's Clann Eireann along with special needs groups from Tyrone and Armagh took to the pitch.  Following the games each of the half time participants were presented with a medal from Ulster President Hugh Devenney as a memento of their day.
Game of 3 Halves in North Belfast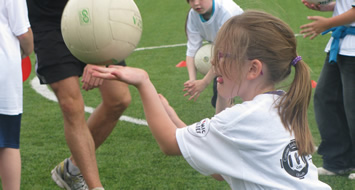 Ulster GAA, the Irish Football Association and Ulster Rugby were involved in a hugely successful Game of Three Halves event in Ballysillan Leisure Centre. Held on the 6th July, over forty kids took part, representing seven schools from across North Belfast.
The concept behind a Game of Three Halves is to bring people together from across the sectarian divide, giving them opportunities to play three sports, which they may have not been familiar with before. Young people were mixed into groups rotating between Gaelic football coaching, soccer coaching and rugby coaching. The fourth station comprised of exploring community relations, facilitated by PeacePlayers International. The day was rolled-out in a fun-filled atmosphere where high-fives, team cheers and laughter was the order of the day. It is hoped to extend the programme across other Ulster venues in the year ahead.
Randalstown host Gaelic4Mothers Blitz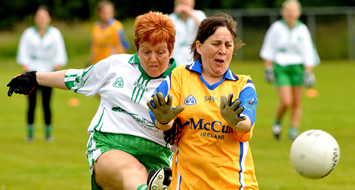 Tir Na nOg in Randalstown played host to the first Ulster Gaelic4Mothers Blitz of 2011where 120 mums from around the province came together to take part.
Teams from Antrim, Armagh, Down, Tyrone and Donegal were among those who took part and with fun and participation the name of the game a great family day out was enjoyed by all those who took part.
Host club Tir Na nOg were fabulous hosts on the day putting on a BBQ and refreshments for their visitors so that the craic continued well after the last ball was kicked.  On completion of the blitz Tir Na nOg Chairman Malachy Duffin presented each participating team with a trophy in recognition of their efforts.  He also spoke of the important role mums play in clubs around the province and how the Gaelic4Mothers programme has greatly strengthed their club since its inception last year.
Ulster teams compete at Féile Cluiche Corr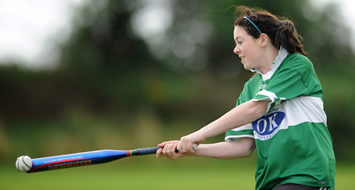 Féile Cluiche Corr is an annual GAA Rounders event for our juvenile players.
The event took place over the August Bank Holiday weekend, with matches being played for the entire weekend.
Féile Cluiche Corr provides an opportunity for our juvenile players to participate in competitive matches at u13 and u15 boys and girls and u14 and u16 mixed and show their excellent talent in playing GAA Rounders.
This year's GAA Rounders Féile (Féile Cluiche Corr) took place in Clara GAA Pitches, Kinnegad Road, Clara, County Offaly.
Give Respect at Fermanagh Cúl Camp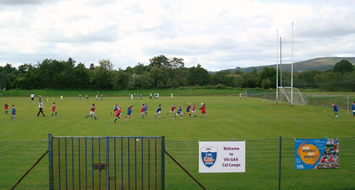 Department of Education coaches Owen Mooney and Teresa McGirr have been actively involved in several areas during July. They have tutored on an Award 1 course specifically aimed at the coaches in Fermanagh working in the Cul Camps. Along with Peter McGinnity they organised a VHI Cul Camp Coaches In-Service day. This was a very worthwhile day as it provided the coaches with tips and pointers on everything from suitable games for differing age groups to group and behaviour management.
The next two Saturdays were used as the Theory element for the Award 1 Childrens Course for the Cul Camp coaches. Already this has proved to be a great way of offering the Award 1 child course as it provides coaches with on the job training and mentoring. They will all have had 3 practical assessments during the course of the Camps, with one assessment with the youngest children a specific requirement.
Antrim Year 8 Hurling and Football All Stars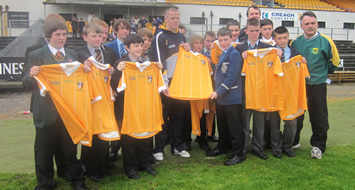 On Friday 17th June at Casement Park the Antrim Year 8 Hurling and Year 8  Football All Stars were presented with their County shirt.
Senior county hurler, Kieran Mc Gourty  presented the hurlers and Paddy Cunningham presented the footballers.
The 15 boys for each team were selected after a trial day for hurling and for football. Thanks to the selectors for their help.
County chairman, Jim Murray welcomed everyone, players, teachers and parents to Casement for this special occasion.
What's Happening this Month - August 2011
We are adding a new section to our online newsletter to highlight key events and activities taking place across Ulster from month to month.
This edition we look forward to August 2011, when there is a full schedule of activity planned.
Download:
- What's Happening in August 2011 (Excel Document)
back to top