Donegal edged out by Dublin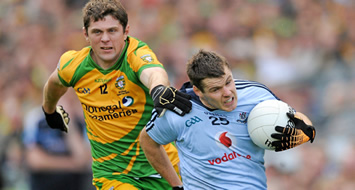 GAA Football All-Ireland Senior Championship Semi-Final:
Dublin 0-8 Donegal 0-6
Dublin qualified for the GAA Football All-Ireland Senior Championship final for the first time since 1995 following a two-point defeat of Donegal at Croke Park on Sunday.
The Dubs dipped into the reserves of strength and character that have been stockpiled under manager Pat Gilroy to overcome the dismissal of Diarmuid Connolly to kick the last five points of the game and book their place in the decider against Kerry.
After shooting eight wides in the first half, Dublin trailed by 0-4 to 0-2 and looked to be in real trouble when Colm McFadden extended Donegal's lead to three in the 44th minute.
Antrim edge Ulster U21 Decider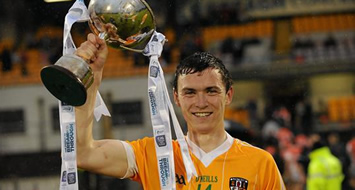 Bord Gáis Ulster GAA U21 Hurling Championship Final:
Antrim 0-15 Armagh 2-7
Late scores from team captain Conor McCann and injury-time substitute Neil Cunningham saw Antrim win the Ulster Under-21 Hurling Championship for the third year in a row against unlucky Armagh in Wednesday evening's final at Casement Park.
For most of the first half it appeared that Armagh, who were appearing in their second final in succession, were on course to make history and lift their first title at this grade. The Orchard county boys were on top in many sectors and when they went 1-4 to 0-2 clear in a low scoring first-half Antrim looked to be in trouble.
However the Saffrons rallied before the break to cut the arrears to a goal, and the introduction of substitute Ciaran Johnston (son of Armagh manager Mickey Johnston) at the start of the second-half and the switching of corner-back Terry McAllister to full-back, helped turn things in the home team's favour.
From Roe Valley to Boston!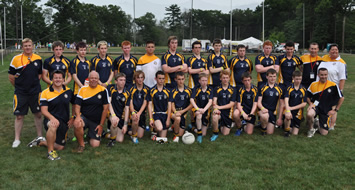 Twenty young men from the greater Roe Valley area headed off in a jet plane recently to the capital of Massachusetts - Boston, for what could only be described as 'a trip of a lifetime'.
Sixteen-year-old pupils from St Patricks College Dungiven, Limavady Grammar School, Limavady High School, Rossmar Special School, and St Marys Limavady made up the Roe Valley Cúchulainns who ably represented Ulster GAA, Roe Valley and their individual schools at the Continental Youth Championships, in the Irish Cultural Centre at Canton Park.
The trip was the pinnacle of Ulster GAA's Cúchulainn Initiative, which is a cross community and cross border project which aims to bring young people from different backgrounds together through the medium of Gaelic Games.
Secure your place - The Irish News Ulster GAA Club & Volunteer Conference 2011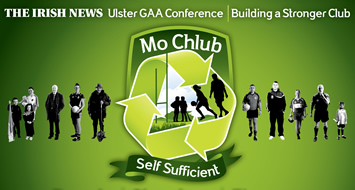 The fifth Irish News Ulster GAA Club & Volunteer Conference will be held on Saturday 29th October in the Armagh City Hotel. This is Ulster GAA's flagship non-games event which is focused at supporting club, volunteer and community development right across Ulster's nine Counties. The Ulster Council supports over 250,000 volunteers working in 580 constituent GAA clubs and approximately 600 constituent educational units across the Province.
The theme of this year's conference is "Enhancing the GAA Community in Challenging Times" and it will provide club volunteers with an opportunity to hear from some of Ulster's Greatest GAA enthusiasts and will also provide a platform for club volunteers to air their views.
The conference has undergone a make-over this year to provide club volunteers with the best-ever package including: conference entry, conference pack, specially commissioned gift, refreshments throughout the day and a full lunch for only £15 per delegate.
Clubs are urged to register early with the first 100 paid up registrations eligible for 5 delegates for the price of 4: That's a carload of club delegates for £60.
Team Fit 2011/2012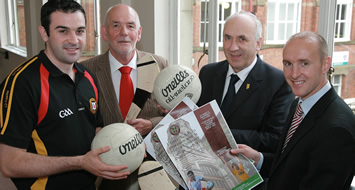 Following the success of the first two 'Gaelic Games Team Fit' courses, Ulster GAA and St Mary's University College Belfast are now accepting applications for the 2011/2012 course.
The course is part time and will take place on Wednesday evenings from 6-9pm starting on 12th October 2011. The course will run for 9 weeks. Successful candidates will also be asked to deliver two presentations between Feb 2012 and May 2012.
The programme aims to develop:
• an awareness of the essential components of preparation for Gaelic Football and Hurling teams
• an understanding of the underlying science and theory of sport science
• an understanding and knowledge of the application of sport science and technology to Gaelic Teams
Ulster GAA Level 3 Diploma Courses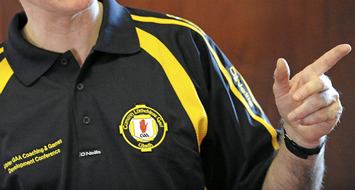 The Ulster GAA in partnership with OCNNI will be running two fully accredited courses in autumn 2011. These Diploma Courses in GAA Performance Sports Coaching and GAA Sports Management will be pitched at the same difficulty and complexity as A-Level or Leaving Cert. The objective is to reward the hard work undertaken by many volunteers in clubs and schools and provide them with the opportunity to bring this into a formal qualification. In times of economic hardship and unemployment, the GAA Club environment can help people develop new skills and competencies that they can use when seeking employment.
Our long term vision is to have a number of mandatory units / modules that we Ulster GAA offer our volunteers. These will build into certificates in respective areas. If the volunteer over time takes a number of these they can begin to build a qualification at level 3 / 4 by taking these mandatory modules and then by accessing further optional modules that exist within the Qualifications Credit Framework. This we envisage would potentially build into a "Degree in GAA Related Studies".
Elite Development Roadshow Complete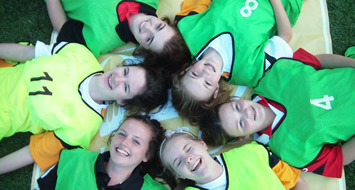 The Ulster GAA Elite Development Roadshow came to a conclusion last week when staff from Ulster GAA hosted girls from Derry, Antrim and Down in St Marys University, Belfast.
The camp in St Marys was the final of three camps held around the province over the past few weeks and almost 90 talented 15year old girls from all nine counties were treated to some expert coaching and tutition from the Ulster GAA staff.
Sessions throughout the camps included workshops on Nutrition and Hydration as well as information on Lifestyle Management, while on the practical side of things the girls were put through their paces in strength and conditioning, skill development, felixbility and fitness testing.
Speaking at the final camp one of the participants said "Today was brilliant. Im wrecked cause weve done so much, but Ive learnt loads!"
All-Ireland U16 'C' Blitz 2011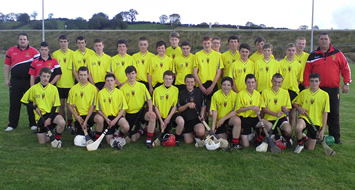 Teams from 8 different counties and three different provinces descended on the magnificent Monaghan Centre of Excellence at Cloghan for this year's All-Ireland 'C' Blitz. The teams were divided into two groups of four - Monaghan, Tyrone, Sligo and Fermanagh in group 1, with Down II, Donegal II, Leitrim and Louth in group 2. Each team played off against the other three teams in their group (15 minutes per half) before lunch, with the winners of each group meeting in the final and the second, third and fourth teams in each group playing off against each other in their final matches in the afternoon.
The opening game in group 1 was a cracking game between Tyrone and Sligo and the Sligo men got off to a fast start with an early goal before the Ulster men opened up a three point half time lead. Sligo dominated the third quarter and raced ahead by five points but a goal and a point within seconds of each other set up a frantic five minute finale. Both teams squandered chances to win it but a late, late goal for the Red Hands sealed a 4.3 to 2.7 victory. Hosts Monaghan faced Fermanagh in their opening game and couldn't match their neighbours in front of goal as the Ernemen ran out comfortable winners by 3.6 to 1.2.
Gaelic on the Green - Fun in the Sun!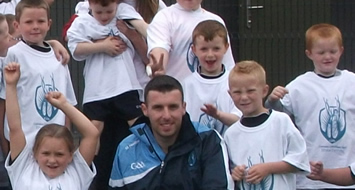 During August Ulster GAA joined forces with Belfast Urban Group and Antrim GAA to roll out out a new project aimed at promoting Gaelic Games to children living in Urban Belfast. The project was entitled 'Gaelic on the Green' and was ably co-ordinated by Ulster GAA Regional Development Officer Shane McCann and involved over 200 children.
Gaelic on the Green took place at Twinbrook Activity Centre and Cliftonville Playing Fields and involved children from Lagmore Gales, St Paul's, Ardoyne Pearses and St Enda's and encorporated, boys & girls football, hurling, camogie and even some rounders!
The aim of the project was to provide free coaching and games on green areas within Urban areas so that local children would have something exciting and positive to look forward to over the summer months.
Ulster GAA's First-ever Disability Blitz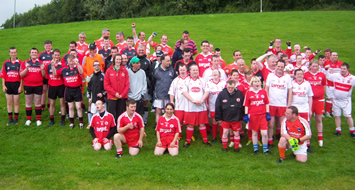 Ulster GAA have embarked on a new campaign to encourage people with disabilities to play and compete at Gaelic Games.
Following on from the huge success of the half-time games at the 2011 Ulster Championship whereby disability games was showcased Ulster GAA's three Regional Development Officers Shane McCann, Diarmaid Marsden and Paul Callaghan decided to take disability games to the next level and offer a competitive blitz.
The blitz held at the Mid Ulster Sports Arena in Cookstown provide an very unique opportunity for people with disabilities to represent their county in Gaelic Games.
The blitz was hugely popular and plans are already being put in place to organise the next disability games blitz.
U10 Hurling Blitz on Stormont lawns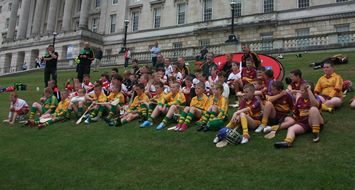 On Saturday 6th August an U10 Hurling blitz and U10 camogie blitz were played on the lawns in front of Parliament Building at Stormont as part of Feile.
The following clubs took part in the U10 Hurling: St Galls, Lamh Dhearg, Ardoyne, Rossa, St Pauls, Eire Og, Bredagh, Gort na Mona , St Endas and making their debut at U10 Hurling McDermotts. While St Johns, Rossa, Bredagh, St Endas and Ardoyne played in the U10 camogie blitz .
Each team played 3 games. Many availed of the tours of government building after their games and then watched the Poc Fada.
The referees from Lamh Dhearg, Ryan Diamond and Ronan Fegan ensured all games ran smoothly.
Buncrana Cup 2011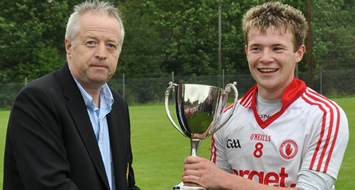 The semi-finals and final of the Buncrana Cup (Ulster U16 Football Development Squads Blitz) took place on Saturday past (13th August) in Donegal.
After an exciting days football in which the standard was very high Tyrone came out victorious.
A special thanks to Noamh Padraig and Burt Clubs for hosting the 2 semi-finals as well as the Buncrana Club for hosting the final.
The presentation of all 3 grounds were a credit to the clubs concerned.
See below the results from the day:
Semi Finals
Derry 0-09 Cavan 0-07
Tyrone 1-10 Donegal 0-09
3rd/4th Place Playoff
Donegal 2-17 Cavan 2-10
Final
Tyrone 3-09 Derry 0-07
Omagh 'Park Life'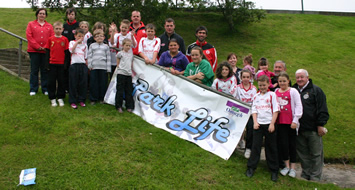 The 'Park Life' project took place every Friday during July and August in parks throughout Omagh. Ulster GAA Schools Coaches covered 8 parks with an overall attendance of around 103 children and 30 parents.
The project was a great success measured through the participation and feedback from both children and parents. The children learned new games that could be continued when the coaches left.
Too often children are laying about the house playing computer games and watching TV but the Ulster GAA Coaches felt they could have a positive influence on what children can do outside the house. Hopefully the project can gather some momentum and will continue for years to come and a forthcoming meeting with the local community groups will explore ways the project may be brought forward.
U16 Hurling Development Squad Blitzes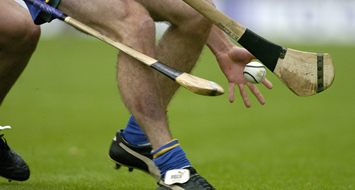 13 teams from 12 different counties representing Ulster, Leinster and Great Britain took part in three separate blitzes organised by Ulster GAA on Saturday 30th July. All nine Ulster counties participated with Down sending two teams - U16's in Division 1 and U15's in Division 2 - while Meath and Laois were guests in Division 1 with London making the trip over for Division 3.
Division 1 was hosted at Pairc Elser with Antrim, Down, Derry, Meath and Laois playing off on a round robin format. Antrim's first game was against Leinster visitors Meath and the Saffrons made an impressive start as they scored a 4.9 to 0.8 victory. The first all Ulster clash of the day saw Down get off to a quick start against Derry only for the Oak Leaf men to peg them back in the second half - Down holding on for a 3.7 to 3.4 win. Laois were represented by their U15 squad and they recorded a hard fought win in their opener - 1.11 to 0.8 - against Derry. Antrim's rich goal-scoring form continued into the second round as the recorded an impressive 6.8 to Down's 1.8.
Sport Works Now in Antrim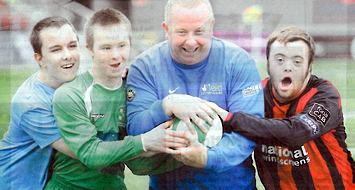 In celebration of its 10th anniversary and following the success of the recent 'Masterchef Challenge' event at UTV studios, NOW is proud to announce the success of 'Sport Works Now'.
This exciting event, which coincided with International Youth Day (August 12), secured the co-operation of key players from Ulster Rugby, the Irish Football Association and Antrim GAA who offered coaching sessions to young people with learning difficulties and gave them a taste of success in sport.
Maeve Monaghan, CEO at NOW was keen to promote the work of the organisation and said, "We were delighted to have the support of local sports stars at this event; it really helps to raise awareness of the organisation and the crucial work we do to promote social inclusion for people with learning difficulties and autism, whilst giving us the opportunity to have some fun."
Fashion Extravaganza for Keady Camogs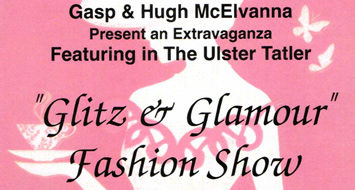 A night filled full of fashion and fun will be taking place in the new Keady club pavilion on Saturday 17th September 2011. Host and compare on the night will be none other than Mr. Niall Donnelly from UTV.
Fabulous fashions will be shown on the night by Keady's own men's wear specialist Mr Hugh McElvanna who along with Gasp ladies fashion house in sizes 6-26 from Armagh. They will include a wide range of outfits for all shapes and sizes from formal gear to Mother and father of the bride fashions, then classic to casual wear in both male and female.
So weather having a girly night out with your friends, or out with the hubby or boyfriend make sure you all go this prestigious event. A grand raffle with wonderful prizes will be held and there are some great spot prizes all up for grabs throughout the night.
What's Happening this Month - September 2011
We are adding a new section to our online newsletter to highlight key events and activities taking place across Ulster from month to month.
This edition we look forward to September 2011, when there is a full schedule of activity planned.
Download:
- What's Happening in August 2011 (Excel Document)
back to top