GAA Club Conference 'Not to be missed'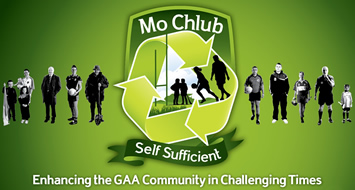 The fifth Irish News Ulster GAA Club and Volunteer Conference will be held on Saturday 29th October in the Armagh City Hotel.
This is Ulster GAA's flagship non-games event which is focused at supporting clubs, volunteers and community development right across Ulster's nine Counties. The Ulster Council supports over 250,000 volunteers working in 580 constituent GAA clubs and approximately 600 constituent educational units across the Province.
The theme of this year's conference is "Enhancing the GAA Community in Challenging Times" and it will provide club volunteers with an opportunity to hear from some of Ulster's Greatest GAA enthusiasts and will also provide a platform for club volunteers to air their views.
The focal point of conference this year will be a panel discussion 'Ulster GAA Talks Back' hosted by BBC presenter Lynette Fay and is sure to be a big hit with conference delegates as some of Ulster's best known and best loved GAA pundits, players and managers take to the stage to talk all things GAA in Ulster.
For more information or to book places on the conference, please email conference.ulster@gaa.ie or Tel: Bernie Fox on (028) 3752 1900.
Heartbreak for Monaghan Ladies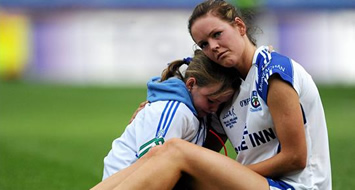 Goals proved crucial for Cork as the Leesiders captured a sixth TG4 All-Ireland Ladies Senior Football Championship crown in seven seasons at Croke Park yesterday. The Munster champions lost to Tyrone at the quarter-final stage last year but have hit back in impressive fashion in 2011, adding the Brendan Martin Cup to the Bord Gáis Energy National League and Munster championship crowns collected earlier in the season.
Cork routed Monaghan by 14 points in the 2008 decider but just two points separated the sides today as the Ulster champions put up a huge fight. Monaghan came from two points down to lead by a point twice in the second half but then the Farney girls conceded a killer penalty in the 43rd minute. Monaghan sub Isobel Kierans hauled down Cork replacement Orla Finn and Rhona Ni Bhuachalla made no mistake to hand the winners a 2-05 to 0-08 advantage. It was the second time that Monaghan had conceded a goal at a crucial time, as Nollaig Clearys 21st minute effort gave Cork a 1-03 to 0-03 lead. And again, it was an avoidable score from a Monaghan perspective as Linda Martins mistake was pounced on by Cleary, who lobbed the unfortunate goalkeeper at the Hill 16 end.
Cavan Ladies to do it all over again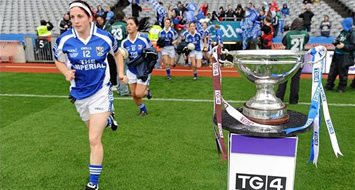 Cavan came from three points down in the final six minutes to salvage a draw against Westmeath in the TG4 All-Ireland Ladies Intermediate Football Championship final at Croke Park. Second-half goals from Johanna Maher and substitute Karen Hegarty helped Westmeath to overturn a two-point half-time deficit and lead by 2-05 to 0-08 with 49 minutes on the watch.
Sub Daena Clerkin hauled Cavan back into contention with a 54th minute score before a brace of frees from captain Aisling Doonan restored parity for the Breffni ladies. Doonan was the pivotal figure for Cavan, top-scoring with six points and producing some majestic moments of individual brilliance. In the 16th minute, the Templeport ace crashed a shot off the crossbar after her initial effort was kept out by Westmeath goalkeeper Gemma Leahy. And two minutes later, Doonan had the audacity to convert a sideline kick from the Cusack Stand side of the field over the Davin Stand crossbar.
Ulster Club Championships Launch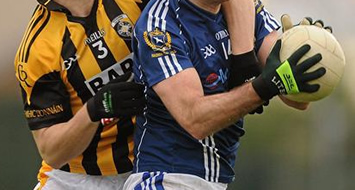 With the Inter-County season coming to a close, the focus will be turning on the Club Championships.
In previous years the Ulster Club Championships have captured the imagination of all, and this year promises to do the same.
Ulster GAA, in co-operation with Ulster Ladies Football and Ulster Camogie will be holding a joint launch of the Ulster Club Championships in the Morgan Athletic Grounds at 7pm on Wednesday 5th October.
All County Champions or Clubs which are still involved in their County Championships are invited to attend wearing their Club colours.
To confirm your attendance at the launch, or for further information please email Bernie Fox on bernie.fox.ulster@gaa.ie
Accredited GAA Qualifications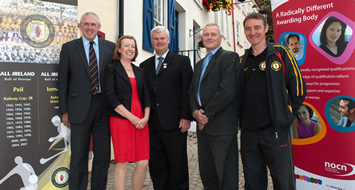 For the first time ever Gaels from across Ulster will have the opportunity to gain a recognised qualification in 'GAA Performance Sports Coaching' and 'GAA Sports Management', both of which are accredited Level 3 Diploma courses.
This exciting initiative has been designed in times of economic hardship and unemployment, with the aim to provide GAA volunteers the opportunity to develop new skills and competencies that will benefit them when seeking employment.
Ulster GAA working with Open College Network Northern Ireland (OCNNI) and Skills Active will deliver these Level 3 Diploma Courses in Armagh from Wednesday 5th October.
Speaking at the launch of this new initiative Ulster GAA President Aogán Ó Fearghail said, "Gaels across Ulster will no doubt be intrigued by this new initiative which offers for the first time ever an opportunity to receive a Diploma in GAA studies."
GAA Bursary Scheme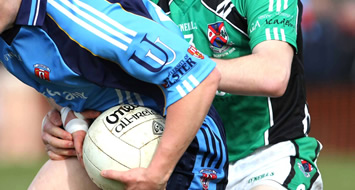 Ulster GAA, in support of the National Student Bursary Scheme, will once again award bursaries of up to €1,000 (£800) to students attending Higher Education colleges as part of its ongoing commitment to Player Welfare.
The scheme, which is now in its fifth year, will be open to members of the Association who are attending a full-time Higher Education course and who are active participants in their Higher Education club.  However students who hold other GAA-related or a college scholarship/bursary will not be eligible to apply. Full eligibility criteria is provided with the application form.
Ulster GAA welcomes applications from those students in our province regardless whether their attendance is at a college inside or outside of Ulster.
Each bursary granted will be for up to a maximum of €1000/£800.
New vision for Handball launched
A large turnout was at Croke Park for the GAA Handball Ireland launch of their new 'Strategic Vision for the Future, 2011-2016″ and it certainly has received widespread praise from all quarters.
Uachtarán C.L.G., Christy Cooney, was present to officially launch the plan and he highlighted how this is a "new beginning for this great sport which continues to impress in it's massive strides forward". He highlighted how "a terrific structure now being implemented has lead to a top class, comprehensive and ambitious plan being launched by the association and that the GAA are very proud of handball as one of our family of games". The Uachtarán also pinpointed "the brilliant work at all levels of GAA Handball and the unique and hugely successful dimension of the game at International level and hoped that this would some day lead to securing Olympic Status".
GAA Social Initiative Seminar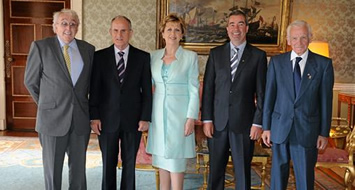 The 15th October 2011 will see Clubs from across Ireland gather in Croke Park to launch phase 2 of the GAA's Social Initiative. The seminar will recognise Clubs who have been active in the past year, including 22 from Ulster, with all being awarded with certificates for their efforts in the programme.
The seminar is an excellent opportunity for new Clubs to join the Social Initiative and to learn from the experiences of those already involved, and all new and existing Clubs are encouraged to attend.
There will also be an opportunity for Clubs to meet with various agencies and services who might assist in the delivery of Social Initiative projects across the Country.
This event is certain to be very popular and Clubs who wish to attend should register their interest with joan.cooney@gaa.ie asap to avoid disappointment.
Chinese Students 'Have a Go'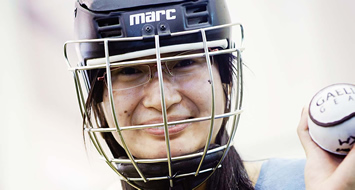 Gaelic Games has international appeal at the University of Ulster with 25 Chinese students signing up for a Hurling coaching session.
Ulster GAA has teamed up with University of Ulster Sports Union President Fintan Woods, University of Ulster's CELT and the International Office to encourage International students to participate in Gaelic Games by holding its first 'Have a Go Day' at the Jordanstown Campus.
The session was facilitated by Ulster GAA Regional Hurling Development Officer Kieran Megraw and it provided International Students the opportunity to try hurling in a fun and welcoming environment.
Speaking after the event Ulster GAA President Aogán Ó Fearghail said, "Ulster GAA is delighted to team up with the University of Ulster for this worthy initiative which is aims to inspire those from non-GAA backgrounds to get involved in Gaelic Games.
Belfast Skills Challenge: A Real Hit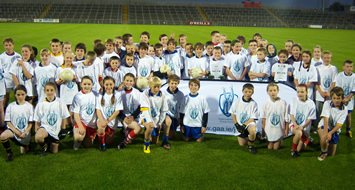 On Wednesday 31st August the cream of Belfast U12 footballers, hurlers and camogs descended on Casement Park to take part in the 2011 Belfast Skills Challenge Grand Final. Organised by Belfast Urban GAA and coaches Paul Doherty, John Crossey & Shane McCann , in association with O'Neills store.
The event was a culmination of a selection process which took place in Belfast clubs allowing the coaches to carry out skills tests with their U12 Hurling, Camogie, Boys and Girls Football teams.
The top scorers from each club then progressed to this event in Casement Park. The level of competition from the children was high and required composure in front of a sizeable crowd of onlookers.
Tyrone GAA 5-a-side Club Blitz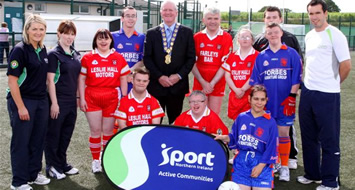 The Active Communities Programme in Gaelic Games for Cookstown District Council and Dungannon Borough and District Council spearheaded the first Tyrone GAA 5 Aside Club Blitz on Saturday 27th August in Mid Ulster Sports Arena. The GAA clubs that were represented included; Donaghmore, Dungannon, Ardboe, Beragh, Strabane and Errigal Ciaran.
The initiative was organised by Geraldine Christie, Active Communities Gaelic Coach and its success was due to the extensive coaching programme that was delivered throughout both Council areas. Adults with Mild Learning Disabilities participated in a 6 week programme of adapted Gaelic Football using fun games and skills. The players have performed exhibition games at half time at the Ulster Senior Football Championship, Ladies Ulster Championship, Tyrone Ladies Championship and the first ever Intercounty Gaelic Football blitz.
Limavady Teachers Inservice Day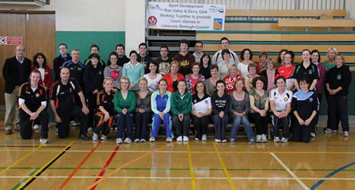 Derry GAA in partnership with Ulster GAA and Limavady Borough council recently put on a staff inservice day for school teachers at Roe Valley leisure centre, Limavady.
The day consisted of many practical aspects where the teachers took part in activities that they can delivery back in their schools. They were giving information on warm ups, skills development and games. 35 teachers took part in the 2 hrs of activities as part of the county wide GAA primary school coaching programme which involves over 80 schools and in excess of 3000 children.
Richard Ferris, games promotions officer for Limavady borough council thanked everyone for taking part and encouraged them all to try the activities back in school with their pupils. Richard also thanked the coaches who delivered the day and Ulster Games manager Terence McWilliams for attending and adding his knowledge.
Drumragh Gaelic4Mothers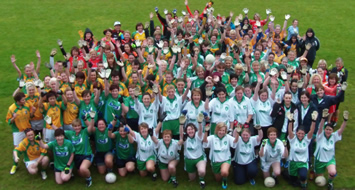 On Sunday 4th September Drumragh Sarsfields GFC played host to the final Ulster Gaelic4Mothers blitz for 2011 and what a day it was!  160 mums from 13 different clubs around the province took to the pitch in the lashing rain and although they were soaked to the skin there were smiles on every single face throughout.
The Gaelic4Mothers initiative has proven to be one of the most successful development initiatives of the Ladies Gaelic Football Association and clubs from around the province are reaping the rewards of having this new band of players, coaches and volunteers involved in their club.  Speaking at the Ulster Blitz Peter Donaghey from the Drumragh club spoke of how the initiative has helped in his club saying "Gaelic4Mothers has been a great innovation for the club.  It's totally reinvigorated it because it's brought in new people.  It's given the ladies the chance to play football given that they've always just ferried their children and partners to games and it's given them a great interest; it's actually given the club some new coaches!  There's just a real feel good factor around the club and so many more people are willing to get involved and help out.  The benefits can't be overstated!"
Ulster's young Elite take on Dublin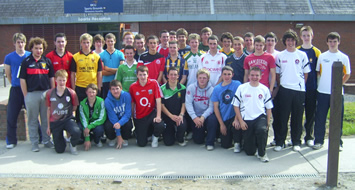 Following on from the Ulster Elite Camp in July for the best U-16 Football Players in the Province, the Ulster Council organised challenge games against the Dublin U-17 Squads which took place at DCU Dublin on Tuesday 9th August.
34 Players were evenly divided to make up 2 balanced Teams.
After a great afternoons football in which the 2 games were very competitive, Ulster came out on top in one Game by 3 points and lost the other by 2 points.
Great effort was shown by all the lads involved and they were a credit to their families, Clubs and Counties.
Ulster Og Sport 2011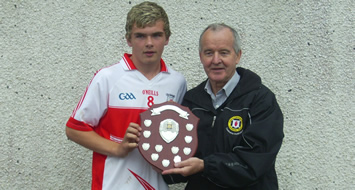 The annual Ulster Og Sport took place in Watty Grahams GAC Glen, Co.Derry on Saturday 3rd September.  This is a Under 15 seven a side competition that includes the county winners throughout the province.
After an excellent days football, Tyrone champions Stewartstown from Tyrone won the Shield competition, while Na Rossa from Donegal won the Plate competition.
The Ulster Council would like to thank the Glen Club for the use of their facilities and also for their excellent organisation of the event.
We would also like to thank all the referees who officiated during the competition and also Brian Smith for co-ordinating the referees on the day.
Finally we would like to thank all 9 clubs across the province for taking part in this prestigious competition.
Armagh Harps Fundraiser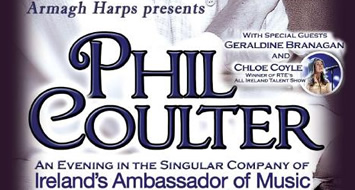 Armagh Harps GFC presents an evening in the Singular Company of Ireland's Ambassador of Music Phil Coulter with Special Guests Geraldine Brannigan and Chloe Coyle (better known as Winner of RTE's All Ireland Talent Show).
This special fundraising event will take place on Saturday 22nd October 2011 at 8pm in the Armagh City Hotel .  Tickets are £20 with a donation being made to Marie Curie Cancer.
To Book Contact: Armagh City Hotel (028 37 518888) or Armagh Harps Social Club after 7pm (028 37 523281)
Book early to avoid disappointment!
What's Happening this Month - October 2011
We are adding a new section to our online newsletter to highlight key events and activities taking place across Ulster from month to month.
This edition we look forward to October 2011, when there is a full schedule of activity planned.
Download:
- What's Happening in October 2011 (Excel Document)
back to top