Sell-out crowd expected for GAA conference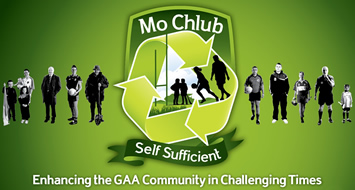 A sell-out crowd will be in Armagh City Hotel on Saturday for the 5th Annual Irish News Ulster GAA Club and Volunteer Conference.
The ever popular Club and Volunteer Conference is a great day out for Gaels across all nine counties of Ulster as it offers an opportunity to hear from much loved GAA players, managers and pundits about issues of the day including the 2011 Club Championships, the important role clubs play within communities, personal experiences and stories, facing financial struggle during recessionary times and much more.
Conference will open with a performance from Ulster Scór na nÓg Champion Sarah McVeigh from the Saul Club in County Down and the All Ireland Dromore Instrumental Group will perform for guests on arrival. This will help showcase the great talents of Gaels competing in the Scór competition which is at the heart of Ulster GAA's cultural activities.
Club Championships to Brighten Winter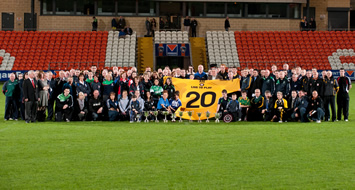 The Ulster GAA Club Championships are said to brighten up the dark, cold winter months with 'unmissable passion, pain and glory'.
The Ulster GAA Council, Ulster Ladies Gaelic and Ulster Camogie have teamed together to promote their individual club championships.  The strap-line for their promotional campaign that was launched on Wednesday evening in the Morgan Athletic Grounds in Armagh is 'Unmissable: Passion, Pain and Glory'.
County Champions from all nine counties of Ulster congregated in Armagh City to officially launch the Ulster Club Championships in all codes.  The event was organised to recognise the achievements of individual county finalists while building anticipation and excitement for the Provincial Championships.
Ulster SFC 2012 Draw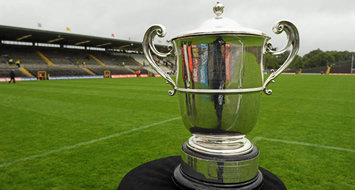 The draw for the 2012 Ulster Senior & Minor Football Championship has taken place, and once again it has dealt up some mouth-watering pairings.
The dates and venues for the opening rounds of the Ulster Senior & Minor Football Championships will be confirmed at the next meeting of the Ulster Competitions Control Committee.
—
Ulster Senior & Minor Football Championship 2012:
Preliminary Round:
An Cabhán v Dún na nGall
Quarter Finals:
Fear Manach v An Dún
Muineachán v Aontroim
Ard Mhacha v Tír Eoghain
Doire v An Cabhán / Dún na nGall
Semi Finals:
Fear Manach / An Dún v Muineachán / Aontroim
Ard Mhacha / Tír Eoghain v Doire / An Cabhán / Dún na nGall
Launch of Ulster GAA Coach & Volunteer Programme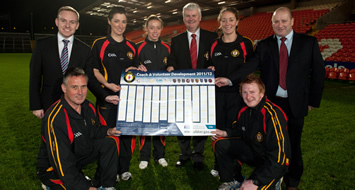 GAA volunteers from across the nine counties of Ulster can avail of an impressive list of educational courses and programmes to help develop the knowledge and skills of GAA coaches and club volunteers.
Ulster GAA President Aogan Ó Fearghail launched the 'Coach and Volunteer Development Programme' Wallchart for 2011-2012 in the Morgan Athletic Grounds in Armagh along with Ulster GAA tutors who deliver the courses.
Speaking at this launch he said, "Every year Ulster GAA delivers useful and interesting courses across Ulster to help develop our many volunteers and coaches. The programme helps Gaels develop their skills and abilities required in various different GAA roles including coaches, team mentors, and club officials.
Tesco Ladies Ulster Club Finals Preview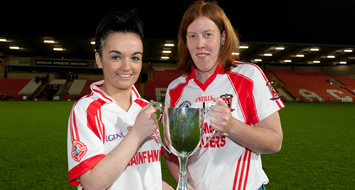 This weekend sees all three Tesco Ulster club finals being played. The action throws in on Saturday with the junior decider between Sperrin Og (Tyrone) and Inniskeen (Monaghan) in Truagh at 3pm. Both teams can count themselves fortunate to be in the finals as they had lucky escapes in their respective quarter finals. Sperrin Og needed extra time to see off Faughanvale while Inniskeen needed a last minute penalty save to advance against St. Pats. In the semi finals both were impressive as they beat Drumlane and Cloughaneely respectively. Sperrin Og will depend heavily on the experience of Eimear Teague. The county star has been pulling the strings in midfield, defending when needed and driving forward effectively. With that said they are by no means a one woman side and big games will be expected from the Mc Cullagh and Fox sisters. Inniskeen like their opponents have only one county player in their side - Isobel Kierans. She is very versatile and her battle with Teague could be key to victory. At full forward they have former All Ireland medal winner Voreen Quigley who given half a chance can conjure up scores from nothing. Truagh is likely to be very heavy come Saturday so player fitness could be vital in what should be a close encounter.
GAA to feature on Culture App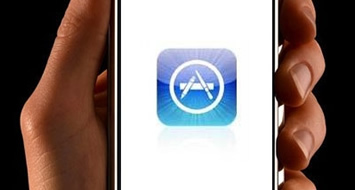 Minister Carál Ní Chuilín has launched a mobile App competition to boost tourism by showcasing Irish and Ulster-Scots culture.
The DCAL initiative aims to harness the innovation and entrepreneurial potential of culture, arts and leisure by encouraging local digital companies to use these sectors as a source of inspiration and content for mobile Apps.
Minister Ní Chuilín said: "Ireland is renowned internationally for its culture, art and heritage. These are strategic assets for our island. They can inspire the development of new creative content, products, services and experiences for the digital age. In doing so we can help grow our creative industries and enable tourists and locals alike to explore our rich cultures and traditions".
2012 Táin Club Hurling League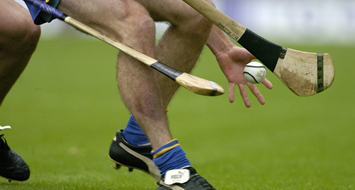 Any Club wishing to enter the 2012 Táin Club Hurling League should do so as soon as possible by completing the attached application form.
The competition is for senior teams and is open to all hurling Clubs in Ulster as well as clubs from Leitrim, Sligo, Longford and Louth.  It is proposed to run the group stages off on:
-          Saturday 4th February
-          Saturday 11th February
-          Saturday 18th February
-          Saturday 3rd March
-          Saturday 7th April
The Semi-Finals are scheduled for the weekend of 21st April, while the Finals will be played on the weekend of 28th April.
Accredited GAA Qualifications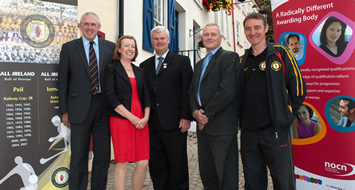 For the first time ever Gaels from across Ulster will have the opportunity to gain a recognised qualification in 'GAA Performance Sports Coaching' and 'GAA Sports Management', both of which are accredited Level 3 Diploma courses.
This exciting initiative has been designed in times of economic hardship and unemployment, with the aim to provide GAA volunteers the opportunity to develop new skills and competencies that will benefit them when seeking employment.
Ulster GAA working with Open College Network Northern Ireland (OCNNI) and Skills Active will deliver these Level 3 Diploma Courses in Armagh from Wednesday 5th October.
Speaking at the launch of this new initiative Ulster GAA President Aogán Ó Fearghail said, "Gaels across Ulster will no doubt be intrigued by this new initiative which offers for the first time ever an opportunity to receive a Diploma in GAA studies.
Social Initiative Take Off across the Country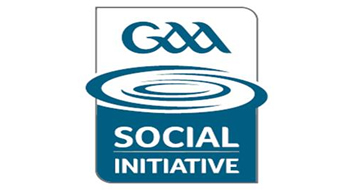 Year 2 of the GAA Social Initiative was launched at a recent seminar held in Croke Park.  Over 150 new and existing Clubs were in attendance and all received a wealth of information on how to progress the Initiative within their Community and with the support of external partners.
Prof. Eamonn O'Shea opened proceedings with an insightful address on Isolation and how the GAA's Initiative is impacting on the lives of so many older people who would traditionally have drifted away from community life.
A series of presentations followed by a range of related professional bodies, showcasing examples of partnership work and innovative ideas on how to progress the Initiative beyond merely Social outlets.
Roe Valley Cúchulainns Honoured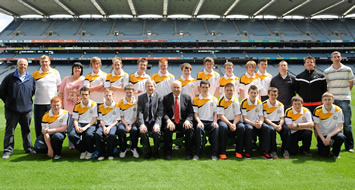 Boys from Limavady Grammar School, Limavady High School, St Marys Limavady, Rossmar Special School and St Patrick Dungiven were honoured this week at a Presentation Evening hosted in St Marys Limavady.
The evening was organised by Ulster GAA to recognise the boys and teachers from the schools involved in the Ulster GAA's cross-community Cúchulainn Cup project. As part of the project players from each of the five schools came together to learn the skills of Gaelic football and hurling, and to compete as the Roe Valley Cúchulainns at the annual Cúchulainn Cup in April. Following this the team were then selected to travel to Boston to represent Ulster GAA in the Continental Youth Cup in Boston.
GAA to feature on Australian 'Travel Bug'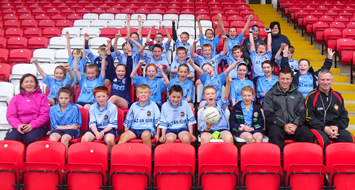 Ulster GAA has been in negotiations with the Northern Ireland Tourist Board to increase the profile of the Association and its activities among tourists visiting Ulster.
As part of this ongoing initiative Ulster GAA recently organised a special GAA showcase in Celtic Park for an Australian TV crew who were filming for a tourism programme.
All Star and All Ireland winner Tony Scullion was at hand to demonstrate the key skills of Gaelic Football.  He also provided an interesting insight into why Gaelic Games is so popular in Ireland, telling his own story about how the GAA was a major part of his life.  The Australian crew enjoyed quizzing Tony, who is Ulster GAA's Football Development Officer, about his former career representing Ireland in the International Series.
EU Forum for Social Inclusion of Migrant Youth Through Sport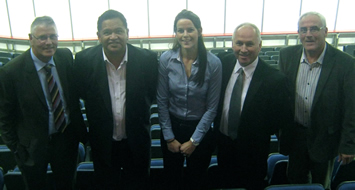 The Odyssey Arena was the venue of the meeting of the EU Social Inclusion of Migrant Youth Through Sport Forum. The Forum facilitated by University of Ulster feeds into the larger EU programme tasked with looking at best practise models of promoting social inclusion of migrant youth through sport across Europe.
Those presenting included: Shane McCullough a lecturer in sports development with the University of Ulster and Associate Head of Ulster Sports Academy, and vast experience with the IFA; Paul Kitchin a lecturer in sports policy and marketing in the University of Ulster; and Trevor Ringland involved with the Game of Three Halves, and One Small Step Programme.
Drink, Drugs and Sausage Rolls off the Student Menu!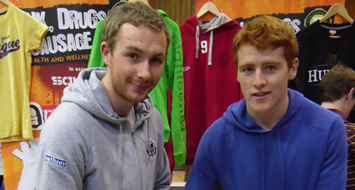 Ulster GAA, in conjunction with Squareball.com has re-launched its student Health and Wellness programme, Drink, Drugs and Sausage Rolls, with the aim of helping young people make the transition from home life to student life.
Tyrone GAA stars Peter Harte and Sean O'Neill were among the crowds of students to visit the 'Drink, Drugs and Sausage Rolls' stall at recent fayre in St. Mary's University College.   The stall was present at all the major university campuses with over 2000 leaflets distributed advising students on how to live a healthy life while still having fun!
Now in it's fifth year, the recognisable stall proved ever popular with freshers and returning students alike, and with the chance to win trendy Squareball gear offered to all visitors, it's no surprise the stall was a hit this year!
Scór and Ulster Scots come together for Armagh concert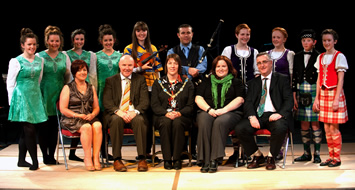 Armagh County Board in association with the Ulster Scots Agency hosted a very special cultural evening recently which showcased the GAA's finest Scór performers alongside artists from the Ulster Scots Tradition within County Armagh.
This flagship initiative was led by Armagh GAA's Cultural Committee to promote good relations within the county between two different communities - the GAA community and the Ulster Scots community. Through music, song, dance and story-telling the audience embraced the differing traditions and everyone left the Navan Centre with a new understanding of each other's culture.
Speaking at the event Chairman of Armagh County Board Paul Duggan said, "We in Armagh are very proud of our thriving GAA community - we are proud of our identity, of our culture and our traditions. We are also proud that we are an Association which respects others and promotes peace building by reaching out the hand of friendship."
Irish News 'Bring someone home for Christmas' Campaign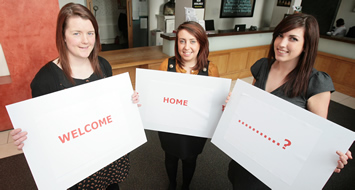 GAA clubs across Ulster are showing a huge interest in the Irish News' 'Bring Someone Home for Christmas' campaign
Staff from The Irish News marketing department help launch The Irish News 'Bring Someone Home for Christmas' initiative.
The Irish News are offering readers the opportunity to Bring Someone Home for Christmas from anywhere in the world. To enter collect 10 out of the 12 tokens which will be printed in The Irish News until Saturday 29th October and attach them to the entry coupon which will be printed on Fridays 21st and 28th October.
Schools and Industry get growing together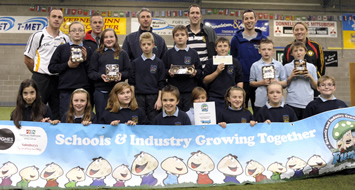 Eight Primary schools in the Dungannon area have participated in the Fungi Club initiative which is now in its second year. The programme is tailored to educate children about mushroom growing, nutrition, and experience the supply chain from growing to final customer.
Hughes mushrooms, Producer organisation Northway Mushrooms and Sainsburys have worked together to bring the initiative to the schools. During September compost was delivered to schools and Eugene Hughes helped the children to grow mushrooms in their classrooms. Children were able to see how the two different varieties chestnut and white compared during growing and taste the fruits of their crop.
The children had some impressive crops and grew huge flats, the largest being 25cm. Hughes were impressed with the interest that the children showed in mushroom growing.
Down GAA FUN Days 'Huge success'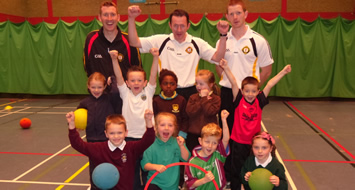 Children across Newry and Downpatrick this week participated in FUN days organized by Ulster GAA coaches to help develop the children's fundamental handling skills. The FUN days were held in Newry and Downpatrick Leisure Centres and were huge successes with a large number of primary school children participating.
A selection of 8 P3 pupils from the local schools along with their teachers attended the event, in total around 200 children took part. Throughout the day the children took part in Games such as Volleyball with a balloon, Over the River, Basketball, Dodgeball and Captains Ball. All the games were non-competitive with the emphasis on Fun and Enjoyment.
Foreign Students Play hurling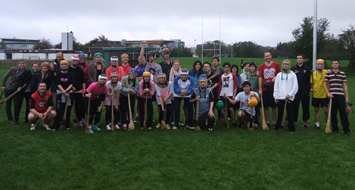 On Wednesday 12th October the University of Ulster at Coleraine hosted a 'Have a Go - Hurling' afternoon for foreign national students who are attending the University.
The day was organised by the universities overseas officer Sean Cunningham. 37 students in all attended from various parts of the world including Hong Kong, Germany, Portugal and France. The players were put through their paces by Derry hurling development officer Kevin Hinphey in what turned out to be a very enjoyable afternoons hurling.
For all the students it was a first experience of hurling and many of them expressed an interest in giving it another go and are keen to watch the Universtiy hurling team in action when their season begins.
Invigorated and Enthusiastic Coaches begin New School Year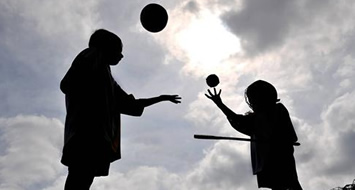 September has brought about the start of a new school year and with it 32 highly enthusiastic KS1 Coaches thanks to the in-service delivered.  September's in-service shed some light into the minds of children, John Morrison enlightened the coaches with his vast knowledge in the area, explaining the importance of correct language and visual stimulation in children's learning.  Mrs P. Mc Bride followed on from this by sharing her experience and knowledge of the curriculum and how to link curricular areas together to allow greater understanding for the children; this left the coaches enthused at the prospect of starting the school term.
New schools, new teachers and new children provide a new challenge for the coaches.  Random testing of children's physical literacy skills has been carried out this month to get a baseline result to ascertain what level the children will be working at.  Throughout the school year the coach and school teacher will provide expert coaching to assist in the child's overall development.
U10 Hurling Go Games Blitz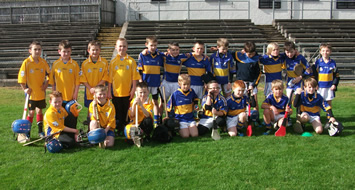 On the 17th Sept over 220 children attended the U10 Hurling GO Games Blitz at Casement Park. The main pitch was divided into four with each team playing 3/4 matches on the day.
All the players enjoyed the opportunity to play in Casement Park. The games were refereed by the following Young Whistlers
Matt Mc Killen/ Eoin Mc Neill both Pearses , Alex Gallagher/Marc Crean St Joseph's Glenavy and Conall Roberts St Johns
The following clubs attended Rossa x 2/St Galls x 2/St Pauls/Gort na Mona/Eire Og/ Mc Dermotts/ Latharna Og / St Mary's Ahoghill/ St Comghalls/ St Johns/ St Joseph's Glenavy / Sarsfields / St Endas/ Lamh Dhearg and St Ergnats Moneyglass. This is the first time St Ergnats have taken part in a hurling blitz , well done to Colm Scullion and all the coaches and parents for their hard work over the last year with their juvenile hurling.
Recreational Hurling Blitz in Creggan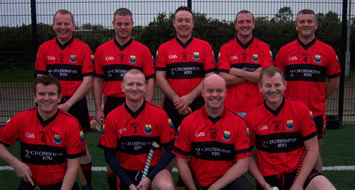 The annual recreational hurling blitz took place at Kickhams Creggan on their 3G pitch on Saturday 1st October, teams involved were Kickhams Creggan, Clooney Gaels and Glen Rovers Armoy.
The majority of players have been involved for the past few years for this event but it was good to see a few new faces on all teams, many players said they had not played since last year's event and were eager to get the games going.
The games as always were played in good spirit with many players showing that they still have what it takes to find the back of the net.
Fermanagh Training Day for Teachers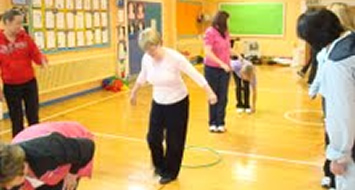 On Tuesday 30th August St Pauls P.S. Irvinestown and St Marys P.S. Tempo came together for a shared Inservice day for staff. The day was organised and delivered by Owen Mooney, Aisling Doonan and Fabian Burns.
24 teachers and classroom assistants took part on the day which was split up into two parts. The first part was led by Aisling and Fabian and the focus was on developing the participants knowledge of games and how games can be adapted to suit different abilities.
The second part of the day was led by Owen who looked at classroom based activities to increase children's motivation in class either to settle them down after break/lunch time or to get them energised so that they have extra energy to perform certain tasks during class.
Derry coaching team turn heads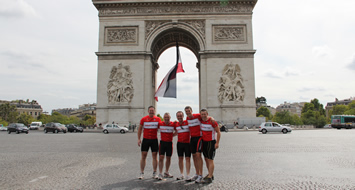 There have been some tired legs among the Derry GAA coaching fraternity after the county's Games Promotion Officer, Chris Collins, and members of the county coaching staff returned to Owenbeg after completing an 800 mile sponsored cycle from Dungiven to Paris raise funds for the  schools coaching in the Oak Leaf county.
The citizenry of Paris have become used to seeing Irish cyclists like Stephen Roche, Sean Kelly and more lately Nicholas Roche powering up the Champs Elysees but a few heads were turned last weekend when Chris, along side county coaches, Emmett Stewart, Diarmuid Scullion, Richard Ferris and Faughanvale clubman Cathal Magee held up traffic at the Arc De Triomphe to mark the completion of the two-wheeled trek which began a fortnight previously from Owenbeg.
Already over £10,000 has been raised by the event and Chris noted that the team had felt a real sense of achievement in completing the marathon distance.
Derry U13 Hurling Competition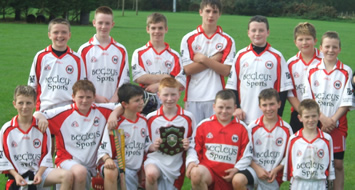 The County Derry Under 13 hurling competition concluded on Sunday 2nd October. The competition ran throughout the month of September with 16 teams from 3 counties taking part. The idea of the competition is to bridge the gap between Go Games at under 12 level and competitive hurling at under 14 level. The teams play 13-a-side. Thanks to all the clubs who took part in the tournament and for the continued efforts of their coaches, players and parents. Also a special word of thanks to Brian Smith for co-ordinating referees over the past few weeks and to the referees themselves for taking charge of the games.
Overall the standard of hurling was very high with some excellent individual talent on  display. A special mention must go to Buncrana for reaching the division one final which is further example of the strides they are making to improve hurling in the club and also to Dungannon for winning the division two title.
Donegal Secondary School Camogie Development
Donegal Secondary schools have had a busy Camogie schedule since returning to school this September. Already over 100 participants from 8 secondary schools have taken part in 3 exciting Camogie initiatives.
The first initiative offered Donegal students the opportunity to become qualified Camogie foundation coaches and pursue their Gaisce Bronze Award under the 'Community involvement' or Physical recreation section.
This initiative was followed up with a Green CARD foundation level referee course aimed at TY students/senior cycle students from Donegal.
The course contained three modules: Theory Course, Assessment and Practical.
Derry 'Wall Ball Hurling'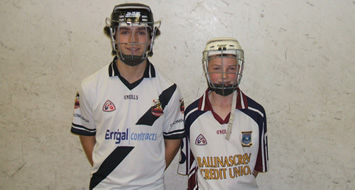 On Wednesday 26th October, Derry held their second annual 'Wall Ball Hurling' competition in Dungiven Sports Pavilion. This is an innovative initiative which helps players develop hurling skills indoor and in a different environment from a normal hurling training session. The game is played in a 40 x 20 handball court and the rules are roughly based around the rules of handball and squash. The game excellent for improving players catching, first touch and striking as well as improving their speed and footwork.
5 clubs were represented at the finals. The players who took part were, Joseph Grant (Swatragh), Sean Cassidy (Slaughtneil), Ciaran Steele (Kevin Lynchs), Darragh Cartin (Banagher) and Reese Mc Sorley (Ballinascreen)
Children 'Invent their own Game'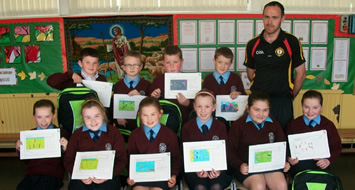 Armagh Ulster GAA DENI Coaches recently held an innovative competition to inspire children to be creative in designing their own game.
This competition was rolled out in Foley Primary School in Ballymacnab and was open to all pupils in P3/P4/P5.  The children were given a simple game card template to work from.  The template required children to draw a picture, include number of players needed, equipment needed and rules of each game.  Children also had to name their game and show how game could be made easier or harder as with the Gaelic Start cards.
The school pupils put a lot of time and effort into the project and huge credit must go to teacher Barry Carville for his input.
Spooky Sports in Armagh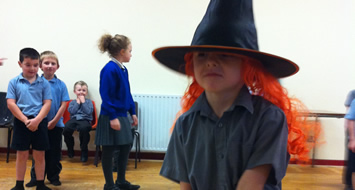 Getting into the Halloween spirit schools across County Armagh recently took part in the 'Spooky Sports' organised by local GAA DENI coaches.
Five school venues were used for the Halloween activities including St Jarlath's, St Oliver Plunkett's Ballyhegan, St.Patrick's Crossmaglen and St. Malachy's with 500 Key Stage 1 children taking part.
The Spooky Sports focussed on a Halloween theme to inspire children to get involved and enjoy the activities.   Participating schools were encouraged to invite another school from the maintained and controlled sectors.
What's Happening this Month - November 2011
We are adding a new section to our online newsletter to highlight key events and activities taking place across Ulster from month to month.
This edition we look forward to November 2011, when there is a full schedule of activity planned.
Download:
- What's Happening in November 2011 (Excel Document)
back to top