Power NI to sponsor Dr McKenna Cup
Ulster GAA has announced Power NI as the competition sponsor for 2012 Dr McKenna Cup.
Speaking at the announcement of the major sponsorship package, Ulster GAA President Aogán Ó Fearghail said, "We are delighted to welcome Power NI onboard as the main sponsor for the popular Dr McKenna Cup Competition. It is very significant, that the North's major Electricity provider is supporting Gaelic Games, and also very fitting because many of the games in this competition are played under floodlit pitches, powered by Power NI.
"The 2012 Power NI Dr McKenna Cup is going to be a tough competition which we hope will throw up some interesting games. Teams enjoy the competition in preparation for the National League and Ulster Championship and All Ireland Series. While supporters also enjoy seeing the very raw talent and diversity of teams competing in the Power NI Dr McKenna Cup."
The Perfect Christmas Gift!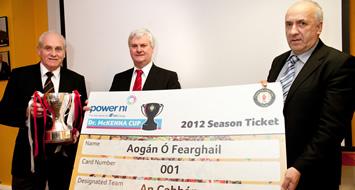 Ulster GAA has launched the perfect Christmas Gift for GAA enthusiasts - The Power NI Dr McKenna Cup Season Ticket.
Keenly priced at £20/€25 the Season Ticket is sure to find its way under the tree in many GAA homes and in Christmas Stockings of Gaels across Ulster. The Season Ticket will admit the holder to round 1, round 2, and round 3 games involving your team, as well as access to all semi finals and the 2012 Power NI Dr McKenna Cup Final.
Speaking at the launch of the first-ever Power NI Dr McKenna Cup Season Ticket, Ulster GAA President Aogán Ó Fearghail said, "We are delighted to launch our first ever Season Ticket for the Power NI Dr McKenna Cup. And have no doubt that it will be a good seller across all nine counties in Ulster. Launching it now means it's just in time for that special gift for the GAA enthusiast this Christmas.
"We decided to launch a season ticket in response to the hard economic climate that our members are facing. The Season Ticket will provide a potential saving per person of over 60% for the Power NI Dr McKenna Cup competition. That's a significant saving and one we hope will be attractive to many Gaels."
O'Neills Coaching Conference to focus on Education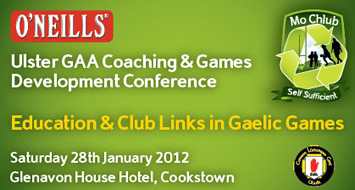 The 8th Annual O'Neills Ulster GAA Coaching & Games Development Conference will take place on Saturday 28th January 2012 in the Glenavon House Hotel in Cookstown.
The theme of this year's conference is 'Education and Club Links in GAA'.  It targets teachers and coaches who are working in education. It embraces coaching across all age group. In many of the workshops research has been undertaken over the last 12 months to support the presentations.
Ulster GAA recognises and values the huge contribution that education plays in the support and development of our games and it is aware of the changing environment within education. We hope that through the workshops we can share ideas and help us to come up with some solutions to the challenges that lie ahead.
Ulster GAA Referees Awards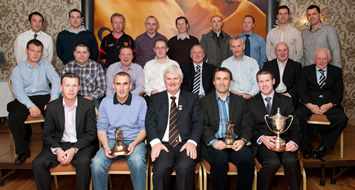 Ulster GAA held its Referee Awards recently at the annual Ulster GAA Christmas Dinner in the Four Seasons Hotel in Monaghan. The Awards were made to mark the contribution of inter-county referees involved with the Ulster Council.
The Referee Awards were presented to Referees who had in 2011 been in charge of National Finals, Oversees competitions, Ulster Provincial Championship games and League games.
Speaking at the Awards Ceremony Ulster GAA President Aogán Ó Fearghail said, "We all know that referees have the toughest job on the field. You can't keep all of the people happy all of the time but I am very proud of our referees in Ulster and the good work that they do. The games simply could not happen without them. And regardless of whether people agree with individual refereeing decisions or not, everyone within this Association should acknowledge and respect the very vital role our referees play."
Ladies Geared up for Dowd Cup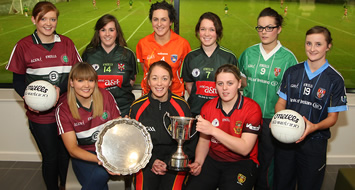 The 2012 Dowd Cup supported by O'Neills and the Queens GAA Academy was launched recently at the new facilities at Queens Playing Fields at Upper Malone. The annual competition which is the only one in Ireland to bring together colleges and counties begins with the qualifying rounds on 8th Jan, and with five counties and three colleges competing for semi-final places it's sure to throw up some great football.
Speaking at the launch Gregory McGonigle who is involved with both UUJ and Monaghan spoke of the great benefit of the competition to both colleges and counties. "The introduction of counties into the Dowd Cup competition last year has brought the competition to a whole new level. It now provides an excellent opportunity for counties to try out players ahead of the National League at the start of February, and the higher standard of competition that the counties brings helps the colleges in their preparations for the O'Connor Cup."
Club Officer Training Programme for January 2012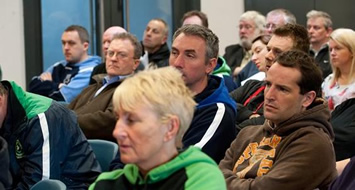 The Annual Club Officer Training Programme starts in January to help club officials in their roles and duties in 2012.
There will be training for all Club Officers in new positions on Saturday 14th January 2012 in Holy Trinity School, Cookstown.  This will be the one and only opportunity for club officers to receive role specific training for the following club positions: Chairperson, Secretary, Treasurer, PRO, Development Officer, Coaching Officer, Child Protection & Designated Officer, and Cultural & Community Officer.  This training is free to access and will include lunch compliments of Ulster GAA.  The morning begins at 10am and concludes at 1pm with lunch.  Registration for this event is essential and anybody interested in attending should contact Sharon Haughey on 02837517180 or email sharon.haughey.ulster@gaa.ie
Down and Armagh Coaching Initiative for Hurling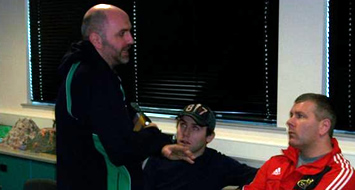 On Saturday 5th November 25 coaches from Armagh and Down (along with a few visitors from Antrim and Derry) took part in the first day of a joint hurling coaching initiative organised by the two counties.  The course was aimed at coaches working with development squads, county minors and seniors and was organised by Regional Hurling Development Officers for the two counties - Michael McCullough and Rónán McWilliams - and held at the Abbey Grammar School, Newry. 
The first day involved some video analysis with the coaches being split into groups and watching a couple of recent inter-county games.  This prompted some very interesting discussion between those attending the course and guests Gregory O'Kane and Dave Kennedy (members of last year's Antrim Senior Management set-up).  The groups of coaches were allocated teams from the games and it was their job to identify strengths and weaknesses of both themselves and their opponents in the run up to half time.  Then as a management team they were asked what would be discussed at the half time break.
Ulster Ladies Gaelic Annual Presentations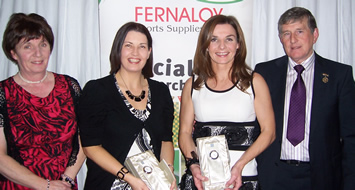 At the Ladies Ulster Council annual Christmas dinner held in Kelly's Inn recently presentations were made to the Ulster Club Volunteers of the Year and the Ulster PRO of the Year.
The recipients of the Ulster Club Volunteer of the Year were Martina Dillon and Caroline Mc Grath from the Aodh Ruadh club in Dungannon. The inspirational duo were instrumental in setting up the club while only 17 years of age. Eighteen years later and they are still heavily involved and have as much enthusiasm today as they they had back in the early 90′s. The pair have held every position possible within the club and have also played, coached and managed. Speaking at the awards Mary Keegan, Ulster Secretary said "The nomination form for our volunteer of the year was four pages long such was their level of their involvement in their club.  Thanks to their tireless work over the years hundreds of girls in the Dungannon area have been given the opportunity to take part in our game, and for that our association would like to thank them."
Canadian County Board Convention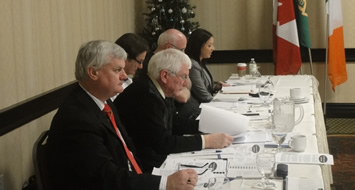 The Gaelic Athletic Association's Canadian County Board's Annual Convention was well attended with keen debate on Sunday, December 4 in Ajax, Ontario.
In five provinces of Canada are 12 cities with 18 affiliated GAA clubs. Going from West to East (7,349 km in total) one finds British Columbia's Vancouver Irish Sporting and Social Club; Alberta's Calgary Chieftains, Red Deer Eire Ogs (Mens), Edmonton Wolfe
Tones, Fort McMurray Shamrocks(Mens); Ontario's Toronto St. Mikes, St. Pats (Mens), St. Vincents (Mens), Gaels (Mens), Toronto Camogie Club and the Toronto Hurling Club, Durham Robert Emmets, Brampton Roger Casements, Michael Cusacks (Ladies), Ottawa Gaels, Quebec's Montreal Shamrocks, Quebec City's Les Patriotes and Newfoundland/Labrador's St. John's Avalon Harps.
Santa Comes Early for P1 Children in County Down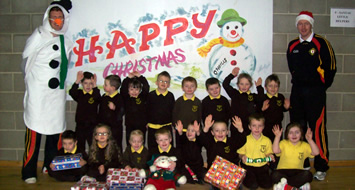 Down DENI Coaches organised a series of Christmas FUNdays in Kilkeel, Belfast, and Banbridge over 3 days. There were 400 primary 1 children who participated in a series of Fundamental stations.
These stations were all Christmas themed based such as twinkle toes, candy lane, and pull the cracker. All of these events covered Agility, Balance, Co-ordination, Running, Jumping, and some Catching and Striking games. It was a huge success and each hall was decorated like a winter wonderland with each child presented with a gift for their participation.
The highlight of the event was Frosty the Snowman and a special guest appearance from Santa himself.
Special big thanks to the Primary 7 elves from various schools that assisted the P1 children in each activity. Christmas music was also played out over a sound sytem to enhance the Christmas theme and was also an indicator to the children for starting/stopping the next station.
Hurling Workshop to Develop Coaches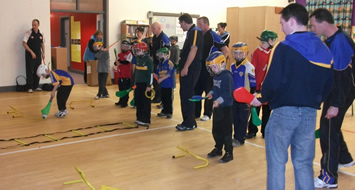 A Hurling Nursery Workshop was held recently as part of Ulster Council GAA Coach and Volunteer Development Programme. Coaches from St Ergnats GAC , St Mary's Rasharkin , Clooney Gaels and Roger Casements/Geraldines attended on the night.  19 coaches in total took part with the 16 children who came along to help out on the night .
Areas covered on the session included skills stations, using balloons with the hurls, sliothar on a pole and mini games like The Road to Croker.
Thanks to Principal Miss Maria Murray for use of facilities and for providing refreshments for the children after their hard work.
Future Coach and Volunteer Development Programmes can be view on the Ulster GAA Wallplanner which is available FREE by contacting sharon.haughey.ulster@gaa.ie
Christmas and New Year Greetings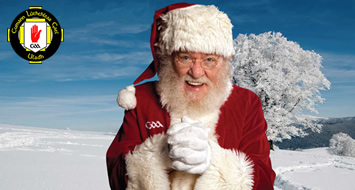 On behalf of Ulster Council, President Aogán Ó Fearghail has expressed his good wishes to Gaels across Ulster for the Festive Period.
Aogán Ó Fearghail said, "I take this opportunity to warmly wish all the GAA supporters in Ulster, our volunteers, our sponsors, media partners , staff and everyone interested in Gaelic Games in Ulster a very Happy Christmas and a Peaceful New Year.
"2012 is sure to be another exciting year for the GAA in Ulster and I very much look forward to the year ahead, which throws in with the Power NI Dr McKenna Cup."
The Ulster GAA Offices will close at 5pm on Friday 23rd December, and will re-open on Tuesday 3rd January 2012.
What's Happening this Month - January 2012
We are adding a new section to our online newsletter to highlight key events and activities taking place across Ulster from month to month.
This edition we look forward to January 2012, when there is a full schedule of activity planned.
For the latest up-to-date information, keep an eye on our Online Events Calendar.
Download:
- What's Happening in January 2012 (Excel Document)
back to top