Tyrone Power to Victory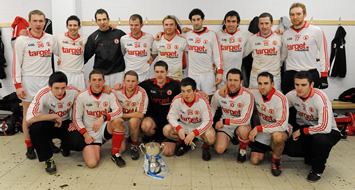 Power NI Dr McKenna Cup Final:
Tyrone 1-14 Derry 2-8
Tyrone claimed their first Power NI Dr McKenna Cup title since 2007 following an impressive comeback from six points down at one stage against Derry at the Morgan Athletic Grounds on Saturday night.
Mickey Harte's side toppled the reigning champions with a powerful second half display, which was greatly aided by the dismissal of Derry's Jason Conway after just 18 minutes.
Two minutes previously, Paddy Bradley had given John Brennan's side a six-point advantage with a well-taken goal.
Tyrone struggled for long periods in the opening half but an Owen Mulligan goal in stoppage time, quickly followed by a Cathal McCarron point, left the sides level at 1-5 apiece at the break.
First Minister attends Power NI Dr McKenna Cup Final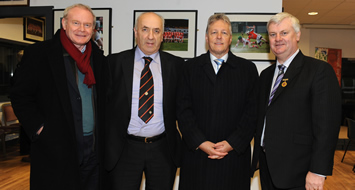 Commenting on the attendance of First Minister Peter Robinson MLA and Deputy First Minister Martin McGuinness MLA MP at the Power NI McKenna Cup Final Ulster GAA President Aogán O Fearghail said,
"I was pleased to welcome the First Minister and deputy First Minister to the Power NI Dr McKenna Cup final. The attendance of the First Minister follows a series of engagements that have taken place involving him and his officials over the past number of years led by our Provincial Director Danny Murphy. Myself, Danny Murphy and Tom Daly (Chairman of the Casement Park Stadium Project) first met the First Minister last year and Ulster GAA would want to again recognise the significant investment that the Executive under the leadership of both the First and deputy First Ministers have committed to the Casement Park redevelopment and to many other GAA projects. I thank them for their confidence in and support for Ulster GAA."
Minister O'Dowd attends Coaching Conference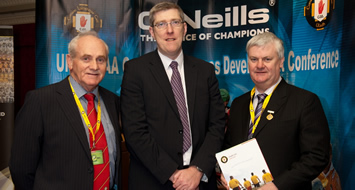 Minister for Education John O'Dowd was the keynote speaker at the O'Neills Ulster GAA Coaching and Games Conference held in the Glenavon Hotel on Saturday 28th January. The theme of this year's Conference was Education and Club Links in Gaelic Games.
Up to 400 delegates attended who are working in education or at GAA Club level. The conference highlighted the importance of embracing coaching across all age groups.
In many of the workshops research had been undertaken over the last 12 months to support the presentations. Ulster GAA recognises and values the huge contribution that education plays in the support and development of our games and it is aware of the changing environment within education.
Ulster Official receives Patterson Award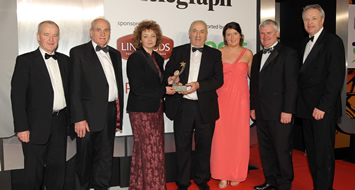 Ulster Council GAA Director Danny Murphy received the WJ 'Paddy' Patterson Award for Services to Sport which is annually presented by the Northern Ireland Sports Forum.
Danny is former Chairman of the Down County Committee and was as selector with Down Senior Football in the early 1990?s. A former member of the Central Council and Vice President of the GAA, he also served as Vice-President and President of the Ulster Council before being appointed Provincial Secretary and Director.
In a detailed and impressive citation the judging panel remarked:
Danny lit the fuse for a ground breaking Strategic Plan that helped to secure government funding for the GAA at club, county and provincial level. In recent years Danny has been an important catalyst in some of the GAA`s most visionary projects in the province including its re-structuring at Council level and ambitious coaching and development. He has played a major role in overseeing the refurbishing and floodlighting of all major grounds in the province and is currently providing the dynamic for further improvements at Casement Park.
All Ireland Club Camogie Semi Finals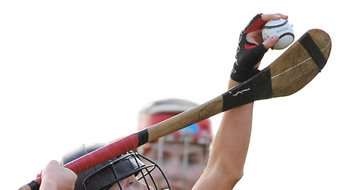 Loughgiel Shamrocks play Oulart the Ballagh of Wexford in the All-Ireland Senior Semi-Final on Sunday 5th February at 2.30pm in Casement Park. Loughgiel go into the game as slight underdogs but hope that playing in front of an Antrim crowd will spur them to victory and make it to All-Ireland Final day in Croke Park
Reigning All-Ireland Intermediate Champions Eoghan Rua Coleraine will face a repeat of the last years All-Ireland Final when they come up against Laois Harps in Killyclogher on Sunday 5th February which will also have a 2.30pm throw in.
Ulster Camogie wishes both clubs every success in their upcoming games.
GAA Stars, Seen by Cars!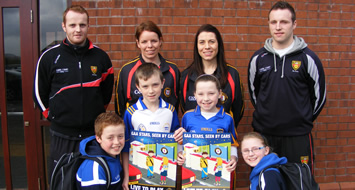 Ulster GAA, through it's Live to Play programme, is promoting a 'visibility' message to young members throughout the winter period. The imaginative new campaign encourages aspiring young GAA players to become stars on the pitch while staying safe off it in winter's dark mornings and evenings!
Cleverly titled 'GAA Stars, Seen by Cars', the campaign is being run out in Primary schools across Ulster. GAA coaches have delivered 600 packs to primary schools containing colourful campaign posters and entry cards to Ulster GAA's January competition.
The competition will not only reinforce the learning but will enable over 500 children to emerge as winners, receiving an O'Neill's Live to Play backpack with safety enhancing reflective strips, alongside the County crest.
GAA Coaching Session for Boys Brigade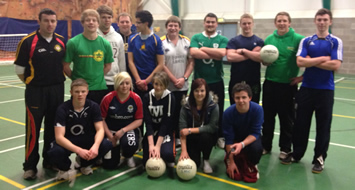 On Friday 13th January 2012 a selection on under 25 year olds from various Boys brigade groups met at the Ganaway Activity and Training Centre for an Introduction to Gaelic Games workshop delivered by Ulster GAA regional development officer Shane McCann. The centre is a 13 acre site in the quiet countryside between Millisle and Ballywalter in the Ards Peninsula and overlooks the Irish Sea.
The Boys' Brigade seek to provide a neutral and non-threatening environment and to encourage the development of responsible citizenship by facilitating activities to enhance self awareness, self esteem and an awareness of and respect for different cultures and beliefs.
On the night the group watched a presentation covering every aspect of the GAA followed by a practical session where they got to have a go at Handball and Gaelic Football and then they too had a go at coaching various Gaelic Football skills to their peers.
Club Officer Training for Derry, Antrim and Tyrone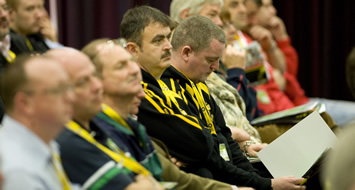 Ulster GAA Club Officer Training Programme has got underway with huge numbers attending the Role Specific Club Officer Training for NEW Officers, which was held in Holy Trinity School in Cookstown.  This Annual Provincial Training Programme brought together 130Club Officers new to their roles from across Ulster Clubs.  It provided important advice and guidance to help club volunteers carry out their roles and tasks in 2012.
Alongside this training, Ulster GAA is now rolling out its annual Club Officer Development Course which is being held in all nine counties of Ulster.  Armagh was the first county to receive this training and feedback was extremely positive.
In February it will be the turn of club officers from Derry (4th February in St Patrick's School, Dungiven), and Tyrone (18th February in Loreto College) to receive this training from 9:30am to 1pm.
Kukri Sports Ulster Ladies Football Schools All Stars Named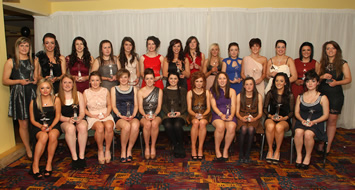 The cream of Ulster Schools football received their Kukri Sports All Stars at a celebration event in Kellys Inn in mid January. 25 players from 6 counties and 15 schools received their awards and will represented their province at the inaugural schools inter-provincial competition in Kinnegad.
Ulster Schools Chairman Louis O Donnell welcomed over 100 guests and after a wonderful meal the large gathering was entertained by the Cill Iseal Scor Ballad Group. Mary Keegan acting as MC for the evening then invited Louis back to the stage and he formally welcomed the guests which included Martin Mc Aviney (Ulster Council), Neil Patterson (sponsor Kukri Sports) and Joe Lagan (Ulster Ladies GAA).
Louis delivered a very entertaining speech paying tribute to the trial organisers, coaches/teachers, school management and numerous clubs which had provided their facilities. The Crossmaglen clubman finished by wishing the squad well at the inuargal inter-provincial shcools competition and reminded everyone that the innovation for such a tournament came from Ulster and in particular Sheena Kelly and Mary Keegan.
Camogie Capital Funding Scheme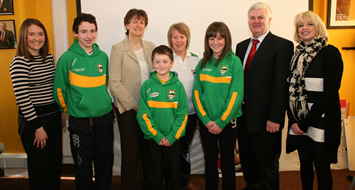 Four Camogie clubs in Ulster were successful in receiving €9,000 in funding for from the Cumann Camogaíochta Capital Funding programme - the following Ulster clubs received grants from the programme: (Down) An Riocht Camogie Club, €3,000; (Tyrone) Derrylaughan Camogie Club, €2,500; (Antrim) Naomh Eanna GAA Club, €2,000; (Monaghan) Inniskeen Camogie Club, €1,500. Speaking about the announcement President of the Camogie Association Joan O'Flynn:
"Assisting county board and club units to build and improve facilities to provide the best possible platform for the development and promotion of camogie is of paramount concern to the Association.
Despite the challenging economic circumstances, it is of significant importance that funding is made available to invest in our county and club units.
St Joseph's run Live To Play Competition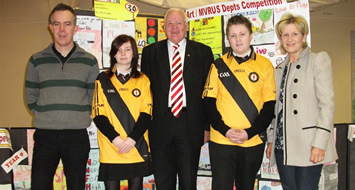 St. Joseph's Coalisland recently held a Live to Play poster competition for their Year 9 pupils. The competition was the brainchild of MVRUS teacher Gerard Scott, who linked with the school's Art Department to encourage involvement from the pupils.
Live to Play is Ulster GAA's Road Safety programme, undertaken with the aim of reducing the numbers killed and seriously injured on the roads and to raise awareness among members of the dangers therein. The programme has been running in Tyrone for 2 years now with numerous Club education events having taken place.
Mr Scott explained, "Like most schools we in St Josephs have lost a number of pupils over the years to the carnage on the roads. We have also lost a number of ex-pupils who had only left a year or so. When the GAA launched their 'Live to play' campaign I thought it was inspirational and wanted to do something to support it".
Ulster Camogie Convention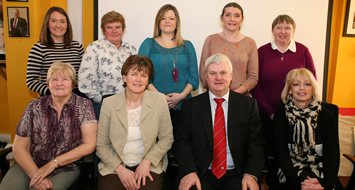 On Sunday 22nd January, Ulster Camogie held their Annual Convention in the Ulster GAA offices in Armagh. With a good attendance on the day, a lively afternoon's debate was on the cards. In the Secretary's report Breige McGilligan spoke of the year that Ulster Camogie had in 2011. There was plenty of action, both on and off the pitch. Breige highlighted successful events in Ulster such as the first ever Players Forum, Annual Congress being held in Belfast for the first time ever along with the appointment of an Administration Manager, which has been funded by Sport NI.
In 2011 Ulster had successes and narrow defeats at national level. Armagh led the way winning the Nancy Murray Cup, and an All-Ireland Minor title. Monaghan Camog's won the All-Ireland Junior B title. Down U16's also were victorious at national level with the Ulster Colleges All-Star team winning an historic All-Ireland Inter Provincial Championship. In Croke Park, both Antrim and Down were narrowly defeated at Intermediate and Junior Level. Here's hoping both counties can go a step further in 2012.
Ulster U10 Indoor Hurling Blitz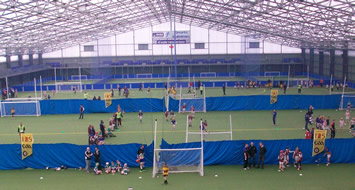 The 4th Ulster Provincial U10 Indoor Hurling Blitz will take place on Saturday 18th February, in Meadowbank Sports Arena, Magherafelt. Co. Derry.
All Hurling Clubs are invited to attend.
This year we can accommodate 100 teams:
50 in session 1: 11:30am - 1:00pm
50 in Session 2: 1:30pm - 3:00pm
On request from a number of clubs, we will be playing airborne and ground hurling matches, teams will need to specify on the application form which they would like to play.
Registration is £10 per Club (although clubs may enter as many teams as they wish), The number of teams a club enters must be pre-registered so groups can be allocated in advance.
Award 2 Course Spring 2012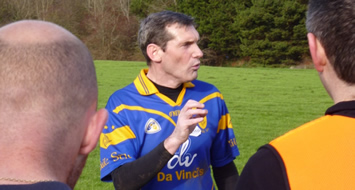 Ulster GAA Coaching and Games will be rolling out an Award 2 Adult Football/Hurling Course on the weekends of the 10, 11, & 12th and 17, 18, & 19th February.
Coaching Assessment as part of the Course
Coaches will be requested to complete 4 session planners
Coaches will be requested to undertake 2 compulsory 10 minute coaching practicals
Coaches will be requested to complete & return their logbooks and DVDs within the allocated time frame
Course fees must be paid in advance of course(places will be allocated on a first paid basis)
If you currently hold a Level 1 Certificate in youth or adult coaching you can apply to do this course. All expressions of interest need to be e-mailed to Roger Keenan roger.keenan.ulster@gaa.ie prior to 13th January.
Live to Play Wall in Fermanagh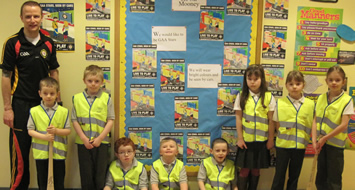 St Ronan's P.S. in Lisnaskea has embraced the Live to Play colouring competition being run at present by Ulster GAA.
Primary 2 teacher Mrs Roisin Moane has transformed the schools GAA Wall in the Foyer of the school. The school has been in GAA overload over the past 11 months with the local club Lisnaskea Emmetts having claimed 2 All Ireland Intermediate Titles in Men's and Ladies Football.
DENI Ulster GAA coach Owen Mooney who plays for the Emmetts, coaches in the school as part of the Sport In Schools Programme and is a former pupil was delighted with the work that the staff and children put into their pictures.
All Saints GAC benefit from Sport NI grant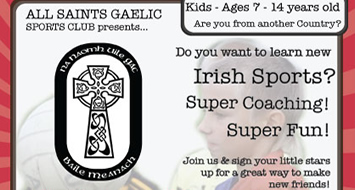 All Saints GAC Ballymena Juvenile Committee has been successful in obtaining grant funding from Sport NI for an innovative project that will see them develop links with the ethnic minorities community in the town.
The project will enable the club to:
Play an important role in community outreach as a community and parish based organisation
Introduce new children and their families to Gaelic sports and the All Saints club
Develop and widen the juvenile membership base within the club
 The Project Details:
Based in the Ballymena North Centre for an 8 week period (Sat 21st Jan - Sat 10th Mar) from 10.00am - 12.00noon
Boys & Girls Football for first 4 Weeks and Hurling/ Camogie for second 4 weeks
For children aged 7 yrs - 14 yrs
Inishowen Primary School Blitz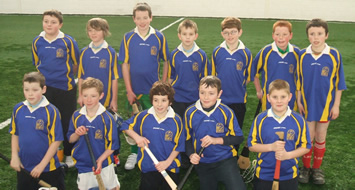 On Monday 23rd of January the Inishowen indoor primary school hurling tournament was held in the excellent 3G facility in Aileach.
Six schools in all took part Scoil Iosagain Buncrana, Gaelscoil Bhun Cranncha, Scoil Naomh Brid Muff, Whitecastle P.S Muff, Scoil Naomh Aengus Bidgend and Saint Muras Tooban. The schools played a round of 7-a-side matches against one another in Go Games format.
The standard of hurling was very good with some excellent individual talent on display. A word of thanks must go to all the schools who attended for their continued support with the promotion of hurling in the Inishowen area. We hope to see all the schools competing again in the Spring and Summer months at the Inishowen league and championship competitions.
De La Salle College Indoor Hurling Blitz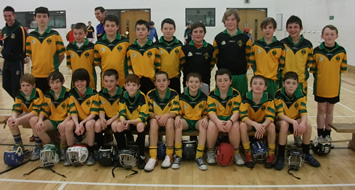 De la Salle College Belfast was the venue for the year 8 indoor Hurling blitz on Friday 16th December. The following schools took part; La Salle College, Colaiste Feirste, Rathmore GS, Our Lady & St Patricks Knock, St Mary's Cbs, St Patricks Bearnageeha, Glen Road Cbs and for the first time at a hurling blitz, Slemish Integrated College Ballymena. Some of the schools entered two teams, therefore we had 11 teams taking part.
They were then divided into two groups as follows:
Slemish Group: St Mary's Divis, Knock Lagan, St Mary's Glen Road, Rathmore, Colaiste Feirste, and La Salle Edenmore (teams in this group played 5 games each)
Blackmountain Group: La Salle Casement, Slemish College, Knock East, St Patricks Bearnageeha and Glen road Clubs (teams in this group played 4 games each)
After the group games were played, many of the schools played challenge matches, as the players were enjoying the experience of playing in this excellent indoor facility.
What's Happening this Month - February 2012
If you are having trouble viewing this, view our Online Events Calendar.
back to top

Ulster GAA Corporate Partners 2012