Ulster GAA Corporate Partners 2012
Ulster claim Inter-Pro Title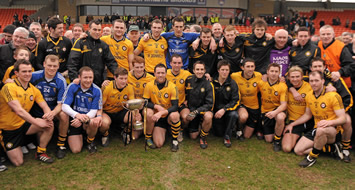 M. Donnelly GAA Football Interprovincial Final:
Ulster 3-11 Munster 1-15
Ulster claimed their 30th Interprovincial title following a dramatic two-point defeat of Munster in front of nearly 3,000 people at the Morgan Athletic Grounds, Armagh on Sunday afternoon.
Ulster held a slender, 1-7 to 0-9 lead at the break, but all the fireworks came in a dramatic second half, which yielded a memorable finale.
Down's Mark Poland put Joe Kernan's side in the driving seat with a first half goal, but Munster took charge after the break and dominated midfield.
Óráid an Uachtaráin 2012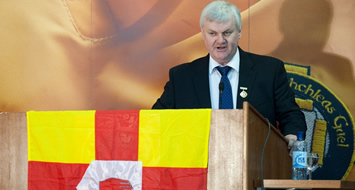 Below is the address made by Uachtarán Chomairle Uladh Aogán Ó Fearghail at the Ulster GAA Convention, held on Saturday 26th February.
A Chairde Gaeil,
Cúis áthais dom labhairt libh inniu,an dara uair mar Uachtarán na comhairle. Sílim fo bhfuil sé fóirstineach go bhfuil muid bailithe le chéile i mBéal Feirste, i ndiaidh fhógairt seasca a haon ponc a ceathair  milliún punt sterling do ath thógáil Páirc Mhic Asmaint. Beidh an togra se ar cheann de na mór tionsnaimh i gCumann Lúthchleas Gael sna blianta romhainn,ní amháin in Ultaibh ach ar fud na tire. Is dea scéal é go mbeidh stadium den scoth again sa chúige agus tá lúcháir orm gur fháiltigh na naoi gcontae an togra seo daon ghuth.   Cúis áthais dom fosta go bhfuil an Comhdháil seo ar siúl i mBéal Feirste i lár na Gaeltachta. Tá muid bailithe le chéile i gceantar Gaeltachta, an Ghaeltacht is úra sa tír agus an Ghaeltacht Chathrach is mó sa tír. Molaim gach rud a dhéanann an pobal anseo ar son na Gaeilge agus tá Comhairle Uladh lán taobh thiar do ghluaiseacht na Gaeilge anseo sa Cheathrún Gaeltachta, Béal Feirste.
Unanimous Support For Stadium Project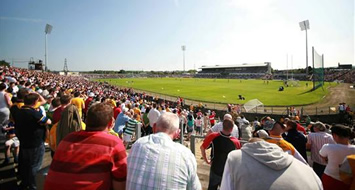 The GAA have accepted the letter of offer for the NI Executive investment of £61.4 million for the redevelopment of Casement Park Belfast following a meeting of the Ulster Council tonight in Armagh and a Meeting of the GAA's National Management Committee last night in Croke Park. The letter of offer confirms the NI Executive's commitment to investing in a new 40,000 seated capacity stadium which will be built on the existing Casement Park site.
Welcoming the acceptance of the Executive's investment Ulster GAA President Aogan Ó Fearghail commented:
"This was an important decision for the Ulster Council and the GAA at Central level and I am delighted that we have received approval and endorsement from both bodies."
Monaghan retain Dowd Cup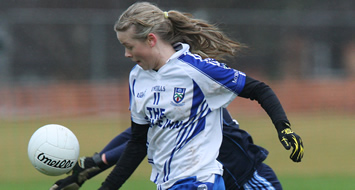 The last weekend of January saw the annual Dowd Cup & McNally Plate competitions come to a conclusion and in the end Monaghan and St Mary's retained their respective titles. Sponsored by O'Neills and Queens GAA Academy this year's competition saw some fantastic football and got the ball rolling on what is sure to be an interesting season ahead.
Throughout the month of January the group stages of the Dowd Cup took place involving 5 counties and 3 college teams, and with five rounds to be played it was a packed calender of games. In the colleges group UUJ and Queens proved too strong for St Mary's and they progressed to the semi-finals with St Mary's going on to take part in the McNally competition.
Disabled Footballers set for Dublin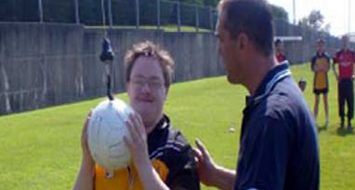 Tuesday the 10th of April will be a big day for the Disabled Gaelic footballers of Ulster. Teams from all over the Province will make the long journey to Dublin to play on the hallowed turf of Croke Park.
Ulster GAA are allocated 2 days each year to use Croke Park to promote and highlight their games and this year sees time allocated for a county disability blitz for teams representing their county  to show off their skills.
Over the past year Ulster GAA's regional development officers have been promoting and developing activities for many participants with a wide range of disabilities throughout Ulster.
Ulster Scór Sinsír Heats up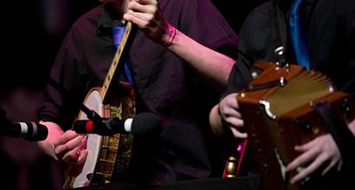 Ulster Scór Sinsír reaches the semi final stage this Saturday evening, with the first of three semi-finals taking place in Stradone, Cavan at 7pm. Counties Armagh, Cavan and Monaghan will do battle to secure a place in the Ulster Scór Sinsír Final which is set to take place on 24th March in Derry City.
Preparations are already well underway for the other two semi-finals which will take place on 9th March in Gleann t-Súilí, Donegal for competing counties Donegal, Fermanagh and Tyrone. And the third semi-final will take place on 10th March in Parish Centre, Banbridge for counties Antrim, Derry and Down.
The Ulster Scór competition also attracts massive crowds with outstanding talents of GAA members on performance. These evenings are nights not to be missed and people are urged to arrive early.
Quinn's Corner Club Football League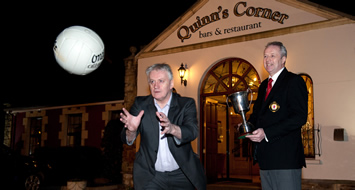 Ulster GAA are delighted to announce a new Sponsorship deal with Quinn's Corner Ballygawley for the Ulster Football Club League.
The Quinn's Corner Ulster Club Football League commences in early February. The 42 Teams are divided into Senior & Intermediate grades with 18 teams in Senior and 24 teams in Intermediate.
Each team will play five games respectively within its group, with 2 points for a win and 1 point for a draw.
In Senior, the top team and the best runner up from the three groups will qualify to the semi finals.
In Intermediate, the top team in each group will qualify for the semi finals.
Building a Constructive Friendship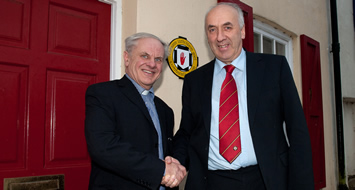 By Danny Murphy, Provincial Director (CEO) Ulster Council of the Gaelic Athletic Association.
It was a great privilege to welcome Rev Dr. Norman Hamilton to the Ulster GAA Club and Community Conference in October, to both engage with and challenge the GAA as a friend and fellow Christian.
Since January 2011 Ulster GAA and I have enjoyed an open and constructive friendship with Dr. Hamilton and the Presbyterian Church. That friendship was forged in the midst of tragedy, as it was during our first meeting with Norman in Ulster GAA headquarters that news reached us that Michaela McAreavey had died. In the moments that followed the delivery of that terrible news Norman did what any good Christian and Pastor would do he offered words and comfort and also a prayer.
Club Officer Development Course 'Excellent Training'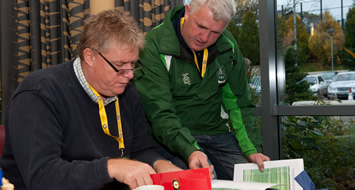 The Club Officer Development Course has proven to be a huge success in Counties Armagh, Derry and Tyrone.  The feedback from club officers have been extremely positive with the overwhelming majority of attendees saying this training is vital for club officers.
In March, 5 further counties will receive this essential training course:
Down - Saturday 3rd March in st Malachy's School, Castlewellan (9:30am to 1pm)
Antrim - Tuesday 6th March in Edmund Rice College, Glengormley (7pm to 10pm)
Monaghan - Saturday 10th March in St Macartan's College (9:30am to 1pm)
Cavan - Saturday 24th March in Kingspan Breffini Park (9:30am to 1pm)
Fermanagh - Saturday 31st March in St Michael's School, Enniskillen (9:30am to 1pm)
The Club Officer Development Course is to develop the skills and knowledge base of all club officers in Ulster.  All clubs are required under Club Maith to have representatives at this course, we recommend at least 4 representatives per club.
Curriculum Links - Linking the Classroom to the Sports Hall
This term has seen the focus of Tyrone DENI coaches in the area of connective learning which targets class based activities and link them to the sports hall.  The key curriculum areas we have been focussing on are numeracy and literacy within the foundation and key stage 1 classes.  Numeracy activities have covered such areas as clever counting, reading time, planning daily routine on time lines, addition, subtraction, multiplication, fractions, angles, grid referencing, directions, ordering, sequencing and place values to name but a few.
Within the subject of literacy we covered such areas as starting and ending sounds, rhyming words, blending of sounds, decoding of sentences, role play, homophones and sound matching etc.
All Saints Looking Ahead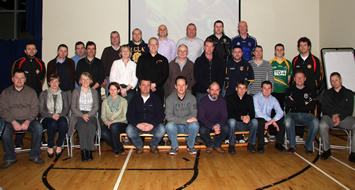 The juvenile coaches at All Saint's GAC are keeping a keen eye on the future of gaelic games in the town of Ballymena. Faciliated by the GAA's Ulster Council the club's junior coaches in Football, Camogie and Hurling recently took part in a seminar aimed at developing Sustainable Juvenile Coaching Models.
A two session programme, the event follows on from the successful completion of the club's most recent 3 year juvenile development plan. During the period of this plan juvenile activity at the club witnessed many successes including a major increase in playing numbers, additional qualifications for coaches, a juvenile social calendar of events and greater involvement of parents in the life of the club. The second seminar takes place in St. Brigid's P.S. on Thursday 8th March at 6.30pm.
Gaelic Training for Tyrone Teaching staff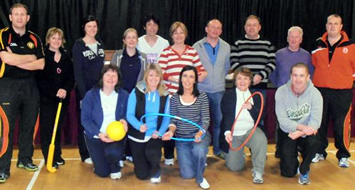 Tyrone DENI Coaches Stephen Beattie and Ryan Daly have recently organised and delivered a very successful in-service training day for teachers and classroom assistants in St. Marys Primary School Killyclogher.
St. Marys used this as a school development day which allowed for full attendance of all staff and no distractions. There were 30 members of staff in attendance and a very enjoyable productive day had by all.
The morning session was focussed on various warm up activities from spacial awareness movement warm ups to fun tag style activities and role play games such as pirate ship. After a brief coffee break it was the teachers turn to deliver games for handling, kicking and striking activities to develop skills in these areas.
What's Happening this Month
If you are having trouble viewing this, view our Online Events Calendar.
back to top