Ulster GAA Corporate Partners 2012
Scór Sinsir Uladh Finals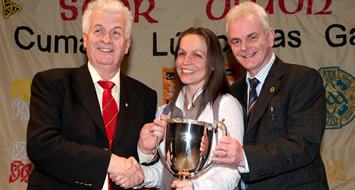 The 2012 Scór Sinsir Uladh finals took place in St Cecilia's College, Derry on Saturday 24th March.
See below the full list of winners.
Rince Foirne - Céilí dancing:
1st Naomh Éanna, an Omaigh - Tír Eoghain, 2nd Cill Shléibhe- Ard Mhacha, 3rd Slaughtneil - Doire.
Amhránaíocht Aonair - Solo Singing:
1st Lorena Maguire, Derrygonnelly - Fear Manach, 2nd Terese Tunny, Rasharkin - Aontroim, 3rd Áine McCormack, Cill Shléibhe - Ard Mhacha
Ceol Uirlise - Instrumental Music:
1st Bellaghy - Doire, 2nd Derrygonnelly - Fear Manach, 3rd Gowna - An Cabhán
Play it Again Cross!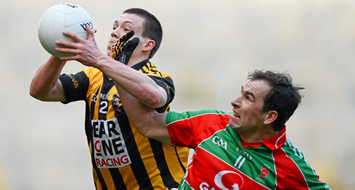 The long awaited clash with Garrycastle on St Patrick's Day in Croke Park ended in a draw after the Rangers staged a classic comeback in the last quarter. Garrycastle scored first and held the lead for most of the game. Cross went in at half time 4 points adrift but made a spirited comeback in the second half and despite never gaining the lead they were unlucky not to edge ahead at the end to seal the match.
Crossmaglen and Garrycastle will have to replay their All-Ireland Club Final after a thrilling draw at Croke Park.
The replay has been fixed for Breffni Park Cavan on Saturday 31st March 2012 at 5.00pm. Admission is €15. Supporters can pay in at the gate and admission for juveniles is free.
Loughgiel Shamrocks Believed!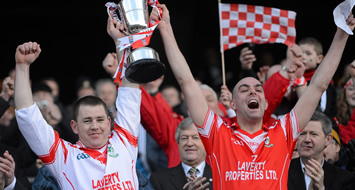 AIB All Ireland Club SHC Final:
Loughgiel 4-13 0-17 Coolderry
Liam Watson hit 3-7 as Loughgiel stunned Coolderry in the All-Ireland Club Hurling Final at Croke Park.
Shay Casey kicked Loughgiel's first goal before Coolderry drew level.
However, Watson's first goal put Loughgiel four up and he then struck two goals in a minute before half-time.
He gambled as he struck a 20-metre free to the net for his second goal before another glorious finish for his third and while Coolderry threatened after the break, Loughgiel regained control.
Loughgiel's victory amid high emotion ended a 29-year wait for their second All-Ireland title after their 1983 success.
Back to Back Titles for Eoghan Rua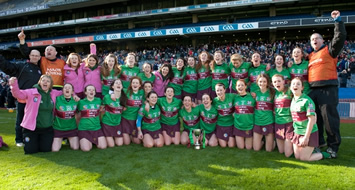 All Ireland Club Intermediate Camogie Championship Final:
Eoghan Rua (Derry) 2-8 Ardrahan (Galway) 0-12
Eoghan Rua showed the resolve of champions as they retained their All-Ireland intermediate club camogie title in an incident-packed final at Croke Park.
The Derry girls were not them usual selves in the first half and went in three points down at the break.
Goals from Jane Carey and Gráinne McGoldrick proved significant however, as they remained in touch at the interval, trailing by 0-9 to 2-0.
Manager, Joe Passmore clearly earned his corn at half time and his charges were a completely different proposition after the resumption, as they dominated the middle third having been over-run in that sector in the opening period.
8 in a row for Brady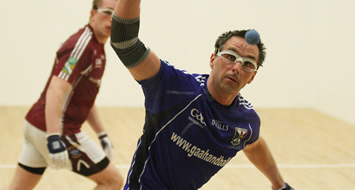 Cavan's Paul Brady has unequivocally delivered a statement of intent for the huge handballing year that is 2012, following one of his most breathtaking displays in the 40×20 court on Saturday in St. Coman's, Roscommon.
Brady entered his tenth consecutive All Ireland Senior Singles championship final, chasing an eighth successive triumph in the blue ribband event and faced what many believed was his most stern challenge in years. His opponent, Westmeath's Robbie McCarthy came into the final on the back of a twelve month unbeaten run with a list of hugely impressive titles to his credit in that period. McCarthy's title wins had included the Irish 40×20 Nationals, All Ireland Senior Hardball and All Ireland Senior 60×30 Softball titles and the US Open crown back in November. His last defeat was a full twelve months ago at the hands of Brady in the Senior semi final stages of this same event.
Irish News Club & Volunteer Awards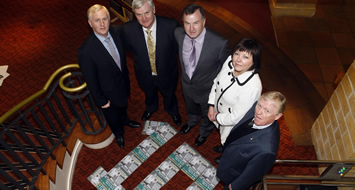 The Irish News are inviting entries for The Irish News Club & Volunteer Awards 2012. This major initiative, which is in association with Ulster GAA, O'Neills, Wellington Park Hotel and Cardiac Risk in the Young, has reached the milestone of its tenth anniversary. The Irish News are delighted to have shared in the success of many clubs, school and volunteers over the years. The overall scheme is structured to give everyone the chance to receive recognition and reward for their efforts, on and off the pitch and regardless of the scale of the clubs involved.
What your club can win: The winner in each category will be awarded a £1,000 cheque, £1,000 O'Neills Sportswear vouchers and a full page Club Profile in the sports section of The Irish News. There will also be a highly commended winner per category who will be awarded a £500 cheque.
From Small Steps to great Strides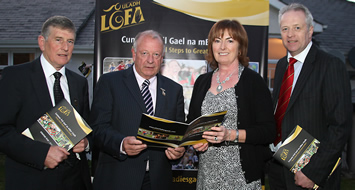 Ulster Ladies Gaelic launched their Strategic Plan 2012 -2017 - "From Small Steps to great Strides" in Kelly's Inn recently marking the start of their development plans for the incoming years.
After some wonderful entertainment provided by young musicians from the Omagh St. Enda's club in Tyrone, Uachtarán Cumann Peil Gael na mBan Uladh Hugh Devenney welcomed those in attendance which included Pat Quill, Helen O Rourke and Paula Prunty (Central Council), Ryan Feeney, Martin Mc Aviney and Eugene Young (Ulster GAA), Kathleen Woods (Ulster Camogie) and representatives from the nine Ulster counties.  He also spoke of the role of the volunteers in Ulster who will be instrumental in the implementation of the goals set out saying "Our volunteers in Ulster are second to none and have brought us to where we are today.  They have been at the core of everything we have achieved so far, and I am sure that they will continue to bring us forward in the years ahead."
Under 21 Championship Price Reduction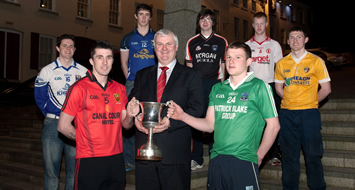 Ulster GAA have reduced ticket prices for the third time following on from the Ulster Club Championship and the Power NI McKenna Cup.
Once again, there is FREE admission for Under 16s while we have also included a concessionary rate for Students and Senior Citizens.
Following on from last year's enthralling U21 Football Championship which saw Cavan emerge victorious, we anticipate another equally exciting competition as the stars of the future do battle.
Prices for the Cadbury's Ulster Under 21 Championship are as follows:
U16s GO FREE!
OAP / Student: £5/€5
General Admission: £8/€10
View the Cadbury's Ulster Under 21 Championship fixtures.
Airtricity Children's GAA Health Booklet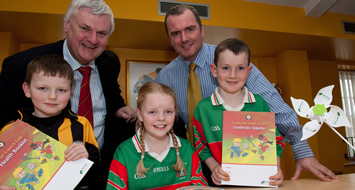 Ulster GAA have announced Airtricity as sponsors of their Children's Health Booklet. 12,000 children across the Province will benefit from the resource which has been developed to encourage healthy lifestyles at a time when childhood obesity is on the increase.
Uachtarán Comhairle Uladh Aogán Ó Fearghail speaking at the launch in Armagh said "We are delighted to make this resource available to schools across Ulster. It will undoubtedly have a positive impact on children's health and wellbeing, in addition to enhancing curriculum teaching in this important area.
"I am particularly proud of the fact this resource is available in both English and Irish, ensuring that all Children who participate in our coaching programmes have an opportunity to be involved and learn in the language by which they are normally taught. It is also very pleasing to have Airtricity onboard as sponsors and I look forward to a long relationship with them in this programme."
Irish News scribe Partnership Deal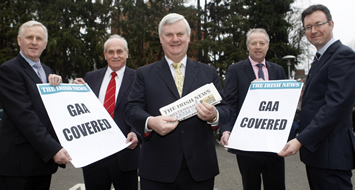 The Irish News has signed up as a Corporate Partner with Ulster GAA for 2012. The partnership builds on the strong relationship that exists between the Irish News and Ulster GAA that sees the daily Newspaper work in partnership with Ulster GAA on the Club & Volunteer Conference and Ulster GAA support the Irish News Club & Volunteer Awards and Irish News Ulster GAA All- Stars.
Pictured are Thomas Hawkins (Sports Editor, The Irish News), Oliver Galligan (Ulster GAA PRO), Aogan O'Fearghail (Ulster GAA President), Martin McAviney (Vice President, Ulster GAA) and John Brolly (Marketing Manager, The Irish News).
Ulster GAA team up with O'Neills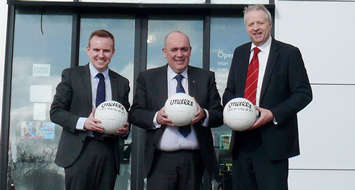 Ulster GAA are delighted to announce a new 3 year partnership with O'Neills International Sportswear that will see the Strabane based company become an Ulster GAA Corporate Partner and also sponsor significant Ulster GAA events such as the Ulster GAA Coaching and Games Development Conference, Ulster Poc Fada and Feile Uladh. The deal will also see O'Neills supporting the Ulster Inter Provincial squads and the Ulster GAA Road safety programme "Live to Play".
Pictured are Ryan Feeney (Senior Staff, Ulster GAA), Kieran Kennedy (Managing Director O'Neills) and Martin McAviney (Vice President, Ulster GAA) launching the new partnership.
Feile Uladh 2012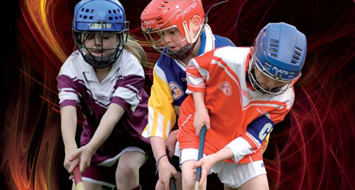 The group stages of Feile Uladh 2012 will take place on Saturday 28th April. The finals will take place the following Saturday 5th May.
Good luck to all Teams involved but please remember the ethos of Feile Uladh is a celebration of our game and providing extra games to all Ulster Hurling Teams.
For any other details or information please contact Kevin Kelly on 079 2052 8794 / kevin.kelly.ulster@gaa.ie
Please find attached the:
- The rules and regulations for Feile Uladh 2012
- The division & groups for Feile Uladh 2012
- The fixtures for Feile Uladh 2012
Currin Club On the Ball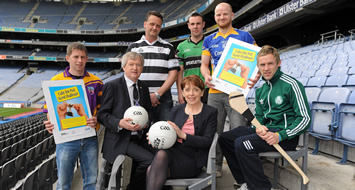 The Currin Club, Monaghan, has been selected as the Ulster provincial winners of the GAA 'Off the Booze and On the Ball' health challenge.
Over 250 clubs registered for the health challenge at www.gaa.ie/asap  with an estimated 2,500 participants taking up the 'Pint Sized Challenge' of abstaining from alcohol for the month of January. The challenge was designed to help GAA members' kick-start their New Year on a healthy footing. Participants were also encouraged to partake in enough exercise during the month to ensure they achieved their recommended weekly activity levels, while clubs were asked to celebrate the conclusion of the challenge by running a health-related event in their local community.
Members of the Association were issued the challenge by Uachtarán Chumann Lúthchleas Gael, Criostóir Ó Cuana, and Minister of State at the Department of Health, Róisín Shortall, at its launch in Croke Park in November 2012. The event was driven by the Association's Alcohol and Substance Abuse Prevention (ASAP) Programme - a joint initiative with the HSE that aims to reduce the harm caused by the misuse of alcohol and other substances.
Lairdesign awarded design contract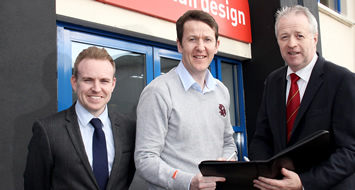 Omagh company Lairdesign have been reappointed on a three year contract as Marketing, Design and Print consultants for Ulster GAA.
Commenting on the appointment of Lairdesign following an open tender competition, Ulster GAA Public Relations Officer Oliver Galligan said "After a open competition with some excellent proposals Lairdesign came through to the top once again. The company has an outstanding vision and feel for the GAA and we are delighted to work alongside Niall Laird and his team for another 3 years.
"The service and level of professionalism has been first class and I would highlight the significant volunteer commitment that Niall Laird has given and continues to give to the GAA at Club, County and Provincial level."
Derry GAA Launch Strategic Plan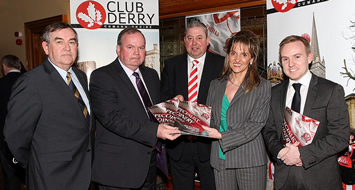 GAA President-Elect Liam O'Neill was the guest of honour as Derry GAA launched their Strategic Development Plan for the next five years last night.
The plan entitled 'Shaping Our Environment' set out the framework for the association's development in the county from 2012 to 2017 was revealed to members of the Derry GAA Community at a special event in the Oak Leaf Restaurant in Maghera.
Chairman of the Derry GAA County Board, John Keenan, explained that the document was an important guide as Derry prepares for the challenges of the years ahead.
"Gone are the days when we hoped that the next year would be better than the last, in these times of economic downturn we need to be well prepared for what lies ahead. I feel it makes perfectly good business sense to have a direction and a purpose to what we want to achieve. This is not a dictatorial document. Instead it reflects the views of all stake holders in the Gaelic Athletic Association in Derry."
What's Happening this Month
If you are having trouble viewing this, view our Online Events Calendar.
back to top