Ulster GAA Corporate Partners 2012
Reduced Ticket Prices for Championship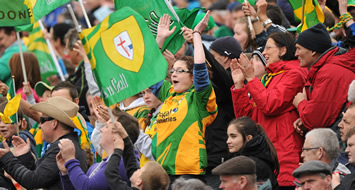 Following the trend of increased attendances at all Ulster Competitions this year Ulster GAA have announced a new admission price structure for the 2012 Championship. Attendances increased significantly on the previous year at the Ulster Club Championship, Power NI McKenna Cup and the Under 21 Championship after the Ulster Council introduced a range of admission packages following a consultation exercise with Clubs and Counties.
Announcing the new pricing structure Ulster GAA President Aogan O'Fearghail said "We have been listening to our members and getting their feedback on the price structure that we have put in place for the 2012 Championship. Following the success of the Power NI McKenna Cup season ticket, coupled with the reduction in admission in both the Ulster Club Championship and Ulster U21 Championship we are again happy announce a reduction in the admission to our games for the 2012 Championship to support families and genuine GAA supporters who want to support their County over the summer. That is why we are continuing our policy of granting free admission to all children under the age of 16 to non ticketed games and a concessionary rate for students and senior citizens."
Cúchulainn Cup improves Relations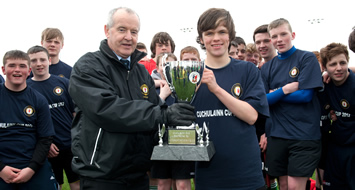 The fourth annual Ulster GAA Cross Community Cúchulainn Cup has today brought together young men from all sections of the community in Ulster to compete in a Gaelic Game of two halves, one of hurling and one of Gaelic Football.
Eight teams representing towns across Ulster took part in the cross community, cross border tournament. Each team was made up of schools from the maintained and controlled sectors. Belfast Cúchulainn Team were victors on the day!
Ulster GAA President Aogan O Fearghail said, "Ulster GAA is very proud of how far the Cúchulainn Cup inititative has come. We started out four years ago with four teams competing, that has grown year on year and today eight teams representing towns from across Ulster took part. All players are new to playing Gaelic Games, and as part of this initiative, they have received training from Ulster GAA Coaches in both hurling and Gaelic football."
Ulster Croke Park Activity Days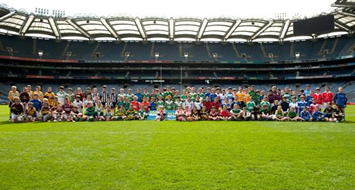 All roads out of Ulster, during the Easter holidays, led directly to Croke Park for up to 1,350 young Ulster Gaelic Games enthusiasts.  GAA Headquarters opened its doors to Under 12 players from all of the Province's nine counties, who played a series of Go Games on the famous Jones's Road pitch.
The young players were treated to the thrills and spills of playing in our National Stadium, while the parents either re-lived their playing days or dreamed of having the opportunity of playing on the hallowed turf.
The children experienced the full complement of the stadium facilities, cahanging in the Cusack Stand changing rooms, complete with team warm up rooms, playing on the famous pitch before going on a museum and stadium tour.
Minister invests in Volunteering in Sport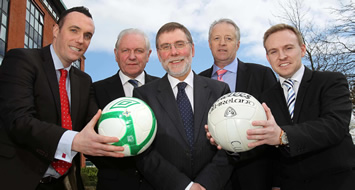 The Department for Social Development have awarded the IFA and Ulster GAA funding to support a new and innovative joint project 'Sport in the Community'. This exciting flagship project supports the DSD Volunteering Strategy for Northern Ireland and will provide over £350,000 during the three year partnership to support community and volunteer development.
The partnership supports a range of joint development programmes which will include shared learning workshops, club development programmes, community outreach initiatives, neighbourhood renewal objectives and volunteer training and development. An annual Open Forum will debate operational issues and topics emerging from the Workshops, while an annual Community Relations event will add further value to the community outreach and diversity work undertaken by the organisations.
'Play for your county' day for Disability Groups at Croke Park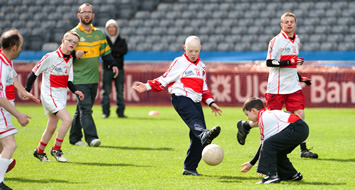 On Easter Tuesday we had a fantastic turnout of young adults with learning disabilities to Croke Park for Ulster GAA's activity day.
Groups from all over Ulster representing 7 counties attended to avail of the opportunity to play on the hallowed turf of Croke Park.
Ulster GAA Regional Development Officers Diarmaid Marsden, Shane McCann and Paul Callaghan have built up a network of contacts across the province from local disability groups whose members enjoy participating in Gaelic Games activities. And it was from these groups that the opportunity to play at Croke Park was provided.
Approximately 150 players (men and women) and 60 helpers got a tour of the famous stadium and then pulled on their county jerseys to play a series of games on the pitch.
"Volunteers essential to local Economy"
Ulster GAA has held its second annual Good Relations Forum which focused on the social and economic impacts of volunteering. The half-day conference was held in the Torrent Complex in Donaghmore which was a symbolic venue as it helped emphasis the importance of community and volunteerism in creating and maintaining community facilities and infrastructure.
The conference 'The Social and Economic Impact of Volunteering' was attended by a wide range of people representing government, local government, statutory and voluntary organisations. Many of those in attendance were from non-GAA backgrounds.
Speaking at the event Ulster GAA President Aogán Ó Fearghail said, "Volunteerism is one of Ireland's greatest resources and yet its importance is often overlooked. In the GAA in Ulster alone there are a quarter of a million volunteers, who give of their time freely within their clubs and counties. "
O'Neills awards presented to deserving winners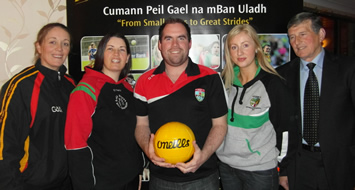 Three deserving clubs were awarded with Coaching & Games Development Equipment Awards recently courtesy of O'Neills and Ulster Ladies Gaelic. The initiative which was open to all clubs in the province with a Ladies Gaelic Football section aimed to encourage clubs to focus on their coaching and games development side by showing the judging panel how they have developed their coaches and players and how they plan to develop in the future.
The application process began in February when all clubs were notified of the opportunity to apply. They then had until the start of April to get their portfolios into the council for consideration and after long deliberation, the judging panel selected their winners. Sheena Kelly, Ladies Gaelic Development Officer for Ulster GAA who was the instigator of the initiative said "We received some fantastic applications for the awards from clubs all across the province so picking winners was very difficult, but we are confident that those who have been selected are more than deserving."
Ulster Double at All Ireland Scór Sinsir Finals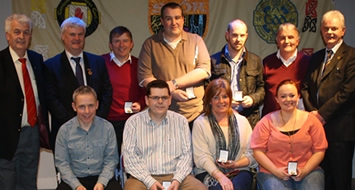 Congratulation to Tyrone's Errigal Ciaran Novelty Act and Derry's Bellaghy Instrumental Group who have been crowned All Ireland Champions after a wonderful performances at the Scór Sinsir All Ireland Final in INEC Killarney recently.
It is a real credit to all involved in Scór at Club level to win an All Ireland medal and there is no doubt that Errigal Ciaran's Novelty Act and Derry's Bellaghy Instrumental Group put in a huge effort which was well worth it.
Congratulations also to all competitors from Ulster who took part. It is always difficult to come home with an All Ireland title as the competition is always fierce but Ulster is deeply proud of all of those representing the Province at the All Ireland Final.
Well done to the Errigal Ciaran and Bellaghy for their great achievements!
Derry Minor Camogs win All-Ireland title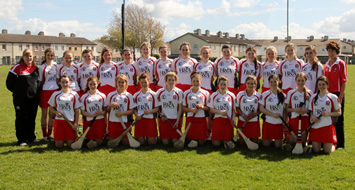 All-Ireland Minor 'B' Camogie Championship Final:
Derry 2-16 Wexford 2-5
A superb Derry side completely outplayed Wexford in Blakestown on Saturday afternoon last to claim the All-Ireland Minor 'B' Camogie Championship crown.
It was a powerful performance, full of heart and panache from the northern girls who dominated all over the field against a disappointingly overawed opponent.
Good spells from Wexford were few and far between - despite starting promisingly with a two point lead inside ninety seconds - and for too long they were second best as Derry strolled impressively to the All-Ireland title.
GAA Handball All Ireland Round-Up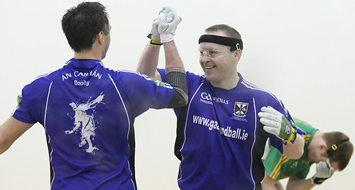 The GAA Handball O'Neills All Ireland 40×20 Championships concluded with a major programme of games, including the Mens Senior Doubles and Ladies Senior Singles deciders.
Single ace win for Cavan in Senior Doubles decider
It will be a long while before a finals crowd will be treated to such an absorbing Senior Doubles championship decider as that which was served up in Cappagh on Saturday afternoon. Cavan's Paul Brady and Michael Finnegan eventually claimed their eighth title in all and third in a row in the series when they claimed a last gasp ace to deny Meath legend, Tom Sheridan, and his partner, Brian Carroll, by 21-20 in the deciding game.
It was the second final of the afternoon programme which ended on that scoreline and on this occasion the standard of play was breathtaking to say the least. The power pass and kill shots which won the rallies were actually overshadowed by the incredible retrieving exhibited in all three games, with Brian Carroll in particular exhibiting astonishing speed and reflexes in that sphere.
NWNG sign up to Partnership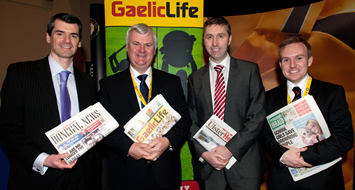 An exciting new partnership arrangement will see Gaelic Life play an even more integral role in Ulster GAA, both on and off the field.
The partnership sees Gaelic Life and its parent company North-West News Group, which incorporates the Ulster Herald, Tyrone Herald, Strabane Chronicle, Donegal News and Fermanagh Herald titles, become an official corporate partner of Ulster GAA for 2012.
The agreement will see Gaelic Life sponsor the Ulster Scór Sinsir and Ulster Scór na nOg competitions in 2013, the Ulster GAA Coach and Volunteer Development Programme 2012/13, as well as being official media partners for the upcoming Féile Uladh and Ulster Poc Fada competitions.
Speaking at the official launch of the North-West News Group/Ulster GAA corporate partnership, Ulster GAA president Aogan O Fearghail said;
"We are delighted to bring Gaelic Life onboard as a corporate partner for 2012, and also to have them associated with both the Ulster GAA Coach and Volunteer Development Programme, Ulster Scór Sinsir and Scór na nOg.
"Gaelic Life is an extremely positive publication, which promotes what is best about everything GAA, and it is very fitting that we are now in partnership with them."
Ulster Camogie League Update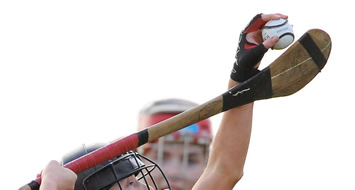 The Ulster Camogie League sprang into action in April with the group stages set for conclusion. In the Ulster Premier Cup, Ballycastle, Slaughtneil and O'Donovan Rossa are leading the way with two rounds played. All-Ireland Intermediate Champions Eoghan Rua have only played one game to date and showed no sign of taking a break to beat Ballinascreen by 4-11 to 0-9 and their game with undefeated Ballycastle will likely settle Section A
On way to topping Section B, Slaughtneil defeated Antrim Champions Loughgiel Shamrocks. Rossa have showed their early season intentions with two wins in Section C although Tyrone side Eglish nearly caused a shock and were defeated by four points in a high scoring game in Belfast.
Feile Uladh 2012 Finals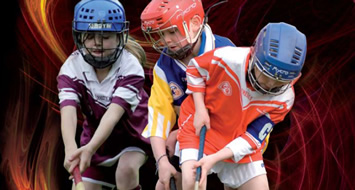 The Group stages of Feile Uladh are now complete and in most cases the groups were very competitive. The Finals will take place this weekend, Saturday 5th May, in Armagh with both Pearse Og's and Armagh Harps hosting the Finals.
The Fixtures and Details are attached. All Finalists should be at the Venue at least 45mins before the start of their game as, like the Group games, it is very important they all run on time.
All Final Games on Saturday 5th May will be 20mins each way and 5min half time break.
For more information contact Kevin Kelly (kevin.kelly.ulster@gaa.ie or +4479 2052 8794).
Related:
- Finals Programme - Feile Uladh 2012
- Fixtures & Results - Feile Uladh 2012
- Group & Tables - Feile Uladh 2012
Local Churches and GAA Join in Garvagh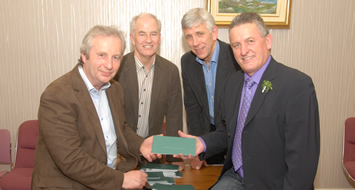 The TBF & KL Thompson Ministries, Garvagh was the setting for an innovative St Patrick's Eve Supper. In this opening remarks, Executive Director Ronnie McKee welcomed guests, friends and public representatives to an evening that celebrated the life, work and legacy of the Godly man who first brought Christianity to Ireland.
Key note speaker Brian Ervine, a former leader of the Progressive Unionist Party congratulated the Challenge Garvagh Committee on a hosting such an inclusive celebration, and to Coleraine Borough Council for part funding the event. The event was also supported by the Diocesan Volunteering Project (funded by the Department for Social Development).
Derry Go Games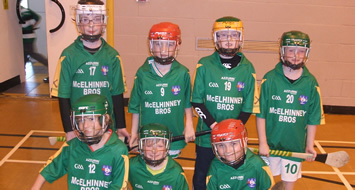 The County Derry indoor Go Games hurling programme finished last weekend. Each club had one under 8 and one under 10 blitz during the months of January, February and March. One club would play host to 2 visiting clubs and the teams would play-off games against each other. The host clubs made use of the excellent facilities available around the County including Laveys new indoor 3G hall which hosted quite a few of the blitzes.
The indoor hurling programmes have become a firm fixture in the coaching and games calendar within all the clubs at this stage. The indoor hurling programmes are highly beneficial as players are now able to hone their skills all year round. With hurling in particular when younger players take a prolonged break from the game their skill levels quickly dip and before the indoor hurling initiatives coaches would frequently find themselves starting from square one at the beginning of each season.
Down Teachers In-Service Day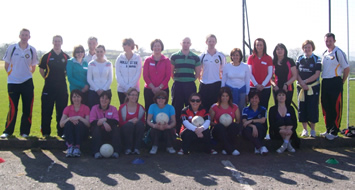 The Down DENI coaches recently held a teacher's in-service day on Tuesday 27th March 2012 in two venues across Down. The teachers involved got back to basics with a full days training that included traditional warm ups, family of games and the new curriculum lessons that are being tested for the very first time in the schools.
For many teachers being involved in the actual lessons instead of observing them in the school environment really brought the whole PE lesson to life. After a brief introduction the morning session included the traditional warm ups of pathways, directions, speeds and levels. We also included fun tag games like toilet tag, bridges and rivers, etc. We also progressed the warm ups to challenge the children and how to include balancing, mobilisation, and strength work as part of a warm up.
What's Happening this Month
If you are having trouble viewing this, view our Online Events Calendar.
back to top