Ulster GAA Corporate Partners
Big Attendances at Ulster Championships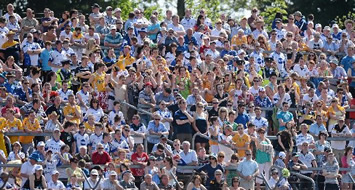 The throw-in of the 2012 Ulster Senior Football Championship took place on Sunday 20th May in a sun-kissed Breffni Park in Cavan and supporters are out in big numbers to cheer on their teams!
A record attendance of 12,847 attended the Preliminary round match between 2011 Ulster Champs Donegal and Cavan.  Ulster GAA is delighted that overall attendance is up 70% from this time last year and is urging patrons for upcoming games to arrive early.
Spectators travelling the Armagh v Tyrone game are reminded that this is an All Ticket game with tickets available from your Club of County Board.
Nothing beats being there!
Ulster Hurling Championship Launch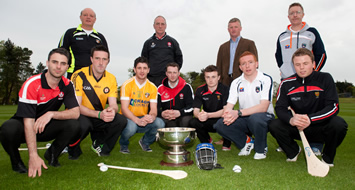 Ulster GAA and Ulster Camogie have launched their respective Championships together at the new Queen's Pavilion in Belfast.
Players and Managers from both codes were in high demand at the media launch which announced the fixtures and new reduced pricing structures for Ulster Championships 2012.
Speaking at the launch Ulster GAA President Aogán Ó Fearghail said, "The hurlers of Armagh and Derry will open the Ulster Hurling Championship on Sunday 17th June at the Morgan Athletic Grounds, and it's sure to be a game of passion and glory, and the start of an exciting Championship.
"None of us can deny that Antrim is the side to beat as they go for their 11-in-a-row Ulster title, however I am confident that the other three competing counties are up for causing an upset."
Ulster GAA Phoenix Elite Academy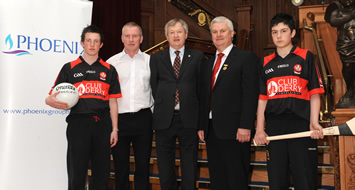 Ulster GAA has announced the 2012 Phoenix Elite Academy for promising young Gaelic Footballers and Hurlers.
The Phoenix Ulster GAA Elite Academy will bring together Ulster's most promising young GAA athletes for a two day residential at the University of Ulster's Jordanstown campus on the 2nd and 3rd July. The Academy aims to recognise and develop the skills and abilities of 90 young players who have impressed playing for their club, school or county underage teams in both Gaelic Football and Hurling.
The Phoenix Elite Academy will encourage the young players to look after their health and wellbeing while developing their skills in Gaelic Games. Areas such as nutrition and hydration, fitness testing, functional movement analysis, skill development and flexibility will be some of issues tackled at the academies.
O'Neills Ulster GAA Poc Fada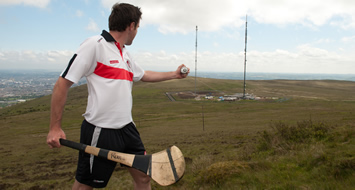 Attention all 'Big Hitters'! Are you up for a challenge? Do you think you can strike a sliothar further than Ulster Champion Ruairi Convery or All Ireland Champion Graham Clarke? Then here is your big chance!
The 2012 O'Neills Ulster Poc Fada will take place on Divis Mountain on Thursday 21st June, commencing at 7.00pm and all challengers are welcome to come along and do battle with Ulster's Provincial and All Ireland Champions.
Competition Categories:
Hurling: Senior*, Under 16*, Over 40
Camogie: Senior*, Over 35
Football: Senior
* Winner qualifies for National Poc Fada Championships.
The main events of the evening will be for Senior & Under16 Hurling and Senior Camogie, with the winners qualifying to compete in the National finals, which are held each year at Ardnaverna in the Cooley Mountains, Co Louth.
Social Media Campaign Launched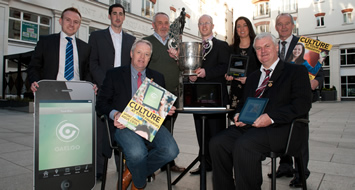 Ulster GAA President Aogán Ó Fearghail has this evening launched an exciting new communications campaign to promote the 2012 Ulster Championship, which includes a new Ulster GAA online TV Channel and a cultural mobile app 'GaelGo'.
Ulster GAA, in partnership with Comhaltas, and with the support of DCAL, have launched GaelGo will promote all events and activities taking place in Ulster to include our traditional games, scór, Irish language, song and dance. GaelGo is communications on the move and can be downloaded for free at www.GaelGoApp.com
Ulster GAA has also announced two new Ulster GAA 2012 Championship TV Preview Programmes, which will be launched this week by on www.ulster.gaa.ie or by viewing the Ulster GAA Facebook page www.facebook.com/UlsterGAA or Youtube channel www.youtube.com/UlsterGAA
O'Neills Feile Uladh 2012 Report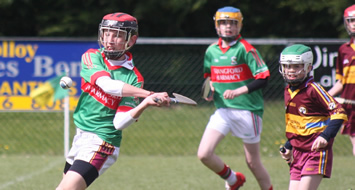 Feile Uladh has been a regular feature on the Ulster Hurling Calendar since the late 90's when the competition was organised as a prelude to Ulster hosting the National Féile competition.  The event has been modernised over the past number of years to facilitate a more improved structure and to ensure an appropriate amount of playing time for each of the competing teams.  The Group stages took place on 28th April with a total of twenty venues being used throughout Ulster.  The winners of each group then proceeded to their relevant Divisional Final.
The Finals took place in Pearse Óg Park and Armagh Harps GAC, in Armagh and a magnificent day of hurling and camogie was enjoyed by all those in attendance.  The standard of play improves year on year and spectators were treated to a fine display of all the skills of hurling and camogie.  It was noticeable that all teams have been working hard on skill development as the defensive skills of blocking and hooking were very much in evidence throughout the competition.
Tain Club Hurling League Finals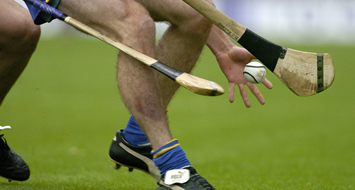 2012 saw the first year of the Tain Adult Club Hurling League.  This initiative saw a total of 58 teams compete from across the province of Ulster as well as the introduction of teams from Louth, Longford, Sligo and Leitrim.  There were a total of five divisions with two sections in each division.  Teams were given at least five competitive games prior to the commencement of their own club fixtures, bringing the total of games to 155.  It offered clubs the opportunity to play new teams at new venues with different referees.  The top two teams in each section qualified for the semi finals with the winners then meeting in the respective finals.
The finals took place on Saturday 28th April with a double header at Kingspan Breffni Park and a triple header at Casement Park.  There were successes for Ruairi Og Cushendall (Aontroim), Slaughtneil (Doíre), Knockbridge (An Lú), Robert Emmetts Cushendun (Aontroim) and Clonguish (Longfort).
Congratulations to all involved and we look forward to the 2013 competition with renewed hope in this important area of hurling development.
Young GAA Volunteers Recognised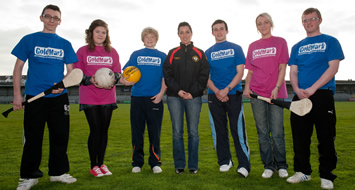 Ulster GAA is promoting the efforts of young volunteers who help out at their clubs, school teams and county boards through the 'GoldMark' Programme.
Run in conjunction with Volunteer Now and the Department of Education, GoldMark aims to recognise the volunteering efforts of young people in sport. The Programme requires young GAA volunteers, who are actively involved in the GAA to complete a Volunteer Record book which is signed off by a club official. There are three tiers of awards for the young volunteers, who have to be aged between 14 - 24years. The three awards are: 50 hours, 100 hours and 200 hours of excellence.
Ulster GAA have rolled the GoldMark Programme out across counties Down, Antrim, Fermanagh and Armagh and will run workshops over the coming months in Tyrone and Derry. Ulster GAA also hopes to offer a similar program to its volunteers in Cavan, Monaghan and Donegal.
Clubs avail of Ulster GAA Defibrillator Training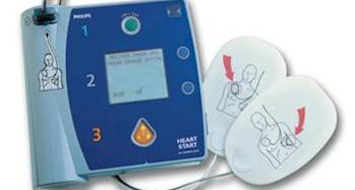 Ulster GAA has recently undertaken a pilot programme offering defibrillator training to GAA Clubs, delivered by GAA members.
The AED pilot training scheme, undertaken in conjunction with the Department of Health, Social Services and Public Safety, has seen 246 GAA club members trained in emergency response and defibrillator use by GAA members. 12 Ulster GAA volunteers delivered this training having availed of AED tutor training offer as part of the scheme.
Feedback from the pilot programme was extremely positive with content very well received. Notably 81% of attendees at courses were new to AED training, so the scheme has certainly succeeded in swelling the number of first responders among GAA communities.
Ladies Gaelic Championship launched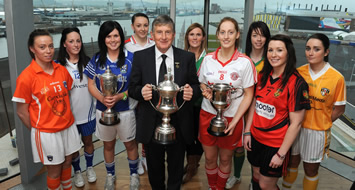 The Titanic Building in Belfast provided the venue for the 2012 Championship Launch in conjunction with the Ulster GAA earlier this month.
Speaking at the launch Ulster Ladies President Hugh Devenney thanked the GAA for their continued support in helping Ladies Gaelic raise the profile of their games through the joint launch. He also spoke of his anticipation of a feast of fantastic football in this year's championship and wished all competing counties the best of luck in their quest for silverware.
The ladies championship throws in on Sunday 10th June with the Intermediate semi finals with the Senior Championship starting the following week with current National League Division 1 champions taking on Tyrone.
Have your say in Camogie Future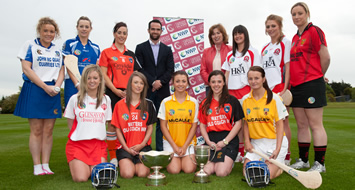 The Ulster Camogie Council are in the process of reviewing the current Strategic Plan and developing a strategic plan from 2013-2017.
A consultation night will take place on Wednesday June 6th from 7-9.30pm in The Glenavon Hotel Cookstown. This will be an open forum where everyone will get an opportunity to discuss Camogie within Ulster and how you think we can move forward.
This questionnaire will form the basis of the consultation and suggestions for the future of Ulster Camogie and we believe it is very important that all members of our Association have an input into this process.
Please take a couple of minutes to fill out this questionnaire and return to info@ulstercamogie.ie
Related:
- Camogie Strategic Plan Questionnaire
GaelGo App to Promote Cultural Events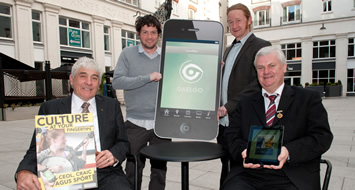 Ulster GAA and Comhaltas have launched a new mobile phone app to promote their cultural games, events and activities. The 'GaelGo' app is now available to download for free on all smart devices from www.gaelgoapp.com
GaelGo has been funded by DCAL as part of a project to promote the creative industries in Northern Ireland, which included the development of two apps one for Ulster GAA and Comhaltas and the second for the Ulster Historical Foundation.
The GaelGo app keeps locals and tourists alike up to date with Irish culture and its music and sporting communities. The bi-lingual resource uses an interactive map to profile upcoming games, concerts, and Fleadhanna. Users can find Irish traditional music sessions near to them and watch videos from the latest GAA and Comhaltas events.
McCavitt masters Doyle in Men's Open Final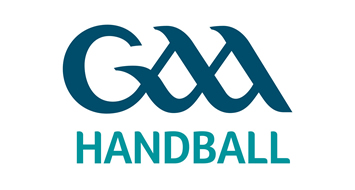 The Mullins Engineering Williamstown One Wall Men's Open title is safely back in Armagh with young protégé Conall McCavitt taking the title from James Doyle (also Armagh) in a three game thriller in Williamstown.
In the searing heat of Williamstown over the weekend, the two finalists fought long and hard to reach the final with McCavitt turning over Peter Daveron, Paul Fitzpatrick and Vinny Moran en route to the final while Doyle beat Ian McLoughlin and local man Ollie Conway to gain his place in the decider. With the temperature rising both on and off the court the final started with great intensity and McCavitt was fast out of the blocks taking the first point with a fine kill. However as the progressed Doyle came back into the fray and slowed the game down to a pace which had McCavitt a bit perplexed. This seemed to work for Doyle who went onto take the first game on 15/12 score-line.
Tyrone and Armagh collect Minor League Titles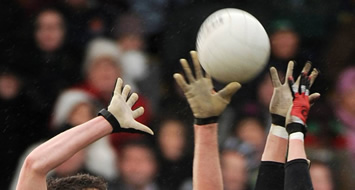 Ulster Minor Football League Final:
Tyrone 1-10 Derry 0-08
Tyrone lifted the Ulster Minor League title at Cloneswhen they defeated Derry by five points. Derry were the more impressive team prior to the half time break but Tyrone did get a goal through wing forward Ruairi Sludden to leave it 1-2 to 0-5 at the break.
It was point for point early in the second half but a couple of Tyrone substitutions swung the game in the Red Hands favour with late scores from McNulty, Brennan, Sludden and Carroll proving vital. Team captain Sean Hackett received the cup from Ulster GAA official Joe Jordan.
Donegal Schools win LTP Competition
Ulster GAA, through its Live to Play programme, promoted a 'visibility' message to young members throughout the winter period across County Donegal.
The imaginative campaign encourages aspiring young GAA players to become stars on the pitch while staying safe off it in winter's dark mornings and evenings.
Cleverly titled 'GAA Stars, Seen by Cars', the campaign was out in Primary schools across Ulster. Close to 20,000 children took part with 18 classes emerging successful, 2 in each County. All pupils in the winning classes were awarded a Live to Play backpack featuring the County GAA crest and reflective piping and stripes to ensure the carrier is visible in the dark.
Donegal winners were: 3rd Class, St. Patrick's GNS Carndonagh and 5th Class in Scoil Mhuire, Creeslough.
What's Happening this Month
If you are having trouble viewing this, view our Online Events Calendar.
back to top