This Sunday: Dún na nGall v An Dún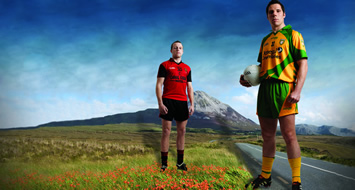 Ulster Senior Football Championship Quarter Final
Donegal v Down, Throw In 2.00pm at Mac Cumhaill Park, Ballybofey
Ulster Minor Football Championship Quarter Final
Donegal v Down, Throw In 12.00pm at Mac Cumhaill Park, Ballybofey
Ticketing:
This is NOT an all-ticket event. Patrons can pay into the Terrace at the gate.
Tickets are available through Clubs and County Boards.
Ticket Prices:
Terrace €15 / £13
Open Seating €25 / £21
Covered Stand €27 / £23
Concessions:
OAP Terrace €10 / £9
OAP Open Seating €15 / £13
Juvenile (U16) Open Seating €5 / £5
U16s FREE into Terrace
Ulster Senior Football Championship Round-Up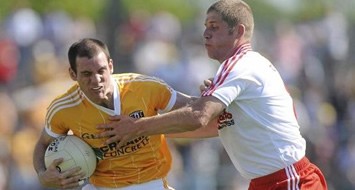 Ulster Senior Football Championship Quarter Final:
Antrim 1-13 Tyrone 2-14
Tyrone began their defence of the Ulster GAA Football Senior Championship with a 2-14 to 1-13 victory over Antrim at Casement Park on Sunday afternoon.
Tyrone were widely expected to win this game, but perhaps were not expecting to have things as tough as they did, Antrim threatening to cause an upset in the second half when they narrowed the gap to just three points.
In the end though, the game had shades of last year's provincial decider between the sides, Tyrone finishing strongly to put the game to bed, and the fact that Mickey Harte could afford to substitute Ryan McMenamin, Davy Harte and Brian Dooher, an illustration of the strength of their panel.
Ulster Minor Football Championship Round-up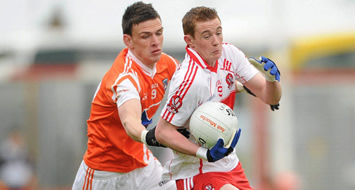 Ulster Minor Football Championship First Round:
Tyrone 1-13 v 1-08 Antrim
Tyrone eased into the semi-finals of the Ulster Minor Championship thanks to a 1-13 to 1-08 win over Antrim.
Points from Ronan O'Neill, John McCullagh, Ryan Devlin and Harry Og Conlon saw them edge ahead early on.
But Antrim hit back in the Casement Park contest with an Anton Taylor goal to lead 1-5 to 0-7 at half-time.
Antrim's Martin Johnston and Conan Grugan of Tyrone were sent-off for an off-the-ball clash before Og Conlon snapped up a goal for the visitors.
Ulster Senior Hurling Championship Round-Up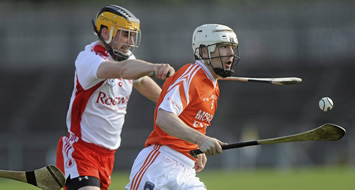 Ulster Senior Hurling Championship Second Round:
Armagh 3-20 Tyrone 2-9
Armagh advanced to the quarter-finals of the GAA Hurling Ulster Senior Championship after a 3-20 to 2-9 win over Tyrone at Casement Park on Saturday afternoon.
Brian McNaughton was the hero for the victors, netting an impressive hat-trick as well as a point from play, while Paul Breen was just behind him in the scoring stakes with nine points, including two from play.
The Orchard men led 2-14 to 0-5 at the break after McNaughton had stolen in for two goals just before the half time.
Tyrone did have a chance to reduce the deficit in first half stoppage time, but Conor Grugan blasted a penalty over the bar.
Gaelic Games Unites Communities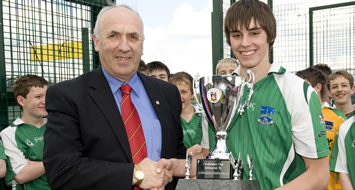 Enniskillen Cúchulainns were today crowned as Champions of Ulster GAA's cross community Gaelic Football Tournament which was held in the Mid Ulster Sports Arena in Cookstown.  The Enniskillen side beat off strong competition from Armagh Cúchulainns in the final.
Four teams competed in the cross-community tournament: Lurgan-Armagh, Dungannon, Magherafelt and Enniskillen.  All teams were made up of players from a mixture of schools from the controlled and maintained sectors.
Today's tournament is an extension to Ulster GAA's pioneering cross community Initiative, which brings together young people from a range of backgrounds who have little or no experience participating in Gaelic Games.
Ulster Ladies win Inter-Provincial Championship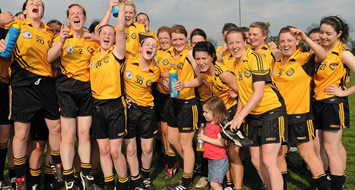 Ladies Inter-Provincial Football Championship Final:
Ulster 1-14  Leinster 1-06
Ulster Ladies have won the inter-provincial Football Championship defeating Leinster 1-14 to 1-06 in the final at Kinnegad on Saturday last.
It was a measured display of tactical football and top-drawer score-taking that saw the province claim their fourth Mick Talbot Cup in the competition's history.
And for Manager Gregory McGonigle, who has now led his province success twice, it was a sweet experience.  "This win is actually better than the first one" he said.  "They've played football for something like three hours in the one day and in immense heat.  It's a great achievement."
Irish News Club & Volunteer Award Winners 2010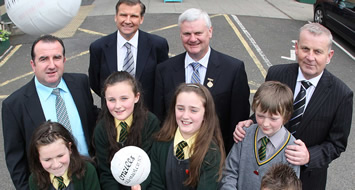 The Irish News have unveiled the winners of their highly contested Irish News Club & Volunteer Awards. The Awards initiative recognizes and rewards GAA Clubs, Schools & Volunteers throughout Ulster for their commitment to gaelic games and their community irrespective of their playing ability.
John Brolly Marketing Manager of The Irish News, congratulated all the clubs, schools and volunteers that received awards adding that 'the Irish News Club & Volunteer awards are tangible proof that our clubs, our volunteers & our schools are indeed the foundation of GAA.'
He added, 'the Irish News Club & Volunteer Awards have proven to be overwhelmingly successful as recognition for the hard work of the winning clubs, volunteers and schools. The awards are a great celebration of the vibrant communities that are created by schools, clubs and volunteers right across Ulster.'
Anticipation grows for Ulster Poc Fada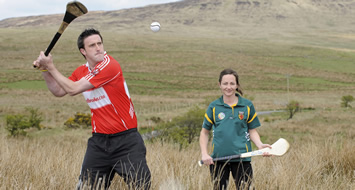 The 'poc fada', or 'long puck' has been a fairly regular competition on the GAA calendar of events since 1961 when Limerick's Vincent Godfrey won the inaugural event.  The event was not held during the 70's but made a welcome return in 1980 and has been played every year since then.
The National Poc Fada is held usually in early August each year at a mountain course over the Cooley Mountains in County Louth.  Over the years, senior inter county goalkeepers have been to the fore on the roll of honour for this competition.  Most notable was Cork's Ger Cunningham who won seven titles in a row from 1984 to 1990.  Tipperary goalkeeper Brendan Cummins has been successful on four occasions.  Ulster's only winner was Gerry Goodwin from Tyrone who was successful in 1982.
Ulster GAA introduced a Provincial Poc Fada over a mountain course in 2006 when the competition was held at Carn Togher, which lies close to Slaughtneil in County Derry.  Down's Graham Clarke was successful three years running before Derry man, Ruairi Convery won last year's event.  Graham Clarke has been unlucky on a couple of occasions in the National event where he has been just beaten into second place on two occasions.
New Look Ulster GAA Website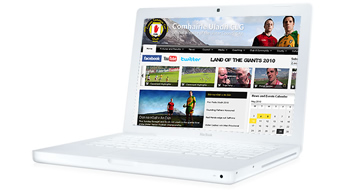 Ulster GAA has re-vamped its website just in time for the Championship.
The up-dated website now has a fresh look, easy navigation and an array of interactive media tools, to make it 'THE' Championship website of 2010.
Ulster Gaels will be able to watch clips showing highlights of games, interviews with managers and players ahead of and after key games, and Gaels can make their views known through links to Ulster GAA's Facebook, Twitter and You Tube sites.
The Ulster GAA website still contains important information about the role and work of the Ulster GAA Council as well as providing GAA members and clubs with essential advice and guidance through the Club Maith section.
Participation in Scór has increased Three Fold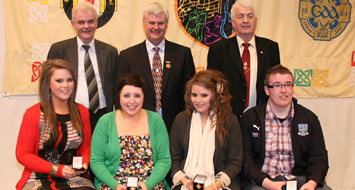 'Participation in Scór has almost tripled in the past three years and the numbers attending Scór competitions has also increase significantly' - that was the message from Scór Chairperson Micéal Greenan at GAA Congress.
An chathaoirleach felt that Scór showcasing during the 125th Anniversary of the GAA and through the 40th anniversary of Scór, has helped increase the profile of Scór.  The profile of scór has also increased also due to the fact that Scór now participates in all Ulster inter-county and club championship matches. An chathaoirleach urged all county Scór officers to ensure that this continues.
Micéal Greenan also warmly congratulated Harry McEvoy on receiving the president's award for his service to Scór over the years.
Ulster GAA participates in Game of Three Halves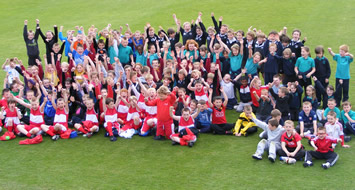 Ulster GAA has today forces with Ulster Rugby and the Irish Football Association, along with PeacePlayers International, at the Civil Service Sports Pavillion in East Belfast to launch a new initiative known as 'A Game of 3 Halves'.
All Ireland Medal holders Diarmaid Marsden, from Armagh and Tony Scullion, from Derry were special guests at the event.
The concept was first developed by Paul Brown, Youth Co-ordinator at Knock Presbyterian Church, together with PeacePlayers International as a cross-community initiative which would bring the three governing bodies together and offer children from both sides of the community the chance to experience Rugby, Gaelic and Soccer.
Each governing body invited young people from local primary schools with whom they have formed lasting relationships over the years, and throughout the day participants received top class coaching from Development Officers from all three sports.
Great day at Feile Uladh 2010
The finals of Feile Uladh 2010 took place at Pearse Óg Park in Armagh on Saturday 15th May.  In all 11 finals were held in hurling and camogie with proceedings starting at 12.00 noon with the Division 6 Finals between  St Phelim's (Cavan) and Strabane Shamrocks (Tyrone) in hurling and Castleblayney (Monaghan) against Eire Oga (Tyrone).  St Phelim's, an amalgamation team from County Cavan, were proud winners of their first ever Feile Uladh hurling title while Castleblayney were comfortable winners over Tyrone's Eire Ógra.
In Division 5 a major shock saw a strongly fancied Gort na Mona team fall to a determined Aodh Ruadh side in the hurling game, while Granemore were delighted by their win over near neighbours Keady.
Division 4 Hurling was an all South Down affair with Liatroim running out eventual winners in a closely contested final with Newry Shamrocks.  In the Camogie equivalent, Madden from Armagh were runaway winners over St John's Carnlough from Antrim.
Ladies Gaelic Football Ulster Schools All Stars 2010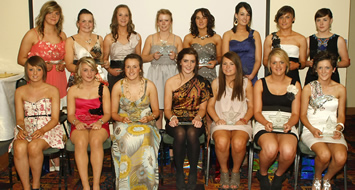 The first ever Ulster Schools All Star Awards for Ladies Gaelic Football were announced on Friday night last at a presentation banquet in Kelly's Inn Garvaghy.  What was a very exciting night for the young girls who received their awards was also a special landmark for Ladies Football in Ulster, as they are the first province in Ireland to introduce All Stars in their schools competitions.
As Louis O'Donnell, Chairman of the Schools Committee explained at the Awards night, Ladies Gaelic football is thriving in Ulster schools with 190 teams entered in competitions from under 14 up to under 20 in the 2009/2010 season.  Mary Keegan, Ulster Schools Secretary was commended for her invaluable work with the schools and all teachers from across the province were thanked for their important role in the development of the game.
Belfast Festival of Gaelic Games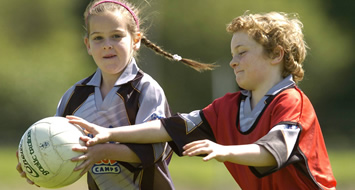 The Belfast Festival of Gaelic Games starts on the19th June.
The event will include competitions for Under 13 Boys Football, Under 15 Camogie, Under 15 Hurling and Under 15 Girls Football.
Each of the games will be 13-a-side.
Games will be 15 minutes per half.
Each child will get a minimum of 4 games per session.
The festival will run from the 19th June until the 4th September.
U17 Development Squad Blitz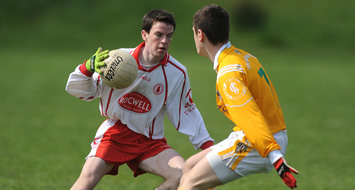 The first Development Squad Blitz of 2010 took place on Saturday 24th April in Carrickmore, Co. Tyrone.
6 Counties participated with a total of 98 players representing their county.
There were no trophies or medals awarded on the day, just top quality hurling matches with players giving County Minor Managers the chance to see them in competitive action.
The scores from the matches were:
Game 1:  Armagh 1.6 v 0.5 Tyrone; Antrim 1.10 v 0.4 Down
Game 2:  Donegal 1.5 v 1.4 Armagh; Down 2.9 v 0.1 Tyrone
Ulster GAA would like to thank the Carrickmore Club for their superb facilities and to the Referees on the day, who had an easy job as all the players focused on playing hurling and discipline was very good.
Ulster GAA 'Investing in Volunteers'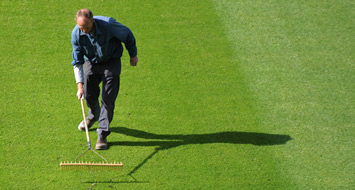 As an association driven by volunteerism, Ulster GAA is putting the spotlight on good practices around volunteering by applying for the 'Investing in Volunteers' Standard.
A steering group has been set up to co-ordinate this work and includes: Paddy Sheanon, Michael Hasson, Edward Molloy, Brian Armitage, Brendan Kirk, Cathy Gallagher, Kathleen Woods, and Catherine O'Hara.
The Steering Group will work in conjunction with Ulster GAA officials Ryan Feeney, Sharon Haughey and Michelle McAleer to ensure the importance of volunteerism is promoted and recognised.
The 'Investing in Volunteers' Standard is awarded to organisations which involve volunteers.  The Standard enables organisations to comprehensively review their volunteer management, and also publicly demonstrates their commitment to volunteering.
Ulster GAA Staff 'Party against Poverty'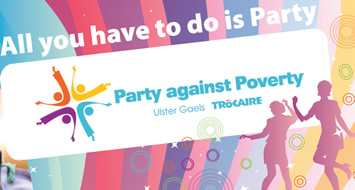 The staff of Ulster GAA in Armagh recently held a fundraising lunch to help the 'Party against poverty' cause, and by doing so raised £240.
The staff at Ulster GAA decided to get into the party spirit by holding a 'party lunch' with staff members cooking up some tasty recipes including: Chicken Curry, Lasagne, Garlic Bread, Salad, Mint Aero Cheesecake and Fresh Fruit Pavlova.
Party against Poverty is a unique partnership will link Gaelic sporting men and women in Ulster with struggling women in Uganda. By participating the GAA is helping to raise awareness of one of the most brutal and under reported conflicts in the world and its effect on women and children while channelling funds to the most vulnerable.
Clubs should check out CASC website
Ulster GAA is encouraging Clubs to consult a new CASC website which provides useful information for Community Amateur Sports Clubs about how to apply for CASC, what the benefits are etc..
The website is a key information resource for Ulster GAA and Clubs should find the website informative and useful.
The website can be logged onto at: www.cascinfo.co.uk
My Armagh Launched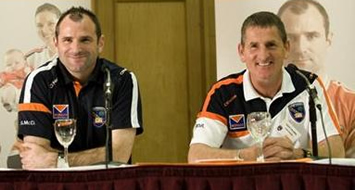 Armagh County Board launched plans to develop a Centre of Excellence on Friday night.
The centre will have three natural grass pitches as well as a 3G pitch, with a circuit track and hill training provisions.
It is planned that the first three phases should cost £37,000, with a gym, fitness suites, physio and medical facilities as well as six changing rooms.
However, the Orchard County are at the early stages of fundraising as they haven't yet found a location to build the centre.
The plans were announced as the county board launched My Armagh, a new Armagh supporters club.
The supporters club is designed to help raise £200,000 a year, which is the estimated cost of running the county board.
Derrynoose GAC World Record Attempt
On Saturday 12th June Derrynoose GAC and all participants will attempt to break the world record for the most participants for the 12 hour 100m relay.
The current world record is held by Cavan GAA set on 20th June 2009 where  1,986 people ran that day - our aim is to have more than 2,000 people taking part.
Schools Coaches Report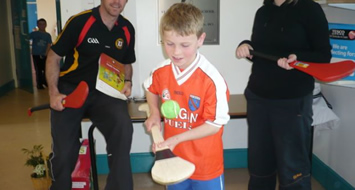 Schools 'Keepsie Upsie' Competition
Ulster GAA School's Coaches recently held a fun competition in St. John's Primary School in Middletown, County Armagh.
The competition was open to all children in Key Stage 1, which entailed the young children attempting to keep the ball up with a hurling stick.
Patrick Kerr won the competition and tallied up a massive 515 'keepsie upsies'.  He is pictured here with his teacher Miss Lennon and Ulster GAA Coach Karl McQuaid.
What's Happening this Month - June 2010
We are adding a new section to our online newsletter to highlight key events and activities taking place across Ulster from month to month.
This edition we look forward to June 2010, when there is a full schedule of activity planned.
Download:
- What's Happening in June 2010 (Excel Document)
back to top