O'Neills Ulster GAA Coaching and Games Development Conference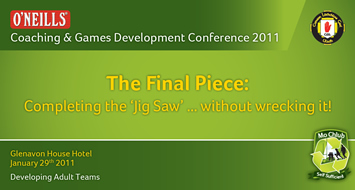 The 7th Ulster GAA Coaching and Games Development Conference will take place on Saturday 29th January in the Glenavon House Hotel, Cookstown.
Ulster GAA's flagship coaching event will once again be sponsored by O'Neills Sportswear, and this year's conference will target coaches who are working with adult players from 17+ years. It builds on 2008 and 2009 when we targeted children and youth coaches.
The conference consolidates the coach education work that is ongoing within the County and Provincial and National Coach Development programmes.
The challenge is to constantly refocus our coaching practice and the speakers will again reinforce good practice and present new challenges.
Further information on the keynote speakers and workshops can be found in the booking form below.
Places are open to all coaches at a cost of £20 / €25.
Places are limited and will be allocated on a first come first served basis.
For further information or to register, please contact:
028 (048) 3751 7180 or Email: conference.ulster@gaa.ie
Related:
- 2011 O'Neills Ulster GAA Coaching and Games Development Conference Booking Form
Club Finals Postponed Again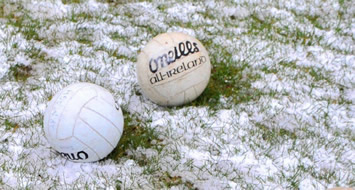 Following pitch inspections at both Kingspan Breffni Park and St Tiernachs Park, a decision has been taken to postpone this weekend's AIB Ulster Club Football Finals.
Below are the amended fixtures:
Please note the slight change to throw-in times.
Saturday 11th December @ Kingspan Breffni Park
AIB Ulster Club Intermediate Football Championship Final:
Lisnaskea (Fear Manach) v Doohamlet (Muineachán)
Throw-In: 2.00pm
Sunday 12th December @ St Tiernachs Park, Clones
AIB Ulster Club Senior Football Championship Final:
Crossmaglen (Ard Mhacha) v Naomh Conaill (Dún na nGall)
Throw-In: 1.45pm
AIB Ulster Club Junior Football Championship Final:
Corduff (Muineachán) v Swanlinbar (An Cabhán)
Throw-In: 12.00pm
Ulster Club Football Finals Preview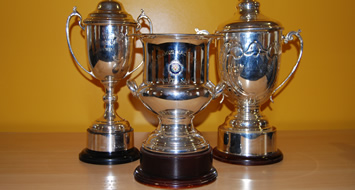 AIB Ulster Club Senior Football Championship Final:
Crossmaglen (Ard Mhacha) v Naomh Conall (Dún na nGall)
Sunday 12th December at St Tiernachs Park, Clones. Throw-In: 1.45pm
Sunday sees a unique Ulster Club Senior Football Final pairing as the novices from Naomh Conall face up to the provincial kingpins of the last fifteen years, and four times All Ireland Club champions, in Crossmaglen Rangers.  The Armagh side need no introduction as they reclaimed their County title this year after a one year absence, and are under new management in the form of former players Gareth O'Neill and Tony McEntee.  Naomh Conall collected their second ever Donegal Senior Championship earlier this year with a relatively young side guided by team manager, Cathal Corey.
Crossmaglen have reached this year's decider with two great victories over established sides.  In the quarter final, they played host to the reigning All Ireland Club Champions St Galls, and produced a masterclass in tackling, team play and finishing.
Ulster Club Championship Videos now Online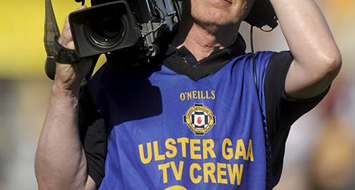 Throughout the AIB Ulster Club Football and Hurling Championships, we will be selecting a number of games each weekend and publishing exclusive video highlights online.
We have already uploaded a number of videos to the Ulster GAA YouTube channel and these have proved very popular. Some of the most popular videos include some champagne hurling from Loughgiel, highlights from Crossmaglen v Burren Senior Football semi final, two cracking goals in the Intermediate Football Championship game between Bundoran and Doohamlet, a goal with a twist from Crossmaglen's Michael McNamee, and of course the Ulster Junior, Intermediate and Senior Hurling Finals.
This is exclusive video content that you will not find anywhere else, so to ensure you don't miss any of the excitement, passion and glory of the AIB Ulster Club Football and Hurling Championships, tune in to Ulster GAA online:
Club Conference a 'Massive success'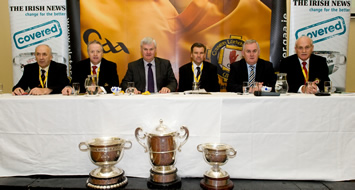 In what has been the largest of Conference of its nature to date over 560 delegates attended the Irish News Ulster GAA Club and Volunteer Conference on Saturday 6th November in the Armagh City Hotel. The event had five well attended interactive workshops facilitated by high profile GAA administrators such as Nickey Brennan, Mark Conway, Feargal McCormack, Jarlath Burns and Tom Daly. The workshops covered areas such as Club Fundraising, Club Planning, Facilities Development, Communications and Club Administration.
The Conference continues to attract significant civic interest with Department of Culture, Arts and Leisure, Department of Tourism, Culture and Sport, Department of Social Development, Department of Foreign Affairs, North South Ministerial Council and for the first time the Irish Football Association all sending representatives.
Ulster GAA pays tribute to Micheal O Muircheartaigh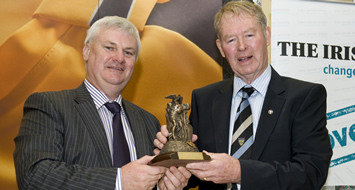 Ulster GAA paid tribute to Legendary GAA Commentator Micheal O Muircheartaigh at the Irish News Ulster GAA Club and Volunteer Conference held in Armagh City Hotel.
Ulster GAA President Aogan O Fearghail presented Micheal with a unique Ulster GAA Cúchulainn Statue to mark his many years of commentating.
During his address to conference, Micheal O Muircheartaigh demonstrated his great passion and love for the GAA.  His reminiscing of days gone by was very much enjoyed by an enthralled audience.
We thank Micheal for bringing the joys of Gaelic Games into many thousand homes across Ireland and further afield through RTE.  We wish him a happy retirement and we will always remember fondly his many sayings and distinctive voice.
Businesses exhibit their goods and services at Conference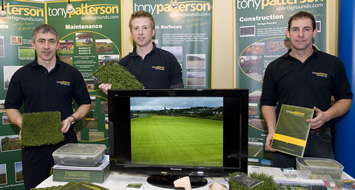 Twenty businesses attended the Irish News Ulster GAA Club and Volunteer Conference to exhibit their goods and services, all of which are very worthwhile for GAA Clubs.
We take this opportunity to thank all the exhibitors for supporting conference and we urge readers to log onto the individual websites below to view products and services in greater detail.
TONY PATTERSON SPORTSGROUNDS
With over 30 years experience Tony Patterson specializes in offering complete sports surface packages.
Web: www.tonypattersonsportsgrounds.com
THE GAA STORE
Sporting Excellence On-Line. Giving the GAA player, coach and fan the ultimate in choice.
Web: www.thegaastore.com
Scór na nÓg showcase at Conference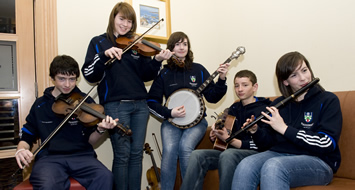 Scór is a very proud GAA tradition which showcases the very best in Irish song, dance, storytelling, music and history.
In 2010 Scór celebrates it 41st year.
There are two separate competitions—for the younger generation Scór na nÓg and for over 18s Scór Sinsear.
Ulster GAA was delighted to promote Scór at its Club and Volunteer conference by welcoming Ulster Scór nÓg Champions to perform to the huge audience.
Thanks to Ulster Scór nÓg Champions who participated:
Solo Singer Aisling Muchian from Silverbridge, Co Armagh
Scotstown Instrumental Group, Co Monaghan (pictured)
Club Officer Training Announced for Nine Counties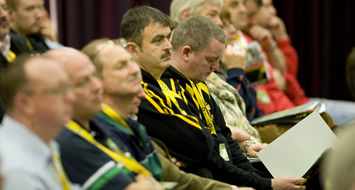 Ulster GAA has just announced nine dates for Part 2 of the Club Officer Training Programme.
Last years hundreds of volunteers were trained from all nine counties in Ulster by Ulster GAA tutors and guest facilitators from the different counties.  2011 sees the second part of this programme which is aimed at Club Officers including: Chairpersons, Secretaries, Treasurers, PROs, Development Officers, Coaching Officers, Child Protection Officers and Cultural Officers.
The training schedule is currently being finalised by Ulster GAA chiefs but its sure to be training not to be missed by clubs.
The training is FREE and your county board is providing the venue and lunch complimentary.
Ulster Club Football League 2011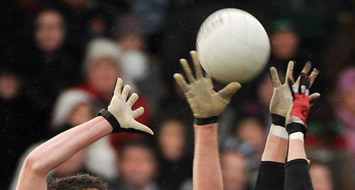 The Ulster Council are now accepting applications for entry to the 2011 Ulster Club Football League.
The 2011 Ulster Club Football League will again consist of two divisions, Senior and Intermediate.
The closing date for applications is 12.00pm on Monday 10th January 2011. Applications must be signed by the County Secretary and the appropriate fee must accompany the application, which should be sent to:
Ulster Club Football League
c/o Stephen Donnelly
Ulster GAA
8-10 Market Street
Armagh
BT61 7BX
The league commences on Sunday 6th February and the group games will run for five consecutive weekends.
St John's claim Intermediate title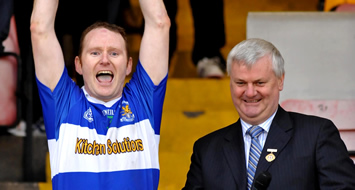 AIB Ulster Club Intermediate Hurling Championship Final:
St John's (Antrim) 2-11 Eire Og Carrickmore (Tyrone) 1-11
St John's won the AIB Ulster Club Intermediate Hurling title when they edged out Tyrone champions Carrickmore in a great contest at Casement Park.
When the Antrim champions got away to a flying start with two goals in the opening two minutes from full forward Liam Boyle it appeared that they were on course for a handy victory. However those thoughts were soon dispelled at the Tyrone men hit back with a brilliant goal and a point from flying corner-forward Conor Grogan to completely change the complexion of the game.
For the remainder of the opening half Carrickmore matched their more illustrious opponents and St John's had their goalkeeper Ciaran Cunningham to thank on more than one occasion for keeping them ahead at the break. (2-4 to 1-6)
Ulster GAA President's Awards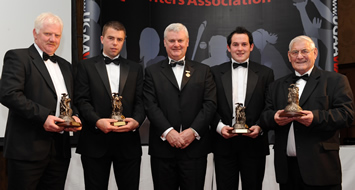 On Friday 19th November, the annual Quinn Insurance Ulster GAA Writers Awards banquet was held at the Slieve Russel Hotel, Cavan.
Among the awards on the evening were the Ulster GAA President's Awards, selected by Uachatarán Chomairle Uladh Aogán Ó Fearghail.
Gilly McIlhatton of John Mitchell's Belfast was honoured with the 'Lifetime Achievement' award. Gilly has given a lifetime of service at Club, Divisional Board and County level. He has filled many roles including club and county team coach, bus driver, organiser, stewarding as well as conducting various pieces of historical research.
Paul McCormack of Keady Lamh Dhearg was recognised for his promotional work for the GAA in the education sector. Paul is a teacher at St Patricks Grammar School Armagh where he coaches his school teams and organises hurling for Ulster Colleges. Paul has also played hurling for his club, County, Province and Country. He is certainly a role model for young Keady and Armagh hurlers.
Omagh St Enda's in All Ireland Ladies Junior Final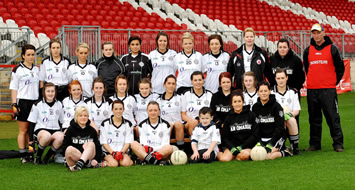 A place in the history books may beckon for Omagh St Endas ladies but manager Vinny McCullagh is keeping his and the players feet firmly rooted to the ground ahead of s Tesco All Ireland Club clash with Caltra Cuans .
McCullagh who also chairs the clubs ladies club took the reigns of the ladies senior squad at the start of 2010, after Paul O'Neill confirmed that after two years, work commitments were to keep him out of the picture for the early part of the year.
O'Neill and veteran of many Omagh campaigns Brendan Moynagh had helped guide Omagh to the Tyrone junior club final last year, a late goal robbed them of a first adult title at wet and windy Greencastle.
Less than one year on St Endas or as McCullagh calls them Mna Naomh Eanna An Omaigh were back in the Tyrone final and this time they made no mistake, a comprehensive victory over Aghyaran gave the club the Brenda Logue cup.
Caroline O'Hanlon wins impressive accolade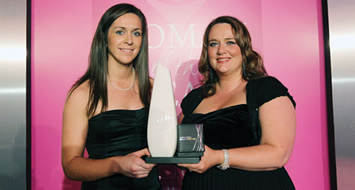 All Ulster gaels would like to congratulate Armagh's Caroline O Hanlon on being named Northern Ireland Sportswoman of the year 2010.
Caroline, a Junior Doctor, was described by judges as "an inspirational sportswoman" in netball and ladies Gaelic football.
Her achievements have included winning the Nations Cup in Singapore for Northern Ireland and claiming the Player of the Tournament Award at the European Netball Championships in April.  She was influential in helping Northern Ireland reach next year's Netball World Club by wining the Euro region qualifying event in June.  Also in netball, she captained Lisburn's Larkfield to an historic Northern Ireland League and Cup double and was selected Player of the Match in the Cup final victory over Belfast Ladies.
In ladies football circles Caroline was the captain of her club side Carrickcruppen and led her side to their first ever Armagh senior title back in August. She was named player of the match in the final scoring 1-6 from midfield. Caroline is a former All Star and has captained Ireland when they played Australia back in 2007.
GAA 'Having a Ball' Initiative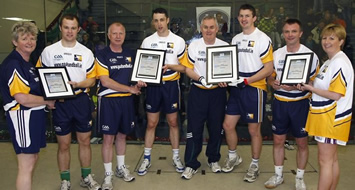 GAA Handball are excited to announce a new exciting initiative as part of the GAA's strategy for developing handball throughout Ireland. A new 'GAA Havin a Ball Initiative' will be launched in December 2010 and will run until 31st January 2011. The initiative is targeted at GAA clubs throughout Ireland who have not yet seen the immense benefits of introducing handball as a sport to their members. Full details of the benefits as part of this promotional scheme will be announced at the launch of the initiative in Croke Park in December 2010.
There will be terrific prizes on offer with 8 GAA Clubs (2 per province) around the country set to win a new One-Wall Handball facility in their club and the top 8 County Handball Committee's which offer the best support structure during the initiative also set to win special development packages, including O'Neill's Youth Handball kits.
Disability GAA in Cavan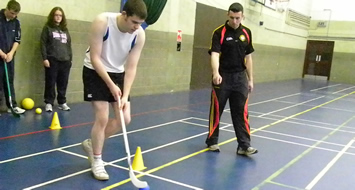 Ulster GAA and Cavan GAA, in conjunction with Cavan Sports Partnership, have been busy every Wednesday in November delivering GAA specific coaching sessions to a number of disability groups in the Cavan area.
The 6 week programme started on 3rd November and continues 8th December in Cavan Sports Complex. Approximately 60 adults receive the coaching every week from Ulster GAA development officers Diarmaid Marsden and Shane McCann, and also Cavan GAA coaches Fiona Murphy and Patricia Conroy. Three transition year students from St Pats Cavan also attend every week to assist with the coaching and to gain valuable experience.
So far participants have had the opportunity to improve their fundamental movement skills and ball control through various station based activities and have been able to play an adapted form of Gaelic Football where everyone takes part.
U13 Indoor Hurling Blitz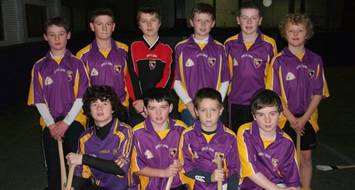 Ulster Council GAA hosted 6 Indoor Hurling Blitzes on Saturday 13th November.
3 Blitzes were held at the Eddie Irvine Indoor Centre in Bangor with 3 of the indoor 3g pitches used. 2 Blitzes were held at Omagh Leisure centre and 1 Blitz was held in the Phoenix Centre, Carrickmacross.
All teams got between 1½ - 2hrs, in which groups were allocated and after playing a series of games the groups were changed and teams got more games.
The Ulster Council's Regional Hurling Officers ran the event in which they experimented with the rules and the equipment used to maximise the skills being used.
Overall it was a successful day with 330 young hurlers from 23 Clubs and across 8 counties plying their trade.
Unique Hurling Footage on DVD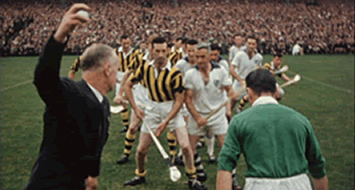 The IFI Irish Film Archive is to release its priceless collection of highlights of All-Ireland hurling finals from 1948 to 1959 in the beautifully presented GAA Gold DVD.
GAA Gold will be available from the IFI Film Shop and all leading DVD retailers from the 10th of November
Unique footage from All-Ireland hurling finals at Croke Park is to be presented on a special DVD by the IFI Irish Film Archive in association with the GAA. Covering more than a decade's worth of fantastic hurling, the DVD includes such golden memories as Tipperary and Cork achieving three-in-a-row wins, alongside victories for Kilkenny, Wexford and Waterford. It also boasts appearances from Dublin, Laois and Galway. GAA Gold features some of greatest hurlers of all time such as Christy Ring, John Doyle, Eddie Keher and Nicky Rackard, and evokes wonderful memories with the commentary of legendary broadcaster Michael O'Hehir who skillfully communicates the excitement of the matches. This is a collection of rarely seen footage that will refresh many memories and is a must-see for any serious GAA fan or lover of Irish heritage.
Paudie Butler session at Harlequins Rugby Club Belfast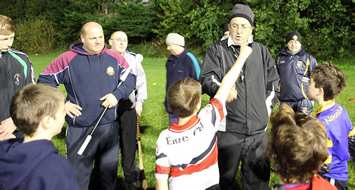 On Wednesday 10th November Paudie Butler hosted a Coach the Coaches session for coaches working with under age teams, at Harlequins Rugby club Belfast .
U12/U14 players from St Brigids, Eire Og and St Agnes's were on hand to assist the coaches who thoroughly enjoyed the session and all were very appreciative of the effort the young players had put in during the session.
Thanks to host club St Brigids Gac Belfast for their assistance and providing a welcome cup of tea/coffee and refreshments for the kids. At the end Frank Mc Gurk (St Brigids Gac) presented Paudie with a memento to mark his visit to the club.
Ulster Ladies 'TEACH'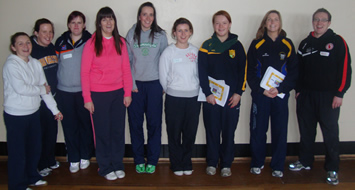 The Ladies Gaelic Football Association recently held a TEACH coaching course for teachers in Cill Iseal, Co Tyrone. The course was for school teachers interested in coaching Ladies Gaelic Football and all participants will be awarded with our FUNdamentals coaching certificate.  This is a key strategy outlined under the Coaching and Development area of the Association's Strategic Plan is to increase the number of coach education courses and to train more coaches. This initiative aims to provide training and support to teachers, who impart valuable coaching services to many players.
To encourage participation, this course was only €20/£18 for teachers who participated and they will be provided with a certificate and also a resource pack of activities on the day.  This resource pack will assist teachers when they go back into their schools to use appropriate activities for their classes.
GAA 4 ALL in Saval GAC
Over the last year Ulster GAA has been very active in promoting opportunities for people with disabilities (learning, physical and sensory) to play Gaelic Games. Over the autumn and winter months we will be running out our GAA 4 ALL disability inclusion awareness workshops in each county throughout Ulster. This part practical / part theory course is designed to help coaches adapt and modify Gaelic Games and related activities when coaching people with learning, physical or sensory disabilities.
Saval GAC played host to this year's course for county Down, over 20 participants from various Down clubs were in attendance including some of Saval's very own ladies from their Gaelic for Mothers team. Everyone had good craic on the night but most of all everyone learned something new in relation to how to include those with a disability in their own clubs.
Hurling Nursery Workshop
On Tuesday 23rd November a hurling nursery workshop was held in Rathmore GS, open to hurling and camogie coaches.
Coaches attended from the following clubs Eire Og, Gort na Mona, St Johns, Lamh Dhearg, Mc Dermotts and Sarsfields plus we had 24 players from Eire og and two from Lamh Dhearg, ranging from 6 to 11 years of age.
Thanks to John Rushe and Gerard Murray, both Eire Og, for their assistance on the night and to the parents of the Eire Og children.
Larne's Game Of Three Halves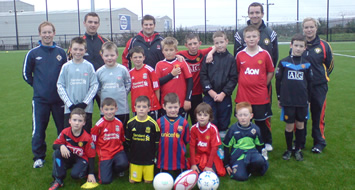 Antrim DENI coaches along with the IFA, Ulster Rugby and Larne Borough Council organised a Game of three halves at the Seacliff Recreation Centre for all the local schools in the area over the Halloween period.
The event was thoroughly enjoyed by all in attendance.
It is anticipated that future multi sports events can be run in the near future due to the huge success of this particular one.
Cross Community Day in Fermanagh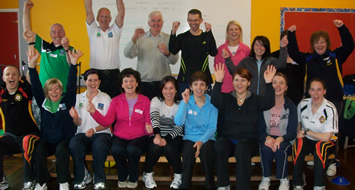 Ulster GAA coaches Teresa McGirr and Owen Mooney completed a cross community inservice day for the staff of St Columbans Belcoo, St Martins Garrison, St John Baptist Roscor and Corry Controlled P.S.
The day was to show the staff how to make the link between Key Stage One and Key Stage Two.
Everyone who took part in the day came away with lots of ideas of how to adapt games to suit different abilities.
During the day the practical aspect included the following topics:- Classroom Ice Breaker Games, Warm Up Activities, Family of Games For All, Task Cards where the participants were put into pairs and they had to coach the skill/game that was given to them.
The day was a fun way to gain new ideas as well as share ideas for the different schools.
Fermanagh Schools receive Coaching Session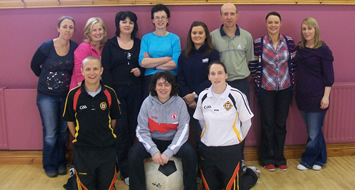 On Tuesday 2nd of November Ulster GAA Coaches Owen Mooney and Teresa McGirr put the staff at St Ninnidhs Derrylin through their paces at a staff in-service day. The day was organised to give the staff extra ideas on activities and games in preparation for their Inspection. The day was a huge success with everyone joining in the fun. The topics for the day were The Haka, Running Technique, Family of Games, Classroom Energizers and Classroom Calming Techniques.
Ulster GAA Primary Schools Coaches Owen Mooney and Teresa McGirr also recently put on a GAA In-service for the staff at St Marys Mullymesker. The day involved interactive games, ice breakers and ideas on breaktime and lunchtime games. The main area of the day included the staff working together to demonstrate, show and explain their game to the rest of the group. They were also taking through the family of games of target/court/field, non/part and full invasion games. The day was very informative, energising and a very worthwhile experience for all staff who took part.
Donegal Halloween Camogie Academy a huge success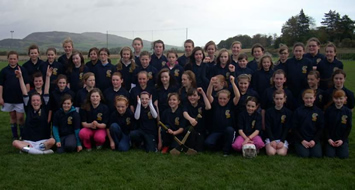 50 girls attended a two day Halloween Camogie Academy in Burt on the 26th and 27th of October 2010. The girls ranged in age between 11 and 16. Clubs represented on the academy included Four Masters, Letterkenny Gaels, St. Eunans, Burt and Carndonagh.
The girls received specialist training in the basic skills of camogie from top coaches Deidre Grant and Mickey Glover. By the end of the academy the improvement was notable.
A mini league was run over the two days with the girls split into eight teams. The games were very competitive and played with great energy and enthusiasm. After all teams playing 7 games each Co-ordinator Yvonne Byrne deemed team "Mayo" the winners!!!!
At the end of the academy all participants received a t-shirt. The academy was enjoyed by all involved and all teams are already looking forward to the next academy!
Spooky Sports in Armagh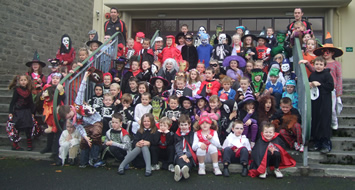 During Halloween Week, Primary Schools in the Armagh/Keady area have been taking part in some Spooky Sports.
Spooky Sports was organised and run by DENI coaches Karol McQuade and Stephen Quinn and took place in 4 different venues during the week.
Spooky Sports is a Halloween themed sports day with the kids taking part in up to 20 different stations/games. These included Jump the Spider, Whack the Witch, and Skeleton Skittles.
Over 300 children from 8 local schools took part and enjoyed these Spooky Sports days dressed up as wizards, vampires and witches etc.
There were prizes for best dressed and this added to a "Spooktacular" event.
What's Happening this Month - December 2010
We are adding a new section to our online newsletter to highlight key events and activities taking place across Ulster from month to month.
This edition we look forward to December 2010, when there is a full schedule of activity planned.
Download:
- What's Happening in December 2010 (Excel Document)
back to top