Cross Secure 9th Ulster Title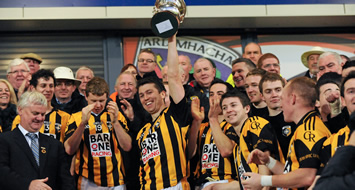 AIB GAA Ulster Club Senior Football Championship Final:
Crossmaglen (Armagh) 2-11 Burren (Down) 0-10
A goal in either half helped Crossmaglen collect their ninth Ulster Club Championship with a comfortable win over Burren.
Veteran Oisin McConville and Kyle Carragher were on hand with goals at vital stages in the game to make sure that Cross would cruise to victory.
The Armagh men raced into an early 0-5 to 0-0 in the opening minutes of the game and looked to be totally in control. Points from David McKenna, Aaron Cunningham, Aaron Kernan and Jamie Clarke helped that early lead.
Things got even worse for Burren when influential midfielder Anton McArdle was red carded for an off the ball incident. Donal O'Hare helped his Burren side get off the mark but it was not looking good for the Down men.
Loughgiel retain SHC crown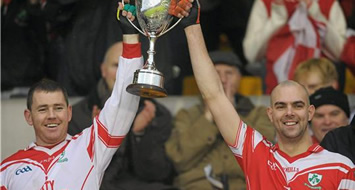 Loughgiel retained the Ulster senior club hurling title with a comfortable victory over Down champions Ballycran in Sunday's decider at a rain-lashed Casement Park.
Ballycran had the wind advantage in the first half but they failed to make it count and Antrim champions Loughgiel led 0-8 to 0-5 at the break.
Ballycran had stayed in touch with Loughgiel in the first half but that all changed on the restart.
Eddie McCloskey scored Loughgiel's opening goal early in the second half with a dipping shot under the bar.
McCloskey's goal was followed by two points from Joey Scullion and from here it was a stroll for the holders.
Airtricity to sponsor GAA Health Booklet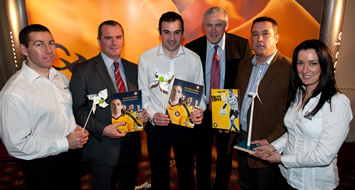 Ulster GAA has announced Airtricity as the new sponsor for their Primary School Health Booklet.
Speaking at the announcement of sponsorship Ulster GAA President Aogán Ó Fearghail stated, "I am absolutely delighted to welcome Airtricity onboard as sponsors for our very successful Primary Schools Health Booklet and I look forward to working with them over the coming year.
"Ulster GAA's Health booklet is specially designed to promote healthy eating and healthy living to primary school children. We hope it will inspire children to think about what's good for them and hopeful introduce some healthy living into their young lives."
"Airtricity is an ideal partner for this project as they already have a good track record of providing educational material for children and young people to understand energy and sustainable living. We hope this will compliment the work of Ulster GAA's school coaches to bring a strong message to over 10,000 children over the coming year about good living practices."
Kukri to Sponsor Schools Comp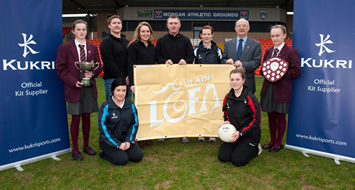 Ulster Ladies Gaelic are delighted to announce that Kukri Sports, who supply sportswear to over 75 different sports are now the official sponsor of all Ulster Ladies Schools competitions and the Ulster Ladies Schools All Star team. The partnership between Ulster Ladies Schools and Kukri Sport was signed recently at the Morgan Athletic Grounds, Armagh.
As part of the sponsorship agreement Kukri Sport will provide the team kit for the Ulster Schools All Star team for their participation in the All Ireland inter-provincial schools tournament. Ulster will defend their Inter-provincial title in Kinnegad in January.
Speaking about the new partnership, Neil Patterson, Regional Sales Manager Ireland , commented, "Kukri Sport is delighted to be sponsoring the Ulster Ladies Schools competitions and to be providing their All Star team with a uniquely designed kit for their upcoming competition. We are proud to be associated with the Ulster Schools competitions and wish their All Star team the very best of luck as they take on Connacht, Munster and Leinster".
Ulster Camogie Awards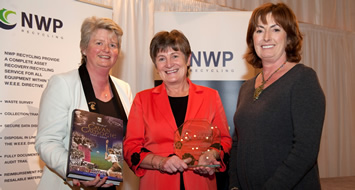 Camogie Association President Joan O'Flynn; DCAL Minister Caráil Ní Chuilín; Ulster GAA Vice President and Integration Chairperson Martin McAviney; Ulster Hockey Chairperson Alan Morris and Caolan Woods of NWP Recycling were the special guests at the event which saw 10 different awards presented.
Down's Orla Maginn received the Senior Player of the Year award, with Cavan's Elaine Reilly taking the Intermediate award. Aisling Corr of Tyrone was honoured with the Junior Player of the Year accolade.
Two awards were handed out at Minor level, with Antrim's Ruby Marie Rice taking the award for the Cup competition, while Armagh's Eadaoin Murphy was honoured with the Shield accolade.
The area of administration was also heavily recognised at the event, with Derry's Sinead Cassidy claiming the Administrator of the Year award.
Presbyterian Minister challenges GAA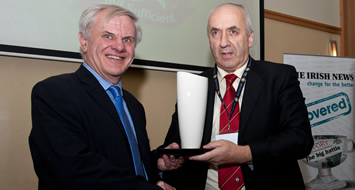 GAA club volunteers crowded into Armagh City Hotel today for the 5th Annual Irish News Ulster GAA Club and Volunteer Conference.
Over 400 Gaels attended the flagship community conference which focused on the challenges facing GAA clubs in harse economic times.
As part of Ulster GAA's ongoing outreach programme Rev Norman Hamilton from the Presbyterian Church addressed conference and received a standing ovation for his contribution.
One of the highlights of the day was a panel session hosted by BBC's Lynette Fay which included some best loved GAA personalities including Mickey Harte, Brian Dooher, Joe Brolly and Peter Quinn. Minister for Culture, Arts and Leisure Cara Ní Chuilin also joined the panel to give her view of current issues facing the GAA.
Ulster GAA 'Investing in Volunteers'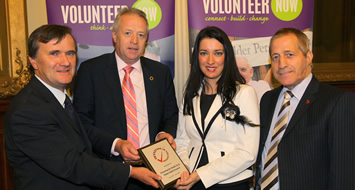 Ulster GAA Council has been awarded the 'Investing in Volunteers' standard which recognises and promotes best practice in volunteering.
Being awarded this standard is a significant achievement for any volunteer-led organisation but is all the more significant for Ulster GAA Council as this is the first time any sporting governing body has been awarded the standard across Ireland, England, Scotland and Wales.
Speaking at an Awards Ceremony held at Belfast City Hall recently Ulster GAA Vice-President Martin McAviney said, "We are very proud to have achieved this standard which is all about our volunteering practices. Ulster GAA Council is 100% driven by volunteers. All our members and officers are volunteers and we believe this award recognises the invaluable contribution GAA volunteers make not only to the Association but to our communities.
Companies exhibit at conference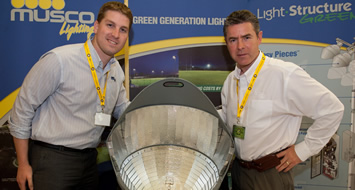 Ulster GAA would like to take this opportunity to thank the businesses and organisations who supported the recent Irish News Ulster GAA Club and Volunteer Conference.
The Irish News was back again as the main sponsor for the event and their continued support is greatly appreciated.  Their contribution to the club and community conference is significant not only in terms of their sponsorship but in helping to promote the conference through editorials and advertising five weeks out from conference date, their involvement on the day providing speakers, giving out free copies of the Irish News, advising clubs on the new Club Call and providing assistance to clubs and offering promotional materials for their use.  For more information on Irish News log onto: www.irishnews.com
The exhibition area at conference is always a key area for club delegates to visit to get advice, promotions and discounts. 11 businesses/organisation took stalls this year and Ulster GAA appreciates their support and were delighted to have all these companies part of the conference.
Platinum Club Maith for Warrenpoint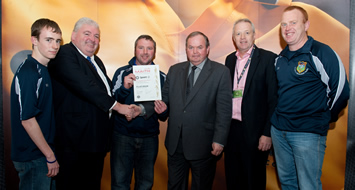 St Peters GAC Warrenpoint became the first club to achieve a Platinum award since the Club Maith scheme has become licensed as part of Sport NI's Clubmark scheme. The Irish Sports Council have also endorsed the scheme.
Platinum clubs are exceptional GAA clubs achieving all Club Maith criteria. Club representatives were presented with their award at the recent Ulster GAA Club and Volunteer Conference by GAA President Elect Liam O'Neill.
Clubs receiving a Club Maith award are accredited for three years. Thus far nine clubs have been accredited in the scheme with over 100 clubs actively in the process of completing their Club Maith Portfolio.
An "Applying for Club Maith" workshop will be rolled-out in each county in the upcoming Club Officer Training programme in early 2012. For any queries relating to Club Maith please contact Maura Kelly on maura.kelly.ulster@gaa.ie
Conference highlights Scór successes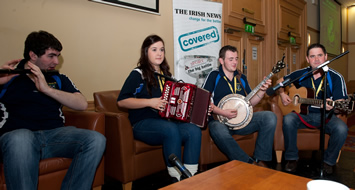 The Irish News Ulster GAA Cub and Volunteer Conference provided a platform to showcase the importance of Scór and Scór na nÓg.
In 2009, the decision was taken to promote Scór at the Club and Volunteer Conference to mark the 40th anniversary of Scór. It was received with great acclaim by conference delegates and has since become an important part of the conference opening.
This year, Ulster GAA proudly welcomed two Scór acts to perform at conference:
Sarah McVeigh is the current Scór na nÓg Ulster Solo Singing Champion. In 2011 she also claimed an All Ireland medal with her Club's Ballad Group. The talented singer and harpist from Saul in County Down officially opened conference.
Irish News Club Call Launched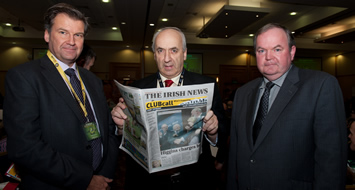 The Irish News used the platform at the Club and Volunteer Conference to unveil their revamped Irish News CLUBcall platform which runs in the paper every.
The CLUBcall platform allows all clubs to communicate any aspect of the club to ensure that there is a strong awareness of club activity to internal and external audiences.
Irish News Marketing Manager John Brolly explained, "It is important that clubs promote their events and activities to ensure there is as large engagement and participation as possible and CLUBcall is an excellent community notice board to highlight your club initiatives".
Simply email clubcall@irishnews.com with a 100 word summary.
'Off the Booze and On the Ball'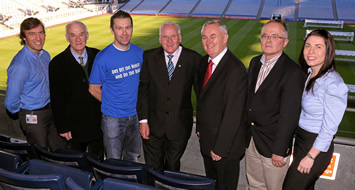 Ulster GAA has backed an exciting new health challenge to its members … 'Off the Booze and On the Ball', which was launched in Croke Park recently.
This fun challenge with a healthy twist invites participants to abstain from alcohol for the month of January and in doing so seek sponsorship to go towards their local GAA club. Participants are also encouraged to engage in some new exercises that help them reach their recommended weekly activity levels during the month, and hopefully beyond.
The challenge was extended personally by Uachtarán Chumann Lúthchleas Gael, Criostóir Ó Cuana, who launched the event along with Armagh and Crossmaglen's Oisin McConville.
MTV 'Hurling Showcase'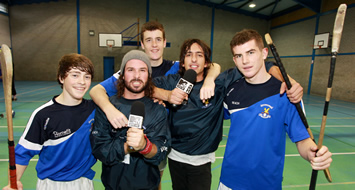 Earlier this month celebs from across the globe travelled to Belfast for the MTV Awards and Ulster GAA got into the act to promote hurling to an international audience.
As part of the massive MTV production, MTV producers developed a spin-off programme of key attractions in Belfast and as part of this Hurling was showcased.
St John's U18 Ulster Championship Finalists hosted 'Robbie and George-Rat' from MTV UK to illustrate the unique skills of hurling. Ulster GAA coaches Rhona Thorney, Kevin Hinpley and Ronan McWilliams were at hand to coach the two MTV comedic presenters some of the key skills of hurling.
Applications Open for Diploma in Performance Sports Management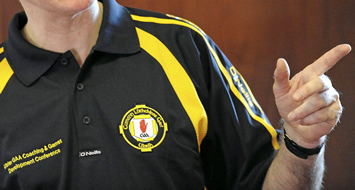 The Ulster GAA in partnership with Open College Network is currently running a fully accredited course in Performance Sports Coaching which will be followed up in early spring with a similar course in Performance Sports Management. These courses are pitched at the same difficulty and complexity as A-Level or Leaving Cert. The objective is to reward the hard work undertaken by many volunteers in clubs and schools and provide them with the opportunity to bring this into a formal qualification. In times of economic hardship and unemployment, the GAA Club environment can help people develop new skills and competencies that they can use when seeking employment.
Our long term vision is to have a number of mandatory units / modules that we Ulster GAA offer our volunteers. These will build into certificates in respective areas. If the volunteer over time takes a number of these they can begin to build a qualification at level 3 / 4 by taking these mandatory modules and then by accessing further optional modules that exist within the Qualifications Credit Framework. This we envisage would potentially build into a "Degree in GAA Related Studies".
Defibrillator Training for Clubs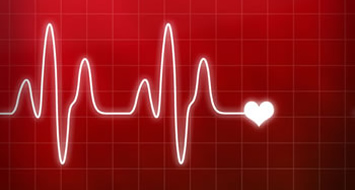 Ulster GAA has entered into an exciting new partnership with the Department of Health which will see Defibrillator training offered to Clubs. Many Clubs in Ulster have sourced Defibrillators but the cost of having members trained and this training refreshed can prove costly. It is hoped that this initiative will make training more affordable for Clubs and result in the GAA offering defibrillator training in house.
As per arrangement with the Department, the initiative is at pilot phase and a select number of Clubs have been offered training on an initial basis. A review will follow and the likely outcome is that the Initiative will allow for expansion with Clubs throughout Ulster benefiting from the scheme.
In the interim Clubs who's members training has expired are asked to seek refresher training from a reputable source and continue to check their equipment on a daily or weekly basis.
Club Officer Training 2012 Details announced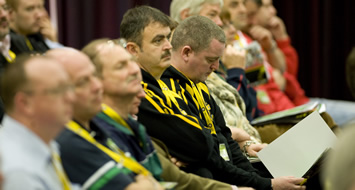 Following on from the success of two successful years of the Club Officer Training Programme Ulster GAA has announced details for the third annual Club Officer Training Programme.
The Club Officer Training Programme is a half-day county event for all club officers.  It aims to support club officers in their roles as GAA Officials in 2012 while also providing a networking opportunity for club officers to meet people from other clubs in similar positions.
The 2012 Programme will run every Saturday from January to April 2012 and will include two key events:
Club Officer Training for NEW Officers: This training is for people new to their officer role across all clubs in Ulster.  It will provide role specific training for Chairpersons, Secretaries, Treasurers, PROs, Children's Officers, Coaching Officers, Cultural and Community Officers and Club Development Officers.  This training is free to access and will take place on Saturday 14th January from 10am to 1pm in Holy Trinity School, Cookstown.  Lunch will be provided by Ulster GAA and registration is vital.
Club Officer Development Course: This course is to develop the skills and knowledge base of all club officers in Ulster.  A Club Officer Development Course will be held in every county in Ulster and all clubs are required under Club Maith to have representatives at this course.  The Development Course will explore the key issues facing GAA Club official including: Integration – the One Club Model, Developing a Club Plan, Applying for Club Maith, Club Finance Toolkit, Healthy Clubs and Respect & Discipline.
Anyone wishing to registration for these events should email sharon.haughey.ulster@gaa.ie
Award 2 Coach Education Programme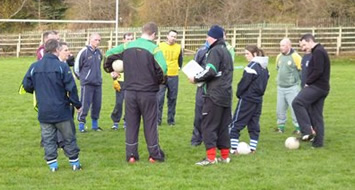 The Ulster Council Coach Education Programme continues to evolve as we move into autumn/spring 2011/12.
Ulster GAA has just completed an Award 2 Football Youth & Adult Course in St Patrick's College, Armagh. This course was run over 2 consecutive weekends from Friday to Sunday. The quality of the coaches and the course content was excellent and the coaches were challenged throughout.
The course was attended by 30 coaches from Armagh, Cavan, Monaghan, Tyrone, Down, Antrim and Derry.
World Champion Handballer at Holy Cross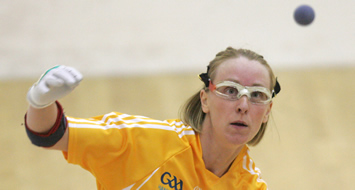 World Handball Ladies champion, Belfast's Fiona Shannon joined the pupils of Holy Cross Boys' Primary School this week to help launch their new One-Wall Handball facility recently installed at the school. The school has competed successfully for the past decade in the 4-Wall version of Handball, but the latest craze of the One-Wall code has been welcomed.
GAA Handball Ireland Chief Executive Officer, Chris Curran, made the boys aware of the possibility of One-Wall Handball being an Olympic sport in the not too distant future, and that he hoped to see some of the boys at the World Handball Championships 2012, scheduled for the City West hotel in Dublin, next October.
Hydebank Game of Three Halves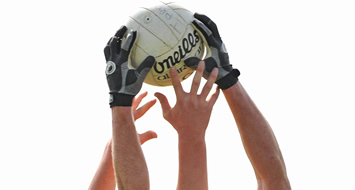 Forty eight young men from Hydebank took part in a Game of Three Halves event on Sunday 30th October. Ulster GAA, Ulster Rugby, the I.F.A coaches delivered coaching of the basic skills from each of the sports, drawing the day to a close with an opportunity to play a game of each sport. Peaceplayers International were on-hand to deliver some thought-provoking discussions to correspond with the positive impact on the young men trying new sports in a team environment.
Ulster GAA's involvement came about as a result of their partnership in the Game of Three Halves initiative, in conjunction with the I.F.A and Ulster Rugby. Ulster GAA's Diarmaid Marsden and Tony Scullion were very impressed with the positive response, and enthusiasm from the participants. Hydebank management were grateful of the professionalism of all coaches involved and welcomed plans to extend the programme to other sections of their operations.
Live to Play in Derry and Antrim
The Live to Play Roadshow was on the move again this month with 3 events taking place in Derry and Antrim. Coleraine Eoghan Rua, An Lúb and Glenravel were the host Clubs, with other GAA clubs in the areas attending on the night.
Live to Play is the Ulster GAA's Road Safety Awareness programme and is delivered to Clubs in conjunction with the County boards. Paul Gaile (Derry) and Tony McCollum (Antrim) co-ordinated events for their respective Counties and deserve great credit for their efforts in making them a success. The host Clubs themselves are also to be commended for endorsing the importance of safety on the roads by promoting the Campaign.
Further events are planned for 2012 and it is hoped that during the winter period that GAA members are mindful of the Live to Play messages and stay safe on the roads.
Drink, Drugs and Sausage Rolls off the Student Menu!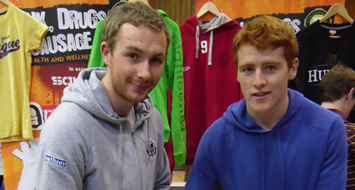 Ulster GAA, in conjunction with Squareball.com has re-launched its student Health and Wellness programme, Drink, Drugs and Sausage Rolls, with the aim of helping young people make the transition from home life to student life.
Tyrone GAA stars Peter Harte and Sean O'Neill were among the crowds of students to visit the 'Drink, Drugs and Sausage Rolls' stall at recent fayre in St. Mary's University College.   The stall was present at all the major university campuses with over 2000 leaflets distributed advising students on how to live a healthy life while still having fun!
Now in it's fifth year, the recognisable stall proved ever popular with freshers and returning students alike, and with the chance to win trendy Squareball gear offered to all visitors, it's no surprise the stall was a hit this year!
South Africans 'Have a go'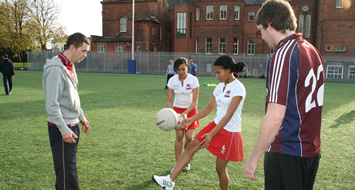 A touring party of young people from South Africa spent a day at St Mary's University College, Belfast on Thursday 13th October. During the day the girls were coached Gaelic Games by GAA Development Officer Ryan Mellon and Year 3 PE Students.
The Group are part of the Out of Africa Christian Organisation, who, provide extra schooling and sports for young people from townships in George, Western Cape in South Africa.
The aim of the Sports Academy is to transform and develop the next generation of young people through sports, whereby, they teach students the value and responsibly of being part of a team, being accountable to themselves and the rest of their teammates.
BT MacNamee Cup final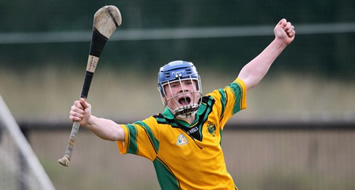 BT MacNamee Cup Final:
St Mary's Belfast 2-7 St Killian's Garron Tower 2-3
A goal 7 minutes from time looked as if it was going to change this enthralling BT MacNamee Cup in Ballymena recently.
A handling mistake in defence from a long Daniel Black delivery left an easy chance for St Killian's corner-forward Ronan McCambridge to slot home their second goal. It put them a point up with the wind at their backs.
However St Mary's rose to the challenge and hit an unanswered 1-2 in the last 5 minutes to snatch a victory their overall contribution to the game probably deserved.
Good start for first time hurlers in Tyrone
This week past hurlers from 4 schools in West Tyrone ventured into the unknown and participated as an amalgamated team in the Casement Cup, an u18 Ulster Colleges hurling competition for the first time ever.
This team is made up of players from Holy Cross College, Strabane, Sacred Heart College, Omagh, St Ciaran's College, Ballygawley and Omagh CBS.
The players have been training together once a week in Omagh CBS from the start of September to take part in this initiative backed by the Schools, Tyrone County Board and Ulster Colleges.
On Tuesday 4th October the 4 weeks training was put to the test against St Colman's from Co Down in a fiercely contested first game played in good conditions at Sherry Field in Armagh.
GAA Football Gold DVD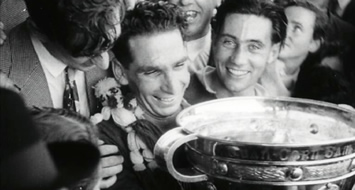 The IFI Irish Film Archive launched the GAA Football Gold DVD at Croke Park with a gathering of footballers of different generations who will toast a different era in the history of Gaelic Football. The GAA Football Gold DVD is the first time that the All- Ireland Football highlights from the National Film Institute (now the IFI) has been available to own at home. It follows the hugely successful GAA Hurling Gold DVD which was one of last Christmas' must have stocking-fillers. The beautifully presented DVD is priced €19.99 and is available from www.ifi.ie, the IFI Film Shop and all good retailers, with profits going to the newly launched IFI Irish Film Archive Preservation Fund.
The films capture a different era of gameplay and some of the greatest football players in GAA history such as Galway's Frankie Stockwell and Seán Purcell, Cork's Denis "Toots" Kelleher, Dublin's Kevin Heffernen, Kerry's Mick O'Connell and Seán Murphy; and Cavan's Peter Donohoe, P.J Duke and John Joe O'Reilly.
Antrim Hurling Progress Report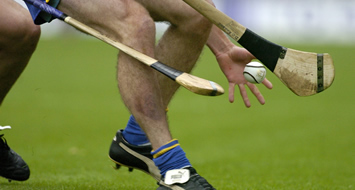 The finals of the Scullion Hurls 7 a sides were played on Friday 4th November at Casement Park
In the B semi finals , Lamh Dhearg defeated Gort na Mona and Kickhams Creggan defeated Tir na nOg . In the A semi finals , Cuchullains defeated Glenshesk , with Mc Quillans coming out on top over St Endas by a point
The B final was then played with Creggan Kickhams emerging winnners over Lamh Dhearg and in the A final Mc Quillans overcame Cuchullains
After both finals , Michael Scullion presented the 10 players from Kickhams and 10 from Mc Quillans with their specially made trophies. He also presented the wining clubs with a Hurley marking their wins in the blitzes.
Fermanagh DENI Coaching Activities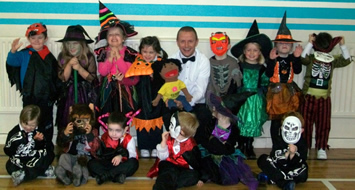 DENI Key Stage 1 coach Owen Mooney recently organised a FUN day through the theme of Halloween in St Patricks Derrygonnelly. The theme was on Handling and involved activities related to bouncing, catching, throwing & hand passing as well as activities on what Halloween is about and why is is a good time of year to dress up and look scary.
The children had a great day in their spooky costumes and really enjoyed the activities.
Owen is pictured with P1 in St Patricks Derrygonnelly as well as his new puppet friend Genie, who was kindly given to him by the Principal Mrs Eileen Glynn.
Donegal Camogie Referee Course Held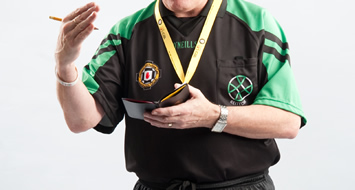 On Saturday the 12th of November 2011 Donegal Camogie County Board held its first Camogie Referee Course for its clubs.
Six clubs were represented with 15 participants taking part. Top Camogie Referee and Tutor Una Kearney delivered the course. With the high standard of tutoring and of the participants attending the course, refereeing standards in Donegal are set to hit new heights.
It is an exciting time for Camogie in Donegal with the increase in the number of new clubs. With the county's fixtures expanding every year these newly qualified referees are set for a busy 2012.
A huge thank you to Una Kearney for delivering the course and sharing her expert knowledge and experience. Thank you also to the Donegal Camogie county board, the Donegal clubs for their participation and the St Eunans club for the use of their facilities and their hospitality on the day.
Derry Schools Coaching Report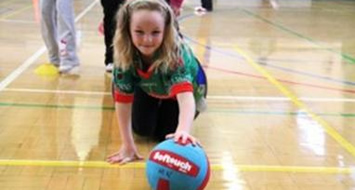 Over 200 children aged between 6 and 8 years old from the North Derry primary schools enjoyed a full day of GAA fun at Roe Valley Leisure Centre, Limavady provided by the Ulster GAA KS1 coaches. Across three indoor halls the future GAA stars took part in small sided games and FUNdamental skill stations based on handling skills they have been developing during their PE lessons with their coach. Similar events will be staged in South Derry and in the city later in the school year focussing on kicking and striking skills.
Hurling Blitz
On Tuesday 22nd November, the Derry Coaching staff organised a very successful Hurling Blitz for Key Stage 1 children in Lavey GAC. The event was attended by 5 schools, each with an "A" team and a "B" team. The event was aimed at increasing the boys' ground striking ability, with each school playing a total of 8 games each. It was a very worthwhile day with a total of 68 boys participating and everyone having a fun filled time.
GAA/IFA Olympic Fun Day in Antrim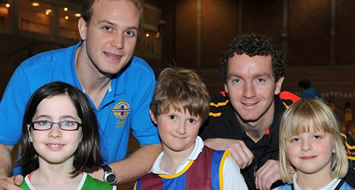 The Olympics came to Antrim on Monday 21st November in an Olympic Funday organised by the IFA and GAA. The event was aimed at raising awareness of the London 2012 Olympics and Paralympics and also to raise awreness of the IFA/GAA Primary School Programme. Over 100 children from Parkgate PS, Rathenraw Integrated PS and St Comgall's PS took part in the event which was aimed at P3/4 children of all abilities. The event gave children the opprtunity to take part in different Olympic and Paralympic sports such as seated volleyball and the javelin. The event was organised by IFA coach Colin Roden and Ulster GAA coach Eoghan Gribbin.
The Olympic Fun Day gave children the opportunity to practice skills such as throwing and catching which they learn with their IFA/GAA coach on a weekly basis.
What's Happening this Month - December 2011
We are adding a new section to our online newsletter to highlight key events and activities taking place across Ulster from month to month.
This edition we look forward to December 2011, when there is a full schedule of activity planned.
Download:
- What's Happening in December 2011 (Excel Document)
back to top