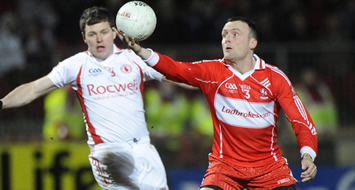 Allianz NFL Division 1:
Tyrone 0-14  Derry 0-11
The Red Hand again showed an extremely powerful finish that has served them so well throughout Mickey Harte's reign. They looked likely to lose before scoring three quick points on the bounce to ensure a deserved three-point win.
Eoin Mulligan missed a penalty in the second half so with that in mind, Tyrone were worthy of the win.
Derry will take a good deal from the game, in particular Paddy Bradley's six points. His first on two minutes with the outside of the foot was probably the best, but Seán Cavanagh restored parity two minutes later.
Davy Harte tapped over a beauty on six points, only for a Bradley free – after he was fouled – to make it two points apiece. Seán O'Neill and McGuigan [from a free] eased Tyrone 0-4 to 0-2 ahead.
Paddy Bradley was set up by brother Eoin on 17 minutes to reduce the margin, before a gorgeous point from the Glenullin man – his fourth – to level matters.
McGuigan tapped over another free that was cancelled out by James Kielt, only for Colm McCullough to get off the mark and restore Tyrone's slender lead.
Hitherto, Eoin Mulligan had been rather quiet, yet his class was exhibited by a brilliant 32nd-minute point. McCullough's second free left it 0-8 to 0-5 at the break.
Clearly, Derry were keen to begin the second half well: they notched four without any revenge from Tyrone. Enda Muldoon, on a rare attack, scored the first with calmness after an incisive Paddy Bradley pass across the field.
Captain Barry McGoldrick reduced the gap to one and Paddy Bradley would add yet another point after he was upended to level the scores.
Derry continued to dominate and Eoin Bradley, basking in the team's new-found confidence, turned quickly to score from about 30 yards.
Davy Harte scored his second for Tyrone, with Paul Murphy's score cancelled out by McGuigan's third free.
McGuigan cleverly set up Mulligan, who could have gone for goal but curled over to level the scores. McGuigan was again instrumental in playing Cavanagh – who was without a marker – in on goal on 57 minutes.
Seán Leo McGoldrick took him down, got away without a yellow card, and Shane McGuckian advertised his goalkeeping credentials by saving a poor Mulligan penalty.
McGoldrick was then pulled down by Philip Jordan. Paddy Bradley notched his final point to ease Derry 0-11 to 0-10 ahead. They would not score again.
McGuigan added another free but Derry ought to have gone ahead through substitute Eoghan Brown; however, he inexplicably missed from close range after Derry were awarded a very soft free.
Kevin McCloy fouled McGuigan and he was coolness embodied to put the Red Hand a point ahead – and that is when their class and fitness showed against a Derry team still only training once weekly.
Cavanagh, who was overall not at his best, pointed brilliantly with his right foot, as did Kevin Hughes to remove all doubt about the outcome.
—
Allianz NFL Division 1:
Westmeath 1-7  Donegal 0-15
Westmeath relinquished their Division One status with a tame defeat to Donegal in a poor game at Cusack Park on Sunday. The Lake County have endured a dire league campaign, losing all their matches so far, and even though they got close to Donegal on a few occasions, they were well outplayed throughout.
Conditions were bad early on, with rain and wind helping to create a patchy game low on quality. A Denis Glennon free put Westmeath in front but it was equalised by a fine effort from the outstanding Christy Toye. It was all Donegal for the rest of the half. Brendan Boyle and Ryan Bradley knocked over two points apiece and although Michael Ennis ended a lengthy scoreless run from Westmeath, Donegal led 0-6 to 0-2 after 27 minutes.
Yet there was drama before the end of the half with a Westmeath goal against the run of play drastically changing things. A long ball into the square from a Glennon free was won by Niall Kilcoyne who finished brilliantly to level things up. David Walsh managed to point for Donegal in first-half injury-time to leave the visitors 0-7 to 1-3 in front at the break.
A Michael Doherty point after the restart extended Donegal's lead but two quick points from Dermot Bannon and Doran Harte restored parity. Westmeath didn't deserve to be still in the game such had been the weakness of their efforts but they almost took the lead when Glennon wasted a glorious goal chance shortly after Harte's equaliser.
Donegal took advantage of the miss to press forward. A quick brace from Toye, followed by Bradley's third point of the day put them three clear again. Glennon reduced the gap to two again but late points from Stephen Griffin and Brian Roper secured the points for Donegal and called time on Westmeath's sorry league season.
—
Allianz NFL Division 2:
Monaghan 2-13  Cork 1-9

There was a slight delay to the Monaghan-Cork game at St Mary's Park in Scotstown, Paul O'Flynn of Cork getting the first score after 30 seconds once it finally did get underway.
Monaghan's response in wet conditions was impressive though as Stephen Gollogly levelled matters and Tommy Freeman then put them in front after great set-up play from Gary McQuaid. With the Farney County looking to gain some momentum Paul Finlay then shot wide, allowing Cork to level again after a patient passing move ended with Nicholas Murphy splitting the posts.
The sides were level for the third time after a Donncha O'Connor free was responded to by a fine off-balance point from Monaghan's Darren Hughes. O'Connor quickly pointed again before Freeman gave his side a huge lift with a blistering goal. McQuaid was the man who again set up the score, feeding the superb Freeman, who lashed the ball right-footed to the Rebels' net.
That kick-started a purple patch for the home side as Finlay took over scoring matters with a quickfire treble, however, poor marking at the back for the Ulster side then saw Daniel Goulding in acres of space to collect a Paul Kerrigan pass. The Eire Og forward expertly found the net, but his side trailed by 1-8 to 1-4 at the break and had seen midfielder Alan O'Connor yellow-carded.
Rory Woods lobbed over the first point of the second half for Seamus McEneaney's charges, before a super point from Cork's Kerrigan. John Hayes then reduced the deficit to three before a lovely score from Farney sub Paul McGuigan, collecting a Freeman pass and ignoring all challengers to kick between the posts.
Finlay and Goulding then traded two frees apiece before Monaghan's Dick Clerkin became the second player to be shown a yellow card. However, his absence was made up for when his side got the day's crucial score with their second goal. Alan Quirke did well to deny a belted effort from Freeman, but his parry fell for Raymond Ronaghan, who found the roof of the net from close range, making it 2-12 to 1-8.
Finlay and James Masters traded late scores, but seven points remained the difference at the finish, not even the introduction of Aisake Ó hAilpín late on preventing them from that first defeat of the campaign.
—
Allianz NFL Division 2:
Fermanagh 1-08  Kildare 0-16
Kildare edged ever closer to promotion to Division One with a dogged victory over Fermanagh at Brewster Park on Sunday.  Kildare were always in front, and although Fermanagh never strayed too far from being in the game, getting back into it with Pat Cadden's second-half goal, there was an impressive inevitability to Kildare's supremacy which condemns Fermanagh to relegation from Division Two.
In damp, windy conditions, Kildare took an early two point lead with efforts from Eamon Callaghan and Robert Kelly. Aidan McGuire and Kieran McIlroy got the Ulstermen's first scores but the irrepressible Johnny Doyle kept the Lilywhites in charge with a sweet brace. That was all the scoring for what was a truly awful first half with Kildare ahead 0-4 to 0-3 at the break.
The weather and the standard rose after the restart but Kildare remained in front, moving three clear with points from Ken Donnelly, Doyle and Callaghan. Fermanagh though, pulled themselves into contention with Cadden's goal but it had been preceded by a flurry of scores from Kildare, who stayed strong to the finish to hold out for a five-point win, helped by a couple of late efforts from Donnelly.
—
Allianz NFL Division 2:
Armagh 1-13  Meath 0-13
A goal from full-back Finian Moriarty in the first half proved crucial for Armagh as they defeated Meath in Crossmaglen on Sunday.
The result keeps the Orchard County's hopes of promotion from Division Two intact and they now lie just one point behind the Division's top three teams Kildare, Cork and Monaghan.  The game was tight throughout, with the first half extremely close as both sides cancelled each other out. Steven McDonnell scored two early points for Armagh but scores from Cian Ward, Stephen Bray and Nigel Crawford gave Meath an early 0-3 to 0-2 lead.
The decisive score of the half came when Moriarty, who had been injured early in the game, produced a magnificent finish to finish a sweeping Armagh move with a goal. Ward kept Meath in it with his excellence from frees and open play but Armagh, bolstered by the return of an increasing number of Crossmaglen players including Stephen and Aaron Kernan, led 1-5 to 0-7 at half-time.
The second-half remained close but Armagh always managed to preserve a decent buffer and late points from Martin O'Rourke and Ryan Henderson sealed the win. Ward hit seven points in total for Meath while McDonnell and Aaron Kernan had four apiece for the victors.
—
Allianz NFL Division 3:
Cavan 0-14  Roscommon 0-06
Cavan kept their promotion hopes alive with a convincing 0-14 to 0-6 win over rivals Roscommon at Kingspan Breffni Park.
Seanie Johnston was the main man for Cavan, kicking seven points [0-5f] in a fine display, while midfielder Ciaran Galligan kicked two points from play.
Roscommon were disappointing in the opening stages and amassed an alarming number of wides from placed ball. They played with the wind at their backs and still found themselves 0-6 to 0-5 down at the interval.
Cavan powered ahead after the break and points from youngster Eugene Keating and substitute Martin Reilly.
Seamus O'Neill and Donal Shine, the Roscommon midfielders were both taken off such was Cavan's dominance in that area, while their case was not helped by the sending off of John Dunning for a head-butting incident late on.
However, Cavan were completely dominant on the day and will hope that two points against their promotion rivals will help them to join Tipperary in Allianz NFL Divison Two.
—
Allianz NFL Division 3:
Down 2-15  Offaly 1-07
Down go top of Division Three – at least overnight – after a one-sided 2-15 to 1-7 rout against Offaly at Páirc Esler.
The Mourne Men led by 1-7 to 1-3 at the break, Niall McNamee's major keeping The Faithful in the match. Stephen Kearney scored the Down goal, though it could have been more: Alan Mulhall saved a penalty from Down's Aidan Carr.
With Kearney and Ambrose Rogers very influential, the home side pulled away in the latter half, Ronan Murtagh adding another green flag.
—
Allianz NFL Division 4:
Antrim 1-11  Sligo 0-09
Antrim gave their promotion hopes a massive boost by recording a 1-11 to 0-9 decision over chief Division Four rivals Sligo at Casement Park.
Sligo finished very strongly but met a stern resistance from The Saffrons' rear-guard and overall this was an impressive display from Antrim, who led at half-time by 1-6 to 0-5.
Paddy Cunningham scored 1-2, while Mark Dougan, Tomás McCann, Niall McKeever and Michael McCann notched a brace each.
Tony Scullion also scored a point for Antrim, who have not lost a game yet in the league.