Fermanagh Schools Coaches present at National Coaching Conference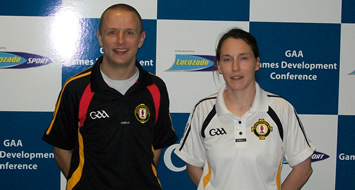 Ulster GAA coaches Owen Mooney and Teresa McGirr attended the GAA National Coaching and Games Conference to provide a practical demonstration on the Gaelic Start and FUNdamentals Programme that is currently being run all over Ulster. Owen and Teresa set up a range of stations and progressive games in order to give delegates an opportunity to see the activities that are provided within the programme. The session was hugely successful and very enjoyable for the delegates in attendance and also the children who participated in the activities.
Nicholas Walsh, National Games Development Officer for Primary Schools stated "The Gaelic Start Programme is a fantastic resource for clubs. Not only do the children learn new skills, games and activities; it also helps parents get involved in their children's play; they become the first coaches and this will not only benefit the relationships with children but also the clubs as they will gain new and enthusiastic players, volunteers and coaches".