Ulster GAA collects Workplace Award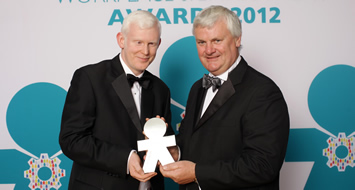 Companies representing sectors from pizzas to packaging, architecture to insurance, power to post, were lauded last night at the sixth annual Irish News Workplace & Employment Awards in the spectacular Titanic Belfast.
Allstate Northern Ireland – which a year ago was the inaugural 'Champion' – was the night's only multiple winner, clinching victory in two of the 18 categories.
While a handful of past victors made it back on to the podium, the gala night was as much about celebrating a clutch of new winners.
They included west Belfast-based Delta Print & Packaging which claimed the Right Place to Work prize for medium-sized organisations.
Ulster GAA took the Workplace Excellence Award while Copeland Ltd in Co Tyrone was named Best Place to Work.
Among the other first-time winners were Royal Mail, First Derivatives, Stage Crew and Nitec Solutions.
Among the new awards was Disability Best Practice Employer and the judges named joint winners here, with Belfast City Council and Todds Leap unable to be separated.
Little Wing Pizzeria fended off a number of rivals to win the Managing Talent category for small businesses.
"It's been a record year not only for the numbers entering but for the range of sectors represented and we're delighted that this year's Workplace & Employment Awards are yet another runaway success," Irish News editor Noel Doran said.
Employment and learning minister Dr Stephen Farry, who was a top-table guest at last night's function, told the 450-plus audience: "The aims of the Irish News Workplace & Employment Awards go hand in hand with the direction set out in my Department's Skills Strategy for Northern Ireland, and I'm delighted to be continuing our long association with this initiative."
Nick Hewer, who is Lord Sugar's right-hand man on The Apprentice and who also hosts Countdown each day on Channel 4, was the after-dinner speaker and regaled guests with a captivating and humour-laced insight into the business world of Sir Alan Sugar.
Last night's event, hosted by award- winning BBC journalist Karen Patterson, saw 18 main awards being presented alongside commendations.
The awards were supported by six key business partners in Tughans, Liberty IT, Tesco, PwC, Kingsbridge Private Hospital and Investors in People, and were endorsed by key industry bodies the Recruitment and Employment Confederation (REC) and the Chartered Institute of Personnel & Development (CIPD).
Winners 2012
Recruitment Team Of The Year
Winner: Bond Search and Selection
Recruitment Innovator Of The Year
Winner: Webrecruit Ireland
Best Agency To Do Business With
Highly Commended: Driver Hire Belfast
Winner: Stage Crew
Work Life And Well Being – Small/Medium Organisation
Highly Commended: Action Mental Health
Winner: GE Energy
Work Life And Well Being – Large Organisation
Highly Commended: ALMAC
Winner: Allstate Northern Ireland
Workplace Excellence
Highly Commended: Assumption Grammar School
Winner: Ulster GAA
Best Place To Work – Small Organisation
Highly Commended: People 1st
Winner: Todd Architects
Best Place To Work – Medium Organisation
Highly Commended: FPM Accountants LLP
Winner: Copeland Ltd
Best Place To Work – Large Organisation
Winner: Royal Mail
Disability Best Practice Employer
Winner: Belfast City Council
Winner: Todds Leap
Right Place To Work – Small Organisation
Highly Commended: Aurion Learning
Winner: Nitec Solutions Ltd
Right Place To Work – Medium Organisation
Winner: Delta Print and Packaging
Right Place To Work – Large Organisation
Highly Commended: Lloyds Banking Group
Winner: Allstate Northern Ireland
Managing Talent – Small Organisation
Highly Commended: Young Enterprise Northern Ireland
Winner: Little Wing Pizzeria
Managing Talent – Medium Organisation
Highly Commended: Autoline Insurance Group
Winner: Musgrave Retail Partners
Managing Talent – Large Organisation
Highly Commended: Care Circle Group
Winner: First Derivatives PLC
Innovative Employer – Small Organisation
Highly Commended: Todd Architects
Winner: Manor Architects
Innovative Employer – Medium/Large Organisation
Highly Commended: Firstsource Solutions
Winner: Autoline Insurance Group