Big Screen set for Ulster Finals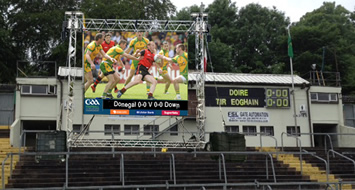 Ulster GAA has confirmed that for the first time this years Ulster GAA Senior Football Final will feature a big screen in St. Tiernachs Park Clones. The screen will show both games and will also feature replay shots and pre match entertainment including commentary from sideline during half time at both games. The new initiative has been put in place as part of the new Ulster GAA marketing strategy which has seen attendances for the last four Ulster Competitions (Ulster Club Championship, Power NI McKenna Cup, Under 21 Championship and the 2012 Ulster Senior Championship) increase by an average of 20% per competition.
Commenting Ulster GAA President Aogan O'Fearghail said: "We have had a strong and robust marketing campaign in place since September last year that has promoted our games and events extremely well. We have been listening to our membership and its is clear that exciting and attractive games, an admission price reduction mixed with a innovative marketing strategy has worked with our attendances up across the board. The big screen at the final will provide us with an opportunity to enhance the already incredible atmosphere of the Ulster GAA Senior Football Final. We will also be recognising the 1987 Derry Ulster Senior Football Champions on Final day and everyone in the Stadium will get the opportunity to see this great team being honoured for their success via the big screen. I am grateful to our PRO Oliver Galligan supported by the Staff Communications and Marketing team who have done fantastic work over the last year in highlighting that nothing beats being there"
For more information please view www.ulster.gaa.ie or follow the Ulster GAA social media networks www.facebook.com/ulstergaa or www.twitter.com/ulstergaa
Attached is a mock-up picture of the screen in situ at the rear of the O'Duffy Terrace in St Tiernachs Park, Clones.