Justice Minister visits Ceannarás Uladh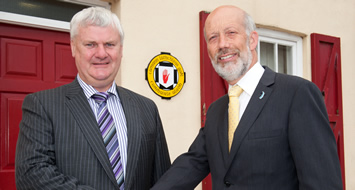 The Minister for Justice David Ford MLA held a meeting with officials from Ulster GAA today at the governing body Headquarters in Armagh. Meeting the Minister and his officials were Aogán Ó Fearghail (President Ulster GAA), Dr. Danny Murphy (Director and Secretary Ulster GAA), Ryan Feeney (Head of Strategy and Public Affairs), Aileen Cummins (Community Development Manager) and Geraldine McKavanagh (Child Protection Officer).
The meeting covered a range of topics including the Ulster GAA road safety education programme "Live to Play", the Ulster GAA Cross Community Programmes, Child Protection and discussion was held on the current Compensation legislation and its impact on Clubs that suffer criminal damage.
Welcoming the Minister, Ulster GAA President Aogán Ó Fearghail said, "We were delighted to again welcome Minister David Ford to meet with the GAA. Since the devolution of Justice Powers to local representatives Ulster GAA has continuously engaged with the Minister and his Department on a range of issues. The meeting with the Minister was friendly and productive and we look forward to progressing the issues we raised today further in the coming months. We are delighted that the Minister offered his ongoing support and endorsement for our continued Community Outreach and Capacity building work."