Diploma in Team Management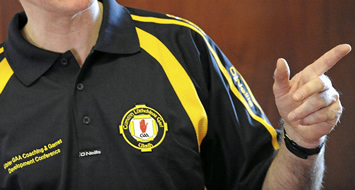 Ulster GAA is offering a limited number of people the opportunity to study team management to obtain a Level 3 Diploma in Team Management in Gaelic Games. This nationally recognized qualification is accredited through the Open College Network Northern Ireland (OCNNI).
Launching the Diploma Ulster GAA President Aogán Ó Fearghail stated, "Ulster GAA has been working hard to develop recognized qualifications to allow people to study Gaelic Games and to achieve official recognition in the form of Diplomas.
"I am very pleased to announced the Level 3 Diploma in Team Management in Gaelic Games which is aimed at current GAA coaches who want to acquire the skills to manage teams."
The Course begins on Wednesday 10th October 2012 and will run for approximately 12 weeks, to include structure learning delivered in Armagh on Wednesday evenings.
Units covered include:
1. Building Team Success
2. Making Plans and Decisions in Sports Contexts
3. Managing Change and Conflict
4. Role of the Manager in the Sports Context
This Diploma will be delivered through 400 Guided learning Hours (40 hours classroom based/360 distance learning).
Essenital Criteria for selection requires participants to hold a GAA NGB Foundation Award plu current involvement (intention to become involved) with a GAA team in some type of coaching capacity
For further information contact Roger Keenan Coach Education Manager at roger.keenan.ulster@gaa.ie or phone (028) 3751 7180.