Ulster GAA sympathy for Spence family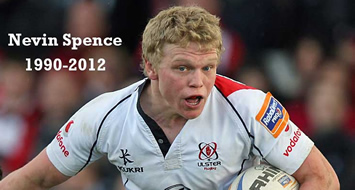 President of Ulster GAA Aogan O'Fearghail has sent his condolences to the Spence family:
"All of Ulster GAA send their deep condolences to the Spence family on their terrible loss. It is another shocking tragedy that comes days after the untimely death of Brian Og Maguire. Over the last week we have seen two young sportsmen Nevin and Brian Og both of whom were at the top of their game lose their lives in tragic accidents. The Spence family have also lost a father and a brother and we pray all of them, in particular Emma Spence in her recovery. The wider community will struggle to come to terms with these tragedies and both the Spence and Maguire families will be continuously in our thoughts and prayers in the time ahead.
"I also send my condolences and prayers to our colleagues and friends in Ulster Rugby as they come to terms with the events of this weekend."