Ulster GAA & IFA train up volunteers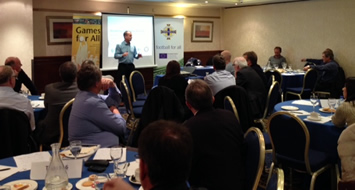 The Irish FA and Ulster GAA have held the first of two joint educational workshops dealing with the fundamentals of Marketing, PR and Commercial activity for clubs in both associations. The speaker at the event was Geoff Wilson, Head of Marketing and Communications at the Irish FA.
Clubs from across the two Associations explored key issues around PR and Marketing. It was also a good opportunity for sports volunteers to learn from each other and to network.
Aongus O'Keefe, Club Development Officer at the Irish FA said, "This was the first joint workshop between the Irish FA and Ulster GAA and we were delighted with the turnout and interaction during the event."
Oliver Galligan, Ulster GAA PRO stated, "It's important that we continue to develop the capacity of our volunteers across a range of issues so that our clubs can be the best. We'r delighted to be working with the IFA to deliver these club development training workshops and look forward to further events."