World Champs add US Open Titles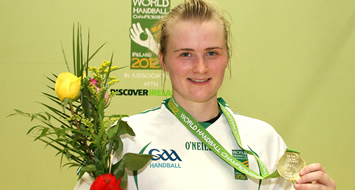 Ireland's GAA World Handball Open Singles Champions, Paul Brady and Aisling Reilly, who made history at the Fáilte Ireland Worlds spectacular in The Citywest Arena, have gone on to follow up with impressive US Open title wins this week.
Paul Brady was returning to the event in Los Caballeros, California, which he had won previously in 2009 and had to dig deep in an 11-9 tie-break win at the semi final stages against USA's Sean Lenning. Armagh's Charly Shanks also produced some of his finest form to date in denying World Open Singles finalist and Race4Eight number 1, Luis Moreno, in the semi finals, before falling to Brady in the final on a 21-16, 21-12 scoreline.
Aisling Reilly, who carved her name as World number 1 for the first time in Dublin two weeks ago, had eye-catching wins over USA trio, Bitty Bidegain, Tracy Davis and US number 1, Megan Mehilos in the final by 21-12, 21-7.
Other noteworthy displays at the Simple Green US Open of Handball included Michael Gregan and Ger Coonan who enjoyed a fantastic run in the Mens Open Doubles where they reached the final before falling to two of the 'Legends of Handball', Tati Silveyra and Naty Alvarado, by 11-8 in the tie-break.
Both Brady and Reilly were following up their World triumphs with title wins at Los Caballeros and this brings the curtain down on a sensational 2012 international calendar, in which countless records have been broken in the GAA Handball world.