Big Plans for Michaela Foundation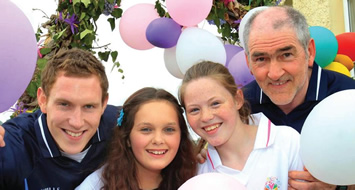 Casement Park is the place to be this Saturday night – that's the message to Gaels across Ireland as final preparations for the Match for Michaela are put into place.  Admission is payable on the night, simply pay at the turnstile, or for those thousands of people who have already purchased their ticket just show it at the turnstile.  Admission is £10/€10 for adults and £5/€5 for children with all proceeds going to the Michaela Foundation.
The Michaela Foundation is inspired through the life of Michaela McAreavey, who passed away on the 10th January 2011. Michaela's husband, John and the Harte family wanted to commemorate and celebrate Michaela's life … and have big plans for the future!
Michaela – The Person!
Michaela was a young woman who possessed amazing attributes which enriched her life immensely and the lives of all she met. She was bubbly, energetic, kind and thoughtful.  Michaela was a woman of great faith, who believed this faith was the reason she was so happy in her life. She had a love of the Gaelic language and above else loved to have fun and enjoy life. Michaela was also a keen Pioneer and exhibited her love of life without the need for alcohol or additives.
Forever the fashionista, Michaela was passionate about fashion and loved to keep up to date with new trends emerging as well as setting her own! With an eye for a bargain, she loved to pick up the 'High Street look' without the hefty price tags!  With a confident and assertive mindset, Michaela always stood up for the right thing and encouraged her friends and students to always follow their heart, not society norms or peer pressure.
The Michaela Foundation
The Michaela Foundation believes that the values by which Michaela lived her life should live on and that young people can succeed in life, fulfilled and happy, with faith, confidence and fun as their foundation.
Since its inception, The Michaela Foundation has strategically planned how it can help inspire and encourage young people in Ireland to reach these values. So far, two flagship programmes have been put in place to achieve this.
Student Award Scheme
In early 2012, The Michaela Foundation awarded three Fresher students in Irish, Religious Education and General discipline with £1,000 each to assist with their university fees. After carefully selecting three worthy applicants, who we deem 'Michaela Scholars', the student awardees began writing a monthly blog, 'View from the Student'. The blog allows the students to share their experience in their first year in university, from the social scene right through to exam pressures.
Michaela Girls Summer Camp
In July 2012, nestled deep in the rolling Tyrone landscape, the first ever Michaela Girls Summer Camp came into being, bringing a little bit of magic into the lives of seventy young girls. Crucially, of course, those seventy young people brought a lot of magic into the lives of others.
Established to commemorate and celebrate Michaela's values, and to continue the good work she carried out through her dedication to her students at St Patrick's Academy, Dungannon, the Summer Camp offered 11 to 13 year-old girls the opportunity to experience a plethora of inspiring and entertaining activities, all taught by highly experienced experts in a fun and supportive environment.
Sessions at the camp were divided into five categories, each one celebrating a core principle or skill that was pivotal in Michaela's life. These five core elements – the core themes of The Michaela Foundation – were Fun, Fashion, Faith, Irish and Well-being.
Activities included, new fashion styles, cupcake design, making rose bath bombs, healthy eating, Irish singing, understanding the rosary and a lot more! There was so much happening in this camp, only those who attended truly appreciated the 'The Michaela Girls Camp experience!'
What's Next?
The Student Award Scheme will continue to run on an annual basis, giving three Fresher students the chance to become Michaela Scholars each year and aid their university fees.  The Michaela Girls Camp will be rolled out in different counties throughout Ireland, giving young girls aged 11-13 the chance to experience something truly magical!
 'The Michaela Centre'
We aim to provide a hub for all our future activities, nestled in Glencull, Co. Tyrone where Michaela was born and raised. We're giving the planning of this project the time and thought it deserves and are working hard at scoping out what it will be and what it will do. Among the Centre 'building blocks' we're looking at are:
•       A 'Tea House' Styled Café
•       3G Pitch
•       Residential area for Camps to run throughout summer
•       Place to Reflect/Retreat
•       Schedule of on-going activities to include Irish Classes; health and well being initiatives; prayer; and Faith development
•       Confidence Building in Youth
Above all it will be a place of fun; enjoyment; and comfort.
If you have any ideas about what should be in The Michaela Centre and how the place might work, then please let us know at enquiries@themichaelafoundation.com
You can also help achieve this dream by  supporting Saturday night's Match for Michaela – A Festival with Football.  Gates open at 5pm with entertainment starting at 6pm in Casement Park Belfast.
For further information Contact:
Ryan Feeney: 07920528790
Picture caption: John McAreavey and Mickey Harte along with girls from the Michaela Summer Camp.