Ulster GAA wins top Marketing Award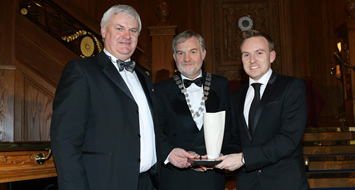 Northern Ireland's top marketing practitioners were recognised at the thirteenth annual Chartered Institute of Marketing (CIM) Ireland Marketing Excellence Awards 2012 which saw some of the region's most successful companies scoop a total of 23 top awards. Ulster GAA collected the coveted Chairman's award as well as being placed 3rd in the Best Sales Campaign category for their Ulster Championships promotional campaign.
Almac, Northern Ireland Tourist Board, George Best Belfast City Airport, Mash Direct and Vita Liberata were also amongst those rewarded for their successful marketing campaigns over the last 12 months at the event hosted by BBC Business and Economics Correspondent, Jim Fitzpatrick.
Linwoods, Whale (Munster Simms Engineering Ltd) and Treatticket.com each triumphed by taking home an award for Best New Product/Service Introduction Campaign.  Leanne Rice from Aspray Property Services and Niamh Taylor from Sliderobes were awarded top prize the individual achievement awards for New Marketing Professional and Senior Marketing Professional respectively.
CIM received a record number of entries in 2012, particularly in the tourism and hospitality sector, reflecting the promotional lead given by the 'Our Time, Our Place' marketing campaign, for which NITB and AV Browne won gold for Best Brand Development Campaign (Medium Sized Company). Judges were so overwhelmed by the outstanding volume and the quality of entries that they had to extend the judging process, which took place in September, by one week.
This year saw the awards held in a new venue, the grand banqueting suite of venue partner Titanic Belfast, supported by key business partners Invest NI, Kantar Media and Sage & Pinnacle with event support from Stakeholder, Belleek Living, Eyesparks and Press Eye. Over 350 guests enjoyed entertainment from swing singer Dave Martin.
Congratulating the winners, John Edmund, CIM's Ireland Board Chairman, said:
"CIM has been supporting excellence in marketing by Irish businesses for over 50 years now and since the awards programme began the quality of the submissions has impressed the judging panel more than the year before. Congratulations are due to all the companies who entered this year but particularly to the winners as the competition was greater than ever. I am confident that I speak for everyone when I say this years Awards have been a huge success and that is due to the excellent businesses that have entered.
"In 2012 we have seen local businesses create fantastic promotional campaigns that have been creative and impactful far beyond these shores, we have seen new product and service developments becoming more and more commonplace not only within large corporations but also within the SME sector and, encouragingly, we have seen long established companies focus on marketing to fight off the new found competition.
"I am grateful to each of our sponsors and support partners, each one of them a successful brand that recognises the importance of professional marketing within their business. Marketing grows businesses, so marketing success needs to be recognised and promoted – the support that out partners and sponsors provide make that possible."
Dr Vicky Kell, Director of Trade, Invest NI, added:
"We have seen some great campaigns over the last year with market expansion and new product and service development coming more and more to the forefront of effective business strategy. We are delighted to reward the outstanding passion and creativity of local marketing professionals at the annual CIM Awards, particularly in relation to export marketing."
Peter Fyffe-McFadden, Regional Director, Kantar Media NI, continued:
"Kantar Media is always interested to see how companies combine the latest technologies with traditional mediums to deliver integrated campaigns and it is fascinating to see the outcome of these. We are delighted to support the CIM Awards once again so these tremendous marketing efforts and innovations can be suitably recognised."
Sage UK's General Manager, Bob Anderson, said:
"An award from CIM Ireland can really boost a company's reputation in the marketplace and acts as a real motivator for the marketing team. Sage and Pinnacle are delighted to see Northern Ireland's marketing talents grow and develop each year and we are proud to be involved with rewarding these outstanding efforts."
Visit www.cimireland.net to view all the winning companies and find out more about CIM's activities in Ireland.
Ireland Marketing Excellence Awards 2012 Winners are listed below:
Industry
Engineering:     Whale (Munster Simms Engineering Ltd)
Food & Drink:    Premier Foods
Chemicals, Plastics, Pharmaceuticals and related industries:             Almac
Alternative Energy & other Green Technologies: Simple Power
IT Software and Hardware:      Maildistiller
Building and Civil Engineering Industries:       Mivan
Tourism and Hospitality Public Sector:            Belfast Zoological Gardens
Tourism and Hospitality Private Sector:           Belmore Court & Motel
Arts, Heritage & the Creative Industries:         National Museums Northern Ireland
Business Services:         Aspray Property Services
Social Economy Businesses, Charities and other non-for-profit: Employers for Childcare Charitable Group
Retail:   Sliderobes
Campaign/Professional
Best Sales Campaign – Small Company:          Mash Direct Ltd
Best Sales Campaign – Medium/Large Company:      George Best Belfast City Airport
Best Brand Development Campaign – Small Company:          Vita Liberata
Best Brand Development Campaign – Medium Company:     NITB & AV Browne
Best Brand Development Campaign – Large Company:         Clerys & Koh Creative
Best New Product / Service Introduction Campaign – Small Company:         Treatticket.com
Best New Product / Service Introduction Campaign – Medium Company: Whale (Munster Simms Engineering Ltd)
Best New Product / Service Introduction Campaign – Large Company: Linwoods
Individual/Professional Achievement
Senior Marketing and Sales Professional of the Year: Niamh Taylor (Sliderobes)
New Marketing Professional: Leanne Rice (Aspray Property Services)
First Time Entrant Award: Ulster GAA
Pictured are Uachtarán Chomairle Uladh Aogan Ó Fearghail and Ulster GAA Head of Public Affairs Ryan Feeney collecting the award from CIM Ireland Chairman John Edmund.