Ulster GAA's 'Gaeilge sa Chlub' Scheme Bears Fruit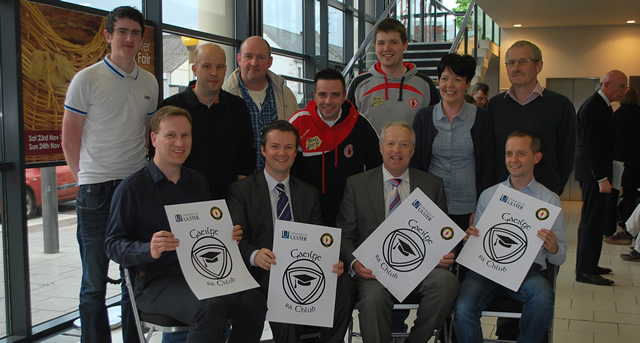 For the first time ever, students attending classes at Cookstown are due to be awarded university diplomas, as a result of a new course provision by the University of Ulster, with the assistance of the Ulster GAA and Foras na Gaeilge. Martin McAviney, President of Comhairle Uladh CLG / Ulster GAA, visited the Burnavon Arts Centre on Wednesday 14 May to congratulate students who had successfully completed their studies on the UU Diploma in Irish Language at the Cookstown venue. A number of the students were recipients of the 'Gaeilge sa Chlub' scholarship award, funded by Ulster GAA and Foras na Gaeilge.
The diploma programme has provided a unique pathway to proficiency in Irish for over twenty years, spreading from the initial programme in Coleraine to centres in Belfast, Derry, Newry and Gaeltacht (Irish-speaking) regions of Co. Donegal. The highly acclaimed course is currently available at two campuses of the University of Ulster: Magee (Derry) and York Street (Belfast). The provision at Cookstown was launched as part of the DCAL Líofa 2015 campaign and with the support of local councils in September 2012.
Mr McAviney praised the dedication of the students in their pursuit of fluency in Irish and commended the University of Ulster for their vision in bringing this programme to Mid-Ulster: "This is a crucial development for this area and the local community. There are remarkable opportunities for Irish speakers at present and Ulster GAA are delighted to support this initiative. The first year of the scheme has been very popular with GAA members from around Ulster participating in the course."
Dr Malachy Ó Néill, Head of the School of Irish Language and Literature in the University of Ulster, leads the programme at Cookstown and also coordinates the 'Gaeilge sa Chlub' scheme for the university. He said: "It is vital for the development of an Irish speaking community in the area that adult learners have the opportunity to study locally at this level. It is fantastic that this centre has now produced its first cohort of graduates."
The course is designed for those who have cúpla focal, a few words of Irish, perhaps having studied the language at school or in an evening class. It is a two-year course and there are no formal examinations as such in Year 1. Students take three modules each year focusing on Listening, Speaking, Reading and Writing. Successful graduates may opt to progress to a BA degree programme in Irish Language and Literature.
The benefits of the course are already evident in the cases of some of those who received 'Gaeilge sa Chlub' scholarships last year. Damian 'Mór' Ó Néill has taken up post as Oifigeach Forbartha na Gaeilge with Cairde Uí Néill, Cluain Eo, and P. J. Fox has taken part as a múinteoir on Fermanagh District Council's Irish-language scheme.
Details of the diploma course and any scholarship opportunities for next year, 2014/15, will be announced shortly.
Beatha teanga í a labhairt.