Ulster 2016 Senior Hurling Championship Semi Finals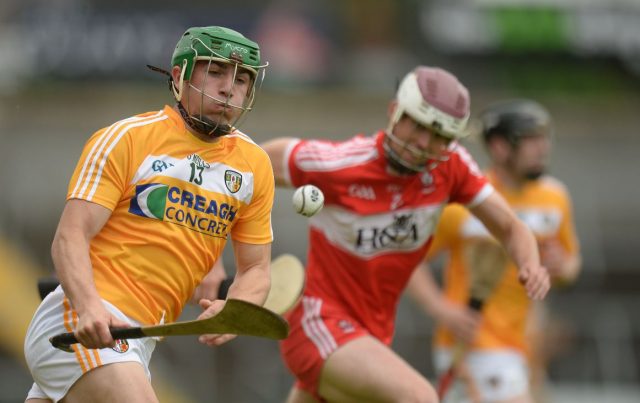 Ulster Senior Hurling Championship Semi-Finals
ANTRIM 3-28 DERRY 0-14
ARMAGH 4-12 DOWN 0-17
The 2016 Ulster Senior Hurling Championship semi-finals took place on Sunday at the Athletic Grounds in Armagh.
Antrim played Derry in the first semi-final of the day.
From the beginning the Saffrons remained in full control of the game and led by 0-08 to 0-02 at the end of the first quarter. The Antrim men increased this lead to 1-16 to 0-09 with PJ O'Connell finding the net at the 29th minute followed with a long-range effort from Odhran McFadden at 31 minutes.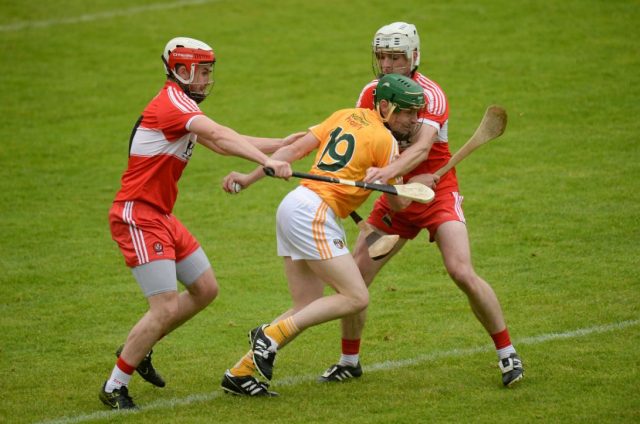 Antrim did not relent in the second half with Ciaran Clarke and Sean McAfee scoring a goal a-piece to complete the hat-trick for the Saffron side.
The final score at full-time was Antrim 3-28 Derry 0-14.
Armagh and Down went head to head in the second Ulster SHC semi-final at the Athletic Grounds on Sunday evening with the Orchardmen booking a place in the Ulster final for just the third time since 1946.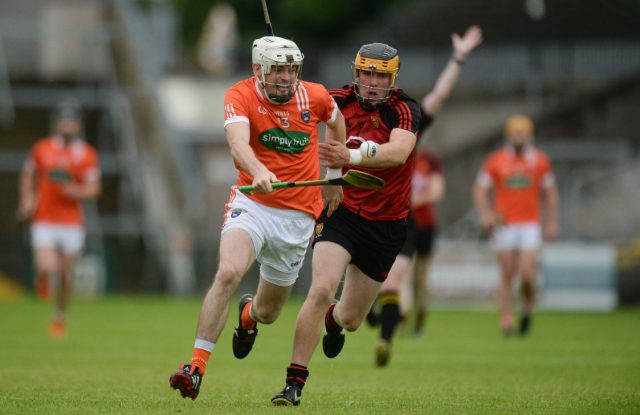 While Armagh had a good start with a goal from Cahal Carvill and a point from Conor Corvan after the opening score from Conor O'Prey, it was Down who dominated the first half. Twelve unanswered points for O'Prey, Conor Mageean, Paul Sheehan, Danny Toner and Chris Egan had Down 0-13 to 1-1 ahead after the first half hour.
Armagh were given a lifeline before half-time when Eoin McGuinness fed a beautiful ball in to Declan Coulter who put it to the back of the net for the Orchard sides first score since the fourth minute.
Danny Toner opened the second half scoring for Down, but the reply came immediately with a Conor Corvan point from a free. Scores from James King and two from Corvan brought the margin down to one, but Conor Mageean hit another for Down and great defensive work from Ciarán Clifford broke down another Down attack. As the Armagh dominance began to show across the field, Armagh hit the lead twenty minutes in to the second half when Conor Corvan scored a goal after good work from Declan Coulter. Down pulled a score back, but Armagh were playing some great hurling by this stage and further points from Conor Corvan with two, Eoin McGuinness and Declan Coulter gave Armagh a 3-11 to 0-16 lead with just over five minutes to go. Declan Coulter compounded the lead by firing in his second and Armagh's fourth goal.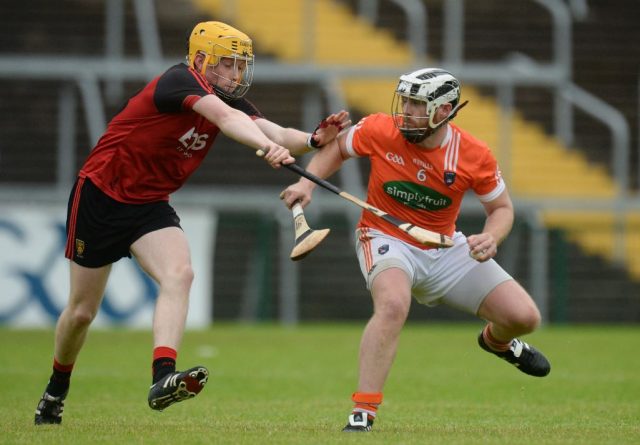 The final score at full-time was Armagh 4-12 Down 0-17.
The Ulster Senior Hurling Championship Final 2016 is on Sunday 10 July.
Venue to be confirmed.