Donegal book final spot in Ulster SFC Final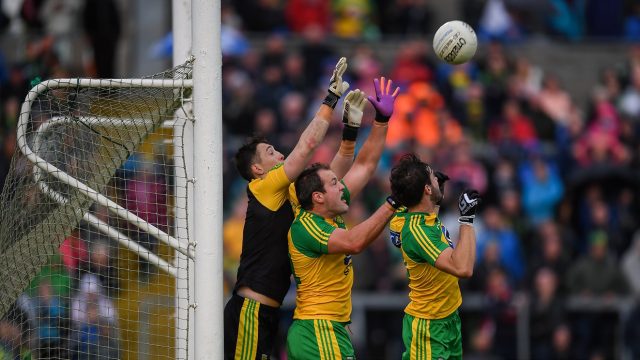 Ulster Senior Football Championship Semi-Final Replay
DONEGAL 0-17 MONAGHAN 2-10
There may only have been a point between them at the end, but Donegal were convincing winners at Kingspan Breffni Park and deservedly advanced to a sixth Ulster SFC final in a row.
Monaghan, bidding to make the provincial decider for the fourth straight year, had their reign as champions ended by an impressive Donegal display in Saturday night's semi-final replay.
Although the momentum changed hands many times in last week's drawn game, it was a lot more straightforward this time with Donegal leading pretty much from start to finish.
Two first-half goals kept Monaghan in the game, Conor McManus' penalty after 33 minutes bringing them level for the only time during 75 breathless minutes.
Too many key Monaghan players under-performed while Donegal exposed a lack of pace through the heart of the Farney defence with the running power of Marty O'Reilly, Eoin and Ryan McHugh.
Both sides finished with 14 men, Rory Kavanagh picking up two yellow cards for Donegal in the 65th minute before Karl O'Connell received a black card late on for Monaghan, who had already used all six subs.
In front of 17,174 spectators Monaghan, traditionally slow starters, were caught sleeping in the starting blocks.
By the time Shane Carey kicked Monaghan's opening point in the 17th minute, Donegal were already five points clear after a high intensity start.
Kavanagh set the tone bursting through with the first point inside 60 seconds and Anthony Thompson and Martin McElhinney followed up with further scores.
Donegal's running game had exposed a lack of pace in the middle of the Monaghan defence last week and they exploited it again, Marty O'Reilly really influential in punching some holes.
Conor McManus kicked an easy 35 metre free in front of the posts wide in a further sign of Monaghan's inertia.
But with so much experience in their ranks, panic wasn't a factor and some quick-thinking from McManus gifted Carey a goal after 19 minutes.
Donegal switched off thinking McManus was going to tap the free over the bar, but he spotted Carey running into the 'D' unmarked and he drilled the ball into the net for a goal against the run of play.
Donegal responded brilliantly.  With Michael Murphy drifting out the field to leave room for the runners to run into, the tactic worked a treat with Monaghan forced to foul.
O'Reilly pointed while Paddy McBrearty and Murphy tapped over frees to put Donegal 0-8 to 1-1 ahead after 28 minutes.
McManus was living off scraps, but got on the end of one direct move to score from an acute angle.
In Monaghan's best spell of the first half, they won a penalty when Eoin McHugh and Anthony Thompson combined to foul Ryan Wylie just inside the square.
Thompson picked up a black card and McManus had no trouble dispatching the dead ball high to the Donegal 'keeper's right hand corner.
Somehow, the sides were level, but Donegal again responded superbly to the Monaghan goal and Frank McGlynn's point, plus Murphy's injury-time free, gave them a 0-10 to 2-2 interval lead that their dominance probably deserved.
Within 10 seconds of the throw-in, McManus reduced the gap to a point, but the third quarter was poor and there was no score of any kind for 14 minutes.
Monaghan were second best in most of the battles and while subs Conor McCarthy and Jack McCarron scored great points, Donegal were always able to keep the scoreboard ticking over through McBrearty (a free and from play), Murphy and O'Reilly.
Trailing by three points with 10 minutes to go, Monaghan needed to make something happen and McCarthy so nearly did when he surged clear, but his chip over the goalkeeper's head crashed off the crossbar.
In an exciting finish Monaghan scored three of the next four points with McManus taking over the '45' duties from the off-key Rory Beggan and McCarron nailing his second long-range point of the half to reduce the gap to a point again.
But unlike last week, Monaghan couldn't get the leveller and when Ryan McHugh ran at Karl O'Connell, he drew a clear free which Murphy tapped over.
Colin Walshe's point in the 73rd minute left a point between them again, but when Kieran Duffy's equalising attempt dropped into Mark Anthony McGinley's grateful hands, Monaghan's reign as Ulster champions was over.
Scorers for Donegal: M Murphy 0-5 (4fs, 1 '45'), P McBrearty 0-4 (3fs), M O'Reilly 0-3, F McGlynn, R Kavanagh, A Thompson, M McElhinney, M McHugh 0-1 each.
Scorers for Monaghan: C McManus 1-4 (1-0pen, 1f, 1 '45'), S Carey 1-1, J McCarron 0-2, C Walshe, C McCarthy, O Duffy 0-1 each.
Donegal: MA McGinley; P McGrath, C Gillespie, E McGee; R McHugh, K Lacey, F McGlynn; R Kavanagh, O MacNiallais; A Thompson, M McElhinney, E McHugh; P McBrearty, M Murphy, M O'Reilly
Subs: M McHugh for Thompson (BC, 34), C Toye for McElhinney (53), M McElhinney for MacNiallais (70), EB Gallagher for O'Reilly (70).
Monaghan: R Beggan; C Walshe, D Wylie, R Wylie; K Duffy, V Corey, F Kelly; K Hughes, K O'Connell; O Duffy, R McAnespie, S Carey; D McKenna, D Hughes, C McManus
Subs: N McAdam for D Wylie (HT), D Malone for McKenna (HT), C Boyle for R Wylie (46), C McCarthy for Carey (49), J McCarron for K Hughes (53), D Mone for Kelly (64)
Referee: M Deegan (Laois).
Report: Orla Bannon.