Banbridge Cúchulainns capture Ulster GAA Cúchulainn Cup 2017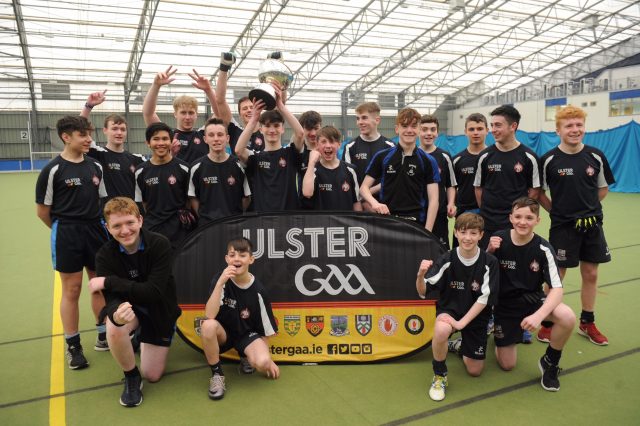 The annual Ulster GAA Cúchulainn Cup took place at the Meadowbank Sports Arena, Magherafelt on Wednesday 15th March.  The Cúchulainn Cup aims to afford young people from different backgrounds the opportunity to engage with one another, and to educate people not traditionally involved with the GAA more about the Association. Taking-part were Magherafelt Cúchulainns, Banbridge Cúchulainns, Ballymena Cúchulainns and Dungannon Cúchulainns. Teams comprised of several schools from a town coming together to play Gaelic games in a cross-community team.
In preparation for the Cúchulainn Cup Blitz schools were given "GAA Taster Sessions" in which pupils who had never played Gaelic games, or had very little interaction in the Games were taught the basic skills of Gaelic Football and Hurling. Taster Sessions were provided in eleven schools with over 200 pupils getting an opportunity to sample what the GAA has to offer.
In addition "Getting to Know the GAA" presentations were delivered to seven of the participating schools which helped to promote greater understanding and respect for other cultures; a key aim of the Cúchulainn Cup programme.
After a very enjoyable day of Hurling and Gaelic Football, the Banbridge Cúchulainn team emerged as winners. Ulster GAA Vice Chairperson Oliver Galligan praised the schools and teachers for their enthusiasm in becoming involved, and thanked the players for the great spirit in which the games were played. Oliver urged players to get involved in sport whether through playing or volunteering, stressing that Ulster GAA can support players in being linked with their local GAA club. "The Cúchulainn Cup continues to be a very worthwhile project, as evidenced by the many happy faces, skill, and great interaction between teams seen at this year's Cúchulainn Cup Blitz."