Ulster GAA pleased to announce Translink as a Corporate Partner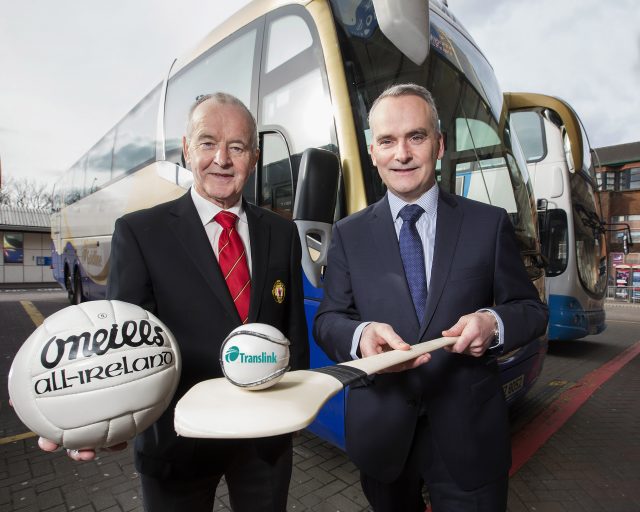 Translink was today unveiled as a new corporate partner of Ulster GAA. The partnership will see Translink become a leading player in Ulster's Gaelic games at all levels, and in particular supporting volunteer and coaching initiatives.
Announcing the new partnership, Chris Conway, Translink Group Chief Executive, said:
"Translink is pleased to join forces with Ulster GAA as an official corporate partner for the largest sports organisation in the province. Our services, especially Ulsterbus, have been connecting people for generations in villages, towns and cities, so it's a perfect fit.
"The GAA is an important part of many local communities that we serve so we look forward to working closely with the organisation over the coming months. We have plans to roll out a new volunteer programme, celebrating the ethos of the GAA and a Coach of the Year campaign, recognising the talent and dedication within the local GAA club scene.
Chris continued, "We are confident the partnership will help us further engage with communities throughout the country. As Northern Ireland's public transport provider, we are focused on sustainability and delivering a transport strategy that touches the lives of everyone who lives here. This partnership also builds on our other successful business relationships with Ulster Rugby and the IFA."
Welcoming the announcement, Ulster GAA President Michael Hasson commented:
"Ulster GAA is delighted to announce our new partnership with Translink and we are confident the organisation will be a driving force for us as we continue to develop and support almost 600 clubs here. Like us, Translink connects people across the province and they have a very strong presence in communities here.
"This partnership announcement has been a huge boost to Ulster GAA. With Casement Park on the horizon, Ulster's newest sporting venue, public transport will be a key part of the transport solution ensuring we build a venue that will inspire young people for generations to come."